By Bill Simmons
Page 2
If only we still used telegrams. My editors would have sent me a good one this weekend:
"Code Red! Code Red! All hell breaking loose! Shaq, T-Mac AND Kobe possibly on the block! Code Red! Must break out annual "Trade Value Column" ASAP! Code Red!"
The Sports Guy on Trade Values
To read Part 2, click here.
That's right. There couldn't be a better week to break out America's favorite annual column gimmick, "Which NBA player has the highest trade value?" How often do you get a chance to break out a 4,000-word, two-part column that appeals to a limited audience? Gentleman, start your printers!
Anyway, here's a quick recap of the rules: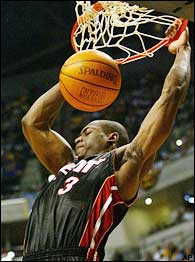 Wade's game and his contract make him a hot commodity.
A. Salaries matter ... would you rather pay Dwyane Wade $9.7 million for the next three years or Paul Pierce $58 million for the next four?
B. Age matters ... would you rather have Chris Webber for the next five years or Andrei Kirilenko for the next 15?
C. Pretend the league passed the following rule: Any player can be traded straight up for any other player without cap ramifications. So if Team A tells Team B, "We'll trade you Player X for Player Y straight-up," does Team B make the deal or not?
D. Concentrate on degrees. For instance, I don't think the Rockets or T-Wolves would trade KG for Yao. But the Rockets would at least say, "Wow, KG is available?" while the T-Wolves would say, "There's no effing way we're trading KG." That counts in the big scheme of things.
E. Make the list in reverse order, Nos. 40 to 1. So if Paul Pierce comes in at No. 16, players 1 through 15 are all players about whom Boston would probably say, "We hate giving up The Truth, but there's no way we can pass up that deal." And they wouldn't trade him for any player listed between Nos. 17 and 40.
A number of guys failed to make the cut from last year's Top 40, for the following reasons: Gilbert Arenas (No. 40 last year) is one more 22-win season away from officially turning into a "Great stats on a bad team" guy ... Antoine Walker (39) is Antoine Walker ... Antawn Jamison (38) and Michael Finley (31) are a little too available ... Jamal Mashburn (36) has become the NBA's equivalent of Frankie from "The Real World" ... Ray Allen (34) is heading into the "Mitch Richmond on the Wizards" stage of his career ... as much as I like Caron Butler (33), he seems awfully expendable in Miami ... and as far as tag-teams go, Eddy Curry (27) and Tyson Chandler (26) slipped faster than Shannon Tweed and Andrew Stevens.
The toughest omissions from this year's list:
Rasheed Wallace (last year: 32) -- He gets a championship ring and a multi-year contract ... so now what happens? Does anyone else keep hearing the chorus to Prince's "Let's Go Crazy"? Remember, we're still only eight months away from the infamous "CTC" speech. I don't trust him at all.
Manu Ginobili -- Turns 27 in July. Didn't you think he would be further along by now?
Marquis Daniels -- Only because he's cracking the Top 40 next season. Mark my words. Since he went undrafted last year -- which seems impossible in the same draft that gave us Reece Gaines at No. 15 -- he's actually a free agent this summer. Not that "The Benefactor" wouldn't match any offer, but still.
(Speaking of dreadful-yet-absorbing ABC reality-TV shows, did you see that Jesse Palmer and his Bachelor pick broke up already? Do you realize the Bachelor is 0-for-5 now? That show is more contrived than one of Tom Tolbert's suits. Is there a reason they haven't tried to change their luck with "Black Bachelor" yet? Just reverse the process - a black bachelor, 23 black bachelorettes, and then two token white chicks that get voted off by Round 2. And instead of Palmer, they could have a real catch -- someone making big bucks, like Lamar Odom or Michael Vick. Let the groupies fight it out. This would be unbelievable.)
Kwame Brown -- I'm sticking with the same thing I wrote about him last year: "I have absolutely no idea where his career is headed over the next 10 years. None."
Kirk Hinrich -- Wow, an underrated white guy! You see this happen maybe once a decade. Maybe it's hard to take him seriously when he looks like everyone in the cast of "Miracle."
Chauncey Billups -- The latest beneficiary of L.A.'s spring-time policy of turning opposing point guards into Hall of Famers. Bottom line: He's a 40-percent shooter playing for the perfect team. Good defender, decent ballhander, clutch shooter if he's open. But if you think they wouldn't have won the same title with Mike Bibby in Billups's place, you're crazy.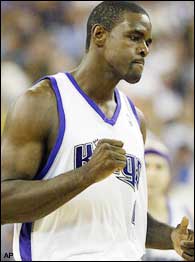 Some GM will dream that C-Webb can be the man he used to be.
Chris Webber (13) -- On the books for $79 million through 2008. And he's been limping like Ken Reeves for the past two years. And yet ... he's still C-Webb. And this is a league that gainfully employs Elgin Baylor, Isiah Thomas, Danny Ainge and the Paxson Brothers as GMs. So you never know.
Mike Dunleavy -- A year away from making a splash and being the odds-on favorite as the Token White Guy on the 2006 World Championships team. With that said, somebody could pry him from the Warriors this summer. They're that dumb.
Without further ado, here's this year's list of 40 players, in reverse order:
Group I: "Either way, the phone ain't ringing"
40. Darko Milicic -- By trading him now, Joe Dumars would basically be admitting, "Yeah, we won the title, but I screwed up with that pick." And that's not happening.
Then again, out of the next 39 guys on this list, none of them would ever, ever, EVER be offered straight-up for Darko, who capped off a memorable playoff run by getting infected earlobes from a bizarre piercing accident, then breaking his hand in garbage time of the clinching game. In the Pantheon of Unfortunate Playoff Performances, this was right up there with Curtis Jackson getting shot in the liquor store before Carver High won the city title. So I don't know. Let's stick him here to be safe.
(And yes, that's two "White Shadow" references in one column! Memo to ESPN Classic: Start running the old episodes again. I'm getting the shakes.)
Group H: "Available for the right price"
39. Steve Nash -- Some idiot once wrote that Nash was one of the best 10 point guards of the past 25 years. Oh, wait, that was me. Defensively, he's atrocious. He didn't break a sweat in the Kings series until Game 5 ... by then, it was too late. He's also about to be wildly overpaid by someone -- probably Dallas -- for something like six years and $60 million. And he's 31 next February. With a history of back problems to boot. I wouldn't go near him for that amount of money. But that's just me.
38. Carlos Boozer -- Quality banger. Always plays hard. Owns the best chest hair in the league. Yet another shining example of "Guys Who Produced in College Who Were Inexplicably Screwed by the NBA Draft Process." With that said, when I saw the headline "Boozer named to Olympic Hoops Team," I thought Vin Baker was headed to Athens.
(Where's my rimshot? I need a drummer for these columns. By the way, I didn't come up with that joke -- about 30 different readers e-mailed it to me. Maybe that should have been a sign. I feel like Jay Leno right now. Let's just move on.)
37. Nene -- Another young banger who displayed a sizable nasty streak in the playoffs, when he was shoving around KG and even throwing a few elbows. I liked that. Most of these young guys look like they're just happy to get a paycheck every week.
(More importantly, he finally took my advice and went with the single-name gimmick. I know this is a Brazilian thing, but why couldn't this catch on in the states? For instance, couldn't Brian Cardinal do this? We could just call him "Cardinal." Would anyone be against this? And how many times am I writing the phrase "Would anyone be against this?" in this column? The Vegas over-under has to be around 5.5.)
36. Joe Johnson -- I will happily admit that I was wrong about him. A future All-Star. And if he blows it ... well, then I'll happily admit that I was right about him.
35. Tony Parker -- Hey, he'd certainly be higher on the list of "NBA players who must get an insane amount of, um, female companionship." The NBA thing mixed with the French thing? That reminds me, somebody needs to round up some groupies for a "One Night Stand Fantasy Draft" -- I'd love to see who would go in the first round. Make it one of those $4.95 DirecTV pay-per-views. There's not nearly enough done with NBA groupies on TV. They should at least have their own MTV reality show or something.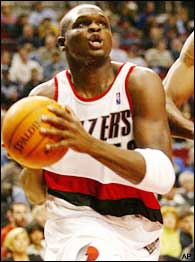 Let's just put it this way -- Zach is perfect in Portland.
34. Zach Randolph -- I just don't trust him yet. Would you feel comfortable giving a seven-year, $80 million extension next summer to someone who may or may not be crazy?
(This reminds me of an old Adam Carolla idea, "Prove To Me You're Not Crazy," where he wanted to walk around Hollywood Boulevard with a cameraman and have the street people and tourists prove to him that they weren't crazy. Great idea. Never ended up doing it on Jimmy's show for whatever reason. Maybe we should have tried it with NBA players. "Zack Randolph, you have 25 seconds ... prove to me you're not crazy!" This could easily replace the "Budweiser Hot Seat" and "Hearsay," couldn't it?)
Group G: "You'll have to bowl us over"
33. Chris Bosh -- He'd be ranked even higher if he didn't have those Keon Clark pegs.
32. Pau Gasol -- If we learned anything from the 2004 NBA Playoffs, it was this: You can't win an NBA title anymore with a defensive liability up front. You just can't. Remember when the Lakers won back-to-back titles in the late-'80s with a decomposing Kareem? The league is just too fast now. Poor Pau needs to build a time machine and travel back to 1983. He could even bring Casey Jacobsen and Brian Scalabrine with him.
31. Peja Stojakovic -- This can't be emphasized strongly enough: He's been dreadful in the playoffs. If you're looking for someone to drop 38 on the Hawks in mid-February, he's your guy. If you're looking for someone to make big shots in May and June, keep looking. If the Kings were smart, they would trade him for ...
30. Ron Artest -- Think about that one. Indiana gets a shooter to replace Reggie Miller. Sacramento gets some much-needed toughness and swagger -- at least for a couple of years, before Artest punches out a ballboy or trashes the old "Real World: Vegas" suite at The Palms. Who doesn't make this trade?
29. Mike Bibby -- I can't imagine the Kings dealing him. He's just come through for them too many times. Plus, it's not every day you can have a point guard who looks like Mini-Me.
28. Shawn Marion -- All right, I'll ask: Why are his numbers slowly dropping across the board? Why did I like his game more three years ago? Why has his name popped up in every possible mega-deal over the past week? Have you ever noticed the disturbing parellels between his career and the declining critical acclaim for the three "Matrix" movies?
Group F: "Building blocks"
27. Allen Iverson -- Let's stop comparing Iverson in '04 with Barkley in '92: Barkley didn't have nearly this many miles on him, and his contract wasn't nearly as daunting. (Iverson's deal goes through 2010.) Two years ago, it would have taken Corey Maggette, Chris Wilcox, the No. 4 pick and a future No. 1 for the Clippers to make Philly seriously consider giving up Iverson. Now they couldn't get him for Maggette, Wilcox and the No. 4 unless they agreed to throw in this year's No. 7 pick. That's a big difference.
And besides, would you rather have Iverson for five more years, at a whopping $67 million ...
26. Michael Redd -- ... Or this guy for $6 million over the next two?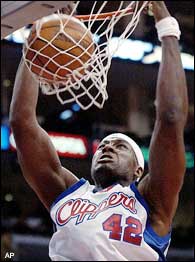 Bad teams don't necessarily make you a bad player.
25. Elton Brand -- Career record: 159-251. And no, that's not his fault. But it's not not his fault, either. If that makes sense.
24. Rip Hamilton -- Three months ago, he wouldn't have made the list. Now he's the next Reggie Miller -- not someone who can carry an offense by himself, but someone who makes big shots and wears out opponents. He lost the name "Richard" for the much-tougher sounding "Rip." He's even strange-looking like Reggie, one of the few guys who's actually better off with the Broken Nose Mask. It's been a breakout season all around.
(By the way, don't we need to come up with a nickname for the Broken Nose Mask? What about the Septumator? Or the Schnozzaroo? More importantly, why are they such an afterthought? NBA players care so much about hair, tattoos, shoes ... yet they happily slide on these ugly plastic masks for two straight months, no questions asked. Wouldn't you think they would paint them like hockey goalie masks, or even go with the intimidating Hannibal Lecter-style mask for a big playoff game? We need to spruce up the Schnozzaroos.)
23. Richard Jefferson -- Two years younger than Hamilton; same age as Redd. He gets bonus points for playing with Kidd in his formative years -- that's like an actor getting to make three straight years of movies with Scorcese in his prime, or a kid in high school having a three-year affair with the 35 year-old nanny down the block. You're better just by osmosis.
COMING TOMORROW: Part Two. Unless my head explodes from trying to choose between Duncan and KG.
Bill Simmons is a columnist for ESPN The Magazine and Page 2.