Time for Part 2 of my annual "Top 40 NBA Players With The Highest Trade Value" column ...
Group E: "Borderline franchise guys"
No. 22. Lamar Odom -- Wow.
The Sports Guy on Trade Values
If you missed Part 1, click here.
(I just stared at the last paragraph for about 20 minutes.)
21. Steve Francis -- Assuming he ends up in Orlando, that certainly fulfills his destiny of becoming a Franchise Guy on a 30-win team, doesn't it? The entire Steve Borderline Franchise experience was on display in the playoffs, when he couldn't quite take advantage of the fact that nobody on the Lakers could guard him. Story of his career. And yes, he turns 28 in February.
(Put it this way: If you were playing pickup hoops, would YOU want to play with him? You can only imagine how poor Yao felt. You can almost hear him complaining to his translator, "My diminutive teammate has been dribbling too much, like a stray dog who won't stop digging for a hole."
20. Stephon Marbury -- If you want to get swept in the first round every year, here's your guy. He's on the books for $77 million over the next five years. Gulp.
(Speaking of gulps, what were the Vegas odds of an Olsen twin seeking treatment for anorexia 24 hours after the Clippers made an inexplicably horrendous trade that defied all boundaries of logic? Would you have even been able to get 2-to-1 from any casino? Probably not.)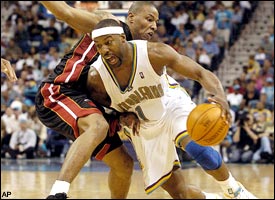 Baron Davis has battled through so many injuries -- just think what he could do if he stayed healthy?
19. Baron Davis
-- Two years younger than Marbury and Francis. Won major points for playing on a bum knee during the Miami series. And he held his own with Barkley and Kenny on a TNT cameo this spring, and finished a surprising third as well in the Chompers Challenge on MTV (behind Omarosa and Brooke Burns). We just need to figure out why his body keeps breaking down ... you knew his knees were a problem when the Detroit Shock accidentally drafted him last spring.
18. Kenyon Martin -- He was 15th on this list as recently as 10 minutes ago. With the exception of Game 4, he was pretty quiet in that Pistons series ... and his numbers against Duncan and KG are always subpar. So I don't know. Seems like he's headed for a Rasheed-type career -- extremely useful, unquestionably valuable, unable to dominate unless he's playing an inferior team. Along with Heather Graham and The Strokes, I've cooled on him a little. Just a little.
17. Ben Wallace -- This seems about right.
(By the way, has Big Ben let go of the championship trophy yet? He's like a dog with a new bone -- during the post-Game 5 ceremonies, I kept waiting for him to start growling at teammates that came up to him. Can't you picture him standing in a nightclub with Rip and Tayshaun, clinging to the trophy with one hand as the guys keep asking him, "Come on, let us hold it for a little while." And Wallace gruffly responds, "No." We should have a webcam on him at all times.)
Group D: "Franchise guys"
16. Vince Carter -- You can check out his career stats right here on the Worldwide Leader. Seriously, go ahead. I'll be right here. Just click on the link. I'm not going anywhere. Look at the numbers in '99-'00 and '00-01, then look at the numbers in the last two seasons. See if you notice anything.
(Twiddling thumbs.)
(Yawning.)
OK, you're back. So here's my question: Did you notice anything that made it seem like Vince is as good as he was three years ago? I mean, anything? I'm beginning to think that Vince's decision to attend his UNC graduation, followed by that last-second miss in Game 7 of the Philly series, was the defining day of his career. He just didn't want it bad enough.
15. Paul Pierce -- This is a tough one. I hated watching him last season. With the exception of maybe 10 games, I thought he mailed it in. Stuck a big fat stamp on the season. Then again, it wasn't his fault that management destroyed a team that came within two wins of the 2002 Finals. He wasn't the one who pushed Rogers and Strickland out the door, traded for Baker and LaFrentz and whiffed on the 10-11-21 picks in the 2001 Draft.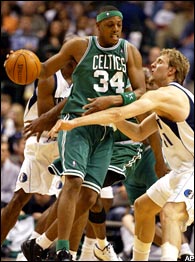 It's tough to accomplish much when you don't have much of a supporting cast.
Put yourself in his shoes. You're 26. You tasted playoff hoops ... now it's been taken away. You had the Fleet Center rocking ... now the place is dead. You've been tripled-teamed for two straight years. You haven't played with an above-average point guard your entire career. There isn't a single guy on your team who can create an easy shot for you. There isn't a single guy on your team who protects you when you get hammered on a drive. Your team just plain sucks. And worst of all, you have to play with me-first guys like Ricky Davis and Mark Blount, guys who are just looking out for themselves.
So here's the question: Would your play suffer a little? Would you go into a little funk? Would you hate coming to work? Yes, yes and yes.
They better not trade him. That's all I'm saying.
14. Jason Kidd -- Between the bad knee and all those miles he's carrying on the odometer ... I mean, he could go GP on us at any time, couldn't he?
(That reminds me ... we should change the phrase "jump the shark" to "go GP on us." For instance, when my mom's using "jump the shark," you know it's gone GP on us. See? Works just fine. Somebody launch the Web site.)
Group C: "Practically untouchable"
13. Andrei Kirilenko -- He's only 23 ... made $955,000 last season ... already the second-best defensive player alive (behind Ben Wallace, ahead of Ron Artest) ... perfectly capable of creating his own offense, although he's too unselfish to do it ... put up roto lines of "19-5-7-8-5" and "10-12-6-6-5" in the span of eight days last December ... grabbed a starting spot on the annual "Guys Who Would Just Be Plain Fun To Play With" team, along with Yao, Luke Walton, Brent Barry and 11-time MVP Jason Kidd ... and he looks like a cross between Fred Roberts and Ivan Drago.
So what's not to love? More importantly, how has Anna Kournikova not made a move on this guy yet?
12. Carmelo Anthony -- Averaged 24.3 points per game after the All-Star break, carried his team to the playoffs and made nearly every big shot along the way. If you think 'Melo isn't getting significantly better over the next five years -- and by significant, I'm talking about 30-plus a game, easy -- you're crazy. Compare his resume to Pierce, Carter, McGrady, even Kobe ... he's ahead of everyone. Only an inexplicable, Britney-like freefall could sidetrack what's about to happen.
(Of course, if he ever hosts another show with Bill Walton on SpikeTV, I'm resigning as president of the 'Melo Fan Club. But that's another story.)
11. Amare Stoudemire -- Remember, I'm a proud of owner of 10,000 shares in "This Guy Is The Logical Successor to Moses Malone and Roy Tarpley" stock. So why couldn't he crack the Top 10? Check last year's column for the section about Amare and "The Other Shoe Theory." That still stands.
10. Dwyane Wade -- That's right. Dwyane Effing Wade. You heard me.
9. Jermaine O'Neal -- A level below KG and Duncan. I don't see that changing, either.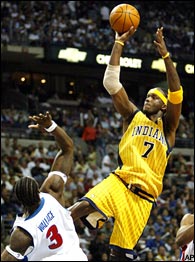 Jermaine may not be the best at his position, but plenty of teams would like to have him.
Which raises an intriguing question: Would you rather have someone who will never be more than the third-best guy at his position? Or would you rather have someone poised to become the best pure guard in the league, as well as one of the few guys in the last 25 years with a sense of The Moment, a budding assassin, the guy about whom Bob McAdoo said (and I'm paraphrasing), "I played with Magic and Kareem, I played against Bird, this kid has the same special qualities."?
(Note: I'm going with the special guy. But that's just me.)
8. Dirk Nowitzki -- I'm tired of hearing everyone say that Dallas would trade everyone but Nowitzki for Shaq. Am I losing my mind here? Has anyone ever won the title with a big guy who couldn't play defense or control the boards? Check out McAdoo's stats some time; just as fun to watch as Nowitzki, his numbers were better and he never made the Finals until he was a reserve with the Lakers.
Forget about every other Shaq rumor -- Dallas is the only team that makes sense. Nobody else can give back a top 10 guy and make the salaries match in a palatable way. Whether it's a package of Nowitzki, Antoine Walker and Josh Howard, or just Nowitzki and Antawn Jamison, or whatever else it might take, the Mavs would be locking up the title for two years, at least. Who's beating a motivated, ticked-off Shaq with a quality supporting cast? Absolutely no one.
It has to be Dallas. It has to be Dallas. That's always been the team. Kobe gets the West. Shaq takes the South. LeBron has the Midwest. And ... well, we're working on the East. But this is a good start.
(One more thing: Who would love Dallas more than Shaq? He could become a bigger local hero than Emmitt Smith and J.R. Ewing combined. He could wear goofy cowboy hats and giant belt buckles, purchase some huge $50 million ranch, force his posse members to steer bulls, bust The Benefactor's chops whenever possible, dunk on Shawn Bradley in practice every day ... you're telling me he wouldn't be happy as hell out there? He might shoot 70 percent on that team. And having Kobe, Shaq, T-Mac, KG and Duncan on contenders next season -- along with LeBron, Carmelo and Dwyane -- could lead to the league's most exciting season since 1993. I'm giddy.)
Group B: "Only because they asked"
7. Tracy McGrady -- Yao and T-Mac together? Isn't that like Christina Aguilera touring with three of the guys from Phish? Here's Yao, the best passing big man in 25 years, someone who should have the offense running through him at all times ... and he has to stand around and watch T-Mac play one-on-three for 25 possessions a game. A colossal waste of talent for everyone involved. If this deal goes through, I say McGrady is back on the block within 18 months. Either that, or Yao jumps in front of the Light Rail.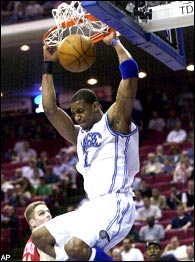 Rocket fans must be excited at the prospect of watching Tracy McGrady every night.
(Couldn't they do everyone a favor and trade him to the Clippers for Maggette, Wilcox and the No. 4 pick? Or to Indiana for Artest, Harrington and Bender? Why haven't the Wizards thrown their hats into the ring with Arenas, Hayes and the No. 5? Where are the Grizzlies with Miller, Battier and Swift? Or the Mavs with Jamison, Daniels and Howard for T-Mac and Hill? You can't tell me that Francis, Mobley and Cato was the best they could do for the leading scorer in the league. Please. Tell me that's not true.)
6. Mark Madsen -- Just wanted to make sure you were still awake.
6. Shaq -- This needs to be mentioned ...
Next year will be Shaq's 13th season. Just about every Hall of Fame center started declining between seasons 12 to 14 -- Kareem, Wilt, Hakeem, Ewing, Robinson, Mokeski. Russell saw the writing on the wall and retired. Only Moses and Parish kept chugging along, but neither of them was nearly as good in his mid-30s. Even Shaq watched his scoring average drop six points last year. Nowadays, when Shaq submits monster games like that 36-20 in Game 4, you say things like, "Wow, Shaq really has his legs tonight," and his coach says stuff like, "We wasted one of the all-time great efforts by Shaq tonight." Back in his prime, a 36-20 wasn't a cause for celebration. You expected him to repeat the performance 48 hours later.
He's wearing down. Slowly. Subtly. That's the real reason L.A. chose Kobe. But by dissing Shaq in the decision process, they opened the door for a Clemens-like revival over the next 3 to 4 years -- something that never would have happened had he remained a Laker. Now he's about to pull an Uma Thurman in "Kill Bill." Again, why wouldn't Dallas want to be involved?
Group A: "Untouchable"
5. Kobe Bryant -- The parallels between this Kobe-Shaq thing and "Survivor All-Stars" are uncanny. There's Kobe working feverishly behind the scenes, trying to form an alliance against Phil Jackson and Shaq. He was like Boston Rob. Mitch Kupchak was Amber. Karl Malone was like Rupert. Shaq was Big Tom. Phil Jackson was Lex. GP was Susan Hawk. Jerry Buss was Jeff Probst -- trying to stay out of the way, always inadvertently starting trouble. And Shaq and Phil saw the plotting coming -- from miles away, for God's sake -- but they couldn't stop it from happening.
So here's the question: When Kobe finally voted Shaq off, do you think he drew a smiley face in the "Q" on the voting card? Or did he just write "SHAQ" in capital letters? I think he went with just the capital letters. And stared straight ahead when Shaq was putting out his torch. But that's just me.
(And yes, it feels weird seeing Kobe on the "Untouchable" list when, six months from now, there's an outside chance he could be sharing a bunk-bed in Colorado with a guy named Rufus. I'm trying not to think about it.)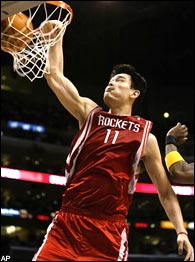 But will Yao Ming be excited if he sees even less of the ball?
4. Yao Ming
-- Drops two notches from last year. How do you say "Step it up, big guy" in Chinese?
3. Kevin Garnett -- Here's the best argument of the column ...
2. Tim Duncan -- And we could argue this one for 10 paragraphs, or we could settle it with four words: "Two rings to zero."
I'm going with the four words. If that's OK. I almost went with the Kelly Taylor approach and said, "I choose me," but that would have been weird. So we'll go with Duncan and the rings.
(Ric Bucher made an interesting point here: Duncan played 18 more playoff games than KG in 2003 -- six extra weeks of hoops at the most intense level possible, followed by a tour of duty representing the U.S. in last summer's Olympic qualifying tournament. Of course, KG declined to play in that one. So KG basically rested for five straight months -- unlike Duncan -- then returned fresh for the season with a superior supporting cast. Well, guess who ended up getting injured? And guess who looked fresh all season and won the MVP award? Exactly.)
1. LeBron James -- Come on ... you were expecting someone else?
Bill Simmons is a columnist for ESPN The Magazine and Page 2
Also See
ESPN Top Headlines