By Bill Simmons
Page 2
In the words of Dr. Loomis at the beginning of "Halloween 2" ...
"He's gone! He's gone from here! The evil is gone!"
SIMMONS & NOMAR
Bill Simmons' very first column for ESPN.com was about Nomar Garciaparra. Since that piece in April 2001, the Sports Guy has had an up-and-down relationship with the Red Sox shortstop:
All right, maybe it wasn't quite that bad.
Nomar
wasn't quite Michael Myers. He didn't kill anyone, at least as far as I know. From a personality standpoint, they were just about a wash -- although it's hard to say who was a bigger cancer in the clubhouse (at least Myers stayed in his room at the sanitarium). They were both consumed with the thought of escaping. They both had people wasting far too much time trying to figure them out. They both liked to wear masks. Myers was a killing machine; Nomar was a hitting machine. They both slipped as the years went on. And by the end, you just wanted them to go away. So, yes, the evil is gone. I don't think Nomar is a bad guy. Honestly, I don't even know him. He always treated the fans with respect, always played hard, always played the game the right way (at least until this season). I don't think he liked playing in Boston nearly as much as he made it seem -- he was too thin-skinned, too removed from his element, genuinely perplexed by the constant negativity of the local media. Then again, I'm not sure
who
would enjoy playing in Boston. The talk shows are downright cruel, and many of the columnists care more about stirring things up than making sports more fun to follow, which is the whole reason you should be covering sports in the first place. One thing's for sure: Nomar couldn't handle it. By all accounts, he was a much different guy behind the scenes when the cameras were off -- most people covering the team used the word a word that rhymed with "brick," and they weren't talking about a sewing needle to the finger. I even wrote an entire column about this for my old website, which I'm thinking about re-running on ESPN.com this week. The stories were always out there, floating around for anyone to hear. But he was hitting the crap out of the ball, so it didn't matter. And he should have ended his career in Boston, regardless of this stuff. I think he peaked as a player in 2000. I don't think he was ever the same after Al "Burn in hell!" Reyes plunked him in the wrist with that errant fastball. I think there were disturbing parallels between the downward trend of his offensive stats and Jim Rice's stats in the '80s, when Rice peaked early, then settled into a .300-30-100 guy who could be pitched to in big spots. Defensively, Nomie was a below-average shortstop with no range who was getting worse every season. During September and October last year, you could make the argument that he was the weak link on a team that came within one run of the World Series. And yes, I wrote all this stuff last fall. You can check the archives.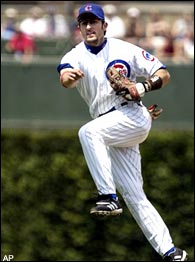 Nomar Garciaparra's dwindling range will now be exposed at Wrigley.
But this was No-maaaaaaaaahhhhhh! You give a little leeway to the ones you love. I wrote about the emotional connection between Red Sox fans and Nomar for this week's magazine column, which will be running here Tuesday. As far as relationships go between a player and his fans, this was about as complicated and intense as it gets. Today's take is the clinical side -- why the deal needed to happen, why he needed to go, why this should have happened last spring. Every since the A-Rod saga fell apart, this was a ticking time bomb.
I'll explain. This thing fell apart for the same reason these things always fall apart: Money. Nomar's agent rejected a four-year, $60 million extension from the Red Sox last spring. When talks resumed in October 2003 -- after the Sox were sufficiently frightened by Nomar's play down the stretch -- they downsized their offer for an extension. Nomar's agent, Arn Tellem,
specifically told the Red Sox
that they wouldn't even consider something that started at less than $16 million a year. And if that couldn't happen, the Red Sox should trade him. Let's repeat that, because this is important. According to his agent, if the Red Sox weren't prepared to give Nomar -- a guy still struggling with a major wrist injury, a guy who wasn't the same player as he was he was in '99 and '00 -- an extension starting at
16 freakin' million a year
, then Nomar would leave after the 2004 season and play for somewhere else. That was the insinuation with "you should trade him." Yikes. So the Red Sox did what they needed to do: Pursue a Plan B. That led to the top-secret A-Rod negotiations -- which spilled out only because Tom Hicks couldn't keep his mouth shut -- followed by a conditional trade with the White Sox that never should have leaked out. Make no mistake about it: the Sox handled this thing poorly. Because they had Bud Selig behind them, they assumed the A-Rod deal would eventually happen, underestimating the union's power over the entire process, as well as Hicks's almost pathological need to shed payroll. Even when the whole thing self-destructed before Christmas, I still believe (no proof, just an educated guess) that the Sox thought the deal would rekindle during spring training, once A-Rod and Buck Showalter started butting heads and Hicks was forced to do something. Remember, the Rangers had no other options. The Yankees were out of this thing. And then ... Boone blows out his knee in mid-January.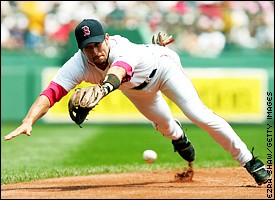 Getty Images
Nomar Garciaparra made six errors in 37 games for the Red Sox this season.
Boom! Everything changes. The Yankees pounce on A-Rod. He agrees to play third base. By Valentine's Day, he's headed to New York. This wasn't Boston's fault -- nobody could have predicted the chain of events that started with Boone. Of course, if the Sox had ponied up an extra $14 million for A-Rod, the whole thing could have been avoided. Hey, I understand their desire to stick to a budget, but it's tough to take them seriously when they forked over a two-year, $11 million extension to Byung Hyun Freakin' Kim. I didn't like the trade at the time, which worked out to be A-Rod and Magglio Ordonez for Manny, Nomar, Williamson, prospects and cash.. That seemed like too much. I even wrote that.
But like everyone else, I underestimated last winter's effects on Nomar. The Sox didn't just lose A-Rod to the Yankees, they napalmed every possible bridge with one of their best players. In retrospect, the Red Sox choked. They just did. Then they made it worse by complaining to everyone that the Yankees trade wasn't fair, like anyone was going to feel sorry for a team with a $120 million payroll. When Steinbrenner released this zinger of a statement in the days following the A-Rod deal ...
"We understand John Henry must be embarrassed, frustrated, and disappointed by his failure in this transaction. Unlike the Yankees, he chose not to go the extra distance for his fans in Boston."
... I mean, he was right. We didn't go the extra distance. We could have had A-Rod for $3 million more than they gave Byung-Hyun Freaking Kim. As always, my Dad was right about this thing from the get-go, saying, "You always go the extra mile for a superstar. Always." I was wrong. I thought we were giving up too much. Because here's what I wasn't counting on... The events of last winter had a
profound
effect on Nomar. Remember in "Death Wish," when they broke into Bronson's house and violated his family, and his whole demeanor just changed? Forever? That's what happened to Nomar here. This thing simply broke him. He couldn't get past it -- that they wouldn't pay him, that they moved so quickly in another direction, that he found out about the White Sox trade on his honeymoon, that he was left hanging for a good six weeks, that they all showed up in spring training like nothing ever happened. To him, this was the ultimate violation. They could have mailed him a dozen black roses and a horse's head, and he wouldn't have been as ticked off. And, yes, I understand. Completely. Under similar circumstances, I can't imagine how I would react. But the fact remains,
his agent started this whole thing!
If Arn Tellem doesn't say something along the lines of, "If you're not willing to start at $16 million, you might as well trade him," the A-Rod Saga never happens. This was one of those rare situations where both sides were to blame. There were no good guys. There was an equal level of incompetence and hypocrisy on both ends.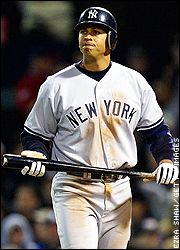 Face it: A-Rod wouldn't be a Yankee if the Sox had just gone the extra mile.
Anyway, Nomar was done. He shut himself off from everyone else on the team. Silently seethed. Turned into a walking black cloud. Took his sweet time coming back from that achilles injury. The guy was a mess. When he returned to the lineup, his movement in the field -- already suspect -- was positively glacial. He couldn't get to anything. Offensively, he was swinging at every first pitch, almost like he just wanted to get his at-bats over with. As I wrote last month, even when he reached base, you could see him grimacing in disgust as he stood on the bag, just a profoundly unhappy guy.
And this stuff got worse and worse, and the stories started coming out, and by the All-Star Break, it was all I heard from anybody in Houston --
You can't believe how miserable this guy is ... it honestly looks like he's going to go postal in the locker room one of these days ... nobody even makes small-talk with him anymore.
On and on. One person who knows him pretty well told me that the chances of him re-signing with the Red Sox were "considerably less than zero percent." Well, those aren't very good odds. So, Boston needed to trade him, especially after that jarring game in Yankee Stadium when Jeter crashed into the stands as Nomar sulked on the bench across the field (
Click here for that column
). You can't have someone that unhappy in the clubhouse. You just can't. And when he screwed them over in Minnesota this weekend -- according to multiple reports -- telling the Sox that his aching achilles needed more rest (and possibly another stint on the DL), then pulled a complete 180 and told the Cubs that he was fine ... I mean, he needed to go. At that point, you're talking about a fire sale. Which is exactly what happened. The Red Sox were so desperate to dump him, they ended up overpaying to send him out of town. Hey, I'm not saying Nomar's petulance was responsible for this team playing .500 ball for nearly three months. On the other hand, they weren't exactly breaking up the '27 Yankees here. This team, as presently structured, wasn't beating anyone in October. They were an atrocious,
atrocious
defensive team. They couldn't win a one-run game to save their lives -- you can't beat good teams when you have 27 outs and the other guys have 30. It's not possible. Nomar might have been the third-most productive bat on the team, but his defense was giving up one to two outs every game, and even a genius like Rob Neyer can't quantify his effect on the clubhouse from day to day. More importantly, the other 29 teams in the league have scouts. They were seeing the same things that Sox fans were seeing every day: a guy who was playing injured, a guy who wasn't the same player anymore, a guy missing that same joy that personified the first four years of his career. I don't think his trade value was nearly as high as we thought it was, if that makes sense. Maybe the team lost some offense, but they upgraded defensively from a D-minus (Nomar) and an F-minus-minus-minus (David Ortiz) to an A (Orlando Cabrera) and an A-plus-plus (Doug Mientkiewicz). When Pokey Reese returns to play second, you're talking about an infield with three Gold Glovers. That's pretty significant. You're saving an extra two or three outs a game, maybe more. (Note: When you throw in the fact that Derek Lowe is only as good as the defense behind him, and he self-destructed every time someone screwed up behind him this season, it's almost like they picked up a brand-new pitcher as well. I don't want to jinx it, but this trade might have included the Derek Lowe Face being shipped out of town. We'll see.) Was it a good trade? I don't know. I like Cabrera. It's not his fault he was trapped in a crummy lineup, on a crummy franchise, with no hope whatsoever. I always like getting good players from crappy teams. It's like dating a girl who was mistreated by her last six boyfriends -- they're so happy to be on a good team, they'll do anything to contribute. (The only downside with him is his name -- if you think my Dad had trouble saying "Baerga," you should hear him say "Cabrera." It's like having a conversation with Tom Brokaw.) I'm a little less sold on Mientkiewicz, partly because I don't know how to spell his name, partly because he took a giant dump on my AL-only roto team for the past four months. If you want to get technical here, this was what I couldn't understand: Why did the Red Sox throw in one of their prize prospects (OF Matt Murton) at the last minute? Nomar certainly has more trade value than Cabrera, at least you would think. Minnesota was dying to give away its first baseman with the name that I can't spell. There were even rumors that he would be waived after the deadline. So how did we lose a prime prospect in the process? Didn't it seem like the Cubs made out like bandits here? They get the best player in the trade
and
the best prospect? How does this make sense? Then again, maybe it does make sense ... it tells you two things.
Nomar didn't have as much trade value as we thought.
The Red Sox were more desperate to get rid of him than we thought. Then throw in this one:
Not a single teammate stepped up to A.) defend him, or B.) bash the trade as he was headed out the door.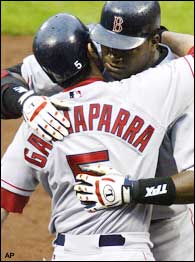 As the trade went down, Nomar's teammates hardly rushed to embrace him.
Hmmmmmm.
I think more stories are coming. I think Red Sox fans are going to feel very differently (about the trade and about Nomar) one week from now. I also think Nomar will benefit from the fact most educated Boston sports fans don't trust the local media anymore. They're so busy slamming everyone that -- in the rare cases when someone does deserve to be slammed -- you can't tell the difference between justified attacks and premeditated, agenda-ridden attacks. So there's always going to be a percentage of fans who simply won't believe anything they read or hear. In this case, the old "Where there's smoke, there's fire" philosophy holds true. If anything, Nomar's relationships with his teammates and bosses were considerably more dysfunctional than we were led to believe. Things were glossed over, stories were covered up, lies were told. Over the last six weeks, other than the Globe's Dan Shaughnessy, who thrives on this stuff, nobody wanted to be the one who threw the most popular Red Sox star in 25 years under the bus. Even if he deserved it. Again, I don't blame Nomar for being angry, for suffocating under this immense amount of baggage all season (he's probably going to thrive in Chicago, whether he's playing hurt or not). I blame him for not coming out and having the cajones to ask for a trade; if you're that unhappy, get off your butt and do something about it. I blame his agent for starting this entire mess by being greedy and unreasonable. And I blame the Red Sox owners and GM Theo Epstein for understimating the profound effects of the A-Rod Saga on their shortstop. They should have traded him when they had the chance. Because the fact remains ... They tried to upgrade a good situation (Nomar, Manny, Williamson) into an ideal situation (A-Rod, Magglio) and eventually ended up with a less-than-ideal situation (Manny, Williamson, Orlando Cabrera, Doug Mientkiewicz and Byung-Hyun Freakin' Kim). For pretty much the exact same price. And yes, I was against the A-Rod trade at the time. I was wrong. And so were they.
We understand John Henry must be embarrassed, frustrated, and disappointed by his failure in this transaction. Unlike the Yankees, he chose not to go the extra distance for his fans in Boston.
Ouch.
Bill Simmons is a columnist for Page 2 and ESPN The Magazine. His Sports Guy's World site is updated every day Monday through Friday.