By Bill Simmons
Page 2
Here's the thing I like about Danny Ainge: He doesn't make the same mistake twice.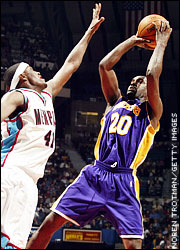 Getty Images
The Celtics hope Gary Payton's offensive skills haven't totally faded.
On Friday, the Boston Celtics GM pulled off his best deal in 15 months on the job, signing restricted free-agent center Chris Mihm, then trading him to the Lakers with Chucky Atkins, Marcus Banks and a 2005 second-round pick. In return, the Celtics received Gary Payton, Rick Fox, a conditional No. 1 pick (lottery protected in 2005, top-10 protected in 2006, top-three protected in 2007, unprotected after that) and cash.
In the process, Ainge finally learned the best lesson you can learn as an NBA GM: Build around your core guys, dump everyone else who doesn't matter, clear as much cap space as you can. And that's what Ainge did. He didn't need Banks because the coaching staff loves (
loves
, LOVES) Delonte West. He didn't need Mihm because stud high schooler Al Jefferson is ready to play right away. He replaced Banks's value (as a former No. 1 pick) with the Lakers' pick. He's (hopefully) upgrading from Atkins to Payton. And he's bringing in two veterans whose contracts expire next summer. As for the Lakers, they needed bodies to fill out the nine-man rotation on the Kobe Traveling All-Stars. Now they have a solid point guard to replace
Derek Fisher
(Atkins), as well as a change-of-pace guy with potential (Banks, who's either the next
Robert Pack
, a poor man's Robert Pack, or just plain poor, depending on where you stand on him). They're also getting an athletic big body (Mihm) who can float between forward and center and will remind every Lakers fan of
Travis Knight
by December (and not in a good way). Personally, I don't think you're competing for an NBA title with Mihm and Banks in your rotation, but that's just me. The Celtics made the trade for three reasons:
1.
They wanted to clear cap space for 2005. Not only are Payton and Fox coming off the cap next summer, but Fox can either retire or accept a buyout before then, if he wants to concentrate on his budding acting career (look out Denzel!). Now they have just four major contracts after 2005 --
Paul Pierce
(making the max);
Mark Blount
(just signed a six-year, $38.6 million deal);
Raef LaFrentz
(we don't want to talk about this one); and
Ricky Davis
(who could be the next to go). Assuming the Celtics can move Davis, they will be under the cap next summer for the first time since Michael Jackson looked relatively normal. 2. The first-round pick. Seriously ... who knows with the Lakers? How will Kobe's trial play out? How will a team with 25 new players mesh? Are they even a playoff team in the loaded West? And with Mitch Kupchak running the show, doesn't the old Unseld Corollary -- "It never hurts to have a future No. 1 pick from the Bullets, if only because Wes Unseld is running the Bullets" -- come into play here? At best, they're a seventh or eighth seed in the West, which would put the pick in the mid-teens this season. But why even take it now? Why not roll the dice and hope the Lakers stink one of these years?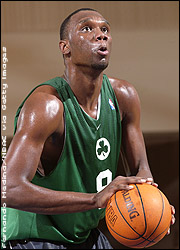 Al Jefferson showed the Celtics he's ready to contribute.
(Note: Hopefully the Celts learned their lesson from the Chris Wallace Debacle a few years ago, when Wallace could have kept rolling over a future No. 1 from the Nuggets. Instead, he used it in 2001 to select Kedrick Brown, who eventuallly became the Cal Ripken Jr. of the NBA's Summer League. And by the way, the Nuggets picked fifth and third in the following two years. I'm still in therapy.)
3. They're getting a one-year look at GP. Best-case scenario: He hooks himself up to the Juvenation Machine and becomes their second offensive option. Worst-case scenario: He looks like the same GP from the 2004 playoffs. Now ... I'm the same guy who argued during the playoffs that the phrase "Jump the shark" should be changed to "Going GP on us." That's how gawd-awful he looked last spring. With that said, his failures in Los Angeles were, at the very least, understandable. After spending his entire career with the ball in his hands, once
Karl Malone
was hurt and the Lakers stopped running, GP was reduced to being the fourth option on a team that didn't need him. The way the triangle offense works, point guards are like trophy wives -- just stand there, look good, and occasionally, we'll let you launch an open 3-pointer. Well, why would we ever think Gary Payton would flourish in an offense like that? Even in his prime, GP wasn't a great 3-point shooter. As he lost his confidence, he lost his swagger, and that was that. He wasn't the same guy. And anyone who ever played hoops knows what it's like to be stuck playing on a team where you don't quite fit in with the other four guys. It sucks. Throw in the never-ending Shaq-Kobe soap opera, Eagle, Colo., and everything else, and GP floated between "miserable" and "ready to hang himself like Brooks in Shawshank" from February to June. So, here's the bigger question: Can a Hall of Famer really go out like that? We know his defensive skills have slipped (and that's an understatement), but his offensive skills are still there -- he still averaged nearly 15 a game just on crumbs from Kobe and Shaq. I always thought that was Phil Jackson's biggest mistake last season, not figuring out a way to post up GP and run some of the offense through him. It just would have given them another wrinkle. You'll see the Celtics do that. You'll also see him feeding off his buddy Paul Pierce, as well as the energy from rookies Al Jefferson and Tony Allen (and maybe even Davis, assuming he sticks around -- heaven forbid).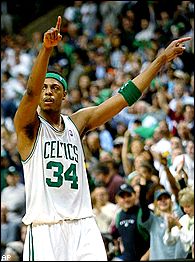 Joining forces with his neighbor GP could be exactly what Paul Pierce needs.
And here's the even bigger question: If you're one of the best 10 guards of all-time, and you were just humiliated for an entire season in L.A., and your teammates were pulling your coach into a bathroom telling him to start someone else, and Jamie Foxx was cracking "The Glove, that sumbitch had a hole in it this year, didn't it?" jokes toward you at the ESPYs, and the Lakers were saying, "We don't need you," and everyone now thinks you're D-U-N done ... wouldn't you be killing yourself this summer for one last run? Wouldn't you be trying to make a splash on the Vengeance Scale? In fact, that's what GP has been doing, working out in Vegas like a madman, obsessed with getting in the best shape of his life. And guess who one of his neighbors is? That's right, Mr. Paul Pierce. Apparently they've been doing everything short of re-enacting the Rocky-Apollo beach sprints from "Rocky III."
If you think GP doesn't have a chip on his shoulder for next season, you're insane. So the question remains ... does he have one-quarter of a gas tank left, or is the yellow light flashing? I guess we'll find out. One thing's for sure: The Celtics are in pretty good shape in the putrid East, all things considered. They
nailed
the draft in June. Just crushed it. After watching the Summer League in Vegas, everyone agrees that Allen, West
and
Jefferson should have gone higher, and Jefferson (picked No. 15) could have gone in the top six (you think Atlanta would rather have A.J. or Josh Childress???). The Celtics believe that they picked up three potential starters, as well as a potential franchise guy in Jefferson, and you know what? After watching them playing summer-league ball, I agree with them. Allen looks like the next
Ron Artest
; West looked like one of those throwback guys from the '80s; and Jefferson looked ready to add his name in succession to the Moses-Kemp-KG-Amare group. We'll see. They also have a genuine All-Star in Pierce, still getting over his funk from Ainge's housecleaning last season, but enthused by the rookies in Vegas. During one summer-league game, he started offering them $100 a dunk, quickly followed by Allen (just an electric talent) getting two straight steals and two breakaway dunks. After the second one, he even pointed at Pierce as he ran back up the court. This just feels like a different team -- younger, hungrier, infinitely more athletic. With GP, Pierce, Allen and Davis on the same team, the potential for chest-bumping and trash-talking is off the charts. Sure seems like the perfect place for GP to end his career. And if he doesn't have it anymore, he doesn't have it, and he's gone next spring. That's life in the NBA
:
take a chance, hope it pays off, avoid killing your cap in the process. Unfortunately, it took Danny Ainge nearly 15 months on the job to figure this out. Fortunately, he did.
Bill Simmons is a columnist for Page 2 and ESPN The Magazine. His Sports Guy's World site is updated every day Monday through Friday.