By Bill Simmons
Page 2
When NBA TV offered me the chance to program their channel for an entire weekend, I made three goals for myself:
1. Find games that I haven't seen on TV before.
2. Find games that make me remember why I like basketball in the first place.
3. When in doubt, find something with Larry Bird in it.
Well, I accomplished all three. My "Sports Guy Weekend" starts at 6 p.m., ET, on Friday night, kicking off four days and 59 hours of programming. Sure, there were some disappointments along the way -- you'd be amazed how many games couldn't be shown for a variety of reasons, although we can (hopefully) rectify that situation the next time around. For some games, there's nothing we could do. Like David Thompson's 73-point game? That wasn't even shown on TV.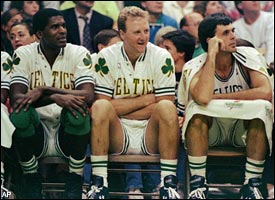 You'll see plenty of these guys over the course of the weekend.
Regardless, I think we have a pretty nice mix here -- 22 hours of non-Boston classics on Friday and Saturday, followed by a Larry Legend Marathon running all day Sunday through Monday morning. Thanks to everyone who e-mailed in suggestions; some of them were even included in the final cut.
One other note: I want to thank everyone at NBA TV for generously offering their support and time, searching for tapes, editing games that weren't in the system, and even answering sarcastic e-mails like "Can we show the Sonics game that David Stern fixed so the '93 Suns could make the Finals?"
Whoops, one other note: During the marathon, you'll notice dozens of "The NBA ... it's FANNNNNNN-tastic!" commercials sprinkled through the real commercials. Does it get any better than James Worthy's 360 as Hall and Oates croon in the background? I think not. We even threw in a few "Red on Roundball" segments for you. And don't forget to watch the beginning of the games from '84 and '85, when CBS would run those extended openings with the "NBA on CBS" music and the cheesy computer graphics. I wish there was a way to program that song to my cell phone.
Without further ado, here's my schedule ...
FRIDAY, AUGUST 27
6 p.m.: Lakers vs. Clippers (November, 1979)
So many things to love about this one. For one thing, this was Magic Johnson's first NBA game. You also have a Clippers team playing in San Diego -- that's right, San Diego -- that had signed Bill Walton (and his unreliable feet) away from the Blazers for a boatload of money. And the last play of the game spawns a moment that ranks in the mid-80s on the Unintentional Comedy Scale. I won't spoil it for you. Some classic characters in this game as well, including World B. Free, Freeman Williams and Jellybean Bryant (Kobe's dad). Besides, when do you ever get to see an old Clippers game???
8 p.m.: Sonics vs. Warriors (Game 3, 1992 First Round)
Let's see ... 129-128 in OT ... Mullin and Hardaway in their primes ... GP and Shawn Kemp just scratching the surface of a memorable five-year run. Sign me up. This one features the famous Kemp dunk on Alton Lister -- payback for an incident in Game 2 of the same series -- that cracked the Absolute and Unequivocal Pantheon of Classic Dunks. If you don't remember Kemp when he was a force of nature, check this game out -- there's never been anyone else quite like him.
10 p.m.: Sixers vs. Lakers (Game 5, 1980 Finals)
Sadly, we only have the second half of this game, indisputable proof that Kareem was the MVP of this series. And it kills me to say that, since he's a ninny and all. It's just interesting that you always hear about Willis against the Lakers in 1970, Larry against the Pacers in '91, Isiah against the Lakers in '88 ... and you never hear about Kareem dragging a sprained ankle around in the second half of this one.
11 p.m.: Knicks vs. Bulls (Game 4, 1993 Eastern Finals)
One of the definitive MJ Games. You know the phrase "blood money"? Any time MJ sprung for 40-plus on those Knicks teams, those points always felt like the NBA equivalent of blood money. He ended up with 54 in this one, which was like 75 against any other team. Poor John Starks -- he had a way of bringing the best out of people.
Anyway, that set the scene for ...
1 a.m.: Knicks vs. Bulls (Game 5, 1993 Eastern Finals)
The Charles Smith Game.
(Really, no other words are necessary. Unless you want to call it "The Chaz Smith Game." I'll leave it up to you.)
3 a.m.: Rockets vs. Spurs (Game 2, 1995 Western Finals)
(Vengeance Scale Alert! Vengeance Scale Alert!)
Before this game, David Robinson was presented with his 1995 MVP award, so he gave a speech and thanked some of the centers who had won before him. Well, he didn't mention Hakeem. Big mistake. Hakeem exploded for 41 points and 16 boards, including 29 in the second half alone. For the series, Hakeem averaged 35.3 points, 12.5 rebounds, 5.0 assists, 4.1 blocks and 1.3 steals. You could even argue that Robinson's career was never quite the same. And it all started with that speech in Game 2.
SATURDAY, AUGUST 28
12 p.m.: Suns vs. Warriors (Game 3, 1994 First Round)
(Vengeance Scale Alert! Vengeance Scale Alert!)
The set-up: Barkley was ticked off about a Nike commercial that showed C-Webb dunking on him.
The result: Barkley goes 23-for-31 for 56 points, including 27 in the first quarter. Sir Chazz at his absolute apex.
Fun wrinkle No. 1: Barkley was double-teamed a total of zero times during the game. Don Nelson at his absolute anti-apex.
Strange wrinkle: This was the last Warriors playoff game. Since this game was played, they're 254-566. And yet everyone makes fun of the Clippers. Go figure.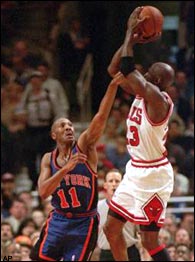 Michael Jordan cut the Knicks' hearts out on several occasions over the years.
2 p.m.: Bulls vs. Knicks (Game 3, 1992 Eastern Semis)
Hey, it's the Knicks team that ruined competitive basketball as we know it! They weren't as good as the Bulls, so they stole Detroit's Bad Boys routine and turned it up another 20 notches -- tons of cheapshots, incessant bullying and trash-talking -- and the league eventually passed those no-taunting/no-trash-talking rules to calm everything down. Now you can't look at someone cross-eyed without getting called for a technical, which has been a huge problem for Kurt Thomas.
Anyway, this was the series where X-Man pushed Pippen around like a prison guard for two-plus games, so MJ finally took matters into his own hands midway through Game 3. Heated, heated game. This might have been the last series in NBA history where both teams legitimately hated each other, with the possible exception of every scrimmage for the '96 Mavericks.
4 p.m.: Lakers vs. Warriors (Game 4, 1987 Western Semis)
The fourth quarter of the Sleepy Floyd Game.. Watch this one. Watch it, dammit. I'm not kidding.
4:30 p.m.: Nets vs. Celtics (Game 3, 2002 Eastern Finals)
Just the fourth quarter. Greatest comeback in NBA history. Also one of my five drunkest nights ever in Boston. Good times all around.
5 p.m.: Jazz vs. Lakers (Game 5, 1988 Western Semis)
John Stockton's breakout game -- 24 assists in this one. You know how I'm always complaining that nobody can play point guard anymore (see: Marbury, summer, 2004)? Watch Magic and Stockton in this game; you'll see what I mean.
7 p.m.: Lakers vs. Sixers (January, 1983)
This one had everything: A Sunday afternoon spot on CBS; Moses vs. Kareem; Doc vs. Worthy; Magic and Nixon vs. Cheeks and the great Andrew Toney; Bobby Jones and Michael Cooper (two of the best role players of that era); the best PA announcer of all-time (Dave Zinkoff); one of the best crowds of all-time (the old-school Spectrum crowd); and a matchup pitting the Defending Champs against the Future Champs. If that isn't enough, it goes into OT. And if THAT isn't enough, this is the game where Doc does the rock-a-bye dunk on Cooper's head, yet another entry in the Absolute and Unequivocal Pantheon of Classic Dunks. Everyone thinks that dunk happened in the '83 Finals. Nope. Happened in this game.
9 p.m.: Nets vs. Knicks (Christmas Day, 1984)
Bernard King drops 60 on the Nets at MSG. Six weeks later, he blew out his knee. Which brings us to one of my favorite stats: In 2,063 minutes that season, Bernard scored 1,809 points. That's 55 games, 37 minutes a game, 32.9 points a game. And you wonder why I always bring up Bernard King.
11 p.m.: Sonics vs. Blazers (Game 2, 1980 First Round)
This one's for me: Not just because this was the "Breaks of the Game" Blazers team, not just because Billy Ray Bates was a legend before his time, but because this game has the best Brent Musberger opening of all-time. I swear to God, I remember watching this game on tape-delay back in the day, hearing Brent's opening about Billy Ray and getting goosebumps on my goosebumps. So we'll see if it holds up. Back in 1980, I also enjoyed Vic Tayback's work, so maybe I'm not the best judge.
1 a.m.: Sixers vs. Celtics (Game 5, 1985 Eastern Finals)
The last memorable Sixers-Celtics playoff game from that era. And yes, the NBA was so deep in the mid-'80s, a team that started Barkley, Doc, Moses, Cheeks and Toney couldn't even make the Finals. Unbelievable. Phenomenal ending to this game, by the way.
SUNDAY, AUGUST 29
Now we're entering the Larry Legend Marathon: 27 straight hours of the Basketball Jesus. Try to contain yourselves. Anyway ...
12 p.m.: Sixers vs. Celtics (Game 5, 1981 Eastern Finals)
Down three games to one, the Celts rally from six down in the final two minutes, leading to ...
1:30 p.m.: Celtics vs. Sixers (Game 6, 1981 Eastern Finals)
A dramatic comeback win to force Game 7 (which we're not showing since it's on ESPN Classic all the time).
There's a reason I'm showing two games from this series. I think it's the most competitive series of the past 25 years. Better than Kings-Lakers in 2002. Better than Bulls-Pacers in '98. Better than Knicks-Bulls in '92. Even better than Celtics-Lakers in '84. Not only did these teams finish with the exact same regular-season record (62-20), but the last four games of the series were decided on the final play. Read that last sentence again.
Two other things to watch in this one: A.) Cedric Maxwell charging into the stands to confront a heckler; and B.) Kevin McHale unveiling his patented "Leaving the court with my arms raised, showing off my armpits in victory" maneuver, which would gross out opposing stadiums for years to come.
3:30 p.m.: The 1988 Three-Point Contest
Yep, the one where Bird raises his finger in the air seconds before the winning trey swishes through the hoop. You can do these things when you're the Basketball Jesus.
4 p.m.: Blazers vs. Celtics (Jan. 27, 1985 -- fourth quarter and OT only)
Bird makes the winning buzzer-beater from the corner. He had something like 200 points in this game.
5 p.m.: Pistons vs. Celtics (Jan. 29, 1985 -- fourth quarter only)
Just for kicks, another buzzer-beater two days later. This time in Hartford.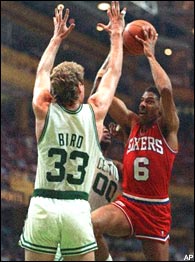 Larry Bird and Dr. J battled in some classic games.
5:30 p.m.: Blazers vs. Celtics (Feb. 14, 1986 -- fourth quarter only)
Yup ... another buzzer-beater. This Blazers team brought the best out of those mid-'80s Celtics teams. They were the only team to beat the '85-'86 Celtics in the Garden. Which reminds me, do you think we'll see another team finish the season 50-1 at home? Probably not.
6 p.m.: Pistons vs. Celtics (Game 5, 1985 Eastern Semis)
Classic '80s playoff game: Laimbeer, Isiah, Tripucka, Terry Tyler and the immortal Vinnie Johnson (fresh off an unconscious 22-point fourth quarter in Game 4) on one side; Bird, McHale, Parish, Ainge and DJ on the other. Not wanting to head back to Detroit down 3-2, Larry finishes with 43, including 17 in the final quarter. Enjoyable series, fantastic game. The Garden at its best, during one of the last seasons before they priced out the diehard fans and the suits took over.
8 p.m.: Knicks vs. Celtics (Game 7, 1984 Eastern Semis)
Bird settles the "Bernard or Larry?" argument once and for all: 29 points in the first half, 39 and a triple double for the game, the crowd chanting "M-V-P!" every step of the way. This was the game when he went from "Superstar" to "Superduperduperstar."
10 p.m.: Lakers vs. Celtics (Game 5, 1984 Finals)
The famous "Heat Game," when it was so hot inside the Garden, people were actually passing out in the stands and stuff. Out of any game on this list, I'm most excited for this one, and not just for the shot of Kareem sucking from the oxygen mask. This was one of the three or four most memorable games I've seen in person. Because of the heat, there was a different vibe in the Garden that night. Almost primal. I can't explain it. You had to be there. Of course, Larry threw up a 34-17.
12 a.m.: Celtics vs Hawks (March, 1985)
The famous 60-point game, highlighted by the Hawks high-fiving on their own bench. One of the craziest shooting displays of all-time. I can't discuss this game rationally.
2 a.m.: Celtics vs. Rockets (Game 4, 1986 Finals)
Did this series even happen? You never see any of the games on ESPN Classic or NBA TV, even though this was one of the better games of the past 20 years -- one of those Lay-The-Smack-Down games for the '86 Celts, just a great team taking care of business on the road. Those are always the most satisfying ones. And yes, Bill Walton's offensive rebound and putback in crunch-time still gets me fired up.
(Note: For whatever reason, this underrated Rockets team slipped through the cracks. Everyone forgets that they destroyed a healthy Lakers team that won titles in '85, '87 and '88, no less. At the time, there was even some "We may have to break up Sampson and Olajuwon for the sake of the league" sentiment floating around. Now the entire season is treated as an aberration, mainly because Sampson's career went in the tank one season later. The fact remains, that was the best Celtics team of the decade; they shouldn't be penalized because the Lakers were steamrolled by a superior team that season. For God's sake, Houston won in five. It wasn't an upset.)
4 a.m.: Celtics vs. Bucks (Game 4, 1987 Eastern Semis)
Just an epic game: 138-137, double-overtime, with McHale dragging a broken foot around for something like 50 minutes. I always thought the true test of an NBA champ is how they respond the following season, which is why I'm down on the '83 Sixers (who lost in the first round one year later). This Celtics team was missing Walton, plus Ainge and Parish were playing on sprained ankles, and McHale was crippled with that ravaged foot. Yet they kept fighting and fighting. My favorite Boston team ever.
6 a.m.: Bucks vs. Celtics (Game 7, 1987 Eastern Semis)
Another epic. McHale slaps up a 26-16 on that same broken foot -- unbelievable -- and Larry takes over down the stretch. Maybe the classic test of the "Team with the best player always wins the series" theory. The Bucks had no business losing this thing. But Bird just wouldn't let it happen.
(Great Bucks team, by the way -- just watching a clean John Lucas playing the point is worth the price of admission here. Plus, Terry Cummings, Jack Sikma, Paul Pressey, Ricky Pierce, Randy Breuer AND Paul Mokeski were involved. Between both of these teams, the record for "Most awkward-looking white guys in one series" will never, ever, EVER be surpassed.)
8 a.m.: Pistons vs. Celtics (Game 7, 1987 Eastern Finals)
You could argue that the banged-up Celts should have lost to Milwaukee AND Detroit that spring. Here's another one that Bird wouldn't let them lose (and no, I'm not sure they advance to the Finals if Vinnie and Dantley don't bang craniums in the second half). One underrated aspect of this game -- the Celts openly taunting Dennis Rodman during the final 20 seconds. These two teams hated each other. I miss those days.
(Note: During the '87 Playoffs, the Celts won two dramatic Game 7s; Bird stole the ball from Isiah; Isiah dropped 25 in one quarter against the Hawks; Sleepy dropped 29 in the fourth against LA; Hakeem slapped that 49-25 against Seattle; and Magic made the baby sky hook in Boston. Throw in a Lakers-Celtics finals -- Bird and Magic in their absolute primes; Isiah and 'Nique in their primes; MJ, Hakeem, Malone and Stockton, Ewing, Drexler, and Barkley just scratching the collective surface; Doc's final season; and the best All-Star Game ever ... I mean, that has to be the greatest NBA season of all-time, no? Just think if Lenny Bias had stuck around. All right, I'm babbling.)
10 a.m.: Celtics vs. Sonics (Dec. 30, 1987 -- fourth quarter only)
Ho-hum ... another Bird buzzer-beater. This is the one where Bird points out a spot for Xavier McDaniel, then makes the winning shot on that exact spot. As the X-man describes in "Larry Bird: A Basketball Legend," And I was like ... damn!
10:30 a.m.: Celtics vs. Mavericks (Feb. 12, 1988 -- fourth quarter and OT)
My personal favorite out of every Bird buzzer-beater. This was one of those "I'm pulling out my butcher's knife, ripping out your heart and stomping on it" threes.
11 a.m.: Celtics vs. Bullets (Nov. 7, 1987)
Larry hits the buzzer-beater to send the game into OT, then the buzzer-beater to win the game in OT. I'm not making this up.
12 p.m.: Blazers vs. Celtics (March 12, 1992 -- fourth quarter and OTs only)
Larry's last great moment: The one where he drains the improbable three to send a nationally televised game into OT (49 points in all). Just remember, the guy was playing with a 15-pound back brace and spending nights in the hospital in traction that season. And this was against a team that made the Finals. Unbelievable. By the way, this game has to be included on NBA Entertainment's upcoming "Rick Adelman's Greatest Collapses" DVD.
1 p.m.: Cavaliers vs. Celtics (Game 6, 1992 Eastern Semis)
Larry's last game in the Garden. Bird was so banged-up in this series, Chris Ford was taking heat for playing him in crunch-time -- in fact, Larry probably lost Game 4 for them. So Game 6 rolls around (do-or-die for the C's) and they move Larry to the high post, where he picks the Cavs apart with his passing. And yes, he's wearing the 15-pound back brace. Just an emotional game. Poor Lenny Wilkens didn't realize until afterwards that Bird couldn't move -- for Game 7, they pressured him and took him right out of the game.
But we'll always have Game 6.
And that's that.
Bill Simmons is a columnist for Page 2 and ESPN The Magazine. His Sports Guy's World site is updated every day Monday through Friday (except for this week, when he mysteriously disappeared for three days.