By Bill Simmons
Page 2
On Friday the 13th, I made a startling confession to my magazine editor: I still hadn't given up hope of catching the Yankees. Of course, he cackled in delight. He's a grizzled New Yorker, the type of guy who loves listening to delusional Red Sox fans. Especially when we're talking crazy.
Except for one thing ... I wasn't crazy.
"Just wait," I told him. "This Yankees team is dying to be caught. They don't have the pitching this year. They're in the process of blowing out their bullpen."
"Come on, you're nine and a half out!"
"Yeah, but we still play 'em six more times. And we're just coming together after the Nomar trade."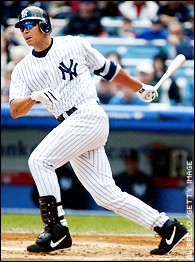 Getty Images
A-Rod just past Al Kaline and Andres Galarraga for 38th on the all-time homer list.
Now he was chortling.
"I love Red Sox fans," he said simply. "You guys are the best."
And that's fine. I'm the first to admit that Sox fans are lunatics. We aren't rational. We have problems. Some find us annoying, others amusing, others exhausting. Thanks to an endless series of books, documentaries and TV features, we're probably in danger of becoming a cliche, if it hasn't happened already. I will grant you all of these things.
With that said, on Aug. 13, it wasn't unrealistic to wonder if the Red Sox could catch the Yankees. Looking at the American League landscape, we had one overachiever (the Rangers); one relative underachiever (Boston); two teams ready to come alive (the Angels and A's); and one suspect juggernaut (the Yanks). Other than the Rangers, the Yanks seemed most likely to falter.
On Aug. 14, the Yankees were 74-41. The Red Sox were 63-51.
Eighteen days later, the Yankees are 81-50. The Red Sox are 77-53.
I wasn't shocked when the Good Guys made up seven games in less than three weeks, coming together faster than the Bad News Bears in Houston after Kelly Leak's father took over. But since WE'RE the Red Sox and THEY'RE the Yankees, until Cleveland's stunning 22-0 thrashing Tuesday night, most New Englanders had conditioned themselves to focus on the wild card chase. After all, the wild card was a safer bet -- more easily attainable, less potential for heartache. You know, the old Electric Fence analogy. Everything changed last night, but it should have happened sooner.
Imagine if the roles were reversed, if the Yankees were the ones making a late charge? Would Yankee fans be complaining about things like "We can't catch them, their schedule is too easy in September," as my Dad and others were saying as recently as last weekend? Of course not. Yankee fans would expect to catch the Red Sox and act accordingly -- sending taunting e-mails, giving co-workers crap, calling "Mike and the Mad Dog" and making brash predictions, even springing for expensive Paula Jones-style haircuts for their girlfriends. They would be LOVING this.
And nobody in New England would be breathing.
*****
So this is about history. As always. For instance, I e-mailed my Uncle Ricky on Monday morning just to ask if he was getting nervous. He replied with one word in block letters:
"NEVER."
When I asked my buddy JackO the same question, he sent along the following reply:
"I have no reason to be nervous about the Yankees. They're in first place, and their closest competition is the Red Sox. Why would I worry? As Yogi Berra said a few years ago, 'We've been beating these guys for 80 years!' 1918, Bitch!'"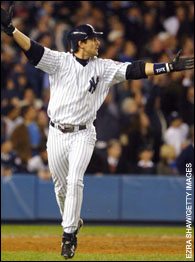 Aaron Boone's home run may have marked the beginning of a new era in The Rivalry.
It's a delightful group. The mystifying thing about Yankee fans? Their improbable sense of superiority, as if they're better people because they root for a baseball team only because A.) they grew up within two hours of Yankee Stadium; B.) they jumped on the bandwagon as a kid because they wanted to be associated with a winner; or C.) they have no soul. As one of my readers wrote last year, it's like rooting for the house in blackjack.
But you could see that confidence wavering this season. I think it stems back to October, just before Grady Little botched Game 7, when Yankee fans were thinking, "Good God, we're about to lose to the Red Sox." They were six outs away from pulling a Tyson in Japan, rolling around on the ground, searching for that mouthpiece, wondering what the hell happened. That subtle psychological edge -- manifested in the occasional smug chuckle, the condescending slap on the back, even the harmless insult -- would have disappeared forever. They may have won the game, but they haven't been quite the same since. Almost like a near-death experience.
Their players tasted that same pressure that night, all of them desperately hoping to avoid becoming That Team That Lost To The Red Sox. After Boone's climactic home run, they reacted with a level of emotion that had only been reached in those post-9/11 games against Arizona -- I can still see Rivera slumped by the first base line, completely spent, like he had just escaped from the Nakatomi tower in "Die Hard." Against the Marlins last year, they looked just as spent, a group of guys who had already played their World Series. You couldn't even blame them. We've reached the point where the feud means an equal amount to both sides. Even if the Yankees and their fans don't want to admit it.
This year's Yankees team has been overachieving all season. How can you win 100 games without a single 200-inning pitcher? Has that ever happened before? Can you hang on in September when your best current starter (El Duque) wasn't even on the active roster last season? Can you hold on with an overworked bullpen revolving around three guys in their mid-30s (Rivera, Gordon and Quantrill). And where's the depth? Can you ever remember a Yankee team trotting out this many crappy pitchers? Tanyon Sturtze, C.J. Nitkowski, Felix Heredia ... I keep waiting for them to sign Tim Robbins.
So how have they been winning?
Sheffield.
He's been Roy Hobbs after the Chicago trip in "The Natural." Remember when George overruled Team Cashman and gave Vlad's money to Sheff? That turned out to be the best move of the winter -- even when that old bastard screws up, it works out for him. Sheffield's stats (.297, 33 HRs, 98 RBI, .969 OPS) don't capture the 28 homers he has belted since June 1 -- most of them enormous -- or the incalculable number of clutch hits, or the feeling of dread watching your team pitch to him in late innings. I'm not kidding about this -- in my lifetime, the Yankees have NEVER had a more terrifying hitter, even with that wispy mustache that makes him look like a sax player from the 1940s. Gary Sheffield puts the fear of God into me.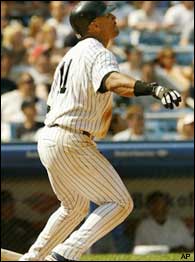 Gary Sheffield has carried the Yankees through stretches of this season.
Other than Jeter -- who's always scary -- the other dangerous Yankee hitter has been Matsui, a line drive waiting to happen at all times. Posada remains a tough out. Miguel Cairo has been downright frisky, yet another under-the-radar Yankees winter signing that nobody even noticed. Along those same lines, they signed John Olerud last month, removed the salad fork from his back and banked on the "We can pick up any left-handed hitter in the league, no matter how washed up he is, and get three solid months out of him only because he looks good in a Yankees uniform" rule. Of course, he's hitting over .300. They even were able to replace Giambi's power numbers with Ruben Sierra and Tony Clark (30 homers combined).
(Note: I don't know how these things happen. They certainly don't happen for other teams. For instance, we HAD Tony Clark. Maybe the worst Red Sox player of the past 10 years. Now he's having three-HR games. It's inexplicable.)
As for A-Rod, what can you say? He's having one of those old-school Peyton Manning seasons -- solid numbers, always great when they're up by three TDs, not someone you trust in a big spot. Imagine if he spent last winter orchestrating this "Boston or New York" move, which worked out thanks to Boone's freak injury, allowing him to finally prove that he was a Hall of Famer on the biggest possible stage ... only he was exposed as someone who couldn't come through when it mattered (as well as the 2004 Ewing Theory MVP)? Now THAT is pressure.
The fact that they're still on pace for 100 wins with A-Rod pressing and Giambi battling his mysterious illness that we're not allowed to discuss or even casually mention at cocktail parties ... I mean, what does THAT tell you? This team was playing over its head; now it's showing signs of dropping back to the pack. With Sheffield's body breaking down, with the bullpen ready to overheat like a '92 Datsun on the Bruckner, without a single reliable starter to pick up the slack ... I just felt like they could be had.
And I still do.
*****
If anything, last night's 22-0 thrashing was the worst thing that could have happened. The Torre Era Yankees always seem to respond after embarrassing losses -- you count them out, then they slap together a few wins, and suddenly Karl Ravech is sitting there on "Baseball Tonight" saying, "Since that 22-0 defeat to the Indians, the Yankees have won 14 of their last 16." That's just the way they work. In the past, anyway.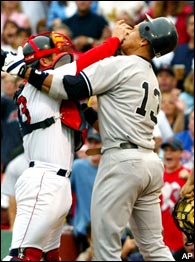 Things certainly seem to have changed since the brawl.
But there's a chance -- a good chance -- that this isn't the same team. From those four championship teams, only Rivera, Jeter, Posada and Williams remain, and poor Bernie is running on fumes. For the first time since the Morgan Magic Era, they're battling a Red Sox team that has better defense and better starting pitching. Boston's top two bats (Ramirez and Ortiz) could be even more dangerous than New York's top two bats (Sheffield and Matsui). And they play six more times, including one final series at Fenway during the last weekend of September.
It's a different Red Sox team since the last time they played in July, back when Varitek planted that two-hander in A-Rod's mug (after allegedly telling him, "We don't throw at .260 hitters"). They win one-run games now. Thanks to Mientkiewicz and Cabrera, they don't give away extra outs and unearned runs anymore. When Youklis returns this week, they will have the deepest bench in the league. It's a classic playoff team, built around pitching, defense, chemistry and two big boppers. The kind of team the Yankees used to build.
Say what you want about the Nomar trade, but it was like one of those "Real World" situations where the unhappy roommate leaves, and everyone is sad to see them go, and then by the end of the episode, one of the roommates is shaking their head in the Confessional Room and saying, "It's like a cloud has been lifted." It's telling that none of his teammates defended him when he left. In the weeks that followed, the players have been hinting that they haven't missed him, with Boston Globe columnist Dan Shaughnessy finally getting some of the players to go on the record last week. With apologies to Shaughnessy, who took the time to gather these quotes while I sat here on my sofa watching old NBA games, I thought two of them were the most telling:
Curt Schilling: "There isn't anybody doing their own thing now and that's different. Nomar had a lot of things going on and he's introverted. He had the Achilles. He had the contract. And it was its own story. Every day with the trade, that changed the atmosphere immediately in here."
Johnny Damon: "We got rid of a very good player in Nomar, but with these three players, we're better defensively everywhere because of it -- at first base, at shortstop, and in the outfield. Now everybody's pretty relaxed and excited about the way we've been playing. There's just a lot more life."
Look ...
I don't think Nomar is a bad person, just someone who handled an unfortunate situation poorly. If he was unhappy with the front office, he should have asked for a trade. If he didn't want to remain in Boston, he shouldn't have lied about it. And if he loved the city so much, he should have bought one of those "Thank You, Boston" newspaper ads on his way out and told everyone that. Just look at the way Drew Bledsoe handled a similar situation back in 2001 and 2002; it's like night and day.
Of course, in other ways, the Bledsoe parallels are startling. Both of them were overvalued by Boston fans, who conveniently overlooked hardcore evidence that both players had peaked as players three-to-four years before. Both of them were traded for (what we thought was) 75 cents on the dollar. Both of them watched their old teams thrive as soon as they were removed from the picture. And somewhere along the line, both of their legacies in Boston suffered in the process. At different times in the '90s, both of them were earmarked for Larry Legend status. Never happened. Maybe that's why it was so hard to let go.
Like Bledsoe, Nomar needed a fresh start somewhere else. As I wrote at the time, it wasn't like they were breaking up the '27 Yankees. They needed to do something.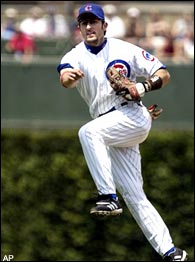 The departure of Nomar might have been the best thing to happen to Boston.
And they did.
And they're 19-4 in their last 23 games.
And if the roles were reversed, and this were the Yankees breathing down Boston's neck, and if the Red Sox were the team with shoddy starting pitching, an overworked bullpen and two banged-up sluggers ... well, I think you would be taking this column a lot more seriously.
One last story: When I called my buddy JackO during the 22-0 shellacking -- you know, just to see if he was nervous yet -- he wouldn't admit anything.
"It's still the Red Sox," he explained.
Then he made an analogy. Back in college, I used to routinely destroy our roommate Brendan in Tecmo Bowl. For some reason, he always thought he could beat me, even though I won every game by four or five touchdowns (mainly because he was dumb enough to let me keep playing Bo and the Raiders). But he kept coming back for more. And when I unleashed the usual round of post-game trash talk, old Brendan would come back with things like "Well, I almost had you at third-and-14 that one time!"
"That's what you're like with the Red Sox," JackO told me. "You're like Brendan bragging that he almost had you at third-and-14, only every season."
"But we're three and a half back right now. You're not even a little nervous?"
There was a pause on the phone.
"Yeah, I'm a little nervous," he admitted. "But it's still the Red Sox. And this is still third-and-14."
Maybe so. But it's better than fourth-and-20.
Bill Simmons is a columnist for Page 2 and ESPN The Magazine. His Sports Guy's World site is updated every day Monday through Friday (except for this week, when he mysteriously disappeared for three days.