By Bill Simmons
Page 2
Hey, did you guys hear that ESPN is celebrating its 25th anniversary?
Yeah, we're pretty excited about it. Maybe you didn't notice, but we even spent the summer counting down the top moments of the past quarter-century. We produced a bunch of TV shows, ran some features on the website, even came up with a SportsCenter Reunion Week -- although I boycotted those shows because they inexcusably forgot to invite Larry Beil (WITH AUTHORITY!). Unfortunately, we didn't promote this stuff well enough, so it slid under the radar screen for most people.
I mean, seriously . . . it's our 25th anniversary! Why aren't we making a bigger deal out of this?????? This is driving me crazy! Since I felt obligated to write something -- because ESPN has been around for 25 years and all -- I decided to figure out the answer to one question:
What was the greatest single year of the ESPN Era?
I'm talking about a year that appealed to everybody, one of those years that just had it going -- sports, movies, TV, pop culture, music, comedy, goofy subplots -- and you were never, ever, EVER bored. I'm talking about a groundbreaking year, with innovations just coming into their own, great actors hitting their stride, memorable rookies stepping onto center stage, maybe even some of the all-time legends making The Leap.
In other words, I'm talking about 1984. Here are 84 reasons why 1984 can never be topped: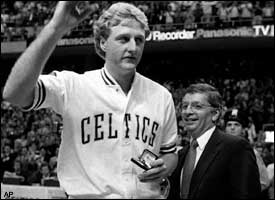 Basketball Jesus was in his prime in '84.
Sports Stuff
1. Four once-in-a-lifetime athletes enter their absolute primes: Bird, Gretzky, McEnroe, Montana. Good golly.
2. The '84 Finals saved the NBA, started two memorable sports rivalries (Celtics-Lakers, Bird-Magic) and gave us the best NBA game ever (Game 4). Heck, it even gave us the McHale-Rambis clothesline, which should be re-enacted every 10 years just for comedy's sake.
3. Bernard King gets his own paragraph.
4. More NBA stuff: Isiah and Dominique just scratching the surface; Magic (still not in his prime yet) and the Showtime Lakers; the great Bernard-Isiah shootout in Detroit; Nance over Doc in the NBA's first Slam Dunk Contest; McHale ushers in the "Really, REALLY Tight NBA Shorts" Era; and CBS introduces the "NBA on CBS" theme song with the funky computer graphics.
(Hey, let's sing a couple of bars: "Na-na-na nuh nah na-nah nuh-na nuh-nuh-na nahhhhhhh . . . do do-do . . . Na-na-na nuh . . . nuhhhh nuhhhh NUHHHHHHH . . . nuh-nuh NAHHH!")
5. Bowie over MJ. The worst decision in sports history. Even worse than Doug Collins's decision to get a perm in the late-80s.
6. That reminds me. Thanks to the '84 draft, Hakeem, MJ, Barkley AND Stockton entered the league that season -- gulp -- as well as some solid second-tier guys (Kevin Willis, Alvin Robertson, Michael Cage, Otis Thorpe, Jerome Kersey, Sam Perkins, Vern Fleming); the guy who came up with my favorite dunk of all-time (Terence Stansbury's Statue of Liberty dunk); and the scariest-looking player ever (Ken "The Animal" Bannister).
7. Roger Clemens and Doc Gooden? Both rookies in '84.
8. This was also the season in which Tony Gwynn, Don Mattingly, Ryne Sandberg and Wade Boggs all made The Leap. And one of the last years when it was still fun to collect Topps cards. Also, the Yankees were in the middle of an 18-year title drought. And remember the '84 Tigers? They started out 35-5 and rolled from there -- one of the kick-ass teams of the past 50 years, right up there with the '98 Yanks, '86 Mets and '75 Reds. Also, the Padres-Cubs NLCS lived up to the hype, between Garvey's series-saving home run and Leon Durham pulling a pre-Buckner (and never receiving even one one-hundredth of the grief for it). Good times all around.
9. How 'bout this emotional passing of the torch -- from the Islanders Dynasty to the Oilers Dynasty? Gulp. Any time a sport's two biggest dynasties are based in Long Island and Edmonton, you know the league is in trouble down the road.
10. Joining the NHL as a rookie that season? The great Mario Lemieux. Or as my buddy Sheck calls him, "Sixty-six."
11. Two HUGE wrestling moments. In January, Hulk Hogan pinned the Iron Shiek to win the WWF title at MSG, leading to Hulkamania taking off, the Cyndi-Lauper-Lou Albano connection, the MTV card and the WWF going mainstream. Only the biggest turn of events in wrestling history. And in March, Roddy Piper slammed coconuts into Jimmy Snuka's forehead on a "You remember exactly where you were when you watched it, JFK-assassination-level" episode of "Piper's Pit."
12. Also launching that year: "Tuesday Night Titans" on USA. As the IMDB.com synopsis tells us, "Stars of the World Wrestling Federation star in this talk-show takeoff which featured interviews, comedy skits and wrestling matches." They forgot to mention "Hosted by Vince McMahon." Throw in Lord Alfred Hayes as the sidekick and this was probably my third-favorite talk show ever, just behind "Late Night with David Letterman" and "The Magic Hour."
13. College hoops meant something in '84. You stayed home on Monday nights to watch the Big East. You knew the players because they had been around for years. And since guys stuck around, you could follow Ewing and Georgetown, Hakeem and Phi Slamma Jamma, Mullin and St. John's, Pearl and Syracuse, MJ at UNC . . . these were like pro teams on a smaller scale. I'm telling you, a Georgetown-St. John's game in the middle of February was an event. These moments aren't even possibilities anymore. They're gone.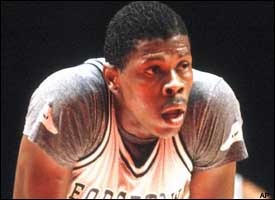 You'll never see a college career like Ewing's again.
14. Not only did we have a Houston-Georgetown final that season, but it's been 20 years and Reggie Williams's post-game interview still hasn't been able to be calibrated on the Unintentional Comedy Scale.
15. This was one of those golden NFL seasons, before free agency and parity ruined everything, when the good teams were almost like gangs. The Giants gang was led by Parcells and LT. The Bears had Payton and Ditka (one of the all-time "You just know they're going to be better a year from now" teams). The Redkins had Gibbs and that crazy offense. Miami had Marino and Shula. The Niners had Walsh and Montana. Denver had Elway and Reeves. The Raiders had Marcus and Al Davis. Even the Rams had Dickerson. Solid time to be a football fan. Although there wasn't DirecTV, gambling, fantasy football or the yellow first-down line yet. Let's just move on.
16. The USFL was in full swing --although it didn't affect me that much since I didn't have a gambling problem yet. Now? I would love it. Besides, any league that featured Donald Trump as an owner couldn't have been that bad.
17. What about a college football season that started with a classic (Miami beating Nebraska in January), then finished with another classic (Flutie throwing the Hail Mary pass against Kosar and Miami)? Flutie's Heisman season, by the way.
18. McEnroe vs. Connors. Certainly better than anything we have now. Plus, we were about 12 months away from the Lendl-Martina Era and the eventual death of tennis as we knew it. Ugh.
19. The Hearns-Hagler fight . . . well, it was still being negotiated. It actually happened in April, 1985. But the seeds were PLANTED in 1984, dammit.
20. The Summer Olympics in LA! Not only that, but the Russians (and Ivan Drago) stayed home! Let the Gold Medal Frenzy begin! I think even I won a gold medal that year! I can't stop using exclamation points!
21. But seriously, this was the Olympics that gave us Carl Lewis, Edwin Moses, Mary Lou Retton, MJ on the hoops team, Mary Decker sobbing on the side of the track (a solid 87 on the UCR scale), and the great Mitch Gaylord (who parlayed his fame into an emotional performance in "American Anthem"). That's a solid two weeks.
22. And what about the Winter Olympics, the first Winter Games held in a socialist country (Yugoslavia)? I don't remember anything else . . . although I vaguely remember the Sklar Brothers winning skiing medals.
23. "The Wave" became popular in 1984. I know, I know. I'm not happy about it, either. It was like the "Guy on his cell phone sitting behind home plate and waving" moment of the mid-'80s. But it happened. We can't pretend it didn't.
24. Both roto baseball leagues and March Madness pools went mainstream in '84. Read that sentence again.
TV Stuff
25. I can only speak for myself, but in the summer of '84, our basic cable expanded and we suddenly had another 25-to-30 channels -- including HBO, which showed "Eddie and the Cruisers" every six hours (not that I'm arguing). Try to imagine surviving as an only child with no Internet and primitive video games . . . and then suddenly you have expanded cable. I'm getting misty just talking about this.
26. Although Letterman hit his stride in '84, his NBC show somehow remained in that "Super-cool/nobody really knows about it" stage. Imagine getting to watch Letterman in his absolute prime every night? It was unparalleled.
27. NBC's Thursday night lineup: "Cosby," "Family Ties," "Cheers," "Night Court" (which I hated, but still) and "Hill Street Blues." Just a murderer's row. Also, "Cheers" was still in its prime -- this was the last year before Coach died, and it went from being a show to a sitcom (as explained in my Cheers vs. Seinfield breakdown back in 2002.)
28. "Miami Vice," Season One. Practically life-altering. I still remember watching the pilot, seeing Calderon get away at the end, glancing at the clock and thinking to myself, "Six days, 23 hours and two minutes until next Friday night." If I could trade places with any creator of any TV show of the past 40 years, I would want to be Michael Mann in the fall of 1984. Imagine having that baby on your resume? Oh, and also, I created a show that changed the face of TV.
(By the way, the list of "People in their absolute primes in '84" so far: Bird, Bernard, Montana, McEnroe, Gretzky, Sam Malone, Hulk Hogan, David Letterman, Sonny Crockett.)
29. "Growing Pains" and "Charles in Charge" both launched. So did the underrated sitcom "It's Your Move" with Jason Bateman, who should have been one of the five biggest stars of that decade. Alas.
30. This was the year that A.) "The A-Team" was the No. 1 show in America (which is funny enough in itself, especially because Mr. T was prominently involved); and B.) the "Dynasty" vs. "Dallas" rivalry heated up and both shows started featuring more and more catfights, which was just about as close as you could get to Skin-e-max back in the day.
31. Not only was this the swan song for the "Love Boat"/"Fantasy Island" combo on Saturday nights, but '84 was also the last year for "Three's Company." Talk about the end of an era. This was also the last time Joyce DeWitt ever filled out a 1040-form.
32. ABC ran a phenomenal 20th anniversary show of "Wide World of Sports" -- the first transcendent highlight/retrospective show -- featuring Julie Moss crapping all over herself in the triathlon, all of Evil Knievel's great jumps, and then an Ali piece which remains the best Ali segment I've ever seen, capped off by a trembling Ali walking on stage to a standing O that just wouldn't end. What a show. One of my prized possessions on videotape. No, you can't have a copy.
33. Eddie Murphy's last season on "SNL." For my money, the most important "SNL" performer ever -- Eddie saved the show and made the most money afterwards. If you disagree, you're a racist and you hate blacks. End of story.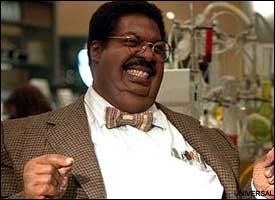 Forget about the Klumps, SNL is still on today because of Eddie.
(Sorry, this is the new way to argue points at Page 2. I'm just following instructions.)
34. If that wasn't enough, "SNL" returned in the fall of '84 with its best overall cast since the '70s, including Chris Guest, Billy Crystal, Martin Short, Jim Belushi and even Julia Louis-Dreyfuss. Another murderer's row. This season also featured two of the best sketches ever -- the synchronized swimmers, and Jackie Rogers Jr's $100,000 Jackpot Wad -- which never gets shown on TV only because Dick Ebersol was the producer that season and Lorne Michaels controls all the re-runs, so he basically buried this entire season. And you wonder why Mike Myers based Dr. Evil on him.
35. During the 25th anniversary Motown show in February, Michael Jackson performed "Billie Jean" and unveiled the moonwalk. I know, I know. Sounds lame now. I'm telling you . . . this was a moment. You had to be there. It was like MJ's 63-point game against the Celtics, only if a stage, a top hat and a future accused pedophile were involved.
36. Hey, did I mention that MTV came into its own in '84? The "Thriller" video; Springsteen pulling Courteney Cox out of the crowd; David Lee Roth jumping around; the emotional Cyndi Lauper "Time After Time" tearjerker; all the Madonna and Duran Duran videos; "Drive" by the Cars; "Legs" by ZZ Top . . . do I need to keep going?
Of course, five videos stood out over everything else . . .
37. "Hello" (Lionel Ritchie) -- This was the one where Lionel falls for the blind girl who made the bust that looked nothing like him. Remember that one? She told him, "This is what I see when I see you," then she showed him a sculpture of Barry Sanders, who wasn't even famous yet. This video is RIOTOUSLY funny now. It slays me. Absolutely kills me. I wish they had made a deleted scene where Lionel says, "Hey, just so you know, that looks nothing like me -- I have swollen lips and horrible gheri-curls!", just for the blind girl's reaction.
38. "Smalltown Boy" (Bronski Beat) -- This one really could have won an Oscar. I'm not kidding. A textbook '80s song as well.
39. "Somebody's Watching Me" (Rockwell) -- "Inexplicable" isn't a strong enough word here. Seriously, who the hell would stalk Rockwell? How did he get Michael Jackson to sing backup? Why the English accent in the middle? What happened to him after the song? Was he killed in real life by the stalker? Was Rockwell his first name or his last name? I could go on for days.
40. "Sunglasses at Night" (Corey Hart) -- Watching this 20 years later . . . I mean, you can't even believe it's happening. You just can't. And then you remember that he was Canadian, and it makes everything a little easier to digest. Just a little.
41. "Wake Me Up Before You Go-Go" (Wham!) -- This video is 10 times funnier when you know that A.) I definitely watched it that year; and B.) another 15 years passed before I realized that George Michael was gay, and only because he announced it.
42. Also, MTV launched the Video Music Awards that fall -- and if you don't remember Madonna rolling around in a wedding dress at Radio City Music Hall, you obviously weren't a horny teenager in '84.
Music
43. Let's see . . . Prince, Springsteen, Madonna, Van Halen, "Footloose," Tina Turner, Cyndi Lauper, Phil Collins, Billy Idol, Huey Lewis, Year Two of Jackson's "Thriller" album, plus "Unforgettable Fire" by U2. Has that year ever been topped? Except for Madonna, all of those people were in their primes (and Madonna was in her sexy/skanky/"anyone has a chance with me" prime).
44. If that wasn't enough, '80s college music took off -- that Cure-Smiths-REM-Depeche Mode-New Order sound that holds up to this day. There was even some decent mainstream stuff from Wang Chung, Duran Duran, the Eurythmics, Bronski Beat, Thompson Twins, Howard Jones, Frankie Goes to Hollywood, Tears for Fears and John Waite as well (among many others). Again, things were happening in '84.
45. The Police broke up (good career move, in retrospect). So did Van Halen and David Lee Roth (not so good).
46. You know what? U2's breakout year gets its own paragraph. I went back to "Boy" and "October" with them . . . I was fully invested. It felt good. I have to admit.
47. You know what? Bruce gets his own paragraph as well. I was just as invested, maybe even more so. And it wasn't just his music, his lyrics, his ceaseless energy, his comical underbite . . . it was those emotional concert stories between songs. You know, like this one:
Can you quiet down for one second? (Dramatic pause, clears throat.) When I was growing up, there was only three things unpopular in my house -- me, my hair and my guitar. My Dad hated my guitar. He just hated it. One time he lit my guitar on fire, then smashed me over the head with it a hundred times. I was covered in second-degree burns. When I was in the hospital, I didn't want to see nobody, but then my Dad came into the room, and he looked me in the eye, and he shook my hand, and he said, "I'm sorry." And then he tried to strangle me with my catheter. I fended him off, finally stabbing him unconscious with a salad fork. Me and my Dad were never the same. Anyway, here's Thunder Road.
48. Come on, tell me you didn't like these songs: "99 Luftballoons" . . . "Darling Nikki" . . . "Cruel Summer" . . . "Yah Mo Be There" . . . "Sister Christian" . . . "Sunglasses at Night" . . . "Relax" . . . "Head over Heels" . . . "Pride (In the Name of Love)" . . . "Caribbean Queen" . . . "Panama" . . . "Billie Jean" . . . "Hot for Teacher" . . . "Somebody's Watching Me" . . . "Boys of Summer" . . . "Jungle Love" . . . "Missing You." Like you wouldn't download those for your iPod. Come on.
(Note: Chuck Klosterman is having a heart attack right now.)
49. Run DMC became the first rap act to produce a gold record. It's true.
50. ZZ Top's "Legs" was released -- one of the five greatest strip-joint songs of all-time.
Crockett, Tubbs ... wow. There aren't enough words.
51. That's right, this was the holiday season when Band Aid came out with "Do They Know It's Christmas" -- one of the three greatest Christmas songs ever (along with that Crosby-Bowie song and Elvis's "Blue Christmas"). It's not officially Christmas until I hear this song. It just isn't. Well, tonight thank God it's them -- instead of yoooooooooou!
52. The launch of the wacky "Synth Era" -- Jan Hammer ("Miami Vice"), Harold Faltemeyer ("Beverly Hills Cop"), Herbie Hancock, Thomas Dolby and the last 10 minutes of "Revenge of the Nerds." There is no rational explanation for any of this. But it still holds up.
Movies
53. Sadly, we were one year away from the greatest movie year ever (that's a whole other column). But '84 still gave us "Revenge of the Nerds;" "The Lonely Guy;" "Gremlins;" "Police Academy;" "Top Secret;" "Body Double;" "Romancing the Stone;" "Indiana Jones 2;" "Ghostbusters;" and "Nightmare on Elm Street."
And then there were these beauties . . .
54. "Sixteen Candles" -- This one kicked off the Brat Pack era of cheesy '80s movies, which ran from here to "Breakfast Club," "Secret Admirer," "Teen Wolf," "Just One of the Guys," "Better Off Dead," "Can't Buy Me Love" and everything else. Probably would have happened anyway, you say. Yeah, but still.
55. "Beverly Hills Cop" -- Eddie goes from superstar to superduperstar. I still can't get over the fact that this movie was originally developed for Sly Stallone. That has to rank among the all-time "What If's?"
56. "Red Dawn" and "Footloose" -- Right at the top of the list of Great Bad '80s Movies. "Red Dawn" tells the story of Central American and Russian forces invading America, only a ragtag group of midwestern guerrillas (led by Patrick Swayze, C. Thomas Howell and Charlie Sheen) decide to fight back, and they get to live in the mountains and fight over reheated beans and stuff. "Footloose" is about a small town where dancing was deemed illegal, so newcomer Kevin Bacon is forced to drive to the outskirts of town and take out his dancing frustrations on his own in an abandoned factory . . . but eventually, he convinces the entire town to embrace dancing, and they have an especially fun prom.
(This was just a different era of filmmaking. Needless to say, I loved it.)
57. "The Terminator" -- Surprisingly, disturbingly dated now, on a number of levels, including the fact that the one-man killing machine now governs an entire state.
58. "Splash" and "Bachelor Party" -- Tom Hanks makes The Leap. I would say this was important. And just for the record, his performance in the first 20 minutes of "Bachelor Party" has to rank among the funniest of the decade, right up there with Billy Blazejowski, Reggie Hammond and everything else.
(And speaking of leaps, how 'bout Larry B. Scott appearing as the gay frat brother in "Revenge of the Nerds," then the only black member of Cobra Kai in the same year! A reader pointed this out a few weeks ago . . . I never noticed this before. Does this count as making The Leap? I need a ruling.)
59. "Karate Kid" -- So much to love, I once wrote an entire column about it.
60. "This is Spinal Tap" -- A pantheon comedy.
61. "The Natural" -- A pantheon sports movie.
62. "Hot Dog: The Movie" -- A pantheon Cinemax movie.
63. "Romancing The Stone" -- Kathleen Turner was so remarkably hot in this movie, people were high-fiving in the theater. Fifteen years later, she was appearing on "Friends" as Chandler's transexual Dad. I will now rip my earlobes off.
(By the way, the list of "People in their absolute primes in '84" so far: Bird, Bernard, Montana, McEnroe, Gretzky, Sam Malone, Jason Bateman, Hulk Hogan, Letterman, Sonny Crockett, Springsteen, Prince, Murphy, Schwarzenegger, Michael Jackson, Morrissey, Robert Smith, Kathleen Turner, Shannon Tweed, Billy Zabka.)
64. "Purple Rain" -- I always wonder if I would have liked this movie as much if Prince didn't make Appollonia purify herself in the waters of Lake Minnetonka. I'd like to think yes. Also, the whole subplot with his abusive Dad grows creepier and more inexplicable over the years -- although every scene with Morris Day and the Time makes up for it. Did we ever figure out what Jerome did? Was he actually in the band? Did he get paid as much as anyone else? All right, I'm babbling.
65. Not only did the porn industry shift completely to video, but Traci Lords, Christy Canyon AND Ginger Lynn made their X-rated debuts in '84. And you thought MJ, Hakeem, Barkley and Stockton couldn't be topped.
Pop Culture and Other Stuff
(I'll make this fast, I promise.)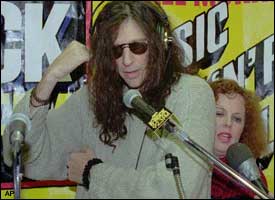 The King of All Media hit his stride in '84.
66. What about the fact that Orwell wrote a book called "1984"? You just KNEW it was going to be a big year. You knew it.
67. This was Howard Stern's breakout year in radio -- first he was fired from WnnnnnnnnnnnnnBC in New York, then he headed over to KRoq and redefined radio magic as we know it.
68. Breakdancing. Wow. I guess we need to deal with the fact that this happened. Eventually.
69. Two go-to punchlines were born. First, thanks to Wham, Andrew Ridgeley's career took off, setting himself up for 15 years of jokes as a "Second banana that disappeared" punchline. Then the drummer from Def Leppard lost his arm, giving birth to 20 years of "I can't believe you just made that joke" comedy -- centered around somebody randomly hearing a Def Leppard song, then pulling one arm inside their shirt and pretending to play the drums with one arm. In fact, I can't believe I just made that joke.
70. Some weirdness in '84: Huey Lewis sued Ray Parker Jr. for lifting the theme from "Ghostbusters" from one of his songs . . . Bernard Goetz gunned down four muggers on a New York subway . . . Michael Jackson's hair caught on fire during the shooting of a Pepsi commercial (fortunately, there weren't any after-effects, like erratic behavior or anything).
71. Speaking of Michael, this was a big year for him -- Menudo, Emanuel Lewis AND Corey Feldman all rose to fame this year. It was like an all-you-can-grope buffet for him.
72. Did I mention we had a Presidential election? Reagan destroyed Mondale. The fact that Mondale used "Where's the beef?" as one of his attack ads probably didn't help. By the way, this was the year of "What's my beef?" -- both the Wendy's commercial and Leno's bit on Letterman's show.
73. The Heathers (Locklear and Thomas). Like the Russell and Chamberlain of their time.
74. When the USSR boycotted the Summer Olympics, that gave the Cold War new life, eventually leading to Rocky Balboa's emotional "If I can change, you can change, anyone can change!" speech.
75. The Supreme Court made it legal to tape shows with a VCR. Right up there with Roe v. Wade.
76. Corey Haim moves to Hollywood from Canada, meets Corey Feldman . . . the rest is history.
77. How's this for a sex scandal: Vanessa Williams resigned as Miss America when Penthouse ran compromising photos of her. Not a big deal now. HUGE deal back then. The 2004 equivalent would be if a sex tape accidentally got leaked on the web with her, Rick Fox and Shaq.
78. Apple released the first Macintosh computer. This eventually enabled me to play entire seasons of Microleague baseball. Crucial turn of events.
79. We're still in the Intellivision glory days. Warrants mentioning.
80. Maybe the best year ever for Sports Illustrated covers, including Bernard dunking to "His Royal Highness"; the hysterical Kosar-Marino college FB preview; Michael Graham "Slamming the Jammas"; and MJ's memorable "A Star is Born." I love those old covers -- just one picture and one headline. Why did they get rid of those?
81. Ric Ocasek bags Paulina Poriskova, giving hope to every mediocre-to-ugly guy on the planet that they might get to bag a supermodel some day.
82. By the way, the final list of "People and things in their absolute primes in '84": Bird, Bernard, Montana, McEnroe, Gretzky, Sam Malone, Hulk Hogan, Letterman, Sonny Crockett, Jason Bateman, Springsteen, Prince, U2, Murphy, Schwarzenegger, Michael Jackson, Morrissey, Robert Smith, Kathleen Turner, Shannon Tweed, Billy Zabka, Traci Lords, Ginger Lynn, Christy Canyon, Ronald Reagan, Heather Thomas, Heather Locklear, Paulina Porizkova, the Cold War.
83. During the same year -- yes, 1984 -- Rolling Stone was offered the chance to buy MTV, and Sports Illustrated was offered the chance to buy ESPN. Both magazines decided against it.
(I mean . . . ouch.)
84. Which brings us back to ESPN. This was the year when SportsCenter became part of people's daily routines. That's when they started to explore the proverbial studio space. Literally. Just one of the 84 reasons why 1984 was better than any other year since 1979 . . . the year ESPN was born.
(Just in case you didn't know, it's our anniversary this month: The big 2-5. Wasn't sure if you heard.)
Bill Simmons is a columnist for Page 2 and ESPN The Magazine. His Sports Guy's World site is updated every day Monday through Friday.