By Bill Simmons
Page 2
About six weeks ago, I was invited to a rough cut screening of "Friday Night Lights," held at Universal City.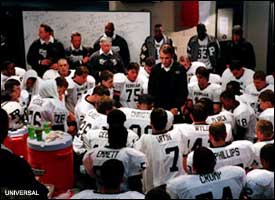 Right or wrong there's one only one real "religion" in Texas -- high school football.
Here's what happens at a rough cut: When the director is about 90 percent done with his movie, he screens a "cut" for some of his real friends and some of his Hollywood friends (big difference), as well as some other industry people who bring trophy girlfriends and don't talk to anybody. Your job is to show up, then blow smoke up his butt after it's over. If it's terrible, you tell him "You were great in it" or "You did a great job with it." If it's OK, you tell him that you loved it. If it's good, you tell him that you f---ing loved it. If it's great, you tell him that you liked it, then you drive home pissed off because he's going to make more money than you.
Obviously, I don't fit into this scene. I'm also a terrible liar, unless I'm playing poker. So when Pete Berg (who directed "Friday Night Lights") invited me to the rough cut, I almost didn't want to go. What do you say if it stinks? From the few commercials I had seen, it looked like another "Any Given Sunday" -- over-the-top football scenes, dizzying editing, blasting music and everything else. I hate sports movies like that.

As "Friday Night Lights" his theaters this Friday and the ESPN Book Club debuts on Page 2, ESPN.com takes an in-depth look at the story of Odessa (Texas) Permian High School football: FROM THE ESPN BOOK CLUB:

But I went. We have a mutual friend, so I had to go. I wasn't happy about it.
Except for one thing. ...
I liked the movie. A lot.
And this was a rough cut. I can only imagine how the final version turned out -- if not for a comedy of errors this week, I would have seen another screening this week. The biggest reason I liked the movie? I can't tell you. You have to see it. Has to do with the final game.
But it's the logical successor to "All the Right Moves," another football movie about a bunch of high school kids who were either A.) looking to get out of a small town, or B.) coming to the depressing realization that this was as good as their life was going to get. I liked "Moves" a little bit more, if only because it came first and it's pretty hard to top Tom Cruise playing cornerback and screaming things like "We didn't quit, YOU QUIT!" Maybe 10 years from now, after I've seen "Lights" another 25 times, I'll feel differently.
Here's what else I can tell you.
They stayed faithful to H.G. Bissinger's book (a pantheon sports book, by the way).
The sports scenes work very well, especially the final game in the Astrodome.
It's filmed almost like a documentary, like a movie version of one of those "The Season" shows that ESPN runs. It's gritty, even a little raw.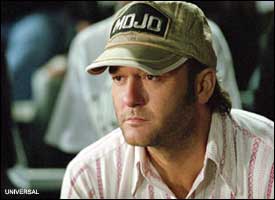 Married to Faith Hill. In a major movie. Millionaire. Call Tim next time you're picking numbers for Powerball.
Unlike a movie like "Miracle," where you're still trying to figure out who's who with 20 minutes to go, you know pretty much right away who the major characters are. I liked all the actors who played the football stars, especially Derek Luke as Boobie Miles (the charismatic all-state running back). You'll also recognize the QB as That Kid from "Sling Blade."
This was my favorite Billy Bob Thornton performance ever. He didn't have a ton to work with because the real-life coach wasn't that interesting, but he's like Jason Kidd running the point in his prime -- just nails all the little nuances, never makes a mistake, just keeps adding stuff to the table. By the end of the movie, when it's Big Speech Time, he's earned the right to give that Big Speech. And that's the hardest thing for a sports movie to pull off, getting the coach to that point without making him come off like a cliche.
Maybe the most jarring performance comes from Tim McGraw, a former Permian player turned Football Parent From Hell. He just knocks it out of the park, although I could have done without the scene of him leering in the background as his son gets it on with a groupie. He's also directly involved in the biggest Chill Scene in the movie. I won't spoil it for you.

In fact, I don't want to spoil anything for you. Just go see it. When the DVD comes out, I'll write an extended review. But yes, it's definitely cracking the Top 73. Like I told the director after the rough cut, "I f---ing loved it!"

(In other words, good flick.)
---
As for this week's NFL slate, it's official: Point spreads just don't matter anymore.
Remember how underdogs were 24-20-2 heading into Week 4, but 17 of those 24 underdogs won their games outright? I even wondered if we were just better off gambling on the money lines. So what happened in Week 4? The underdogs went 7-6-1 against the spread, but all seven underdogs that covered also won the game outright. All seven! Only the Bucs screwed up (losing by three when they were getting three).
Some staggering numbers here: Underdogs are 31-26-3 heading into Week 5, with 24 of those 31 covers doubling as Outright Wins. Even if you include the Week 4 Bucs, that's still 75 percent (24-8) through four weeks. If you wagered $1,000 on every underdog money line last week, you would have lost half of your bets ($7,000, with no vig) and still made a tidy $3,800 profit. That isn't just significant; it's the kind of development that eventually takes down casinos and leaves us all wearing gold-plated diapers.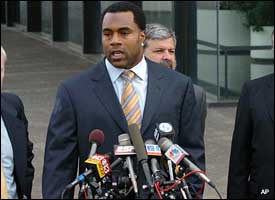 Unless it's at a post-game press conference, it's never good to see a player out of uniform leading the news.
(Note to anyone who doesn't care about this stuff: I'm sorry. Really, I am. I have a gambling problem. Just indulge me. I don't ask for much.)
On the flip side -- thanks to the neverending stream of upsets -- teasers and two-team parlays have been as unreliable as ever. Even though I went 9-4-1 with my picks last week, I still managed to lose money (not much, but still) for the first time all season, thanks to the Ravens on Monday night -- I stuck their money line in parlays with the Pats and Steelers. A wiser gambler would have hedged with the Chiefs +5, or even the Chiefs +3 at halftime. Not me.
The lesson, as always? No, it's not that I'm an idiot. Although that's always true. Here was the lesson, and I can't believe I never saw this one coming:
"Never put all your eggs in one basket on a team with only one above-average offensive player, especially when that same player is plea bargaining a federal indictment in a drug conspiracy case that same week."
Lesson learned. Which reminds me, I've always been a fan of those "Miked Up" segments on "Monday Night Football" and "NFL Films," but they're never topping what happened in last week's game: Ray Lewis giving Jamal Lewis a pre-game pep talk and saying something to the effect of, "Carry (the trial) on your shoulders, that's what I did with mine, take it out on the field!" That was fantastic. Too bad Leonard Little wasn't on hand to give his two cents. What a league.
Onto the Week 5 picks ...
Home team in caps
APPETIZERS
PATRIOTS (-13) over Dolphins
Earlier this week, I was complaining to my buddy Gus about how nobody was talking about the 18-game Pats winning streak. He disagreed and pointed out many of the TV features and newspaper/magazine/website features he had seen, leaving me with no possible comeback except the old Ace Carolla standby, "Yeah but still."
"You know what you're turning into?" Gus told me. "One of those annoying athletes that keeps bitching about how they don't get any respect."
"No I'm n-."
"Yes you are! The Patriots are getting plenty of coverage. You guys just use this stuff to motivate yourselves. It's getting annoying. You're like Larry Holmes."
He's right. I'll shut up.
(Just as long as we can all agree that Brady is better than Manning.)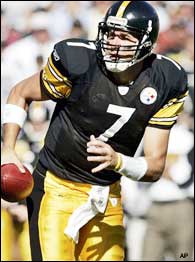 Browns (+6) over Steelers
Here's the thing with rookie QBs: They look OK for a couple of weeks, and then scouts/coaches who stay up 20 hours a day drinking lukewarm coffee and eating donuts and searching for an edge start noticing stuff like, "He looks uncomfortable if you make him move to his left" and "When he subsconsciously scratches his left butt cheek while walking towards the line of scrimmage, that means he's throwing to Hines Ward," and just like that -- poof! -- the league catches up with them. Then the rookie's coaches make adjustments to THOSE adjustments ... and it's on.
So can we squeeze one more week out of the Ben Roethlisberger Honeymoon before the Cowboys and Parcells leave him with the Ryan Leaf Memorial "I hope the guys will still talk to me after the game" Face? I say no.
SEAHAWKS (-7) over St. Louis
The torch is passed.
Panthers (+5.5) over BRONCOS
Just to let you know what kind of shape my East Coast roto team is in, my two QBs (the Jakes) are going head-to-head in this game... and Vegas's over-under for points couldn't even crack 38.
That reminds me, we had a big debate in that league this week: Our friend Russ picked up Ricky Williams on Wednesday morning, the kind of forward-thinking, borderline-sleazy move he's been known for over the years (he's famous for hoarding extra players on his roster until Sunday morning, then cutting them so nobody else can pick them up in time). Commissioner Jim immediately sent out a group e-mail explaining, "I chastised Rusty this morning for picking up Ricky Williams and he readily agreed to drop him," a sentence which is 10 times funnier when you remember that these are two guys in their mid-30s.
That led to an extended debate over the rules for keeping guys on your roster who aren't A.) on a bye week, B.) injured, or C.) serving a drug/steroid/team suspension that happened after the season started. We decided that you couldn't pick up someone who was either inactive or suspended, not unless you're prepared to start that person this Sunday. In other words, you can pick up Ricky even though he left the league because he wanted to smoke marijuana for 24 hours a day -- you just have to start him, whether he's stoned or not. But if you drafted Jamal Lewis months before his impending suspension for his role in a cocaine conspiracy, you can keep him on your bench until the suspension ends, even if he's doing mounds of cocaine on the team bench during said suspension.
Glad we cleared that up.
Giants (+3.5) over COWBOYS
Fact: Tom Coughlin and Parcells are very close friends. You will hear the announcers mention this roughly 25,397 times on Sunday.
Fact: Vinny Testaverde is on pace to become the oldest, most color-blind quarterback ever to throw for more than 4,000 yards.
Fact: Kurt Warner may have extended his deal with Satan a few weeks ago, but two plays from the Green Bay game gave me the willies (the interception and the slide one foot short of the goal line).
Fact: I changed my pick 21 times from the one you're looking at right now. Your guess is as good as mine.
ENTREES
FALCONS (-6.5) over Lions
I wish Donald Trump made football picks in the boardroom at the end of every "Apprentice," just so we could see exchanges like this.
Trump: "Next up, the Falcons are giving six and a half to the Lions ... I like the way the Falcons are playing. They've shown a lot of heart and they've had some good wins. And I don't like this Joey Harrington kid at all. I'm taking the Falcons. (Glancing around for approval.) I feel good about that one."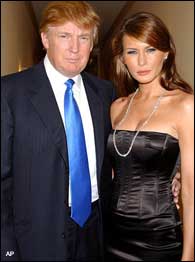 "Hey Harrington ... you're fired!"
Carol: "Yeah, that was an easy one. Harrington is terrible."
George: "You did what you had to do."
Trump: "Yeah, I feel good about that one."
COLTS (-9.5) over Raiders
The way the officials are protecting the Colts right now, it's starting to bring back memories of Stern, Bavetta and the Knicks throughout the '90s -- one pass interference call during that Jags game came roughly 35 seconds after the pass fell incomplete. It's like Tagliabue held a secret meeting in March and asked his closest associates, "Guys, I want to make the Colts the marquee team in the league. What needs to be done to make that happen?"
With that said ...
They're a gambling gold mine. They cover every week. They're more reliable than lukewarm applause for Vijay Singh. And considering that they already played three of their toughest games this season -- road games in New England, Tennessee and Jacksonville -- they could run the slate through Week 16 (until the Denver game), unless KC gives them trouble in Week 9.
Here's my point: I don't know about you, but I'm riding them every week until they lose. Barring injuries, of course. I don't think that offense can be stopped. More importantly, I don't think the NFL wants that offense to be stopped. So we might as well make some dough-ray-me along the way.
Jags (-3) over CHARGERS
Here's what stinks about picking games on Fridays: I took the Titans last week in San Diego, naturally assuming that McNair would make another Lazarus-like comeback at game time. So what happens? Sunday rolls around and McNair gets scratched. Now I'm stuck with Billy Volek giving three on the road. Like I would have kept that pick? Please. Anyway, I like this Jags team. Game effort against the Colts last week. Now they just need to shut down Lawrence Taylor and the Bolts this week.
(Note: That's my new game plan. If they're insisting on calling Tomlinson "LT," I'm just changing his name to "Lawrence Taylor" in my columns. There was only one LT, dammit. Do you think LaDainian could have forced that fumble against Roger Craig in the 1991 NFC Title Game? Think he could have sacked Doug Williams three times after an all-night crack binge? Think he could have bodyslammed Bam Bam Bigelow? Think he could have gotten his own "SportsCentury"? I think not.)
TEXANS (+4) over Vikings
The upset special. Great home crowd for the Texans in last week's Raiders game -- they really made a difference. I was impressed.
(Quick Michael Bennett tangent: I took him as my big rookie sleeper in my East Coast roto draft two years ago. He murdered me. Just killed me. This year, we took him again in my West Coast league. He's killing us again. Just murdering us. I feel like there should be support groups for these types of unique situations -- chat rooms where I could discuss my irrational hatred for Bennett with other roto owners who have been burned by him in their roto leagues. And I could type things like "Do you think Michael Bennett's knee is made out of paper mache?" while some complete stranger typed back "LOL!")
REDSKINS (PK) over Ravens
Whatever.
Bills (+6.5) over JETS
If Drew Bledsoe was a horse, the trainer would be telling the owner, "We need to put him down," and the owner would be crying and saying, "Just give me a couple of moments with him," so the trainer would leave and the owner would remain in the stable, rubbing the horse's head and saying his goodbyes. Then they would take the horse behind the back and shoot him. In real life, Bledsoe will be benched as soon as J.P. Losman comes back, then he'll be waived on March 1.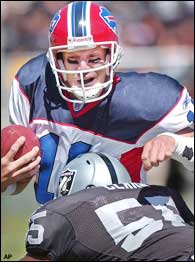 "No, no Bills fans ... we sent Drew to live on a big farm so he could have other horses to play with."
So why am I taking the Bills on the road? Because I don't like the way the Jets looked last week. And because this Bills team looks like it's destined for one of those agonizing, Ron Erhardt-type seasons where they're 2-8 after 10 games, even though they were one play away from taking nine of the 10 games.
(On the bright side, if the Red Sox win the World Series this month, the Bills officially become THE star-crossed franchise in sports. It's like when Phil Mickelson won a major and we had to find a new "Best Player Who Hasn't Won a Major" guy, only we already have one waiting in the wings.)
Cardinals (+1) over NINERS
Dumbest line of the year. You know what? I'm making the Cardinals my "Lock of the Month."
Bucs (+3) over SAINTS
"Boooooooooooooo!!!!!!"
"Boooooooooooooo!!!!!!"
"Boooooooooooooo!!!!!!"
(That was my imitation of the Saints fans on Sunday.)
But here's my question: Let's say the Bucs become good down the road, and Phil Simms ends up broadcasting a game with his son playing QB for Tampa. Does he ...
A. Pull a Bill Walton and refuse to acknowledge that it's his son in the game, even going so far as calling him "Simms."
B. Have a little fun with it, but remain somewhat objective.
C. Openly and unabashedly start cheering for his kid.
D. Turn into one of those Dads like the crazy father in "Friday Night Lights," where he starts grumbling about his son by the second quarter and hissing stuff like, "Another incompletion from Simms, who clearly needs to GROW THE F--- UP!" and "Oh, that's great, just go into the turtle as soon as you feel some pressure, YOU'RE JUST LIKE YOUR MOTHER!"
I'm guessing he goes with "B." But "D" would be absolutely phenomenal.
DESSERT
PACKERS (-3) over Titans
McNair!!! Favre!!! The Packers! The Titans! It's "Monday Night Football on ABC!"
(Looks so much better on paper, doesn't it?)
Last week: 9-4-1
Season: 34-23-3
Bill Simmons is a columnist for Page 2 and ESPN The Magazine. His Sports Guy's World site is updated every day Monday through Friday.