By Bill Simmons
Page 2
On Saturday night, a few hours after the Yankees teamed up with Ron Gardenhire to dispatch the Twins, I was walking to my local Starbucks with the Sports Gal and her brother. They were talking about music or something. I was lost in thought, trying to come up with ideas for my Sox-Yankees breakdown column.
MORE SIMMONS: ALCS Q&A
Do you want to know what the Sports Guy really fears about the ALCS?

Well, his buddy Gus did and here's what he found out.
And then a bird crapped on me.
Right on my shirt, just above the left nipple. A gooey collage of black, white and green. Almost looked like multi-colored mucus.
Now ...
The entire side of my mom's family is Italian. In case you didn't know this, Italians believe in some crazy things. For instance, my mom is wearing a horn necklace right now that fends off the "Malocchio," an Italian phrase for "Evil Eye," because she's convinced that someone in our family gave her the Evil Eye on their death bed. Keep in mind, my mom has a good job with full benefits. She even manages people and sells stuff. And she's wearing a horn right now. Of course, I'm the guy who wore the same Red Sox T-shirt every day during last October's playoffs. Maybe we're both nuts.
Here's the point: My Mom has always claimed that it's good luck to be pelted by bird crap. It was just one of those things I never questioned -- like when she told me how wearing a hat too much would eventually make me go bald. Since a bird had never crapped on me, I never had an opinion either way. Now a bird nailed me right as I was thinking about the Sox-Yanks series. That's just weird.
"When we get to Starbucks, just ask for a napkin and some water to wipe it off," the Sports Gal told me.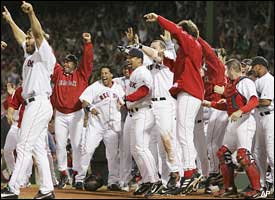 AP
The Red Sox rejoice after hearing the news that a bird crapped on the Sports Guy.
"Are you kidding me? This is good luck! I was thinking about the Red Sox when it happened!"
I explained the Italian Bird Crap theory to them. They seemed confused. And a little bit scared. Maybe they thought that the Red Sox had officially driven me bonkers.
"I'm telling you, it's good luck," I maintained.
When we reached Starbucks, I asked for a napkin and water from the guy behind the counter who looked like Ashton Kutcher.
"What is that, coffee?" he asked, studying my shirt.
"Actually, it's bird poop," I told him.
For some reason, this made Ashton take two steps backwards behind the counter, like the bird poop was going to jump off my shirt and attack him. Even as he was stepping back, a woman waiting for an iced chai latte whirled around.
"That's good luck," she nodded.
"Are you Italian?
"Yeah. Bird poop, that's definitely good luck."
"I knew it!" I screamed at Ashton. "And I was thinking about the Red Sox when it happened!"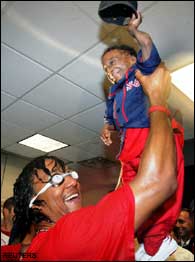 AP
Applications for Pedro's posse are available at Red Sox.com
Ashton tentatively handed me the napkin and water, then asked, "Does that mean you still want to wipe it off?" before taking another three steps backwards.
"I'll wipe it off, but I'm not washing the T-shirt until after the playoffs," I told him.
"Good move," the Italian woman told me. See, she knew.
Now I have the T-shirt hidden away from the Sports Gal, just in case she decides to accidentally wash it with the whites right before Game 7. Maybe the stain will morph into some crazy Legionnaire's Disease fungus. I don't care. All I know is that I'm saving T-shirts covered in bird poop; the Red Sox are passing around a Dominican dwarf as a good luck charm; Curt Schilling is starting lucky message board threads on the Sons of Sam Horn; Millar, Minky, Nixon, Timlin and others are growing mutant fu manchus; and I'm sure there are millions of Sox fans out there following suit with their own goofy superstitions. For the next 10 days, every little bit helps.
We're playing the Yankees, you know.
---
Without further ado, let's break this baby down, Dr. Jack style ...
Lineups
Torre's Yankee teams have never been accurately measured on paper, as evidence by Jeter's entire career. Take someone like Miguel Cairo, a career .273 hitter with no power who can't get on base. Stick him on the Yankees and suddenly he's belting clutch extra-base hits and grinding out 10-pitch at-bats. It's uncanny. These guys seem to be oozing with confidence right now, as evidenced by A-Rod's comments after Game 4 in Minnesota:
"You should have seen the bench in the eighth when we were behind 5-1. We just knew we were going to win. It was like a college team."
(Well, except for the $200 million payroll.)
As for the Red Sox, they have the 2003 batting champ batting ninth. 'Nuff said.
Matching up the offenses, Damon tops Bernie (who somehow remains terrifying in big moments). Jeter gets a sizable edge over Cabrera. Varitek tops Posada (a legendary underachiever in the postseason). Nixon cancels out Matsui. Millar tops Olerud. Bellhorn and Mueller get a slight edge over Sierra/Lofton and Cairo/Wilson. Ortiz and Manny cancel out A-Rod and Sheffield (although it remains to be seen if Sheffield can climb out of his postseason batting funk -- .235, .292, .062, .167 and .222 in his last five playoff series).
So Boston has the edge. But since the Yanks have come through so many times in big spots, especially this season ...
EDGE: EVEN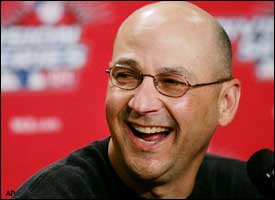 AP
When he's not serving as David Letterman's band leader, Terry manages the Red Sox.
Benches
Not the best year for Yankee benches. It's OK if your top pinch-hitters are Tony Clark and Bubba Crosby, as long as you're managing a team in Japan. Nobody can figure out this Giambi thing -- he's like Travolta in "Boy in the Plastic Bubble" at this point. And is Kenny Lofton really the top speed guy on the bench? Did he win the spring training job over Cool Papa Bell? I'm confused. Things were so bad that I think Luis Sojo made the 25-man roster of the ALDS, which means he had to quit his 8-4 shift at Wal-Mart again.
Meanwhile, Boston has the best bench in baseball ... they just don't have a manager who always knows how to use it. Like in Game 3 on Friday, with Damon on first and nobody out in the 10th, Francona kept Bellhorn in the game in an obvious bunt situation -- which he predictably botched -- then pinch-ran for Bellhorn at first with Pokey Reese. Why not just insert Pokey or Dave Roberts for the actual bunt? Then again, this is the same guy who removed Bronson Arroyo (throwing a 3-hitter) after 86 pitches to bring in Mike Myers against a lefty, when everyone knew that the Angels would immediately pinch-hit a righty bat (so you now had Myers pitching to a righty when he can't get righties out). Don't get me started.
EDGE: BOSTON
Craziest Guy
The Yankees have Sheffield, once described by my buddy J-Bug like this: "If he didn't become a baseball player, he would have been the last face you saw if you owed more than 10 grand to a bookie and didn't have the cash."
The recent Sports Illustrated issue vaulted Sheff into the Crazy Athlete Pantheon: Him bitching about Barry Bonds like a little kid (my favorite was the story about the boxing match) ... the fact that he has a personal chef who travels with him ... how he wanted us to believe that he paid Balco $50,000 for some vitamins and scar cream ... the story about how he punched out the Brewers pitcher for complaining about his error ... the way he threatened Pedro's life ... I mean, it went on and on. What a wacko.
As for Boston, Manny would have been the representative as recently as two months ago. Then Pedro bought Eriq LaSalle's gheri-curl Afro from "Coming to America" on eBay, decided that the Yankees were his "Daddy" and started bringing a 30-inch Dominican midget to the clubhouse after games. Adding his over-the-top dugout antics on non-pitching days, there's at least a 50 percent chance that last year's Game 7 in the Bronx drove him insane. Ladies and gentlemen, our Game 2 starter.
EDGE: RED SOX
Guy with most at stake
Boston has Schilling, who would become a local hero on par with JFK, Sam Adams and Paul Revere if he pitched the Sox to a championship. The Yanks have A-Rod, who offered to give up $15 million out of his own pocket to play for the Red Sox, then gave up his dream of being the best shortstop ever just to prove himself in a series like this one. Who do YOU think has more pressure?
EDGE: YANKEES
Stadiums
Going down my "Things that make a stadium great" list, it's dead-even right until Category No. 53 on my list: "Meeting point before the game." Fenway has the Beerworks, the Cask and Flagon, the Baseball Tavern and Copperfields. Yankee Stadium doesn't have any bars that close, so you have to meet at the Babe's bat in front of the stadium, which carried enough homoerotic overtones even before Vito Spadafore was standing out there waiting for Meadow Soprano's boyfriend.
EDGE: RED SOX
Baserunning
Neither team steals many bases, but Jeter and A-Rod are superior baserunners to anyone on the Red Sox. And don't forget about the Dale Sveum Factor. It's like having Billy Joel as your third-base coach.
SLIGHT EDGE: YANKEES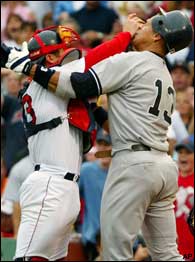 AP
At this point, MLB should just schedule the brawl and sell tickets.
Bench-clearing brawls
These things always come down to the biggest guys on the team, plus two wild cards (the Mickey Rivers types) who sucker-punch guys when they're not looking (everyone else grabs on to someone their size and hope they don't get hurt). The Yanks are shorthanded here because A) Brown has a broken hand, and B) everyone will be afraid to go within 10 feet of Giambi. Also, they have a number of guys who look like they wouldn't want to get hit because they're heading out to a club that night (including Loaiza, Posada and Mussina).
Since we got a little taste in July during the aborted A-Rod-Varitek brawl, I'd break down the major players like this ...
Sox: Ortiz (biggest guy on the field); Kapler (the strongest); Nixon (although the bad back could hurt him); Cabrera (possible wild-card guy); Varitek, Millar and Schilling.
Yanks: A-Rod (0-1 this season); Bubba Crosby (for his name alone); Tanyon Sturtze (who suddenly throws 96-mph and had the inexplicable meltdown during the July brawl ... hmmmmm); Sheffield (if properly angered, could potentially take out everyone on the Sox like Swayze at the Double Deuce); Kenny Lofton (possible wild card); Jeter (would always defend his teammates). They clearly miss Don Zimmer here, the only guy with enough testicular fortitude to go after Pedro last October (although he did have a metal plate in his head at the time).
EDGE: RED SOX
Team chemistry
This helped the Sox against Anaheim. Won't matter here.
EDGE: EVEN
Offensive T-Shirts in stands
Yankees fans wear harmless stuff like "BOSTON SUCKS" and "WHO'S YOUR DADDY?" Sox fans match those shirts and take it a step further with some truly offensive stuff -- during my last trip to Fenway, I saw "JETER HAS AIDS" and "GAY-ROD" shirts. And those were some of the tamer ones. It's a fun rivalry for the whole family.
EDGE: RED SOX
Bigger fan impact during games
Major weakness for Boston here -- because of our tortured history, Fenway turns catatonic whenever something bad happens (like Vlad's four-run hit in Game 3). Yankee fans expect to win at all times. Red Sox fans expect to win ... as long as something bad doesn't happen. Then we go into the fetal position. Can you blame us?
Say what you want about Yankee fans -- and I have -- but they're in the game from beginning to end, right from chanting every starter's name in the first inning until the player acknowledges with a token wave (one of the best fan ideas in sports -- the guy who came up with that one should win some sort of award). You can take the Fenway fans out of a big game. I wish that wasn't true, but it is. There's just a level of confidence that isn't quite there in Boston. And with reason.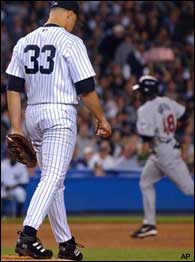 AP
Javy is one bad start away from his face joining the Sports Guy's Pantheon.
One more thing: Because of Pedro's comments last month, he opened himself up to six hours of "Who's Your Daddy?" chants during Games 2 and 6. I will now electrocute my nipples.
EDGE: YANKEES
Defense
Dead-even with two exceptions: Cabrera over Jeter and Olerud over Millar (nullified if the Sox bring in Mientickiwswszwz in with a lead). Also, Damon has more range than Bernie in center. Then again, so do I.
EDGE: EVEN
Starting pitching
Big break for the Sox with El Duque's tired arm, the exact same injury that sidelined me when I was 14 and we got HBO for the first time. Anyway, it's tough to predict those Yankee guys, except for Vazquez, who's one more crummy start away from moving into a "Surreal Life" house with Hideki Irabu, Elizabeth Berkeley, Jose Contreras, Mindy Cohn, Ed Whitson and Meeno Peluce. Brown is hit or miss. Lieber has looked great. And Mussina has a gulp-inducing history against the Sox, including a near-perfect game broken up by the Completely and Utterly Insane Carl Everett.
Edge: Schilling
Koufax. Gibson. Hershiser. Curt Schilling has joined them as one of the greatest postseason pitchers in history. In 12 career postseason starts, he's allowed more than 2 runs just twice and has allowed 0 or 1 run eight times.

1993 NLCS, Game 1 vs. Atl
8 IP, 7 H, 2 R, 2 ER, 2 BB, 10 SO, ND

1993 NLCS, Game 5 vs. Atl
8 IP, 4 H, 2 R, 1 ER, 3 BB, 9 SO, ND

1993 WS, Game 1 vs. Tor
6.1 IP, 8 H, 7 R, 6 ER, 2 BB, 3 SO, L

1993 WS, Game 1 vs. Tor
9 IP, 5 H, 0 R, 3 BB, 6 SO, W

2001 NLDS, Game 1 vs. StL
9 IP, 3 H, 0 R, 1 BB, 9 SO, W

2001 NLDS, Game 5 vs. StL
9 IP, 6 H, 1 R, 1 ER, 1 BB, 9 SO, W

2001 NLCS, Game 3 vs. Atl
9 IP, 4 H, 1 R, 1 ER, 2 BB, 12 SO, W

2001 WS, Game 1 vs. NYY
7 IP, 3 H, 1 R, 1 ER, 1 BB, 8 SO, W

2001 WS, Game 4 vs. NYY
7 IP, 3 H, 1 R, 1 ER, 1 BB, 9 SO, ND

2001 WS, Game 7, vs. NYY
7.1 IP, 6 H, 2 R, 2 ER, 0 BB, 9 SO, ND

2002 NLDS, Game 2 vs. StL
7 IP, 7 H, 1 R, 1 ER, 1 BB, 7 SO, ND

2004 ALDS, Game 1 vs. Ana
6.2 IP, 9 H, 3 R, 2 ER, 2 BB, 4 SO, W

Totals: 12 GS, 93.1 IP, 65 H, 21 R, 18 ER, 19 BB, 95 SO
6 wins, 1 loss, 1.74 ERA
But they don't have anyone like Schilling: the one guy who terrifies everyone in New York. He isn't just the best big-game pitcher alive; he already has a World Series ring. That changes the equation a little bit. I wish I felt as strongly about Wakefield, who was inconsistent all season, and Pedro (who has to pitch both games in Daddy Stadium, barring a miracle rainout on Saturday).
The biggest X-Factor is Arroyo, who pitched a few gems this season and looked superb against the Angels in Game 3. The night before that game, Schilling posted on the SOSH board, "I take the kid Friday night, he's got nuts the size of Saturn." Now Saturn Balls could potentially be pitching a Game 7 at Yankee Stadium to put the Sox into the World Series. For whatever reason, this doesn't scare the living hell out of me. Mike Myers pitching Game 7 of the World Series at Fenway on Halloween night -- now THAT scares the hell out of me.
SLIGHT EDGE: RED SOX
Owners
Steinbrenner vs. the Henry/Werner/Lucchino trifecta. As much as I like the Boston guys, George takes just about every sub-category here, including "Overall success as an owner"; "Higher payroll"; "Unintentional Comedy Rating"; "Most likely to cry after a big game"; "Worst eyelift," "Most likely to dress like a yacht captain"; and "Best sarcastic dig to cut another owner's knees out" (the "We understand John Henry must be embarrassed, frustrated, and disappointed by his failure in this transaction ... unlike the Yankees, he chose not to go the extra distance for his fans in Boston" quote after the A-Rod signing).
Then again, the Boston guys didn't become rich just because their fathers left them money.
SLIGHT EDGE: YANKEES
Bullpen
Gordon, Quantrill, Loaiza, Sturtze, Heredia and Token Crappy Guys No. 1 and No. 2 against Lowe, Embree, Timlin, Leskanic and Myers. Yikes. It's a wash except for Flash, who keeps exceeding every realistic expectation as the season drags into the seventh month -- 83 games, 93.2 innings pitched, 96 K's, 0.88 WHIP. Seems perfectly reasonable for a 5-foot-9 curveball pitcher in his late-30s coming off major elbow surgery. Apparently his doctor is Dr. Rudy Wells from the "Six Million Dollar Man." And yes, I'm well aware that nobody under 30 got that joke.
One edge for the Sox here: In extra-inning games, I'd take Lowe and Leskanic over any of the crummy Yankee guys. And you KNOW there's going to be one game that goes past midnight. It's Yanks-Sox, for God's sake.
EDGE: YANKEES
Closers
Say what you want about Foulke, but he saved the Angels series with those consecutive K's of Anderson and Glaus. I loved how he dusted each of them off the plate, then worked them away. Just flawless. Biggest inning of the year for him. Then again, he's not the greatest closer of all time.
EDGE: YANKEES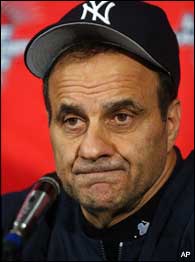 AP
With the way the Yanks have been playing, Torre must be covered in bird crap.
Manager
Joe Torre against Terry Francona. I mean ... which guy would YOU rather have?
One thing about Torre, and I think it explains why he's so good at his job in a "big picture" sense: When the Yankees rallied back to win that first game in Fenway a few weeks ago -- the Pedro-Francona game -- Torre knew they had effectively clinched the division and went on cruise control (resting Rivera and Gordon in a tight game on Saturday, then giving Brown the rehab start on Sunday). It was almost like he was toying with the Sox, like he wanted them to do well. Like an older brother taking an insurmountable lead during a game of one-on-one, then letting his younger bro score a few times to build up his confidence ... so he could squash him again the next time.
Here's the point: I think Torre actually thinks of this stuff. I don't know if Francona knows what he's doing five minutes from now.
MAJOR EDGE: YANKEES
History of the rivalry
Since World War I ended, the Yankees have a 26-0 advantage in championships. They've gotten the best of Boston in just about every major encounter, most famously in 1949, 1978, 1999 and 2003. And they bought the most famous baseball player of all time from the Red Sox for $100,000 right as he was entering his prime.
On the flip side, Boston holds an 11-8 advantage in the season series.
SLIGHT EDGE: YANKEES
Burning questions
How much will Rivera be affected by his family tragedy last weekend? Is Schilling's ankle really OK (as the Red Sox claim)? Will Francona be dumb enough to pitch Schilling on three days' rest? Do the Yanks really have Pedro psyched out? Will it rain on Saturday? Is there a God? And most importantly, is it really good luck when you get crapped on by a pigeon?
EDGE: TO BE DETERMINED
So here's my big prediction ...
(Actually, I don't have one. I feel like I'm going to throw up.)
Bill Simmons is a columnist for Page 2 and ESPN The Magazine. His Sports Guy's World site is updated every day Monday through Friday.