By Bill Simmons
Page 2
In Muhammad Ali's "SportsCentury" episode, Thomas Hauser describes the third Ali-Frazier fight as "two guys fighting for the championship of each other." I always liked that line. Maybe the Red Sox and Yankees can't approach the savagery of the Thrilla in Manila, but as they keep battling every October for seven games, the spirit of that quote endures.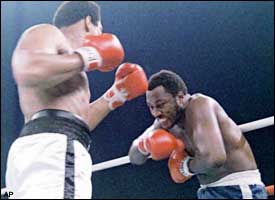 AP
Don't worry, at some point these two teams will literally try to slug it out.
So why didn't I fly back to New York for Games 1 and 2? Because Yankee Stadium is like the dentist -- you don't want to go there unless you absolutely have to. Instead, I stayed home, turned on my laptop and kept a running diary of Game 1. Here's what transpired.
5:01 p.m. PT-- Quite an opening montage from the gang at Fox -- a confusing Star Wars montage punctuated by Jeanne Zelasko barking, "The Star Wars trilogy is available on DVD, but this epic battle is coming at you right now on Fox!" I guess America likes this stuff. I guess.
5:13 -- You know Fox's upcoming medical drama "House," the one with the scary-looking doctor with the cane who screams "You're risking a patient's life!" and looks like even he can't believe he's the lead of the show? How did Omar Epps get roped into this one? Did he lose a bet? Isn't there a sports movie he should be making? Should I write one during the commercials? Just tell me what to do here.
5:16 -- Our announcers tonight: Joe Buck, Tim McCarver and Al Leiter. Buck mentions that Boone's home run happened a year ago tonight -- great news -- then adds, "For some reason, it seemed predetermined that we'd be right back here later for a rematch of sorts."
(Hey, I can think of a reason. What about the combined $330 million payrolls? Could that have been it?)
5:18 -- The game hasn't even started yet and we're up to six Babe Ruth sightings, four clips of the A-Rod-Varitek fight and five clips of Pedro throwing Zimmer down. Fox is doing everything short of simulcasting the game on channel 1918.
5:22 -- Mussina cruises through the first. Some good news: Fox dumped the radar gun reading that explodes into flames, one of the innovative ideas from this season's executive producer, Satan.
5:29 -- Schilling starts off the first throwing in the 91-94 range, a good sign since Buck casually mentioned that Schilling limped into the Stadium wearing a protective boot on his right ankle. Gulp. But here's my question: What happens when A-Rod comes to the plate and sees Varitek? You think it's awkward? If you were A-Rod, wouldn't you secretly want to pull a Marichal and smash the bat over his head? I sure would.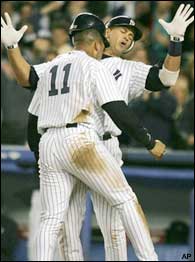 AP
Apparently A-Rod missed celebratory headbutting practice.
5:33 -- When it comes right down to it, watching your team pitch to Sheffield is like watching President Bush speak extemporaneously -- you can't breathe and you just want it to be over as fast as possible. I'm Bill Simmons and I approved that sentence.
5:35 -- After Sheffield doubled, Matsui blooped a single on a 0-2 pitch which Manny somehow misplayed into a double (1-0, Yanks). They should come up with a stat for bad defensive plays like the one Manny just made -- not quite an error, but something that still led to a run. Call it a Man-Ram.
5:38 -- Bernie ropes an RBI single (2-0, Yanks). Uncanny. He kills the Red Sox. Just kills us. Even with a giant fork in his back. Meanwhile, the announcers are already wondering about Schilling's ankle; he hasn't cracked 93 on the gun since his 3-2 pitch to A-Rod. Not a good sign.
5:42 -- My friend Hench just called for the first time -- didn't pick that one up. I'm not saying that the Red Sox have driven Hench insane, but he's like the jumpy camp counselor in the "Friday the 13th" movie who just keeps screaming "We're gonna die! We're all gonna die!" for 90 straight minutes until Jason finally shoves a pitchfork through him. That's not a phone call I need right now.
5:46 -- After a routine play by Jeter on a groundball, we just had this exchange in my living room:
-- Buck (joking): "It's good to see Jeter finally not look nervous in the postseason."
-- Sports Gal (confused): "He normally looks nervous in the postseason?"
-- Me (gritting teeth): "No ... no ... he was joking ..."
5:47 -- Six up, six down for Mussina. He's one of those guys where you can tell right away if he has it or not. Well, he has it.
(Remember the days when announcers would go out of their way to avoid mentioning a no-hitter? Not Joe Buck. He does everything short of screaming, "HE'S PITCHING A NO-HITTER! HE'S PITCHING A NO-HITTER! Actually, what am I complaining about? Keep it up, Joe.)
5:50 -- Question: Does Olerud wear the batting helmet everywhere, like when he's headed to the grocery store and stuff? I always wanted to know this.
5:53 -- Fantastic exchange as McCarver praises Matsui's bloop double for the fourth time in the past 12 minutes.
-- McCarver (narrating the replay): " ... that's an extraordinary job of hitting by Hideki Matsui."
-- Leiter (after a beat): "Or just really lucky."
-- McCarver: "You know what, I think it's more than luck, he hit the ball hard!"
6:00 -- All right, John Henry has more money than God -- couldn't he have bribed an airline mechanic in Panama to make up some fake problem with Mo Rivera's chartered plane today? No puede volar! El problemo con el avion! Muy malo! Es imposible!
6:02 -- Nine up, nine down for Mussina. "I bought some wonderful cheeses today," the Sports Gal tells me.
6:04 -- Jeter and A-Rod single to start the fourth. Schilling just doesn't look like Schilling -- fastballs are high, splitters are all over the place, barely cracking 90 on the radar gun. This is bad. This is bad.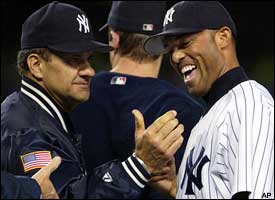 AP
No thanks to John Henry, Rivera arrived in plenty of time to pitch.
6:07 -- Oh, boy. Sheffield walks. Great job by Leiter describing Schilling's mechanics right now: "Either there's something wrong physically, or he's out of whack mechanically, he's off." He's right, Schilling isn't driving off the mound like he usually does. I'd tell you more, but my eyeballs are spurting blood.
6:10 -- Three-run double by Matsui; 5-0, Yankees. "Bedlam here in the Bronx," McCarver tells us. I mean, those are five words that are NEVER good to hear. Not in any setting.
6:13 -- 6-0, Yanks. Hey, at least Mussina isn't pitching a perfect game. And we're mere minutes away from ...
6:15 -- Yup. There it is. The first "Who's your Daddy?" chant from Yankee fans. And not the last. Speaking of Daddys, here's my father's take on the first three innings:
"Why does this happen to us? His ankle was fine all season, he was pitching great ... then he gets hurt right before the Yankees series? Right before??? Why does this happen to us? Why?"
6:26 -- Mussina strikes out the side in the fourth. He's officially working up the courage to talk to Destiny. Plus, we just had the first super-close Fox closeup of somebody depressed in the dugout (Schilling). Next time, could we see his eye boogers, guys? It was a little blurry.
6:28 -- Lemme get this straight: There's "Rebel Billionaire" and there's "My Big Fat Obnoxious Boss," but BOTH of them are ripping off the "Apprentice"? Has that ever happened before?
6:30 -- Well, Curt's still pitching for the Sox. Unfortunately, it's Curtis Leskanic.
6:33 -- Quick aside: What about that NLCS Game 1 matchup of Brandon Backe and Woody Williams? Shouldn't they just move that entire series to FX as a precautionary measure? Whatever happened to the days of Orel Hershiser and Mike Scott? Who's pitching Game 2 for Houston, Carmen Ronzonni?
6:36 -- Leskanic allows the first two guys on base, then gets comforted by Kevin Millar, who has a giant Abe Lincoln beard. Somehow this leads to an A-Rod double play.
6:48 -- But seriously, can you imagine telling your boss, "I need to leave work early today if that's OK, I have to go home and make my giant 10-by-5 'MOOSE GOT THE JUICE' sign for tonight's game"?
6:52 -- During the inning, after a cartoon baseball named Scooter explains how a curveball works, the Sports Gal happily says, "I liked Scooter!" I think I'm in hell. Meanwhile, Mussina cruises through the fifth.
6:58 -- I agree with Buck and Leiter -- if Schilling is throwing 89-mph fastballs, it doesn't make sense to pitch him on three days' rest. McCarver vehemently disagrees. Of course, he just called Bronson Arroyo "Brandon" a few minutes ago.
7:04 -- Buck: "It's the sixth inning now, and Mike Mussina has not allowed a baserunner." I think he has money on the Sox.
7:06 -- I have to say, Leiter has been outstanding tonight. He just pointed out that, if Mussina was going for the perfect game, he wouldn't throw a fastball to Cabrera (a dead fastball hitter) on a 2-0 count. As it turned out, he threw the fastball. See, that's all we're looking for. Give me a little inside info. Tell me how a player thinks. Don't flood me with stats, don't babble incessantly, don't make my head hurt, don't tell me things I can see for myself. Tell me why things are working, what players are thinking and why things are happening. Or shut your trap.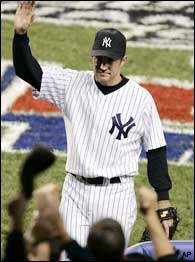 AP
Moose stinks it up for most of the year before deciding to dominate in the playoffs? Mr. Schilling, Mystique on line 1.
7:09 -- Eighteen up, 18 down for Mussina. Destiny just ordered an apple martini.
7:14 -- Lofton homers off Tim Wakefield. 7-0, Yanks. He hasn't hit one that far since he was playing for the Birmingham Black Barons in 1939. Where was Derek Lowe in this game, by the way? Are they saving him for Game 8?
7:19 -- Cool, I was wondering when they would show the WebMD Injury Report. So let me get this straight ... Schilling has a tender right ankle? We're sure?
7:20 -- Matsui singles in Sheffield from second. 8-0, Yanks. I blame myself for calling the Nixon-Matsui matchup a draw in my Sox-Yanks breakdown. Now he's on pace to go 20-for-26 in the series with 40 RBI. What can I say? The Yankees are my Daddy.
7:22 -- More from the Sports Gal: "What's the highest score a team's ever gotten in a playoff game?"
7:27 -- Yesssssssss! Bellhorn doubles off the left-field wall on an 0-2 pitch in the seventh! So long, Destiny. Drive home safely. And just for the record, there's nothing worse than watching a perfect game against your own team -- it's like being the only guy at a hot craps table betting the "DON'T COME" line.
7:32 -- Following a two-out single from Ortiz, McCarver mentions how this inning could give the Boston offense something to build on, then promotes "Brandon Arroyo against Pedro Martinez in Game 2 tomorrow night." Wow. Poor Buck has to issue the rare double correction. Now you know what it would be like if my Mom was a baseball analyst.
(By the way, since that's two times McCarver called Arroyo "Brandon" tonight, and Arroyo wasn't even pitching, I already awarded Game 3 "Keep Until I Delete" TiVo status. He might call him Charles Bronson for nine innings. Anything's possible.)
7:35 -- Millar wallops a two-run double off the tip of Matsui's glove. Shhhhhh.
7:34 -- Nixon strikes an RBI single. And it's an eight to THREE ballgame! Mussina gets the hook and leaves to standing O. Of course, I'm also giving a standing O because Joe Torre inexplicably decided to bring in Tanyon Sturtze. Tanyon Sturtze? Are you kidding me? Do you WANT us to come back?
7:37 -- Kaboom! Varitek slaps an 0-2 pitch into the right-field bleachers! And it's an eight to FIVE ballgame! What an inning. It's like the old saying goes, "You can take Tanyon Sturtze out of Tampa Bay, but you can't take the Tampa Bay out of Tanyon Sturtze."
7:48 -- Grossest moment of the game so far: A closeup of Posada right as he's violently blowing booger spray out of his left nostril. It's My Big Fat Booger Billionaire, only on Fox! Meanwhile, Alan Embree retires the Yanks in the seventh. And it looks like Rivera might not pitch tonight. And Flash Gordon has an injured eyeball from an errant champagne cork.
(OK, I'm sucked in again. You got me.)
7:58 -- My favorite part of that Cialis commercial: When the announcer quickly voices over near the end, "Erections lasting for more than four hours require immediate medical help." Nurse, can you get me a billy club please? Thanks.
7:59 -- Just in case Dr. House didn't make this clear: "You're risking a patient's life!"
(Not quite "His father is the district attorney!" ... but it will have to do this month, I guess.)
8:05 -- Manny hits a Posada-esque blooper into left. Two on, two out for Ortiz ... and they're not bringing in Rivera? Wow. Has Joe Torre been accidentally switched with Ron Gardenhire? What's going on this game, Joe? You're risking a patient's life!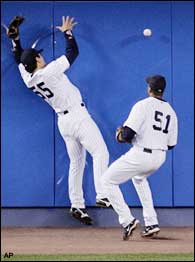 AP
Football isn't the only game of inches. Just ask Ortiz.
8:08 -- The bad news: Ortiz just came within one foot of tying the game. The good news: Matsui couldn't haul the catch against the wall, leading to a two-run triple. 8-7, Yankees. Unbelievable comeback. But geez ... how does that ball not go over the wall? And how did Matsui not knock it over the wall? It's uncanny. Could the Yankees catch more breaks?
8:13 -- Rivera comes on to get Millar for the third out. Of course he does. "The Yankees are holding on by a thread," Buck says. So why do I feel like we missed our big chance?
8:17 -- More from Buck: "This crowd and this feel here at Yankee Stadium is a feeling of unease." Don't worry, it sounded even worse than it looks. Meanwhile, Timlin brushes back A-Rod, leading to the inevitable A-Rod single, followed by the inevitable Sheffield single. Now the Fox guys correctly hammer Francona for not having Mike Myers ready to pitch to Matsui.
"Right now, Francona is showing that he's not really a matchup guy," Leiter offers.
(Umm ... then what is he? Why even have Myers on the roster then? Why not have Myers pitch to Matsui, then Foulke to Bernie Williams? This is the way we've done it all season? Why change now? Why?)
8:26 -- Timlin gets Matsui to pop out. OK. Maybe this is why I wouldn't have made a good manager, along with A) I don't like sunflower seeds, B) I would have to wear my baseball hat backwards at some point, and C) I don't look good in baseball jackets because I have a long torso.
8:29 -- Bernie doubles over Manny's head. 10-7, Yankees. Maybe I would have made a good manager. Classic Yankees. Just when you think you're right there, they scrape together those insurance runs in the bottom of the eighth. It's uncanny. I just hate them. I mean, I really, really hate them.
8:31 -- Great, here's Keith Foulke ... one batter too late. He gets Posada to end the inning. You can actually see the steam coming off my body. "I'm going to take a bath," the Sports Gal says, then runs out of the room at warp speed.
8:35 -- Not only did Varitek single with one out in the ninth, it appeared like he exchanged words with Posada and quietly fired an F-bomb at him. Good times! Let's hope that blows up into a full-scale UFC-style donnybrook later in the series. That's followed by the inevitable Orlando Cabrera single, then the inevitable double play. Ballgame.
Yankees 1, Red Sox 0.
(Of course, none of this matters if Pedro slams the door at Daddy Stadium tomorrow night. Stay tuned.)
Bill Simmons is a columnist for Page 2 and ESPN The Magazine. His Sports Guy's World site is updated every day Monday through Friday.