By Bill Simmons
Page 2
I keep thinking back to Anaheim last Tuesday: Schilling cruising in Game 1; a Red Sox team running on every cylinder; a showdown with the Yankees looming; nobody on, two outs, seventh inning, 8-2 lead. Garret Anderson chops one down the first-base line. Schilling rumbles over to get it, hauls it in and chucks it into right field. As I'm watching the ball roll down the line, I hear my friend Hench screaming:
"He's grabbing his ankle! He's grabbing his ankle!"
Schilling pitched to one more batter, gave up a double to Troy Glaus, and then left the game. And now he's probably done, and so are the Red Sox -- barring a mini-miracle -- and that's that. You can drive yourself crazy wondering how Schilling's ankle could survive 26 weeks of the regular season, then implode just one week before the only 10-day stretch that mattered. You can wonder why these things always seem to happen to the Red Sox, never the Yankees. You can question curses and fate and even God.
Or you can do what I did before Game 2: Start drinking. Heavily.
Of course, I managed to keep a running diary along the way. Here's what transpired.
8:13 p.m. -- Some highlights from the pregame show: Fox showed a montage of "Who's Your Daddy?" T-shirts outside the stadium ... Jeanne Zelasko was honored for breaking the record for "most hairdos during a sports broadcasting career," previously held by Hannah Storm ... lots of talk about Schilling's torn tendon, although we're all waiting on the WebMD Injury Update for the final word ... and the Red Sox announced that Dr. Gregory House will be examining Schilling's ankle on Thursday.
8:15 -- Our announcers for tonight: Joe Buck, Al Leiter and Tim McCarver, who celebrates his 63rd birthday on Saturday, making him exactly 10 years younger than Luis Sojo. After some small talk, they show a highlight montage of Game 1, accompanied by Billy Squire's "Rock Me Tonight." Hey, Fox knows that there's been music released since 1983, right?
8:21 -- Three up, three down for Jon Lieber in the first. Lemme ask you something ... why does MLB ban HGH and steroids, yet they allow a surgery for blown-out elbow tendons that gives the pitcher a stronger, faster, more durable arm? What's the difference? Please explain.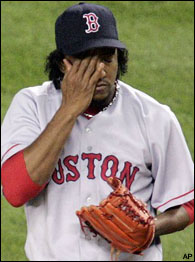 Martinez has now beat the Yankees just twice in his last 12 starts against them.
8:24 -- I have another question: Can you imagine ever going up to a guy behind a Taco Bell counter and saying, "Is it true your zesty chicken border bowl isn't made until I order it?" Would you even get a response? They'd just stare back at you doing the "Bill Murray in the Cheeseburger Cheeseburger skit" routine, right?
8:27 -- Pedro's first four pitches to Jeter: 94 and 95, 94, 93. Sure, they were all balls. But this is a good sign.
8:30 -- Pedro makes Fox's radar gun reading flame (96) against A-Rod. Sure, he hit him with the next pitch. But I like the velocity. By the way, even the people at Friendly's haven't grasped for this many straws.
8:32 -- Sheffield singles home Jeter, with help from Damon's throw that was apparently gunned down by Bernard Goetz in mid-air. 1-0, Yankees.
8:39 -- With two guys on and the crowd chanting about his Daddy, Pedro hits 97 against Matsui, then strikes him out. He hits 96 against Williams, then strikes him out. Then he gets Posada to ground out. Well done. Of course, McCarver can't stop talking about the fact that Varitek and Pedro have huddled four times to discuss signs. Certainly a riveting subplot to the game. I'm about 20 more seconds away from hitting the SAP button.
8:46 -- The Sports Gal brightens up noticably during a highlight of Albert Pujols's two-run homer in St. Louis, and only because his name is pronounced "Poo Holes." I didn't realize I was married to Beavis.
8:48 -- Lots of talk about Schilling's ankle as Lieber mows down the Sox in the second. Allow me to weigh in: If they were that worried about his ankle, why not pitch Pedro in Game 1 and Arroyo in Game 2? Wouldn't that have made sense? Give him an extra three days? Was this even explored? And why would they throw him out to the wolves after he threw terribly in the bullpen before the game? Why sacrifice Game 1? I bet this becomes a bigger story over the next few days.
8:51 -- You know, I wasn't going to buy the Schick Quatro, but now that I know Colby from Survivor is using it ... well ...
8:54 -- Every time they show Terry Francona in the dugout, his arms are crossed and he's rocking back and forth. I think Charlie Babbitt just screamed at him for leaving the toaster oven on again. That's OK, Terry. Three minutes to Wapner. Just hold tight.
9:04 -- In the second inning, after Cairo walks and Cool Papa Lofton singles, Pedro eventually gets out of the jam by whiffing A-Rod. Unfortunately, he's thrown 46 pitches after two innings -- which means he'll be gone by the sixth. I swear, these Pedro starts at the Stadium are like putting the iPod on "shuffle" and ending up with the same song 20 straight times.
9:07 -- Buck can't even get out the sentence "Lieber hasn't given up a hit" before Cabrera singles with no outs in the third. Nicely done. He's the cooler.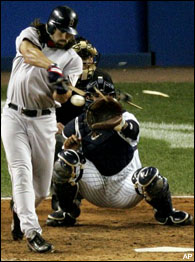 Did Damon get his latest supply of wood off the USS Constitution?
9:11 -- Mired in a sudden mini-slump, Damon takes a feeble swing on strike one, then hits a broken-bat grounder on the second pitch. "That was a weird at-bat by Johnny Damon," says McCarver, almost derisively. Sounds like Johnny could use some hitting advice from Brandon Arroyo. Meanwhile, Bellhorn lines out to end the inning.
9:12 -- Boy, you hate to see That Guy from Total Recall and NYPD Blue making a Prestone commercial. I like that guy.
9:13 -- Just looked him up on the internet: Robert Costanzo. You have to love anyone with guest appearances on "The White Shadow," "Beverly Hills: 90210," "Charlie's Angels," "Family Ties," "We Got It Made," "Party of Five," "Growing Pains," "St. Elsewhere," "Falcone," "Charles in Charge" and "Dream a Little Dream 2" on his résumé. Now that's a career, my friends.
9:15 -- Cabrera and Manny almost collide on a popup, followed by Scooter the Cartoon explaining how a changeup works. I've lost the will to live. I'm not kidding. I feel like putting on a wifebeater, eating Hamburger Helper and buying scratch cards for the rest of my life. I've had it. Find me a trailer.
9:18 -- Three up, three down for Pedro in the third. He's thrown 370 pitches.
9:20 -- Turned to the debate just in time to hear this beauty from John Kerry: "Being lectured by the President on fiscal responsibility is a little bit like Tony Soprano talking to me about law and order in this country." And that's quickly followed by the George W. Bush Face -- the one where he half-smiles and half looks like someone just asked him for the square root of 564,092.
(Good God. Can we have more options? I feel like Dave Wannstedt trying to decide between Feeley and Fiedler. I might just have to vote for Larry Bird again.)
9:22 -- Lieber gets the Sox on six pitches in the fourth. Way to work the count, guys.
9:26 -- Wait ...
9:26 -- Hold on a second ...
9:26 -- Here it comes ...
9:26 -- "YOU'RE RISKING A PATIENT'S LIFE!"
9:29 -- Reason No. 5,437 to hate the Yankees: What about the Yankees organist repeatedly playing the "Let's Go Yankees" song, knowing that everyone will just chant "Who's Your Daddy?" to the same song? God, I hate the Yankees.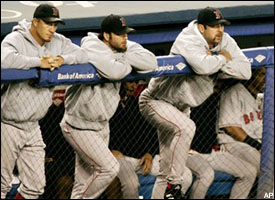 It looks like the Sox are contemplating their offseason hunting and fishing trips.
9:33 -- Pedro cruises through the fourth. "You rarely hear a raucous crowd in a well-pitched game," McCarver says knowingly.
9:37 -- I don't think I've ever NOT enjoyed "Sounds of the Game." We can all agree on this, right? More "Sounds of the Game," more Al Leiter? Any dissenters? Any?
9:40 -- Kenny Albert interviews Jon Lieber's dad, wearing a Yankees jersey, in the stands, with the obligatory idiot two seats away smiling and doing the "You watching the game? I'm on TV!" routine on his cell phone. I'm telling you, we need to pass laws. We need to throw these people in jail. We need to make them spend a month in the hole. We need to pull a Shawshank and cast them down with the Sodomites. I feel very strongly about this. It has to end.
9:42 -- My dad and I just had this exchange on the phone:
-- Me: "If I were a major-league pitcher, would you show up at my home games wearing my jersey?
-- Dad: "Absolutely."
-- Me: "Really?"
-- Dad: "Yeah. Unless you were Derek Lowe."
9:44 -- Celebrities on hand tonight: Jack Nicholson, Lorne Michaels, Conan O'Brien, Matt Damon and Casey Affleck. That's it? Fox should CGI other celebs and make believe they're at the game, just to get the Us Weekly crowd excited (people like my stepmom and the Sports Gal). "Look, there's Jennifer Aniston and Brad Pitt ... Tim and Al, does it look like she's expecting or am I crazy?
9:47 -- Speaking of the Sports Gal, we just had this exchange:
-- Her: "Why is A-Rod wearing purple lipstick?"
-- Me: "That's not lipstick ... his lips are blue from kissing Jeter's butt."
(I'm so bitter right now ... I'm just lashing out at everybody.)
9:56 -- Pedro strikes out Matsui to get out of the fifth. He's throwing a three-hitter. On 430 pitches, but still ... it's a three-hitter.
(Note: It just dawned on me that this could be Pedro's last start in a Boston uniform. Sad moment. Other than Bird, I never enjoyed an athlete more than Pedro. Just brilliant in his prime. Otherworldly. He should retire in Boston, but he won't because some dopey team like Anaheim is going to overpay him by $20 million, and that will be that. Too bad.)
10:06 -- Just an unbelievable Johnny Damon at-bat -- a whopping seven minutes and 15 pitches in all -- capped off by Fox inexplicably showing a pitch-by-pitch sequence and somehow missing the final pitch (Damon lining out to center). Well done. I think I speak for everyone here: We would always rather see live action over any replay or produced piece, even if it's a 45-second highlight montage of Joe Torre picking his nose.
10:08 -- Bellhorn strikes out to end the sixth. This Sox-Yankees thing has reached the point where I'm not even remotely shocked that Jon Lieber is throwing a one-hitter right now. He could levitate in mid-air like Neo to catch a high chopper and I wouldn't be surprised.
10:12 -- Well, we're in the bottom of the sixth. According to Fox, in his career against the Yankees, Pedro has a 2.12 ERA through the first five innings, 6.33 from the sixth on.
(In other words, "REDRUM! REDRUM! REDRUM!")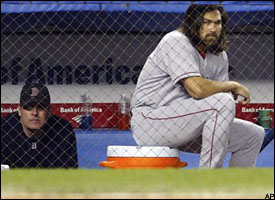 Rumor has it Schilling really hurt his ankle after tripping on Damon's hair in the clubhouse.
10:17 -- Uh-oh ... we're past the 100-pitch count ... and there's a guy on first with one out ... oh, boy ... here we go ...
10:18 -- Olerud homers into the right-field bleachers on a 1-2 fastball by Pedro (who missed his spot -- Varitek was setting up outside). 3-0, Yankees. I swear on the Dooze's life that I typed the previous paragraph, verbatim, about 30 seconds ago.
(By the way, Olerud was released by a 58-win team this summer. Classic Yankees. They could pick up a hooker in Times Square, plug her in at second base and she'd hit .280. It's uncanny.)
10:19 -- "Who's your Daddy?!? Who's your Daddy?!? Who's your Daddy?!? Who's your Daddy?!? Who's your Daddy?!? Who's your Daddy?!? Who's your Daddy?!?"
(Thank God this isn't an NBA game.)
10:23 -- All right, I'll say it: "Saw" looks awesome. Notice how I used the underline there. Usually I go with caps.
10:25 -- After Pedro gets out of the sixth without further damage, we see him shaking hands with everyone in the dugout, apparently done for the night. Just to make sure Francona doesn't pull a Grady, Ortiz and Manny remove Pedro's clothes, stick a red ball in his mouth and duct tape him to the dugout water fountain.
10:31 -- Seven shutout innings, two hits allowed, just 79 pitches allowed for Lieber, who looks like Private Pyle without his Yankee hat on. Somehow this will all make sense on my death bed. Meanwhile, Eeyore is singing "God Bless America" right now.
10:43 -- Timlin and Embree combine to get through the seventh. I have to admit, I just spent the last 15 minutes surfing the internet and checking the latest e-mails in my Sports Guy account, which has like 45,000 e-mails right now. Here's a good one from Stephen F. in Boston:
"Let me get this straight, Jack Nicholson is a Laker fan AND a Yankee fan? Can we just paint a mustache on him and call him Hitler?"
10:47 -- Heading into the eighth, the Sports Gal says, "This is our inning, I can feel it." Nixon immediately singles to right, prompting a pitching change by the Yanks, as well as a standing O for Lieber from the Yankee fans. "These fans know how to salute," Buck says. You're right, Joe. Nobody else would have known to stand up and cheer a guy who just pitched a three-hitter in a playoff game. Man, I hate everybody right now. I feel like Barry Bonds.
10:50 -- All right, I'll ask: If you were a billionaire, would you waste your time filming a crappy reality show for Fox? Wouldn't you buy a sports team, open your own bar and plow through a neverending assembly line of dumb supermodels? Umm ... me neither.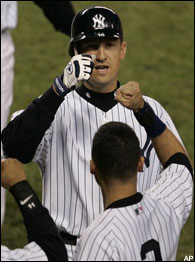 Let's see: released by the Mariners, October hero for Yanks. Yep, makes perfect sense.
10:51 -- As Gordon finishes warming up, it's important to note that the Sox went 6-for-12 against Gordon and Rivera last night. Probably not happening again. But you never know. By the way, Gordon and Sheffield look like they should be wearing fedora hats and big suits and hanging out together in jazz clubs in the 1940s, don't they? Or am I just hammered right now?
10:54 -- Double by Varitek! Still no outs in the eighth, as Dale Sveum correctly holds Nixon at third. "That's the difference between scoring a run and not scoring a run," McCarver tells us.
11:01 -- Ugh. Two grounders (one by Cabrera, one by Mueller). Now it's 3-1 with two outs and Varitek on third ... and Rivera entering the game to "Enter Sandman." Leave it to the Yankees to steal Sandman's entrance music from ECW. By the way, the odds of the Sox winning this game just dropped from 3-to-1 to 10,000-to-1.
11:05 -- Coolest moment of the night: The DiamondCam's replay of Damon's bat splitting into 80 places. Too bad they can't re-enact that with A-Rod's head. Sadly, Damon strikes out to end the inning. We're running out of time. Again.
11:13 -- A commercial for the upcoming season of the "OC" causes the Sports Gal to scream "Oh Boy!" and start singing along to the theme song. I'm questioning my manhood just from being in the same room for that.
11:20 -- Fox fact: The last 13 teams that have fallen behind 2-0 in the LCS have lost the LCS. Fantastic news. What about the last 13 teams who fell behind and also lost the only indispensable guy on their team? Can we see those stats?
Meanwhile, Foulke loads the bases by walking Jeter, leading to a shot of Derek Lowe warming up in the bullpen and wearing Harrison Ford's beard from "The Fugitive." Much more fun than the Derek Lowe Face. You find that man!
11:28 -- Foulke gets out of the bases-loaded jam. We'll forget about the fact that he should have started the inning and that Francona has now made the same mistake in consecutive games. I'm amazed how unterrified I feel when A-Rod's up there. He's just not that scary. There's no other way to say it. Maybe it's the purple lips.
(By the way, I don't want to say that the whole season is riding on these next three outs, but ... well ...)
11:35 -- After Manny cranks a one-out double -- shifting everyone at Yankee Stadium into "Uh-oh" mode -- Ortiz and Millar strike out swinging to end the game. Rivera does it again. He's the difference. He's always the difference. And you don't have to worry about him snapping an ankle tendon days before the biggest week of the season, because these things just don't seem to happen to the New York Yankees. That's why people root for them. It's the smart move. Like buying a stock that can't lose.
And since I can't come up with an ending, tonight's last word goes to Phil Horning from South Dakota: "As someone who dislikes both teams, I can't believe you compared the Red Sox-Yankees to Ali-Frazier. A more accurate sports rivalry would have been Martina Hingis-Anna Kournikova in the late-'90s. Both rivalries were overhyped by the media and the same side always wins."
Actually, that was too depressing. I want to hang myself. Let's give the last word to Tom Loughran from Marshfield:
"It's the end of Game 2 and the Sox are down two games. I feel like there should still be hope but I just don't know if I have any left. It's like watching 'American Choppers.' It might be a different show every time, but you always know how it's gonna end. If you'll excuse me I'm gonna go boil some water and then dump it down my throat."
Save some for me.
Bill Simmons is a columnist for Page 2 and ESPN The Magazine. His Sports Guy's World site is updated every day Monday through Friday.