By Bill Simmons
Page 2
Wait a second ... I'm supposed to write about this???
I don't have a central nervous system left. My head weighs more than Verne Troyer. My heart feels like somebody tried to make meatballs out of it. I can't think straight. I'm a corpse. I'm a walking corpse.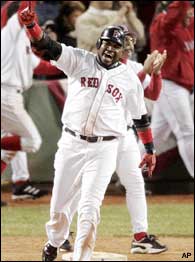 This man became Public Enemy No. 1 in New York in 2004.
For two straight days, I watched my beloved Red Sox stave off elimination against the Yanks, needing 26 innings over 27 hours to stay alive for Game 6 in New York. These weren't just baseball games. They were life experiences. They broke you down in sections. They made you question God, the meaning of life, whether sports should possibly mean this much. On Sunday night, I stewed in my seat vowing never to raise my kids as Sox fans. On Monday night, I skipped out of Fenway wondering if any other team could possibly mean this much to a group of people.
The Sox should have lost about 25 different times. The Sox should have won about 25 different times. They rallied to tie consecutive games against the seemingly invincible Yankees bullpen. They kept the games tied in extra innings with a never-ending stream of fringe starters and worn-out relievers. Their closer recorded 12 outs on 70-plus pitches in the span of 24 hours. They stranded the winning run on second or third base nearly 200 times. Including Saturday night's game, their three starters recorded 40 outs, leaving another 65 for the bullpen guys. Somehow none of this was a problem.
Game 4 ended a little after 1:30 a.m. Fifteen hours later, I was sitting in my same seats in section 116 with my father, glancing around and wondering if we ever actually left. Apparently we did. There was only one major difference between the two nights: in Game 4, the fans were waiting for the Yankees to win the game. In Game 5, the fans were waiting for the Red Sox to come through. Now everyone in New England is pinning their hopes to the greatest comeback in baseball history. It happens that fast.
I arrived at Game 4 fresh from the Patriots game, where the defending champs captured their 20th straight win, beating Seattle. For most of the game, the fans in Foxboro sat around like spoiled rich kids at a cocktail party, waiting for the shrimp and the free booze to arrive. We were like 70,000 Spaulding Smailses. It's not enough for this Patriots team to win anymore -- we want them to do it with style. We want to wreck teams. We want to rip their hearts out. When it doesn't happen, we watch the rest of the game secretly hoping the other team tests us (just so we can lay the smack down on them again). The collective arrogance is almost comical.
Sitting in Fenway just four hours later, you couldn't help but notice the difference. The fans were supportive ... the fans were terrified. We didn't want to get swept. We fully expected to get swept. We sat there for four hours, waiting for the other shoe to drop. And everything unfolded like a classic Sox-Yanks game -- we took the lead, then they battled back thanks to a shaky managing move (Francona taking Lowe out at least three batters too early in the sixth). We were done. You could feel it. When the ninth inning rolled around, we summoned one last ounce of energy for Millar's at-bat against Rivera ... and he bled out a walk.
Dave Roberts entered as a pinch-runner, leading to one of the more underrated moments in baseball game -- the speedy guy inching off first base, rocking back and forth, absorbing the closer's every move, with everyone in the building knowing that he's taking off for second base. Somehow he made it. It was the most exciting stolen base in my lifetime as a Sox fan. Then Mueller singled up the middle -- absolute bedlam, great baseball, everything you ever wanted from a game. The Yanks had us 3-0 in the series, 4-3 in the ninth, with Rivera on the mound ... and we staved them off. At least for a little while.
Now you could hear the lightbulb flickering over everyone's heads. Wait a second. If we can hold them off here, we have Pedro and Schilling going in the next two games. It was like seeing a pair of dirty jeans from the previous weekend, then remembering that you may have left $100 in them. So we cheered like crazy. We kept the faith. We didn't care that the clock was inching past 1 a.m. on a Sunday night, or that the game was more excruciating to watch than prostate surgery on the Discovery Channel. Even when we were at the point of the game where Curtis Leskanic needed to pull a Shag Crawford and save the day, somehow it seemed logical he would. And he did.
Everything was leading to Ortiz's game-winning homer in the 12th, which answered a 29-year question for me, "I wonder what it would have been like to see the Fisk home run in person?"
Well, I'll tell you what happens. You scream in disbelief. You jump up and down. You slap hands with complete strangers. You smile like a proud dad as the team skips onto the field, some of them racing to home plate, some of them taking time to turn and point at the fans. You want the guy to take 20 minutes rounding the bases, just so you can milk the moment and remember everything about it. And when the hero jumps into the happy pile at home plate, you feel like you're smack dab in the middle. Ortiz may as well have been jumping into 35,000 people.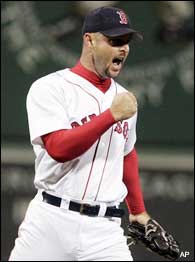 Wake's knuckler was dancing more than the fans on Boylston Street.
The game ended a little before 1:30. Everyone in Boston stayed up until the end. Just about everyone showed up for work late the following morning. This was bigger than all of us. It wasn't just about avoiding the sweep; it was about an entertaining, likable, charismatic team that could have rolled over and didn't. Those are the teams you end up remembering.
So we showed up at Fenway on Monday in a different mood -- worn out, giddy, appreciative, even a little nostalgic. We knew this was probably Pedro's last start at Fenway in a Boston uniform. If this were a Hollywood movie, he would have gone out guns blazing, the old Pedro one last time -- cracking 97 on the gun, mixing four unhittable pitches and throwing at people's heads just for the sport of it. But that Pedro has been gone for awhile. The older version creaks along and dances in and out of trouble, a constant tightrope walk, as nothing ever seems to come easy anymore. Watching him at Fenway, I always find myself glancing at his pitch count on the scoreboard, the same way you keep glancing at an escalating taxicab meter.
Still, it's Pedro. You never know. The Red Sox brought out all the stops for Game 5 -- a 4 year-old Jimmy Fund patient singing the national anthem, Jim Rice throwing out the first pitch, even Mike Eruzione bringing out the game ball while they showed clips of "USA 4, USSR 3" on the scoreboard. The crowd was practically crazed, standing on every two-strike pitch, cheering when foul balls ricocheted into the Yankee dugout, cheering when Posada took a foul ball off his right hand, even chanting "Who's your dealer?" at Sheffield. We weren't letting the Sox lose this game. It was like the scene in "Midnight Run" when DeNiro is glancing at the hovering helicopters and searching for an escape, when he mutters to himself, "I've come too far, I've come too (bleeping) far ..."
Fast-forward to the eighth inning: the Sox are trailing by two, thanks to Jeter's three-run triple in the sixth off Pedro (set up by a dink hit, a walk and an HBP), followed by Francona leaving Pedro in as the crowd howled in disgust (get the Other Shoe ready) ... followed by a Matsui rocket to Nixon to end the inning (exhale). Ortiz comes up and launches a Gordon pitch off the Volvo sign in left. Chaos. Complete chaos. Senor Octobre did it again -- he's like a cross between Dave Henderson, Roy Hobbs and Ghandi at this point. Then Millar weaseled out a walk, followed by another Dave Roberts appearance, with Gordon throwing to first at least 600 times. Maybe Roberts didn't steal second again, but Gordon was sufficiently rattled that he gave up a single to Nixon, followed by Rivera coming on ... and giving up the sac fly to Varitek.
Tie game.
Incredibly, unbelievably ... we were just getting started. Over the next six innings, the Sox tried to give away Game 5 over and over again -- popped-up bunts, botched hit-and-runs, 300-pound DH's trying to steal bases, knuckleballers throwing knuckleballs to guys who can't catch knuckleballs, guys swinging for the fences when they only needed to hit a flyball to win a game ... it was like they broke every rule in the "How to Play Winning Baseball" handbook. I'd tell you more, but I was a carcass by the 11th. Everybody was. I remember telling my dad, "Regardless of how this thing ends, we're going to be oozing out of here after the game."
(Of course, after two straight nights of this, dad was practically catatonic. As Mike Myers was warming up in one of the games, I saw him taking what looked to be Altoids out of a metal case, so I asked him for one. "These are headache pills," he said simply. Oh.)
And yeah ... usually we lose this game. Especially to the Yankees. This one seemed destined to show up on ESPN Classic some day, one of those Red Sox losses where you stumble across it and scream "Oh no!" and quickly turn channels before your eyeballs start gushing blood. In either the 13 or the 14th -- God, I can't even remember, it's all a blur -- Wakefield struck out Sheffield on a passed ball, followed by another walk, then another passed ball ... suddenly they had runners on third and second with two outs, with only a 50 percent chance that Varitek could stop these knuckleballs. Apparently we got out of this mess. I'm pretty sure I blacked out. I'm not even kidding.
(My last three notes of the game: "13th inning oh my God Varitek and Wakefield" ... "Stand up sit down bad back" ... "Central nervous system shutting down." If they found me dead outside Fenway after the game, they would have looked at this thing and assumed I had died of natural causes.)
By the time we were rallying again in the 14th, Francona needed to go to the bullpen for 35,000 new fans. We were spent. We were cooked. We were finished. Even with Johnny D on second and Manny on first, with two outs and Hendu-Hobbs-Ghandi at the plate, we couldn't rise to the moment -- not even when Papi kept fouling off those nasty pitches from Loaiza. Somewhere along the line, you could see him getting locked in again. He was right there.
"Something's gonna happen here," I remember telling my dad, who couldn't speak at this point.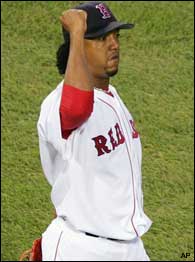 Is this the last time we see Pedro in a Sox uniform? Stay tuned.
Something happened.
A bloop hit into center field. The kind of hit the Yankees always get. Johnny D rounded third with the winning run. Half the guys greeted him at home plate, half sprinted towards Ortiz. Then Johnny's group sprinted over to Ortiz for one giant jumpfest. Meanwhile, you could see the Green Monster practically swaying. We were delirious -- literally and figuratively -- one of the happiest moments in the history of Fenway Park, right up there with Fisk's home run and everything else. The players pointed to us and skipped back into the dugout. Some fans remained at Fenway just to keep cheering. Others streamed out and headed to the nearest bars. Some even stood on Yawkey Way just to cheer the team bus.
My father limped off to find a cab. I ended up at the Baseball Tavern, just hoping I would run into somebody I knew. Wouldn't you know -- I wasn't there for 10 seconds before seeing my old college buddy Strollin' Jim Nolan walking towards the entrance. It was that kind of night. We ended up sucking down four Miller Lites in about 10 minutes, shaking our heads and using the same words over and over again ("incredible," "unbelievable," "incredible," "unbelievable," "incredible," "unbelievable"). Basically, that game turned us into the Hilton sisters. Then Pedro's favorite little person showed up -- Nelson De La Rosa, the 30-inch Dominican -- wearing a mini-Red Sox jersey and a cap. People cheered and lined up to take Polaroids with him. Somehow this all made sense.
"Maybe he IS a good-luck charm," I said to Nolan.
"I'd believe anything at this point," he said.
Me, too. There have been 25 other baseball teams that fell behind 3-0 in a series. None of the 25 ever came back. Only two of those teams even forced a Game 6. So there's no real precedent for what's happened here, and I can't imagine there have ever been two straight playoff games like that, not with these stakes, not with that much emotion, not after everything that happened last season and the 80-plus seasons before it. For a miracle to happen, you need a shift in momentum that borderlines on the surreal. Games 4 and 5 were surreal. There's no other way to say it. Now we have Schilling going in Game 6 against a reeling Yankees team that only has four guys remaining from the 1996-2000 title run.
"Do we win this series?" Nolan asked me.
"If the New England Patriots can win a Super Bowl," I told him, "anything's possible."
We turned and looked out the window, where fans were lined up on Boylston Street to watch the team buses heading towards the airport. The Yankees entourage went first, greeted by a barrage of jeers and middle fingers. Then the Red Sox buses followed suit, accompanied by screams of encouragement and raised fists.
We were headed back to New York.
Bill Simmons is a columnist for Page 2 and ESPN The Magazine. His Sports Guy's World site is updated every day Monday through Friday.