By Bill Simmons
Page 2
BOSTON -- Regardless of how the 2004 World Series ends up, I can't remember another moment in Red Sox history like the sixth inning in Game 2.
Curt Schilling was working on a four-hitter with the aid of painkillers, sutures, staples, rubber bands, Crazy Glue and everything else you can imagine ... only his defense had been betraying him all game. His pitch count was swelling towards the 90s. The pain in his bum ankle actually brought him to his knees at one point. And the weather was so cold at Fenway, people were practically clotheslining the hot chocolate guy. This wasn't a playoff game; it was an endurance contest. For everyone.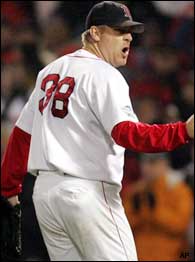 It didn't take Curt long to learn how much baseball means to Boston.
Especially Schilling. With two outs in the sixth and the Sox leading by three, Bill Mueller booted a routine grounder. That was followed by Bellhorn improbably booting another grounder, Boston's fourth error of the game. Suddenly the Cards had the tying run (Reggie Sanders) coming up. This one had all the makings of a classic Red Sox inning, one of those sequences that would come on ESPN Classic at 2:30 a.m. some night and cause any Boston fan to avert their eyes in horror, then frantically press buttons until the channel changed.
Except for one thing: The fans didn't quit this time.
Normally when these things happen at Fenway, you hear the groans, you hear people screaming in disgust, and then everyone tightens and awaits the inevitable kick to the groin. That's the history of this team: Expect the worst, get the worst. But after the Yankees series, we believe in these guys, just like we believe Brady and the Patriots will make those one or two big plays when it matters most. The Red Sox earned that faith against the Yankees last week. The hard way.
So we cheered. Banged our mittens and gloves together. Hooted and hollered. Tried to carry Schilling one more time, like everyone spent the afternoon sitting next to Stuart Smalley and staring into his full-length mirror. Sitting in Section 9, I remember thinking to myself, "My God, I really think he can get through this."
And he did. Hard grounder to third for the force. End of the threat. Schilling waited for Mueller to gather his hat from the ground, shouted words of encouragement as his teammate jogged by, then limped towards the dugout after him. He was finished. Totally spent. Eighteen outs, 94 pitches, another unforgettable performance.
Yeah, the Red Sox won. 6-2. And they're headed back to St. Louis with a 2-0 lead, just two wins away from ... well, you know. Heading into Game 3, the Cards still haven't gotten a decent pitching performance, haven't gotten their 2-3-4-5 clicking at the same time, haven't had a chance to play La Russa Ball with a lead. Throw in a terrific group of fans and things should be different on Tuesday for them. You would think.
But Game 2 belonged to Schilling. The night started with Schilling ambling out to the bullpen, soaking in the cheers and doffing his cap to the bleachers. We watched him jog around the outfield, awkwardly loosening up his legs like a 40-year-old guy preparing to play pickup hoops at the Y. We held our collective breath for his warmup pitches, reassured ourselves that he looked OK. We watched him stand in the bullpen, hold his cap to his chest, soak in JT's spinetingling version of the National Anthem. When he limped towards the dugout at 8:09, we cheered him every step of the way. I'm not sure if he's larger than life, but he's headed that way.
He's a strange guy to figure. Schilling chose Boston partly because of the passion of the fans (the emotional), partly because he understood how his legacy would be transformed with a Red Sox championship (the rational). He spent the first few weeks of the season posting inside info and answering questions on a well-known Red Sox message board, then shut things down after some local beat writers raised a predictable (and embarrassing) stink. When he's driving around and hears something inflammatory on WEEI, he calls in to argue with the hosts. He broke the unofficial record for "Most Local Commercials Filmed in a Single Season." Even his wife has become recognizable in town, giving as many interviews as some guys on the team.
Clearly, he loves being the center of attention. This rubs some the wrong way; personally, I wish every athlete was more like him. But watching him carry this team throughout the season -- saving his best for big games, eating up those Jack Morris innings to save his bullpen, then risking his ravaged ankle (and the twilight of his career) over these past few weeks -- even his biggest detractors can't deny that something special is happening here. No Boston fan will forget No. 38.
The night ended with Schilling grimacing his way towards the dugout, another head-shaking night in the books. With an elusive championship only two victories away, I'm surprised how much I'm thinking about the end of the road -- not the possible end of the (rhymes with "Schmurse") and all that media-driven crap, but how much I'm going to miss watching this team. It's almost over. I can't stop thinking about it. Baseball teams resonate more than teams from any other sport, only because of the frequency of the games, the up-and-down nature of the season and the endless array of characters. For better or worse, 25 to 30 strangers impact your life for six straight months. Day in, day out. Only rarely is it worth it.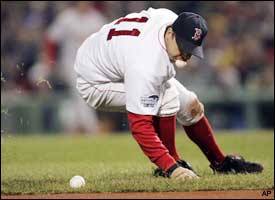 If eight errors in two games won't stop the Sox, what will?
This season was worth it. My generation of Sox fans grew up with stoic heroes like Yaz and Rice, along with an invisible ownership that didn't care about the park or the fans. Many of our favorite players ended up skipping town -- Clemens, Mo, Lynn and Fisk -- for reasons that never really made sense. And the legacy of misfortune hung over everything. The 2004 Red Sox made up for everything, a good group of guys who bring out the best in one another. It's the kind of team you dream of following.
However this turns out, the month of November will feel remarkably ordinary. No more Schilling limping out of the phone booth with the Superman cape. No more Ortiz at-bats with guys on base, the ones where Papi goes into that mini-crouch, looking like a cobra ready to strike. No more Foulke jogging in from the bullpen as Danzig blasts over the speakers. No more sparkling plays from Cabrera at short, the guy who turned the season around in August. No more random Varitek at-bats where he looks like the black sheep Molina brother for seven innings, then inexplicably cranks a 450-foot homer when it counts. No more goofy Manny moments, when he careens around the outfield like a drunk guy running away from police, then crushes a line drive five minutes later.
I could go on and on. Just a wonderful season. And sure, they screw up from time to time -- like those eight errors in the first two games -- and I wish the manager was a little more, umm, consistent. But they believe in themselves. More importantly, we believe in them. That became abundantly clear in the sixth inning of Game 2, one of those moments that normally brings Red Sox Nation to its collective knees. Not this time.
Three words sum everything up. Inside Fenway this weekend, they were selling blue T-shirts for $25 that simply said, "WHY NOT US?" They were selling like hot cakes.
Why not us?
Of course, Schilling started that bandwagon. He's the one who kept repeating that phrase over and over before the playoffs, and now we're here -- two wins away from that giant group hug -- and I'm kicking myself for not buying one of those T-shirts last night. Sometimes in life, you just have to believe.
Bill Simmons is a columnist for Page 2 and ESPN The Magazine. His Sports Guy's World site is updated every day Monday through Friday.