By Bill Simmons
Page 2
"How will your life change if the Red Sox win the World Series?"
The Sports Gal asked me that question last night, minutes before Foulke clinched Boston's third straight win over the Cardinals. Let's just say that it's a best-of-seven series and Game 4 happens tonight. Seemed like a relevant question.
"That's easy," I told her. "Everything would get wiped away. No more baggage. No more Babe Ruth pictures, Buckner highlights, fans walking around with Curse signs, 1918 chants, announcers hinting at doom around every corner. Everyone would just leave us alone. We'd be just another baseball team."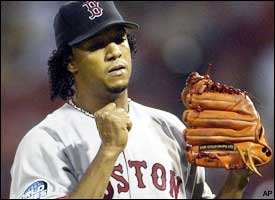 When people talk about Pedro's days with the Sox, they'll talk about Game 3.
That was the simple answer.
Here's the complicated answer, which I wrote in a column three years ago: "We're haunted by the possibility of living an entire lifetime -- 80-90 years, followed by death -- without celebrating a World Series title. That's not a curse; it's an imaginary guillotine that hangs over us every season. We're just waiting for it to go away, that's all. And only Cubs fans can truly understand."
See, this is about life and death. And not in the traditional sense. A Red Sox championship always felt like a race against time. When journalist Marty Nolan wrote, "The Red Sox killed my father and now they're coming after me" (later quoted by David Halberstam), he wasn't kidding. I keep thinking about my dad, and my friend Walsh, and my buddy Geoff's mother-in-law Neets, as well as every other over-50 person in my life who follows this team. Those are the people who passed a certain point in life and started thinking to themselves, "Wait a second, is this thing EVER going to happen?" Obviously, I'm not quite there yet; but after three decades of following this team, I could feel the guillotine inching closer and closer. That's what it's like to be a Red Sox fan.
On the Sons of Sam Horn message board, there's a terrific thread started by an eloquent poster named jacklamabe65, who went online before Game 7 of the Yankees series and listed all the people the Red Sox needed to "Win It For" That was the name of the thread. Here was the last paragraph:
"Most of all, win it for James Lawrence Kelly, 1913-1986. This one's for you, Daddy. You always told me that loyalty and perseverance go hand in hand. Thanks for sharing the best part of you with me."
The lurkers were touched. Within six days, there were 32 pages of posts (and counting) from SOSH members, some of the most heartwarming stuff you can imagine. It's an amazing thread. Plow through the posts and you feel like you're plowing through the history of the franchise -- just about every memorable player is mentioned at some point -- as well as the basic themes that encompass the human experiences. Life and death. Love and family. Friendship and loss.
"Win it for my Grandfather (1917-2004) who never got to see the Red Sox win it all but always believed. And for my Dad who watches each and every game wishing his Dad was there to watch with him."
"Win it for my 10-year-old son Charlie who fell asleep listening to Game 7 of the 2003 ALCS assuming the Sox would win. When he awakened the next morning, he asked me, eagerly, "Did we win, Dad?" When I told him, gently, No, we did not win, his anguished moan startled me. I knew I had raised him as a Red Sox fan and I began to question whether that was a good thing."
"Win it for my grandfather, who succumbed to Alzheimer's in 2002. In one of my last conversations with him, he asked me how Ted Williams was doing. During Game 7 on October 20, his birthday, he was smiling down on the Red Sox."
"Win it for my boss, a dear friend who lost his dad unexpectedly in March of this year. More than once this season, I've seen him glance at the phone after a game, half-expecting his father to call to commiserate, rejoice, or just shoot the breeze -- I've also seen the sadness in his eyes as he realizes that the call isn't coming. Win it for his dad, a lifelong fan who never had the opportunity to witness his beloved team taking it all."
There are hundreds of posts like those. And since I never took the time to post my own thoughts, I'm doing it now. If you don't mind.
Here we go ...
Win it for Buckner. He deserves to live a normal life again. Always did. Same with Grady Little. And Bob Stanley. Basically, everyone who ever played for the team but that traitor Clemens.
Win it for Dave Cirilli, the creator of the Ewing Theory. If the Red Sox won the World Series after trading Nomar, that would be just another notch in his belt. We're talking "SportsCentury and Beyond" material at this point.
Win it for Teddy Ballgame, whose dastardly son humiliated and degraded him in the final years of his life (and then even after he died). Not the way he should have gone out.
Win it for my Mom, who dressed me up in a Freddie Lynn jersey for two straight Halloweens; picked me up and drove me home from Tom Demas's house (I was catatonic) after Game 6 in '86; and learned not to ask "What's the score?" if I was sitting in front of the TV with a frown on my face. Last weekend, she wore a Sox jersey into a French restaurant just to taunt her brother, my Uncle Ricky, a trash-talking Yankees fan in deep denial right now. Everyone thought she would take it off during dinner. She kept it on the whole time. Now that's a Mom.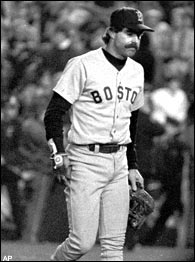 After this season can we finally lay off Buckner?
Win it for Theo Epstein -- 30 years old and living the dream. The Nomar-Cabrera trade remains the second-gutsiest move in the history of Boston sports, right behind Belichick benching Bledsoe for Brady.
Win it for the guys at Sonny McLean's, the guys at SOSH, the guys at Sullivan's Pub in Charlestown and the guys from the Baseball Tavern (where I have never ordered an appletini in my life, contrary to published reports).
Win it for my friends who love the team and have no problem talking with me about inane things like "Do you think Dale Sveum has a depth-perception problem?" and "Doesn't Rich Garces seem like the type of guy who could clear out the bullpen with one good fart?" for hours on end.
Win it for all the non-Boston readers who didn't mind that I spent the last three weeks writing the same things about the same baseball team. Thanks for the free pass.
Win it for the Sports Gal, who's giving serious consideration to naming our first kid "Papi Orlando Johnny Martinez Simmons" some day.
Win it for the bird who crapped on my shirt two weeks ago. Sure, I have Legionnaire's Disease now. But it was worth it.
Most of all, win it for my Dad, who carried me into Fenway when I was little and kept carrying me as a Sox fan ever since. I hope he does the same for Papi Orlando Johnny Martinez Simmons some day, right after he bounces the little kid on his lap and tells the story of the time the 2004 Red Sox won the World Series.
(You know ... if it ends up happening and all ... )
(I'll shut up now...)
---
Leftover thoughts from the first three games:
If you had told me 12 months ago that ...

1. The Red Sox would be leading a World Series 2 games to 0
2. Pedro Martinez would be pitching against Jeff Suppan in Game 3

... I would have started doing backflips. I'm not kidding. Backflips. Suppan stunk out the joint in Boston last year. Now the Cardinals were trusting him to save their season? Please. If I heard one more person call Suppan a "great big-game pitcher" this week, I was going to throw up. He's Jeff Suppan, for crying out loud.

Only one person was deciding Game 3: Pedro. You knew the Sox would scratch four or five runs off Suppan before LaRussa brought out Ray King's gravity-defying head and the rest of the Cards bullpen. Could Pedro hold the Cards under that four-or-five-run mark? Nobody in Boston knew what to expect.

It turned out to be one of the defining moments of his Boston career: A fitting farewell (assuming there's no Game 7) to the Red Sox fans. Let the record show that he received a healthy dose of luck in the first (Manny throwing out Walker) and third (Suppan basically having a five-second aneuryism at third base, prompting the first moment in baseball history where a third base coach walked away from a baserunner in disgust during the play). But this was someone who had been decidedly unlucky all season -- nobody was victimized by more bloop hits and slow rollers -- so maybe he was overdue for some good fortune.

Pedro didn't turn back the clocks to 1999 or anything -- the Cards were flailing away like Leatherface in those final four innings -- but he engineered a masterful stretch over those last 14 batters, changing speeds, mixing pitches and working fast enough that it brought back fleeting memories of the old days. When it came time to pull him after seven innings and 98 pitches, we reaped the benefits of that agonizing game in late September against the Yankees (when Francona pulled the Deja Vu of the Grady Little game). Maybe everything happens for a reason.

(And yes, I'm saving my final thoughts on Pedro for this winter, once he signs with another team for $20 million more than he's worth. Hey, it's not his fault that somebody like the Angels will overpay him.)
On that Suppan play: Yet another sequence in the 2004 Playoffs that always happened TO the Red Sox in the past, much like A-Rod's karate chop on Arroyo, Bellhorn's homer in Game 6 getting changed from a double, the three Wakefield passed balls in Game 5 not amounting to anything, and everything else. It's the Bizarro Red Sox Month.

(Maybe I should change the subject before I anger the Baseball Gods. Um ... )

Hey, there can't be anything dumber than MLB and this "DH/No DH" thing for the World Series -- it's like playing someone for money in bar pool, only on one of those unfamiliar tables where the other guy knows all the angles and dead spots. Can you imagine if the NBA suddenly decided that the Western Conference wouldn't have a three-point line anymore, and all Western home games would be played without threes? Would this EVER happen?
I thought I was the only one who was convinced that Julian Tavarez looked like Freddie Krueger without the makeup. According to reader e-mails, I'm not alone. And with Mike Myers on the Red Sox ... and Game 7 on Halloween night ... I mean ...
Speaking of e-mails, here's a joke from Greg T. in San Diego:

"Q. What do you call 25 guys watching the World Series?"

"A. The Yankees."
One more e-mail, this time from Jeff Given in D.C.:

"I was pleasantly enthused to see that John Holmes's demise was clearly exaggerated and that he's now starring in a new show on Fox. However, why call it 'House MD'? I can't believe Fox wouldn't have wanted to use 'Johnny Wadd MD.' Somehow, "House" and "The Swan" MUST be put together ... with then Dr. "Johnny Wadd" House entertaining the Swan in his shag-carpeted lair. Now THAT would be risking a patient's life."
Since I don't really follow the National League, I totally forgot how much I enjoy the Tony La Russa Era. For one thing, he's one of those guys who always looks the same -- like David Robinson and Dick Clark -- and there's at least an 80-percent chance that he's completely bald and staples his hat to a Dennis Eckersley wig. His press conferences are phenomenal, just a superior mix of sarcasm and condescension -- he makes Bill Parcells look like Pete Carroll. And he's firmly entrenched in that Brett Favre Zone, where the announcers are so busy paying homage to him for three hours, they don't even notice when he screws up.

A very entertaining package all around. My favorite La Russa quirk is when something bad happens, then he stares out onto the field like someone who just realized that their car was towed. Good times. With that said, will anyone ever explain why he conceded Game 2 when it was 4-1? How does Cal Eldred come into the game there? Really, you're bringing in your worst reliever in a must-win game, followed by your Game 4 starter for an inning, and you have an off-day on Monday? Even Jimy Williams wouldn't have done that.
OK, one more e-mail, this time from Sean Slattery in L.A.:

"When So Taguchi and his friends go out to a bar, do you think his friends say to him "You're so Taguchi and you don't even know it" (a la Trent in 'Swingers')?"

(Note: My buddy Hench calls him "So-So Taguchi." Now that's comedy.)
Weird fact in case you missed it: The Celtics won their first championship against St. Louis (1957); the Bruins broke a 41-year Stanley Cup drought against St. Louis (1970); and the Patriots won their first Super Bowl against St. Louis (2002). Hey, I'm just the messenger.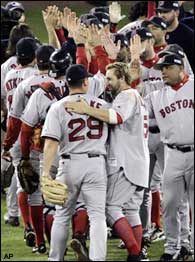 This year's Sox have stepped up when past teams folded.
Cards fans last night: A solid D-minus. I know it was raining, and I know the Suppan blunder was a killer ... but c'mon. That was like a Braves crowd without the tomahawk chant. Not an impressive night for the alleged best fans in the National League. They know they're allowed to still make noise when their team falls behind, right?
Someone asked me what was my favorite random thing about the 2004 Red Sox. At gunpoint, I think it has to be Foulke coming out of the Fenway bullpen to "Mother" by Danzig -- such a random, inexplicable choice that I've been dying to find out how this happened. I'm not killing the song, believe me. It's a classic. You just wouldn't expect to hear it at a baseball game -- it's the kind of song that would be the theme for one of those HBO documentaries about siblings in a Wisconsin trailer park who were wrongly accused of killing their mother.

So how did this happen? Was Foulke inspired by a "Beavis and Butthead" re-run? Did he attend high school with Danzig? Is he still coming to grips with his relationship with his Mom? Does the song get him fired up? Is it some sort of elaborate pratical joke? I'm brimming with questions here. Again ... I'm not arguing. Fantastic song, Hall of Fame video, definitely gets you fired up. Just not something you would expect to hear at a baseball game. And nothing personifies this goofy 2004 Sox team quite like the closer running out to the musical stylings of Mr. Glen Danzig.
For Yankee fans, it's Day 7 of "Operation Spin Control" since their team clinched the No. 1 spot on ESPN50's "Greatest Chokes Show" in 2029. My favorite excuses so far include:

"You still need to win the World Series or it means nothing."

"This wasn't that big of a deal -- I was much more upset when we lost to the Diamondbacks."

"Don't tell me we choked. Three of those games came down to the last at-bat."

And, "I was 10 times more upset when the wispy mustache fell out of style."

(Note: If the Sox end up winning the title, I'm looking forward to hearing, "Congratulations, now you only have 19 to go before you catch us.")
Reason No. 435 why I wouldn't make a good manager: I would have benched Mark Bellhorn before Game 5. Now he's a possible candidate for World Series MVP.
You need a little luck to get this far. Consider the things that didn't happen for the Sox in the past 24 months:

1.) The A-Rod deal fell through; 2.) Millar's Japan deal fell through; 3.) The Expos told them that they didn't have enough to get Vazquez, so they turned to Plan B (Schilling); 4.) The Yankees trumped them for Contreras; 5.) Nomar turned down two different extensions in 2003; 6.) Anyone could have claimed Manny off waivers this winter; 7.) They almost traded D-Lowe for Loiaza before the Yankees trumped their bid; and 8.) They probably wouldn't have gotten Cabrera if Nomar hadn't sulked throughout that 13-inning game at Yankee Stadium, turning public sentiment against him just enough so they could eventually trade him without causing a riot.
My only pet peeve about having a Boston team in the Finals: When the Boston mayor makes the stupid bet with the other team's mayor. Drives me crazy.

For instance, before the World Series, Mayor Menino of Boston wagered a bunch of Boston beer and food products (Legal Seafood's clam chowder, a case of Sam Adams beer, 11 pounds of Dunkin Donuts coffee and a bunch of other Boston-related stuff in exchange for Anheuser-Busch Products, Toasted Ravioli, Bissinger Chocolate and some other St. Louis goodies from Mayor Clark Griswold.

That's a bet? Those are high stakes? Oh, no, we lost ... darn, we're never gonna replace all that clam chowder; I never should have let him sucker me into that. Please. I hate this stuff. Just one of these times, I want one of the mayors to throw something out there like, "If you guys win, I'll sleep with a tranvestite ... if we win, you have to try heroin and speed at the same time." Now THAT would get people talking.
Strangest subplot in the history of sports: A possible lunar eclipse for Game 4 which could coincide with a possible Red Sox sw-.

(Whoops. I almost wrote the S-word.)

Bill Simmons is a columnist for Page 2 and ESPN The Magazine. His Sports Guy's World site is updated every day Monday through Friday.