By Bill Simmons
Page 2
What will you write about now?
After the Red Sox won the World Series, readers kept sending me that question over and over again. And frankly, I'm insulted. I thought you knew me better. With a Sox championship out of the way, now I can concentrate on the important things in life. You know, like writing 2,500 words about irrelevant sports movies that came out 20 years ago. Catering to the football wagering habits of gambling addicts around the world. Maybe even slapping together the first-ever "All 36D And Higher" Mailbag.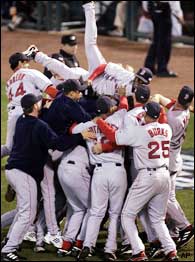 Hey, the Sox won (did you hear?) Now it's time to move on.
As Paul Maguire would say, you want to talk about a guy who doesn't give a crap anymore? You want to talk about a guy who's going to be writing some crazy stuff over these next few months? That's right, you're talking about me. I feel like I'm 15 pounds lighter. I feel like Larry Centers during that Pro Bowl when Reggie White dragged him into the Hawaiian surf, pulled off his clothes and baptized him. I just don't care. Really, I don't. The Red Sox won the World Series.
Where does the NBA fit into all of this? Well, I'm one of the last 19 fans on the planet. Two years ago, I moved to Los Angeles, gave up my Celtics tickets and started working for a TV show. The NBA got shoved to the back burner. There was no other way. Now I'm ready for one of those "MJ leading the Bulls to 72 wins"-level comebacks. I have the TiVo ready and raring to go. I read roughly 730 NBA previews over the past few weeks. I even bought ...
(You better sit down for this one.)
(Actually, you're probably already sitting. Well, hold onto your desk.)
I even bought season tickets for the L.A. Clippers.
That's right ... I'm a Clippers season ticketholder.
(I'll let that one sink in.)
Believe me, you will be hearing PLENTY more about this historic investment in the upcoming weeks and months. Just know that you're in good hands. And if you don't like the NBA, I don't know what to tell you. I used to love reading John McPhee until he started putting out books about rocks. Stuff happens. There's plenty of other writers out there. Feel free to read them. I'm spending the season getting my hoops schwerve back, as well as figuring out how to spell "schwerve."
Which reminds me: The season started last night. Here's one man's look at the Eastern Conference.
LOTTERY TEAMS
15. Charlotte
Just so you know, I had to re-write this section after the big Keith Bogans-Brandon Hunter trade on Monday night. Initially I had the Bobcats pencilled in for 8 wins ... now I'm thinking 9 sounds more realistic. These guys already had their highlight of the season -- back in June, when Jahidi White was on the front page of ESPN.com after the expansion draft. The only way that's happening again is if he kills someone.
Regardless, they're doing the right thing -- tank a few years, hope a few of these young guys pan out, stockpile lottery picks and conserve that excess cap space. Remember when Phoenix unloaded Googs's contract on Utah (for luxury tax purposes) and handed them a No. 1 pick for their troubles? If I'm the Bobcats, I'm actively seeking those deals this winter. Heck, they should buy ad space on TNT's telecasts. They could play out like those ambulance chaser commercials for cheesy lawyers, like the great Jim Sokolove on the East Coast.
Need to get rid of a ghastly contract? Need to get under the luxury tax? Hi, I'm Bobcats GM Bernie Bickerstaff ...
14. Atlanta
The Hawks crack me up -- they're making a fuss about major cap space for next summer, only nobody in their right mind wants to play there. I mean, they had cap space LAST summer. Know what it got them? About 2,500 shots from Antoine Walker over these next six months. Has anyone ever gone 10-for-31 for 82 straight games? I think it's about to happen. What chain of events needs to happen for this team to move to Vegas? Can I do anything to help?
(By the way, if I read the sentence "Al Harrington's breakout year" one more time, I'm calling the police. There's a reason The Man traded him. He's all sizzle and no steak. Watch his numbers this year. This is D-Miles in Cleveland all over again.)
13. Milwaukee
My buddy Chipper lives in the underrated city that gave us the Violent Femmes, the Zucker brothers, Latrell Sprewell, Laverne and Shirley, Dwyane Wade and Jeff Dahmer. I give him input for this paragraph before every season. Here's what he came up with this year:
"It's never a good thing if people are saying your team is going to miss Brian Skinner."
12. New Jersey
We all know what the Nets owner is doing: Gut the team, stockpile some lottery picks, build around Richard Jefferson, then make a splash in Brooklyn in 2007 and try to break the "Most hats and jerseys ever sold by a single team" record. Just one problem ... why build around Jefferson over Kenyon Martin? How does that make sense? If you were choosing sides in a pickup game, who would YOU take?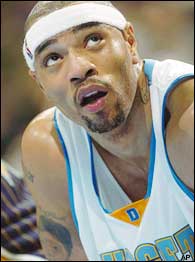 How can you let a guy go that is mean enough to make a kidney joke to Alonzo?
(Yeah, I thought so.)
Three other notes:
If Jason Collins and Brendan Haywood can sign four-year contracts for a combined $49 million, it's only a matter of time before Michael Clarke Duncan switches careers, right? Don't you think Chris Mullin would offer him $20 million sight unseen?
J-Kidd could have signed with the Spurs, the Nets promised they would remain competitive, so he stayed ... and then they broke their word with K-Mart and the Kittles-Harris moves. You know what? I would have done exactly what he did: Waited right before camp for knee surgery, then taken my sweet time rehabbing. Screw those guys. He's almost been too diplomatic. If it were me, I would have been re-enacting Pacino's speech in "Scent of a Woman," right down to the "If I were half the man I was ten years ago, I woulda taken a FLAME-THROWER to this place!!!!!" part. Hoo-hah.

(So what happens to Kidd? He probably gets moved this winter for 50 cents on the dollar, making him the X-factor of X-factors. It's like 12-15 contenders are playing chess right now, but one of them could end up with an extra Queen. Portland seems to make the most sense -- something like Kidd and Mourning for Van Exel's expiring deal, Shareef's expiring deal, Telfair and six of Qyntel Woods's prized pit bulls -- but what do I know?)
On the Riddick Bowe "Every Time This Guy Comes Back, I Lose the Will to Live a Little Bit More" Scale, Alonzo has to rate a solid 9.9, doesn't he? When I read about his latest comeback, I actually groaned out loud at breakfast. Seriously. One of those "Oh, no!" noises. When is Zo fighting Trevor Berbick in the Bahamas?

11. Chicago
Here's a question: With the exception of the Pistons, Pacers, Cavs and Heat, if you could take any roster in the East for the next 6-7 years, would you take Chicago's nucleus? (Raising hand.) You already have four bonafide blue-chippers in place: Hinrich, Gordon, Deng and Chandler. I'm not an Eddy Curry fan because of his body language -- he's the kind of guy who gets angry during timeouts because someone's blocking his view of the Jumbotron -- but at least he has trade value. They even have a token Argentianian guy (Nocioni) and a token white guy (Piatkowski). Interesting team. Maybe a year away.

(One note on Chandler: Remember when Marcus Camby was traded to the Knicks for Oakley, then made The Leap in the '99 playoffs? That's happening for Chandler. Not sure when, not sure with who ... but it's happening. Mark my words. Unless his back gives out. Then, don't mark my words. He's one of my favorites -- a natural rebounder with a mean streak. There isn't exactly a plethora kicking around.)

10. Orlando
Getting a surprising amount of Sleeper Heat. And no, that's not one of those late-night Cinemax movies with Jacy Andrews and Kira Reed. Sleeper Heat happens when everyone spends September and October searching for a sleeper, so they start talking themselves into things like "If they can get 82 games out of Grant Hill, look out!" and "Don't be surprised if Dwight Howard averages a double-double" and even "Stick Kelvin Cato in the East and he's probably a 15-10 guy!" Hear it enough times and you start to think these things can actually happen.

Unfortunately, Hill's ankle has been operated on more times than Dyan Cannon. Poor Howard has to deal with the rebounding burden, as well as living on his own, paying bills, finding a Christian posse and fending off hundreds of groupies testing his relationship with the Lord. And from Cato's per-minute averages, you can tell that he won't average double digits in anything other than "Most Ticked-Off Roto Owners." If that's not enough, Francis, Mobley and Cato were the nucleus of a Rockets team that won 28 games and ended up with the first pick. That was two years ago. I know the East is bad ... but it's not THAT bad.

9. Washington
The one team I can't figure out. Are they a roto team or a real team? I'm leaning towards roto team. By the way, did anyone else notice that Les Boulez reunited the three best guys from a 21-win team in G-State two years ago? Sure, Hughes made The Leap last year, and Jamison turned out to be an underrated character guy in Dallas. But this can't be a good sign. It's like HBO announcing that Robert Wuhl, Sandra Oh and Michael Boatman are teaming up for another sports sitcom. And yes, I had to look up two of those names on IMDB.com.

(FYI: My buddy House, a lifelong Boulez fan, swears that Steve Blake will be running his own NBA offense some day. Warrants mentioning. Looks like we have a dark horse for the Token White Guy spot with the 2008 Olympic Team. Think Brian Cardinal and Kirk Hinrich are nervous?)

PLAYOFF TEAMS

8. Toronto
I'm banking on the inevitable Vince trade, followed by the Ewing Theory carrying them to the playoffs. Done deal. Etch it in stone. I don't care if they trade him to the Clippers for Kerry Kittles, Mamadou N'Diaye, Papadou N'Diaye and Frankie Muniz ... they're making the playoffs. I'm not sure how many times this needs to happen before you believe me.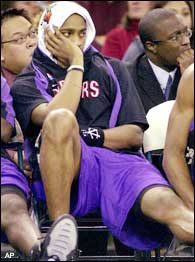 "No Vince, you aren't playing. Now go home and get your shine box!"
Here's the bigger issue ...
Now that the Sox have won the World Series, here's my new sports wish for 2004. And I'm not kidding about this. Just once in my lifetime, when this situation unfolds like with Vince and the Raptors, I want to see the team say, "You know what? Screw you. You signed a contract to become our franchise player, and now you don't want to live up to that obligation? Fine. You're sitting on the bench. Don't worry, we'll pay you. You'll get your checks. You're just getting a DNP for the next five years. We're making an example out of you. You will never play for us again. And you won't play anywhere else, either."
Imagine that. Vince banished to the bench, game after game, month after month, until he shapes up and stops bitching about playing for Toronto. It would be the sports equivalent of sending a prisoner to the hole. Like every NBA fan wouldn't be rooting for the Raptors after that?
7. New York
Congratulations to Isiah Thomas, who managed to construct an NBA team with the exact same problems as the 2004 USA Olympic Team. Did you miss guards battling each other to take bad shots? What about five guys playing defense like they just met three days ago? Or a barrage of ghastly threes bouncing into the 10th row? Or an entire team made up of players who look better on paper then they actually are?
(Ladies and gentleman, yourrrrrrrrrrrrrrrrr 2005 Knicks!)
At least the Olympic team went away in three weeks. Knicks fans are stuck with five untradeable guys (Houston, Crawford, Hardaway, and the Thomases); one semi-untradeable guy (Marbury); four more crippling contracts (Anderson, Mohammed, Williams, Norris); and a transcendent head case (Baker). Fortunately, guys start coming off the cap in 2006, although I'm pretty sure Allan Houston's deal runs through 2027 (with a two-year player option through 2029). Only 2 questions remain: A) Is Trevor Ariza for real, and B) when will Isiah push Lenny Wilkens under the bus and take over this mess?
(Now you're saying to yourself, "Wait a second, how can I rip a team and then pick them to make the playoffs?" Have you SEEN the Eastern Conference? It's a train wreck. Three 35-win teams could still be playing in late-April. From a competitive standpoint, even the Real World/Road Rules Challenge isn't as lopsided as the NBA right now. And the Knicks don't even have someone like Tonya.)
6. Boston
I had them winning the Atlantic as recently as last week, right up until Pierce spat at the Cavs bench during that war of words with LeBron. Sad moment for me. I used to like this guy. Watched just about every NBA game he ever played. Sat five rows from the court for just about every home game from his first four seasons. I'm telling you, the old Paul Pierce never would have done something like that. This used to be a happy guy. Wore his heart on his sleeve, played with a smile on his face, never stopped having fun. He was the kind of player who helped up an opponent if they fell down, even if play was still going on. That guy is long gone.
His head isn't on straight. Hasn't been since they nearly made the Finals in 2002. If you want to psychoanalyze the whole thing, I wonder if the stabbing incident messed with his head more than he wants to admit. Think about it. The dude nearly gets knifed to death by a gangbanger, ends up back on the court in three weeks, plays an entire season, nearly leads the team to the Finals ... it's like he never dealt with what happened. Maybe he should. Or maybe it's simpler than that - maybe the NBA can corrupt anybody. Even a guy like him.
(We'll be back on the Sports Reporters after this.)
Does this mean I'm writing him off? Of course not. I'm just worried about awarding the Atlantic to a team whose best player has been visibly troubled for two-plus years. There are other reasons, of course. They're going to get killed on the boards again. Once LaFrentz gets hurt, rookie Al Jefferson will be getting big minutes at the 4-spot, which is good and bad -- good because he's an absolute stud who resembles the Young Moses, bad because he's completely lost on defense right now. And GP couldn't guard ME at this point. Regardless, they should be an entertaining team with an energetic coach, as well as some quality young players, a decent center, some swagger and an extra trade to make in February. Vegas has them listed at 41½ for a reason.
5. Philly
The perfect Jim O'Brien Team: Overachieving veterans and frisky young guys breaking a sweat for him on defense, coupled with a superstar who can create his own shot. I watched Obie for three years in Boston -- he let Pierce and Walker chuck up bad threes and hoped they went in. That was the offense. Now he gets to do the same with Iverson, who could become the first player to win the scoring title and shoot under 35% in the same season. Get ready for 45 wins, the No. 3 seed and a neverending maze of 71-65 games. You will HATE watching this team.
By the way, Philly wins the award for "Worst Trade Ever" this summer -- dealing a solid rotation guy (Eric Snow) for two TERRIBLE players (Kevin Ollie and Kedrick Brown), and only because they were worried about the luxury tax. If they were so worried about the tax, why spend the last two years overpaying for guys like Thomas, Skinner and Buckner? Seriously, how many NBA teams know what they're doing right now? Three? Five? Have you ever seen anything like this? It's like handing $20 bucks to a little kid in a candy store, then watching him pick $80 worth of candy. There can't be a dumber group of executives in any walk of life. There just can't.
4. Miami
My whole "Shaq will obliterate the Vengeance Scale and win an NBA title in Miami" argument was a lot more fun before I realized that Udonis Haslem, Rasual Butler, Christian Laettner, Keyon Dooling and Wesley Person were prominently involved. Yikes.
So let's think about this.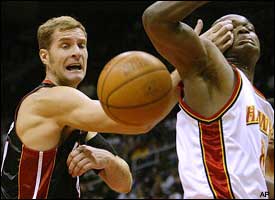 Attention Laettner fans -- you do know this isn't the ACC, it's the NBA, right?
At his absolute apex, Shaq's ceiling is probably 30 points and 13 rebounds a game With the exception of Moses in 1981, no superstar center ever made the Finals with a crummy supporting cast (and that '81 Rockets went 40-42 and caught some major breaks in the playoffs). Check out Kareem's pre-Magic career with the Lakers, when he won the MVP in '76 and '77 and those teams won a combined 93 games. That's a pretty fair litmus test.
Here's the point: You can match a dominant center with an up-and-coming star (D-Wade), but you can't make it to mid-June without getting something from at least 4-5 other guys. Ever watch some of those old Lakers from the past five years on ESPN Classic? Did you notice how many big shots Shaw and Horry made? What about Stephen Jackson with the 2003 Spurs, or Kukoc, Kerr and Paxson with MJ's Bulls teams? What about Horry, Cassell and Kenny Smith with those mid-90's Houston teams? At some point, the supporting guys need to step up beyond the Top Two.
Miami's crunch-time lineup: Shaq, Laettner, Eddie Jones, Damon Jones and D-Wade. Eddie has been a notorious choke artist in big games for his entire career. That's just a fact. If Laettner's name was "Tom Franklin" and he wasn't carrying the Duke baggage, we would think of him as another run-of-the-mill, overpaid white guy who lasted in the league too long. As much as I like Damon Jones -- that was one of the best signings of the summer -- it remains to be seen whether someone who's played for eight teams in eight years can suddenly turn into one of those Shaw-Horry types. And I don't like anyone on their bench. Not one guy.
Only one thing saves them: Thanks to realignment, the division champs get the 1-2-3 seeds in the playoffs, meaning A.) Indy and Detroit square off in Round 2, and B.) Miami gets easy draws for Rounds 1 and 2 (did you see the mess above?). As an added bonus, they'll be getting every call because the NBA will be doing everything possible to facilitate a Heat-Lakers Finals, even if it includes flying Dick Bavetta around in a private jet to referee two games in the same day.
The final verdict: This isn't a team that should make the NBA Finals. But you never know.
(How was that for a cop-out?)
3. Cleveland
Look, I was sold on LeBron laying the smack down this season, and that was BEFORE Stanley Roper inexplicably squeezed his PT in Athens. Just the extra motivation Bronnie needed. Now I'm thinking 47 wins and a possible MVP for him. If we could only find him his own Ahmad Rashad.
Anyway, I'm torn on the Boozer Debacle. Much like the budding R Kelly-Jay Z feud, I can see both sides here.
The Anti-Boozer Argument: He screwed over a blind guy ... he could have spent the next 12 years playing with the next MJ -- winning titles, making dozens of ESPN Classic appearances, going down in history like Pippen and McHale did -- yet sold out for the cash ... they're replacing 80% of his numbers with Gooden and Varejo for one-third the price, so screw him.
The Pro-Boozer Argument: The Cavs were idiots for trusting any NBA player to keep a verbal committment which was illegal in the first place ... Jim Paxson shouldn't be running a video store, much less an NBA team ... Booze's market value was higher that $41 million, so the Cavs tried to take advantage of him with the wink-wink deal ... Booze is from Alaska and always dreamed of playing in Utah and following the Mailman, so you can't really blame him for wanting to jump ship.
(You know what? I think I'm in the Anti-Boozer Camp. I can't get over the fact that he stabbed a blind guy in the back. He should have just hit him over the head with a steel chair as Jim Ross screamed "Nooooooooooo! Noooooooooooo! My God, what's happening! Noooooooooooooooooooooooo!")
2. Indiana
Same team that almost outlasted the Pistons last year, with four exceptions: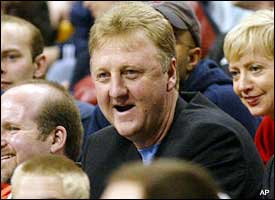 Oh, and never underestimate a team run by the Basketball Jesus.
A.) They finally handed the car keys to Jamaal Tinsley for the entire season. Even signed him to an extension. Feels like a breakout year for him. Then again, I'm wondering if he's like Taye Diggs or Jessica Alba, where you keep waiting for their careers to take off and it never happens.
B.) Just from the natural aging process, it's safe to say that Ron Artest is probably 5-7% less crazy than he was last year.
C.) Jon Bender finally gets some run. Intriguing player: Strange body, strange game. I'm not sure what to make of him. The Brad Lohaus parallels are just disturbing enough that it makes me nervous.
D.) They brought in Stephen Jackson to solve their biggest problem -- other than Reggie Miller, who's 55 years-old, everyone on the team was afraid to take The Big Shot last year when it mattered. Problem solved.
And with all of that said, I still don't like them as much as ...
1. Detroit
How many games will they lose within the conference? Five? Eight? Let's give them 44-8 in the East and 22-8 against the West. Seems reasonable.
FYI: That's a 66-win team on paper.
In other words, there's a solid chance that Darko could be selling not one but two championship rings on eBay in ten years.
Coming tomorrow: Western Conference Preview.
Bill Simmons is a columnist for Page 2 and ESPN The Magazine. His Sports Guy's World site is updated every day Monday through Friday.