By Bill Simmons
Page 2
Remember when Norman Dale glances around before Hickory's first practice, then mumbles under his breath, "Let's see what kind of hand I've been dealt here"?
That's Week 10 of the NFL season. The first nine weeks are a prolonged exhibition season with one wrinkle: You can't clinch a playoff spot, but you can definitely screw one up. Just ask the 2004 Chiefs. Now the real season begins. I'm not saying that the last two months didn't count; but the fact remains, you always want to peak in January instead of November. And in the words of James Hetfield, nothing else matters.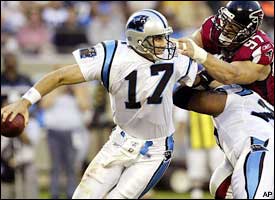 Do you think Jake keeps the Super Bowl XVIII program next to his bed to remind him it really did happen?
So what kind of hand have we been dealt here? First, some housecleaning:
Five teams are D-U-N done: Carolina; Oakland; San Fran; Chicago; Miami.
Three teams are done but lurking as potential spoilers from week to week (depending on the matchup). Cincy; Cleveland; Dallas.
One team looks like a legitimate spoiler: Buffalo, a decent team with an emerging star in Willis McGahee.
Four teams are just about done, but we can't cross them off only because of their divisions: Kansas City (too many self-inflicted wounds); New Orleans (too predictable); Washington (too sloppy); Tennessee (too banged up). For the sake of this column, I'm knocking them off.

That leaves us with a whopping 19 potential playoff teams, a number which must delight Paul Tagliabue to no end. Yep, we're getting closer and closer to the season where every NFL team finishes 8-8 in the same season. Congratulations. In the meantime, let's separate those 19 teams into the following categories:

Pretenders
19. Detroit (4-4) -- Next three road games: Jacksonville, Minnesota, Green Bay. With a Thanksgiving home game against the Colts squeezed in. Thanks for playing.

(By the way, have you ever noticed the disturbing similarities between Alec Baldwin and Steve Mariucci? They look alike; they're both strangely likable; their weights fluctuate like crazy; and they're either overrated or underrated, depending on the conversation and the circumstances. I'm telling you, it's creepy. I wonder if one of Mariucci's brothers has ever acted like a drunken, deranged lunatic in a televised Celebrity Poker tournament.)

BY THE NUMBERS AFTER 9 WEEKS

Favorites -- 55-71-4
Home Teams -- 61-65-4
Home Underdogs -- 20-15-1
Underdogs winning outright -- 55 for 71 (79%)

18. Houston (4-4) -- The dream dies in Indy this weekend. At least they made it to the "Playing well enough that every pregame show did a feature on us" stage. That's always fun.

17. NY Giants (5-3) -- Not only did they lose their two best d-lineman last week, but the rest of the league finally remembered that Kurt Warner reacts to blitzes like a Yorkshire terrier during an earthquake. A heavy favorite for "The decent first half team that drops like a stone in the second half of the season" honors.

(And when they make a QB change later this season, forget about Eli Manning ... what about Jesse Palmer?!?!?!?! Think he can tear himself away from wanna-be actresses and PR-conscious models to run the Giants offense for a few weeks? Or would it interfere with his social life? Would anything be funnier than Jesse telling Tom Coughlin, "Coach, I appreciate the offer, but I'm good -- I'd rather be the guy who calls in plays from the headset. Is that cool? Look, I gotta run, I have to find a tux for the American Music Awards tomorrow night.")

16. St. Louis (4-4) -- New England's nickel package last Sunday included a wide receiver (Troy Brown); a backup linebacker (Don Davis); a rookie free agent with the worst-selling jersey in the league (Randall Gay); and a practice squad CB named after Earth Wind and Fire (Earthwind Moreland). Of course, they beat the Rams in St. Louis by 22. How does this happen? How many Mike Martz games can end with everyone saying, "Wow, that was an absolutely ATROCIOUS loss" afterwards? Fifteen? Twenty? Thirty? Give me a number. The man needs to be stopped.

(That reminds me, there was a classic Martz moment from Tuesday's press conference: "We got direction, we're going, you're on the train or you're not ... I know where we're going, I know where I'm going ... you're either with me or you're not." Not quite Jim Fassel pushing his chips into the middle of the table a few years ago, but I guess it will have to do. Next stop for the Mike Martz Train: 4-5!)

Possible Rocky Balboas
15. Tampa Bay (3-5) -- Yeah, it's probably not happening. Not with Brian Griese prominently involved.

(Then again, are you willing to hand over the NFC South to a Falcons team that lost by 46 points three weeks ago? Me neither.)

14. Arizona (3-5) -- That's fine ... I'll wait until you stop laughing.

(Waiting.)

(Waiting.)

(OK, good.)

Just hear me out: After a two-month stretch where they only played one lousy game (the Buffalo debacle), they finally have Boldin and Fitzgerald healthy, which means they can start cracking the 24-point barrier. More importantly, look at this schedule the rest of the way: Giants; at Carolina; Jets; at Detroit; Niners; Rams; at Seattle; Bucs. Would you wager against the mere possibility of a Denny Green team going 6-2 down the stretch? Me neither.

(And would anything be more delightful than this gambling scenario: Josh McCown on the road, in cold weather, against the No. 3 seed in Round 1? I think not.)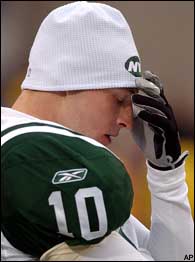 Now that he's hurting, Chad is just another miserable Jets fan.
Possible schedule casualties
13. NY Jets (6-2) -- Be scared, Jets fans. Be VERY scared. Your QB is Quincy Carter for the next two weeks. You're facing the Ravens D and a ticked-off Jamal Lewis this Sunday. Your last four wins came against Miami (1-8), Buffalo (3-5), San Fran (1-8) and Miami (1-8). You still have to play the Pats, Steelers and Seahawks. You have to play in Arizona and Cleveland. You might have a must-win Week 17 game in St. Louis. And you can't finish any lower than 4-4 over the next eight weeks.
Then there's this: Curtis Martin is on pace to rush for 380 carries and 1,700-plus yards right now. I'm not saying he's an injury waiting to happen, but how many backs shatter their career highs in carries and yards during their 10th season?
12. Green Bay (4-4) -- Nine wins earns a playoff spot in the NFC. So can the Packers finish 5-3 over these last eight games? They're looking at the Vikes at home on Sunday, followed by three not-so-easy home games (Rams, Lions and Jags) and four tough road games (the Texans and Eagles, plus the Vikings and Bears to end the season). Yikes. Then there's this: Last time I checked, Mike Sherman was still the coach. Double yikes.
(Still, I can't rule them out as a possible Super Bowl team. Not in that cruddy conference. And not with Tice and the Vikings standing in their way in the Central. Which reminds me ... )
Suspect until proven otherwise
11. Minnesota (5-3) -- Lingering questions: Did you ever think they would miss Randy Moss this much? Has any team ever given us more starting roto RBs in one season? Doesn't it seem like you can go down the field on them whenever you want? Where do they find these Kelly Campbell/Nate Burleson types? Are they just being rolled out of some factory in Duluth? During the end of games, why does Mike Tice always have the same stunned expression like everyone who found out that their TiVO didn't record the last 90 seconds of "Lost" this week? And why do I get the feeling that there isn't a single Vikes fan in the country who trusts this team?
10. Baltimore (5-3) -- Here's what we know: They aren't cracking 20 points without defensive TD's, special teams TD's and/or trick plays ... they have three impossible road games left (Indy, Pittsburgh and New England) ... their defense isn't that good, not after what KC did to them ... they can't play from behind because they have the worst receivers in the league ... and you could make a pretty solid case that Kyle Boller is the poor man's Joey Harrington.
Here's what else we know: They need 10 wins to make the playoffs ... they have Quincy Carter and the J-E-T-S this week, followed by a reeling Cowboys team at home, as well as three more easy home games (Bengals, Giants, Dolphins) ... and Jamal Lewis hasn't really gotten going yet. Let's hope they make the playoffs as the sixth seed. Please. If Boller, McCown, Plummer and Griese are all starting on the road in Round 1, I could be living on the water in Malibu by mid-March.
9. Denver (6-3) -- Even S.I.'s Peter King turned against Jake Plummer this week: "None of us -- not me, you or Mike Shanahan -- know if Jake Plummer is going to throw three TDs or three picks on a given Sunday. That hurts."
Of course, Peter wrote that paragraph as they were airlifting him from the wreckage of the Jake Plummer MVP Bandwagon crash. I would quibble with him on one point -- maybe you can't figure out Plummer from week to week during the season, but in January, you definitely know. He's going to self-destruct. It's like playing blackjack with someone who doesn't know how to play blackjack. Maybe they can win for an hour or so; but over the course of a marathon gambling session, those "Maybe I should split these 10s" decisions will eventually ruin them. There's a reason they call him the Snake.
8. Seattle (5-3) -- They could finish 8-8 ... they could make the Super Bowl ... all bets are off. These guys aren't even worth discussing. It's like when my roommate JackO tried to analyze the lyrics to "The Forest" by The Cure in college. Why even bother? There was no answer.
(Belated tangent, and only because I found out about this last Sunday: Can you believe that Jerry Rice asked Steve Largent for No. 80? It isn't like the Seahawks have had a cavalcade of heroes over the past 28 years; Largent was the only memorable player in the history of the franchise. Steve Largent WAS the Seahawks! Why not just ask to have sex with his wife? And what was he going to say, "No, you can't have it?" I couldn't believe that. As my buddy Shek points out, if the roles were reversed, can you imagine Rice's response if Largent made a comeback with the Niners and asked to wear No. 80? Please. Somebody needs to take Rice out like Nate Scarborough in the "Longest Yard" and get this over with.)
The Paris Hilton Team
7. Jacksonville (5-3) -- Won those five games by a total of 16 points. So why do I have this nagging feeling that they're still kicking around in Round 2?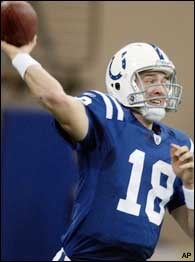 Go ahead and name Peyton MVP. McNabb ad Brady will be happy battling in the Super Bowl.
The contenders
6. Indianapolis (5-3) -- They remind me of those Spurs and Nuggets teams from the early '80's: Entertaining to watch, unstoppable at times, impossible to take seriously. Barring a serious collapse from the Pats or Steelers, they aren't getting anything higher than a third seed, which means they would have to win back-to-back games in New England and Pittsburgh in January. Not happening.
(Random note: I love this revisionist claim that Manning keeps calling these audibles at the line as a savvy way to extend their time of possession and keep Indy's defense off the field. Gimme a break. He's always done this! EA Sports even mocked him in "Madden 2005" this season by having Video Peyton audibling relentlessly. Personally, I think he has some mutant form of Nomar's OCD -- those audibles are the equivalent of Nomar changing his batting gloves like a psychopath before every pitch. The man needs to be medicated. He's going insane.)
(And how is the team better off with him changing the plays every down? Why even employ an offensive coordinator then? Imagine being a Colts o-lineman stuck in the three-point stance for 40 seconds per play? Wouldn't you want to throw a hair dryer into his whirlpool after the game? I've had it with this guy. If he breaks Marino's TD record, that would be almost as bad as Bonds breaking Hank Aaron's record with a size 9 3/4 head. Like Marino wouldn't have thrown 70 TDs in his prime with these passing rules and Indy's defense constantly putting him back on the field. But please, keep calling Manning the MVP over Brady and McNabb ... wins and losses clearly shouldn't matter.)
(Seriously ... I'm getting angry. I might need to take a walk.)
(Deep breath.)
WEEK 10 PICKS
Home team in caps
Ravens (-1) over JETS
BROWNS (+3.5) over Steelers
Texans (+9) over COLTS
Bears (+5.5) over TITANS
Bucs (+3.5) over FALCONS
JAGS (-3) over Lions
Seahawks (PK) over RAMS
Chiefs (-3.5) over SAINTS
REDSKINS (-3) over Bengals
PACKERS (-4) over Vikings
CARDINALS (+2) over Giants
NINERS (PK) over Panthers
PATRIOTS (-7) over Bills
Eagles (-6.5) over COWBOYS
Last week: 6-8
Season: 66-60-4
5. San Diego -- I wrote this right before Week 2: "I don't understand this KC affection at all. That's a 5-11 team with one great player. What's the difference between them and San Diego? Seriously, you tell me."
As it turned out, that paragraph was an insult to the Bolts: Tomlinson and Holmes cancel one another out; Brees has played better than Green (and just about everyone else); Antonio Gates has been the Lindsay Lohan to Tony Gonzalez's Tara Reid; and the Chargers D is infinitely better than the Chiefs D. Plus, they have Marty Schottenheimer giving those Gary Busey-like "We need to keep protecting our house!" speeches. It's no contest. There's a reason the Chargers are scoring 29 points a game: They're good.
(By the way, I haven't seen a minute of them all season -- not one -- so I'm evaluating them strictly on statistics, highlights, word of mouth and behind-the-scene clips from that goofy "Sounds of the Game" show on the channel that lured Rich Eisen into obscurity. The Bolts are blacked out here in Los Angeles. God only knows why. There's a decent chance I won't see a single live Chargers play until January. Maybe I should get DirecTV's NFL Package next season. Oh, wait ... I already have it.)
4. Atlanta (6-2) -- There's a specific formula for making the Super Bowl. You need a playmaker on offense. You need to run the ball when it matters, stop the run when it matters and score points in a pinch. You need to avoid killer turnovers. You need one token veteran who hasn't been there before, just so everyone can have something to talk about during Super Bowl Week. And you need to start making The Leap in November and December. Nail those things, throw in a quality coach and everything else is cream cheese.
Unfortunately, there isn't a single NFC team that fits the formula. That's why I keep coming back to Atlanta -- easy schedule the rest of the way, budding superstar at QB, new coach settling in, decent shot at a bye week in Round 1 -- and that jaw-dropping game they played in Denver recently. Just seems like they have a higher ceiling than every other NFC team but Philly. Then again, I'm finishing this column at 3 in the morning right now.
The favorites
3. Philly (7-1) -- Tough team to judge because of that creampuff schedule: They could finish the season having played seven road games against below-.500 teams. In fact, on the list you're reading right now, they only have three games all season against teams in my Top 15: Minny, Pittsburgh and Green Bay. So it wasn't shocking that the Steelers blew them out last week. Philly can't run the ball and can't really stop the run. That's a deadly combination in January.
(By the way, how was the T.O. honeymoon period for you? If this was a relationship and T.O. was the chick, we'd be at the point where the Eagles just found out that T.O. stinks up the bathroom, can't cook to save his life, doesn't like sex as much as he claimed, and flips out whenever you don't want to do something with him and his family. In other words . . . um . . . maybe this was a bad idea . . . )
2. Pittsburgh (7-1) -- Best team in the league right now ...
1. New England (7-1) -- ... but they still have to beat the team of the decade when it counts.
Hey, I'm happy for Steelers fans. Good group of people. But remember the Wolf's quote from "Pulp Fiction" that I'm not allowed to print? Goes something along the lines of "Let's not start sucking each other's popsicles yet?"
Exactly. It's Week 10. The season starts now.
Bill Simmons is a columnist for Page 2 and ESPN The Magazine. His Sports Guy's World site is updated every day Monday through Friday.