By Bill Simmons
Page 2
I think we're headed for a goofy season in the National Basketball Association.
Right now, the Clippers are leading the Lakers by a half-game in the standings. There's a Russian guy, a German guy, a teenager and a ghost who looks suspiciously like Grant Hill all throwing their hats into the MVP race. New Jersey's second-best player is playing with one kidney ... and it isn't even his. The two teams who played in the Finals last season have a combined 7-7 record. Damon Jones, Mo Williams, Howard Eisley and Luke Ridnour are the crunch-time points for teams that are a combined 19-6. And late last night, Isiah Thomas strangled Lenny Wilkens with a telephone cord and named himself head coach of the Knicks.
All right, I made that last one up. But you get the idea. Let's plow through the burning NBA questions through the first two weeks: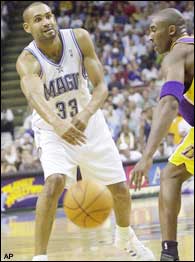 Even if he were a cat, Grant Hill would be out of lives in the NBA.
Q: What's the happiest running subplot of the season so far?
The remarkable, improbable, unbelievable, implausible, inconceivable (I'm running out of adjectives), incogitable (had to look that one up) comeback of Mr. Grant Hill, who was about to be elected into the Gale Sayers Hall of Fame for "Memorable Athletes Whose Careers Were Tragically Cut Short" until his Eddie Wilson-like return this month. It's almost like mentioning a no-hitter in the dugout; I'm afraid to even mention the word that rhymes with "schmankle." But the following things need to be addressed immediately:
If you made a list of guys who would have been an insane amount of fun to play with over the past 35 years, Hill stands with Magic, Bird, Stockton, Pippen, Walton and everyone else. There hasn't been anyone else quite like him. I mean, this is a guy who can bring out the best in Steve Francis. If he can stay healthy, Orlando has to be considered one of the favorites in the East. They basically just had an All-Star fall out of the sky.
I watched four of their seven games so far ... there wasn't a single time where Hill didn't look 100-percent recovered to me. Obviously he's not the same player as the guy who averaged a 20-10-7 in his 20s, but he's about 80-percent there. That's good enough. And it only took a few weeks for the Magic to revolve their entire offense around him -- he brings the ball up, starts the offense, creates plays at crunch-time, you name it. It's eerily reminiscent of Pippen's first season without MJ. At least so far.
The most satisfying aspect of the comeback? The way Hill has been carrying himself on the court -- like a cross between Walton's comeback with the Celtics in '86 and Seagal coming out of the coma in "Hard to Kill." In other words, he's trying to remain focused and serious (the Seagal side), but there are those two or three moments per game when the "Holy crap, I can't believe I'm actually back!" smile comes seeping out (which happened with Walton that season at least 240,000 times).

There was one classic moment against Dallas after a Magic basket, when Hill started running back upcourt and noticed Nowitzki ready to inbound the ball behind him, then whirled around and stole the pass. When they showed the replay, you could see Hill catch Nowitzki out of the corner of his eye and play possum for another step as his eyes widened. Then he made his move -- just a great basketball play, the kind you rarely see anymore. And when it was over, the smile came seeping out. Just for a second.

Good guy, great player, remarkable comeback. Keep your fingers crossed. And if you're not rooting for Grant Hill, then shame on you. Shame on you.

(Sorry, I just wanted to write like Rick Reilly for a paragraph.)

Q: Biggest bummer of the season so far?
Dwyane Wade's sprained ankle happening just five days after his mind-boggling 37-12-8 against Les Boulez. Here was someone poised for a Bob Beamon-level leap into prime time ... and boom. Now he gets to hobble around for the next few weeks. Very upsetting. And unfair. Then again, the basketball gods work in mysterious wyas.

Q: Biggest shocker of the season so far?
Other than Hill, I'd have to go with these three:

1. Alonzo Mourning playing at a relatively high level in New Jersey, allowing Evander Holyfield to leapfrog him on the "Guys who need to retire to the point that it's actually depressing" scale. Of course, New Jersey was hoping Zo would retire, setting up the stereotypical situation of a former All-Star who retired because of kidney failure, came back and signed a multi-year contract, had to retire again for a kidney transplant, then staged another comeback just when his team thought they could wipe him and his contract off their cap. It's almost becoming a cliche at this point.

2. Dwight Howard putting up double-doubles every night in Orlando and looking like a younger, infinitely more Christian David Robinson ... right down to the southpaw shooting stroke and serene demeanor. Unless there's some sort of Freddie Adu/Alfonso Soriano thing going on here -- and that doesn't seem likely -- he's ahead of Amare Stoudamire and light years ahead of KG at the same age. He doesn't turn 19 until next month. It's true.

3. The rejuvenation of Gary Payton in Boston. I thought he had one more good offensive season in the tank -- only because the triangle affected him more than anyone realized -- but nobody was prepared for the way he took over this Celtics team. Quite simply, he's the leader. Everything runs through him on the court. He still has some offensive tricks left, including an extra gear for those scoop layups on the break. There isn't five seconds of dead time where he isn't working a referee or pulling a teammate aside. And he's had a dramatic effect on Pierce. As my Dad pointed out after the Portland game, there were two or three times when Pierce was ready to go into PPSM (Paul Pierce Sulk Mode) and GP sensed it, so he yanked Pierce aside and pulled his head back into the game. You can't put a price on this stuff.

(Note: Two months from now, when you're wondering how Pierce suddenly became one of the best 10 players in the league again, allow me to ruin the suspense for you: It's because of GP. And not just because he creates easy transition points and knows how to get Pierce the ball in the right spots; he doesn't allow any of Pierce's crap. That's more important than anything. There's a reason that Boston's play-by-play guy, Mike Gorman, commented after a hard Pierce drive to the basket last week, "He looks like the Paul Pierce from a couple of years ago." Translation: Where was that guy for the past couple of years?)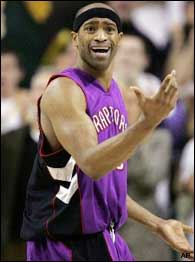 Maybe Vince can go play for the Bobcats so he can do some post-graduate work.
Q: Which five players will definitely be traded before Christmas?
1. Vince Carter -- I watched the fourth quarter of Saturday's game in Portland, where the Raps nearly pulled off a big comeback with Vince stuck on the bench. Didn't even look like he cared. At least he has that UNC diploma to fall back on.
2. Peja Stojakovic -- Has the same look on his face that I get when I'm standing in a shoe store while the Sports Gal tries on shoes. Only he's looked like that for two solid weeks.
3. Shareef Abdur-Rahim -- Woefully out of position at small forward. Hey, at least he's on a team with a bunch of nice guys.
4. Eddy Curry -- As his agents said last week, "Eddy doesn't see himself taking it to another level with this organization; why do we need 15 or 20 more games to validate that?" Excellent point. Unfortunately, the other teams have scouts.
5. Jason Kidd -- The big kahuna. My money is on the Benefactor to make this happen. Eventually, the Mavs are going to realize that you can't win an NBA title with everyone playing one-on-one basketball. It's never happened before. Never.
Q: What were the six funniest moments of the season so far?
In order ...
1. Sprewell's "feed my family" comment. He's the best. I retired his jersey at the Sports Guy Mansion last week -- now he's up there with Mike Tyson, Sly Stallone, Rickey Henderson, the Coreys, Dikembe Mutombo and all the other giants of Unintentional Comedy.
2. Ron Artest's hip-hop career inadvertently leading to a two-game suspension. I'll be honest: It's been almost a week and I still haven't been able to summon the appropriate reaction for this. How can you top an NBA player on a Top-5 team saying during a season, "I've been doing a little bit too much music, just needed the rest. I've still got my album coming out Nov. 23. After the album comes out, I'm going to make sure all of my time is focused on winning a championship."
(And you wonder why I love the NBA. What other league offers you quotes like that?)
3. Darius Miles's hair (ongoing).
4. The fact that we're officially 18 seasons away from LeBron Sr. playing on the same NBA team as LeBron Jr. ... and nobody even batted an eyelash upon hearing the news. Reminds me of the guy who lives down the street from me. I noticed that he re-fertilized his front lawn last week and thought to myself, "Wow, there's a 100-percent chance that the Dooze will walk over there tomorrow and drop anchor on that thing." And that's exactly what happened. Some things just can't be stopped.
5. Isiah Thomas buying out Shandon Anderson for $20 million so he could sign Eddie Robinson, who had just been bought out by the Bulls for $10.5 million. Remember when Eddie's agent told us, "Eddie Robinson is about one word: winning and losing"? I think Isiah is about two words: Losing. By the way, Eddie failed his physical.
6. ABC dumping two episodes of "The Benefactor" and airing the season finale ahead of time, just to clear it off the fall schedule before it did any further damage. Wow, Mark Cuban's season ending two weeks early ... it was just like the NBA playoffs!
(Thank you, thank you ... I'll be here all week.)
Q: Who's the best longshot pick to win the title right now?
The Jazz at 18-1, which seems high since they've been destroying teams without Carlos Arroyo. What happens when Arroyo comes back? With Boozer banging the boards and giving them a post-up game, there isn't a better "running on all cylinders" team in the league right now. Now we need to figure out what chain of events needs to happen for AK47 to start getting mentioned among the elite players in the game.
Here's the thing: We can break down baseball players with all these elaborate stats like OPS, win shares, zone ratings and everything else. Yet there's nothing in basketball that can quantify the impact of someone like Kirilenko, who might be the ultimate example of my Table Test -- basically, he doesn't do anything detrimental to your team; he's a 50-percent shooter who's unselfish almost to a fault; and he's evolved into a dominating, Pippen-like defensive presence who's three times as likely to force a turnover than make one himself. He takes NOTHING off the table. Not a thing. He's even been working on his Drago-like sneer after big threes.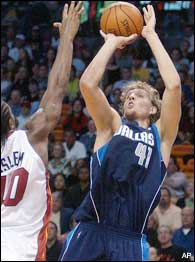 (While we're on the subject, two other possible MVP candidates who have seemingly moved up a level since last year: LeBron and Nowitzki. I'm not even remotely surprised by the way LeBron has been playing, but did anyone think Nowitzki had this in him without Nash? It's like the Mavs brainwashed him into thinking he was playing for Germany's national team every night.)
Q: Who looks like the best team right now?
The Spurs. And not because of Duncan, or because Ginobili seems determined to have one of the best per-minute average seasons in recent memory, or because they have a bench with legitimate NBA guys who know what they're doing (Brent Barry, Devin Brown, Malik Rose, Big Shot Rob). With the exception of Barry, these guys have been playing together for awhile now -- and Barry has always been one of those Philip Seymour Hoffman types who can mesh with anyone else in the cast, regardless of the circumstances. They play well together. Much like the Pistons last year.
But this raises a larger issue: With so many teams dumping coaches, making panic trades and wasting money on shaky free agents -- it's like 80 percent of the league at this point -- the teams that keep building around the same nucleus (one bona fide star, four or five supporting stars, one coach) have an enormous competitive advantage over everyone else. It's almost like running a good TV show. Take "Cheers," for example. They built the first two seasons around Sam and Diane, with Coach, Carla, Norm and Cliff as the supporting characters. Eventually, they brought in Frasier for Season 3; Woody showed up after Coach died in Season 4. After Season 5, Diane left just as her character was getting stale, but Rebecca came in and invigorated the show.
Here's what you had in Season 1: Sam, Diane, Coach, Carla, Cliff, Norm.
Here's what you had in Season 6: Sam, Rebecca, Woody, Carla, Cliff, Norm, Frasier, Lilith.
You could make the case that "Cheers" went from "genuine show" to "straightforward sitcom" after Coach died -- in fact, I made that argument a few years ago. But the heart of the show never really changed. Which is how a basketball team should operate. When the subject of NBA problems comes up, everyone points to poor shooting, over-reliance on three-point line, overzealous defense, high schoolers ... to me, the lack of continuity is THE biggest problem in the sport right now. None of these teams knows how to play together for more than four-minute stretches. Of course a team like San Antonio will win 60 games. Why wouldn't they?
(Note: Comparing "Cheers" to the Spurs, Sam was obviously Tim Duncan and Diane was David Robinson, making Rasho Rebecca -- a great comparison because Rebecca couldn't hold Diane's jock, just like Rasho wasn't in Robinson's class. Coach was Avery Johnson, making Woody Tony Parker. Frasier was like the Ginobili addition -- right down to the "Making The Leap after a few seasons" part. Carla was Gregg Popovich, right down to the looks. Norm was the revolving crunch-time swingman, whether it was Sean Elliott, Stephen Jackson, or Barry this season. And Cliff was Bruce Bowen -- annoying and flawed, but necessary nonetheless. By the way, it took me about an hour to figure that all out ... and I'm not even sure why it just happened. Let's just move on.)
Q: With Mike Montgomery's recent failures in Golden State, will NBA teams finally start realizing that it's probably a bad idea to hire college coaches who are used to bossing their players around and aren't familiar with the league?
Are you kidding? Of course not.
Q: How has the city of Los Angeles responded to Kobe and the Lakers in the post-Shaq Era?
Ambivalently. When Kupchak and Buss made their big choice last summer, they underestimated three things:
A.) The city's sweeping affection for Shaq.
B.) The number of locals who would blame Kobe for Shaq's departure.
C.) The number of locals turned off by Kobe's involvement in "CSI: Eagle, Colorado" (even if charges were eventually dropped).
When it came out that Kobe threw Shaq under the bus during the original police interrogation, that didn't help matters. Even by Hollywood standards, that was an indefensibly scummy thing to do. So either he's a self-absorbed, calculating loner who possibly tried to sacrifice a teammate to save his own hide, or he's a genuinely sketchy person with a dark side whose character flaws haven't been sufficiently revealed. It's one or the other. And nobody knows what to believe out here.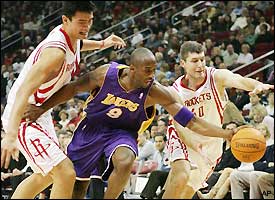 Careful what you ask for Kobe ...oh, and we'll see you on Christmas Day.
Has it affected the way people follow the Lakers? Absolutely. It's not like sports fans don't know the game by now -- we're used to athletes disappointing us as people. Comes with the territory. But there's something different about this turn of events, partly because people loved Shaq so much, partly because it's tough to cheer for Kobe after everything that happened. During the American Music Awards on Sunday night -- and I was there, so I know this happened -- Kobe came out to present an award and received a mixture of boos and cheers, at least until they piped in fake cheering to drown everyone else out. Keep in mind, this was the same show where Bon Jovi received a prolonged standing ovation. Not the toughest crowd.
Q: So what happens if the Lakers slide below .500 and Kobe starts hearing it every night, both on the road and at home?
That's the most fascinating question of the season. This was the same guy who was visibly distraught after being booed in Philly during the All-Star Game a few years ago. How would Kobe handle getting jeered night after night if they start struggling? Would he develop the Private Pyle "I'm heading into the bathroom with my shotgun" Face after a few weeks? Would he demand a trade? How would this play out?
Don't be surprised if it happens. I watched a few of their games this season -- there's no continuity, no ball movement, nothing. Everyone stands around and watches Kobe, then he makes it worse by overcompensating and trying to get others involved. It's like watching a couple trapped in a bad marriage trying to have a romantic dinner together. Either you have it or you don't. The most underrated aspect of MJ's game was his unparalleled competitiveness, something that Phil Jackson learned to channel into the team concept, and something that eventually galvanized his teammates and wilted most of his opponents. Just by the sheer force of his personality, everyone else raised their games. They didn't have any other choice.
Kobe doesn't have that same quality. Obviously. He also doesn't understand something that Bird, Magic, Isiah and even MJ eventually realized: You're always better off letting your teammates help carry the show for the first 42 minutes, then taking over the last six minutes yourself. Let them think it's a democracy, even if they're wrong. For whatever reason, Kobe can't seem to grasp this ... and we're in his ninth season here. Not a good sign. He's also playing in front of a group of fans accustomed to winning, people paying the highest ticket prices in the league, people who never wanted to see Shaq leave in the first place.
(Put it this way: If this were the "SportsCentury" episode on Kobe 20 years from now, I could see us heading into commercial as the narrator said, "Even though Shaq was finally gone, Kobe Bryant's problems were just beginning ... ")
Bill Simmons is a columnist for Page 2 and ESPN The Magazine. His Sports Guy's World site is updated every day Monday through Friday.