By Bill Simmons
Page 2
Through 12 weeks, we know that the NFC has four good teams: Philly, Green Bay, Minnesota and Atlanta. That's Round 2 of the playoffs. We just don't know the matchups yet.
Unfortunately, we still need to have a Round 1.
And that's the problem. The NFC has six playoff spots. You can't trade any of these spots. You can't auction them off on eBay. You can't roll them over until next year. Because the No. 1 and 2 seeds get a bye in Round 1, the No. 3 and 4 seeds need someone to play, and only because we need two more games that weekend for gambling purposes. In fact, there's a decent chance that one or more of the following QBs -- Joey Harrington, Shaun King, Vinny Testaverde, Eli Manning, Chad Hutchinson, John Navarre, Brian Griese, Aaron Brooks -- could be making an appearance as a starter in Round 1. If this happens, you might never hear from me again after that week -- I'll be parking my new yacht in Greece next to the Onassis family.
(Note: When I handed in this column, I had John Navarre's name as "Josh Cezanne" until my editors alerted me otherwise. I'm not making this up. Either this is the most obscure starting QB in history, or I'm turning into my Mom.)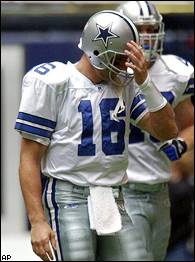 The good news for Vinny, his AARP card is ready for pickup.
Here's how wide-open those final two spots are:
The 6-5 Seahawks are leading the West by one game. They have lost five of their last eight. They lost to a 4-6 Bills team at home last week by 29 points. They have Jerry Rice starting at WR, wearing Steve Largent's number and running fly patterns with a pitchfork sticking out his back. They are being routinely outscored on Sundays by Rashard Lewis, Ray Allen and even Vlad Radmanovic. On the bright side, it's only Year 6 of Mike Holmgren's five-year plan.
The 5-6 Rams are trailing the West by one game. They have lost four of their last five games by a total of 82 points. Their fans aren't just booing during games; they're doing everything short of throwing their own feces. Their coach has become such a punchline, a reader e-mailed me this week and asked if I could start using the word "Martzian" in columns, as in, "When I locked my keys in the car, that was pretty Martzian of me." Their collapse in Green Bay was almost a cry for help, like when little kids need attention and start breaking soda bottles on a sidewalk.
The 5-6 Giants are tied with the Rams for the final playoff spot. They have lost four straight games and five of their last six. Their best defensive player is out for the year. Their rookie QB looked so atrocious last week, Babe Laufenberg called to congratulate him. Their second-string QB is Kurt Warner, who fumbled the clipboard 13 times on the sidelines last week. Their third-string QB is Jesse Palmer, who has to leave this Sunday's game early because he's going to Maxim's Christmas party. On the bright side, they hate their coach.
Seven 4-7 teams are trailing the final playoff spot by one game: The Bucs, Panthers, Bears, Saints, Cowboys, Cardinals and Lions. You could describe five of those seven as "truly terrible." As for the Bucs and Panthers, they're probably better than anyone else in the NFC other than the Big Four ... but neither of them would crack the Top 12 in the AFC.

So what does this all mean? There's no question that an 8-8 team will make the playoffs this season. There's an outside chance that 7-9 will do the trick. And for whatever reason, the national media is up in arms about this. On "Inside the NFL" this Wednesday, they debated the topic with unusually serious intensity; at one point, Costas wondered if they should revamp the playoff system entirely, which would be like spending 100 grand on a new roof because you have one leak.

Allow me to remind everyone of a few things:

A. Only five teams have a chance to win the Super Bowl this season: New England, Pittsburgh, Indianapolis, San Diego and Philly. Three other teams have an outside chance: Green Bay, Atlanta and Minnesota, if only because they might be able to sneak into the final game. And nobody else has any chance whatsover. Thems the facts.

B. The thought of one 7-9 team in the playoffs is funny. The thought of two 7-9 teams in the playoffs is hysterical. Seriously, who cares? Two teams get blown out in the first round of the playoffs every January. Even Quincy Carter has started a playoff game before. What's the big deal?

C. Since the NFC West winner is guaranteed a home game, we could see Seattle host a Round 1 game at home to the Packers ... and the Seahawks would possibly be getting seven points. To borrow a phrase from Chris Harrison, it would be the most dramatic spread yet!

D. Lemme give you that list of possible Round 1 QBs again: Joey Harrington, Shaun King, Vinny Testaverde, Eli Manning, Chad Hutchinson, John Navarre, Brian Griese, Aaron Brooks. There's money to be made here, folks.

(In fact, forget I mentioned any of this.)

Preliminary note before we get to the Week 13 picks: We're due for one of those crazy weeks with three or four shockers. Always happens at the beginning of December. I'm not sure if it's this week or next week, but it WILL happen. So be careful.

Onto the Week 13 picks ...

Home team in caps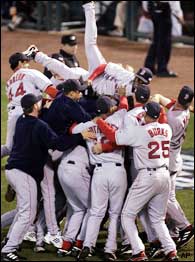 We interrupt this column to remind everyone that the Red Sox won the World Series.
Bengals (+6.5) over RAVENS
Here's my roto season in a nutshell: In my East Coast league, I'm going against my friend Wyman, the same guy who picked Eddie George in the seventh round just three months ago. I only need the Broncos to keep Kerry Collins (his QB) in check during a driving snowstorm. Seems like a safe bet. With a minute to play in the first half, Collins has zero points. Somehow he ends up with 339 yards and 4 TDs. Kerry Collins! In a driving snowstorm!
(Note: These are the moments when I take a deep breath and remind myself that the Red Sox came back from a 3-0 deficit to beat the Yankees, then swept the Cardinals to win the World Series. It's like popping a Prozac.)
LIONS (-6) over Cardinals
I have very few gambling rules anymore, but here's one: Any time John Navarre and Larry Croom are starting in the same backfield, on the road, I have to go the other way.
Texans (+7) over JETS
Imagine this scenario: The 10-5 Jets travel to St. Louis to play the 7-8 Rams in Week 17. The Jets win the game by 30 points, but they lose a tiebreaker to Baltimore for the final AFC spot. The Rams lose the game by 30 points, but they win a five-way tiebreaker to clinch the final NFC spot. This could actually happen. And if it did happen, I think this would finally be the thing that causes Skip Bayless's head to explode.
BROWNS (+11) over Patriots
Three more reasons why it's great to be a Patriots fan:
A. The Corey Dillon coin flip could have gone either way. Tails was the "Carl Everett in Boston" direction. Heads was the "Dennis Rodman in Chicago" direction. It ended up being heads. In fact, it's not fair to compare Dillon to guys like Everett and Rodman. He was a great player trapped on a bad team for too many years. And I think it drove him a little crazy. It happens.
B. Just when you think Belichick can't top himself, there's Troy Brown shutting down opposing receivers for the past three weeks. If Terrell Owens was doing this, people would be going insane. If Marvin Harrison was doing this, we would be waiving the five-year waiting period and sending him to Canton. But it's only Troy Brown. So nobody cares. He's turning into the Robert Horry of football.
C. Here's why Belichick would never allow Peyton Manning's pursuit of Marino's record to dominate his team: Every time Manning goes back to pass, that's another play for someone to study on film, which Belichick strives to avoid. In fact, some believe that he plays possum from time to time, like during the Arizona-Buffalo-Miami stretch earlier in the season -- when the team did juuuuuuuuuuust enough to win in all three games, saving itself (and any trick plays, blitz packages and the like) for the Seahawks and Jets in Weeks 6 and 7. Or like the stretch they're entering now -- at Cleveland, home for Cincy, at Miami -- before the big Jets game in Week 16.
That's why I'm picking the Browns this week. I think the Pats will do juuuuuuuuuust enough to win. Call me crazy.
COLTS (-11) over Titans
Indianapolis 49, Tennessee 21. Congrats, guys -- you did it again. You still have to win consecutive games in New England and Pittsburgh next month.
(Seriously, does it help the Colts for Manning to throw another TD when they're already winning by 25? That's all about ego at that point. And if he's slumping off the field in January again -- the chin strap dangling from his helmet, making the Peyton Manning Face because Pittsburgh or New England "miraculously" forced him into four killer turnovers -- maybe he'll realize that you can't win the Super Bowl in November, and you certainly can't win it by scoring 131 points in three games against Houston, Chicago and Detroit. None of this crap matters. January is the only month that matters. End of story.)
Vikings (-7.5) over BEARS
The dramatic return of Chad Hutchinson! Since ABC wouldn't book Chad and Richmond Flowers on Nick and Jessica's Christmas special, I guess this is the next best thing.
(By the way, I still like this Vikes team. Even when they aren't playing well, they can still beat a solid team by 11 points. They're the sleeping giant in the NFC. Even with Mike Tice prominently involved. Other than Andy Reid, who's out-coaching Tice in a playoff game? Maybe John Fox and that's it?)
DOLPHINS (+3.5) over Bills
Even when Drew Bledsoe leads the Bills to a 38-9 win, he STILL makes five terrible decisions in the game. I refuse to lay points with him on the road. I just can't do it.
And since I have nothing to add, kudos to Fox's Frank Caliendo, who picked the following games without lines last week: Two double-digit home favorites (Pittsburgh and Denver), a 9.5-point home favorite (Atlanta), and an "upset" pick of San Diego (getting three points on the road against a 3-7 Chiefs team). Don't miss a special segment this Sunday, as Frank musters up the courage to double-down on an 11 against a dealer's 6 in Vegas.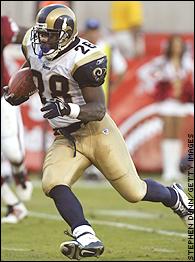 Marshall, we left the Bay Area real estate section in your locker.
RAMS (-10) over Niners
Finally, the Stephen Jackson Roto Bandwagon comes out of the garage for a spin. Only took 12 weeks. Which reminds me, which uniform will be the most depressing to see Marshall Faulk wearing next season? A Bears uniform? A Dolphins uniform? What about the Niners? Should we start taking pre-orders for Marshall in the Depressing Throwback Jersey Hall of Fame, regardless of the team?
Panthers (+1) over SAINTS
How 'bout a round of applause for John Fox, one of the few good football coaches around? The Panthers start out 1-6, lose their best two backs and their best receiver, lose the anchor of their defensive line, lose a heartbreaker to the Raiders ... and Fox keeps them playing hard for three straight wins. Now they're probably the best bet for that sixth playoff spot. Amazing. Well, not that amazing -- it's the NFC. But definitely cool.
(And while we're here, how 'bout a round of applause for Aaron Brooks and Jim Haslett? According to my calculations, this is our last chance ever to bet against them as favorites. Break that piggy bank open.)
Chiefs (PK) over RAIDERS
I have no idea. And neither does Vegas.
Falcons (+1.5) over BUCS
We're sure there aren't any Grammaticas left, right? We're absolutely positive? By the way, Brian Griese had just enough Brian Griese in him last week to make me afraid to take Brian Griese again.
CHARGERS (-3) over Broncos
Here's the e-mail I sent to my buddy Gus (big Broncos fan) on Monday:
"SD is a GOOD team. They can move the ball whenever they want. KC played really well; it's not like SD guys were wide open all game. L-Train couldn't run the ball at all. Every Gates catch he had two guys draped all over him. But they kept fighting back. Brees was fantastic -- they were blitzing him a ton. There were two spots SD could have folded and didn't.
"From what I've seen over the past five-six weeks, the Chargers are better than Denver -- they don't make big mistakes, have playmakers and get stops when they need them. I think you're going to be surprised on Sunday. Denver seems to screw up three or four times a game when they lose, whether it's a big fumble, a bad pick, a blown coverage or whatever. At this point in the season, those things shouldn't be happening. Vegas only has this game SD minus-3 which is crazy to me. That's saying that the two teams are even. Everyone keeps waiting for SD to stumble and it's clearly not happening -- they're 9-1-1 against the spread right now. We've seen this happen too many times, every year there's always one team that just keeps defying everyone."
(And since I have nothing else to add, Jake Plummer's beard looked fantastic on Sunday night. I instantly gained like 35 percent more confidence in him. No idea why. Just made him look less shaky. If the results are good with Jake, maybe Aaron Brooks could grow one, with the added bonus that he'd end up looking like Cornelius "Bump City" Bumphus.)
REDSKINS (-2) over Giants
Washington scored 23 points total in the last three weeks. The Giants scored 30 points total in the last three weeks. This is the kind of game where Fox should try a crazy experiment -- like the Hilton Sisters working as sideline reporters, or the cast of "House" announcing the third quarter. "You're risking a quarterback's life!"
Cowboys (+7) over SEAHAWKS
If the Cowboys make the playoffs because Parcells benched Henson for Vinny at halftime of that Thanksgiving Day game -- a move that saved Dallas's season, by the way -- will Buck and Collinsworth apologize for killing Parcells for that entire third quarter? That's all I want to know. We always hear announcers tell us how they knew this would happen or that would happen ... just once I want to hear someone say, "Wow, I was really wrong last week. I want to apologize."
Packers (+6) over EAGLES
Three teams in the past twenty years have finished 15-1: The '84 Niners, the '85 Bears and the '98 Vikings. And I guess my question is this ...
JAGS (+3) over Steelers
Are the '04 Steelers and '04 Eagles good enough to belong in that group?
(I say no.)
Last week: 9-7
Season: 87-85-4
Bill Simmons is a columnist for Page 2 and ESPN The Magazine. His Sports Guy's World site is updated every day Monday through Friday.