By Bill Simmons
Page 2
On Monday afternoon, the Sports Gal and I went to lunch at Doughboys on 3rd Street. I happened to be wearing my old-school Patriots ski hat, purchased in the Pats Pro Shop on October 17, three hours before the Pats-Seahawks game ... and a little less than 16 hours before David Ortiz's walkoff in Game 4 of the ALCS. It's like the two-dollar bill of hats. I've been wearing it constantly. When I bring this thing to Vegas, it's going to be like the scene in "Rain Man" when the Babbitt brothers took the Mirage down.
Anyway, our waitress noticed my hat and yelped, "Hey, the Patriots! I'm a huge Patriots fan!"
So we had the whole "Where you from back home?" conversation, followed by her dropping this doozy: "They've been winning me money every week, I've been teasing them with everybody!"
Now ...
Forget that I've never met a female who gambled before. Not a single one. This was like meeting the Loch Ness Monster. And forget that a cute gambling waitress immediately sent the Sports Gal into "Protect my territory/snarling like a coyote" mode. There's a larger point here. It's been so easy to gamble over these past few weeks, even waitresses in West Hollywood are winning money.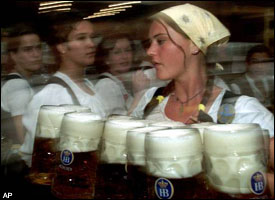 AP Photo
You know it's a good betting year when even waitresses in Germany are winning on the NFL.
You're saying to yourself, "Wait a second, you're barely .500 for the season ... how can you make such an outrageous claim?" That's easy. I'm winning money every week. So is everyone else. This has been the least confusing confusing season of all time, if that makes sense. Smart gamblers have been putting their faith in the same five teams every week: Philly, New England, Indy, San Diego and Pittsburgh. Since the World Series ended, those teams are a combined 20-4-1 against the spread and 24-1 overall (and that loss happened because Philly lost at Pittsburgh).
And that 24-1 mark has put the fear of God Shammgod in Vegas. For five straight weeks, you could have teased any combination of those five teams and won money. You know how the three-teamer was always considered a sucker's bet? Not this year. For instance, last Sunday, the Pats and Colts were giving 11 to the Browns and Titans respectively. No way either of those teams were losing. It was impossible. Well, you know what that means? A free 10-point swing for any other game on the slate! And no bookie or casino could stop it.
That's the funny thing about the NFL this season. In retrospect, this isn't parity as much as a class system. There's an upper class (the aforementioned Big Five) and a lower class (everyone else). When the upper class plays the lower class, the upper class wins. When the lower class teams battle each other, anything can happen -- as witnessed by my overall picks record, or the fact that 37 teams are still alive in the NFC playoff race, or this amazing stat: through 13 weeks, three out of every four underdogs that covered spreads also won those games outright (like Tampa, Cincy and Dallas last week, each of whom paid in the neighborhood of 2.5-to-1).
What does this have to with the Week 14 slate? Everything. Consider the following points ...
1. Every year in early-December, there's a wacky week where the underdogs clean house, followed by Chris Berman coming on "NFL PrimeTime," shaking his head and saying, "A crazy, crazy day in the National Football League." This has never NOT happened. I'm telling you.
2. Bookies and casinos hate losing -- obviously -- so their job is to keep adjusting the lines to attract an equal amount of action on both sides so they don't get killed. When everyone keeps making the same bets and winning, that qualifies as "killed." Invariably, they overcompensate by changing the spreads too dramamatically.
3. None of this Sunday's spreads are lower than -5.
4. A whopping seven favorites in Week 14 are giving 9 points or more ... including New England, Philly and Indy.
5. In case you didn't understand me the first time -- A WAITRESS IN WEST HOLLYWOOD WAS BRAGGING ABOUT HOW MUCH MONEY SHE WAS WINNING EVERY WEEK ON THE NFL!!!!!!!!!!!
So here's what we're doing. We're anointing Week 14 as the Michael Conrad Memorial "Let's be careful out there" Week. I know a Pats-Colts-Eagles three-teamer looks unbeatable. I know it's improbable that the Giants could limp into Baltimore and come out with a win. I know A.J. Feeley can't possibly pull off an upset at Mile High. I know Kevin Jones probably isn't rushing for 250 yards at Lambeau. I know Bledsoe and the Bills look invincible at home against a floundering Browns team.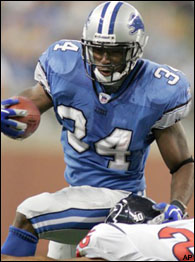 AP Photo
Kevin Jones will find the running in Green Bay in December a little more difficult than last week.
But I also know that there's a reason Vegas keeps building casinos; there's a reason you never hear about a bookie declaring bankruptcy; and there's a reason you usually don't hear waitresses in West Hollywood bragging about how much money they're winning on football. Just remember, they call it gambling for a reason. I'm nailing a giant "Beware of Dog" sign to the Week 14 slate.
As always ... let's be careful out there.
On to the Week 14 picks:
Home teams in caps
BILLS (-11) over Browns
If the Browns were smart, they would announce that they signed the unknown Manning brother this week: Dutch Manning. Just say he's in his mid-30s and was playing in the CFL for the past 10 years. Nobody would question it. And that's how they would keep their fans interested in the team. No, everything's cool, we have one of the Manning brothers starting this week, I think things are turning around. Then they could scratch Dutch at the last second and start Luke McCown again. I'm telling you, this would work.
(By the way, I would rank the AFC wild-card contenders like this: Jets, Jags, Bills, Broncos, Ravens. Which means there's a decent chance we might get to wager against Bledsoe in a playoff game. Keep your fingers crossed.)
Bengals (+11) over PATRIOTS
A few notes on this one ...
1. Any team that can come from behind in Baltimore earns the right to say, "We shouldn't be getting 11 points against anyone." That's just a fact. This line shouldn't be higher than minus-8. But since Vegas is overcompensating ... there you go.
2. You're telling me that we're making it through the entire season without a Jon Kitna cameo? Not one?
3. Between Rudy Gay and Randall Gay, is anyone else rooting for SportsCenter to run a "Gays in Sports" feature?
4. There's a slight chance Corey Dillon has been biding his time and waiting for this game, a little like Michael Myers staring out the window at the insane asylum for 15 straight years, and he's going to snap on Sunday and rush for something like 375 yards and 8 TDs before his teammates drag him off the field and handcuff him to the bench to keep him from going back in. I'm not saying it will happen. But I'm not ruling it out.
Giants (+10) over RAVENS
I can't think of a single reason to take the Giants this week. Not one. And you know what that means ...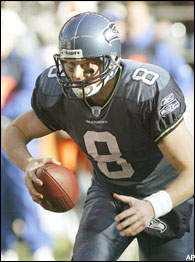 AP Photo
Look up, Matt, so you can see your playoff chances going down the tubes.
VIKINGS (-6.5) over Seahawks
According to my old editor KJ, a long-suffering Seattle fan, four of the 10 most agonizing losses in Seahawks history happened in the last 13 months: The Anthony Wright/4th Timeout Game in Baltimore (11/03); Hasselbeck's walkoff interception in Lambeau (01/04); the bizarre collapse against St. Louis (10/04); and last Monday's unprecedented collapse against the Cowboys. I'm officially declaring this a "Dead Man Walking Game." This Seahawks team needs a blood tranfusion.
(On the flip side ... )
Saints (+7.5) over COWBOYS
Did anyone say "Letdown Game"?
(Quick note on Parcells: He falls in love with Julius Jones, trades down to get him and passes up Stephen Jackson, picks up Buffalo's 2005 No. 1 pick ... and then Jones gets hurt, the team goes into the tank and he looks like an idiot. Then Jones comes back and rushes for 350 yards in two games, the team rallies back into the playoff race ... and Parcells looks like a genius. Football can be very confusing.)
Raiders (+7.5) over FALCONS
All I want to do is race, daddy. All I want to do is race, daddy. All I want to do is race, daddy. All I want to do is race, daddy. All I want to do is race, daddy. All I want to do is race, daddy. All I want to do is race, daddy. All I want to do is race, daddy. All I want to do is race, daddy. All I want to do is race, daddy. All I want to do is race, daddy. All I want to do is race, daddy. All I want to do is race, daddy. All I want to do is race, daddy. All I want to do is race, daddy.
(Fine! Just race! Here! Take the keys!)
Bears (+7.5) over JAGUARS
From Wednesday's USA Today: "Asked what QB Chad Hutchinson gave the Bears after his strong performance in Sunday's win against the Vikings, WR David Terrell said, 'A chance. A chance to make plays. We spread the ball around, and we put some points on the board, something we've been trying to do all season since Rex (Grossman) went out.'"
(Translation: "When Jonathan Quinn and Craig Krenzel were our QBs, I just about lost the will to live.")
Buccaneers (+5) over CHARGERS
Here's another possible Letdown Game. You have the Bolts coming off three straight emotional AFC West wins. You have USA Today and Sports Illustrated running features on them. And most importantly, you have Marty Schottenheimer jumping ahead of Jack Del Rio for the coveted "2004 Best Speech Giver" Award thanks to his "Inside the NFL" performance this week.
(In case you missed it, first Marty unleashed the "Let's go out there and play Chargers football -- take care of the ball on offense, take away the ball on defense" pregame speech. After the game, he pulled the "Everyone close their eyes for 20 seconds and reflect on what we just did" routine -- a rehash from his KC days, but effective nontheless. And while we're here, I think we need to hire Denzel Washington to help Herm Edwards out. It's getting embarrassing. He's bringing back memories of the old SNL skit where Chris Kattan played the incoherent public speaker -- "We need to go out there and AHEWHW DHDGAG DMSMSM SNHSHSH!!!!)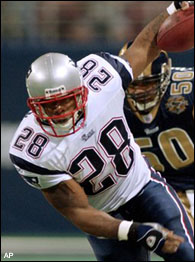 AP Photo
Corey Dillon against the Bengals: Here's guessing he wants a little revenge.
Dolphins (+11) over BRONCOS
We learned one thing last week: Jake Plummer could grow a Dusty Gibbons-length beard and he'd still be Jake Plummer.
(By the way, when somebody writes the book about Mike Shanahan's post-Elway career, it should either be called "How Did We Not Win That Game?" or "Do You Realize We Could Be 10-3 right now?")
Colts (-10) over TEXANS
All right ...
People keep asking me why I have a grudge against Peyton Manning. Not true. I just feel like we make a mistake -- not just the media, but fans, too -- of placing too much emphasis on statistics and not enough emphasis on actual success. Certain superstars have a knack for coming through when it doesn't matter: guys like Karl Malone, A-Rod, Bonds, C-Webb, Manning, even Donovan McNabb. I would rather see us celebrating the players and teams that come through when it matters.
To me, the best example of this argument was always "Emmitt vs. Barry." Whenever people argued that Barry Sanders was better than Emmitt Smith, my head would practically explode. So you'd rather have the guy who gets tackled behind the line of scrimmage eight out of 10 times, then breaks off a 40-yard run, over the guy who rushes for five yards a pop, keeps moving those chains and gets stronger as the game goes along? You really think the Cowboys were winning those Super Bowls because of Troy Aikman and Michael Irvin? Emmitt was the heart and soul of those teams. I loved watching Barry Sanders, and he's in the Pantheon for "Guys You Should Never Bet Against," but for one game with my life on the line ... sorry, I'm taking Emmitt. No contest.
Anyway, here's the bottom line: Manning and the Colts had a chance to beat the Patriots three times over the past 13 months ... and they couldn't do it. After Week 8, they were 4-3 and everyone was saying "same old Colts." They barely held off the Moss-less Vikings at home on a Monday night, then exploded for 182 points against Houston, Chicago, Detroit and Tennessee (four subpar teams by all accounts). Now we're supposed to think they can beat Pittsburgh and New England in January -- on the road, in back-to-back games -- just because they've been rolling up the score against crummy teams? Please.
Is Manning having a remarkable statistical season, even when you throw in the relaxed pass defense rules that have bumped up everyone's stats? No question about it. I'm just more impressed with stats like "Ben Roethlisberger is 10-0 as an NFL starter" and "Tom Brady is 51-13 as a starter and 7-0 in overtime games" than "Manning has thrown 62 TDs in a single season." Let's see him play like this when it truly matters. That's all I'm saying.
LIONS (+9.5) over Packers
Here's the thing about Brett Favre: In the first 10 minutes, either he's throwing frozen ropes and threading the needle between eight guys, or he's throwing it up for grabs and looking like the 1998 version of Dan Marino. At least you know right away. He's thoughtful like that.
REDSKINS (+9) over Eagles
The following NFL coaches wouldn't have volunteered to wear a ballerina's outfit if Terrell Owens was playing for them and scored 15 touchdowns in a season: Jimmy Johnson, Bill Parcells, Bill Belichick, Vince Lombardi, Chazz Noll, Tom Landry, Don Shula, Joe Gibbs ...
(Get the idea?)
Rams (+6.5) over PANTHERS
Another ridiculous line. And since I have nothing else to add, here's a fantastic e-mail about "Madden 2005" that I received from my buddy Gus this week:
"After handling the Browns in a wild-card game, the Broncos went into Foxboro without Champ Bailey who tore his pectoral and will miss the remainder of the season. Up 31-24 late in the game the Pats are driving and the Broncos are in the corner with their hands up by their face trying to hang on. On third-and-goal Brady throws one right into Al Wilson's hands and he drops it! Fourth down. Pass batted down by Lenny Walls. Broncos can't get a first as the Pats use up their timeouts and we punt from our own 12 with 1:00 to go. Here come the Pats. :16 left and Brady hits Watson on the 3-yard line. Timeout Denver!!! What? Al Wilson is hurt on the play, stopping the clock for the Pats. Next play, TD to Deion Branch. Pats kick off and Droughns returns it to the Denver 40 with 10 seconds left. First down, incomplete. Second down slant play to Lelie gets Denver to the Pats 46. Timeout Denver. Elam is on the field trying a 63-yarder with :04 left ... .the controller is thumping, palms are sweaty, Jackie should be asking me a question about Christmas cards ... the kick is up ... it's good!!!!
"Pound the Chargers in the AFC title game. Play Clinton Portis and the the Redskins in the Super Bowl. Down 44-38 with :10 left, Tatum Bell splits wide out of the backfield, gets behind the safety ... 55-yard TOUCHDOWN!!! Broncos win the All-Madden level Super Bowl 45-44. Other than beating the Puma, my greatest video game moment."
(By the way, he's married with two kids. And yes, "Beating the Puma" was a reference to the old Nintendo Wrestling game from the late '80s. Let's just move on.)
Jets (+6) over STEELERS
This one has Upset Special potential following a grueling, hard-hitting Jags-Steelers game on Sunday night -- one of the best of the year, despite the deplorable clock management at the end. You just had the feeling that guys from both teams crawled out of bed on Monday morning like Nick Nolte at the beginning of "North Dallas Forty."
Niners (+6.5) over CARDINALS
I love when a coach benches his QB, tries a couple of other guys, realizes they're worse than what he had, then goes back to the original QB with his tail between his legs -- like what happened with Denny Green and Josh McCown this week. See, this is why there could never be an all-female football league.
COACH: "We're making another change -- I'm giving you another chance."
FEMALE QB: "Just like that, I'm supposed to forget what happened?"
COACH: "Come on, I'm sorry I benched you, I made a mistake."
FEMALE QB: "Maybe you should have thought of that before you started those two other sluts!"
Chiefs (+2) over TITANS
Well, it's official: Antonio Gates finally passed Tony Gonzalez as the best tight end in the league, thanks to his quotes in Sports Illustrated about his surprisingly easy transition from basketball to football. Let's have Antonio explain:
"You know what helped? Playing Madden. I was always the Chargers. After I got here, I'd play the game and notice things about the defenses. I started recognizing formations in the (video) game, then I'd get to practice and see them there."
(Go get 'em Antonio! You're paving the way for my buddy Gus to become the new Broncos offensive coordinator!)
Last Week: 8-6-2
Season: 95-91-6
Bill Simmons is a columnist for Page 2 and ESPN The Magazine. His Sports Guy's World site is updated every day Monday through Friday.