By Bill Simmons
Page 2
"I can't complain for five years, right?"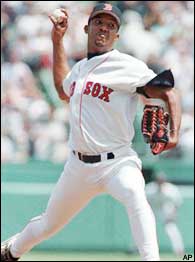 AP Photo
When Pedro showed up in 1998, the Nation had no idea the ride he would take them on.
That was the question yesterday afternoon. My buddy Gus had been e-mailing me rumors from ESPN's newsroom, including word that the Mets had guaranteed a fourth year to Pedro. He was a goner. Blood rushed to my head. F-bombs started forming in the back of my throat. I looked around for a wall to kick.
And then ...
Five-year grace period ... five-year grace period ... five-year grace period ... five-year grace period ... five-year grace period ... five-year grace period ...
See, I'm the one who touted the concept of a grace period. Stuck in a prolonged drought with the Sox three years ago, I never wanted to become That Guy who complains during the post-title honeymoon, the way Rangers fans started fussing within 10 months of winning the Cup. When the Sox finally won the Series, I always assumed the experience would turn me into Wooderson from "Dazed and Confused." Here's what I wrote in February, 2002:
"After your team wins a championship, they immediately get a five-year grace period: You can't complain about anything that happens (trades, draft picks, salary-cap cuts, coaching moves) for five years. There are no exceptions. For instance, the Pats could finish 0-80 over the next five years and I wouldn't say a peep. That's just the way it is. You win the Super Bowl, you go on cruise control for five years. Everything else is gravy."
For Red Sox fans, none of us thought we would care after the Big Day, mainly because that day seemed as likely as a potential threesome with Natalie Portman and Jennifer Garner. For instance, if somebody had offered us a "Win the World Series but win 60 games a year for the next 10" deal, everyone would have grabbed the offer in 0.189 seconds. Including me. I'm the same guy who answered "What if ... ?" questions from readers like, "What if you had the power to give the Sox one championship, but that meant the Yankees would win the next 25 titles ... would you use that power?"
As it turned out, we never had to make any deals. Now we're dealing with the aftermath of the Holy Grail, the sobering reality that it's impossible to keep a championship nucleus together for any length of time -- not even the most important team in the history of Boston. And I knew this. I knew this. I just wasn't prepared for it. You follow a group of players that come through, think of them like family, swear you'll remember them the rest of your life. Then one guy leaves. And another. And another. Suddenly you see David Wells standing in Pedro's spot in the dugout, or Jay Payton taking Nixon's place in the bottom of the eighth, and you realize that the defending champs aren't quite the defending champs anymore.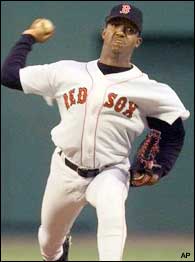 AP Photo
Pedro's 23-4, 2.07 ERA mark in 1999 still stands as one of the game's most dominant performances.
I can't emphasize this point strongly enough: Pedro's shocking departure was the worst possible thing that could have happened. Losing the most exciting pitcher in the history of the franchise was bad enough. Losing him because he leveraged the good will of the championship season into a far-too-generous offer from the Red Sox, then leveraged that offer into a suicidal contract from the Mets -- four years and $54 million for a six-inning pitcher with a history of shoulder problems -- I mean, how are we supposed to feel about this guy now?
Did he care about those seven years in Boston at all? Was he another hired gun like Clemens? Were all the stories about him true, that he was a prima donna who only looked out for himself? And most importantly, would this change the way we remembered his contribution to the first World Series title in 86 years? We spent the past three months basking in the glow of October, reveling in everything good about sports. Then Pedro did his best to ruin the moment. I don't know if I can forgive him. In Year 1 of the "Everything Else is Gravy Era," the gravy couldn't even stay hot through the holidays.
---
When this happened with the Patriots three years ago, they made it easy. The defending champs struggled to a 9-7 season, then bounced back with another championship, even rolling off a 27-1 stretch over the past 15 months. With the best coach in football and a memorable collection of big-game players, there hasn't been much to complain about. We trust the people running the team. We trust their judgment. End of story.
The Red Sox? Not the same. For one thing, there isn't someone like Belichick running the show. With the current Red Sox front office, you could make the case that they constructed a championship team in spite of themselves. Just look at their main targets from the past two years. The Yankees outmanuevered them for Jose Contreras. They only pursued Schilling after being rebuffed by the Expos for Javy Vazquez. Their big in-season acquisitions during 2003 were two lemons (Byung-Hyun Kim and Jeff Suppan). They famously flopped in their public pursuit of A-Rod -- blinking when it would have taken an extra $15 million to close the deal -- then allowed the ensuing acrimony with Nomar to submarine two-thirds of the 2004 season. They could have lost the World Series MVP on waivers last winter. They nearly traded Derek Lowe for Esteban Loiaza last summer before the Yankees swooped in.
Yes, David Ortiz remains the most important free agent signing in the history of the franchise. Yes, the Cabrera-Nomar trade was remarkable, not just for the results but for the audacity that deal required in the first place. Yes, they finished the Schilling and Foulke deals. Yes, Bellhorn was one of the bargains of the year. Yes, we won the World Series.
(In fact, that deserves its own paragraph: Yes, we won the World Series.)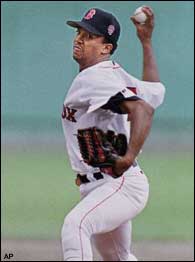 AP Photo
When 2000 rolled around, every game was a home game for Pedro.
But three indisputable facts remain:
1. The Yankees saved them from four horrendous mistakes (A-Rod, Contreras, Loaiza and Vasquez) over an 18-month span.
2. They landed Foulke and Schilling because they had a nine-figure budget that allowed them to spend more money than nearly anyone else.
3. After what we witnessed from Alex Rodriguez this season, it's safe to say that he wouldn't have been a good fit in Boston. In fact, Schilling came out and said it after the World Series. And given the financial committment involved, it's also safe to say that, for Theo Epstein, having that A-Rod trade fall through was like the Titanic skipper "narrowly missing that iceberg."
Again, I'm not complaining. Just pointing this stuff out. Unlike the Patriots with Belichick, I don't think Red Sox fans are sitting around thinking to themselves, "Theo's in charge, we're set for the next 10 years!" We know there was some luck involved with what happened. We know some things fell our way. We know Theo has an overall plan -- build the team around patient hitters, don't kill yourself with long-term contracts for guys who aren't sure things -- which sets him apart from every other Red Sox GM in my lifetime. At the same time, we're not sure how much interference comes from the owners, and there have been just enough "Kim for $11 million" moments to raise the white caution flag.
That's why we bristled a little last weekend, when Yankee fans taunted us after the David Wells signing -- like my buddy JackO, who called to say, "Congratulations, any time you can give $16 million to a 42-year-old guy with a bad back who weighs 300 pounds, you gotta make that deal!" And yes, it was a curious move. Defensible ... but curious. For that kind of money, it seemed like there were more reliable options out there: Tim Hudson, Odalis Perez, maybe even Carl Pavano. Admittedly, JackO's inevitable message bummed me out for a few seconds ... until I remembered that he rooted for the team that gave us the greatest choke job in sports history.
(Note: Because Boston's quest became the compelling story of the playoffs, the Yankees demise never received enough attention, nor does the fact that Jeter and Rivera are stuck playing with Slappy Rodriguez, the BALCO Boys, Kevin-San Brown and everyone else responsible for the greatest choke job in sports history. Of course, this is a whole other column.)
Honestly? I'm wondering if the ongoing blood feud with the Yankees supercedes the spirit of the five-year grace period. I always assumed that a title would be impossible to top; and in many ways, that was proven to be correct. But we're still in the middle of a Cold War. We're still battling for the championship of each other. Maybe Boston's World Series title changed the relationship from "feud" to "rivalry," but I don't want to start losing to them again. No Boston fan does. So we're in a surreal position. We can't really complain, nor do we want to complain ... but we don't want to lose to the Yanks. We want them to keep last year's team intact, but not at the expense of the next five years. We trust the front office, but only to a degree.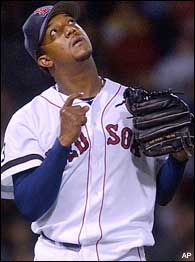 AP Photo
Shoulder? What shoulder? Pedro quieted more than a few critics in 2002.
Pedro's contract situation brought everything simmering to the surface. They chose to take care of Schilling's extension over Pedro's extension last winter, hoping it wouldn't be a major distraction during the season. Which it wasn't. Of course, they underestimated Pedro's ego, just like they overlooked Nomar's ego last winter during the A-Rod debacle. He wasn't taking a hometown discount after the season, not after what happened with Schilling. He was headed to the highest bidder. They never should have trusted him to do the right thing -- and in this case, the right thing would have been "Taking a little less to end my career in the place that made me famous."
They also failed to execute some basic common sense. After winning the Series, Pedro had one remaining goal: How can I make as much money as possible while putting the finishing touches on my Hall of Fame bid? Over the past few weeks, whenever friends asked me what would happen with Pedro, I told them the same thing: He's headed to the National League. Say what you want about Pedro, but he's no dummy. It's easier to pitch in the N.L. -- you get to face some dorky pitcher every three innings. That's three easy outs. I also think he enjoys batting, as strange as that sounds. Keeps him in the game. For a guy who needs about 35-or-40 more wins to become a mortal lock for the Hall of Fame -- if he isn't already -- the National League was the Michael Corleone move. Staying in Boston was the Sonny Corleone move. And Pedro was no Sonny.
---
He's going to get skewered in Boston over these next few days, weeks and months. I'm going to do my best to refrain from piling on with everyone else, if only because he brought me so much enjoyment over the years. Pedro arrived in Boston about six months after I launched my old website. Over the next seven years, I wrote more columns about him than any other athlete. During his absolute apex, I rode the T over to Fenway and scalped tickets for his starts, despite being broke at the time. I couldn't forgive myself otherwise. There were no guarantees that a better pitcher would ever pass through my life. As far as I knew, the guy was a comet.
And when he had the park rocking, there was nothing like it. Two strikes, you stood. Three strikes, you cheered. When those third strikes kept coming, you screamed as loud as you could. You high-fived the people around you. You pounded your hands together until they throbbed in pain. You convinced yourself that anything was possible -- 22 strikeouts, a perfect game, anything. That was the thing about Pedro in his prime: He never had a ceiling. Whenever he yielded that first single at Fenway, the crowd would actually groan out loud.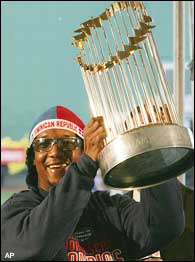 AP Photo
Pedro wanted two things in 2004, a Series ring and a big payday. Congrats on both Petey.
One time during the 2000 season, I was driving to Connecticut and listening to Pedro throttle the O's in Baltimore. He was throwing a two-hitter through eight innings, so dominant that everyone in Camden started cheering for him, a little like the Russians cheering for Rocky during the Drago fight. As the announcers were talking about this, I remember the Sports Gal asking if the game was in Fenway, so I told her how the game was in Baltimore, then explained how the Orioles fans were cheering for him because he was pitching so well.
"He's just so great that even other teams cheer him?" she asked me.
Let's just say that you don't field that question too many times as a sports fan. Of course, that portion of Pedro's career wrapped up a long time ago. On the World Series team, you could make a case that he wasn't one of the most indispensable guys. I wanted them to bring him back ... but only within reason. Anything more than a two-year extension was sheer lunacy. No way his body holds up.
Now he's cashing in one last time with the Mets. And you know what? I can't root against him. It's just not in me. He's like family. And maybe I'm a sap, but I can't blame him for wanting to move on -- unlike Clemens, at least Pedro played on a championship team before splitting town. Unfortunately, the Sox lost Pavano to the Yankees while Pedro was milking that fourth year from the Mets. Now there's a decent chance that Boston's No. 2 starter next season could be a 42 year-old guy who weighs 280 pounds.
Whatever. It still doesn't change everything that happened last October. As Gus e-mailed me, "Normally I would say five years for the grace period, but for the Red Sox it may extend to 15 or 20."
(In the words of Wooderson, "Alright alright alright!")
Bill Simmons is a columnist for Page 2 and ESPN The Magazine. His Sports Guy's World site is updated every day Monday through Friday.