By Bill Simmons
Page 2
Editor's Note: This article appears in the January 17 issue of ESPN The Magazine
A few months ago, while I was halfheartedly watching
Mr. Deeds
on cable, it dawned on me that Adam Sandler was the Wade Boggs of movie actors. Boggs mastered the "getting on base" genre; Sandler has mastered the "slapstick comedy centering around immature underdogs" genre. Boggs had wildly impressive stats; Sandler has wildly impressive box office. Neither has any real greatness. But stack up their numbers against their rivals, and you start to realize, "Wow, these guys are Hall of Famers," even if that doesn't seem entirely plausible.
That's the thing about statistics: you can trust them only so much. They don't account for the Horrys and Jeters, or Orlando Cabrera's sparkling defense last October, or even the petrified look on CWebb's face. At the same time, the relationship between baseball fans and stats mirrors that between TV viewers and forensic science. Ten years ago, few people understood the DNA evidence in O.J.'s trial. Then CSI came along. Same thing happened when Moneyball came out. Until then, only hard-core fans thought about the value of OPS, or the vast potential of lineups that could extend pitch counts. Now those principles are mainstream.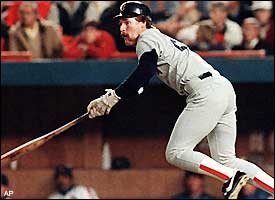 Boggs is gone, and pretty much forgotten in Boston.
So maybe this is the perfect year for Boggs' election to the Hall. Under every possible qualification, he belongs in Cooperstown. Statistically, he's one of the four best third basemen ever. Thanks to our enhanced appreciation for on-base percentage, we can now see the subtle beauty of his résumé, one that would weaken Billy Beane's knees. His career OBP was .415. He led the league in times on base eight straight years, and topped .900 in OPS six times. His 1987 season (.363 BA, 1.049 OPS) resides in the pantheon of Great Seasons by a Third Baseman. He even reached that old-school milestone of 3,000 hits. Not to mention, his was one of the most memorable porn mustaches of the decade. My problem is that when Boggs was in his prime, there wasn't anything remotely Hall of Famey about him.
Trust me. I followed him in Boston for 11 years. We never thought of him the way we did George Brett or Mike Schmidt -- those were franchise players. Boggs was ... well, what was he? Even his managers couldn't figure out how to use him. In 1986, Boggs batted first or second despite being, statistically, the most productive player on the team. That seems insane now. I remember him spraying line drives and working pitch counts, always coming off like an obsessive in a batting cage, every at-bat unfolding like the one before it.
Situations never mattered to him. If the Sox were down by one in the ninth, with a runner on third and two outs, Boggs invariably drew a walk, leaving the game in someone else's hands. That's just who he was. There's a reason he cracked the top five in MVP voting only once. Local writers and talk show hosts skewered him for being a selfish singles hitter, wondering why he wouldn't hit for power. All this "getting on base" stuff was hurting the team. One fact sums it up: two seasons after Boggs signed with the Yanks in 1992, the Red Sox gave his No. 26 to Wes Chamberlain.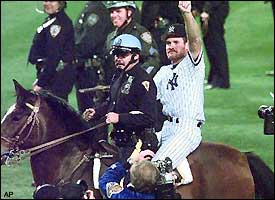 Here, this is for any Red Sox fans that still like Boggs.
Boggs never resonated with fans like other Boston stars of that era. You never went to Fenway thinking, "Boy, I get to see Boggs today, somebody pinch me." You never watched a Red Sox-Royals game and thought to yourself, "I'm glad we have Boggs instead of Brett." Even the sight of the Chicken Man wearing a Yankees cap didn't spawn 1/100th of the bitterness Clemens faced. We just didn't give a crap, at least until we saw an emotional Boggs riding that horse after the 1996 World Series. Then we wanted to punch him in the face.
Now he's one of the best third basemen ever? Thinking back, I remember only two moments: Boggs sobbing at Shea in 1986 and his mistress appearing in Penthouse three years later. The rest is a blur.So now he's going to Cooperstown instead of Jim Rice, whose career was decimated after the fact by the Moneyball crew: too many DPs and K's, too low of an on-base percentage. Well, when my dad took me to Fenway as a kid, we went to see Rice, not Boggs. Now we penalize Rice because he played in a presteroids era that valued batting average, homers and RBI over all else? You figure it out.
But then maybe Boggs was just ahead of his time. And who knows, maybe we'll be saying the same about Sandler one day. So what if Little Nicky was the worst big-budget film of the past 10 years? So what if Happy Gilmore will be the only one of his comedies that holds up? So what if audiences didn't respond to his dramatic forays? The numbers will be there, so Sandler must have been great.
If only a cinematic version of Cooperstown existed for him.
Bill Simmons is a columnist for Page 2 and ESPN The Magazine. His Sports Guy's World site is updated every day Monday through Friday.