By Bill Simmons
Page 2
The spread kept moving. Started at -2.5 last Monday. Dropped a half-point for the rest of the work week. Settled at -1 on Saturday. On Sunday morning, it flipped another 2 points. Suddenly the champs were underdogs in their own stadium, getting one point against a team that always choked against them. This made no sense. None of this made sense. Everyone liked the Colts.
And I had my Game Face on.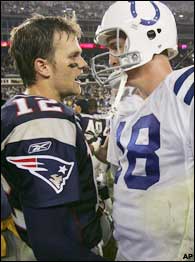 Welcome to the 2004 edition of Brady consoles Manning at midfield.
"Why aren't you watching this game with anyone?" the Sports Gal asked me.
"Nah, not this one. I'm watching this one alone."
She waited for an explanation ... and I waited for her to leave the room.
This wasn't Just Another Big Game. When I was growing up, the Patriots were the Fredo Corleone of the Boston sports scene. Then Belichick and Brady joined forces during the 2001 season. We made an improbable run to the playoffs, everyone argued about Bledsoe Versus Brady. We beat the Raiders in a blinding snowstorm, everyone talked about the Tuck Rule. We beat the Steelers in Pittsburgh, everyone said we got lucky on special teams. We toppled the Rams for our first Super Bowl title, everyone called it a collossal upset, almost like we were Villanova and they were Georgetown. Really, what was shocking about a well-coached, intelligent, hard-hitting football team beating an inconsistent, poorly-coached bunch of softies? This was surprising? St. Louis receivers were turtling over the middle by the middle of the third quarter ... they deserved to win that game?
Nope. It was an upset. And when the Pats stumbled to 9-7 the following season, everyone called that Super Bowl title an aberration, just another overachieving team that caught a few breaks in the age of parity. If the 2001 Patriots could win a Super Bowl, all 32 teams had a chance. That was the consensus.
And then? Last season happened. The Patriots rolled off 15 straight wins for another title, which was pretty hard to dismiss ... but everyone did their best. This time around, we were good -- nobody could deny that -- but they weren't that good. People said that they weren't dominating enough, that they didn't have enough marquee names to be considered a dynasty, that their coach was the most valuable player on the team. During the summer, the Colts whined about the physical play of the Pats secondary in the AFC Title Game -- a game the Pats should have won by 30, by the way -- leading to the pass defense rules being "enforced" this season. The implication was pretty blatant: Yeah, you guys won, but you had to mug the Colts receivers to do it.
Then this season rolled around. The Pats held off Indy in Week One, one of those games that comes down to four or five plays, with the Pats making them all. Well, they were lucky to win. That seemed to be the consensus. The Pats won their first six, breaking the record for consecutive wins, even earning some respect from the "experts" out there ... as long as you didn't think that this team was better than the '72 Dolphins. God forbid. In Week 8 against the Steelers -- on the road, without Corey Dillon -- Pittsburgh ended the streak. It happens. Now the Steelers were the team to beat. Meanwhile, the Colts were gaining "unstoppable" buzz after running up the score on a series of non-playoff teams. The Patriots were in the mix, just another team with a chance. When the All-Pro team came out, only Seymour and Vinatieri made the cut. Isn't that amazing? How can you finish 14-2 and clinch a bye week with only two elite players on your roster? You tell me.
Did any of this matter last week? Of course not. Instead of asking questions like "Will Manning ever beat the Pats?" and "Will anyone ever beat Belichick and Brady in a big game?", the same question kept floating around:
"How can they stop the Colts?"
(Ummmmmm ... excuse me?)
"No, seriously, how can they stop the Colts?????"
(Ummmmm ... didn't you see the other three games over the last 14 months when we beat them?)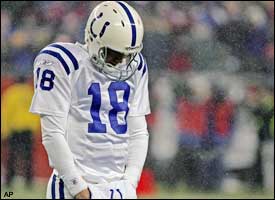 Hey, there's always the Isotoner endorsement to fall back on.
Didn't matter. The Colts were better. Maybe Belichick and Brady were 6-0 in playoff games, maybe they had won 29 of their last 31 games, maybe Manning hadn't won in Foxboro, maybe the Pats hadn't lost at home in over two years ... but hey, the Colts had beaten Houston, Chicago, Detroit and Tennessee by a combined score of 182-57, and Peyton Manning threw for 49 touchdowns this season. Somehow this was a toss-up.
Here's what killed me: Even people who would normally lean towards the Patriots were siding with the Colts. And why? Because the Pats were missing both cornerbacks and Richard Seymour. Apparently that was too much. Forget about the fact that New England's offense was completely healthy; that they had a 1,600-yard rusher who had been dying to play in one meaningful game for nine years; that they had a major advantage over any dome team in cold weather; that their coach was the MJ to Tony Dungy's Karl Malone; that they had more big-game players on their team than every other franchise combined. Only Manning mattered. Here on ESPN.com, nine of our ten "experts" picked the Colts to win.
I picked the Patriots. And not because they're my team.
See, I think differently as a sports fan. I don't care about numbers that much. I'm not impressed when Manning throws for six TD's against a 4-12 Bears team. I don't care that the Colts had three receivers who finished with more than 1,000 yards receiving. I'm much more interested in guys like Brady, McGinest, Bruschi, Brown, Vinatieri, Patten, Vrabel, Law, Harrison ... the guys who keep making plays to win football games. And it's always someone different. In the freezing cold against Tennessee last January, Vinatieri booted a football that weighed more than Frankie Muniz for the game-winning field goal. In Indianapolis during the 2002 season, McGinest jumped the snap and stopped Edge James on 4th-and-1. Pick a game during the streak, someone different came up big. Someone always comes up big. After awhile, it can't be an accident.
On Sunday against the Colts, Brown played nickelback against a 1,000-yard receiver for the entire game, caught two first-down passes and nearly broke a punt return for a TD. Brady dinked and dunked Indy's D to death, the ultimate game manager and leader, doing whatever it took to win the game. Bruschi ripped the ball away from Dominic Rhodes for a defining turnover, admitting later, "I just wanted it more than him." There was another defining play near the end, when Bruschi held James from running out of bounds, turned him around, then kept James from falling down so a charging Harrison could belt him from behind. What other team does stuff like this?
If there was a fault with these Patriots during the Brady Era, it was the way they allowed teams to hang around, like they needed a certain level of drama to find that extra gear. Not with this Colts game. In the second half, they finally played 30 perfect minutes of football, highlighted by a defensive shutout and two mammoth drives. They didn't just beat the Colts, they decimated them. Best of all, Manning was shaking his head and blaming everyone else, like he always does when things go wrong. Marino did the same thing. And he never won a Super Bowl either.
The last four minutes doubled as my favorite random moment of the Belichick Era. Leading 20-3, with the Colts driving for their typical garbage touchdown, Belichick basically said "Screw that!" and kept his starters on the field. The crowd picked up on it immediately, standing as one, serenading Manning with "Cut that meat!" and "Peyyyyyyyyy-ton!" chants, imploring the defense to make one last stand. Between plays, Bruschi was hopping around like Vince Neil, whipping his team (and the crowd) into a frenzy. With 30 seconds left, CBS's cameras showed Dillon on the sidelines -- he was glancing around the stadium and nodding his head, eating this up, almost looking like Cyrus at the beginning of "The Warriors." So much for Corey Dillon being a cancer.
(By the way, that's another Belichick move, taking a page from Red Auerbach and the old Celtics teams, where Red brought in one talented veteran every year who would kill to play for a winning team. The enthusiasm of those guys never fails to be infectious. Last year it was Harrison. This year, it was Corey Dillon -- 144 yards, owned the second half, happiest guy on the field down the stretch. I think we'll keep him.)
Meanwhile, the Colts were driving inside the 20. Manning wanted that cheap TD, only the Pats wouldn't give it to him. With four seconds left, Harrison picked off a pass in the end zone and jammed a fork into the Colts. Game over. Chaos at Gillette Stadium. One last look at that Peyton Manning Face. So long to the Colts. Again.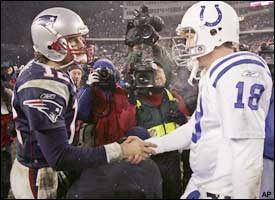 Hot off the press! It's the 2005 edition!
"That's why they're the champs," Jim Nantz gushed.
Yup. Pretty much.
And that's why I watched the game alone. It went deeper than "I don't want the season to end," or "Man, that would stink to lose at home to the Colts." This was about respect. This was about four letters ("team") meaning more than five letters ("stats"). This was about a great team taking care of business at home, because that's what great teams do. This was about my buddy Bug calling me from the game in the second quarter and saying, "You should hear the crowd right now, I'm telling you, there's NO WAY we're losing this game." This was about Bruschi waving his arms and Dillon soaking in the moment. This was about Manning stomping off the field like a tyke, the paper champion going down in flames. This was about burning the game to DVD that same night, and only because it was the defining game of the Belichick-Brady Era and I wanted to save it.
Why do I care about sports this much? I couldn't possibly tell you.
But I do.
Bill Simmons is a columnist for Page 2 and ESPN The Magazine. His Sports Guy's World site is updated every day Monday through Friday.