By Bill Simmons
Page 2
Count me among the Red Sox fans who aren't quite ready to start the 2005 baseball season. How can anything top what happened last October? As one of my buddies (who shall remain nameless) joked, "I feel like I woke up after having a threesome with Natalie Portman and Scarlett Johansson, only they're still asleep and I'm pounding the snooze alarm every nine minutes."
I'm not even sure what that means. Somehow, it makes sense. I spent my winter secretly hoping that the steroids saga would morph into a prolonged, unexpected lockout, just to give me more time to appreciate what happened. It was too improbable, too surreal, too magnificent. On Oct. 16, the Sox were getting last rites. On Oct. 27, they were pouring champagne in St. Louis. Remember the book "Thirteen Days," the one about the Cuban Missile Crisis? This one could have been called "Twelve Days." In eight games over 12 days, everything changed.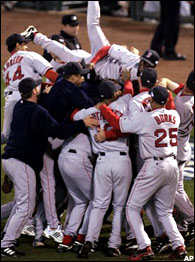 This image may be remembered forever, but everything starts over on Opening Day.
Here's the best way I can explain it: You know how Locke carries himself on "Lost"? He's overwhelmed by what happened, grateful for the ability to walk again, clearly relishing every moment ... and yet he seems a little amused by the whole thing, like he knows it could end at any time? That was me this winter. And yes, I know where this is probably heading. The front office changed too many players from last year's team. The players seem a little too pleased with themselves. The fans seem happy to be embarking on Year 1 of an indefinitely long Grace Period. One of my readers even argued the similarities between the 2005 Sox and the first 25 minutes of "Rocky 3."
I'm just not sure that I'm bothered by any of these things.
They won a World Series in the best possible way: The greatest comeback in sports history (against the Yankees, no less), followed by an immensely satisfying sweep. The following things were immediately rendered moot: "1918," "The Bambino" and the (rhymes with "schmurse"). Now I can raise my children as Sox fans without feeling remorseful that I inadvertently saddled them with 80 years of heartache. I can read a spring training story without thinking, "I hope they don't bring up something negative." I can see someone wearing a Yankee hat without wanting to punch him in the face. I can look forward to the upcoming season without feeling like it's a race against time.
(As I wrote numerous times in this space, true Sox fans worried about dying without seeing a championship, not whether the Babe had put a ridiculous hex on the franchise. When the big day finally happened, it was a little annoying to watch so many writers and announcers belatedly jump on this angle – epitomized by Tom Verducci's SI cover story, which was excellent, by the way. That should have been the angle all along: A baseball team that couldn't get over the hump, supported by millions of fans spread across the country who kept sticking with them. Looking back, did every Fox and ESPN playoff telecast have to start with 435 pictures of Babe Ruth? Couldn't Verducci have written a similarly good story about Sox fans before the Roberts steal happened? I will never understand this.)
This is where the naysayers say, "See, I told you, once they won the World Series, those losers wouldn't know what to do with themselves."
Not exactly. I never thought I would say the words "Thank God for the Yankees," but I'm saying them now. Thank God for the Yankees. As soon as Sunday night rolls around and Yankee fans are booing Boomer, Manny, Damon and everyone else, every Sox fan will snap right into, "All right, it's time to defend the title now" mode. You can't help it. We're natural enemies in the wild. And if it wasn't for them, we would be content playing with house money for the rest of the decade.
Instead of another Dr. Jack breakdown, here are 10 relevant Sox/Yankees questions to ponder heading into Opening Night on Sunday:
1. Did the Yankees really need to get Randy Johnson?
On paper, probably not. If their bullpen hadn't blown leads in Games 4 and 5 of the Boston series, the trade wouldn't have happened. I also thought that A) they gave up too much; and B) they gave up on Javy Vazquez too soon. When I expressed those thoughts to my buddy Jack-O, a diehard Yankee fan and Republican who muttered angrily after the 2004 ALCS, "If Bush loses the election next month, I'm buying a log cabin and becoming the next Ted Kaczynski," he ended up making a pretty good point.
"I know we gave up too much," he said. "I know Javy's probably winning 20 games some day, and I know it looks like George did something just to do something. But we lost Games 6 and 7 at the Stadium – we didn't have one pitcher who could go out there and stop what was happening. You guys had Schilling, we didn't have anyone. Now we have the Unit. You can't put a price on that."
He's right ... you can't.
(Plus, you don't have to worry about putting a price on it, not when your team has a $225 million payroll.)
2. Did the Red Sox tinker with last year's team a little too much?
Not that I'm arguing, since we're in Year 1 of a 500-year grace period and all ... but I thought they made two moves too many. Just indulge me.
The first: Instead of spending $30 million over four years to bring back Orlando Cabrera (the winning shortstop in the 2004 World Series), they spent an extra $10 million for Edgar Renteria (the losing shortstop in the 2004 World Series). Everyone agrees that Renteria is slightly better on paper than the OC – higher OPS, a little more speed, not as much of a free swinger – although I can't remember watching the 2004 World Series and thinking, "Man, if only we had Renteria instead of Cabrera." Throwing in Cabrera's defense, clutch hitting and happy demeanor (remember, he won the High Comedy MVP Award in the post-season DVDs), this was somewhat confusing – like "Curb Your Enthusiasm" replacing Jeff Garlin after the first season with John Goodman because he's a slightly bigger name. Why even bother?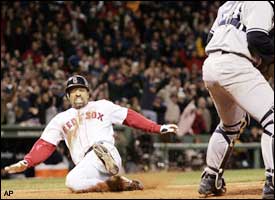 Thanks for everything, Dave ... now turn in your number, we're giving it away.
The second: After Dave Roberts gently requested a trade because he wanted to play every day, the team sent him to San Diego. Now we don't have a proven fourth outfielder/late-inning baserunner/good clubhouse guy, as well as a walking reminder of the most important moment in Red Sox history and someone who would have been A GUARANTEED STANDING $%#%@%& OVATION EVERY TIME HE CAME TO FENWAY!!!!!!!!!! How could this happen? We couldn't have found Roberts 300 ABs this season? Couldn't have given him a million-dollar bonus to stick around? Can you imagine the Pats winning their first Super Bowl, followed by Adam Vinatieri gently asking for a trade because he wanted to kick AND punt ... followed by Bill Belichick trading him for 50 cents on the dollar because he "owed it to him?" Would that ever happen? Seriously, how can you trade Dave Roberts? Why not just throw in the Bunker Hill Monument and the set from "Cheers" while you're at it?
3. After witnessing the greatest choke in sports history, why didn't Steinbrenner blow up this winter like one of the characters in "Glengarry Glen Ross"?
When he was relatively silent for those first few days, I kept envisioning the post-Lufthansa heist murder scene from "Goodfellas," with "Layla" playing in the background as Joe Torre's bloody corpse gets pulled out of a pink Cadillac, followed by Brian Cashman frozen to death in a meat truck. But he kept himself in check, which makes me wonder if George is just plain old and we haven't fully realized it yet. Remember, this is the same guy who hired someone to basically frame Dave Winfield, whose biggest crime was that he wasn't quite as good as Reggie Jackson. Now George is watching the Red Sox celebrate at Yankee Stadium ... and there are no major repercussions? Huh?
(We're sure he's still alive, right?)
4. When the Red Sox started taking shots at A-Rod during the beginning of spring training – tricked by the media into saying some of those things, but still – what was the strangest subplot to that whole thing?
The staggering number of Yankees who stepped up to defend him. In fact, here's the complete list:
Hold on, let's run that same list in Spanish:
Here's what it looks like in Japanese: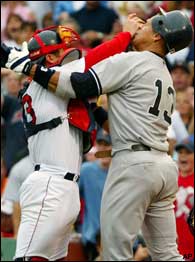 AP
Seems like A-Rod's teammates aren't mad at Varitek as much as they are jealous.
That's right ... zero Yankees stood up for him. ZERO! You could almost picture Jeter reading the morning paper in some decked-out condo in Florida, coming across that day's A-Rod slam and giggling happily to himself. He must have loved it. If we can have a show called "Everybody Loves Raymond," then we should definitely have a show called "Everybody Hates A-Rod." I'm telling you, he needs to pull a P. Diddy and change his nickname to "A-Guez" or "Lex-Ro." He needs a clean slate.
5. On the "Going a little overboard celebrating a championship" scale, where did the 2004 Red Sox rank among the all-time greats?
Let's see: Schilling and his family appeared on Barbara Walters' year-end special, complete with Schilling hobbling on crutches around Fenway with sappy music playing in the background ... Damon became a certifiable C-list celebrity, hitting the talk-show circuit and releasing his own book ... Schilling appeared on "Celebrity Poker" ... five Sox players appeared on that "Queer Eye" show ... the owners paraded the championship trophy around New England like hunters showing off a deer's head ... and various Sox players posed for about a combined 1,700 magazine covers.
On the bright side: Nobody "accidentally" leaked an amateur porn starring himself; nobody was arrested or incarcerated; nobody showed up for spring training grotesquely overweight or anything; Schilling and Damon did turn down appearances on "Extreme Home Makeover," "HBO's Taxicab Confessions" and "Playboy's Totally Busted;" and every Red Sox fan took a vote and decided to agree that the "Queer Eye" thing never happened. You hear me? It NEVER happened. So on the aforementioned scale, if the '86 New York Giants were a 10 out of 10 and the '97 Marlins were a 1 out of 10, I'd rank the Sox a solid 6 1/2.
6. What's the biggest advantage that each team has over the other?
For the Yankees, other than the "Most guys linked to or suspected of being on the juice" category, it's their starting pitching: Unit, Mussina, Pavano, Brown and Wright. Wow. Say what you want about Jaret Wright, but when he's your fifth starter, that's pretty good. And given that Schilling might not be completely healthy until May, and the Sox probably aren't getting the Wade Miller Era going until the middle of the summer, Boston's rotation has to be considered the shakiest part of the team.
(By the way, I supported the "Wells, Clement and Miller for the same money as Pedro" logic, and it was definitely time for Derek Lowe to move on. It's just that you never know with new guys. For instance, SI's section about Matt Clement includes the following sentence: "His fussy mound habits, such as shrugging his shoulders and rubbing his legs, have been the subject of relentless armchair analysis, and in the final two weeks of last season (for the Cubs) he was bumped from the starting rotation for Glendon Rusch." Does this sound like a guy who could thrive in Boston? He sounds more like the next Matt Young. But since we won the World Series, maybe we'll be more patient with a quirky guy like that. I keep telling myself this.)
For the Red Sox ... well, I'm not sure. I like their lineup a little more than the Yanks'. They definitely get the edge in the chemistry department. They have about 1/100th less pressure on them this season than the Yankees, which might not necessarily be a good thing. But if I had to pick one thing, I'm going with Keith Foulke – partly because of rumors that Rivera is breaking down, partly because he's the only closer who uses Danzig as his entrance music, partly because Foulke's gritty October performance vaulted him past Rivera as the premier money reliever in baseball. And I can't believe I just wrote that.
7. Why didn't the Yankees go after Carlos Beltran during the offseason?
You got me. Maybe they didn't feel comfortable exceeding their 2005 payroll of $4.3 billion. Although they did get a boost in the arm – OK, bad choice of words – with the dramatic return of world-class cheater Jason Giambi, fresh off the most confusing apology in the history of mankind last winter. Imagine coming back from Vegas and having the following exchange with your wife: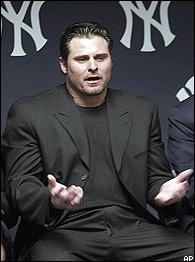 Wait ... what are you apologizing for again?
You: "Honey, I'd like to apologize, I'm sorry."

Her: "For what? What happened?"

You: "Look, I'm sorry."

Her: "What did you do? Sleep with a stripper? Squander the money we saved for the house?"

You: "I'm just ... again, I'm very sorry."
In real life, you would get divorced. In baseball, you get to come back for $15 million a year. Now we get a compelling subplot to the season – Giambi's dealing with more day-to-day pressure than anyone since Hank Aaron was trying to break Ruth's home run record in 1974. What happens if he struggles out of the gate? Will he offer to give some of his salary to charity if he hits .212 again? If he was dependent on the juice psychologically, how will he handle not getting that extra oomph from those needles to the bee-hind? And who will take his place on the Yankees as "The guy with the worst case of bacne (back acne)?" I can't wait to find these things out.
8. Speaking of steroids, which team will be more affected by the steroids crackdown?
Well, one team features the poster boy for the steroid crisis (Giambi), as well as someone who hung out with Barry Bonds and his trainer and "unknowingly" used a steroid cream (Sheffield). The other team has two goofy sluggers from the Dominican Republic who probably couldn't figure out how to make a cup of Thera-Flu for one another, much less inject each other with hormones. Here's the weird thing about the Red Sox and steroids: In the past decade, their two most prominent "steroid guys" were Manny Alexander (career batting average: .234) and Jeremy Giambi (career homers: 52). Before the 2004 World Series, the Red Sox couldn't even cheat successfully.
9. Who will miss Pedro more – Yankee fans or Red Sox fans?
Probably the Yankee fans. And that's not a cheapshot at Pedro; the Yankees (and their fans) had gotten into his head, which was affecting the competitive balance of the rivalry. Even in the deciding game of the ALCS, Yankee Stadium only got itself going one time: when Francona brought Pedro in to pitch the seventh. (Note: Before I die, I want a real answer for that move. Just something that remotely makes sense.) The Mets' overpaying Pedro was the best thing that could have happened to Boston, and that's coming from someone who wagered on Pedro to win the N.L. Cy Young this year.
Admittedly, I'm going to miss the little things about Pedro: goofy moments in the dugout, harmless little soap operas in spring training, unveiling new hairdos, that kind of stuff. There was always something happening with him. In fact, my buddy Bug lamented the "eerily quiet" spring training, mentioning that the most talked-about questions in spring training were "Can Schilling be ready for Opening Day?" (answer: no) and "Can the Byung-Hyun Kim Era be salvaged?" (answer: an emphatic no). Well, what did you expect? It was our first spring in the post-Pedro Era. He would have said and done 20 different ridiculous things by now. Do I miss him? Absolutely.
(Am I glad I've heard my last "Who's your daddy?" chant? Absolutely.)
10. If the Yankees lay the smack down this season and beat the Red Sox, and this happens a few more times, how many years will pass before Yankee fans officially start playing the "You got lucky once, now things are back to normal" card?
Probably one. That's the funny thing about Yankee fans – they're keeping low for now, but if their team outlasts the Sox this season, they'll go right back to being as insufferable as ever. It's almost like they're biding their time. Meanwhile, we're enjoying our long-overdue stint in the driver's seat, especially since it came at the Yankees' expense. I own a "New York Chokers" hat and a red T-shirt that has two hands wrapped around the "NY" symbol with the caption, "INTERNATIONAL CHOKING SYMBOL." Heck, I barely wear my "POSADA IS A LITTLE B***H" shirt anymore. I tease my Yankee fan friends and eagerly await the inevitable "25 more titles 'til you catch us" comeback. I refer to my team as "the champs" as often as possible.
When it comes right down to it, this blood feud with the Yankees is unlike anything else in professional sports right now. They're the Ali to our Frazier, the Iron Sheik to our Sergeant Slaughter. We need them, they need us. We hate them, they hate us. The rivalry is developing into a self-perpetuating organism – a zero sum game for sports, a de facto Cold War – something that neither team can ever truly win. Both teams jockey for the upper hand all season, the battle resolves itself in October, and then everything starts again in April. That's just the way it is. Until last year, the Yankees always prevailed. Now we have an official rivalry on our hands. Is it better than winning a championship, or pulling off the greatest comeback in sports history? Of course not. But it's still pretty good.
(And on that note, I'm ready to start the season. Let's defend this thing.)
Bill Simmons is a columnist for Page 2 and ESPN The Magazine. His Sports Guy's World site is updated every day Monday through Friday.