By Bill Simmons
Page 2
Forget about the scoring explosion, the influx of likable young stars, even Kobe's Tony Montana-like demise in Los Angeles. The most entertaining subplot of the 2004-2005 season – at least for me – is a bona fide MVP race. Seriously, when was the last time you argued about a simple question like "Which NBA player means the most to his team?"
The last memorable MVP debates occurred in 1993 and 1997, when Charles Barkley and Karl Malone won MVP awards thanks to the always-indefensible logic, "We're just tired of voting for Michael Jordan." But those were never really debates – true basketball fans knew better, and MJ proved them right by pulling a Keyzer Soze on the Suns and Jazz in the '93 and '97 Finals. The last genuine debate happened in 1987 – Magic, Larry or MJ – and to this day, you could make a case for any of the three. This year? You could make solid cases for six guys. But before we get to them, here's a look at some of the players who didn't make the cut (and where they finished in the top 425).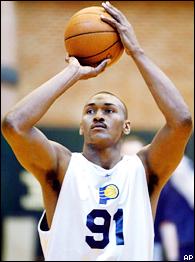 AP
So what if he killed the Pacers -- Ron reached "save until I delete" status on my TiVo.
In reverse order ...
425. Ron Artest
Well, he charged into the stands at Detroit, inadvertently attacked the wrong culprit, triggered the scariest melee in the history of basketball, drew the biggest suspension in league history, single-handedly killed the title hopes of a potential 60-win team, overshadowed Reggie Miller's last season and disappointed the Basketball Jesus. That has to make him the NBA LVP (least valuable player) ... narrowly edging Mark Blount and Rick Brunson. On the bright side, it was the greatest TV night in years and gave us Artest's famous post-suspension quote, "I'm trying to be positive. I'm a big fan of the Nobel Peace Prize."
417. Darko Milicic
A quick recap of the 2003 Draft ...
No. 1. – LeBron James
No. 2. – Darko Milicic
No. 3. – Carmelo Anthony
No. 4. – Chris Bosh
No. 5. – Dwyane Wade
(That's like reaching into a brown paper bag filled with two checks for $100 million, two checks for $10 million, and a check for $10 ... and pulling out the check for 10 dollars. Ouch.)
397. Zach Randolph
The dreaded double whammy: He destroyed Portland's cap space AND killed its season. At least he's a good guy.
375. Adonal Foyle
Plays about 20 minutes a game, gives you 4 points and 5 rebounds a night, blocks 1 or 2 shots ... in other words, he's having a typically harmless Adonal Foyle season, only he's in year one of a $40 million contract. So here's the question: Has Chris Mullin ever come out and explained this? If you were a Warriors fan, wouldn't you want an answer? This was like the Korean guy on "Lost" becoming a free agent and ABC giving him $40 million to stay on the show through 2010.
340. Vince Carter
Note to Raptors season ticket holders: File a class-action suit against him. Seriously. Ask for reparations. You bought tickets under the assumption that the Toronto players would give their best effort; he signed a contract promising that he would give his best effort; and after watching his performance in Jersey over the past three months, that clearly wasn't the case. So why not sue him?
(I'll even be a witness for the prosecution: "Yes, I went to a Clippers-Raptors game in early December ... no, he didn't seem that interested in the proceedings ... ")
319. Latrell Sprewell and Sam Cassell (tie)
Trading for an NBA player with baggage is like dating a girl with baggage – maybe you'll be happy for a few months, but there's a 95-percent chance it's going to end badly. (And I mean, BADLY, as in, "Why does it hurt when I pee?" or "I wonder who left 59 hang-ups on my answering machine?") In Minnesota's case, Spree and Sam helped KG win an MVP and nearly got Minny to the 2005 Finals before turning faster than a gallon of milk. Was it worth it? I would say yes. You only have three or four chances to win a title with a superstar, so you do what you need to do. And if this leads to Spree's retiring and filming a reality-show on his yacht, maybe it was for the best.
278. Jamal Crawford
If the NBA was a roto league, the other owners would have sent Isiah Thomas the "Hey, no offense, but maybe you should bring a partner next season" e-mail by now.
238. Chris Andersen
Hasn't received nearly enough acclaim for what happened since a potentially career-ending Slam Dunk Contest – not only is he playing crunch time for the lowly Hornets, he's even had a few double-doubles. This is like Carl Lewis bouncing back from the National Anthem disaster and singing a well-received duet at the 1993 Grammys with Mary J. Blige. There's really no precedent.
215. Carlos Boozer
That's what you get for screwing over a generous blind guy.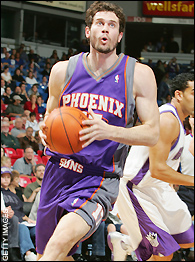 It will be a dark day in Sport Guy World if Paul is ever out of the NBA.
200. Paul Shirley
I'm keeping my fingers crossed on this one, but thanks to his ongoing blog on NBA.com we could finally have an answer to the question, "What would it be like if one our friends was an NBA player and sent us e-mails about his life every few days?"
One mitigating factor: David Stern, who could morph into the warden in Shawshank over this one. I could even see this exchange happening outside the commissioner's office one night ...
– Stern: "So you're telling me that you're going to continue doing this blog, and you're going to continue to be as candid as possible?"
– Shirley: "Yessir, that's all I ever wanted, just give me that chance."
– Stern (taking one last puff from a cigarette): "That's what I thought."
(He puts out his cigarette and walks away, then Shirley is quickly gunned down by Dick Bavetta from a fifth-story window.)
181. Baron Davis
Classic Warriors: They roll the dice on a former All-Star who ends up playing out of his mind, turning the team around and screwing up their top-four lottery spot. When next year rolls around, he'll probably blow out his knee before Halloween. We need to chip in $5 apiece and buy Warriors fans a new team – they make Clippers fans seem fortunate by comparison.
161. Chris Webber
Would anything be more entertaining than C-Webb's getting injured in the playoffs, followed by a Kings-Sixers Finals and the first-ever Double Ewing Theory? I think about these things.
150. Andrei Kirilenko
(Shaking head sadly.)
135. Lamar Odom
Remember the SNL sketch about the Time-Life series for videos of family dysfunction, when every vignette (Thanksgiving, Easter, birthday, etc.) ended with Will Ferrell suddenly flipping over the dinner table and screaming, "That's it, [bleep] this, I'm out of here!" From January to March, after watching Kobe go one-on-three one too many times, I kept waiting for Odom to do this – just flip over the press table and scream, "That's it, [bleep] this, I'm out of here!" Instead, he went on the DL with a fake injury. Wise move. I wouldn't want to be his bong right now.
110. Freddie Jones
Survived the random attack from Ben Wallace's brother, served as the go-to guy for the Pacers when half their team was missing, kept them competitive when everyone thought they were done ... and now he's settled into a productive bench role. I'm not saying that he deserves his own DVD or anything, but you have to hand it to him – he wasn't even their 10th man heading into the season.
107. Andre Iguodala
Officially replaced Kirilenko as "The Guy You Don't Want Guarding You Under Any Circumstances." And he's only a rookie. That reminds me, here's another idea for an All-Star Weekend Event: The Miller Lite Kapono-Iguodala Challenge. You have eight contestants, each of whom has to choose ones of two options:
A. In five minutes, score as many baskets as possible against Andre Iguodala.
or ...
B. In 45 seconds, score as many baskets as possible against Jason Kapono.
(Which option would they choose? Who would win? See, this is why I should be running All-Star Weekend.)
92. Danny Fortson and Reggie Evans (tie)
Remember my fantasy rule that Antonio Davis and Dale Davis should be combined into one roto monster: The Uber-Davis? We need to do the same thing with Fortson and Evans; as the great John Hollinger first pointed out, if you combine their per-minute numbers, they would be having like the 12th greatest rebounding season in the history of power forwards. So let's do make this a rule for next year – I want the chance to select Reganny Fortvans.
69. Bobby Simmons
Heart and soul of a Clippers team that could have won 45-50 games had they stayed healthy and/or Elgin Baylor realized you could make trades during the season. When they screw up and allow him to sign with a contender this summer – where he'll thrive, by the way, because he's a good guy and the ultimate fifth banana – I'm declaring war on Elgin, Donald Sterling and the entire Clippers franchise. I'm going to be like Stallone in "First Blood," when he has the knife to Brian Dennehy's throat: "You want a war? I'll give you a war you wouldn't believe."
58. Dwight Howard
Let's go to Harold Lederman's scorecard for the Okafor-Howard rivalry ...
Oh-KAY, Bill ... I have the first round scored 10-9 for Howard over Okafor ... he stayed healthy, got better as the year went along, and lemme tell you something, this guy is a specimen! I'm prepared for anything with this guy – 30,000 points, 20 rebounds a game in one season, a 40-30 game, you name it! I just don't think Okafor has enough to stay with him! Back to you, Bill!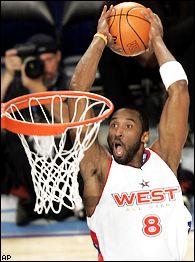 AP
Kobe the GM gets the anti-Executive of the Year award.
42. Kobe Bryant
My buddy House and I had a long argument about this one yesterday. House argued that, other than Artest, Kobe was the 2005 LVP because he single-handedly destroyed a Lakers dynasty that had 4-5 quality years left. My argument was that Kobe was the worst GM in the league (since we all know that he was the one making these moves) and deserves the blame for that, not his actual play. It's like when Eddie Murphy decided to direct "Harlem Nights," which should have been a funny movie and ended up being the film that sent his career spiralling into a free fall. You can't penalize Kobe The Player for being screwed over by Kobe The GM. Anyway, I'm sticking him here because it's my column. Screw you, House.
35. Ricky Davis
In three months, I went from thinking, "That guy will never, EVER get it" to "That guy is the most important player on a potential No. 3 seed." He's been an absolute revelation, especially since the Antoine trade – a throwback scorer who gets better when it matters. And he's only 25. Seriously, look it up. He's two years older than Tony Allen. Of course, that didn't stop ABC's announcers from taking shots at him for the entire Philly game on Sunday. Some guys just can't win.
30. Jalen Rose
Provided an insane amount of comedy over these past few months, including these classics:
"There's always going to be criticism when your name is Jalen. You have to wear a bulletproof vest and be ready for it."
– Jalen on himself
"Was it for Richard Jefferson?"
– Jalen after hearing that Carter had been traded to New Jersey
"I'm a GM in fantasy basketball and I'm a GM on PlayStation, so on PlayStation I probably would have got a little more, but this is real life, so I don't know."
– Jalen on the Vince Carter trade
"He probably was a little tired from All-Star Weekend. While he was running up and down the court throwing it off the backboard, I was laying on the beach drinking a fruity drink with an umbrella. So I probably gave myself an unfair advantage on that one."
– Jalen explaining why he outplayed Carter two days after the All-Star Game
"I've got to stop this. My entourages are getting entourages."
– Jalen on the trouble of finding tickets for everyone when he returns to Detroit
(And my personal favorite ... )
"Like I told the guys earlier, once he turns 21 and is able to drink, it's over."
– Jalen after LeBron scored 56 on the Raptors
25. Manu Ginobili
If I could be any NBA player, I would probably choose Manu if it wasn't for the whole "There's a 90 percent chance my parents would get kidnapped" thing. Instead, I'll choose Mike Miller for the fifth straight year. I just want his jump shot for a week.
20. Mike Bibby
Winner of the "2005 Most Overlooked Good Player" Award. You're just not winning less than 30 games with a healthy Mike Bibby on your team. It's not happening.
15. Ben Wallace
Imagine if he won the MVP, then Stern had to present him with the trophy: "Ben, admittedly, this wasn't one of your better seasons, but you were a key player on the No. 2 seed in the East. More importantly, you started the Pacers brawl and kept escalating it until someone threw a beer on Ron Artest, leading to the inevitable demise of your biggest rival in the East. Ben Wallace, congratulations on being the 2005 MVP!"
12. Grant Hill
Just because.
11. Ben Gordon
Wow. Wow. Wow. Wow. Wow.
(Wow.)
It took 20 years, but we finally found the next Andrew Toney. That "35-point/23-minute/22-point fourth quarter" game at Charlotte ranks up there with the Sleepy Floyd Game, Tony Delk's 53-point game and Todd Day's 29-point half at the FleetCenter as one of the most random, incredible performances I've ever seen. He's an absolute assassin. Do you think anyone wants to play the Bulls in the playoffs with this guy? Do you remember what happened in the Sixers-Celtics series back in 1982, when a young Toney single-handedly destroyed the defending champs? Exactly. I couldn't be more excited about him. Everyone keeps trying to figure out these convoluted reasons for why scoring has jumped so dramatically this season, but it really comes down to three things:
A. They don't allow hand-checking anymore.
B. They don't call moving picks anymore. Nobody ever mentions this – why do you think Nash is an MVP candidate this season?
C. This is a whole other column (and I think I've even written it before), but just look at the drafts of 1980-1985 (a harvest of All-Stars and Hall of Famers that saved the league), 1986-1994 (a legitimate drought that destroyed the league), 1995-1999 (a temporary boon that saved the league again), and 2003-2004 (another boon that pushed things to another level). When you blue-chippers keep entering the league, eventually, the product improves. This isn't rocket science. The more Ben Gordons, the better.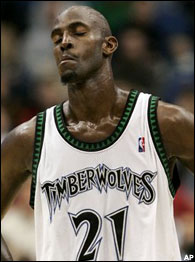 Maybe all KG needs is Robin Williams bringing him into his office saying "It's not your fault KG. It's not your fault."
10. Kevin Garnett
I know, I know ... it's not his fault. And his knee could be worse than they're letting on. At the same time, if you're an alleged superstar in your prime and your team can't even make the playoffs ... well, did Kareem ever miss the playoffs? Did Larry ever miss the playoffs? What about Magic and MJ? Even Karl Malone's Utah teams won 50 games every year, right? If they miss the playoffs, and it turns out KG wasn't hurt, that absolutely changes his legacy and slides him into that Barkley-Iverson-Drexler/Spotty Superstars group. And only a title could pull him out.
(Of course, if they pass the Grizzlies over the next two weeks, forget I mentioned it. )
9. Jason Kidd
First, they screwed him over by dismantling his team. Then his microfracture surgery didn't totally work out – maybe he isn't limping around like C-Webb or anything, but he looks a step slow for him. Then, he has to rebuild Vince's confidence and deal with Jefferson's season-ending injury. At one point, they were 12-24 and headed for the lottery. Three months later? They're 37-39 and battling for a playoff spot with a team so dreadful Nets fans actually said the words, "Oh my God, Jacque Vaughn is out for the season, what are we going to do?" last week. And J-Kidd keeps chugging along. One of the greats.
8. Reggie Miller
Held the Pacers together after The Melee, turned back the clock for some surreal shooting performances during their current (and improbable) playoff charge. There wasn't nearly enough made of the Pacers this season – throw away the whole "Worst melee in the history of American sports" part and their season was more inspiring than "Brian's Song."
7. Tim Duncan
Only because he missed 20 games.
6. Steve Nash
Put it this way: If Nash won the MVP, it would be ...
A. The first time a table-setter won the award.
B. The first time a non-franchise player won the award.
C. The first time a complete liability on the defensive end won the award.
I know he's been immensely fun to watch, and he's making everyone who ever cared about the point guard position proud. But an MVP? You're telling me that Bibby or Kidd wouldn't have been just as successful with Stoudemire, Marion, Johnson and Q on their team? Does anyone else find it depressing that the point guard position has fallen so dramatically over the years, it's practically cause for celebration when someone plays it correctly? I have a variety of methods for determining my MVP choice every year, and here's one: "If this were a pickup game, based on how everyone's playing this season, who would get picked first?" I don't see Steve Nash going ahead of any of the next five guys. Sorry.
(And while we're on the subject, the late Ralph Wiley would have brought up the "Would everyone be making this big of a deal about Steve Nash if he were black?" card about three months ago. And had fun with it.)
4. Dwyane Wade and LeBron James (tie)
LeBron carried an atrocious Cavs team that didn't have a decent coach, GM, backcourt, outside shooter ... it was like watching some of those early Tom Hanks movies, where you spend most of the time just feeling bad for him that he's not in something better. And other than Iverson and KG, Wade has to be the fiercest competitor in the league – one of those guys who never takes a play off, someone who looks physically pained if he misses a game winner, like his whole week has just been ruined. He genuinely cares about stuff like, "How am I carrying myself?", "Are my teammates happy?" and "What will my legacy be down the road?" Before the playoffs, you can almost picture him watching MJ games on ESPN Classic to get fired up.
(I'm not sure which one of them is better – I'm just happy to be having the conversation. And if you don't think there's some Bird-Magic potential here over the next 10-12 years, you're nuts.)
3. Dirk Nowitzki
One of the biggest surprises of the season: Dirk Nowitzki developing a nasty streak. Who knew? Has there ever been a tougher European player? Actually, let's rephrase that – has there ever been a TOUGH European player? Where did this come from? Did Cuban hypnotize him into thinking he was playing every Mavs game for the German national team? Even when Ashton Kutcher "Punk'd" him last week, you could tell Dirk wanted to kick his butt for a few seconds. Just stunning. Forget about the scoring explosions, or the fact that he's having a career year with shuffling coaches, eight new teammates and no point guards to help him out. Having a cocky, snarling 7-foot German guy with 25-foot range has to rank among the highlights of the season. Who's more fun to root against than Dirk Nowitzki?
(In fact, I'll go this far: Last summer, I wrote that Dallas was crazy for not trying to trade Nowitzki for Shaq, since it would have guaranteed them 2-3 titles and all. Now? I still think they're crazy ... only not nearly as crazy. If that makes sense.)
2. Allen Iverson
Forget about the year he won the MVP – that was a good team with some blue-chippers on it. This year, they threw another new coach at him, six new teammates, stuck him back at point guard ... and he responded by playing 42-45 minutes a night, setting everyone up and throwing his body around like a pro wrestler. By the way, have I mentioned yet that his team sucks? I mean, really, REALLY sucks? It was like watching Stephanie persevere with that crummy Ulong Tribe on "Survivor," only for 82 games. Absolutely his finest season.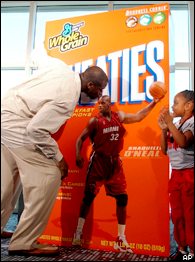 Do the math, don't do the math -- there's no argument either way. Shaq is your MVP.
(Also, with the pounding he takes game after game, AI is starting to move into my person pantheon for "Guys I Will Always Remember Watching." I mean, this has been going on for like 10 years – he keeps getting knocked down, keeps getting up, keeps ripping teams' hearts out. Throw in his insanely intense interviews and he's a solid No. 2 choice. Plus, he's the new Clubber Lang – I don't think he's cracked a smile in six years. Any time he's being interviewed by Stephen A. Smith, I always feel like the world is about to end or something.)
1. Shaquille O'Neal
Try to follow this equation:
A. The Lakers won 57 games last year ... they're headed for 35 wins this year.
B. The Heat won 42 games last year ... they're headed for 62 wins this year.
I'm no John Hollinger, but even I can add that up: That's a 42-game swing, not to mention the balance of power shifting to the East. And yes, that should have been enough to win Shaq another MVP. But this year has been special in the sense that people get him now – he's had a breakout season, only in the personality sense. Now there isn't a more beloved, charismatic, entertaining athlete in any sport. When I think of the 2004-2005 season, I'm going to think of Shaq first ... and that's the very definition of an MVP. At least to me.
Bill Simmons is a columnist for Page 2 and ESPN The Magazine. His Sports Guy's World site is updated every day Monday through Friday.