By Bill Simmons
Page 2
Remember when I broke the 2002 playoffs down in "Survivor" fashion, voting off 15 teams until one remained? I'm dusting off that idea in honor of Stephenie's virtuoso performance this season, which is bringing back memories of Pedro in 1999, MJ in 1992 and everything else. Just when you thought she couldn't top herself, she saved her own butt by passively-aggressively convincing another member to quit during Tribal Council. We need to send her to Afghanistan -- I think she could find bin Laden in three weeks.
In the great Stephenie's honor, let's vote off the playoff teams in descending order from No. 16 to No. 1: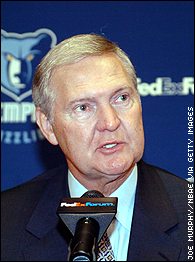 Unless he has something up his sleeve, "The Logo" has lost it.
ROUND ONE
16. Memphis (voted off by Phoenix, 4-0)
We learned everything we needed to know about the Grizz when they needed one win for a playoff spot and lost to Dallas, Houston, Denver and San Antonio by a combined 60 points. The guy who should be kicking himself is Jerry West, who should have topped any possible offer for Vince Carter three months ago. Everyone knew Vince was dogging it and only needed a change of scenery, and everyone knew the Grizz needed a go-to guy desperately. So why wouldn't they roll the dice with Vince?
(I know I keep asking this every year, but what is Jerry West waiting for, exactly? Does he have some secret alliance with Kobe that we don't know about? Like, "If you push Shaq out of Los Angeles and destroy the Lakers beyond repair, I'll trade for you during the summer of 2005 and we'll win some titles in Memphis together?" That's the only way the last three years make sense.)
15. Houston (voted off by Dallas, 4-1)
Ever since Juwan Howard went down -- and the beginning of that sentence alone is enough to raise a red flag -- the Rockets have been playing without any power forwards who could even be considered "crappy." So here's my question: Who the hell is guarding Dirk Nowitzki in this series? Clarence Weatherspoon? Ryan Bowen? Vin Baker? Dikembe Mutombo? Scott Padgett? Yao? Roger Clemens? There's a good chance that Dirk could break MJ's scoring record for a five-game series, especially since we just named a German pope who will be rooting for him. And what happens when the Mavs play Nowitzki and the Completely & Totally Rejuvenated Keith Van Horn at the same time? Who does Yao plan on guarding?
(Note: I actually think the Mavs are going to KILL the Rockets, save for the one game when T-Mac drops in the neighborhood of 55 to 58 points on them.)
14. Philly (voted off by Detroit, 4-1)
Here's the funny thing: If C-Webb wasn't playing, I would have picked this series to go seven because of the Iverson Factor. Sadly, he's playing ... and there isn't a more lopsided matchup on the planet than "C-Webb on one leg versus the Wallace Brothers." Philly reader Angela McGurk summed it up best:
"While I was watching the Sixers game last Thursday night against Miami, I noticed that Chris Webber was in the game with five fouls for an awfully long time. I turned to my husband and said, 'It's almost like "Survivor" or the "Real World/Road Rules Inferno," where other teams are trying to keep him in the game because he's such a detriment to the Sixers. He's our version of Karamo.' "
A perfect comparison. If this was the "Inferno," the Pistons would be throwing missions to make sure C-Webb stuck around. That's how much he kills the Sixers. And yes, I supported the trade at the time. It's just that I forgot two things. First, if your coach's defense revolves around aggressive rotations and big men running out at open shooters, it's probably not a good idea to acquire a big man playing on one leg. And second, there couldn't be a worse matchup than C-Webb (the most sensitive big-money athlete in any of the four sports) and Philly fans (who can sniff this stuff out and would much rather break someone in pieces emotionally than support them). This is going to end badly. I mean, really, REALLY badly.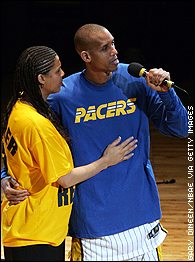 Don't worry, Reggie, you'll be able to hang out with your sister real soon.
13. Indiana (voted off by Boston, 4-1)
As the old saying goes, "When Anthony Johnson is your point guard, that means Anthony Johnson is your point guard." Did Indiana have an inspiring season? Absolutely. Was the Reggie Miller Resurgence entertaining for everyone involved? No question about it. Is there anything more delighful than seeing Ron Artest dressed in a three-piece suit, cheering his teammates on and being injected with 30 CCs of Thorazine by the team doctor's every 30 minutes? You betcha.
But they are not beating a team like the Celtics when A.) Johnson and Dale Davis play crunch-time for them, B.) Jermaine O'Neal isn't totally healthy, and C.) they're still running plays in the final minute for Reggie Miller, who gave them a season-saving four-week stretch after the All-Star Break before wearing down in April (.397 shooting). Not only do they defer to Reggie too much when it matters, he couldn't guard me at this point (much less Ricky Davis or Paul Pierce). So it ends here for Reggie. Great career.
12. Sacramento (voted off by Seattle, 4-2)
I never understood the media race to bury the Sonics this season -- since Rashard Lewis was their most indispensable player (not Ray Allen), why was anyone surprised when they went into the tank without him this month? Even their fans are confused and wary. When I asked ESPN.com senior editor (and die-hard Seattle fan) Kevin Jackson for his pick, KJ first said, "We're gonna lose," then amended that to, "actually, Peja's hurt, we might win," to "yeah, screw it, we have a good chance to win, and coming from a Seattle fan, that's as positive a response as you will ever get." Of course, this is the same guy who corrected me two days ago when I incorrectly thought Stanford's name from "Sex and the City" was "Sanford" in my "Fever Pitch" column. So maybe he was the wrong person to ask.
(Here's why the Sonics have reached "don't gamble on us from game to game under any circumstances" status: On any given night, they can shoot the lights out. For instance, when Minnesota had to win out for that eighth seed last weekend, the Sonics simply destroyed them: Lewis and Allen shot a combined 25-for-43 and Sprewell was making plans to take his yacht down to the Caymans midway through the third quarter. Beware of them at all times.)
11. Chicago (voted off by Washington, 4-2)
The Bulls were lurking as a mild sleeper before the Deng-Curry injuries ... now they have a nine-man rotation that includes Chris Duhon, Jannero Pargo, the Artist Formerly Known as Antonio Davis, Othella Harrington, Eric Piatkowski and the first-ever Amish-Brazilian basketball player (Andres Nocioni). There's even a white guy named "Reiner" who plays 5 to 10 minutes a night for them -- I think they picked him up at a frat party. Too bad. It would have been fun to watch them advance a couple of series, leading to the inevitable Jim Gray interview with a morbidly depressed Jerry Krause trying to take credit for everything that was happening.
(On the bright side, Ben Gordon has two Andrew Toney throwback games in him this series. Those will be fun.)
10. New Jersey (voted off by Miami, 4-3)
You could make a solid case that Vince Carter is the most unstoppable player in the league right now, to the point that my buddy Gus asked the other day, "Has anyone ever won the Comeback Player of the Year award for their performance in the same season?" I say we give him that award, along with the "Most Sobering Reminder That We're Idiots for Caring About Professional Sports" Award. But seriously, I'm glad he's trying again. In fact, he hasn't announced it yet, but Marc Stein is reporting that Vince has decided to give his best effort through the 2005-06 season as well. So that's good news.
Here's the thing: Along with T-Mac, Iverson, Stoudemire and Nowitzki, Vince is one of five players who could score 200-plus points in a seven-game series. Throw in Jason Kidd (who only averaged a 19-10-9 for the month of April) and Richard Jefferson (even at 75 percent, a dramatic upgrade over Rodney Buford and Travis Best at the 2-spot) and I'm not exactly sure why the Nets are 7-1 underdogs in this series. Would you want to play these guys? Kidd and Vince are like two guys on a pickup court who were waiting for their three other buddies, then said, "Screw it, they're not showing up, let's grab those three dorks over there and see if they'll run with us," and proceeded to keep winners for the next two hours.
(This is going seven. I'm feeling it.)
9. Denver (voted off by San Antonio, 4-3)
A blueprint for beating San Antonio:
A. You need to get physical with them ... and Denver is the most physical team in the league. Guys like Nene and K-Mart will absolutely knock Mr. Eva Longoria (a k a Tony Parker) down the first time he comes cruising down the lane (like the Lakers did last year). Also, Duncan has always been one of the classiest players around -- what happens to him when K-Mart is throwing elbows around, or Nene starts swearing at him in Portuguese? You need to do this stuff against the Spurs; I'm not sure they like rolling up their sleeves and getting dirty, especially with Malik Rose gone. Who's sticking up for TD when Nene clotheslines him into the basket support?
B. You need to keep throwing big guys at Duncan ... and the Nuggets have three good ones (K-Mart, Nene and the wildly underrated Marcus Camby). I see him making the Sad Duncan Face a lot, the one where he stands next to Popovich and looks like a son who just let down his dad in Little League.
C. You need a small forward who can post up the smaller Spurs guys (Ginobili, Bowen, etc.) and take advantage of them ... and the Nuggets probably have the closest thing to a young Bernard King right now in Carmelo Anthony. On paper, anyway.
D. You need a great coach. Not a good coach -- a GREAT coach. And George Karl is one of the best. He'll know exactly what to do here -- push the pace, knock bodies to the ground, bang the bejeezus out of Duncan (who's been banged up all season).
So why aren't I picking the Nuggets? I don't trust Melo yet -- the right team can get him into another one of those Athens-type funks, and I don't like the way he reacts when his shot isn't falling. If you're The Guy for a good team, you need to figure out ways to help them when you're not scoring. When Melo isn't scoring, he also stops rebounding and playing defense. Not a good quality. Still, any time you get two of the best five teams playing each other in round one, that's pretty cool.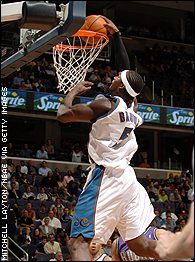 Hope you got all your dunks in, Kwame. Because you'll never get this close against Miami.
ROUND TWO
8. Washington (voted off by Miami, 4-1)
Enjoyable season from the Wiz. Sadly, here's where Shaq rounds into "I'm ready to destroy any and all comers" playoff shape. Shaq, how would you like your filet of Kwame Brown served? Medium-rare? Would you like a side of Etan Thomas with that? And for dessert, we have a Brendan Haywood souffle, but it takes 45 minutes to cook ... would you like to go ahead and order that right now?
7. Seattle (voted off by San Antonio, 4-2)
Basically, the Sonics would have to play four lights-out games to have a chance. Probably not happening. This could be one of those series where Seattle wins Game 1, then takes a 12-point lead at halftime of Game 2 before a ticked-off Duncan lays the smack down from that point on. In fact, I think I'll predict that.
6. Boston (voted off by Detroit, 4-2)
It's the Little Things that catch up with you in a series like this. You know, like the fact that you still can't defend a high screen against a good team even after 82 games. That you can't play the one genuine low-post threat on your team (rookie Al Jefferson) for extended minutes because we're six months into the season and he still can't avoid getting ticky-tack fouls or losing his guy on defense. That you're so predictable at crunch-time (slow everything down, feed the ball to Pierce), even Isiah Thomas knows what you're doing. That you forget to box out on big defensive possessions or screw up a two-for-one sequence in the last 40 seconds and only end up getting one shot. That kind of stuff.
And even though they match up with Detroit better than any team in the East, and even though Pierce has shown signs of becoming the 2002 Pierce over these last two months ... well, you can't beat a team like the Pistons without doing the Little Things. Too bad. I could see the C's leading every one of these games in the fourth quarter and still managing to lose four of them.
(And yes, Doc Rivers has officially entered the "please prove to me that you can coach" phase of his career in Boston.)
5. Dallas (voted off by Phoenix, 4-3)
I was going to pick Phoenix in six before remembering that every round of the NBA playoffs needs to have one seven-game series. It's in the rulebook, actually -- per orders of Der Kommissar. Some lingering questions:
A. Has there ever been a one-on-one matchup quite like "Dirk Nowitzki vs. Amare Stoudemire"? Neither guy has any chance of stopping the other, nor will they care. It's going to be like watching the best Rucker Park showdown ever.
B. If Steve Nash was really the 2005 MVP, then why did his old team win six more games this year than they did last year? Seems a little curious, no? At the same time, if Nash ends up being the difference in this series -- which seems like a possibility, given the Mavs' point guards -- wouldn't that be the most ironic twist of the 2004-05 NBA season that didn't involve Kobe pushing Shaq out of Los Angeles and inadvertently destroying the Lakers in the process?
C. When Keith Van Horn feels like catching a movie on the road, who does he call to join him, Shawn Bradley or Shawn Bradley?
D. If Darko Milicic, Pavel Podkolzine, Nikoloz Tskitishvili and Carlos Delfino are all out of the NBA within three years, should they be forced to move into Chad Ford's house?
E. When the Mavs lose Game 7 in heartbreaking fashion, will Mark Cuban leave the team alone and give them another year to gell, or will he change 75 percent of the roster like he always does? And is it too early to invite him into my West Coast roto league next season?
SEMIFINALS
4. Miami (voted off by Detroit, 4-2)
I don't see any difference between the 2005 Heat and the 2004 Lakers, with three exceptions: A.) Shaq is a little more motivated; B.) everyone on the team likes each other; and C.) none of the Miami stars are flying back and forth to Colorado to defend themselves in a hearing for a potential rape trial. So why would they be more prone to beat the Pistons than the 2004 Lakers? Sure, this Pistons team doesn't have the same bench, and Rip Hamilton has been hit in the face so many times at this point, he's turning into Chuck Wepner. But other than Shaq, Wade, Damon Jones and Udonis Haslem, is there anyone on this Miami team who you would even call "mediocre"? Eddie Jones, Shandon Anderson, Keyon Dooling, Mike Doleac, Rasual Butler ... these guys wouldn't play for half the teams in the playoffs.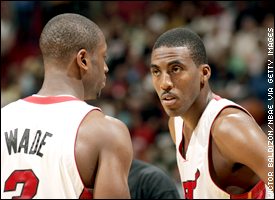 Wade might as well look in Section 205 for help. He's not getting it from Eddie.
In fact, I think they have the worst starter in the playoffs (Jones) and the two worst bench players (Dooling and Anderson). That's unprecedented. Why do you think they kept bringing in washed-up veterans like Mourning, Laettner and Steve Smith? Watching them piece that bench together was like watching the scene in "Project Greenlight" where the producers tell John Gulager, "Yeah, Mark Wahlberg is out as Hero ... it looks like we're going with Eric Dane." In other words, we're screwed.
So here's where you say, "Well, Shaq and Wade can beat anyone by themselves, it will be just like Shaq and Kobe." Actually, that's not true. First, there's a difference between 2000 Shaq and 2005 Shaq -- he's not a guaranteed 35-15 in May and June anymore. Second, those Lakers teams wouldn't have beaten the 2000 Blazers, 2002 Kings and even the 2004 Spurs without significant contributions from Horry, Shaw, Fox, Fisher, Rice and Harper; we don't know anything about Jones and Haslem on that end. And third, Stan Van Gundy is no Phil Jackson -- Wade saved his butt in close games at least ten times during the course of the season. I just don't think they have the horses. Some time in the next 10 weeks, their season is going to come down to someone other than Shaq or Wade making a play ... and I don't see that play being made.
3. San Antonio (voted off by Phoenix, 4-3)
Just a gut feeling. This has been one of Those Seasons for Tim Duncan, where everything has gone wrong since he shaved his head and grew that Dennis Haysbert goatee in Athens. You have to wonder if anyone can beat a healthy Suns team at home -- between Phoenix's style and their fans, you basically have to shoot 55 percent and score 125 points to beat them. They're like the NBA's version of the '99 Rams (right down to the "we may never have to win a big game on the road" factor).
Think about it: Between Stoudemire's breakout season, the league's decision to allow moving picks, the bizarre "Steve Nash for MVP" groundswell, Joe Johnson's contract run, Q and Brandy, the watershed trade of Jimmy Jackson for Casey Jacobsen's wife, Paul Shirley's historic blog and everything else, it just feels like this has been Phoenix's year from start to finish. Barring an injury, I don't see them getting bounced before the Finals.
2. Detroit (voted off by Phoenix, 4-3)
It would be a storybook Finals -- a fan-friendly style of basketball symbolically vanquishing the style of basketball that was threatening to destroy the league. I don't blame the Pistons for playing that way last season; heck, I even enjoyed it. But we were headed toward the same problem that killed hockey, where the defense was becoming too good for the offense. Now? The offense is becoming too good for the defense, thanks to an influx of talented players and the aforementioned (top-secret) decision to allow moving picks.
I'm not sure that 2005 goes down as the year that saved the NBA -- after all, it's not like the league was self-combusting or something. But we're headed in a new direction, a better direction, and no champion would personify that shift better than ...
1. The Phoenix Suns
Your 2005 World Champs.
(Hey, if the Red Sox can win the World Series, anything's possible.)
Bill Simmons is a columnist for Page 2 and ESPN The Magazine. His Sports Guy's World site is updated every day Monday through Friday.