By Bill Simmons
Page 2
Fact: There have only been three Game 7s in the NBA Finals since 1979.
Fact: Not since the '98 Bulls has the eventual champion been in danger of blowing the series during an NBA Finals.
Fact: There's a 90 percent chance that we're headed for another lopsided Finals.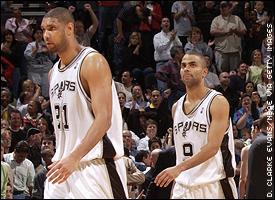 The Spurs have too much for anyone to think they can mess with Texas.
With all due respect to the world champs, the Pistons are a seven-man team that can't even slap together three good games in a row. You really think that's cutting it against a team with a ceiling as high as the Spurs? I keep reading how this series is going to be boring, how we could have some 50-48 games, how America will be falling asleep by Game 2. Has anyone actually watched the Spurs? What more could you want from a basketball team? They banged bodies with a physical Nuggets team in Round 1, handled Seattle's smallball gimmick in Round 2, then played run-and-gun with the Suns in Round 3. Can you remember another basketball team adapting to three different styles in three rounds like that? San Antonio is more malleable than Russell Crowe.
That's why the Pistons are in trouble. They have one distinctive style – slow everything down, limit possessions, keep doing the little things, take good shots in crunch time, don't beat themselves – and their uncanny ability to make two or three game-changing plays in the final minutes has been positively Belichick-esque. Well, guess what? The Spurs can play the exact same way, only they have the two best players in the series (Duncan and Ginobili), a better bench and homecourt advantage … and if that's not enough, they've been resting for a week while the Pistons were enduring a grueling seven-game series against a team that probably would have beaten them if Dwyane Wade wasn't injured.
This isn't a pick against the Pistons – I love what they have done during the past two seasons. It's just that the Spurs are that good. In fact, I think they have a chance to become the best title team in eight years (since the '97 Bulls). So I'm going with the Spurs in five.
Some other thoughts …
• Interesting quote from Suns coach Mike D'Antoni this week: "[Tim Duncan] is the ultimate winner, and that's why they're so good … I hate saying it, but he's the best player in the game."
Translation: Duncan is so good, I just threw my 2005 MVP under the bus.
And since Duncan is in his absolute prime right now (eighth season, 29 years old), the whole "Is he the greatest power forward of all-time?" debate has been one of the running subplots of the playoffs. On "Pardon the Interruption" this week, both Kornheiser and Wilbon agreed that he was headed that way but hadn't earned the title yet. Which I find patently absurd, of course. Why couldn't you make the claim? What other power forward was the best guy on a team that won three titles in his first eight seasons? Who was a more complete player? And most important, what would you change about him?
Maybe he isn't as unstoppable in the low-post as Hakeem; maybe he isn't the defender that McHale was; maybe he isn't as good a passer as Walton; maybe he doesn't rebound like Moses; maybe he isn't as explosive as Barkley was; maybe he doesn't put up big numbers quite as consistently as the Mailman did. But he's in the general ballpark with each of those guys in their best categories, isn't he? Has any big man ever brought more to the table?
Comparing him to the other candidates at power forward ...
Karl Malone – Fifty years from now, people will examine his stats and say, "Wait a second, this guy was one of the five best basketball players ever!" And that's why you shouldn't totally trust statistics. There was no stat that could fully capture the Karl Malone "Uh-oh, I'm taking another dump in a big playoff game" Face.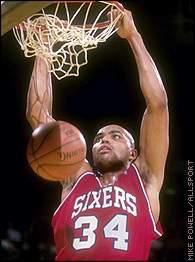 Gettin in shape wasn't on Sir Charles' to do list in Philly.
Charles Barkley – His ceiling may have been higher than anyone else's, but Barkley's career actually makes me a little angry. You watch those old Suns games from the '93 season and it's like, "Why the heck did it take him nine years to get in phenomenal shape?" And unlike Malone, his playoff stats were always better than his regular season stats – for instance, in the '86 playoffs (his second season), he averaged a 26-15 in 12 games. Remarkable. I think we will see 20 more Karl Malones before we see another 6-foot-4 power forward who could dominate games like that. Still, he just wasn't as consistent as Duncan, although he is infinitely more fun to hang out with.
Kevin McHale – We'll never know how good he could have been because he broke his foot during the '87 season (when he made first-team All-NBA and shot 60 percent from the field), then aggravated the injury beyond repair during the playoffs. He was never the same after that. But he was the best low-post player in the history of the position, as well as the best defender (everyone forgets this now, but he has to be the only guy who ever guarded Kareem and Andrew Toney within a two-month span).
Elvin Hayes – A little before my time, but everyone seems to agree that he made Karl Malone look clutch by comparison.
Bob Pettit – Sorry, I can't vote for anyone who played during an era when players actually smoked butts at halftime.
My vote still goes to Duncan. Although Amare Stoudemire might end up blowing everyone else away before everything's said and done. Or, as Detroit reader Mike Rooney points out, "If there's an NBA lockout, there's a chance that Amare Stoudemire could put on 150 pounds like Shawn Kemp did. Shouldn't that be enough to get the sides to agree?"
• This is worth rehashing one more time: The center spot was San Antonio's Achilles' heel dating back to David Robinson's retirement and the indefensible Rasho Nesterovic signing, the only real mistake of the R.C. Buford Era (yes, that's the Spurs GM, and yes, that's a stage name). So when they hijacked Nazr Mohammed from the Knicks in February – one of those crazily one-sided trades that actually made me gasp out loud when it happened (the trading equivalent of seeing a Lindsay Lohan photo from the past six weeks) – they didn't just acquire a half-decent center who could give them 25 minutes a night, they were knocking their only weak link (Rasho) out of their playoff rotation. In 16 playoff games, Rasho hasn't played a total of 100 minutes yet.
So in a way, the Mohammed trade was the 2005 equivalent of the Rasheed Wallace trade; maybe it didn't have the same cachet, but it was just as crucial to the overall success of the team. You can't win a championship with Rasho playing 25 minutes a game … but you can win a championship with Mohammed playing 25 minutes a game. In other words, there isn't a day that goes by that R.C. Buford isn't thinking, "Thank God I called Isiah that day just to offer that stupid trade that I never thought he would do."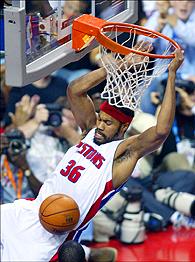 Without 'Sheed, his technicals and his championship betls there wouldn't be many reasons to watch the Pistons.
• Speaking of 'Sheed, I'd like to thank him for helping me realize a lifelong dream: Seeing players on a defending NBA champion carrying around championship belts like pro wrestlers. And since I need a new cause, I'm making it my mission to convince sports TV execs that music has actually been released since 1985. You may remember my starting this crusade back in the 2004 ALCS when Fox kicked off Game 1 with Billy Squier's "Rock Me Tonight," which came out a good 20 years ago. And ever since then, I've been noticing how nobody can ever kick off a telecast with a recent song. For instance, during the Suns-Spurs series, ESPN actually dragged out Phil Collins' "In The Air Tonight" as the running background music for the opener and commercial breaks in Game 3. Are you kidding me? You could almost picture them breaking out of the final production meeting right before the game:
– Some 22-year-old intern: "Wait, wait, did we pick a song for the game?"
– Middle-aged boss (heading to another meeting): "Oh, crap, I almost forgot … um … just use that Phil Collins song again, the one from Miami Vice."
– Intern (as boss is rushing off): "Didn't we already use that one?"
– Boss (shouting over his shoulder): "Who cares, just use it again!"
Anyway, I'm making it a personal crusade – there have been plenty of songs (both new and old) that would work for those opening sequences. If you wanted something more upbeat and current, "Time Is Running Out" (Muse), "Sweet Harmony" (The Beloved), "Honest Mistake" (The Bravery), "Take Me Out" (Franz Ferdinand), "Extreme Ways" (Moby) and "Y Control" (Yeah Yeah Yeahs) would all work. If you wanted something slower that could generate some goose bumps, go with "Clocks" (Coldplay) or "Last Goodbye" (Jeff Buckley), or even go way back for "Smalltown Boy" (Bronski Beat), "Reptile" (The Church) or "The Killing Moon" (Echo and the Bunnymen). If you want a prolonged instrumental with a kick, use the second half of "Uncertain Smile" by The The. If you want a less-known '80s song out of the "In the Air Tonight" mold, go with "Don't Give Up" by Peter Gabriel. And those are just the ones I that popped in my head in the last five minutes.
Here's the point: Music has been released in the last 20 years. I know it's impossible to believe. So just for the hell of it, give me Muse heading into one of these games. I don't ask for much.
(By the way, if I was in charge of ABC, I would hire Jimmy Fallon and Justin Timberlake to reenact their "Barry Gibb Show" skit from SNL, have them dress like the Bee Gees and then reconfigure the words to "Nights on Broadway" for the NBA Finals pregame show. Livin' it up … in the NBA Finals … talking 'bout deee-fense … talking 'bout shot selection at crunch time … yeahhhhhh livin' it up." Was that the most underrated sketch of this decade or am I crazy?)
• Really good e-mail from Ann Arbor reader Kyle O'Neill: "If this Pistons/Heat series has taught us anything, it's that we need an MJ clause in the media. There needs to be a limit on who has reached MJ potential. Young guns can have Jordan-esque performances. Guys who have had three consecutive seasons of dominance can have MJ potential. A decade will make a player Jordan-like. Seven championships and a failed attempt at the MLS will make you the new Jordan."
Agreed, agreed, agreed and agreed. By my count, we're up to seven He's The Next Michael Jordans – Penny Hardaway, Grant Hill, Kobe Bryant, Vince Carter, Tracy McGrady, LeBron James and Dwyane Wade. Let's not make it eight.
• Finally, ESPN is running a "What was the greatest NBA Finals moment of all-time?" contest on the Web site right now – I voted for Nick Anderson's missing four free throws in Game 1 of the 1995 NBA Finals because it's the only recorded instance of a 60-second sequence actually changing the course of an NBA player's career. But the whole thing got me thinking: What are my favorite underrated moments in NBA Finals history?
Here's my top seven:
7. Game 4, 1975 Finals:
Leading 3-0 and going for a sweep in Washington, Golden State star Rick Barry gets roughed up in the first quarter by Bullets thug Mike Riordan, who ends up cheap-shotting him three different times (trying to get in his head) before Warriors coach Al Attles charges Riordan and starts punching him right on the court. So Attles gets kicked out, the Warriors win the championship and poor Attles has to hang out in the locker room celebrating by himself until the rest of the players show up. I'm guessing this sequence of events won't happen again any time soon.
6. Game 4, 1984 Finals:
I've already written an entire column about this game, but there's a great moment in overtime when James Worthy misses a huge free throw, followed by Boston's Cedric Maxwell crossing from one side of the free throw lane to the other with both hands wrapped around his neck.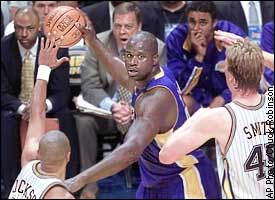 Shaq practiced his "I hope we don't blow this" face for years.
5. Game 6, 2000 Finals:
The Lakers win their first title of the Shaq-Kobe Era, followed by Shaq's trying to make himself cry and falling somewhere between Dr. J in "The Fish That Saved Pittsburgh" and Quentin Tarantino in "Pulp Fiction" on the Bad Acting Scale. You could almost picture his agent screaming, "Damn it, I thought we rehearsed this!"
4. Game 5, 1986 Finals:
This was the game when Houston's Ralph Sampson (7-foot-4) started throwing punches at Boston's Jerry Sichting (6-foot-1), then nailed Dennis Johnson with an inadvertent right cross before Bill Walton came out of nowhere and tackled him like a Secret Service agent thwarting a gunman in front of the White House. Weirdest bench-clearing brawl ever – at one point, Sampson's arms were being held and he actually tried to kick Sichting. Of course, the NBA had no problem letting him play in Game 6. But will we ever see another fight in the Finals with one guy having a 15-inch height advantage on another guy?
3. Game 4, 1990 Finals:
Down by three at home with 1.8 seconds left, Portland's Danny Young makes a 40-footer at the buzzer that the great Earl Strom (reffing his last game) had the stones to reverse because it came right after the buzzer sounded (and they weren't allowed to check replay). Gutsiest call in NBA history. And it was the right one. Detroit ended up winning in five games.
2. Game 7, 1957 Finals:
This was Boston's first championship of the Russell Era, a double-OT victory in the Garden over the St. Louis Hawks. Can you imagine a title being decided in double overtime? I can't even fathom this. Anyway, the Hawks were down by two with two seconds left and were taking the ball out from underneath Boston's basket. So St. Louis player-coach Alex Hannum diagrammed the following play: OK, Bob (Pettit), you stand at the other free throw line. I'm going to throw the ball the length of the court and bounce it off our backboard on a line. You catch the ricochet rebound and make a 12-foot jumper. Well, Hannum throws the ball 90 feet, it hits the backboard and goes right to Pettit at the foul line ... and he misses the jumper! That's how the game ended! How could you have a greater ending than that?
1. Game 7, 1988 Finals:
The Pistons were down by four with 10 seconds left until Laimbeer made a three. The Lakers quickly inbounded it to Magic, who found a wide-open AC Green with a football pass for a layup with two seconds to go (putting the Lakers up by three). If you watch the tape, not only do the fans start to charge the court, but the entire Lakers bench edges onto the court by 5-6 feet starting to celebrate (guaranteed technical, right?). The Pistons still had a chance to tie the game! Amidst this chaos, Laimbeer threw a halfcourt pass to Isiah, who was body blocked by Magic and knocked down as he was trying to launch a 3. No call. Crowd charges the court. Ball game. Fishiest ending in the history of the league.
(I swear, I'm probably the only non-Pistons fan who even remembers this.)
Bill Simmons is a columnist for Page 2 and ESPN The Magazine. His Sports Guy's World site is updated every day Monday through Friday.