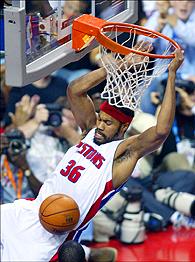 Without 'Sheed, his technicals and his championship betls there wouldn't be many reasons to watch the Pistons.
• Speaking of 'Sheed, I'd like to thank him for helping me realize a lifelong dream: Seeing players on a defending NBA champion carrying around championship belts like pro wrestlers. And since I need a new cause, I'm making it my mission to convince sports TV execs that music has actually been released since 1985. You may remember my starting this crusade back in the 2004 ALCS when Fox kicked off Game 1 with Billy Squier's "Rock Me Tonight," which came out a good 20 years ago. And ever since then, I've been noticing how nobody can ever kick off a telecast with a recent song. For instance, during the Suns-Spurs series, ESPN actually dragged out Phil Collins' "In The Air Tonight" as the running background music for the opener and commercial breaks in Game 3. Are you kidding me? You could almost picture them breaking out of the final production meeting right before the game:
– Some 22-year-old intern: "Wait, wait, did we pick a song for the game?"
– Middle-aged boss (heading to another meeting): "Oh, crap, I almost forgot … um … just use that Phil Collins song again, the one from Miami Vice."
– Intern (as boss is rushing off): "Didn't we already use that one?"
– Boss (shouting over his shoulder): "Who cares, just use it again!"
Anyway, I'm making it a personal crusade – there have been plenty of songs (both new and old) that would work for those opening sequences. If you wanted something more upbeat and current, "Time Is Running Out" (Muse), "Sweet Harmony" (The Beloved), "Honest Mistake" (The Bravery), "Take Me Out" (Franz Ferdinand), "Extreme Ways" (Moby) and "Y Control" (Yeah Yeah Yeahs) would all work. If you wanted something slower that could generate some goose bumps, go with "Clocks" (Coldplay) or "Last Goodbye" (Jeff Buckley), or even go way back for "Smalltown Boy" (Bronski Beat), "Reptile" (The Church) or "The Killing Moon" (Echo and the Bunnymen). If you want a prolonged instrumental with a kick, use the second half of "Uncertain Smile" by The The. If you want a less-known '80s song out of the "In the Air Tonight" mold, go with "Don't Give Up" by Peter Gabriel. And those are just the ones I that popped in my head in the last five minutes.
Here's the point: Music has been released in the last 20 years. I know it's impossible to believe. So just for the hell of it, give me Muse heading into one of these games. I don't ask for much.
(By the way, if I was in charge of ABC, I would hire Jimmy Fallon and Justin Timberlake to reenact their "Barry Gibb Show" skit from SNL, have them dress like the Bee Gees and then reconfigure the words to "Nights on Broadway" for the NBA Finals pregame show. Livin' it up … in the NBA Finals … talking 'bout deee-fense … talking 'bout shot selection at crunch time … yeahhhhhh livin' it up." Was that the most underrated sketch of this decade or am I crazy?)
• Really good e-mail from Ann Arbor reader Kyle O'Neill: "If this Pistons/Heat series has taught us anything, it's that we need an MJ clause in the media. There needs to be a limit on who has reached MJ potential. Young guns can have Jordan-esque performances. Guys who have had three consecutive seasons of dominance can have MJ potential. A decade will make a player Jordan-like. Seven championships and a failed attempt at the MLS will make you the new Jordan."