Single page view
By Bill Simmons
Page 2
Before you throw yourself into Tuesday night's NBA draft, let's take a quick trip down memory lane. For the past eight years (1997-2004), I have been keeping a running diary of the draft while watching it with my father (except for 2003, when the diary carried on without him). So here's a look back at my favorite 60 moments from that stretch, presented in reverse order from 60th to first:
No. 60
2003: After the Clippers take Chris Kaman at No. 6, we find out that Kaman's dad is named "Leroy," earning Leroy Kaman an immediate entry onto the Reggie Cleveland All-Stars with Khalil Greene, Grady Little, Jarrod Washburn, Darius Songaila, Marcus Giles and Lew Ford.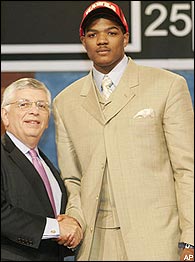 Ladies ... J-Smoove is in the building.
No. 59
2004: The Hawks take high schooler Josh Smith as Jay Bilas rips the pick to shreds. "If you had to pick which guy was most likely to be a bust in the first round, it would be this guy," he said. "He has no right hand, and he can't shoot." That's followed by poor Smith having to defend himself to Stu Scott, capped off by a phenomenal exchange:
–
Stu
: "Your nickname is J-Smoove – would you like to smoothly toss it back to Mike [Tirico] now?" –
Josh Smith (monotone, deer in the headlights)
: "Hey, Mike, back to you."
No. 58
2002: Mike Fratello interviews Jerry West (starting to look disturbingly like Renée Zellweger). "You were 27th in rebound percentage, 27th in scoring, so you solved some of those problems, but you're also a very poor shooting team," Fratello tells West. Other than that, the Grizzlies were right back in the hunt.
No. 57
1998: With the third pick, Denver passes up Pierce, Nowitzki, Carter and Jamison to take Raef LaFrentz. If that weren't tough enough for Nuggets fans, TNT guest analyst Rick Majerus promptly compares LaFrentz to Adam Keefe – and means it as a compliment. You didn't see that quote in the 1998-99 Nuggets media guide.
No. 56
2002: The Clips select Maryland's Chris Wilcox at No. 7, who's wearing a Snoop Dogg-esque black pinstriped suit and a big smile. Kenny Smith calls him "the reincarnation of Antonio McDyess." Hubie Brown notes that his "work ethic has to improve," yet mentions his considerable upside. Maryland coach Gary Williams (via video) one-ups Hubie, complimenting Wilcox's "topside." Dad wonders, "Wait a second, don't they already have Elton Brand?" And Charles Barkley says, "They either took that pick for somebody else, or they're stupid." That pick ran the gamut of emotions.
No. 55
2000: Commissioner Stern announces the first-ever All-Stiff Draft Night Trade: Houston deals Joel Przybilla to Milwaukee for Jason Collier and a future No. 1. This trade was approved by the NBA's official coroner, Dr. Sam Quincy.
No. 54
1998: After Detroit takes Bonzi Wells at No. 11, we see Bonzi surrounded in the Green Room by family members in white fedoras, all looking like extras in a Notorious B.I.G. video. Tremendous "posse coordination" at such an early age. One year later, Baron Davis tops him after getting taken by Charlotte at No. 3 – already wearing a white gangtsa suit from the Kenny Smith Collection, he adds Charlotte's teal hat for the retro "Miami Vice" look. Snazzy combo.