Single page view
By Bill Simmons
Page 2
I know, I know – it's another NBA column. But we couldn't allow the offseason to start July 1 without an emergency edition of America's favorite annual column gimmick, "Which NBA player has the highest trade value?" Hold onto your seats – I'm holding you hostage for 4,400 words and roughly 48 separate paginated screens.
A quick recap of the rules: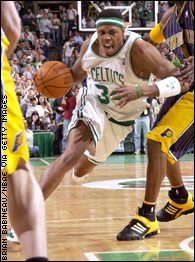 The rumblings are getting louder that Paul has worn out his welcome in Boston.
A. Salaries matter. Would you rather pay Chris Bosh $9.7 million for the next three years or Paul Pierce $47 million for the next three?
B. Age matters. Would you rather have Ray Allen for the next five seasons or Andrei Kirilenko for the next 12?
C. Pretend the league passed the following rule: For 24 hours, any player can be traded straight up for any other player without cap ramifications. So if Team A tells Team B, "We'll trade you Player X for Player Y straight up," would Team B make the deal or not?
D. Concentrate on degrees. For instance, neither the Rockets nor Suns would pull the trigger on an Amare-Yao trade. But at the very least, the Rockets say, "Wow, Amare's available?" while the Suns would say, "There's no way we're trading Amare." That counts in the big scheme of things.
E. Make the list in reverse order (Nos. 40 to 1). So if Carmelo Anthony comes in at No. 19, players 1 through 19 are all players about whom Denver would probably say, "We hate giving up 'Melo, but there's no way we can pass up that deal." And they wouldn't trade him for any player listed between Nos. 19 and 40.
Before we continue, let's bid adieu to the following players from last year's Top 40 who couldn't crack this year's list for the following reasons: Lamar Odom (No. 22 last year) had a "Maybe I should just fail another drug test so I don't have to play with Kobe anymore" look on his face from January on … Peja Stojakovic (31) has been exposed in the Post-Divac/Webber Era as someone who can't make his teammates better or create his own shot, as well as someone who may or may not have a pulse … Nene (37) might need to go back to using his last name … Carlos Boozer (38) had a promising career derailed by bad judgment (leaving LeBron) and suffocatingly bad karma (from stabbing a benevolent blind millionaire in the back) … and Joe Dumars has definitely passed the "If I trade him now, everyone will know I screwed up" point with Darko Milicic (40).
The toughest omissions from this year's list:
Mike Bibby (No. 29 last year) – I can't get over that Defcon 2 Stinkbomb in the Seattle series (when he made Luke Ridnour look like Bob Cousy). He also has four years and $51 million remaining on his bloated contract, which was apparently consummated at 4 a.m. after the Maloofs spent the night at Rain doing body shots off Tara Reid.
(But would you trade Bibby and Peja for Kobe? Hmmmmmm.)
Michael Redd (26) – Quality guy, great shooter, perfect third banana on a good team … but he lost trade value luster because he's eligible for a big-money extension this summer. At $3 million a year? Love him. At $12 million a year? Ugh.