Steve Francis (22) – Seems like his actual value (undersized shooting guard, head case and coach-killer) finally surpassed his perceived value (franchise guy). In a related story, you can download John Weisbrod's resume as a PDF file at the end of this column.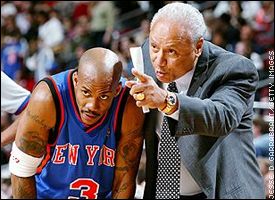 Steph still leads the league in most diamonds per bling ... so he has that going for him.
Stephon Marbury (20) – Partly because he's the three-time MVP of the "When he's your best player, you better start thinking about who's representing you at the lottery drawing" team, partly because anything's possible with Isiah as the GM. Hey, that reminds me – do you think Phoenix's brain trust was sitting around when the following exchange happened:
–GM Bryan Colangelo: "God, Q sucked in that Spurs series, we gotta get rid of him."
–Coach Mike D'Antoni: "Come on, nobody wants a guy with a bad back who chokes in big spots?"
–Colangelo: "Just for the hell of it, should I call Isiah and see if we get Kurt Thomas for Q and a No. 1?"
(Colangelo and D'Antoni laugh hysterically for five seconds. Then they stop laughing.)
–Colangelo (grabbing phone): "You call his office, I'll call his cell!"
Baron Davis (19) – Only because the Hornets had a fire sale for him last February and the best they could do was "Speedy Claxton, Dale Davis, cash considerations and a $200 Starbucks gift card."
Jason Kidd (14) – Five years and a staggering $75 million remaining on his contract; hasn't been healthy in two years; clearly lost a step from microfracture surgery (especially on defense); turns 33 next March; plays on a team with two younger players making the max (Jefferson and Carter). Couldn't you see him getting moved to a Western contender this summer? And what would happen if he was traded to Dallas, where Devin Harris was seen wearing J-Kidd's Mavs throwback on Spike TV's "The Rookies" two weeks ago? Would Harris keep wearing the jersey? Would this turn into a "Single White Female"-type thing? Should he really wear a throwback of a guy who's still in the league? Can we get a ruling on this?
Eddy Curry – Knocked off only because of the irregular heartbeat fiasco. And you might think I'm making a "well, the good thing is, at least we finally know he has a heart" joke, but Curry was downright unstoppable at times last season. And I never thought I would use the words "Eddy Curry" and "unstoppable" unless a buffet table was involved.
Shaun Livingston – A prediction: He'll crack the top 20 on next year's list.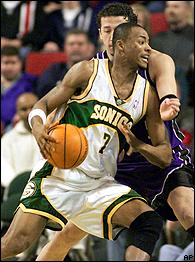 Any team worth it's salt would show the Lewis-Sager interview EVERY time he stepped into their building.
Luol Deng – He'll make next year's list as well. By the way, I want to know how Colangelo won Executive of the Year when he parleyed Deng's rights (No. 7 overall in 2004) to Chicago for their 2005 pick (No. 21 overall). Even Rob Babcock at his absolute apex wouldn't have traded down 14 spots without getting anything else back. All right, maybe that's not true.
Rashard Lewis – It's never a good sign when your team starts playing better in the playoffs because you traded in your uniform for a four-piece suit.
Rasheed Wallace – The toughest omission on this year's list. And yes, I still feel cheated that we never saw 'Sheed hand his championship belt to Duncan last week and pull the "you're all right, LaRusso, you're all right" routine.