Important note: This column is extremely long, even for a Simmons column. Do yourself a favor and print it out, then read it when you have 20 minutes to kill. And if you planned on reading it in the bathroom, please know that ESPN.com is not responsible for any hemorrhoids that happened because you sat on the bowl too long. On to the column ...
LAS VEGAS -- Remember those parties in college when a drunk guy inadvertently kicked over the host's bong and spilled bong water onto the rug, only he never cleaned up the resulting mess, so the skunky water festered while the host of the party was passed out? And then, the following morning, the host awakened to a room that smelled like a cross between a stale bong and the seventh circle of hell?
That's what downtown Las Vegas smelled like on Sunday night. After four nights of what will eventually be remembered as the Hip-Hop Woodstock, the atrociously sloppy NBA All-Star Game made complete sense. You can't blame the groggy players for shattering the record of "Most Botched Alley-Oop Passes in a Single Exhibition Game." They were still battling a severe retroactive contact high. Hell, I'm battling it right now. The original text of the previous sentence looked like this: "Wrhrhrh jdkdlehj fgfjslelfhfhf sgfhgfkdldhjsd fjg agshshsk ahdjdkdksh Contact High."
What a strange weekend. There was gambling and partying and Vegas and basketball -- four of my favorite things -- with a fashion convention and Chinese New Year happening as well, which meant Vegas was throwing three blockbuster weekends at once. There were so many big-time celebrities in town, a rumored Michael Jackson cameo came and went without a single shrug. So many parties happened that it was impossible to keep track of everything. Unfortunately, the stifling gridlock made it impossible to hit multiple events in one night unless you could afford a limo or helicopter (or were robbing someone who could afford a limo or helicopter). So many gangbangers and troublemakers flooded the Strip that late-night gamblers willingly chose 75-minute cab lines over a 15-minute walk to their next casino. So many wild stories floated around about shootings, robberies and everything else that we never knew what to believe; still, every tale seemed reasonable because there were no cops to be seen. On Saturday night, one of my friends even joked that the city might have to declare martial law, only none of us laughed because we didn't realize he was joking.
I'm telling you, this was a f***ing free-for-all. This was every man for himself. This was Hunter S. Thompson's dream sports weekend. This was Vegas on steroids. This was Vegas' impression of Barry Bonds during spring training in 1998, only if he reeked like stale bong water. And now that it's over, I'm relieved that we finished the weekend without a single riot, that I made it home alive, that I'm still married, that I still have my wallet, that I spent 15 hours playing blackjack in each of four consecutive days and escaped dead-even, that I'm coherent enough to write with the stale smell of weed still trapped in my nostril hairs and my body battling the effects of 72 hours without a single REM cycle. Say what you want about the Hip-Hop Woodstock, but it was definitely memorable. Then again, so is an appendectomy.
Without further ado, let's break out the thumbs for the weekend: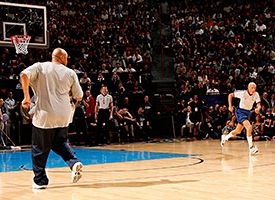 Nathaniel S. Butler/NBAE/Getty Images
Let's just hope Barkley didn't put down $10,000 on Bavetta to win.
To the weekend's greatest moment: The foot race between Charles Barkley and Dick Bavetta. When the race was about to begin, you could feel a legitimate buzz in the arena -- and no, I'm not kidding -- that mirrored the energy right before a championship boxing match. Even the payoff was good, with Barkley building a big lead, then nearly screwing up by racing the last 50 feet backward and barely edging a diving Bavetta ... and after the race, a heaving Charles couldn't even catch his breath for an interview. The whole thing killed me from start to finish, although it's probably not a good reflection of All-Star weekend that a race between a 67-year-old referee and a 43-year-old, 325-pound ex-player was the enduring athletic memory.
To the Thomas & Mack Center, a good college gym but no match for a weekend like this. We knew this going in, so it wasn't exactly a surprise, but seriously ... how could Vegas not have a state-of-the-art indoor arena? Here's a city that's been throwing up multibillion-dollar casinos and mall/condo projects for the past 15 years like Starbucks franchises, and it can't scrape together $300 million-$400 million to build a real arena along the Strip?
Let's examine this rationally. There's no way the NBA will expand past 30 teams; if anything, it's more likely it would shift the other way and contract a couple of teams. Vegas' only chance to land a team is to pull all of that team's games off the sports books (an easy concession), convince David Stern that it's actually 100 times easier to fix a game with illegal online wagering than through Vegas casinos (where they're diligent about any suspicious action), and build a kick-ass arena for any team that might ditch its current city (as Oklahoma City proved, you never know when an NBA team might come calling). So where's the arena? What's the holdup? Not a single person was able to explain this to me all weekend.
To Wayne Newton's face. Did you see him singing "Viva Las Vegas" before the All-Star Game? He's had more work done than the Aladdin casino; I couldn't tell if it was him or Tyne Daly. More importantly, what was more shocking -- that Newton got the cleanup spot in the pregame show or that there were no alternatives other than Tom Jones? Why hasn't America produced a big-time, schmaltzy, over-the-top male crooner in the past 40 years? Once Newton and Jones pass away, who's left to carry the torch? Clay Aiken? Somebody needs to get Harry Connick Jr. on the phone, pump him with some Botox, give him some sparkly jumpsuits and showgirls and tell him to get a Vegas act together. We need him.
To the Red Bull and vodka drink, which needs to be outlawed for everyone's safety. If you drink more than four of them, smoke a couple of butts and stay out too late, there's a 100 percent chance you'll sleep for about 3½ hours and wake up terrified because your heart is tap-dancing like one of the Hines brothers in your chest, complete with the requisite, "Good God, I think I'm going into cardiac arrest, this is what happened to Len Bias!" moment. Bad times. I'm predicting the first-ever celebrity heart attack from an overdose of Red Bull and vodka and cigarettes within the next two years.
For one of the most likable/personable Slam Dunk Contests in recent memory. Loved Shaq, Wade and others sitting near the hoop dressed like 1930s gangsters. Loved Ty Thomas with the perpetual "You're paying me in cash, right?" sneer on his face. Loved Dwight Howard's incredible Sticker Dunk, which definitely should have been explained to the crowd beforehand because we would have gone bonkers. Loved the look on MJ's face when he was introduced to the crowd as a judge -- he had the same glazed look on his face that Mickey Mantle had for the entire '70s. Loved the tough scoring from the judges, as well as Paul Pierce's constant lobbying for teammate Gerald Green. Loved the spirit of the sequence with Nate Robinson and the cardboard cutout, capped off by Green vaulting him for an awesome jam. Loved Nate re-enacting last year's "Tin Cup" routine and nailing an impossible reverse jam on the last try. And most of all, I loved Green's final dunk over the table, which brought the house down and doubled as Boston's first moral victory of the 2006-07 season, leading to this exchange: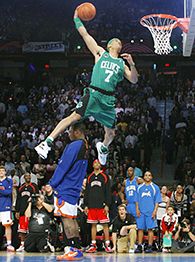 Mark J. Terrill
Hey, it's the best moment of the season for the Celtics!
--Sully (one of my buddies who works for the Celtics): "We finally won something! We finally won something!"
--Me: "Did you ever think you'd be working for the Celtics and screaming, 'We finally won something!' after a Slam Dunk Contest?"
--Sully (after shaking his head): "What day is the lottery drawing again?"
Not a single Charles Oakley sighting all weekend. What a bummer.
To Al Harrington, who pooh-poohed Vegas' future as an NBA team by warning everyone before last weekend, "The biggest thing about Vegas is that there's no police. ... I lived out there for two months this summer and I probably saw one cop car, so it's a free-for-all. ... If people want to come in and start trouble, they've got a free pass because the only security or police is in the casinos. Anything outside, do whatever you want."
I read that quote and thought to myself, "Wait, he's right, when do you ever see cops outside the casinos in Vegas?" Then I made a mental note to keep track during the weekend. Shockingly, Harrington was a prophet. There were barely any cops along the Strip, even though tens of thousands of people were walking around at all hours, even though there were tons of legitimately sketchy people cruising around who seemed to be sizing everyone up and didn't seem to be heading in any specific direction (reminiscent of the shady guys who walk around during Mardi Gras looking everyone over), even though cab lines and gridlock were forcing everyone to walk more than they expected to walk. Again, this was a free-for-all: Walk around at your own risk.
After initial reports that the weekend was relatively quiet, more and more information about shootings, arrests and brawls keeps trickling out. (Check out this story on Channel 8's Web site that carries the headline, "Violence Erupts During All-Star Weekend," or another story on the same Web site about the poor behavior of some of the NBA "fans"). I know for a fact that the Strip was closed twice on Friday night because of shooting incidents (saw it myself), that there was a 20-person brawl outside the Mirage's cab line at 5 a.m. that same night (my friend Marty saw it), that paramedics were covering up something that looked to be a corpse in front of the MGM Grand on Saturday morning (Sully saw it), and that I threw myself into the spirit of the weekend and shot somebody outside of Treasure Island because they were wearing a Yankees cap (fortunately, no witnesses). Who knows what else happened? Was it in Vegas' best interest to report every unflattering crime or brawl that happened? Probably not.
Here's the lingering question: Since Vegas' ultimate goal was to win everyone over and prove its worth as an NBA city, and since All-Star Weekend has previously proven itself as a destination spot for every gangbanger and troublemaker within a 750-mile radius, why not import extra policemen and National Guardsmen like New Orleans did before Super Bowl XXXVI, just to make sure everyone felt totally safe? Why would they want visitors saying stuff like "I don't care how long this cab line is, there's no way I'm walking the Strip" and "I wonder if we'll have the biggest riot in the history of sports this weekend?" In my opinion, Vegas dodged a major bullet this weekend. No pun intended.
To Tim Hardaway, who committed career suicide and earned a spot in the "Surreal Life: The Bigots!" house with Michael Richards, John Rocker and Isaiah Washington, then had the gall to pull the old "I didn't mean it" routine three days later. Not only were gay people insulted, not only was anyone with an IQ over 75 insulted, not only did this triple the odds for a second John Amaechi book, not only did every columnist write the same anti-Hardaway column for three straight days, but nobody's talking about the real victims here -- anyone who ever splurged for $300 on Hardaway's throwback Warriors jersey. Might as well set that thing on fire.
To the NBA for graciously allowing me to tag along with the Commish at the NBA Jam Session on Thursday afternoon. (Note: I use the word "graciously" because I joked after the new ball fiasco and the Melo suspension that Stern was pulled over by police for being "drunk with power." Either he didn't know about this or he still hasn't decided if he's going to have me killed. We'll soon find out.) Thanks to the unconscionable amount of time it took to get my news credentials at the MGM Grand -- which, by the way, is the same size as downtown Boston at this point -- I didn't have time to scoot back to my hotel and change. I'd have to hang out with Stern in a hooded sweatshirt, sneakers and jeans. So when Stern finished a press conference, spotted me waiting for him and gave me the up-and-down, I knew the sarcastic barb was coming about an hour before he made it: "Thanks for dressing up!"
We chatted for a little bit and headed over to the NBA Pro Shop, where the Commish walked around, inspected the merchandise, posed for photographs and signed autographs while I stood there wondering if, now that Rodney Dangerfield is dead, Stern has become the most popular Jewish senior citizen on the planet. As it turns out, he's currently ranked third behind Harrison Ford and Paul Newman. (All stats courtesy of the Elias Sports Bureau.) Anyway, he finished up there and we walked across the Jam Center discussing Vegas' future as an NBA city (Stern seemed less than enthused, pointing out the city didn't even have an arena yet), his ridiculously packed schedule for the next few days (he didn't foresee sleeping that much, which wasn't a big deal to him because he doesn't require a ton of sleep) and the mildly rejuvenated Knicks (he seemed more relieved than anything), eventually leading to the following exchange:
--Me: Look, we need to talk about something ... I need you to fix the lottery for the Celts like you did for the Knicks that time.
--Stern (grimacing, trying not to laugh): Stop it, just stop it.
--Me: No, seriously, we need Oden or Durant -- can't you freeze a ping-pong ball for us or something?
--Stern (shaking his head, waving at me in disgust): Come on ... just stop it ...
(Note: I'm almost positive he thought this was funny. I'll let you know for sure in four days. You know, assuming he hasn't had me killed. One more thing -- following Stern around was an NBA employee whose sole job was to carry Stern's four-day schedule around and make sure the Commish hit everything on time. Everything was mapped down out to the minute. The binder was about 20-25 pages long; they showed it to me for a split second before pulling it away and clubbing me over the head so I would forget its contents. Now I'm wondering why they don't put that thing for sale on eBay after every All-Star Weekend. Wouldn't you enjoy glancing through that thing hoping for entries like, "Friday, 3:00: Grit teeth, meet with Mark Cuban about the 2009 All-Star Game while fighting off the urge to stab him with a ball point pen"?)
To LeBron James, who coasted through the Skills Challenge on All-Star Saturday and played the All-Star Game with the uplifting, charismatic intensity of a female porn star trying to break one of those "most male partners in one afternoon" records. Could we end up putting him in the "Too Much, Too Soon" Pantheon some day? Will he become the basketball version of Eddie Murphy, Britney Spears, Michael Jackson and every other celeb who became famous too quickly and eventually burned out?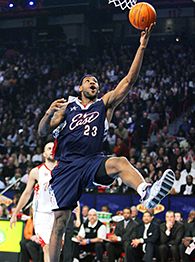 Mark J. Terrill
Before he becomes a global icon, maybe LeBron should work a little harder on his game.
Here's what I know. I had four conversations with connected NBA people over the weekend that centered around the same themes: LeBron isn't playing nearly as hard as he did last season; it looks like his only goal right now is to get his coach fired; he's regressing as a basketball player (especially his passing skills and his shot selection); he made a huge mistake firing his agent and turning his career over to his buddies back home (all of whom are in over their heads); he was a much bigger problem during the Olympics than anyone realized; he doesn't seem to be enjoying himself anymore; he has an overrated sense of his own worth and his own impact in the sports world (as witnessed by the ESPN interview last week when he answered the "What are your goals?" question with two words: "Global icon"); he's been protected by magazine fluff pieces and buddy-buddy TV interviews for far too long; he doesn't have the same relentless drive to keep dominating everyone like Wade and Kobe have; and basically, we're much closer to LeBron re-enacting the career arc of Martina Hingis, Eric Lindros and Junior Griffey than anyone realizes. This will evolve into THE dominant NBA story of the next two months. You watch.
To Magic Johnson, who finally got the memo that he's one of the five greatest players of all time and shouldn't be crammed in some throwback uniform disgracing himself in a half-assed shooting contest on All-Star Saturday.
For three social trends that I noticed in Miami (for the Super Bowl) and Vegas last weekend:
1. A surprising number of people wear sunglasses at all times, even inside clubs so dark that people can barely see even if they're NOT wearing sunglasses. I can't figure this out. Maybe Jim McMahon was more ahead of his time than we realized.
2. Instead of playing full songs, clubs now play one-minute samples of songs and barrage you with choruses. I like this trend because you never know what's coming next, although it's depressing that our attention spans have been whittled down to the degree that clubs feel obligated to change songs every 60 seconds. Whatever.
3. Remember when Britney and Christina Aguilera ushered in the Let's Dress Like Hookers Era, and attractive women across America stopped wearing bras -- and eventually, underwear -- followed by every married guy over 30 kicking themselves that they sowed their oats in the Let's Wear Baggy Sweaters, Eat & Be Scared of AIDS Era? Well, like with all great eras, there's been a massive backlash. Now women of all shapes and sizes wear clothes they shouldn't be wearing, which means you're about 100,000 times more likely to see saggy butt cheeks, exposed pot bellies, flabby arms and love handles than you were in 2001. It's legitimately, unequivocally horrifying -- a full-fledged onslaught against every man's libido. Now I'm thinking that women should have to apply to dress like a hooker, then be forced to renew that license every two years like it's a driver's license. Let's protect the country from itself. On the bright side, now that every female in Vegas dresses like a hooker, it's impossible to tell the real hookers from the fake ones, which means we'll probably have a Vegas-themed game show called "Hooker or Looker" some day.
To the MVP of Friday night's Celebrity Game ... none other than my Go-Kart nemesis, Tony Potts! I'll give this a "thumbs up" just for comedy's sake. Do you think he advised Jamie Kennedy before the game, "Look, if you're going for a rebound and you feel a nudge against your back, it's either me, (Michael Clarke) Duncan or Bow Wow. Just get out of the way and give us the rebound or we'll push you right out of there."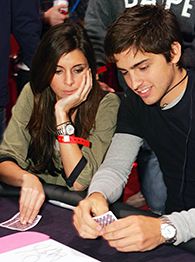 Jordan Strauss/Wireimage.com
It's the newest addition to the Sneaky Hot Hall of Fame.
For my worst decision of the weekend: Agreeing to play in the Vitamin Water Celebrity Poker Tournament on Saturday afternoon. (Just to be clear, I get invited to these things because the PR people running the events hope I might write about them, not because I'm actually a celebrity.) I left that morning dressed in casual clothes, couldn't get back to my hotel in time to change, headed over to the MGM Grand for the tournament (it started at 2 p.m.), then waited with everyone else since the gridlock meant half the celebs didn't arrive until the 3 or so. On the bright side, Eva Longoria (genuinely attractive) and Ellen Pompeo (surprisingly pretty) were playing, as well as Meadow Soprano (we'll get to her in a second), and if that wasn't enough, I witnessed a three-stage, 25-piece handshake/hug between 50 Cent and Shawn Marion that legitimately could have been pay-per-viewed. So that made the tournament worth it. The event kicked off late, forcing us to bump the blinds up quickly and leading me to go all-in pre-flop with a pair of aces ... and, of course, I lost to somebody who went all-in with a pair of 2s. This is why I don't play poker anymore.
The real problem: This thing ended so late that I couldn't make it back to change before All-Star Saturday. Eventually leading to ...
(Way, way, way down) This goes to Pure, the nightclub in Caesar's that had at least 3,000 people waiting in line on Saturday night, including enough groupies and floozies that we dubbed the crowd "Bimbopalooza 2007." After a late dinner on Saturday night, my Boston buddies parlayed a connection into a table that was waiting on the roof deck -- almost like getting front-row seats on the Green Monster during a Red Sox playoff game -- so we were in the process of jumping the line when the bouncer stopped me with two words: "No sneakers." As it turned out, I violated Pure's dress code with my Pumas, but it was perfectly acceptable for any woman to show up there with a paper-thin cocktail dress barely covering their butt cheeks, no underwear, and their babymaker hanging out and facing the ground. This was OK. My tennis shoes were not OK. You figure it out.
Now I needed to trek back to the Wynn to change -- a near-impossibility because of the traffic and 75-minute cab line -- leaving me with a 25-minute walk down the same stretch of the Strip where there had been a gunfight the previous night during the exact same time. (Gulp.) Undaunted, I stormed off and tore down the Strip, reaching my destination within 20 minutes and only feeling scared 347 times. As I headed up to my room to change, I had an epiphany. Wait, I don't have to make that walk again. I can just stay here and gamble. Which was exactly what happened. So what if I missed a fantastic night at Pure that featured approximately 700 funny stories (none of which can be printed here)? I got to play blackjack with some complete strangers!
By the way, the club/party scene in Vegas unfolded in one of two ways:
Clubs: Tough to get in without a connection, wildly expensive if you wanted to sit at a reserved table. For instance, Pure charged $1,000 for a reserved table and another $500 for every bottle ordered (vodka, whiskey, whatever). Now I hate Spencer from the "Hills" even more than I already did. How can anyone afford to party like this on an everyday basis?
Parties: Always at a "happening" nightclub with one or two major NBA stars or celebs "hosting." You show up and there's a dance floor, a bunch of reserved tables, multiple bars serving free drinks, waitresses walking around passing appetizers, a few C-list celebs milling about and hip-hop music blaring. Every 20 minutes, you hear that "Milkshake" song again. At some point in the evening, a legitimate star (like Shaq, Diddy, LeBron or whomever) shows up with a bloated entourage and walks through the party while everyone stares at them, eventually sitting down at their reserved table and staying for about 15 minutes ... and then they leave, but it's OK because we all attended the party that featured Famous Person X. Lather, rinse, repeat. At least the drinks are free.
(One fun exception here: At the ESPN party at Tryst, we were all hanging out when they started blasting that "Milkshake" song again, only it sounded slightly different, and we looked up and realized that Kelis was standing on a makeshift stage singing "Milkshake" about 40 feet away from us. My milkshake brings all the boys to the yard, and they're like, "it's better than ours," damn right, it's better than yours, I can teach you, but I have to charge ... Wasn't that originally a Barbra Streisand song? Anyway, I think that was my favorite random moment of the weekend that didn't involve narrowly averting getting shot outside of Treasure Island.)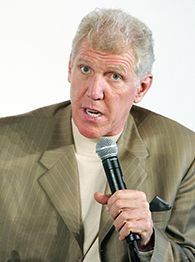 Jesse Grant/Wireimage.com
Simmons and Walton talking about the '86 Celtics? And Bill found time for anything else on the weekend?
To the most underrated party of the weekend: The dinner reception for the Tech Summit, held Thursday night at Bellagio. In a three-hour span, I pretty much forced Bill Walton to regale me with stories about the '86 Celtics and the Basketball Jesus; successfully pulled off the handshake/hug maneuver with Mike Wilbon; asked Ernie Grunfeld why the producers of "Fast Break" chose Bernard King over him for the role of "Hustler"; congratulated Bryan Colangelo on the Bargnani era and admitted that I was dead wrong about the Bargnani-vs.-Morrison debate (not that he cared -- he had no clue who I was); discussed my plan (to be revealed soon) to revolutionize NBA stats with Rockets assistant GM Daryl Morey and the guys from STATS Inc.; tried to rope Morey, Colangelo and Grunfeld into making a three-way trade (they were horrified by me at this point); had Stern give me his second "thanks for dressing up" barb of the day (this time, I was actually dressed up); and discussed with Adam Silver (the league's new assistant commish and the first Duke grad that I've ever liked) my plan for a reality show in which he's coached by various stand-up comics and professional speakers as he prepares to moderate the second round of the 2007 NBA Draft (I don't think he's in).
Now that's a fun party. And we didn't hear the "Milkshake" song once.
Although I loved the spirit behind the Tech Summit, and the entire premise was pleasurable -- panel after panel of heavy hitters discussing various technological topics as they relate to the NBA in front of a crowd of mostly hungover, semi-heavy hitters who were furious they didn't have enough juice to get on the panel -- I couldn't get past one thing: In two of the panels, WNBA players Lisa Leslie and Ruth Riley were planted in the crowd, then stood up and asked a rehearsed question. I mean, seriously, will they ever stop shoving the WNBA down our throats? I can't even get away from this league at the freaking Tech Summit?
(One other wrinkle that morning: I was brought into a special room, handed some 3D glasses and had to watch a couple minutes of an old Suns-Lakers playoff game in 3D/HDTV. I've never been more freaked out by a sporting event in my life -- it was cool, it was insane, it was surreal and, after about two minutes, I thought I was going cross-eyed. I'm extremely intrigued to see what happens if the kinks are worked out for this one. Also, I'm disappointed they chose not to show the Artest Brawl; watching Ron-Ron charge into the stands in 3D would have made me lose control of my bowels. Maybe next year.)
To five random Vegas-related anecdotes I heard this weekend:
1. A friend of a friend went to a bachelor party at a Venetian suite that featured strippers, including one who had a Nextel phone with a credit card swipe on it ... $50 per lap dance, every credit card was acceptable.
2. On Saturday morning, there was bumper-to-bumper traffic and a friend noticed a driver passed out in his car. When the traffic started moving again, the guy was still asleep and the driver behind him had to get out, walk over to the sleeping guy's car and bang on his window to wake him up.
3. There was a line of 150-175 guys outside the Spearmint Rhino late Friday night waiting to get inside.
4. Paris (a casino on the Strip) advertised a party featuring "host Vince Carter" and a $100 per-ticket price tag on Friday night ... and not only was Vince NOT there, he didn't know about it and had no idea there was even a casino named "Paris."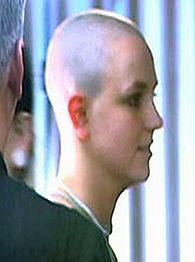 KABC-TV/AP Photo
Welcome to the Tyson Zone!
5. On Friday night, there were rumors that Britney Spears walked into a hair salon, asked a stylist to shave her head and then, when the stylist refused, she started cutting off her own hair before the stylist eventually consented to shave it. Seemed too crazy, right? Well, it was true! This actually happened! Britney Spears, welcome to the Tyson Zone! I will officially believe any rumor or story I ever hear about you until you're dead.
6. Paris Hilton's birthday party on Saturday night featured a goat, a monkey, a naked woman on a bed of glass and the Kiss midget band. I think this exact scenario appears in the scripture passage about Armageddon.
To the craziest rumor of the weekend: That rapper E-40 was shot to death on Friday night, leading to roughly 10,000 "Who the hell is E-40?" conversations between 99.9 percent of the white people in Las Vegas on Saturday night. Apparently E-40 is still alive and well. Huge relief. I don't know if we could have handled a loss like that during the Hip-Hop Woodstock.
On Sunday at noon, I had three hours to kill before meeting my friends for a drink at Caesar's and heading over to the All-Star Game. So I headed outside to get some coffee, purchased the coffee, walked back to the Wynn while drinking the coffee, and I was still trapped in a sleep-deprived, hungover, contact-high fog waiting for the coffee to wake me up, and I'm thinking to myself, "Geez, how am I gonna kill time for the next three hours?" ... And I'm debating about heading back to my room and renting a movie because I'm too fried to work on a column, and another 15 seconds passes, and I'm just ambling aimlessly around the casino, and the lightbulb still isn't going off, and it's still not going off, and then I finally had my "eureka!" moment:
Hey, wait a second ... I'm in a casino!
(These are the moments when you think to yourself, "I'm very happy that the NBA is holding All-Star Weekend in Las Vegas.")
To my dramatic blackjack comeback that same day. Facing a $650 deficit for the weekend and getting creamed at a $25 table by an ice queen dealer named Latecia, she kept trying to put me away and I kept fighting her off, almost like how Jeter fouls off 10-11 straight 95-mph heaters to keep an at-bat alive. I lasted for an hour just fouling off pitches; meanwhile, other gamblers were coming and going in droves. Finally, she went on her 20-minute break and was spotted by a much friendlier female dealer who looked a little like Jessica Hahn. Sensing a karma change, I played two hands at a time ($50 a pop) and eventually rallied back to dead-even, an improbable comeback.
When Latecia returned from her break and noticed my pile of chips, I could see her wheels turning: I thought I broke this guy. Desperate to change the momentum, she even gave me the old, "Look at you!" line to reverse-jinx me, but I wasn't fazed -- not only did I scale back to one hand, I planned on leaving at the first sign of trouble. So I treaded water for a few minutes (even getting a blackjack) before the moment of truth: I doubled on 11 against a 6 and got a 21, she dealt herself a 21 for the push, and just as she was pretending to be disappointed, I announced, "I'm cashing in" and pushed my chips to the middle of the table. So she gave me my change (a $500 chip, a $100 chip, a $25 chip and a $5 red) and wished me luck, and as I was walking away, I dropped the old "this is for you" line on her and disdainfully tossed a five-dollar chip on the table.
I swear, I thought she was going to start screaming, "You can take your five-dollar chip and shove it up your butt! Come back to the table, you wuss! Come back right now! I WILL RUIN YOU!" Instead, she thanked me and probably eviscerated the next 300 people who sat down at her table. It's not often that you get to turn the tables on a legitimate closer in Vegas -- this was like taking Rivera deep in the ninth. I just wish I had a witness who spoke English.
To the opening event of All-Star Saturday, that train-wreck event in which a current NBA player, a WNBA player and a former player from the same city have to make jumpers, 3-pointers and half-court shots in a certain amount of time. Look, this event was a solid F-minus FOUR YEARS AGO -- I even wrote about it in my All-Star review from that February. Why would the NBA keep bringing it back? Honestly, I think they're trying to drive me crazy.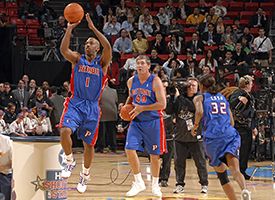 Andrew D. Bernstein/NBAE/Getty Images
This event would only be interesting if Bill Laimbeer body-slammed someone to the court.
And you know what? It's working.
I refuse to believe that a league this smart could continue to trot out an event this dumb. It's unfathomable. Michael Cooper, Bill Laimbeer, George Gervin and every WNBA player in the league could be standing outside my house right now shooting 3s and I wouldn't go out there to watch. What would make them think any ticket-paying person would be interested? You're telling me that it's not worth it to give H-O-R-S-E one chance (you can read my 2002 plea here), or adopt any of my suggestions from my 2004 "How to Fix All-Star Weekend" column (come on, like the High Dunk idea or the Half-Court Challenge wouldn't have killed?), but it's worth it to keep trotting out whatever this ongoing debacle is called? Whose decision is this? Who can we ultimately blame? The person who made the call should pull a Rumsfeld and resign on the spot -- they should not be allowed to go back to work after what was inflicted on the American public. Enough is enough. Mix it up, folks.
To the fact that NBA All-Star weekend happened in Las Vegas during the same weekend as Chinese New Year. Just remember this when 7-foot-3 Sino-American/African-American star Xin-Ling Stoudemire or Chow-Zang Arenas is drafted first in the 2028 NBA Draft.
To every hotel and casino that steadfastly refuses to carry cell phone chargers in their gift shops. You'd think it would be up there with soda, gums, cigarettes and condoms on the "we need to order this" list, right? Who doesn't forget their cell phone charger at least once a year on a business or pleasure trip? So why are they impossible to find on any trip? And yes, I forgot mine this weekend and had to play the old "turn my cell phone off until I absolutely need it" game for two days until I finally found one in a mall next to Treasure Island.
(Follow-up question here: Do you ever try to remember life before cell phones, digital cameras, Blackberries, e-mail and suitcases with those pull-handle thingies? What was it like to travel in 1985? How did we ever do it? How did we ever meet up with people? For instance, Sully spent so much time looking at his Blackberry this weekend, I asked him if he ever thought about entering Blackberry Rehab and he responded, "You're not the first person who's ever made that joke." And you wonder why I refuse to buy a Blackberry -- it's like the crystal meth of technological devices. Once you cross that line, your life is never the same.)
To myself, for deciding to drive to Vegas on Thursday morning (a ride that turned out to be 272 miles in 3 hours and 40 minutes) and coming back late Sunday night (4 hours, 5 minutes) over dealing with the quagmire known as McCarran Airport. An utter stroke of genius. That's not a bad drive as long as (A) you stick to odd hours, and (B) you're completely confident that your car won't break down at any point during the trip and leave you stranded in the desert to star in your own David Lynch movie.
To the All-Star Game for sucking big-time for the sixth straight year. In this case, you couldn't blame the players because of the overwhelming stench of weed that suffocated the entire city and turned everyone into stammering zombies. At one point, our friend Owen joked that "they seemed stoned, hungover and disinterested" and we didn't know whether he was talking about the players or the fans. But this game never had a chance once Nash and Kidd went down, which should remind everyone of the real issue here: You can't have an entertaining game without true point guards. It's impossible. For whatever reason, we continue ignore this reality. So here are my suggestions:
1. Change the All-Star ballot to five positions: Point guard, shooting guard, small forward, power forward and center. No more of this "Kobe, T-Mac, Wade and Arenas are the starting guards" crap.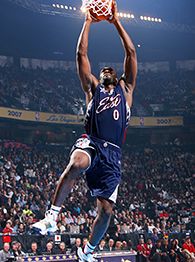 Jesse D. Garrabrant/NBAE/Getty Images
Here's Gilbert Arenas making a sweet dish -- oh, hold on, he's actually going up for a shot.
2. Kidd and Nash will always be chosen as long as they're healthy and playing at a reasonably high level. We're giving them the grandfather clause. Same for Chris Paul, who should never miss another All-Star Game unless he's trapped under something. The fourth PG spot can only be given to Deron Williams, Andre Miller or T.J. Ford, the only other true starting PGs in the league. (Sorry to break it to you, but Arenas isn't a true point guard; neither is Tony Parker; neither is Chauncey Billups; neither is Dwyane Wade. Those guys are guards that bring the ball up and run offenses. They aren't point guards. Huge difference.) If we can't get four healthy names out of the aforementioned group, then we're calling Steve Blake, Marcus Williams or Jose Calderon into duty -- maybe they're backups, but at least they're real point guards. And if we STILL can't find four guys, then John Stockton has to come out of retirement and play.
This would work. I'm telling you. And if you don't believe me, ask yourself one question if you love basketball and ever played it for a significant amount of time: Can you remember every great point guard you ever played with? I bet you can. And when you played with those guys, you knew the game was in good hands, right? Well, why couldn't that same logic apply to the All-Star Game? We have nine true point guards in the league right now (10 if you include Rajon Rondo, who's not ready for prime time yet), and incredibly, not a single one of them played in Sunday's game. Was it a coincidence that the game sucked? You tell me.
To the Hard Rock, my all-time favorite casino and the one place that never fails to disappoint me. Late Friday night, I left ESPN's party at Tryst with my friend Will and somehow we talked ourselves into a Wynn house limo (don't ask) so we could head to Caesar's ... unfortunately, there was gunfire in front of Caesar's (good times!) and the Strip was temporarily closed, so we audibled to the Hard Rock and ended up at Body English (where every white person who walked in felt like Wyatt and Gary at the jazz bar in "Weird Science"), followed by some blackjack (where I heroically rallied back from an appalling showing on Thursday night) and then Will saying, "Hey, let's go up to see my buddy Chuck, he's in the bowling alley suite."
At this point, it was 4:15 in the morning and I was reeling from the following things:
(A) Thanks to the extra oxygen pumping through every casino, I was wide awake and fairly coherent even though I had downed enough Red Bull & vodka to kill Barbaro again;
(B) We just met Meadow Soprano and she was sneaky hot (one of those celebs who's prettier in person than on TV). I'm adding her to the Sneaky Hot Hall of Fame along with Lauren Graham, Laura Linney and Diane Sawyer;
(C) Something actually existed in Vegas that was called "the bowling alley" suite.
We went up there and knocked on the door. One of Will's friends invited us in, and sure enough, there was a bowling lane to the right and three people drunkenly bowling and having a grand old time, as well as a fully stocked, full-sized bar that featured a dressed-up bartender who was acting exactly like the Wolf in "Pulp Fiction." We made eye contact and the Wolf asked if I wanted a drink. Um, sure. I'll have a Red Bull & vodka. Done and done. The Wolf made the drink, handed it to me without a word, took two steps back, leaned against the bar and went back to watching those aforementioned bowlers finish their drunken game at 4:30 in the morning.
Vegas, baby. Vegas.
Bill Simmons is a columnist for Page 2 and ESPN The Magazine. His book "Now I Can Die In Peace" is available in paperback.