If the rumors are true and Doc Rivers gets a contract extension soon, I just hope the Celtics tell the truth in the ensuing news conference. Don't feed us lines like "Thanks to Doc, our young players made major strides this season," or "We would have made the playoffs if we didn't have so many injuries." That's a load of crap. Maybe those aren't lies, but they seem like fibs along the lines of "I don't think those jeans make you look fat at all, they're just the wrong size" and "I wasn't checking her out, I thought I recognized her."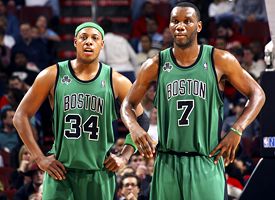 Jesse D. Garrabrant/Getty Images
How long will Jefferson and Pierce bring their A-game if the losing continues?
Hell, they might actually believe all that. Or maybe they're just giving Doc a bonus for helping Boston clinch the No. 2 spot at the May 22 lottery. Look, every Celtics fan saw what happened. We lost 18 straight games this winter without Rivers getting himself tossed from a game, kicking over a chair or bitching to reporters about lost Celtics pride. Over the past few weeks, Rivers routinely played his worst defensive players (Sebastian Telfair, Allan Ray and Gerald Green) any time we needed the opposing team to make a run. In fact, I insist that Telfair and Ray are invited when we retire the jerseys of Oden or Durant in 20 years. We couldn't have done it without them.
Am I complaining? Hell, no. You couldn't have asked for a better leader for an undercover tanking mission; this was like hiring Eddie Griffin to wreck your arch-enemy's Ferrari. So why not admit this at the news conference? And if you're not admitting it, have some fun and hand out a "Top 10 Reasons Why We're Extending Doc Rivers That Have Nothing To Do with The Fact That He Successfully Executed His Tanking Mission" list.
Reason No. 1: It's not every day you can lock up a coach with a career record of 272-298.
Reason No. 2: We appreciate how Doc made the best of an impossible situation, inspiring this season's team to the second-worst record in basketball. Just think of what would have happened if he hadn't been there. We would have, um ... lost MORE games.
Reason No. 3: As Rivers told reporters this week, "Every time I've had a decent team we've won. Just think about it. I'd never been under .500 in my career until these last two years. I've never been a big winner either, and one day I want to be that." Any time someone coaches for seven years without winning a playoff series and has the balls to make a statement like that, you have to bring him back. Seriously.
Reason No. 4: Doc gets credit for keeping a young team playing hard after Paul Pierce and Wally Szczerbiak went down. You know, because it's so hard to convince a team of ALL GOOD GUYS to keep playing hard every night. That's a chore. There isn't a bad apple on this team. We don't know how he did it.
(Note: Last year's excuse was that Marcus Banks and Mark Blount infected the locker room and screwed up team chemistry, so we traded those cancerous bums for Wally, a better guy who makes $12 million a year and walks with a limp. This year, the excuse was that we were "destroyed by injuries," even though we were 5-13 on Dec. 8 with a relatively healthy team that had just finished the easiest stretch of its schedule. No Boston media members mention this crap because the beat writers love Rivers for making their day-to-day jobs easier, and the mainstream columnists are too busy filming segments for TV shows, playing golf and calling in to radio shows. Besides, all anyone in Boston cares about are the Sox and Pats. So what's the point?)
Reason No. 5: During the 2004-05 season, Rivers waited 40 games too long to start playing Delonte West. During the 2005-06 season, he waited 40 games too long to start playing Ryan Gomes. During the 2006-07 season, he waited 40 games too long to start playing Rajon Rondo. Like everyone else, we're excited to see the streak continue in 2007-08 with Young Player To Be Named Who Should Have Been Playing 40 Games Earlier.
CELTIC YOUNG GUNS
Who are these "young guys who have really improved under Doc Rivers"?
• Al Jefferson, definitely. He's been the big success story.
• Tony Allen was making major strides until he blew out his knee while executing a flying one-handed slam four seconds after the whistle blew. Can't count him.
• Rondo looked exceptionally good in the preseason, then was inexplicably buried behind inferior players for the next four months. Did he "improve" or did Rivers just start playing him? I'm going with the latter. Can't count him.
• Gomes and West are up and down; their per-minute numbers are no different than last season's. Same for Kendrick Perkins. They are better only because of an extra year's experience; that's it. Can't count them.
• Gerald Green still runs around like a chicken with its head cut off. I don't blame Doc here because Green's hoops IQ almost can't be calculated; there's a decent chance he arrived in this country three years ago in a UFO. Can't count him.
• Leon Powe is headed for a distinguished 12-year career in Italy. Can't count him.
• Over the past six months, Telfair's career free-falled to the degree that "AND 1" sent scouts to the last 10 Celtics games. Can't count him.
• As far as I can tell, we have no other young players.
Reason No. 6: The young guys have really improved under Doc. Please trust us on this and don't take the time to look up any statistical information that will easily refute this point. Thank you.
(Note: Please check the sidebar to the right. I implore you.)
Reason No. 7: Look, everyone in the NBA knows that you can't have a coach entering the final year of his contract without an extension. The team might quit on him. We could lose 18 straight games or something.
(Note: Out of everything, this BS explanation drives me the craziest. Since when did everyone decide that NBA players won't try as hard if they're playing for a lame duck coach? Is there empirical evidence to support this? If this is true, why did the Raptors play well for lame duck Sam Mitchell this season? And in Boston's case, why would a team of ALL GOOD GUYS ever say, "You know what? Let's stop playing as hard as we could, Coach ain't gonna be here next year, anyway?" Really? That's a realistic scenario, especially with someone as competitive as Paul Pierce involved?)
Reason No. 8: If we get Kevin Durant, he'll feel right at home with Doc since he spent the last season playing for Rick Barnes.
Reason No. 9: You can't blame us for forgetting Doc's three weaknesses as a coach: He blows too many close games, he can't juggle a rotation and his teams can't defend a high screen to save their lives. See, we just spent the past 50 games reaping the benefits of these three things. We're a little confused.
(Note: Take healthy players like Rondo, Telfair, West, Gomes, Green, Jefferson and Perkins, then add Pierce, Allen, Wally and our lottery pick to the mix next October. Barring a trade or injuries, we're looking at 11 guys expecting significant minutes next season from a coach who can't successfully juggle minutes to save his life. I mean, he's proven this. Maybe the owners are curious to watch Doc juggle 11 guys. Like, they have a morbid curiosity to see how it will play out. And frankly, I don't blame them. I'm just as intrigued.)
Reason No. 10: Nobody handles the media better than Rivers. Nobody.
On this last note: I wholeheartedly concur. The Celtics would be creamed if they fired Doc after the season, considering he absorbed one of Tony Soprano's hollow-point bullets for the greater good. The radio guys love him, the print guys love him, the TV guys love him, the announcers love him, and as long as those people are happy, who cares what the fans think? Keep the press happy and they'll distract your fan base from the bottom line, no matter how disturbing that bottom line might be. You know, like your franchise dipping from division champ to 23 wins within two seasons. Or how you're crying about injuries when your team didn't get nailed any harder by injuries than half the league. Or how you should have sold high on Pierce last summer and didn't because he happened to be the owner's favorite player. Or how they gave away the seventh pick (and a chance for Brandon Roy) in last year's draft to save $25-30 million. Or how they're legitimately screwed without Oden or Durant because you can only bottom out on your fan base once (and only once).
Just know that I have selfish reasons for writing this column: The extension hasn't been announced yet, giving us a slim chance someone could still realize we need a new coach, if only for three reasons:
A. A number of proven guys could become available this summer, including Scott Skiles, Rick Carlisle and Jeff Van Gundy.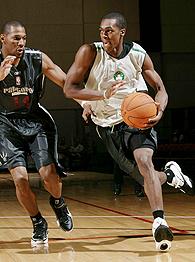 Garrett W. Ellwood/NBAE/Getty Images
Welcome to the "Sorry We Waited So Long To Play You" Club, Rondo.
(Note: Carlisle gets special mention for depantsing Doc in the 2005 playoffs. I don't even know if "depantsing" is a word, but that's what happened.)
B. The guy running the team (career coaching record: 136-90) is a better coach than the guy coaching the team (career record: 272-298).
C. I can't accept that any coach could ever be extended after winning 45 games, 33 games and 23 games in the first three seasons of a four-year deal.
On the other hand, my opinion doesn't really matter. As Bob Ryan mentioned on local Boston TV a few months ago, I'm just some yahoo who lives 3,000 miles away and can't possibly understand what's happening with this team. I haven't ventured into the clubhouse. I'm not sitting at a press table typing deadline game stories and ignoring the game that's happening right in front of me. I haven't had the distinct pleasure of spending time with Doc after a tough loss and being wowed by his winning charm and humor. I haven't been spun the same BS excuses that everyone else back home has been spun, and my lips aren't covered with green Kool-Aid stains.
Should it matter if Doc happens to be a good person and a swell dinner companion? Sure, if he's a friend or family member. But what if he's coaching your favorite team and you don't know him from a hole in the wall? What then? Should it bother you that the team won half as many games as it did two seasons ago? Or that we haven't been able to defend a high screen since Eric Williams was still alive? Or that we're consistently sloppy on both ends of the court? Or that opponents routinely shoot 50 percent or better no matter who's out there?
As recently as four months ago, the Doc Saga was destined for an Isiah-Dolan outcome in which the Boston owners forced Danny to "cook his own groceries," so to speak and coach the team himself. (That wouldn't have been a bad thing: Danny was a very good coach in Phoenix until he bailed to spend more time with his family.) Once the Celtics started out 5-13, lost the Iverson Sweepstakes and lost Pierce to a mid-December injury, a not-so-subtle, high-stakes poker game with Rivers commenced: The coach wouldn't walk away from six million bucks, the Celtics were too cheap to eat the rest of his contract, and the two sides kept staring each other down while the Celtics lost and kept losing. That's how Rivers became the first Celtics coach to lose 18 straight and keep his job.
And then fate intervened: Once Durant started lighting it up for Texas, everyone realized that the draft featured two franchise players and, better yet, nobody could decide which one was better. Suddenly Celtics fans didn't care about losing as much, as long as they could watch likable kids who played hard and squandered every close game. (Yes, the bar for the greatest basketball franchise ever had been lowered that much.) Meanwhile, Danny sprung into action publicly with the whole, "Say what you want about Doc, but the young guys are really coming along!" routine. Why? BECAUSE HE DIDN'T WANT TO COACH AGAIN!!! Eventually, the media bought this crap, some of the fans bought it, and apparently, the owners bought it if they're extending Doc's deal. Personally, I think Danny gave us a clinic in self-preservation; not only did he shimmy out of cooking his groceries, but if next season's team struggles, Doc Rivers will be the one taking the first wave of bullets, not Danny Ainge.
AINGE ON THE CLOCK
The good and the bad of the Danny Ainge Era:
The good: Made good value picks with Jefferson, West, Allen, Perkins and Gomes ... turned Jiri Welsch into Rondo ... resisted a panic trade involving either Pierce or Jefferson ... finagled a No. 1 pick from Minnesota in the Szezcerbiak-Davis trade.
The bad: Gave away Walker for Raef LaFrentz's contracts (one of the worst of the decade), then used the No. 7 pick in 2006 to extricate himself from Raef's deal ... spent $37 million on Mark Blount and included a no-trade kicker, making the contract nearly impossible to move if Blount stopped giving a crap (which is exactly what happened) ... traded two character guys (Eric Williams and Tony Battie) for a shaky character guy (Ricky Davis) ... traded for Wally's mammoth contract hoping Wally's knees were OK (and they weren't) ... hired Rivers ... signed Brian Scalabrine ($15 million) and Dan Dickau ($7.5 million).
So why hasn't Ainge taken more heat for lording over the second-worst team in Celtics history? Considering its long-term future when Ainge took over in 2003 (two good players, no cap room, no quality young players under 25 years-old, no chips to trade other than future first-rounders), he deserves credit for building the foundation of something. Then again, he unveiled five different game plans in four seasons: 2003-04 (acquire as many assets as possible), 2004-05 (let's make a playoff push and ride Gary Payton and Antoine Walker), 2005-06 (let's build around Pierce and the young guys and build a high-character team), 2006-07 (let's keep Pierce, give up two No. 1's for Rondo and Telfair and build a faster team like the Suns, then trade for a veteran during the season), and the past few months (let's tank the last four months and go for Oden or Durant).
Ideally, NBA executives should have an eye for talent AND a long-term strategy; just look at Bryan Colangelo in Toronto. Danny has a knack for finding talent, but he can't stick to a definitive plan. Each move has no correlation to the last one; it's like watching the guy from "Memento" play chess. The team's future looks brighter lately only because of Jefferson's inspired play and a 40 percent chance of landing Oden or Durant. What if Andrew Bogut or Andrea Bargnani was waiting at the end of the rainbow? Would we be feeling as chipper about everything?
(Hold on, I hate even bringing this up, it makes me feel sick...)
(Deep breath ... )
(All right ... )
But really ... what happens if May 22 goes horribly wrong?
What then? More rebuilding? Everyone believes they'd move a non-Oden/Durant pick for a veteran, but which veteran? Who's out there? Have you scanned the rosters and determined which quality veterans could be realistically obtained? Good luck finding a name. And that's before delving into the dangers of bringing back a frustrated Pierce (who could sabotage his own trade value like Iverson did) or giving Jefferson a max contract extension (when he's struggled with weight/injury/intensity issues over the past three years). If anything, winning a top-two pick gives the owners, the front office and the coach a cushy "Get Out of Jail Free" card for the next two seasons. It's like having your business manager blow a $100,000 investment, immediately fly you to Vegas, slap down another $100,000 on a blackjack hand, get a blackjack on that same hand, then hand you the $150,000 profit and tell you, "See, I told you everything would be OK, now you're up for the year!"
Call me crazy, but I don't see how that's fair. When evaluating the performances of Rivers and Ainge, only two questions should matter: Regardless of what happens on May 22, do you trust Ainge to make the right moves this summer, and do you trust Rivers to effectively coach the 2007-08 Boston Celtics? From what I've seen, the answer is "f--- no."
Then again, what do I know? I'm just some yahoo writer who lives 3,000 miles away. And since I'm not moving back home any time soon, I hope the Celtics find time to mail me some of that green Kool-Aid. It would go great with the turd sandwich I've been chewing for the past two years.
---
One final thought: Just last weekend, NBA TV showed John Havlicek's final game, the one during which Boston fans gave Hondo an 8½-minute standing ovation before the opening tip. Think about how long 8½ minutes is. That's two music videos. That's an entire segment of "Lost." That's a par-5 at the Masters. I can't imagine anything like that happening with the Celtics again, regardless of the player involved, and I think that's been the saddest thing about the past few seasons: Not the losing itself, but that the Celtics don't matter like they once did. They're just another NBA franchise in a league with too many of them.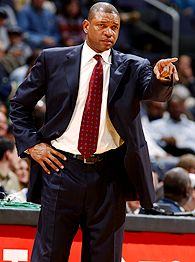 Mitchell Layton/NBAE via Getty Images
The DVD for the 2007 Celtics should be called "Everyone Loves Doc."
Anyway, there's a moment during that Hondo game when Randy Smith gets kicked out for arguing a call. He grabs a towel and heads underneath the mid-court tunnel to leave the old Garden and, lo and behold, you can see a little kid clapping as Smith walks by. You know who that was?
Me.
I'm the fidgety kid wearing glasses and sitting on his father's lap. You can see us for about five seconds. The whole sequence delighted me for some reason, not just that it came out of nowhere, but that a wave of fuzzy memories was unleashed: Dave Cowens and Hondo grimly banging out 40 minutes a night on a nonplayoff team, Kermit Washington arriving after the Rudy Tomjanovich suspension ended and grabbing every rebound in sight, local hero Ernie DiGregorio failing to turn things around near the end, a herky-jerky rookie named Cedric "Cornbread" Maxwell emerging as one of our few bright spots, and, yes, everyone cheering and cheering during Hondo's final game. I don't remember any talk of tanking and certainly don't remember rooting against them. We won only 32 games, but that was OK -- we still had Red Auerbach pulling the strings. As long as Red was around, and as long as the Garden was around, we'd be OK. Things would work out. That's how everyone felt. After all, these were the Boston Celtics.
By the time the 2006-07 season was falling apart, that confidence was long gone. I mean, LONG gone. I rooted for us to keep losing because it was the simplest way to improve; others couldn't stomach the thought of turning on their favorite team. I refused to exonerate a coach who couldn't win, a GM who couldn't stick to a plan, and the owner who hired both of them, while others continue to make excuses for all three. Wherever you stand, every Celtics fan has one thing in common: Our hopes and prayers are inexorably tied to 250 Ping-Pong balls next month. Get the first or second pick and everything's OK. Get the third pick and everything's not.
Either way, it's the franchise's first significant moment in six decades that doesn't involve Red Auerbach. After that 1977-78 season ended, Red used a first-rounder to select a junior-eligible named Larry Bird, then had the foresight to wait an entire season for him. Even though we weren't yielding an immediate reward from that pick, the kid with the oversized glasses trusted Red completely. So did everyone. And watching that tiny version of myself on TV ... I couldn't help but feel a little jealous.
Bill Simmons is a columnist for Page 2 and ESPN The Magazine. His book "Now I Can Die In Peace" is available in paperback.