Over the past 10 years, my beloved Red Sox are 24-3 when I write a running diary of one of their big games. All right, I made that number up. But with things looking increasingly bleak for the spiritless Sox after Game 3, I couldn't resist breaking out the diary for Game 4 in Cleveland. Here's what transpired:
8:15 p.m. ET: It's the ALCS on Fox! We're joined by our old friends Joe Buck and Tim McCarver, who seem like Vin Scully and John Madden in their primes after two weeks with the TBS guys. Did you ever think you'd miss McCarver and Buck? Or is that a loaded question?
8:19: Kevin Youkilis reads us tonight's starting lineup for Boston. (After getting to the part where it's revealed J.D. Drew, Coco Crisp, Doug Mirabelli and Julio Lugo are batting 6-7-8-9, I half-expected him to make a face and say, "Holy crap, we're screwed!" Didn't happen.) For some reason, Youkilis had the intensity of Edward James Olmos. What happened to this team? Why aren't they loose anymore?
8:22: This seems like a good time to mention there are only five acceptable situations in which Eric Gagne should step on the field tonight: A 12-run blowout; a 20-inning game in which the Sox runs out of pitchers; a bench-clearing brawl; at the end of the game; and if the bullpen catches on fire and he has to jump onto the field to survive. Five and only five.
8:23: Paul Byrd strikes out David Ortiz for a 1-2-3 first inning as the Cleveland fans explode and wave their white towels in delight. Remember the days when the 2007 Red Sox bled pitch counts? They ended about three days ago without any real explanation. I don't get it. I continue to be mystified by this sudden collapse-in-progress, as well as the manager's abject unwillingness to shake things up in any way. Bizarre.
8:28: Grady Sizemore reads Cleveland's lineup with the same look on his face that Brody Jenner has every time he's hitting on LC in "The Hills." Bad sign for this game. The Indians even seem more loose when they're reading the starting lineups.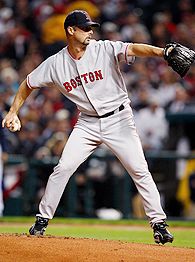 Gregory Shamus/Getty Images
With Tim Wakefield off to a strong start, things were looking good early ...
8:33:
I'll say this much: Tim Wakefield's knuckler is moving tonight. That's a good sign. He sneaks out of the first inning without any damage.
(Ten years ago, I joked in a column that Wakefield was the Steve Sanders of the Red Sox -- in other words, he was fun to have around, but you never wanted him involved in any key plots. Now it's 2007, he's still involved in key plots, and there's an entire generation of readers who don't get that Steve Sanders reference. I don't know what this means for Game 4, but I should probably be much more terrified than I am.)
8:39: Manny Ramirez starts off the second with a single, keeping his LCS hitting streak alive at 14 (one behind the all-time leader, Pete Rose). You have to love baseball, if only for stats like, "Greg Luzinski has the third-longest hitting streak in league championship history."
8:42: McCarver and Buck seem surprised Drew and Crisp don't have any RBIs in the postseason, leading them to wonder if exciting rookie Jacoby Ellsbury should have started Game 4 in place of one of them. A few seconds later, Drew and Crisp settle the debate with back-to-back strikeouts. Also, I'm bleeding from the right eyebrow.
(Note: Every Red Sox fan loves Tito Francona at this point, but his reluctance to shake up Tuesday's lineup, lead off with Ellsbury, move Dustin Pedroia to the 2-spot and stick Youkilis in the 6-spot for one game -- if only to mix it up when the lineup was clearly struggling -- is both the best and worst thing about having him as the manager. He's fiercely loyal, but to a fault at times. This is one of those times.)
8:48: Hey, it's our buddy Dane Cook! The Cleveland Browns! The Boston White Sox! Manny Gonzalez! Tom Sizemore! Dustin Pedrino! There's only one postseason! There's only one October!
8:49: Fox shows the obligatory "Kenny Lofton has played for all these teams" montage, as mandated by its contract with Major League Baseball. All I can say is this: I was making "Cool Papa Bell" jokes about Lofton four years ago, and he's still chugging along and hitting postseason homers. It's amazing. I'm putting him on the sleeper list for my "Mitchell Report Fantasy Draft" next week, along with Ed Hochuli, Carrot Top and Dr. Dre.
(I had multiple readers suggest the "Mitchell Report Fantasy Draft" joke, so all of you can share credit. More importantly, who would be the first pick if you had to take someone whose name hasn't surfaced yet? For legal reasons, I can't even answer this question. But feel free to discuss it amongst yourselves.)
8:51: The dream is still alive, some day it will come true ... and this country it belongs, to folks like me and you ... So let the voice of freedom, sing out through this land ... This is ouuuuuuuuuuuur country.
(Now it has gotten to the point when I look forward to belting the chorus out. Chevy has just beaten me down completely -- it's the only commercial that causes Stockholm Syndrome. This is ouuuuuuur country.)
9:00: Just checked my reader e-mails and here was the latest one, from Mike in Boston: "J.D. Drew has completely ruined my Red Sox experience. I can't believe we have four more years of him. I can honestly say if I had the money, I would give the Red Sox the $60 million they STILL owe Drew, if they, in turn, would drop him. Do you think we could start a fund? You have the means to reach more people. Start it up. I swear I'll send the first $1,000 and $25 per week. The sad part is, I don't think I'm kidding!"
(Let's just say the J.D. Drew signing hasn't gone over too well.)
9:01: Just when the Boston lineup was looking more lifeless than Hugh Hefner, Pedroia and Youkilis rope back-to-back singles, bringing up Big Papi with two outs. Unfortunately, Big Papi doesn't look so locked-in anymore -- all of the sudden, he looks like a creaky guy with bad knees who needs another cortisone shot. What a bummer. He grounds out to end the third.
(Honestly, I want to throw up. Four days ago, we were killing the Indians in Game 1, and I actually said the sentence out loud, "I'm scouting Game 2 of the Arizona-Colorado series to see who's a better World Series matchup for us." Now I'm thinking about things like, "I hope and pray Big Papi doesn't need microfracture surgery," and "If we benched Coco for the rest of the series, would that hurt or help his trade value?")
9:02: One more e-mail, from Tom Smith in Atlanta: "What's more distracting for Boston hitters: Byrd's old-time double windup, or the padding from his adult diapers?"
9:07: Wait, how many Octobers are there? And while I have you here, how many postseasons are there?
9:08: You know what I noticed? Fox isn't using its "Fox Trax" feature as much tonight (in which replays a pitch to see if it cracked the strike zone or not). Maybe the umpires threatened to go on strike after what happened Monday night, when Fox Trax made the Game 3 umpire come off like a drunker version of Frank Drebin in "The Naked Gun."
9:12: McCarver admires Wakefield's stiff left leg. Let's just move on.
9:16: With a guy on second, Wake gets Asdrubal Cabrera to fly out to end the inning. Or, as my dad mistakenly called him last weekend, "Ass-Dribble Cabrera." He's precisely the kind of guy who kills you in the baseball playoffs -- the "non-threatening" middle infielder who hits those dinky RBI singles that just miss the pitcher's glove, then somehow squeezes by both middle infielders as they're diving in opposite directions. I hate those guys. He killed us in Game 3 with one of those.
9:20: For the second straight playoff game, Byrd looks great. He's throwing first-pitch meatballs for strikes and enticing the Sox to abandon their patient strategy because they can't possibly help themselves when this guy is serving up such hittable crap. Brilliant strategy. He's about six years away from becoming the next Eddie Harris. Get him some sandpaper.
9:23: Are we sure the Indians didn't hire Will Forte to play the part of Eric Wedge during the 2007 playoffs? He's much calmer this year.
9:26: With nobody on, two outs in the fourth and an automatic out on deck (in this case, Crisp), you can always count on Drew to get on base (he just singled to right). That's one of the things that makes him so special. That was immediately followed by Coco's flyout to end the inning. Maybe Coco can't get a hit, but if you're looking for a baseball player willing to grow a fu manchu that doesn't have hair on the upper lip or chin, he's your guy.
9:30: Has anyone ever kept track of the number of times Fox is running a taped in-game interview with a manager right as something exciting is happening in the game? I swear, it has gotten to the point that you're terrified if they interview the manager when the other team is up. Anyway, it just happened again -- they were interviewing Francona as Jhonny Peralta slammed a double off the left-field wall. (Ending the no-hitter that I was refusing to mention, by the way.) Fortunately, Cool Papa Lofton grounded out to end the inning.
9:36: Buck just started the fifth inning with this: "Paul Byrd has been outstanding. Tim Wakefield has been even better."
(I mean ... what were the odds of those two sentences being uttered Tuesday night? 10-to-1? 20-to-1?)
9:40: Pedroia grounds out to end the top of the fifth. I love the guy, but should Sox fans be a little concerned that he grew up on the West Coast and openly admits he has trouble hitting in cold weather ... you know, considering the baseball playoffs occur in October and all? I say yes. By the way, there's only one October.
9:42: There's no better name for a drug than "Lipitor." It's always good when a heart drug sounds like a superhero.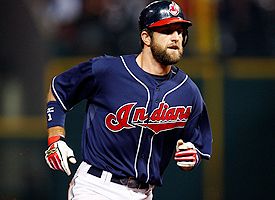 Gregory Shamus/Getty Images
... but then Casey Blake Niedermayer put Cleveland on the board with a homer ...
9:43:
Wearing a playoff beard given to him by one of the Niedermayer Brothers, Casey Blake crushes a homer to start the fifth: 1-0, Indians. That looked suspiciously like the Boone homer from 2003, right down to the trajectory (high and deep) and the location (left field). I just had some 'Nam-like flashbacks. Bad times. Where's my Lipitor?
9:46: Two on, nobody out, white hankies waving and McCarver is babbling about some convoluted stats related to when Wakefield breaks down in games. I think I'm in hell.
9:49: Can't even describe what just happened on Ass-Dribble's one-out pop-up, but (A) anytime Youkilis goes backward on a foul pop-up, there's a 43 percent chance the clip will end up being shown on "SportsCenter," and (B) at least seven different parts of his body touched the ball before it dropped to the ground. This isn't going to end well.
9:51: Unbelievable! In classic Ass-Dribble fashion, Cabrera hits a potential inning-ending double-play ball that Wake inadvertently knocks down with his glove for an infield RBI single: 2-0, Indians. Did I tell you or did I tell you??? I can spot these dink-RBI-single playoff infielders a mile away.
9:56: Shot of Dice-K staring mournfully from the dugout as Wake desperately tries to fend off the Tribe. After six months under the Boston microscope, poor Dice looks like he's constantly filming his own hostage video. But, hey, you can't possibly expect to get a sure thing for $103 million these days. Meanwhile, Victor Martinez just slammed a two-out single to drive Sizemore home: 3-0, Indians. So long, Wake. He's the third straight Boston starter who couldn't get more than 14 outs.
9:57: Just went back and read my 9:36 entry to confirm it happened.
10:02: Peralta belts a three-run homer off Manny Delcarmen: 6-0, Indians. I have the Dice-K Face going -- sad, beleaguered and overwhelmed. So much for being worried about having a kid born during the same week the Red Sox play in the World Series.
10:03: Damn it all.
10:05: I might not be able to describe what McCarver just told us without you thinking I made it up, but let's try: Over the span of 45 seconds, he just explained that a leadoff home run leads to more multirun innings than a leadoff walk, only he made it sound like this was some sort of remarkable revelation or something. Did we just watch a sketch for Joe Buck's late-night show? That just happened, right?
(Rewinding game on TiVo.)
10:06: Yup, it just happened. So if you're keeping track at home, multirun innings happen more often when they're started off by a home run instead of a walk. Thank you, Tim McCarver. Meanwhile, Delcarmen just gave up a Lofton single, a stolen base and a pop-up RBI single to Casey Blake Niedermayer: 7-0, Indians. We're getting close to a Gagne appearance that might be acceptable under the ground rules established at the top of this column.
10:14: Delcarmen gets out of the inning without further damage, which is like saying, "Phil Spector gets out of the Lana Clarkson relationship without further damage," but still. Meanwhile, my buddy Jamie just sent the following e-mail: "Great line just e-mailed to me: 'It's time to run a contest to see if fans want to bat for Coco Crisp. They'd still strike out but at least we'd raise money for the Jimmy Fund.'"
10:17: The dream is still alive, some day it will come true ... Francona might shake things up, for folks like me and you ... Too bad he screwed up tonight, we're one game away from going home ... These are ouuuuuuuuuuur Red Sox.
10:20: Strangest development of the playoffs: The guys who grew out their chin-beards but shaved everything else. Right now, Trot Nixon and Youkilis look like their two buddies away from filming an all-male, X-rated parody of "Wild Hogs."
10:20: "Wild Hog" this! Youk just crushed a homer to left: 7-1, Indians. Let's see if McCarver's theory works -- could it really be better to start an inning with a homer than a walk? It's hard to trust the man who got Dice-K and Hideki Okajima confused in Game 3, but I'm going to try.
10:23: Home run, David Ortiz!!! It's 7-2, Indians. The McCarver Theory is in full swing. Meanwhile, that's going to be it for Byrd -- he leaves the park to a standing O and a sea of white towels. There's no way that wasn't the greatest moment of his pitching career. He's Paul Byrd, for God's sake.
10:29: Good battle brewing here with Ramirez and Indians reliever Jensen Lewis. We're on about 25 pitches in this at-bat already. It's always funny when Manny plays in Cleveland, if only because he always has a bemused look on his face, like he's thinking, "This is so weird, I feel like I used to play here or something."
10:31: Back to back to back! Manny crushes a homer to dead-center for the third Sox homer in a row, then draws the ire of the Cleveland fans by admiring it for a few seconds like a golfer watching a 70-foot putt heading into the hole. Watch out, Manny -- you might get a white towel thrown at you if you're not careful: 7-3, Indians. The McCarver Theory is flourishing.
10:35: You're not going to believe this, but Drew and Crisp make consecutive outs to end the inning. Meanwhile, I just unearthed the following stat -- 100 percent of the time, a team that hits a grand slam in an inning ends up having a multi-run inning.
10:37: Good question from Marty in Mount Carroll, Ill.: "How does your level of disappointment compare to Joe Buck's? After Blake's homer and the Tribe's subsequent rally, you can hear in Joe's voice how much he is looking forward to a Rockies-Indians World Series and the blockbuster ratings Fox will get when the series starts in two weeks."
10:39: Our first shot of Theo Epstein in the stands with one of those anguished, "Great, I get to spend the whole winter getting killed in Boston for the Crisp, Drew, Dice and Gagne moves" looks on his face. Let's send him some Lipitor.
10:41: Sideline guy Ken Rosenthal rams a fork into the brewing "Beckett should have started Game 4 over Wakefield!" controversy by reporting Beckett couldn't have pitched Tuesday because his body was worn down from Game 1. Awesome news. Other than Jonathan Papelbon, is there a guy left on this Red Sox team who isn't either banged up, slumping, running on fumes or psychologically destroyed?
(By the way, kudos to Fox, the network that gave us "Temptation Island" and "Paradise Hotel," but can't seem to comprehend that its baseball audience would rather watch Pam Oliver over Rosenthal or Chris Myers. This isn't the Fox I once knew and loved, I can tell you that much.)
10:50: I wish I could have recorded the phone conversation I just had with my father. First, he claimed he was going to bed because he was so frustrated by the Sox. Then, he had a two-minute monologue about how frustrating it is to follow a baseball team all year when you know about all their flaws, and you're hoping they don't surface in the playoffs, and then, suddenly, all of them surface at the same time and you can't stop what's happening. And right as he was wrapping this up and sounding like such a loyal and thoughtful Red Sox fan, we had this exchange:
Me: Dammit!!!


Dad: What happened?
Me: Lugo just hit into a double play. You're not watching?
Dad: Nah, I'm watching "Boston Legal."
10:54: In case you were wondering, we've seen multiple ads for Cialis, Levitra and Lipitor, as well as four Dane Cook commercials and five Chevy ads with "Our Country" blaring. Fun night all around.
11:01: Hey, do you think Jhonny Peralta and Dwyane Wade ever thought about starting a "Birth Certificate Bloopers" support group?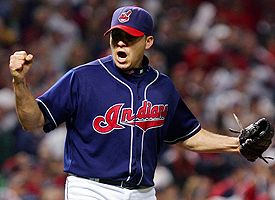 Jim McIsaac/Getty Images
... and Rafael Betancourt allowed the Indians to close it out without an appearance from Joe Borowski.
11:09:
Phenomenal job by Jon Lester out of the bullpen -- he closed three straight innings without any real damage. Meanwhile, we're nearing the three-hour mark, it's the eighth inning and former steroid abuser Rafael Betancourt just came in. Nobody takes longer between pitches -- Fox could run 30-second ads between each one. He's the pitching equivalent of a coach using timeouts to freeze a field-goal kicker.
(Do you think he's like this in other aspects of his life? Does he sit at a stop sign for an extra five seconds? Does he take an hour to find a movie in a video store? I want ESPN to start a new documentary series in which we just trail quirky athletes as they do everyday things -- one week it would be Kevin Garnett; the next week, Betancourt; the next week, Nomar Garciaparra ...)
11:14: Somehow, a 1-2-3 inning with nine pitches just took five minutes. Whatever. We're headed for the bottom of the eighth. I think my dad made the right move with the "Boston Legal" switch.
11:18: Mark from Philly offers an inspiring defense for Manny's home run preening: "When Manny went deep, my first thought was, 'Quit posing, Manny, we're still down 7-3.' Then it dawned on me that Manny probably had no idea what the score was. In fact, he probably isn't aware that baseball games are determined by which team scores more runs. Manny's only point of differentiation comes when, after hitting a home run, he sees his teammates waiting for him at home plate -- it's at that point he knows it's time to go to the strip club."
11:20: Tim McCarver's talking.
11:21: For some reason, I'm thinking about these elaborate home run handshakes that have become all the rage (we even saw some in Game 4). Here are my questions:
Question No. 1: Does someone like Lofton go up to Martinez during batting practice before Game 2 and say, "I thought up a six-part celebration in case either one of us hits a homer, do you have time to rehearse it later?" Is that how it works?
Question No. 2: If you're Ortiz and you have to memorize multiple handshakes for different teammates, does it eventually affect your preparation for the game?
Question No. 3: What happens if you're Drew and nobody asks you to create an elaborate home run handshake with them? Do you feel like a loser?
Question No. 4: At what point does the post-home run handshake scene morph into the scene in "Boogie Nights" when Dirk Diggler takes over the dance floor as everyone performs an elaborate disco routine behind him? We're almost there, right?
(Note: I don't have answers for these questions. Just the questions themselves. Sorry I didn't clarify that earlier.)
11:22: Oh, boy. Fox just showed a startling "This day in history" graphic. In 2003, the Boone homer happened. In 2004, the Sox lost Game 3 to the Yanks by a score of 19-8. And in 2007 ... this mess of a Game 4. I'm suddenly not a big fan of Oct. 16.
11:24: Let's face it: This series turned when the Fenway crowd mailed in Game 2 in the late innings and didn't even muster enough spirit to stand in the 10th for Big Papi or start a "Manny!" chant. This NEVER would have happened in 2004. As reader Nathaniel in Brooklyn, N.Y., points out, "I had the good fortune of getting a seat in the first row in the bleachers behind the Sox bullpen on Saturday for Game 2. The crowd was about as enthusiastic as a D-Rays game in April. You can blame it on the cold and the late start, but I'll blame it on the ticket policies (I'll admit I was tempted to scalp my ticket after looking at online auction sites) and the fact everyone around me was 65-plus years old or wearing a pink hat. A good way to warm yourself up is to stand in a group of people and support your team ... loudly."
11:25: Lester gets through the eighth without any damage. You know it's a bad sign for your playoff hopes when your second-year long reliever gets 10 outs in a blowout and you're thinking, "Hmmmmm, I wonder if we should start him in Game 7?"
11:28: Indians GM Mark Shapiro looks like a fantastic cross between Jeff Garcia and Boggs from "Shawshank Redemption," if that's even possible. They can't show him enough as far as I'm concerned. Meanwhile, the ninth inning is playing out exactly like you'd think it would -- with Drew and Crisp set up to make the final two outs against former steroids abuser Rafael Betancourt.
11:32: Drew flies out to left field. Two outs.
11:33: Crisp lines out to first. Three outs. Our final score: Cleveland 7, Boston 3.
I'm not willing to wave the white flag yet, but we're damned close. The reason Cleveland deserves to advance to the World Series is the same reason Colorado advanced: The baseball playoffs aren't like the NBA playoffs, in which you can keep advancing with three or four big guns carrying you. For a championship baseball team, everyone chips in from Player No. 1 to Player No. 25. You have three or four heroes per game, everyone seems like they're loose and having fun, and when you're looking back afterward, sometimes you can't even figure out which guy should have been the MVP. That's how the Red Sox won in 2004, and that's how the Indians and Rockies are winning in 2007. There's nothing more to say.
11:34: Well, except for this: Fox just showed a graphic that 65 teams have trailed 3-1 in a postseason series and 10 teams have come back to win that series. The last one? The Boston Red Sox in the 2004 ALCS.
(Translation: You never know.)
Bill Simmons is a columnist for Page 2 and ESPN The Magazine. His book "Now I Can Die In Peace" is available in paperback.