Three days later and I'm still reeling from the $14 Million Grand Slam.
Actually, hold that thought -- let's cover everything else first. I couldn't fly back home last weekend because we're on Fetus Watch here in the Sports Guy Mansion. But by all accounts, Sunday was a magical day in Boston. Because of the weather (a perfect 80 degrees) and the sports (a Game 7 combined with the Pats' trying for 7-0), multiple readers e-mailed me just to say, "You should see it in Boston right now, everyone's completely locked in." I miss those mornings and afternoons before big Red Sox games, when it's just a flood of Sox hats and T-shirts and you can see the nervous giddiness in every face. We're all in this together. That's the feeling you always get. It's the kind of thing that just doesn't happen in California.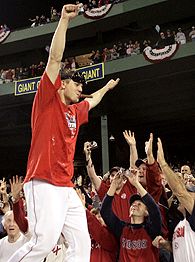 AP Photo/Elise Amendola
One of the most intense Boston athletes of all-time celebrates a monumental comeback.
In the end, the Indians collapsed and the Sox prevailed. The seventh inning of Game 7 became the microcosm of the series, giving us a snapshot of two franchises at different points with their fans. With Cleveland trailing by a run with one out, when Kenny Lofton reached second base after Julio Lugo dropped his pop-up in short left field, it was the kind of "oh, no!" moment that would have destroyed the Sox in the past. You know what it resembled a little, actually? The Bartman/Alou pop-up. Not just the play itself, but how it affected the Chicago fans, and how everything that happened afterward almost became a self-fulfilling prophecy.
In the old days, Fenway would have gone eerily silent, the players would have tightened up, everyone would have been thinking, "That's it. That's the sign we're going to lose. We're going to lose," and we would have collectively started bracing for the next wave of HBO documentaries and Dan Shaughnessy books. That was the mentality before 2004. We expected the worst to happen. Usually, it did. If that Lugo error happened in 2003 in a similar situation, I would been curled up in the fetal position, rocking back and forth and cutting myself with a beer bottle cap.
In 2007? I thought to myself, "All right, we can get out of this." Things have changed for Red Sox Nation, that's for sure.
As it turned out, Lugo's error didn't linger for five minutes before Cleveland trumped it with another "oh, no!!!!!" play: Joel Skinner soon-to-be-infamously holding up Lofton at third on a potential RBI single. I've watched God knows how many Sox games over the years and that particular carom always causes trouble for the visiting team, whether they're trying to defend it or score on it. The truth is, you should always send the runner from second simply because Manny always takes his sweet time jogging over, bending down, picking up the ball and throwing it (regardless of the situation). I know this because I've watched Manny play left field at Fenway for the past seven years. It's not that he's loafing, it's that he only has one speed in which he does every single thing, and it doesn't matter if he's running after a rolling baseball, running toward home plate after a walkoff homer, running into traffic to save one of his kids, or running from a building that's about to blow up. He has one speed, that's it. He's almost like Michael Myers in this respect.
Should Skinner have known this little fact about Manny when he doesn't get to watch him in person that often? Probably not. If Skinner made a mistake, it was expecting Manny to play the carom the same way that Jacoby Ellsbury would have. And if Ellsbury had been out there, Lofton would have been out by six feet. With Manny involved, he would have scored standing up.
Anyway, as soon as that play happened, I knew the Sox were going to win. Why? Once upon a time, we carried the same baggage the Indians fans are carrying now. No franchise with baggage can survive those Skinner/Lofton-type plays in a playoff game, much less a deciding game. They crush you. They leave you sitting there thinking, "This is bad. We're done. This is bad. We're done ..." You close off emotionally and expect the worst. Everything that happens from that point on becomes a self-fulfilling prophecy. If anything, Skinner's semi-blunder overshadowed the real reasons why Cleveland lost: Fausto Carmona and C.C. Sabathia never showed up; Grady Sizemore and Travis Hafner never showed up; and they couldn't hit Josh Beckett. Seriously, if I told you Beckett would win twice, Sabathia and Carmona would give up a combined 27 hits and 23 runs in 16 1/3 innings, and Sizemore and Hafner would combine for four RBIs and 10 hits in 54 ABs, would you have guessed this series lasted more than five games? Of course not.
On the flip side, the Red Sox won their four games by a combined total of 40-8; in the last three wins, they had too many heroes to even count, and the Fenway fans came through in Games 6 and 7 and turned the series into something that felt as big as it was. That's the thing about Fenway that everyone always forgets: You have 35,000 fans sitting on top of the players and swaying with every tension-filled pitch, but you also have odd ballpark quirks coming into play like the Lofton/Skinner play, or Manny playing the wall perfectly to gun down Lofton, or even Ryan Garko's potential homer finding the deepest section of the wall in left-center for a discouraging RBI double. Add everything up and it's an extremely tough place to win a playoff game.
Now throw this in ...
Say what you want about Theo Epstein and his struggles with free agency and certain trades, but you have to give him credit for five things: (1) Using some of the team's money to build such a strong farm system; (2) Keeping the right assets (Kevin Youkilis, Jonathan Papelbon, Dustin Pedroia and Ellsbury) in 2004, 2005 and 2006 during those points in the summer when everyone in New England is pushing for a panic trade; (3) Keeping Manny instead of dumping him for 40 cents on the dollar; (4) Cutting the cord with Pedro Martinez and Johnny Damon at the right times; (5) Putting together a loose team that manages to thrive in one of the toughest baseball cities in the country.
This year's team was personified by four guys: Beckett (the tough-as-nails Texan who emerged as a playoff horse); Manny (enough has been said about him); Pedroia (the gritty rookie who survived a brutal April and might be the single most likable player to watch on the team); and Papelbon (the insane closer who might be the most competitive athlete in recent Boston history).
For the most part, it's an unflappable team. That's why so many Sox fans thought they might be done during Game 4 (including me): Suddenly, the collective fire was gone, everyone looked tight and it was unclear why this was happening or what needed to take place to break out of it. The baseball playoffs are made up of momentum swings, and for whatever reason, everything had swung away from the Red Sox.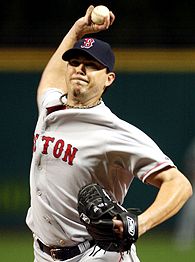 AP Photo/Pool, Brian Snyder
You can expect "Josh" and "Beckett" to be high on the list of baby names in New England ... and one Southern California household.
Then, two things happened:
1. When Cleveland had a chance to clinch at home, Beckett laid the smack down in Game 5. In my lifetime, the most clutch Boston pitching performance was Schilling's bloody sock game in the 2004 ALCS. Second was an injured Pedro coming out of the bullpen in Game 5 of the '99 Indians-Sox series. Third was Derek Lowe throwing a one-hitter for six innings ON TWO DAYS REST to topple the Yankees in Game 7 of 2004. And the fourth? Beckett slamming the door in Game 5. He held off a pennant celebration, swung the momentum of the series and threw his hat into the ring for Team Simmons' "What should we name our son?" sweepstakes. (You have to admit, Beckett Simmons has a nice ring to it.) Baseball is the only sport where a single person can shut up 55,000 people for an extended period of time and eventually break their will. This was one of those times. Just a virtuoso performance.
2. The $14 Million Grand Slam.
Here's the thing: Unless you watched J.D. Drew for the entire 2007 season, you can't possibly comprehend how astounding this was. I write about sports for a living. When I'm watching a game, I have trained myself to look for every possible angle and every conceivable scenario. I am thinking about potential jokes, observations, column angles and everything else. I am prepared for everything. I am a trained professional at watching sports and eventually translating my feelings into words.
So believe me when I tell you this ... from the time Drew walked up to home plate to the time that ball landed in the center-field stands, I never even considered the possibility of a grand slam.
Again, I think about everything. I'm the guy who starts thinking about no-hitters in the second inning and 75-point NBA games in the first quarter. I am constantly thinking and mulling and debating and wondering. That's what I do. I thought sports had lost the ability to surprise me at this point, unless it was something completely off the charts like the Artest Melee. But the $14 Million Grand Slam almost made me pass out. I didn't know what to do with myself. Old J.D. stepped into the batter's box and I was hoping he'd bleed the pitch count before grounding out or popping out ... and then he unleashed that perfect swing, the one that makes the scouts drool and keeps earning him those big contracts ... as the ball came off his bat, viewing it from the center-field camera, it looked like a line drive right at the center fielder ... only it kept carrying ... and it kept carrying ... and suddenly it looked like it might hit the wall l... and then ...
GOOD GOD, THAT REMINDS ME OF WHAT HAPPENS WHEN SOMEONE HITS A HOME RUN!
(Taking a split-second to digest everything...)
HOLY S---!!!!!!!!!!!!!!!!!!!!
GRAND SLAM! GRAND SLAM! GRAND SLAM!!!!!!!!!!!!!!!!!!!!!!!!!!!!
I haven't been this floored by a sports moment since Bird stole the ball from Isiah. It was completely incomprehensible -- a clutch grand slam from J.D. Drew. A clutch grand slam from J.D. Drew? Yes, a clutch grand slam from J.D. Drew. I waited 20 seconds before calling my Dad, who answered the phone like this: "I always liked him!!!!!!!!!!" Then we exchanged "I can't believe that happened!" comments for the next five minutes. Honestly, I still can't believe it happened -- but I will always believe the Red Sox needed a borderline karmic miracle to turn things after Game 4, and that karmic miracle came in the form of Beckett's Game 5 performance and the $14 Million Grand Slam.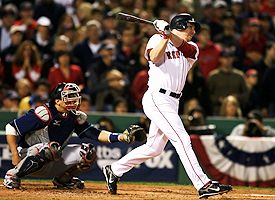 Al Bello/Getty Images
Start stockpiling canned goods and get right with a higher power! The end is near!
For posterity's sake, I'm leaving you with a selected sampling of reader e-mails that trickled into my mailbox in the time frame immediately preceding the grand slam to a few hours after it happened. Some day, we'll be able to place this moment in proper perspective. Just not today.
(Or tomorrow. Or the day after that ...)
James R. from Chapel Hill, N.C.: J.D. Drew is up with the bases loaded and two outs. Fox should just go to commercial now to make a few extra bucks.
Emilt from West Lafayette, Ind., and Boston: OH, MY GOD!!!!! J.D. DREW JUST HIT A GRAND SLAM!!!!!!!!!! OH, MY GOD! OH, MY GOD! OH, MY GOD!!!!!!!!!!!!!!!!!!!!!!!!!!!!!!!!!!!!!!!!!!!!!!!!!!!!!!!!!!!!!!!!!!!!!!!!!!!!!!!!!!!!!!!!!!!!!!!!!!
Ian from Tallahassee, Fla.: Is it too late to pretend we were saying, "Drewwwwwwww" all year long?
Matty from Newburyport, Mass.: I just bet my buddy $1 million that J.D. would strike out. I'm not even mad.
Michael S. from Weehawken, N.J.: Do I hear "Winter Wonderland" being played in Hell?
Zack R. from Chicago: Seriously? Are you kidding me? J.D. Drew hitting a grand slam in an important playoff game is as likely as Casey Affleck getting a starring role in a major motion picture. I don't think that just happened.
Tom from Philly: How many J.D. Drew jerseys just got ordered in Boston? Did you place your order? How awkward was the David Ortiz and Drew high-five after his grand slam? I think either that was the first time they met or the first time J.D. drove him home this season.
Matt from Malden, Mass.: FOUR MORE YEARS! FOUR MORE YEARS! FOUR MORE YEARS!
John from Charlottesville, Va.: How many more grand slams does J.D. have to hit before all is forgiven?
Andy W. from Collegeville, Pa.: And with one swing of the bat, 20 million people around this country simultaneously forgave J.D. Drew ...
Rory from Boston: Did that really just happen? I called my brother to make sure, but I need a third opinion.
Dan G. from Baltimore: Everyone is watching the Sox in their dorm rooms right now, and after J.D. Drew just hit that home run, 40 half-drunk college kids opened their doors and wandered into the hallway wondering if the world was going to end or they were more drunk that they thought. It was unbelievable.
John from Boston: That was the most expensive Grand Slam of all time.
Dan K. from State College, Pa.: J.D. Drew just came through in a HUGE spot, prompting me to contact everyone I know and care about and tell them what they mean to me, since there is now an 89 percent chance the world is going to end tonight.
Yosef from Washington Heights, N.Y.: Never in my life have I gone from such disappointment (when I thought J.D. Drew flew out to center again) to such great elation (when the ball kept on carrying). I got goose bumps. Not in a kazillion years would I ever think J.D. would elicit any reaction other than anger. He's the new anti-Buckner.
Sal from Middletown: The one and only nickname for J.D. Drew? Mr. October ... 20th.
Jamie V. from Richfield, Minn: So, Fox shows that J.D. Drew is 0-6 with RISP during the series. Naturally, he comes through with the grand slam. Should you always assume the worst anytime J.D. is up based on the reverse-jinx principle? Does this really work, or is it the last hope for the truly desperate and dispirited fan? Should there be a name for this rationalization? I know you're just the guy to come up with it.
Paul C. from Dedham, Mass.: A guy hitting .198 in his career with the bases loaded just hit a grand slam in a must-win playoff game. I can't speak.
Matt from Boston: Only the third grand slam in Red Sox postseason history -- and it's by J.D. Drew. I'm ecstatic and furious at the same time. It's like a deadbeat dad mailing it in for his kid's entire childhood, only to show up at his high school graduation with a Ferrari. All i want to do is drive it into a wall just to spite him. But, man, what a car.
Brandon from Newton, Mass.: Be honest, before tonight's game what did you think was more likely: Joey Harrington making the "Tom Brady" face as he raises up the Lombardi Trophy in Phoenix, or J.D. Drew rising out of the dugout to thunderous applause as he tips his hat to the Fenway faithful? The clear answer for me would've been the second one, but only because I would have imagined him stepping onto the field to announce his early retirement from baseball.
Dan from Plattsburgh, N.Y.: Here were some of the prop bets before Game 6: "Will there be a score in the first inning? +115 -- Yes" "Fausto Carmona: Will he allow a home run? -120 -- Yes" "J.D. Drew: Will he receive a first-inning curtain call? +250,000,000 -- Yes."
Mitch from Austin, Texas: As a long time Dodgers fan, I've felt your pain watching J.D. Drew this season. It seems the Earth just shifted on its axis tonight. J.D. has hit in the clutch, not once but twice tonight, and I couldn't believe my eyes, but I swear I saw a little fist pump after the grand slam. Clutch hits?? Emotion?? J.D. Drew?? TOGETHER?? The end is near!!
Steve P. from Charlotte, N.C.: Holy Crap, J.D. Drew has five RBIs in three innings! In other news, cancer has been cured, and Ahmadinejad sent a vintage copy of "Airplane!" to George Bush.
Peter O. from Amherst, Mass.: Did someone convince J.D.Drew he was in a contract year?
Mark I. from Los Angeles: Ponder this: As of one hour ago, no matter what either man does for the rest of his career or what they've done previously, J.D. Drew is now and forever more beloved in Boston than A-Rod will ever be in any city. Congratulations to Theo on the genius free-agent pickup. Dogs and cats living together, mass hysteria.
Monroe from Riverside, Calif.: J.D. F------ Drew, can you believe it. I half-expected him to pull a hamstring on his trot around the bases and be out for the rest of the playoffs.
Jim in State College, Pa.: Bill, when Drew hit that grand slam in the first inning, I felt just like I did when I saw "Return of the Jedi" for the first time. After hating Darth Vader for nearly nine hours of the original Star Wars trilogy, he does that one great thing at the end and saves Luke Skywalker's life. We forgot all about how he killed scores of people, including the whole planet of Alderaan.
Sam P. from Stateline, Nev.: I will never be more surprised than I was when J.D. hit that grand slam. If Reese Witherspoon released a porn video with Julia Stiles and the Quaker Oats guy, I would not be more surprised than I was when J.D. Drew got that hit. Maybe Michael Moore will break the marathon record ... and I will be half as surprised as I was when J.D. went deep.
Jason from Kailua, Hawaii: What kind of odds would you get if you had bet J.D. Drew would have been named the Fox Player of the Game for Game 6? 40-to-1? 400-to-1? 5 years, 70 million-to-1???
Mike Chechile in Chicopee, Mass.: To be eligible for entry on the J.D. bandwagon, you must have ...
Previously held an unnatural hate for a man you really didn't know;

Come up with at least one vile acronym for J.D.;

Hid your face or conceded the inning whenever (vile acronym) Drew came up with two men on and at least one out;

Thought Drew might be working tirelessly on creating the "bases-empty triple play" to ground into;

Actually wished we had Wily Mo back ...(cringe)
If you met all of these criteria, you may now jump on to the bandwagon ... otherwise you reserve the right to continue to hate the man.
Dan in Chapel Hill, N.C.: Last night, in the first inning, with Drew coming up and the bases loaded, I promised my TV that if he drove in a few runs, I would stop calling him Nancy Drew and call him Joanne instead, so it would be closer to his real name. Now I think I'll have to just call him J.D.
Matt R. in Washington: Shocked does not even begin to describe how I felt as I saw J.D. Drew's grand slam clear the center-field wall. I've been trying to come up with a proper metaphor for the past couple hours to describe this feeling, and this is the best I can do: imagine having a son who's a complete underachiever -- gets straight C's and D's, never seems to give a crap, spends a lot of time in his room alone – and after a while you resign yourself to the idea that he's going to end up mopping floors somewhere instead of heading off to college like you know he could and should. Then one day, a letter arrives from the college board that says he got a 1,600 on his SATs. And all at once you're stunned, overjoyed, and maybe just a little bit annoyed that he hadn't been living up to his potential all along – but for the moment, you're willing to forgive him because you're so happy. That's pretty much how I feel right now.
(And one more just to bang it home...)
Sean D. in Boston: True story: After J.D. Drew hit his clutch RBI single in Game 7 tonight, I looked out the window and saw a cat chasing a dog. Seemed appropriate.
Bill Simmons is a columnist for Page 2 and ESPN The Magazine. For every Simmons column, as well as podcasts, videos, favorite links and more, check out the ravamped Sports Guy World.