Al Bello/Getty Images
When I play the "Madden" video game in franchise mode, one goal looms over all others: an undefeated season.
Sure, it's practically impossible to finish undefeated at the All-Pro level or higher without taking some creative liberties. You pull off one-sided trades that would never happen in real life, stuff like "Eugene Wilson and a No. 2 for Ed Reed!" You sign promising rookies and young starters to lengthy extensions they'd never sign in real life unless their agent was drunk. You pluck talented veterans off the free-agent wire and convince them to sign humiliating one-year deals. You spend two solid hours tinkering with the logistics of a lopsided draft-day trade that can be accepted by the invisible "Madden," just because you want another second-round pick or a third receiver. These are the things you do. You do them, and you don't think twice.
Even then, those moves don't guarantee an undefeated season. You need to pick a contending team that features a stud QB or running back. You need copious amounts of luck during the fake season. You need to avoid killer injuries and bad weather games against good teams. You need to avoid the No-Effing-Way Game, a hidden trigger in franchise mode that unleashes a flurry of unexpected turnovers and bad breaks against you for a specific game. I can't tell you the exact number of times I tried to go undefeated and couldn't do it without major help over the past 10 years -- and by "help," I mean "pressing the RESET button as the undefeated season was going down in flames and starting that game again" -- but it's in the dozens and, almost always, the quest ended with a controller being whipped angrily across the room.
THE B.S. REPORT
Get a double dip of the B.S. Report this week:
In Part 1
, Bill Simmons discussed the Johan Santana trade with his buddy Gus (a Mets fan) and his pal JackO (a Yankees fan).
In Part 2
, Bill broke down Super Bowl XLII with Aaron Schatz of footballoutsiders.com and got Cousin Sal's pick for the game.
Have I ever gone undefeated without cheating, hitting the RESET button, dropping down to an easier level or turning off the button that allows the invisible "Madden" commissioner to reject lopsided deals? Never. Not once. I've always had to bend the rules to do it. In a million years, I never imagined the real-life Patriots could finish 19-0 before my "video Patriots" did. But we're two days away. It might happen. It really might happen. And I've spent the past two weeks wondering two things:
1. Is this really happening?
(The answer, apparently, is yes.)
2. Could this particular Patriots season be emulated by another team in the future, or were the 2007 Pats something of a perfect storm?
(Hmmmmmm.)
Over the past few weeks, I have become mildly obsessed with how this moment came to be -- and by moment, I mean "the chance to go 19-0" -- partly because everyone is dissecting the Patriots these days, and it's frustrating to hear dumb points or half-assed thoughts about my favorite team, and partly because there's so much dead time during an NFL season that there's nothing to do but think about things that happened or might happen. Nothing exemplified this quite like the infamous TMZ video of Brady limping around while wearing his ankle boot after the Chargers game. It wasn't even that exciting of a video -- just Brady limping with an ankle boot -- but because it's the Patriots and 19-0 is at stake, I studied that clip more diligently than anything since the "Pretty Woman" scene when Julia Roberts almost revealed her right breast.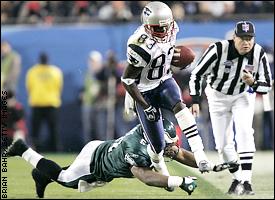 Getty
By trading away former Super Bowl MVP Deion Branch, the Pats killed their 2006 team ... and sparked their 2007 juggernaut.
Bored of the same talking heads and the same writers saying the same things, I purchased Christopher Price's book "The Blueprint" last weekend, which was released before the 2007 season and attempted to put a "Moneyball"-like spin on the Belichick era. I liked the book and thought Price did a solid job explaining the philosophy behind the first three Super Bowl seasons, particularly how the Patriots built through the draft, scoured the market for free-agent bargains (by law, I'm required to mention Mike Vrabel here), showed an uncanny ability to cut ties with veterans at the perfect time, tied up rookies and role players to longer-term (and more favorable) contracts, showed an extraordinary amount of patience during the draft, pursued character guys, avoided potential cancers, built a foundation around hard-nosed, team-first guys, created a culture of winning and never sold out long-term goals for a short-term fix.
Here's what fascinated me as I was finishing the book, which was written too early to put 2006 and 2007 in the proper perspective: As well as Belichick's blueprint worked for the '01, '03 and '04 seasons, it failed miserably when top receiver Deion Branch held out before the '06 season. As far as Belichick was concerned, the Pats won three Super Bowls by not overpaying for players, so why start overpaying them now? That's what the blueprint said -- don't pay All-Pro money for guys who aren't All-Pros -- and, unfortunately, the blueprint killed their 2006 Super Bowl hopes. When they traded Branch to Seattle for a future No. 1 pick, not only did the Pats struggle to score points with a below-average receiving crew, but on the biggest moment of the season -- third-and-4 to clinch the AFC title in Indy -- not a single receiver on the team could be trusted to make a play. And none did.
The Branch debacle ended up costing the Patriots a Super Bowl trip, but it also planted the seeds for what happened this season. The team had put aside significant money for Branch's signing bonus, so they used the extra money to restructure deals for guys like Dan Koppen, who received a creative five-year extension with a signing bonus that made his 2006 cap figure $5.033 million and his 2007 cap figure a paltry $900,000. On top of that, Tom Brady was furious because he had taken less money for the good of the team, so the Pats had to make good by him. And since the Branch debacle and some other shrewd spending had created extra cap space ... voila! That's how the Pats ended up with last spring's splurge that landed Wes Welker, Randy Moss, Donte' Stallworth, Adalius Thomas, Sammy Morris and special-teams ace Kelley Washington. Could you say losing Branch killed them in 2006 but pushed them to a higher level in 2007? Actually, you could.
AP Photo/Ed Reinke
When the Pats walked off the field after losing the AFC Championship Game in January 2007, it set the stage for their run at perfection.
Although other teams started emulating many of their "Blueprint" variables -- particularly bargain-hunting in free agency, as well as building around draft picks and character guys and zealously protecting future cap space -- it would be impossible to emulate the Branch debacle, nor would you want to try. But that crushing Colts defeat inspired the Pats to break away from the blueprint just a little and, by all accounts, Belichick's belief that the Patriots let up in Indianapolis with an 18-point lead spawned the "60 minutes!" mantra that everyone yelped throughout this entire season. They never let up, not even in the closing minutes of blowouts ... and that wouldn't have happened without the Branch trade or that blown lead in Indy.
That's not the only thing about the 2007 Pats that probably can't be emulated. What about ...
A hall-of-fame deep threat like Moss being available at a super-duper discount and still having something left in the tank?
Brady hitting his absolute prime right as the team found him an elite deep threat, possession receiver and No. 3 receiver, along with a former No. 1 pick at running back and the best offensive line in the league, enabling New England's offense to play every conceivable style of football in any type of weather?
A scandal like SpyGate galvanizing the entire team and propelling it into "Eff-You!" mode for two straight months?
Having a playoff-proven nucleus that has been in every conceivable situation, includes 10 holdovers from the three Super Bowl teams (as well as the same coach), never gives out dumb quotes to the media and honestly believes the mantras of "we're taking it one game at a time" and "nobody's bigger than the team"?

Add everything together and the 2007 Patriots start looking like the perfect storm of the salary-cap era. Always one of the league's savviest franchises, now they had every other variable cresting at the same time: talent, luck, circumstance, experience, shrewd planning and a variety of gambles that somehow paid off -- by the way, remember when people wondered if Moss was going to destroy the Patriots -- coupled with the delayed benefits of the Branch debacle, lingering bitterness from the Colts game and SpyGate and a league that really didn't have another great team.

For a "Madden" season, you'd hope to build a team exactly like this one, a star-studded franchise with the second-highest payroll in football and every key player locked up for the foreseeable future. When they rolled through the league during the first 10 weeks, those video-game parallels grew stronger with the obscene victory margins, gaudy individual numbers, willingness to run up the score and even the distinct style of offense. After all, every "Madden" user gravitates toward a single-back offense with three or four receivers and a deep threat, right?

By November, I was waiting for the No-Effing-Way Game to complete the "Madden" circle. It finally happened in Week 13 on a windy, chilly Monday night in Baltimore. The Pats looked flat and couldn't get anything going against a fired-up Ravens team. Every break went against the Pats. Baltimore's Willis McGahee was running all over them. Miraculously, the momentum shifted in the fourth quarter, the defense started stuffing McGahee and New England caught two humongous breaks on its game-winning drive -- an unfortunate Ravens timeout right when their defense had sniffed out a fourth-and-1 QB sneak, and a game-saving defensive holding penalty on a fourth-down play when nobody was open. Somehow, Brady and the Patriots pulled it out. I don't know how they won, but they won. You're not supposed to win the No-Effing-Way Game.

Did the Patriots have any business winning that game? No. For Pats fans, that game was the black-sheep cousin of the 2007 season -- you love it, but you're embarrassed by it. If that game was played 10 times, with the Ravens that fired-up and the Pats that flat for each of those 10 games, I'd say Baltimore wins the game eight of 10 times. On that crucial defensive holding penalty, I can still remember the interminable second after Brady's pass bounced away to "end" the game, and I can still remember not breathing and thinking the following two things: A word that rhymes with mitt, and then, "We didn't deserve to win that game." And just like that, the flag appeared and gave the Pats a second life.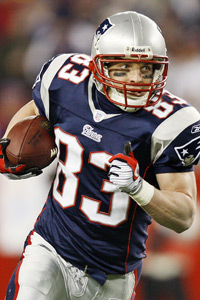 AP Photo/Winslow Townson

Wes Welker was one of several valuable pieces that magically fell into place for the Patriots.

You need luck to go 19-0. You need luck. The Patriots were lucky that teams passed a whopping 198 times on Tom Brady. They were lucky Moss fell into their laps and Miami was dumb enough to trade Welker. They were lucky the Chargers decided Rodney Harrison was washed up, and Junior Seau decided to come out of retirement. They were lucky Asante Samuel didn't hold out. They were lucky they only suffered two season-ending injuries -- Morris and pass-rusher Rosie Colvin -- and there was a two-week break between the Chargers and Giants games for Brady's high-ankle sprain to heal. They were lucky A.J. Feeley and Kyle Boller turned into A.J. Feeley and Kyle Boller with fourth-quarter leads and a huge spotlight shining on them. They were lucky Indy choked in the fourth quarter of Week 8. They were lucky the Ravens couldn't put them away. They were lucky the Giants only played three good quarters instead of four.

To a degree, you make your own luck. The Patriots responded beautifully in do-or-die moments against the Ravens, Colts, Eagles and Giants, and they were savvy enough to pursue the right free agents last spring, and that aforementioned culture of winning definitely weathered the team for the rigors of a 19-0 quest. They put themselves in position to potentially go 19-0 and, heading into Super Bowl XLII, they took care of every obstacle along the way. They were also one of the more unselfish teams we've seen. If there was an enduring image from the first two playoff games, it had to be Randy Moss dutifully running out his routes, drawing double teams, opening up the middle of the field and actually seeming happy they were winning with no real contributions from him. If there was an enduring play from those games, it had to be Seau stuffing Michael Turner two yards behind the line on a crucial third-and-goal. ... Only if you rewound the play on TiVo, you'd notice that a gap opened up because two of Seau's teammates were occupying two San Diego blockers apiece.

That's the thing about this Patriots team: The players honestly don't care who gets credit, just about doing their jobs and winning games. And, over everything else, that's why the Pats are two days away from their chance to finish 19-0. You know who epitomizes this team? Kelley Washington. Signed to compete with Stallworth and Jabar Gaffney for the No. 3 receiver spot, Washington ended up flourishing on special teams and made a gigantic play in the Chargers game when he downed a punt inside the 5-yard line. Here's how many balls Washington caught this season: Zero. Did he give a crap? No.

Here's what Washington told the Boston Globe after blocking a Jets' punt in Week 15: "I know there are only so many balls to go around, and there are other plays that you can help the team win [with] on special teams. ... All the attributes you have to have to play offense or defense you have to have on special teams. I love it, and I'm going to continue to do it. I'm just loving being a part of this team."
SPORTS GAL'S PICK
The Sports Gal apologizes for her spotty, Britney-like performance in 2007 and promises to come back strong for 2008 -- as soon as she's getting more sleep and not feeding a young baby 140 times per day. Here's her Super Bowl pick: Giants +12.

Playoffs: 5-4-1
Regular season: 136-111-9

That's all you need to know about the 2007 Patriots. You're not supposed to go undefeated in the era of parity and salary caps -- if anything, the league was painstakingly constructed for this not to happen -- and yet, they're 12-point favorites to pull it off Sunday. We might see a greater team some day, but we won't see another team more prepared for this specific moment. The Patriots spent seven years practicing what they preached and building a definitive body of work. They pretty much aced the salary cap and the draft. They have a Hall of Fame coach and QB in their respective primes. They landed a disproportionate number of quality players at fair or discount prices, and they had every conceivable break go their way during the season. And on top of that, the Branch debacle inadvertently gave them a competitive advantage.

I can't imagine anyone else specifically emulating what they did, which was another strange outcome of this season: There was a blueprint, but not really. Regardless, the Patriots made it look relatively easily for four-plus months and made a real-life NFL season look like a video game. Assuming they win on Sunday, you have to believe the 2007 Patriots were a perfect storm.

And over everything else, that's why I'm picking them to crush the Giants on Sunday. Remember the trailer for "The Perfect Storm" with Clooney and Wahlberg? How that gargantuan wave peaked toward the sky, a miracle of technology, something that probably took weeks to create in a CGI lab? When you watched the trailer, you didn't think about the time it took to create the wave ... you just wanted to see the power of that wave. Everyone heading to that movie knew Clooney's crew couldn't possibly survive, and yet, they paid for tickets and rooted for them to survive against all odds. Does that remind you of everyone talking themselves into the Giants as a 12-point underdog this weekend? A little bit, right?

If this Patriots season really is a perfect storm, then the Super Bowl should end like that Clooney movie. In other words, the Patriots would charge out to an early lead, throw all over the place, make a couple of big plays, put the Giants on their heels, force the Giants to abandon their running game and put Eli Manning in the position of playing from behind. And the lead would keep growing and growing, and by the time the game ended, New York's boat would have been smashed to smithereens. That's what the football version of a perfect storm should look like.

Will we see it on Sunday? I say yes.

The Big Pick: Patriots 42, Giants 17.

Playoff record: 5-4-1
Regular Season: 118-129-9.

Bill Simmons is a columnist for Page 2 and ESPN The Magazine. For every Simmons column -- as well as podcasts, videos, favorite links and more -- check out the revamped Sports Guy's World.



SUPER BOWL XLII

In one of the great Super Bowl upsets, the Giants defeated the Patriots 17-14 in Super Bowl XLII in Glendale, Ariz.
Super Bowl Central

• Hashmarks blog: Mosley, Sando in Arizona


Game coverage
•
Belichick ready to move on from Super Bowl loss
•
Nevada sports books lose record $2.6M
•
View to a thrill: Record 97.5 million watch XLII
•
Giants' win shatters viewership records
•
Clayton: Can the Giants repeat?
•
Simmons: Free fallin'
•
Giants spoil Pats' perfect season
•
Wojciechowski: Blame Pats for this debacle
•
Wickersham: Brady dazed and confused
•
Clayton: Eli lets instincts take over
•
Clayton: N.Y. 'misfits' harass Brady
•
Sando: Was Brady rattled?
•
Mosley: Belichick left a second early
•
Chadiha: Ten things we learned
•
Garber: Tyree's catch one for the ages
•
Zoom galleries
1
|
2
|
Great SB upsets
•
SportsNation: Best Super Bowl?
•
SportsNation: Biggest SB upset?
•
SportsNation: Your favorite commercials?
Commentary/Features
•
Clayton: Top five contenders for the next SB
•
'72 Fins breathe sigh of relief after Giants win
•
Chadiha: Giants enjoy underdog role
•
Sando: Coughlin, Giants made it work
•
Super Bowl picks: Our experts weigh in
•
Merrill: Nine previously perfect Patriots
•
Merrill: Harrison deals with his rep just fine
•
Clayton: Giants' O-line worthy of accolades
•
Pasquarelli: Tip Sheet
•
Pasquarelli: Tip Sheet notes

•
Wojciechowski: 15 reasons Patriots will win
•
E-ticket: Patriots' man of mystery
•
Sunday Countdown
•
Clayton's First and Goal
•
Chadiha: Giants miss Shockey
•
Garber: Injured war vet inspires Giants
•
Pasquarelli: The Pats' crucial cameos
•
Garber: In Brady's world, insecurity remains
•
Merrill: Hixon's traumatizing season
•
Football Outsiders: SB numbers crunching
•
Pasquarelli: Patriots' silent sentinel
•
Wojciechowski: Unflappable Eli
•
Sando: Brady rising among all-time QBs
•
Chadiha: Giants' rookies playing prominent role
•
Fleming: Cardinals/Pottsville Curse
•
Clayton: Youth serving Giants well
•
Chadiha: Ranking the best QBs by decade
•
Klancnik: Top QBs by jersey number
•
Hashmarks: Media day coverage
|
Gallery
•
Pasquarelli: Pats' old-school LBs
•
Helyar: Marketing windfall for Eli Manning
•
Garber: Seau's ring quest
•
Pasquarelli: Bruschi's full-circle journey
•
Animated plays
•
From the research room
•
Chadiha: Pierce just wants to win
•
Wojciechowski: Explaining Bill Belichick
•
Helyar: Recession? Not at Super Bowl!
•
Giants' Snee doesn't stray from roots
•
Sando: Seymour in eye of storm
•
Merrill: Welker scales new heights for Pats
•
Pasquarelli: Brady is ready to play
•
Garber: The preservation of Plaxico
•
Pasquarelli: Hill's spirit lives on
•
Clayton: Giants' juggling act at CB works
•
Wickersham: Giant ideas
•
Klosterman: All too perfect
•
Crown Jewels: A look at Super Bowl rings
•
FB Outsiders: Giants one of worst SB teams
•
Helyar: Patriots will drive TV ratings
•
Clayton: First and goal
•
Chadiha: Giants' glory road
•
Mosley: Brady's ankle saves the week
•
Woj: Preseason predictions revisited
•
Merrill: David Woodley's dark spotlight
• Former SB QBs:
Plunkett
|
Rypien
|
Ferragamo
• More:
Morton
|
Humphries
|
Hostetler
|
Eason
•
Starting matchups of Super Bowl QBs
• Ranking the QB performances:
1-40
|
41-82
•
Jaworski: Six Super Bowl surprises

•
Joyner: Brady's bad decisions

•
Clayton: Eli's managing fine
•
Chadiha: Focused Giants
•
AccuScore simulation: Pats to prevail
•
Chadiha: First Look at the Super Bowl
•
Playoff schedule
Spy Games
News
•
Vermeil doubts spying made difference for Pats
•
Fish: Ex-Ram Warner suspicious of Pats in SB XXXVI
•&nbsp
Report: Pats taped Rams' SB walk-through
•
Specter to Goodell: Let's talk
•
Fish: Possible 'Spygate' witness surfaces
Commentary
•
Easterbrook: NFL can blame itself for scandal's timing
•
Munson: Congressional interest serious
•
Pasquarelli: Specter should stick with politics
•
Clayton: Spy saga won't distract Patriots
•
Hashmarks at Goodell's news conference
Letters
•&nbsp
Specter to Goodell (.pdf)
•&nbsp
Goodell to Specter (.pdf)
Page 2
•&nbsp
Gallo: Five stages of heartbreak for Pats' fans
•
Hill: Best Super Bowl parties
•
Hill: Teflon Tom Brady
•
Popculture roundtable on the Super Bowl
•
Hill: Raiders quit on Moss
•
Flem File at the Super Bowl
•
Fleming: Defining greatness
•
Best teams never to win a title
•
TMQ: Title-game analysis
•
Why Boston teams are so good
•
Gallo: Countdown to kickoff
•
More from Page 2
News
•
Brady ankle not on injury report
•
Brady on Plax prediction: Only 17 points for Pats?
•
Carey named first black Super Bowl referee
•
Brady practices in Pats' first Super Bowl session
•
Ross gets sick as unified Giants face flu
•
NFL not worried about spying
•
Security high for Super Bowl
•
Williams to be honored during Super Bowl
•
Bootless Brady departs for Arizona
•
Tickets reselling for average of $4,300
•
Burress: Giants' receivers are better
Scouts Inc.
•
Roundtable: Seven scouts weigh in
•
Super Bowl XLII X Factors
•
Coaching comparison: Styles vary, results same
•
Defensive line breakdowns
•
Horton: Notes from the film room (Day 5)
•
Matchups to watch in Super Bowl XLII
•
Running-game breakdown
•
Horton: Notes from the film room (Day 4)
•
QB tale of the the tape
•
Horton: Notes from the film room (Day 3)
•
Ranking NFL QBs 1-64
•
Take II on Super Bowl XLII
•
Giants' DBs overmatched or underrated?
•
Horton: Notes from film room (Day 2)
•
Horton: 10 things to watch in SB XLII
•
Horton: Notes from the film room (Day 1)
•
A tale of two underrated O-lines
•
Take I on Super Bowl XLII
•
Players ranked Nos. 1-106

SportsNation
• Vote:
Which team will win?
• Vote:
Who wins the head-to-head matchups?
• Vote:
Which team are you rooting for?
• Conversation:
Talk Super Bowl XLII
• Map:
Which states are picking the Giants?
• Quiz:
42 Super Bowl history questions
• Chat:
Buzzmaster: Hello from Arizona!
• Chat:
Buzzmaster: Live from Media Day
• Chat:
Buzzmaster: Live with oddsmaker
• Chat:
Buzzmaster: Live with Matt Hasselbeck
• Chat:
Buzzmaster: Live with Gregg Easterbrook
• Rank:
Super Bowl's best individual performances
• Rank:
Super Bowl coaches
• Rank:
Super Bowl careers
• Rank:
Super Bowl teams
• Rank:
Super Bowl games
• Rank:
Greatest all-time quarterbacks
• Vote:
Potential for QB greatness?
• Quiz:
Greatest quarterbacks
• ABCNews:
Super Bowl or Super Tuesday?
• Chat Rewind:
When did undefeated talk start?
• Vote:
Can we proposition you?
• Pulse:
What is SportsNation saying about XLII?
ESPN Top Headlines