I never had a chance to submit my thoughts on the Jason Kidd trade, which was a shame because the Mavs-Hornets game Wednesday confirmed my worries about the deal for Dallas. There's no question the Mavs needed a blood transfusion, and you can't totally kill any basketball trade when a contender acquires someone like Kidd without giving up a lottery pick or anyone in the top three of their rotation. I just don't think Kidd necessarily makes them better.
Consider the following three points: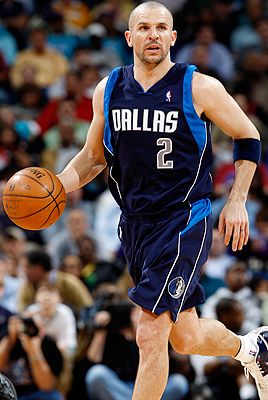 Chris Graythen/Getty Images
Jason Kidd might find that he doesn't have many running mates in Dallas.
1.
Kidd can't shoot. I mean, he
really
can't shoot. He always has been useless as a 3-point shooter, but nowadays he can't even get to the rim like he did during his heyday. Just look at his numbers. During the '03 season, when he would have been the MVP if not for a career year from Tim Duncan, Kidd averaged 18.7 points, got to the line five times a game, shot 41 percent from the field and averaged nine assists and 6.3 rebounds for good measure ... and that was two years before the league changed the hand-check rules and allowed point guards to start dominating. If Dallas was getting THAT Jason Kidd? I'd be standing and applauding. But the '08 Jason Kidd is shooting .366 from the field, scoring 13 a game and averaging 2.2 free throws, which tells me he's not driving to the basket anymore.
Now, look at this particular Dallas team. The Mavs have one guy who can consistently create his own shot (Dirk Nowitzki), one guy who catches fire from time to time (Josh Howard), one good shooter (Jason Terry) and one scorer who might be washed up (Jerry Stackhouse). I keep hearing Kidd is going to get everyone easy baskets, but their three best scorers (Dirk, Howard and Terry) are already shooting around 47 percent. How much easier can he make it for them?
Dallas was missing a guard who could create shots for everyone and carry the offense every time it got stagnant -- because, after all, the current defensive rules are geared toward helping penetrating guards do their thing -- and every other Western contender has a guy like that except the Lakers (who don't need one because they have Kobe) and Rockets (who can't be taken seriously because they don't have one). Phoenix has Steve Nash. Denver has Allen Iverson. New Orleans has Chris Paul. Utah has Deron Williams. Golden State has Baron Davis and Monta Ellis. San Antonio has Tony Parker and Manu Ginobili. Portland has Brandon Roy. If you don't have a guard who can take advantage of the current rules, that's a legitimate disadvantage, especially in the last five minutes of a close game when defenses clamp down and it becomes tougher to get good shots. In this respect, I don't see how Dallas got better by getting Kidd.
(One other wrinkle here: For a team like the Suns, this trade doesn't bother them if they end up meeting Dallas in a series. Not only can Nash blow by Kidd whenever he wants, but, defensively, he can play 5 feet off him and double another player. It's no different than if Devin Harris was still on the team. It really isn't.)
2. The benefits to having Kidd on your team are simple: He's completely unselfish, he's competitive as hell, he makes everyone a little bit better, and he's better than everyone but Nash at running fast breaks. The first three traits help Dallas just like they'd help any team: Kidd always has been one of those players who gets better with better teammates, as he proved during every All-Star Game and even the Olympic trials last summer. Still, it's his creativity and consistency on fast breaks that make him special ... and that's what confused me about the trade from Dallas' end. Have you watched the Mavs? Who's running with Kidd on that team other than Howard? Dirk is slow. Erick Dampier is slow. Terry doesn't go within 20 feet of the basket. Stack stopped running five years ago. Who's left?
Anyway, every time I had a conversation about Kidd in New Orleans last weekend, I asked the question, "Yeah, it's great for the Mavs and all, but who the hell is running with him?" I couldn't get past it. And if you watched the Mavs-Hornets game, the thing that stuck out was Kidd's teammates (everyone except Howard) chugging to keep up with him. In fact, there was one play in the third quarter when Kidd took off with a rebound and beat his teammates down the court by 8-10 feet, realized nobody else was with him, screeched to a stop at the foul line and had to dribble back out and wait for everyone else to show up. Switch Nowitzki for someone like Amare Stoudemire and switch Jason Terry for someone like Monta Ellis, and I'd be saying, "Wow, awesome trade, this is gonna be unbelievable!!!!" But Dallas doesn't have the right teammates for him -- it's a halfcourt team and, to be honest, he's not a great halfcourt player anymore.
3. Once upon a time, Kidd was a destructive defensive player, one of the best defensive players in the history of the point guard position. The thing that made him special was his ability to guard anyone under 6-foot-8. (Remember in the '02 playoffs when he shut down Paul Pierce?) You could unleash him on anyone like a pit bull. And he was so good at planting his feet and taking a charge on layups and dunks, he was single-handedly responsible for the NBA extending that little semi-circle under the basket. Unfortunately, that guy is long gone. He can't handle great point guards anymore, and if you watched that Hornets game, the enduring image was Paul killing Kidd in the third quarter to the point Dallas had to switch Terry on him. Paul's final numbers: 31 points, 11 assists, nine steals, five rebounds. What else can you say?
Look, I have Kidd ranked as one of the 50 greatest players ever, as well as one of the best eight point guards ever. But at this point of his career? I'd take seven point guards in the West over him: Paul, Williams, Nash, Davis, Iverson, Parker and Ellis. So you can't tell me he pushes Dallas from "fringe contender" to "genuine contender" -- the upgrade from Harris to Kidd just wasn't significant enough, and that's before you factor in what the Mavs lost with DeSagana Diop (their best shot-blocker and low-post defender), or the eight-figure financial bump in salaries and luxury-tax expenses. If you're a Dallas fan, the trade made your team more interesting this season (as opposed to "fairly uninteresting") and you have a significant trade chip next season (Kidd's expiring contract in 2009 for $20 million). Just don't think you're winning a title, because it's not happening.
One other note on Kidd that everyone missed: The most logical home for him was Portland. From what I was told by multiple people in New Orleans, the Blazers made a strong push, and Kidd made it clear to everyone involved he didn't want to play there. Now, I don't know the exact trade offer, but I'm assuming it was something like this: Kidd and a smaller contract (somebody like Antoine Wright) for Raef LaFrentz (monster contract expiring in 2009), Steve Blake ($13 million total for this year and the next two), the rights to Rudy Fernandez, a lottery-protected No. 1 and $3 million -- which would have pushed Portland into the playoffs this season (even at this point of his career, Kidd is a significant upgrade over Jarrett Jack and Blake) and made the Blazers a genuine contender if/when Greg Oden comes back strong next season.

Here's the irony: Kidd didn't want to play in Portland because he wanted to win a title and, by all accounts, his heart was set on playing in Dallas. Fine. But just for the hell of it, let's say the Blazers swung the Kidd deal and signed Antawn Jamison for their entire mid-level this summer, giving them a nucleus of Roy, Oden, Kidd, Jamison, LaMarcus Aldridge, Travis Outlaw, Martell Webster, Jarrett Jack and Joel Przybilla next season. Um, wouldn't the '09 Blazers have had a higher ceiling than the '08 or '09 Mavs? Wouldn't that have been a better fit for Kidd because those Blazers could have run with them?

Anyway, here's my prediction: Kidd will look back at this some day and think to himself, "Damn, I should have gone to Portland."

(P.S.: Don't rule out the chance of Dallas missing the playoffs, which would be the ultimate irony here. Right now, there's going to be a 48- to 50-win team that finishes ninth, and from what I've seen, it's between Houston, Dallas and Denver for that spot. Everyone else is getting in. Can you imagine? Dallas making the Kidd trade and MISSING the playoffs?)
As for the other big trade this week, kudos to Danny Ferry for somehow getting four of the best five players in an 11-player trade. That has to be some sort of record, right? I already made the case for Wally Szczerbiak and Delonte West helping the Cavs in my Trade Machine piece Wednesday (scroll down to trade 4A), but the Chicago guys pushed the deal over the top for me. First, Drew Gooden needed to go -- he was too inconsistent and too much of a bonehead, and we neared the point when a fed-up LeBron might punch him in the face during a game about three months ago -- and Joe Smith gives the Cavs steadier minutes and reliable production with those minutes. (Maybe Smith's ceiling isn't as high as Gooden's from game to game, but when you have LeBron you need consistency from the rest of the guys more than anything else.) Second, the fact Ferry was able to trade an overpaid guard who actually drove a frustrated Cavs fan to create a site called www.heylarryhughespleasestoptakingsomanybadshots.com and update it every day ... I mean, even if you got back a dead body for Larry Hughes, it would have been a moral victory.

Instead, the Cavs got back the Artist Formerly Known As Ben Wallace, someone who stopped being an elite rebounder and shot-blocker about three years ago, but someone with playoff experience and the ability to defend bigger guys like KG, Shaq or Duncan. He certainly makes more sense for the 2008 Cavs than Larry Hughes did. Anyway, I thought the Cavs could win the East before this trade, simply because none of the Eastern teams have someone who can match baskets with LeBron in a close game. Now? They're the favorites. Look, I love the Celtics, I watch them every game, it has been the most enjoyable season in 15 years. ... But a playoff series almost always comes down to one question as long as both sides are relatively equal:

Which team has the best guy?
SHOOTING STARS
Three leftover ideas from All-Star Weekend:

1. To save the Rookie-Sophomore Game from being a blowout every year, they should make the best sophomores "captains," flip a coin for first pick before the game, then have the captains pick sides from the remaining players like it's a pickup game. How great would that be?

2. Include the winner of the D-League dunk contest in the NBA dunk contest the following night. Why not? Like the crowd wouldn't be rooting for him?

3. After watching the D-League's attempt at H-O-R-S-E, I am 100 percent POSITIVE the idea would work on All-Star Saturday if the NBA picked four superstars and miked them. At the very least, it would be better than the first two craptastic events from last Saturday.

(By the way, I judged the D-League dunk contest and found out firsthand there's nothing worse than giving someone an "8" when everyone else is giving a "9." In fact, I even got a brief "I'm going to shoot you after this is over" look from one of the slighted contestants. I'm never judging another Dunk Contest. Too much pressure.)

Well, LeBron is better than anyone else in the East. So if you were beating Cleveland this spring, it was happening because your supporting cast was significantly better than LeBron's supporting cast. That's why this trade was so dangerous for Boston and Detroit; it shortened the sizable gap between guys 2 through 12 on Cleveland and guys 2 through 12 on Boston and Detroit. Now LeBron has four shooters who have shot 40-plus from 3-point range at least once in their career (Wally, Delonte, Boobie Gibson and Sasha Pavlovic), three seasoned rebounders (Wallace, Smith and Anderson Varejao), a scoring center (Zydrunas Ilgauskas) and, best of all, no Larry Hughes screwing up everything. LeBron is in a much better place than he was last year, and what's even more frightening is that he has been playing out of his mind since last April. I know the Celtics are 41-11, and I know the Pistons have been there a million times ... but still, how could you bet against LeBron in the East when he's playing like this?
On the flip side, the John Paxson era is starting to resemble the Britney Spears era -- tons of promise, tons of hype, a startling turn and now he's one more bad move away from chain-smoking in a hospital gown while speaking with a British accent. If you had told a Bulls fans two years ago that everything (and by "everything," I'm referring to a five-year odyssey spent stockpiling lottery picks and creating cap space) was leading toward a 2008 deadline deal that netted them Larry Hughes and Drew Gooden, they would have punched you in the face and then they would have punched you in the face again. But that's where we are. All things considered, the Wallace contract was the single most damaging front-office decision of this decade that didn't involve Chris Wallace.
Since I'm the VP of Common Sense and all, I have to devote a paragraph to praising Seattle GM Sam Presti for turning Rashard Lewis, a guy who was leaving, anyway, into three first-round picks. Amazing. One of the picks (Phoenix's 2010 pick) even has an outside chance of landing in the lottery if Shaq and Steve Nash go south within the next three years. Presti's Sonics hold 13 picks in the next three years, including six first-rounders. As Mad Dog Russo would say, "Sammy, that's a great job by you! That's just a great job right there!"

On the flip side, Presti has to be slammed a little for how the Ray Allen trade turned out: Basically, the Sonics dealt Ray Allen and "Big Baby" Davis for Jeff Green and Donyell Marshall's corpse and saved $10 million for the 2008-09 season ... money that they won't be spending on players because their soulless owner is busy destroying a 41-year history of professional basketball in Seattle. Does that sound like a good deal to you? Didn't think so. I'd have more to say here, but the poor Sonics fans are like abused dogs in an animal shelter right now. Let's just move on.
My favorite trade of the season, other than the Pau Gasol Heist: San Antonio shrewdly turning Frannie Elson, Brent Barry and a lousy first-round pick in a bad draft into Kurt Thomas. He gives them playoff experience, first-class defense, a security blanket for Duncan getting into foul trouble, another quality locker room guy and someone with crazy eyes who will stand up for Ginobili and Parker every time they get knocked down. Really good work. What's nutty to me is Orlando could have made the EXACT SAME DEAL with the same expiring contracts and a better pick, only Otis Smith is apparently still on vacation after the Brian Cook-Maurice Evans trade.
One final thought after a trading frenzy that shed the "No Balls Association" tag: Do you realize none of this would have happened without the KG trade last summer? Garnett is such a loyal person he probably would have retired with the T-Wolves -- even if it meant never winning a title -- until he had a falling out with the owner and Kevin McHale last summer when he learned they were shopping him before the draft. Betrayed, Garnett started rethinking his commitment to Minnesota, and that eventually led to the Boston trade, a deal that Garnett had to be talked into by friends and family for three solid weeks before it happened.

Just for the hell of it, let's pretend the trade never happened and Garnett stayed in Minnesota.

Fast-forward to late-January. Chris Wallace is shopping Gasol around. It's easy to forget this now, but the Celtics wouldn't have been terrible with Pierce, Allen, Al Jefferson, Kendrick Perkins, Rajon Rondo and Ryan Gomes. That's a .500 team in the East, right? They would have been waiting for a blue-chipper like Gasol to come on the market, and when it happened, they would have easily trumped the Lakers' offer with Theo Ratliff's Expiring Contract (so glad I get to write that one more time), $4 million more of expiring contracts (Sebastian Telfair and Gerald Green) and the rights to Minnesota's No. 1 in 2008 or 2009 for Gasol and Brian Cardinal's crummy contract. In every way, that's a better deal than what the Lakers gave up and, besides, Chris Wallace owed Boston for all the damage he inflicted a few years ago.

Now ...

The Celtics would have become a player in the East with Gasol, Jefferson, Pierce and Allen -- a killer offensive team that couldn't defend anyone, but still good enough to be intriguing in a weak conference. On the other hand, they wouldn't have been good enough that everyone in the West would have said, "Uh-oh, we gotta do something." More importantly, Gasol never goes to the Lakers for 38 cents on the dollar, which means the following things don't happen:
Phoenix doesn't roll the dice with the Shaq trade.
Dallas doesn't roll the dice with the Kidd trade.
The Lakers trump San Antonio's offer for Thomas by sending Kwame Brown and Jarvaris Crittendon to Seattle, leaving the Spurs with Elson instead of Thomas.
LeBron doesn't pressure Cleveland to make that 11-player deal and assume all that extra money.
In other words, it would have been the "No Balls Association" all over again! So thank you, Kevin Garnett, for coming to your senses and kicking the league into another gear.
Wait, one final thought on the final thought, only because my father and I were discussing it this week after Gasol torched the Suns: As blasphemous as this sounds, purely from a talent standpoint, would the Celtics have been better off getting Gasol than Garnett?

Granted, there isn't a Celtics fan alive who would choose any other scenario from the way this particular season has played out. We're relevant again. We're fun to watch every night. We have a legitimate chance to win the title. We're trotting out a team that's so ridiculously competitive that it hasn't been blown out once in four months, and you cannot quantify in words what it's like to watch Garnett's passion every day for an entire season. It's also worth mentioning Garnett rejuvenated Pierce's career and turned him into one of the top all-around players in the league, something that wouldn't have happened with Gasol. And Gasol isn't selling out the Garden for the next four years like KG has (or selling as many jerseys).

Still, there's also a window to the Garnett era in Boston -- three years, maybe four -- and if you watched him closely this season, he was wearing down even before his injury a few weeks ago. (Just look at his rebounding splits.) How many years does he have left at a high level? When you consider Garnett's contract nets him nearly as much as Gasol and Jefferson combined in 2009 and 2010, the topic becomes a little more interesting. What happens if the Celtics don't win a title this year or next year? What happens if Garnett (carrying a ton of miles already) starts to deteriorate? What happens when Allen starts to decline as a player (and by the way, he hasn't been nearly as good as people seem to think this season)?

Look at Boston's nucleus if the aformentioned Gasol trade happens: Allen (age 32, expiring contract in 2009), Pierce (30), Gasol (27), Jefferson (23), Rondo (21), Perkins (23), Big Baby (22), Gomes (25). You're set for the next five or six years with that group.

Here's Boston's nucleus now: Allen (32), Garnett (31), Pierce (30), Rondo (21), Perkins (23), Big Baby (22), Posey (31) ... with the Allen-Pierce-KG deals expiring in 2009, 2010 and 2011, respectively. You're set for two years with that group, maybe three, and then it depends on what you do with those big cap numbers.

It's at least a potential debate down the road, right? Although my dad said it best (I'm paraphrasing): "I wouldn't change how it worked out because I got the chance to watch Kevin Garnett every night. And, also, I love watching this team."

Me, too. I agree. Wholeheartedly.

With that said, these three points have to be mentioned:

1. If the Celtics don't win a title with Garnett over these next three years -- and really, their best chance is 2009 because they have their own No. 1 and a chance to add another veteran free agent -- then we might be looking back at this some day and thinking, "Wait, would they have been better off not getting Garnett and just ending up with Jefferson and Gasol?" Crazy but true.

2. The Lakers fans should feel really, REALLY lucky right now.

3. If the Celtics and Lakers end up meeting in the 2008 Finals, let's remember to factor in the Gasol-Garnett conundrum to the 250 other things that would make that series so phenomenal. Enjoy the weekend.

Bill Simmons is a columnist for Page 2 and ESPN The Magazine. You can check out his "Sports Guy's World" site here.