Back in mid-January, you might remember me writing a "Dr. Jack" breakdown of the undefeated Patriots and the '86 Celtics, trying to figure out which team was greater and leading to hundreds of "You better not have jinxed the season!" e-mails. When the Pats blew Super Bowl XLII three weeks later, more than a few Boston fans blamed me, like my column had the opposite effect of "The Secret" or something.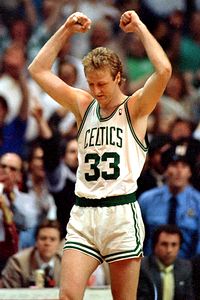 AP Photo/Peter Southwick
Larry Bird's Celtics or KG's crew? The Sports Guy's head is starting to hurt.
Can you really blame a writer for altering the outcome of a football game with a column? Of course not. It's patently ridiculous. The truth is, I just picked the wrong Boston team for the breakdown -- instead of comparing the '08 Patriots to the '86 Celtics, I should have used the '08 Celtics. With the playoffs just three weeks away and KG, Pierce and the gang running on all cylinders like no Celtics team since Larry Bird's heyday, it now seems like the optimal time to break this baby down "Dr. Jack" style.
Without further ado ...
(Wait for it ...)
(Wait for it ...)
April Fools!
(Just give us a few seconds while we revive my dad.)
(All right, we're good.)
Hey, what about an April Fools' mailbag? Is that something you might be interested in? As always, these are actual e-mails from actual readers.
Q: Your stubborn insistence on writing basketball nonsense for months on end reminds me of when Pearl Jam made albums like "Binaural" to purposely drive fans away. The baseball season just started and have we been treated to an SG column about it? No! I'd even read a Red Sox column or a Tom Brady column just because it's not a basketball column. You do realize the baseball season started right?
-- Danny G., Kansas City, Mo.
SG: Fine, we'll make it an April Fools' mailbag with no basketball questions. (Frankly, any comparison of my hoops columns to "Binaural" is a wake-up call. I might never write about the NBA again.) Speaking of baseball, allow me one extended thought about the American League heading into the season. Why the American League and not both leagues? Because that's the league in which I watch 162 Red Sox games a year and throw myself into my AL-only fantasy keeper league. I know the American League to the degree that when Leo Nunez pitched two scoreless innings in Detroit on Monday, my reaction wasn't "Who the hell is Leo Nunez?" but "Why didn't we start Nunez over Ian Kennedy this week when he was one of my big sleepers and Kennedy isn't even starting until Saturday?" I am an AL junkie. And if it comes at the expense of following the National League, then so be it. I'm not going to apologize. There's only so much time in the day.
Anyway, here's my big extended thought: We're headed for a potentially historic offensive season in the American League. Consider the following things ...
The quality of AL starting pitching has gone south because of two trades (Johan Santana and Danny Haren), some injuries (John Lackey, Kelvim Escobar, Curt Schilling, Scott Kazmir, possibly Josh Beckett), overprotective inning counts (Felix Hernandez, Clay Buchholz, Phil Hughes, Kennedy, Matt Garza and Francisco Liriano) and the disappearance of reliable, "I know I'm getting 200-220 innings, 140-170 Ks, 13-17 wins and a solid ERA and WHIP out of him" guys (leading owners to overpay for the likes of Dice-K, Jeremy Bonderman, Rich Harden, A.J. Burnett and others in my draft last weekend). In the course of a 10-hour draft, I don't think anyone made fun of a single bid for a starter except for when Edwin Jackson went for $3 (about $4 too much). How can you make fun of the great unknown?

Tim Wakefield is 41 and doesn't throw faster than 85 mph, but he's definitely worth $7 in a fantasy auction.

Not only were Kenny Rogers and Tim Wakefield drafted in my keeper league, not only did the bidding war for Wake climb to $7, but my buddy Hench and I shared a fist pump after we landed him. That's right, Tim Wakefield! The 41-year-old guy who celebrated last year's World Series championship in a sling!

We can have up to 10 keepers, so our friend Mikey incredibly decided before the draft to keep Andy Sonnanstine at $8. Even more incredibly, nobody made fun of him or thought it was a bad move. Along those same lines, Erik Bedard was shut down with a sore shoulder last season, gave up eight homers in spring training and went for $30 in our auction. Did I mention that pitching is thin in the American League this season?

The overall quality of middle relievers and set-up guys is even more (pick an adjective: disturbing, appalling, grisly, macabre, comical) than usual. I mean, back in June 2005, if you had asked me to choose between one of two predictions -- "In 2008, Alan Embree and Keith Foulke would still be the lefty-righty set-up combo for an AL team" or "In 2008, Kevin Federline will have five Grammys, an Oscar nomination and his own late-night talk show" -- I would have gone with K-Fed in a kajillasecond.

Todd Jones, Troy Percival, Huston Street, Joe Borowski, George Sherrill and C.J. Wilson make up 40 percent of the league's closers. Would you ask any of those six guys to help you fix a flat tire, much less save a baseball game? I didn't think so.

In our auction, Hench and I paid $14 for Percival. And you know what? We'd do it again.

Four of the top five teams have noticeable pitching holes: Detroit (bullpen), Boston (starting rotation, middle relief), Anaheim (ditto), New York (double ditto). Only Cleveland seems to be relatively well-rounded, and that's the same team that relies on Borowski to close games.

The AL has three monster lineups (New York, Boston and Detroit), two other very good lineups (Cleveland and Anaheim) and one lineup with a chance to become very good (Tampa Bay), as well as an inordinate amount of good hitters who seem like they're poised for a gargantuan year either because it's a contract year, they worked out all winter, they're coming back from an off-season and/or they're ready to make the proverbial leap: Manny Ramirez, Bobby Abreu, Miguel Cabrera, Grady Sizemore, Billy Butler, Delmon Young, Carl Crawford, Alex Gordon, Vernon Wells, Nick Markakis, Josh Hamilton, Robbie Cano, B.J. Upton, Justin Morneau, Howie Kendrick, Travis Hafner ... for God's sake, the list doesn't end, and if the first three guys on that list have career years, their three offenses are going to be insanely, abnormally good.
So that's my prediction for the American League: We're in for a summer of football scores and eye-popping offensive numbers along the lines of what happened in '77, '87, '93 and the prime of the steroid era. While we're here, I'll go with Manny for MVP (Abreu second, Cabrera third); Justin Verlander for Cy Young (Sabathia second, Felix third); Oakland's Carlos Gonzalez for Rookie of the Year (Evan Longoria second, Asdrubal Cabrera third); Boston, Cleveland, Seattle and New York (wild card) in the playoffs and Cleveland over Boston in the ALCS, with the Indians trouncing the D-Backs in another World Series sweep. And no, that wasn't a reverse jinx. As far as you know.
Q: As a somewhat reasonable Yankee fan, can we agree that it would be in our collective best interest if Hank Steinbrenner would start a blog? Is there any way that you could use your influence to make this happen?
-- Dave F., NYC
SG: You're right, this needs to become a major priority in 2008 since our No. 1 choice for a blogging owner (Jimmy Dolan) is probably too incompetent to even get online. (Here's my strategy: Anyone who knows Hank should start sending him links to Mark Cuban's blog with accompanying notes like, "Wow, Cuban has some terrific thoughts on the media and blogging, check out this post!" and "It's too bad Cuban has to run the Mavs because he could have been a helluva writer!" and keep appealing to Hank's competitive side until he finally snaps. I give it three weeks.) But you know what's bittersweet? Don't you kinda sorta wish George Steinbrenner had come along 35 years later and bought the Yankees during the age of the 24-hour sports information cycle of the Internet, all-sports radio, "PTI" and everything else? As annoying as he was over the years, imagine George ranting on his blog at 3:30 a.m. on a Tuesday about why he fired Billy Martin for the 11th time? I miss having a hot-headed, irrational billionaire owner in my life. I guess we'll have to settle on Hank for now.
Q: Hey, did you hear Brett Favre retired?
-- Seth S., Chicago
SG: What????
Q: During the NFL draft, will the final shame of SpyGate arrive if the NFL decides to make the Pats sit there uncomfortably for the entire 10 minutes for the 31st pick they can't use?
-- Paul M., Boston
SG: You know, even as a Patriots fan, I appreciate the comedy here. The clock could be counting down as ESPN repeatedly showed our war room glancing around like high school kids waiting to get called into the principal's office, and Chris Berman could be saying things like, "Four minutes to go for No. 31, and again ... (overly dramatic pause) ... T.J., Mort, Mel, you really have to hope Belichick and the Patriots learned their lesson here ..."
Q: Remember when you wrote in your "Clemens is the Antichrist" column that Roger leaving Boston and winning two Cy Youngs in Toronto was like your girlfriend dumping you for the guy next door, losing 15 pounds, getting a boob job and joining "Baywatch"? Well what's the equivalent now? I think this analogy definitely continues to her being dumped by the neighbor because she's old, wrinkled, and now her breasts just look big and fake. And she was in a car accident. With the Easter Bunny.
-- Pat F., Hecla, Pa.
SG: You're right. The last six months turned Clemens into Kim Kardashian's mother -- he should just marry Bruce Jenner at this point.
Q: I can confirm your buddy Sully's Twelve Percent Theory from the last mailbag (about mothers getting 12 percent crazier after each childbirth), although your Hillary Clinton example is wrong because it misses another key data point: Every time a man cheats on his wife, the wife loses another 33 percent of her sanity. So, you figure Hillary lost 12 percent from giving birth to Chelsea, 33 percent from Paula Jones, another 33 percent from Monica, and if you throw in a few more that we never found out about, she's operating at approximately minus-530 percent sanity these days, right?

-- John M., Providence, R.I.
SG: I'm Barack Obama, and I approve this message.
Q: Has there ever been a more patently false instance of using a fallen teammate as motivation than Kenny yelling "LET'S DO THIS FOR BIG EASY" after the dude was taken away by paramedics during the Gauntlet finale? That'd be like Lithgow shooting his chick in "Cliffhanger," then turning to the remaining guys and yelling "LET'S GO FIND THAT MONEY! DO IT FOR HER. WE'VE COME SO FAR AS A TEAM AND CAN'T LET HER DIE IN VAIN!!" Also, I'm fairly sure Ev would let me die brutally if it meant she'd get 10 cents off a gallon on her next fill-up. She is a vicious, vicious creature.
-- Kael, Canton, Conn.
SG: You know what's amazing about that show? When I was in Arizona for the Super Bowl, I met a guy named Kyle Brandt, who was one of the "Real World: Chicago" castmates and currently works for Jim Rome. Kyle said MTV has tried to get him to appear on those Gauntlet/Challenge shows and he always turns them down, but when we were talking about it, he said MTV only pays five grand to everyone who comes on those shows (plus prize money). That's like slave labor, isn't it? It's a franchise show for MTV and they're only shelling out $300,000 in prize money plus another $100,000 total in guarantees for 20 people who agree to spend up to a month on the show?
If these losers are so driven by money that they'd be perfectly willing to let Big Easy drop dead of heat stroke during a challenge and then drag his dead carcass for the final two events, why wouldn't they band together, go on strike and demand $100K per competitor for the show plus $1 million in prize money or they're not going on ... and if anyone crosses the picket line, they have to deal with the wrath of CT. Wouldn't that work? Wouldn't MTV have to pay them considering the show generates a ridiculous amount of cash? Or is the network banking on the fact that these attention hogs love the spotlight so much and they're so dumb that they'd never think of banding together and fighting for more money? Wait, don't answer that.
Q: Having you -- a 30-something, white, father-of-two from Boston -- pick the members of Mount Rapmore is like having a 30-something black guy from D.C. pick an NHL All-Star Team. Hey, wait, that's me! I'll go with Wayne Gretzky, Gordie Howe, and ... wait ... how many people play in a hockey meet?
-- Damon, Washington
SG: (Searching for a comeback.)
Q: I just got back from San Diego and I was with both of my brothers at the Oceanside Harbor eating lunch. My oldest brother comes back to the table and tells us we each owe him $50. He saw Junior Seau at the bar and paid the cocktail waitress to give him 18 beers and one empty shot glass. We paid him
. -- Casey, Bend, Ore.
SG: (Hanging my head in shame.)
Q: Can someone please bring up the inherent danger of letting women watching HBO's "In Treatment"? Pseudo-psychology is going to be more prevalent in a lot of men's lives. Great.
-- Matt A., Stevens Point, Wis.
SG: I'm convinced the Sports Gal and her sports-hating friends convinced HBO to launch this show as their revenge for their guys watching sports all the time. The name of the show should really be called "Turning the Tables." Think about it -- it's on every night, it's enjoyable for one gender and excruciating for the other, it leads to annoying phone conversations and e-mails in which our significant other and her friends try to figure out what happened and, if that's not enough, it has guys asking questions like "Is this season ever going to end?" and "Can't you just tape this so we can watch something we both enjoy?" If there was a fantasy league for that show, the circle would be complete. Crap, I hope I didn't give anyone any ideas.
Q: Carlos Gomez is batting .667 and on pace for 324 stolen bases. Who got the better end of the Santana trade now!?!?

-- Ben T., Minneapolis
SG: That's right, things are looking up in Minnesota! By the way, my editor Mike Philbrick wants to pass along congratulations to Major League Baseball for giving us three different "Opening Days," then failing to have any afternoon games on the first Tuesday of the season. Way to know your audience, fellas. You continue to make us proud to be fans.
Q: Do you realize Troy Aikman's interactions with Joe Buck are EXACTLY like Arnold Schwarzenegger's interactions with director Paul Verhoeven for the commentary for "Total Recall?" It's uncanny, right down to the incessant usage of the word "exactly." The reason this is really funny is because of a drinking game my friends and I played once -- we turned on the commentary for "Total Recall," and drank every time Arnold agrees with the director. I kid you not, people were falling out of their chairs within 15 minutes.
- -Ryan Flippo, Tulsa, Okla.
SG: You're exactly right, Ryan. The similarities between Troy-Buck and Arnold-Verhoeven are uncanny. You're exactly right. That's a great point. You're right.
Q: Do you think Obama is gonna be the first "Nobody believed in us!" president?
-- Chris T., West Caldwell, N.J.
SG: Harry Truman just rolled over in his grave.
Q: The all-time interception leader who carouses, turns his back on friends, calls out grossly underpaid teammates for holding out and then holds his organization hostage himself is hanging it up to spend more time with the family? LOL. I'd mention the pill-popping, but then I'd be the hypocrite. I mean, who doesn't like a few extra Vicodin? But seriously, who else could do what Favre has done, negatively speaking, both on and off the field, and get away with it? I mean, its like the media took an oath of unconditional praise with this guy. I will never understand this completely. In a way, I admire him for it; for getting away with it. It's remarkable. I mean, how the hell did he pull it off? Really, I have to tip my hat to the man. See, and you thought this was an anti-Favre e-mail.
-- Jon Z., Los Angeles
SG: My God, there's rioting in the streets of Wisconsin right now! You know what's funny? Favre reached such a saintly status over the years I actually let out an audible gasp when I read that e-mail -- it's like Jon Z. was attacking Santa Claus or Dakota Fanning or something.
Speaking of Favre, he already has been replaced by Tyler Hansborough as the token "White Athlete That The Media Openly and Embarrassingly Fawns Over Because of His Work Ethic and Love For the Game." (Note: Steve Nash was the overwhelming favorite here until Hansborough too over during the tournament.) For anyone who doesn't think there's a racial component to this, you're crazy. Just look at David West of the Hornets -- like Hansborough, he's a self-made player and a staunch competitor who plays with an inordinate amount of passion, an undersized forward who routinely scores on bigger bodies, someone who extracted every ounce of his potential and made the most of it. Well, have you ever read a David West feature? Have you ever heard announcers raving about him to the point that you wondered if they were related to him? No and no. I just think it's a little, um, peculiar. We'll see if this changes during the NBA playoffs.
Q: The day after Favre retired, I went to a $1, second-run movie and the 350-pound man wearing a Packers jersey in line in front of me accidentally dropped his Diet Pepsi on the floor. He stared vacantly at the clerk and declared, "This is the worst week ever." I think the Diet Pepsi pushed him over the edge, because he left the theater and never even went into the movie. I got my Sour Patch Kids half a minute earlier and somewhat enjoyed "I Am Legend."
-- Brad, Fort Wayne, Ind.
SG: That was the definitive e-mail for me about Favre's retirement last month. Sure, he was a little overrated by the national media and, sure, any objective observer in his right mind would choose Montana, Elway or possibly Marino over Favre in a big game. But no football player in my lifetime meant more to his fans and his teammates -- really, nobody else came close -- and his "consecutive starts at QB" streak ranks among the six most unbreakable records in sports history, right up there with Wilt's 100-point game, DiMaggio's 56-game hit streak, Nolan Ryan's seven no-hitters, Cal Ripken's 2,632 consecutive games and the time Julio Lugo grabbed his crotch 327 times during a nine-inning Red Sox-Orioles game last spring.
Q: Just read your NBA "What If?" column. Is there any doubt the greatest pop culture "What-If?" of the decade is "What if Britney Spears didn't cheat on Justin Timberlake?" If she doesn't cheat on him, they don't break up. Justin doesn't start hanging out with Janet Jackson. They don't do their halftime show and the FCC wouldn't be upset about a nipple being exposed on television. Britney is indirectly responsible for all of the FCC regulations and crackdowns that went into effect. And if she and Timberlake are still together, she might still be a superstar instead of a chain-smoking two-time divorcee with two kids who's absolutely insane and looks like she's 45.
-- Eric D., Abington, Mass.
SG: OK, I'm with you, but you left out a few things. First, if they didn't break up, Timberlake wouldn't have written "Cry Me a River," which was really the white man's "Hit 'Em Up." Second, he became a more successful musician in her post-breakup and started dating Cameron Diaz; meanwhile, her career went in the tank and she ended up with K-Fed. Third, if they didn't break up, we wouldn't even know who K-Fed is -- and if you think this isn't important, remember that I casually dropped him into the first mailbag question of this column and you didn't think twice about it. Fourth, she shattered the record for "shortest amount of time that elapsed between somebody being considered a major sex symbol and eventually grossing out the American public on an ongoing basis." And fifth, she showed her crotch on the Internet so many times that red-blooded males became immune to it like we were gynecologists.
Q: In the past couple years, you've said the Bruins have been dead to you. Now that the Bruins are semiresurgent (in sixth place in the East as I write this), do you see them making a return to your life at all?
-- Andrew M., Pittsburgh
SG: Not until Jeremy Jacobs sells the Bruins and Gary Bettman is replaced. I am an NHL widow until those two things happen. Sorry.
Q: I recently broke up with a long-term boyfriend, which I initially considered something of a tragedy. Not to be biased, but it was all his fault. But anyway, in the weeks after things fell apart, my boobs spontaneously grew a cup size and I got free tickets to see his favorite sports team of all time. I had extras, but didn't call him. In a battle of karma, I'd declare myself the winner. The question is: Where would you rank this on the Vengeance Scale? And do you think I should come with some sort of warning to future boyfriends?
-- Bridget, Boston
SG: You're definitely up there on the Vengeance Scale -- not as high as "Cry Me A River" or "Hit 'Em Up," but definitely in the mid-6s, maybe even higher on the chance that he reads this column. My advice would be to show this column to every potential boyfriend and make it clear early on that breaking up with you is the equivalent of the Red Sox letting Clemens sign with Toronto. They need to know the stakes going on. Just don't turn into Kim Kardashian's mom in 20 years.
Q: On the "B.S. Report," you mentioned having Phil Hughes on your fantasy squad. As a "die-hard" Red Sox fan, how can you have a player from your sworn enemy? How can you secretly want to see Phil Hughes do well?
-- Colin, San Francisco
SG: Hey, I know many Sox fans who refuse to have Yankees on their team for that very reason. Here's my defense in four parts:
The Yankees are always one of the five best teams in baseball; by refusing to have their players on your fantasy team, it's a competitive disadvantage. Not only have you reduced the pool of potential quality players, but if you're in an auction draft (and both of my leagues use an auction draft), everyone else would know going in that you're never bidding on a Yankee. That's a little short-sighted, isn't it? Just because you hate the Yankees means you have to hurt your chances to win a league? Why be in the league then?

If you have a Yankee and they do terribly, from a fantasy standpoint, it's a complete disaster ... but at least you have the silver lining that the guy is screwing up the Yankees as well. For instance, Hench and I had the Giambino as he was stinking it up last season. Did we hate him even 1/10th as much as we hated Rocco Baldelli at the time? Of course not.

You're always going to have moments with fantasy sports when the interests of your real team collide with the interests of your fake team. You can't control it and you can't think about it. When the worlds collide -- like Hughes pitching against the Sox at Fenway this month -- then it goes without saying that I'd root for the Red Sox to shell Hughes. (Ideally, they'd win 3-2, but you can't think that way.) With that said, there are three guys that I refuse to have on my fantasy teams simply because I can't stomach the thought of rooting for them to do well: A-Rod, Vince Carter and Peyton Manning. Those are my Big Three. I'd rather not be in a fantasy league than root for any of those guys. So I guess everyone has their own personal line that they can't cross.

And most importantly ... the Yankees aren't the Yankees anymore. They haven't won a World Series in eight years; they don't have the Steinbrenner Mystique anymore; they're being run by Tommy Boy; they're tearing down The House That Ruth Built; the Mets are replacing them as New York's Most Relevant Baseball Team; they're four years removed from being the first team in the history of the NBA or MLB to blow a 3-0 lead in a series; and as long as Mr. April (A-Rod) is the face of the Yankees, they're a nonthreat in the playoffs. To be honest, I'm more concerned with the Indians and Tigers at this stage of my life. So there.
Q: Which faces grace the Mount Rushmore of TV dads? I would nominate Ward Cleaver, Mike Brady, Heathcliff Huxtable and Jim Walsh. As much as I wanted to include them, Jason Seaver and Steven Keaton barely missed my cut. Who would you put up there?
-- S. Yoyo, Brockton, Mass.
SG: You know what? I liked your list and agree on the choices, as much as it hurts to leave Steven Keaton off there. Here's a much more difficult question than Mount Dadmore -- what about Mount Mommore? You have three mortal locks: Carol Brady has to be on there; so does Florida Evans; and so does Elise Keaton (the hottest TV mom ever). But who's the fourth? You could make a strong case for Mrs. Cleaver, if only because it was always funny when she said, "I think there's something wrong with the Beaver." Mrs. Walsh and Mrs. Cohen from "The OC" have a case. Claire Huxtable has a case. Raymond's mom from "Everybody Loves Raymond" has a case. Momma from "What's Happenin'?" might have been the funniest TV mom ever and definitely has a case. And I'm sure I left at least three people out. The point is, there's no clearcut favorite for that fourth spot. I'm willing to accept any and all arguments, but you can't tell me that there's a fourth TV mom on par with Florida Evans, Carol Brady and Elyse Keaton.
Q: Is Tiger Woods tough? Even though he's got muscles, me and most of my roommates believe he's softer than a plate of mashed potatoes. But one of my roommates argued Tiger would beat up everyone in my house and MOST professional athletes, then he said Tiger would wipe the floor with Wes Welker. Let me preface this by saying my crazy Tiger-loving roommate is a Steelers fan, and the rest of us are Pats fans. That aside, there's no way Tiger could beat up Welker, right? Maybe you could use your pull at ESPN to see if you can use the same machine they did in the new "Rocky" movie to set up some sort of video game fight scenario between the two of them. While we're at it, why don't we upload every athlete from the last 50 years into that thing for the fun of it. Haven't you always wondered who would win in a fight between Mo Vaughn and Mike Greenwell?
-- Viktor, Long Beach, Calif.
SG: I think Tiger is the toughest golfer ... but what does that really mean? It's like being the toughest poodle. Wes Welker would kick his ass. As for your other idea, that could definitely work as a half-hour TV show -- like a cross between "Celebrity Deathmatch" and "Around the Horn," where you'd have three sportswriters argue about something like "Who would win a fight between Wes Welker and Tiger Woods?" for the first half of the show, and then we'd see the fight "happen" in animated form. Uh-oh, I just gave Spike TV a show for their Tuesday 9:30 p.m. slot. Hey, speaking of potential shows for Spike TV ...
Q: Ten of my friends and I officially started and are taking part in the "Man of the Year Competition," where each participant selects a random, shenanigan-filled contest in which we all compete. Examples of events we have planned: retaking the SATs, a chili cook-off, parallel parking contest, and a paintball pistol duel at dawn. (We took the SATs last week and all feel confident that we are smarter than we were in high school.) As awesome as this is, we have a problem. We can't decide what the 10th event should be, which is required to take place in Las Vegas. What would you suggest? Please keep in mind that the purpose of the Man of the Year Competition is to promote three ideals: shenanigans, self-improvement and debauchery (though not necessarily all of them at the same time).
-- Daniel, San Francisco
SG: All right, I put some serious thought into this and tried to abide by the three categories (shenanigans, self-improvement and debauchery). I also stuck to a $1,500 budget for the weekend (not including airfare and hotel); since it's the final event and all, that seems like a fair price even if it's a little steep. Anyway, for the 10th event, if you're going all out ...
You have to show up in Vegas on a Thursday night, get a good night's sleep, enter one of those Friday morning poker tournaments (they have them at every big casino) and award 10 points to the guy who lasted the longest, with nine points for the second longest, eight for third and so on. Then, you get some lunch and play Credit Card Roulette for the tab -- the guy who loses pays for dinner, but he gets three bonus points for sympathy purposes. Then, you go to the sports book and lay down $200 worth of sports bets apiece on that night's games -- the guy who makes the most money gets 10 points (same scoring system). Then, you go to a craps table at 2:30 in the afternoon, start out with $200 apiece and play craps until your 7:30 dinner reservation -- the guy who makes the most money in that five hours gets 10 points. Then, you have dinner and play Credit Card Roulette again -- the guy who loses pays for dinner but gets six bonus points. Then, your goal for the rest of the night is to try to tag along with a bachelorette party without paying for their entire bar tab -- the guy who pulls this off gets 10 bonus points, anyone who makes out with a member of the bachelorette party gets 10 points and if someone makes out with the bride-to-be, that's an extra 25 bonus points.
On Saturday, you have to be up by 10 a.m. for breakfast -- anyone who doesn't show up gets deducted 10 points for being weak. You play Credit Card Roulette for the breakfast tab (three bonus points for the loser), head over to the sports book for another $200 worth of sports bets (same scoring system), then head over to the Wynn's European pool for a day of outdoor blackjack. (Note: if you're not staying at the Wynn, then the guy who was smart enough to remember to bring his old Wynn room key from a previous stay so you could get past the security guards gets five bonus points.) From 11 a.m. to 7:30 p.m., you have to play blackjack outdoors with no more than $500 in chips and order and finish at least 10 drinks total. Anyone who remains coherent by 7:30 p.m. gets three bonus points. Guy with the highest money total gets 10 points, second-highest guy nine points and so on. ... And anyone who gets a camera phone photo of themselves with a topless sunbather gets three bonus points per photo. From there, another dinner and more Credit Card Roulette (seven bonus points for the loser), then go out that night without showering.
Now, I'm going to leave the next stage up for grabs --- it really depends on the group and the marital statuses of the guys involved -- but however it plays out, hand out the points accordingly. On Sunday, you have another 10 a.m. breakfast and more Credit Card Roulette (same rules as above), followed by a round of golf in the scathing-hot Vegas sun for the final event -- this is an endurance contest, a little like the final event in the Gauntlet, only if everyone was horribly hung over. Everyone gets a handicap and the best score above the handicap wins 20 bonus points (18 for second, and so on), followed by another 10 bonus points for everyone who played all 18 holes without either throwing up, quitting or passing out on the course. Then, you add up the scores, figure out the winner and that's that ... he's the Man of the Year.
Q: Just watched "Bad News Bears in Breaking Training." Is it me or does William Devane enjoy rubbing Tanner Boyle's leg a little too much after Tanner got taken out by that slide into second base? In about two or three seconds, Devane goes from the genuinely concerned stage to the genuinely creepy stage. Am I nuts?
-- Rich, Linden, N.J.
SG: Put it this way: When I bought the DVD, I was looking for a deleted scene in which Devane was working on Tanner's leg, the umpires tried to intervene and Devane kept rubbing Tanner's leg and fighting them off, followed by the fans chanting, "Let them be gay! Let them be gay! Let them be gay! Let them be gay!"
Q: You complain (rightly so) about the '86 Series, and I get the feeling you might actually be banging your head against the desk every time you mention it. However, if you had your imaginary reset button and could change history and had to pick one World Series victory, do you take the '86 series and have a happier childhood, or the '04 Series and topple the Yankees en route.
-- Great Scott, Cincinnati
SG: That's easy -- I'd take the '86 World Series. No sports-related payoff could possibly have been worth the sports-related pain that Red Sox fans endured from the '86 World Series through Game 3 of the ALCS in 2004. There's just no way. That's like saying, "If you had to do it over again, would you have successfully climbed Mount Everest in 1986, or climbed it in 2004 after failing seven different times and losing five of your fingers and toes to frostbite."
Q: Some of my guy friends and I have noticed that when we go on road trips or just general vacations where we spend a lot of time together, we all get on the same pooping "cycle." After a few days together, we always end up having to poop at the same time -- sort of the male equivalent of women and the menstrual cycle. Our question: Is there a name for this phenomenon?
-- Jakob, San Francisco
SG: The menstool cycle?
Q: Had an idea for a TV commercial that you could star in: Open with Starbucks-like interior (we can't call it Starbucks, but perhaps we can call it L.A. Latte or some such), the Sports Guy is working on his column on a laptop, sipping some girlie L.A. concoction.
Suddenly, Terry O'Reilly and Ray Bourque skate in, take SG into the boards hard and start beating the crap out of him. O'Reilly and Bourque say things like: "What're you DOIN' in a place like this? Didn't you used to be the BOSTON Sports Guy? What the hell HAPPENED to you, man?!!''
SG responds, "Hey, I've got reasons for being here. THREE good reasons.''
We cut away to the SG's house, SG and the two hockey players are besieged by the wailing of two children and the Sports Gal. O'Reilly and Bourque look at each other and know what they have to do.
Cut back to L.A. Latte, where O'Reilly and Bourque have dropped off the Sports Gal and the two screaming kids. "Our work is done here,'' they say to each other.
Cut back to SG at his quiet home, watching a game, working on his column and taking a sip of coffee ... from Dunkin' Donuts.

--Craig B., Centereach, N.Y.
SG: Yup, these are my readers.
Bill Simmons is a columnist for Page 2 and ESPN The Magazine. For every Simmons column, as well as podcasts, videos, favorite links and more, check out the revamped Sports Guy's World.