I am an NHL widower. I have made that clear many times. I cared about the Bruins for years and years, and up until last week, I had stopped caring about them completely.
Still, it's hard to shake your past. On YouTube right now, you can find a handful of tributes to Bobby Orr and Cam Neely, as well as every memorable Bruins brawl from the 1970s and '80s. You can find John Wensink challenging Minnesota's bench. You can find Stan Jonathan beating the holy hell out of Pierre Bouchard. You can find Terry O'Reilly's unforgettable playoff battle with Clark Gilles, that 1980 series when it seemed like they threw down twice a game, then shook hands and hugged when it was over. Even with the Bruins gone from my life, that didn't stop me from digging these clips up and enjoying them all.
MORE NHL PLAYOFFS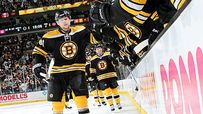 For complete coverage of the NHL playoffs, including video highlights of each series,
click here
.
•
E.J. Hradek previews Game 7 of Boston-Montreal
In all the time spent perusing Bruins clips over the past two years, I only avoided plugging two words into YouTube's search engine: "BRUINS CANADIENS."
That would be like searching for "80 PERCENT OF THE BAD MEMORIES FROM MY CHILDHOOD." When I was growing up in Massachusetts, every spring the Canadiens would shatter the Bruins in the most agonizing way possible. Sometimes the Canadiens would sweep us and leave us for dead; sometimes they would carry us for seven games, make us think we had a chance, then rip our hearts out right at the end. The toughest defeat happened in 1979, when I was 9 years old and still recovering from the Bucky Dent Game a few months earlier. The Bruins took the semifinals to a seventh game in Montreal, then grabbed the lead in the final few minutes. This was back when the three-time champs were trotting out an All-Star team -- Larry Robinson, Guy Lafleur, Steve Shutt, Jacques Lemaire, Bob Gainey, Kenny Dryden, etc. -- and just when you thought some of their guys might be getting old, suddenly they had another potential star like Rod Langway or Mark Napier. They were the juggernaut of juggernauts. You could have been leading these guys by three goals with 30 seconds to play and not have felt safe.
Naturally, the B's got whistled for a "too many men on the ice" penalty in the final three minutes, which I remember thinking was a complete crock at the time; only when they re-aired the game on ESPN Classic years later did I realize the Bruins screwed up. Every other memory I had lived up to that Classic replay -- Don Cherry screaming like a lunatic on the bench, the Montreal crowd roaring and smelling the kill, the Bruins grimly skating around and waiting for the next faceoff, doom hovering over the ice like a black cloud. The tying goal came about so quickly, it felt like getting sucker-punched at a bar or something. What just happened? Of course, I can still see everything. Lafleur gathered the puck behind his net and took off like he had rocket-propelled skates. There might have been greater players, but no Bruins opponent was scarier than Lafleur with a head of steam and his foofy French hair flying behind him. For Bruins fans, Lafleur was the Grim Reaper.
There are so many things that separate hockey from other sports -- good and bad -- but no other sport makes you constantly think, "Uh-oh, this is good" or "Uh-oh, this is bad." Every minute of playoff hockey brings another potential scoring chance, another potential screw-up or tipped shot, another shot off the goal post, another three-on-two rush. For the fans, it's an exhausting experience, a constant battle between "Uh-oh, this is good" and "Uh-oh, this is bad" and by the end of the games, you're just a puddle. But when Lafleur had that head of steam, it went beyond "This is bad." Every Bruins fan knew what was going to happen. I say that without a hint of exaggeration. He was going to score, we were headed to overtime, and we were going to lose.
And we did.
Every time they beat us, the Montreal fans would chant "Nah nah nah nah, nah nah nah nahhhhhh, HEY HEY HEY, gooooodbye" after the game. It never ceased to be infuriating. After this particular game, I remember being so downtrodden and frustrated that the chant made me start crying, and not just that, but I kept crying and couldn't stop. My face was buried into our living room sofa, so only when I came up for air did we realize my nose had been bleeding the entire time. The entire cushion was covered in blood. Since my dad was going through a divorce and didn't have much money at the time, we turned the cushion over and he kept that sofa for another few years. Every once in a while, we'd turn the cushion over, look at the bloody stain and make jokes about it. It was almost like Guy Lafleur came into the living room and punched me in the face.
So that's what I grew up with: The Canadiens beating the Bruins. We were the nail and they were the hammer. Nothing ever changed. When I graduated college and realized I had spent two solid decades of my life rooting for a franchise that cared about making a profit more than winning a Stanley Cup, that's the only way I was able to dump the Canadiens from my life -- by not following the sport as diligently. Once the Devils unveiled their hideous zone trap and Gary Bettman tried to turn a blue-collar sport into "NBA 2.0," it was an easy decision to cut the cord entirely. The Bruins would always be like family to me, but I wasn't interested in following them again until the team was sold. Honestly, I didn't feel like I was missing much.
Look, sometimes a sport can just evolve in the wrong direction. It happened to tennis, it happened to pro wrestling and it definitely happened to hockey. This was a sport that thrived on rivalries and feuds -- Montreal and Boston, the Rangers and Islanders, Philly and Washington, Montreal and Toronto, Montreal and Quebec, Montreal and everybody -- so by moving key franchises and adding too many other ones, fundamentally, they were killing the one thing that made the sport so great. As a Boston fan, how am I supposed to get fired up during the regular season for a steady stream of Nashville, Columbus, Carolina and Anaheim? It's insane. It's illogical. Hockey should never have more than 22 teams, and half those teams should be playing in Canada, where it's the national sport and the citizens truly care about the game. It's the only way to bring the sport back -- rivalries, bad blood, back-to-back games and everything else -- and as soon as they jettison a few franchises and move a few others back to Canada, I could see caring about the league again. You know, as long as the Bruins are sold.
You can't say the damage from the Bettman era was incalculable, because you can calculate it -- hockey barely has an American TV contract right now, and it drifted into the second tier of professional sports for good after the devastating lockout. I write about sports for a living and couldn't tell you who won every Stanley Cup this decade. Even worse, if I quizzed my friends -- all of whom care about sports except for one -- I don't have a single friend who could rattle off those Cup winners except for my buddy Dave Dameshek, a Penguins fan who didn't get pushed away because of "Sixty-six" (his nickname for Mario Lemeiux) and then Sid the Kid and "Geno" Malkin. So that's not good. The NHL has evolved into a sport with all die-hard fans and no casual ones. They need to get the casual ones back. They need to bring back people like me.
I mention this only because, for the past two weeks, I have been watching hockey. It started innocently enough -- the Bruins were pitted against the Canadiens in Round 1 of the playoffs, and even though I couldn't have named five Bruins, I found myself flicking over to Versus for Game 1 just because I enjoyed seeing the uniforms so much. The Bruins were wearing their white, black and gold, the Habs were wearing their red and blue, and they were playing in Whatever-The-Hell-The-Forum-Is-Called-Now. Just like old times ... right down to the part when the Bruins lost. Game 2 happened on a Saturday and I caught the third period and overtime; we blew that one, too. But it wasn't until Game 3 that I found myself getting hooked -- not for the excitement of the games as much as the ignominy of Montreal fans infiltrating Whatever-The-Hell-The-Garden-Is-Called-Now and cheering on the visiting Habs. Even worse, they had no problem throwing down with Boston fans in the stands. I mean, this was like something that would happen to the Atlanta Hawks or the Tampa Bay Rays.
No matter what has happened to hockey in Boston over the years, this was an unforgivable turn of events -- nearly as violating as hundreds of British people randomly showing up in Charlestown dressed in 1770s garb, heading over to the Warren Tavern and starting to push locals around. I don't care what's happened to me and the Bruins over the years; the fact that (A) Montreal fans felt safe enough to come to a playoff game in Boston and (B) they could get THAT many tickets to a playoff game had to rank among the saddest moments in recent Boston sports history. It's one thing to see the dead body of someone you used to love; it's another thing to watch vultures picking away at it. Like everyone else who cares about Boston as a sports city, I was completely horrified.
And that's when I got sucked back in. We won an emotional Game 3 in overtime, followed by a number of postgame brawls on and around Causeway Street between Boston and Montreal fans, at least 50 of them involving guys named Sully and Murph teaming up to beat the hell out of someone named Pierre. In classic Bruins-Habs fashion, just as everyone was starting to take notice of the B's, they blew a 1-0 heartbreaker in Game 4. The good news? It was an exceptionally well-played game, and when you remember that five of the best Bruins are 22 or younger, it seemed like the team was coming together. At some point during all of this, I found myself getting attached to one of the young Bruins -- Milan Lucic, a 19-year-old winger out of the Cam Neely mold who skates around with one of those threatening, wild-eyed "You looking at me? Did you just look at me? DON'T F------ LOOK AT ME!" glares. Here comes a dated movie reference, but so be it ... he's like Francis in "Stripes." Within three games, I had a man-crush on him. So does everybody.
Now here's where things got really interesting. Between Game 4 and Game 5, longtime Boston GM Harry Sinden -- a notorious skinflint and B.S. artist who helped drive me and so many others away from the Bruins -- complained about the direction of the series in a Boston Globe interview and took shots at a couple of the Bruins, including Marc Savard, Lucic and coach Claude Julien. Two strange things here: First, Sinden was still working for the team as a consultant. (Although not for much longer after that grouchy interview.) And second, again, this was the guy who helped ruin hockey in Boston! Hearing Sinden complain about the B's would be like listening to Dubya complain about our foreign policy in 2011. Really? You're saying something? So the fans were furious, and so were the players -- they came out on the road and kicked Montreal's butts around in Game 5. We were headed back home.
That brings us to Game 6. Everyone made a big deal about the Spurs-Suns game Saturday, and rightfully so: It was the greatest Round 1 game ever played in the NBA playoffs, as well as one of the best Game 1s of any series, and if you ever doubted the credentials of Duncan, Nash or Ginobili, or the unique ceiling for that matchup, then you had no doubts after the second overtime ended. But the Bruins-Habs game was just as entertaining: Furious action for three periods; a deafening, ear-splitting crowd; tons of history; and then, an explosion of goals (six in all!) in the third period, capped off by a breathtaking flurry in which the B's took the lead, lost it and regained it in the span of about 2.3 seconds. The kids played a big part (Lucic scored a game-tying goal and potential franchise center Phil Kessel scored two beauties), but I was more delighted Marco Sturm took over the game in the third period and scored the winning goal. Two years ago, Boston gave away Joe Thornton in one of those textbook "three dimes for a quarter" deals, your classic crummy, soulless Bruins trade that worked out even worse because Thornton rejuvenated his career that same season and won the MVP. I remember hearing about the trade and thinking, "Man, I'm so glad I got out in time," almost like hearing about some ex-girlfriend who just got arrested for prostitution or something.
Well, Sturm was one of the "dimes" in the Thornton trade. Funny how life works sometimes. But by the time Game 6 ended and the Bruins had held off the Habs and their brazen fans, you got the feeling something substantial had happened -- not just a pivotal turning point for a young franchise, but maybe the Bruins even working their way back into the local conscience. Maybe it took the arrogance of a few thousand traveling Montreal fans and a washed-up, cranky general manager, but however it happened, the Bruins mattered again. Even if it's only for a week, it's better than nothing.
Quick story: Only a few months ago, an L.A. friend e-mailed a couple of us asking if we wanted to hit the Bruins-Kings game with him that night. Apparently, he had fantastic seats right on the boards. I remember e-mailing him back and joking that the seats could have been on the Bruins' bench and I wouldn't have gone. They were dead to me. They were. Flash-forward to the moment right after Game 6 ended -- I called my father and he answered the phone, "I knew it, you're back on the bandwagon!" Needless to say, he's one of the few who never really left. We babbled excitedly about the game for a few minutes, talked some hockey and hung up, just like old times.
Now we're headed back to the House of Horrors for another Game 7. The demons from my childhood await. Will I care beyond this series? Yeah, maybe. I like this particular Bruins team and would consider buying a Lucic jersey if the money wasn't going right to the Jacobs family. Screw them. I guess it's more about the Canadiens and Lafleur and that bloody sofa and every other awful memory from my childhood. The Bruins are playing the Canadiens in Montreal, one game, winner take all, and even Gary Bettman can't screw that one up.
Stomach, prepare to get punched.
Bill Simmons is a columnist for Page 2 and ESPN The Magazine. For every Simmons column, as well as podcasts, videos, favorite links and more, check out the revamped Sports Guy's World.