I made my friend Chris Connelly appear on this week's B.S. Report to discuss "critically acclaimed sports teams," following up on a discussion we had right after Game 2 of the Suns-Spurs series, when things were looking bleak for Phoenix and the end of Mike D'Antoni's reign seemed imminent.
B.S. REPORT
Bill talks to Chris Connelly about Hollywood encounters, the course of pop culture and how he became the go-to guy for sad pieces on ESPN. •
The B.S. Report

"Well, that's OK that they didn't win the title," Connelly cheerfully said at the time. "At least they were critically acclaimed!"
From there, Connelly unleashed his theory of "critically acclaimed" sports teams (check the podcast for the full details) and how these Suns teams would be cheerfully remembered some day like we remember Coryell's Chargers and the Fab Five. In other words, it didn't really matter that they never won a championship, just like it didn't matter that "Pulp Fiction" didn't win an Oscar, "The Wire" never won an Emmy and "Arrested Development" bombed in the ratings. We would always remember them fondly and feel like they were more successful than they actually were.
And I was sitting there thinking, "Why didn't I think of that?"
You couldn't come up with a better two-word eulogy for the Seven Seconds or Less Era (or S.S.O.L. Era) in Phoenix: Critically acclaimed.
Maybe the Suns didn't win a championship, but we'll remember them 100 times more fondly than the brutally efficient and hopelessly bland Spurs, who taught everyone over the years that the regular season doesn't matter, transformed the NBA playoffs into a flopathon, revived the vile and fan-unfriendly Hack-A-Shaq strategy and did everything short of sending Bruce Bowen out on the court with a chainsaw and a taser. If the Spurs were the Team of the Decade, no wonder ratings dwindled until the league's big comeback this season. The real shame is that all the mugging, acting, eye-rolling, flopping, rule-bending and hysterical shrugging obscured what should have been remembered as a throwback sports team, a shrewdly assembled roster of well-coached guys who played beautifully together, didn't care about credit and revolved around the best power forward who ever played. Instead, we'll remember them as the team that turned the NBA playoffs into the World Cup. Congratulations, fellas.
(Important note: I don't hate the Spurs nearly that much; I'm trying to work up a proper level amount of hatred for them for the inevitable Celtics-Spurs Finals that's going to happen unless Doc Rivers screws it up ... which is exceedingly possible. The Spurs are a difficult team to dislike but you can do it if you try hard enough. I've made some huge strides in the past week. Just indulge me. Thanks.)
CHRIS CONNELLY'S TOP-12 CRITICALLY ACCLAIMED TEAMS OR ATHLETES
(in no particular order) 1. The Air Coryell Chargers
2. 1974 Holland World Cup team
3. 2004-07 Phoenix Suns
4. The Fab Five
5. Rocket Ismail Notre Dame team
6. Gathers/Kimble Loyola Marymount
7. 1975 Red Sox
8. John Misha Petkevich and Michelle Kwan (tie)
9. Late-40s Brooklyn Dodgers
10. Annie Duke
11. 1969 Oakland Raiders
12. Steve Prefontaine

Meanwhile, the Suns were like the John Belushi of basketball teams -- thrilling, creative, inventive and loved by all, but ultimately, they couldn't sustain what they were doing for more than a couple of years, and by the time it came to a screeching halt, we were already wishing that things could return to the way they were three years before. Like Belushi, the Suns were critically acclaimed. Like Belushi (drugs), the Suns had an Achilles' heel (Robert Sarver). Like Belushi, the Suns tried to change their style near the end and it didn't work out. Like Belushi, we will remember the Suns fondly, and every time we see one of their old classic moments popping up on TV, we'll probably watch.
Nearly everyone regards the Shaq trade as the moment when PHOENIX (capital letters to represent the fact the Suns stood out) turned into Phoenix (lower-case letters, representing the fact that they were now just like any other team), but that's not necessarily true. Already straddling the fence between "run-and-gun Phoenix" and "more-conventional-than-you-think Phoenix," last summer's Grant Hill signing pushed them over the fence and made them hopelessly normal, even if we didn't want to admit it. Great guy, great athlete, phenomenally intelligent player, steal of a signing for the price ... and you could yell "Pull!" every time Hill launches a 3. For a team that revolved around high screens with Nash and Stoudemire, perfectly executed fast breaks and high-percentage 3s, Hill subtly changed what the Suns were. You didn't have to worry about defending him or Marion 25 feet from the basket -- two of the five Suns on the court, by the way -- making it impossible for them to spread the floor on those Nash/Stoudemire high screens.
So what were they? On paper, Hill made up for his long-range shooting faults with defense, leadership and all-around skills ... but did they want to get better defensively? What's the difference between being a D-minus defensively or a plus? Does it really matter? Two years ago, Jack McCallum called his season-in-the-life Suns book "Seven Seconds or Less" because that was their mentality -- they didn't care about getting defensive stops, only about forcing a high-speed tempo and taking high-percentage shots as quickly as possible (especially 3s). One of the great basketball chess matches happened in Round 1 of the '06 playoffs, when the Lakers were determined not to get caught up with Phoenix's breakneck pace, only the Suns kept dangling their high-speed game like a carrot -- "come on, run with us, it will be fun, come on" -- and the Lakers kept fighting them off and slowing things down. Ultimately, they couldn't hold the Suns off. That was the PHOENIX we knew and loved, but that "Seven Seconds or Less" mentality had faded into Bolivian well before the Shaq trade.
Anyway, some of this territory has been covered in this space before (most recently in the "15 What Ifs?" column from March), but I couldn't resist the chance to steal Connelly's theory and give the Suns we knew and loved a proper Viking funeral. They deserve critical acclaim. They deserve their own "Seven Seconds or Less" DVD with one of those planted Hollywood blurbs on the top like ...
"A nonstop thrill ride, I was jumping out of my seat!"
--Earl Dittman, Wireless Magazine
They also deserve to be raked through the coals for screwing up what could have been a once-in-a-generation team. The D'Antoni-Nash alliance should have lasted for as long as Nash's back held up -- maybe six years, maybe eight, maybe even 10 -- and instead, D'Antoni seems like a mortal lock to either resign or get canned this summer. (In fact, I thought it was happening this week, which was the main reason I wrote the column. Whoops.) Just don't blame the Shaq trade for cutting D'Antoni's reign short. If you're playing the blame game, look at the front office/ownership mistakes from 2004 to 2007. Had the Suns made two different choices (just two!) and not been so concerned about the luxury tax, they could have given us six to eight years of wildly entertaining basketball and maybe even a dynasty. Collectively, the mistakes made by the Suns were staggering. Check out the last four years of Phoenix teams, season by season, and how they screwed up what should have been a historically good run.
(Note to the Suns fans: You might want to throw down a couple shots of tequila before you keep going. Just trust me.)
2005 SUNS

Relevant Details: 62 wins, 110.4 points per game, 103.3 points allowed, .477 FG%, .393 3FG%, 2,026 3s attempted, lost in Western finals (San Antonio, six games).
Eight-Man Rotation: Amare Stoudemire, Shawn Marion, Joe Johnson (47.8% 3FG), Nash (43.1% 3FG), Quentin Richardson (38.9% 3FG), Leandro Barbosa (36.7% 3FG), Jimmy Jackson (45.9% 3FG), Steven Hunter.
Comments: That's the perfect S.S.O.L. team -- seven athletes and/or 3-point shooters and a Hall of Fame point guard running the show. This was the most "successful" (for lack of a better word) Suns team, falling to the future champion Spurs in a particularly tight series that could have played out differently if Joe Johnson hadn't fractured his eye socket in the previous round. You'd think they would have keep that nucleus together, right?
Unfortunately ...
Mistake No. 1: Re-read Marc Stein's post-mortem from August 2005 to properly refresh your memory about the Joe Johnson fiasco. That's right -- fiasco. Phoenix's relationship with Johnson deteriorated so badly that he directly asked Sarver not to match Atlanta's $70 million offer -- which he didn't -- leading to the devastating trade of Johnson for Boris Diaw and two future first-rounders. (Note: In that aforementioned "What If's" column, I partially excused the Suns because Johnson wanted to leave, forgetting how they drove him away until a few bitter Suns fans refreshed my memory.) They had just come within two wins of the NBA Finals and built an identity; now they were dealing a 24-year-old potential All-Star, the perfect swingman for their system, a deadly shooter who could even play backup point guard for them ... and only getting back a bench player and two future picks? Maybe that deal would have made sense for some teams, but they had just come within two wins of making the Finals! And how could they botch the Johnson thing so badly that he asked to leave? (Note: I asked these same questions three summers ago.) To borrow a modern example, this would be like the 2008 Hornets coming within two games of the NBA Finals while lowballing David West for the entire year, then trading him to Charlotte this summer for Jared Dudley and two No. 1s. Would they ever do that in a million years?
Here's what kills me about the Johnson trade: With Nash, Amare, Marion and Johnson, you're set for the rest of the decade. That's it. That's your core. That's your guarantee for 57-plus wins a year and a specific style that can work. Surround them with role players and veteran buyout guys and you're contending until Nash breaks down, and even then, you can just shift the offense over to Johnson as the main creator. HOW CAN YOU GIVE THAT GUY UP???? So what if he's insulted and doesn't want to come back? He'll get over it! You're paying him $14 million a year and he gets to play with Steve Nash! Arrrrrrrrgh.
2006 SUNS

Relevant Details: 54 wins, 108.4 points per game, 102.8 points allowed, .479 FG%, .399 3FG%, 2,097 3s attempted, lost in Western finals (Dallas, six games).
Eight-Man Rotation: Nash (43.9% 3FG), Marion, Diaw, Barbosa (44.4% 3FG), Raja Bell (44.2%) 3FG, Tim Thomas (42.9% 3FG), Eddie House (38.9% 3FG), James Jones (38.6% 3FG), Kurt Thomas, Stoudemire (injured).
Comments: Probably my favorite Suns team because of their 3-point shooting (40 percent on nearly 2,100 attempts?!?!?!?), the playing-bigger-than-we-are thing (inspiring), and the gritty way they responded after losing Amare for the season. Remember, this wasn't a strong year for the league -- Dallas was good, but not that good, and Miami ended up being the weakest champ of any team this decade. Switch Diaw for Johnson, give them Bell and Thomas, make Amare healthy and you're looking at the 2006 champs.
(Uh-oh, cue up the ominous "Behind the Music" music.)
But that summer, everything changed ...
Mistake No. 1: For financial reasons, they traded the No. 21 pick (Rajon Rondo) to Boston along with Brian Grant's contract (chopping $1.9 million from their 2007 payroll) for the rights to Cleveland's 2007 first-round pick. This was a double whammy because they acquired that Rondo pick two years before by giving up the No. 7 pick in the 2004 draft (for luxury tax reasons). So if you're scoring at home, they downgraded from "Luol Deng or Andre Iguodala in 2004" to "Rondo in 2006" to "selling the No. 24 pick in 2007 for cash" (we'll get to that in a second) ... which means that, effectively, they traded a No. 7 pick in a loaded draft for $4.9 million. Phoenix fans, you may now light yourselves on fire.
(What makes that one even more painful: Instead of signing Richardson before the 2004-05 season to a six-year, $42.6 million deal, they could have drafted Deng or Igoudala that summer and paid one of them two-fifths as much as Richardson over that same time frame. One year later, they swapped Richardson and the No. 21 pick in 2005 for Kurt Thomas, who they dumped on Seattle last summer along with two more No. 1's just to get him off their cap. As astounding as this sounds, Bryan Colangelo's decision to sign Richardson instead of drafting Deng or Iguodala -- which was dumb at the time, by the way -- ended up costing them a whopping FOUR FIRST-ROUND PICKS! Would you rather have Richardson, or would you rather have the No. 7 pick in 2004, the No. 21 pick in 2005, and your first-rounders in 2008 and 2010? Hold on, this gets better. Your 2005 NBA Executive of the Year? That's right, Mr. Bryan Colangelo! I love the NBA.)
Mistake No. 2: They sold the No. 27 pick to Portland (that ended up being Sergio Rodriguez). What's confusing is that they traded/sold those No. 1s for luxury tax reasons, and yet ...
Mistake No. 3: Two weeks later, they signed Marcus Banks to a five-year, $24 million deal to back up Nash. Marcus Banks!?!?!? Can you think of a worse guy for NashBall? He can't shoot 3s, he's a career loser, he's never won in college or the pros, it's unclear whether he'd ever accept a reduced role behind a two-time MVP ... let's get him! Why not just draft Rondo at 21 (or Marcus Williams, or Kyle Lowry, or Jordan Farmar) and develop him as a backup for one-fourth the price of Banks? Why not draft Rodriguez at No. 27 and hope he pans out for one-fifth the money?
(You're lucky I'm not a Suns fan -- I would have written 15 consecutive columns complaining about this paragraph alone. For the life of me, I will never figure out the appeal of Marcus Banks for $24 million. All they had to do was hit one freaking Celtics message board from the '05-'06 season and check one of the 35 "MARCUS BANKS SUCKS" threads. My god.)
Mistake No. 4: Giving Diaw a $45 million, five-year extension before waiting to see if he could co-exist with Amare. Just senseless. He would have been a restricted free agent in the summer of '07 -- why not wait a year and make him play for the contract? (In the biggest non-surprise of the '07 season, Diaw showed up for camp woefully out of shape, proving yet again that you can't trust the French.) Also, would you rather pay $14 million a year to Diaw and Banks or just give that money right to Joe Johnson, the quintessential swingman for the S.S.O.L. Era? I'm telling you, this was a Greek tragedy.
2007 SUNS

Relevant Details: 61 wins, 110.2 points per game, 102.9 points allowed, .494 FG%, .399 3FG%, 1,967 3s attempted, lost in Western semis (San Antonio, six games).
Nine-Man Rotation: Nash (45.5% 3FG), Marion, Stoudemire, Diaw, Barbosa (43.4% 3FG), Raja Bell (41.3%) 3FG, James Jones (37.8% 3FG), K. Thomas, Banks.
Comments: Let the record show that the S.S.O.L. Era peaked in January -- I even commemorated the moment with 3,500 words of critical acclaim -- before losing steam down the stretch and eventually falling to the Spurs for three reasons: The Suns couldn't defend Duncan (no surprise); Nash and Marion had worn down from extended seasons in '05, '06 and '07 (279 games for Nash, 290 games for Marion); and they caught a bad break with the Stoudemire/Diaw suspensions for Game 5. We could argue this one to the death, but I will always believe the Spurs were better; they led five of the six games by 10-plus points in the fourth quarter and executed down the stretch whenever they wanted.
More importantly, this was the season when the Suns entered "no-man's land" stylistically -- they couldn't get stops against a really good team, but they couldn't sustain a breakneck pace for eight months anymore because Nash and Marion were getting older and they didn't have a decent backup point guard (or any young legs, for that matter). Even their one chance to acquire an elite rookie backfired: Heading into the 2007 lottery, they owned the rights to Atlanta's pick but it was top-three protected ... and Atlanta ended up drawing the No. 3 pick. Had they gotten No. 4 or No. 5, potentially, they could have packaged that pick with Marion and Thomas for Kevin Garnett or drafted a blue-chipper as bait for Pau Gasol during the season. Nope. Instead, it was a Spaulding Smails draft: they got nothing and liked it.
But hey, even with the window closing for the S.S.O.L. Era, there was still time for two more crucial mistakes.
Mistake No. 1: Selling the No. 24 pick (Rudy Fernandez) for $3 million to Portland. Of everything Sarver inflicted on the Phoenix fans since 2004, this may have been the biggest slap in the face. You can't play the luxury tax card with Fernandez because he wasn't planning on joining the NBA until 2008 or 2009 at the earliest, so actually it would have been savvy if the Suns drafted him and stashed him in Europe for a year or two. Instead, Sarver basically announced to his fans, "Screw you, I'd rather have the $3 million, I'm taking the cash." Let the record show that, by all accounts, Fernandez would be a top-5 pick in this year's draft after lighting it up in Spain. Can you quantify the damage there? I say no.
Mistake No. 2: By dealing Thomas to Seattle along with two first-round picks (2008 and 2010), they saved about $8 million (plus another $8 million in luxury tax expenses) ... which would have been fine if Seattle didn't eventually waive him so he could get picked up by San Antonio, where he helped beat the Suns in the '08 playoffs and played crunch time in all five games. Even if it was a defensible trade financially, that's what happens when you cut off your nose to spite your face.
2008 SUNS

Relevant Details: 55 wins, 110.1 points per game, 105.0 points allowed, .500 FG%, .393 3FG%, 1,764 3s attempted, lost in first round (San Antonio, five games).
Eight-Man Rotation: Nash (47.0% 3FG), Marion/Shaq, Stoudemire, Diaw, Barbosa (38.9% 3FG), Raja Bell (40.1%) 3FG, Grant Hill, Gordon Giricek's corpse.
Comments: Notice the lack of 3-point shooters? Throw in Marion's declining skills and generally sucky attitude and you could stick a fork in the Seven Seconds or Less Era. That's why I defended the spirit behind the Shaq trade; they weren't winning the title with what they had, so why not roll the dice and hope Shaq could revive his career? It turned out to be a pretty good bet: Shaq played better than anyone expected, and you can't fault Phoenix for losing a could-have-gone-either-way series to one of the best three teams in the NBA.
Why did they fall short? Because they squandered three winnable games down the stretch, all because of execution mistakes that teams tend to make when the players aren't totally comfortable with one another yet. What stood out about the Spurs in Round 1 was their infallibility in big moments -- they knew what to do and where to go, and then they did it. You don't get there by accident; you get there by picking a nucleus and building around it. Back in 2005, the Spurs had the right nucleus (Duncan, Ginobili and Parker) and so did the Suns (Nash, Stoudemire, Marion and Johnson), but only one of those teams kept it intact. And that's why the Spurs won two titles (and counting), and that's why the Suns won the title of "critically acclaimed" and that's it.
One more thing: I don't know Robert Sarver. Never met the guy, never heard anything bad about him, couldn't vouch for his financial situation. For all I know, he's the greatest guy ever. But for the life of me, I can't imagine why someone would want to own an NBA team if he cared more about breaking even than winning a championship. What's the point? Why not sell to someone who cares more about a title? Like so many other NBA fans, I have a pipe dream of stumbling into enough wealth to own an NBA team some day. It will never happen, but really, it's my ultimate pipe dream other than my daughter turning into a world-class tennis player and me turning into one of those deranged Tennis Dads who shows up for every match flashing hand signals and intimidating the judges. Anyway, if I were fortunate enough to own an NBA team, I would never, ever, EVER favor my pockets over a chance at a title. I just wouldn't. It's like going to Vegas for a guy's weekend and refusing to lose more than $100. Why even go then? Just stay home.
For instance, Celtics owner Wyc Grousbeck once vowed never to pay the luxury tax like Sarver. When a potential Garnett deal started to take shape this summer, and the Celtics realized that their payroll could climb into the mid 70s (that's millions) once they filled out the roster with free agents and buyout guys, instead of just blindly saying, "Nope, sorry, we can't do this," the Celtics spent an inordinate amount of time figuring out exactly how they'd make that money back through ticket sales, merchandise revenue, corporate sponsorships, 2009 ticket hikes, playoff money, extra courtside seats and everything else. They left no stone unturned. Eventually, the decision was made that the Garnett trade was worth the risk -- they owed it to the fans, and if they couldn't figure out how to capitalize financially on a rejuvenated Celtics franchise in a sports-crazed city that absolutely loved basketball once upon a time, then they had failed as an organization. They made the trade. And if you watch any of the home Celtics playoff games, you'll see Grousbeck sitting underneath the basket next to the visitor's bench. He's the happiest guy in the building.
That could have been Sarver. Could the Suns have done more? Did they leave every stone unturned? Did they maximize the financial potential of those teams? Did they fail as an organization to capitalize on a potential dynasty? Looking at those moves from 2004 to 2007, you'd have to call the Seven Seconds of Less Era one of the memorably squandered opportunities in recent sports history. The thing is, "Pulp Fiction" and "The Wire" didn't need trophies to validate them -- critical acclaim and eternal affection from fans was enough. When you're critically acclaimed in sports, that means you failed in the end ... and those Suns teams did fail. As much as we hate to admit it.
(And now that we have that settled, let's spend the summer figuring out a way to get D'Antoni to Toronto. Jose Calderon, Chris Bosh and all those 3-point bombers dropping 114 points a night with the crazed Raptor Truthers cheering them on? Count me in! Maybe there's life for the S.S.O.L. Era yet.)
Bill Simmons is a columnist for Page 2 and ESPN The Magazine. For every Simmons column, as well as podcasts, videos, favorite links and more, check out the revamped Sports Guy's World.

2008 NBA PLAYOFFS Round 1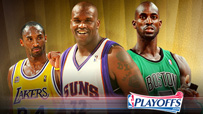 The 2008 NBA playoffs are finally here and the postseason field is more stacked than ever.
Playoff schedule | Playoff bracket | Playoff home
Columns
•
Daily Dime: Suns fade out again
•
Daily Dime: Hawks soar over Celtics
•
Daily Dime: Phoenix fails its test
•
Daily Dime: Suns stumble in second half
•
Adande: Great time to be a sports fan
•
Stein: Best first-round series ever
•
Daily Dime: Rockets failure to launch
•
Daily Dime: Pistons stumble in opener
•
Daily Dime: Spurs leave a mark on Suns
•
Hollinger: How will the postseason play out?
•
Adande: Sixteen teams, sixteen dramas
Podcasts
•
NBA Dish: Ford and Stein talk Round 1
•
NBA Dish: Ford and Adande predict playoffs
Hawks vs. Celtics
•
TrueHoop's Series Bullets
•
Sheridan: Celtics come out swinging
•
Scouts Inc.'s series breakdown
•
Series page: More coverage
Sixers vs. Pistons
•
Sheridan: Sixers slam Pistons
•
Sheridan: Pistons win with complete effort
•
TrueHoop's Series Bullets
•
Scouts Inc.'s series breakdown
•
Series page: More coverage
Raptors vs. Magic
•
TrueHoop's Series Bullets
•
Hill: Dwight Howard vs. Chris Bosh
•
Scouts Inc.'s series breakdown
•
Series page: More coverage
Wizards vs. Cavaliers
•
Windhorst: The new LeBron Rules
•
Windhorst: Wiz get reality check
•
TrueHoop's Series Bullets
•
Windhorst: LeBron quiets Wiz with late heroics
•
Scouts Inc.'s series breakdown
•
Series page: More coverage
Nuggets vs. Lakers
•
Adande: Bynum not nearly ready
•
TrueHoop's Series Bullets
•
Adande: Gasol gets first playoff win
•
Scouts Inc.'s series breakdown
•
Series page: More coverage
Mavericks vs. Hornets
•
Dallas steps up
•
TrueHoop's Series Bullets
•
Jackson: Dinner with the Hornets
•
Hollinger: Paul powers Hornets again
•
Hollinger: Paul finds groove in playoff debut
•
Scouts Inc.'s series breakdown
•
Series page: More coverage
Suns vs. Spurs
•
Adande: Suns missing an identity
•
TrueHoop's Series Bullets
•
Scouts Inc.'s series breakdown
•
Series page: More coverage
Rockets vs. Jazz
•
TrueHoop's Series Bullets
•
Scouts Inc.'s series breakdown
•
Series page: More coverage
SportsNation
•
Make your playoff predictions
•
Rank 'em: All 16 NBA playoff teams
•
Quiz: What's your playoff IQ?
ESPN Top Headlines