You thought every angle had been covered for this incredible, throwback Lakers-Celtics Finals? Well, here's a new one: For the first time in NBA history, a team (in this case, the Lakers) might win a championship a few years after its coach (Phil Jackson) wrote a first-person book ("The Last Season") about a season (2003-04) in which he repeatedly skewered his former and current best player (in this case, Kobe Bryant).
Everyone forgets "The Last Season" because the once-dysfunctional Lakers did a fair share of healing since its 2004 release. The book remains an eye-opening first-person account of a particularly arduous Lakers season that ended with a 2004 Finals collapse and, eventually, both Shaquille O'Neal and Jackson leaving the team. It's also a damning critique of the player and person Kobe used to be before he started sharing the basketball, buying a few team dinners, handing out monogrammed watches and pretending to laugh at Luke Walton's jokes. We're sure Selfish Kobe is gone, right? I mean, we're positive? We're sure he's not going to trickle out during the Finals?
1. "Last spring, during a particularly acrimonious team meeting, Rick Fox complained to Kobe and Shaq. 'The thing that hurts about this season,' Fox said, 'is that you have both acted like you're apart from us, and that we're not any good.' ... Shaq, clearly affected, began to respond when Kobe cut him off. 'Quit your crying,' Kobe said. I then jumped in. 'Kobe, you're as much to blame as Shaq is, if not more.' "
To Kevin Garnett, the guy who will be blamed over everyone else (fairly or unfairly) if the Celtics fall short. Three guys have the most to gain historically from a title: Kobe (cracks the top 12 of all time); Paul Pierce (possibly cracks the top 75); and Garnett (unequivocally a top-five power forward, and possibly higher). Garnett has the most going in his favor, playing against a team that struggled mightily in the previous series against Tim Duncan (22 points and 17 boards a game); if Boston's defense can throttle Kobe even a little, Garnett will be key by jumping out on high screens and protecting the rim. Plus, the public loves nothing more than the John Elway patented "superstar removes the monkey from his back late in his career" story.
You couldn't ask for a better setup. On the other hand, when KG does stuff in crunch time like "passing up an open 6-footer to toss it out for a Rajon Rondo 20-footer" on the biggest stage possible, people will call him out for it. Relentlessly. We watched Karl Malone wilt under the pressure when he battled Michael Jordan, a competitive killer who was wired much like Kobe. That's my worst fear for the Finals: KG re-enacting the Mailman's performance in the '97 and '98 Finals and Kobe thriving because of it.
2. "After the gun sounded, Kobe went over to Devean, berating him for not calling timeout when the play broke down. Kobe was right, but he was wrong to reprimand his teammate on the court, in front of the crowd and cameras."
To two players who won't be reprimanded at any point in this series: Chris Mihm and Brian Scalabrine, the token 12th-man white guys! You'd have to go back to Chuck Nevitt and Mike Smrek in the '88 Finals for a whiter, dorkier, clumsier battle of 12th men in the Finals. If we can get Scal driving on Mihm just once during a 30-point blowout in this series, I'd be happy.
3. "The woman who answered the phone at [Kobe's] home in Newport Beach said he was resting. Privately, the Laker organization, which includes myself, was furious. This was not the way for a professional athlete to behave."
To Odom, who had trouble behaving like a professional with the Clippers, found redemption in Miami, came to the Lakers and regressed, and then, just when it seemed like he would never totally figure it out, he has been unleashed as the third option for the Lakers. That's something we see far too much in the NBA thanks to overexpansion: Second bananas asked to be lead guys; third bananas asked to be second bananas; and sidekicks asked to be third bananas. The ideal "third banana" should be someone who isn't consistent enough to be great, but good enough to have a game-to-game impact and occasionally carry you for a game. Well, that's Lamar Odom. When he's playing particularly well, the Lakers are nearly unbeatable. When he's playing OK, or worse, they can still compete and win. Perfect spot for him.
(And yes, I still believe -- fervently -- Lamar the Choke Artist from the Clippers will rear his head at some point during the '08 playoffs. People can change, but not that much. Even Angelina Jolie. ... I don't care how many kids she has, how normal she seems and how much good she does, deep down, she's still the crazy woman who wore Billy Bob Thornton's blood around her neck a few years ago. Remember we talked about this after Odom bricks two huge freebies in Boston.)
4. "Despite our recurring conflicts over our four years together, I was genuinely concerned for [Kobe], concerned about how this young man could, in the soul-consuming NBA world, become a mature adult. "
To the mature adults in this year's Finals: P.J. Brown and Derek Fisher, who might be featured in a combined 42,578 puff pieces over the next two weeks. By the way, we're going to have our hands full with lump-in-the-throat ABC halftime pieces during the Finals, between Fisher's daughter bravely battling cancer, Doc Rivers losing his father a few months ago, Bill Russell remembering the late Red Auerbach, P.J. Brown helping a post-Katrina New Orleans, and the 25th anniversary of Sam Cassell's spaceship landing on Earth.
5. "I recognized how easily the whole situation could escalate. [Kobe] rebels against authority. With the new, powerful authority figures in his life -- the police, the prosecutors, etc. -- I was quite certain he would look for a way to rebel more than ever, doing and saying things that would not be in his interest."
To the most powerful authority figures in this series: Jackson and Doc Rivers, the most lopsided coaching matchup since Gregg Popovich toyed with Mike Brown for three games, then decided to coach Game 4 of the '07 Finals with his eyes closed to see if it would even things out. Nope. Doc has shown flashes of competence throughout the playoffs -- particularly in Game 7 of the Cleveland series, Game 1 of the Detroit series and the last two Detroit games -- and it seems like he's starting to grasp time-tested playoff concepts like "Shorten your rotation," "Leave a timeout for the final minute" and "When you play your defensive team down the stretch, the other team will have trouble scoring." The truth is, he just hadn't coached that many playoff games before; now, he just banged out 20 in six weeks. He's getting better. I keep telling myself this.
(The flip side: Going from Mike Woodson/Mike Brown/Flip Saunders to Phil Jackson is like playing backup keyboard for a few weeks with the Jonas Brothers, then going on tour with Radiohead. It's an unfathomable leap. Let's just move on before I stop breathing.)
6. "[Trainer Gary] Vitti told us that Kobe has been threatening again to opt out of his contract, vowing 'to take Slava with me.' Slava. Was this an indication of Kobe's being totally out of touch with reality?"
The funniest moment of the book goes to the funniest running subplot of the Finals: James Posey's phenomenally awkward pregame hugs versus every in-game hug or high-five between Pau Gasol and Sasha Vujacic on the "Disturbingly Intimate Moments Between Men that Probably Shouldn't Happen During a Sporting Event" Scale. I want Stu Scott to throw it to the court for Game 1 like this: Get ready for a homoerotic apocalypse, coming up next on ABC!
7. "'You're not gonna believe this,' [Mitch Kupchak] said, telling me about Kobe and the rape allegations in Colorado. Was I surprised? Yes, but not entirely. Kobe can be consumed with surprising anger, which he's displayed toward me and his teammates."
The Lakers rebound by committee, but still, they cruised through the West without facing what you'd call a dominant team on the ballboards. (That's what Oscar Robertson used to call rebounds: "Ballboards," as in, "We gotta go get ourselves some ballboards.") For instance, the Celtics rebound better at home and doubled Detroit's total in a pivotal Game 5. What happens if they can hold L.A. to "one shot and done" every time down in Boston? And who's keeping Boston off the offensive glass? Do you really trust Odom and Gasol -- two guys never considered elite rebounders at any stage of their careers -- to control the ballboard situation in an NBA Finals, especially on the road, with the crowd hooting and hollering and the fired-up Boston guys going after everything?
Which reminds me ...
8. "'You can't make that pass,' I told Kobe when he came off the court on the next timeout. 'Well, you better teach those motherf------ how to run the offense,' he said. I sat him down on the spot. 'Watch your mouth,' I said."
To poor Andrew Bynum, who will be sitting down for the entire series with a knee injury. Didn't matter for three rounds. Might matter now.
9. "The fact that the alleged incident took place in Colorado heightened my level of concern. Here was one state in the union where 'no' definitely meant 'no.'"
To the biggest "No!" scenario of the Finals: Rivers summoning an ice-cold Tony Allen off the bench as a designated Kobe Stopper for a few minutes, leading to Tony putting up what I like to call "The Tony Allen" -- two bricks, two quick fouls, and one open-court play in which he either dribbles the ball off his foot or hits the ballboy in the face with a pass -- before Tony sits back down, but not before knocking up the rate of alcoholism and heart failure in the Greater Boston area. Fortunately -- and you can't emphasize that word strongly enough -- Tony has an achilles (as Al Michaels would say) and will probably miss the Finals. Phew.
10. "Why don't the two get along? I have my theories, one of which is that Shaquille is making the type of money -- about $25 million a year -- that Kobe will never earn due to the changes in the league's collective bargaining agreement. No matter how many MVP trophies he might collect in the decade ahead, there is nothing he can do about this discrepancy. In fact, the word I got was that Kobe was the only player in the entire league who voted against the agreement because of the cap it puts on salaries."
To Gasol, a star center that Kobe gets along with who makes $13 million a year ... about 25 percent less than Kobe. Needless to say, they get along. Hmmmmm.
Gasol might be the most intriguing Finals character from an "Anything's Possible" standpoint: I could see him getting frustrated by the depth and physicality of Boston's frontline; I could see him tossing up a steady stream of 20-15s and 30-10s as the Lakers cruise to a title; I could see him breaking Cliff Robinson's record for "Most eye rolls, grimaces, hand waves and screams at the roof after a bad call in the Finals" (set in '92 against the Bulls); I could see him wearing a beret during the championship ceremony, smoking unfiltered Marlboros and repeatedly hugging someone who looks skankier than Amy Winehouse. Again, I'm prepared for anything.
(This seems like a good time to mention the Sports Gal's theory that Kobe didn't just want to be the best Laker but the most handsome Laker, which explains the Gasol trade and some of their first-round picks. I'm not buying this one unless the Lakers trade Odom for Hedu Turkoglu this summer. And not a moment sooner.)
11. "'I'm not afraid to go against Shaq this year,' Kobe blurted out. 'If he started saying things in the press, I'll fire back. I'm not afraid to go against him. I've had it.'"
To Ray Allen, who nailed Kobe four years ago with some eerily prescient quotes about Kobe's post-Shaq destiny, leading to bad blood for every one of their games from that point on. (For the complete background, click here and here.) So we know Ray-Ray isn't afraid of Kobe. We also know it's not a fantastic idea to rile up Black Mamba when he's in "I can win my own title and become one of the 12 greatest players ever" mode. In fact, forget I brought this up.
12. "We convened in the locker room, everyone on time except for Kobe, who, when he did arrive, began to fiddle with the mobile phone in his locker. ... When I asked Kobe to stop his habit of screaming at his teammates on the court because it creates insecurity, he came right back at me. 'That's bulls---,' he said. 'You're the one that's causing them to be anxious.'"
To the two players most likely to be a little anxious in the Finals: Rajon Rondo and Jordan Farmar. The Lakers can survive a skittish Farmar; the Celtics can't survive a skittish Rondo. And that's an understatement.
(By the way, for anyone who thinks I'm a homer, when my father and I were discussing the Finals, he counted "Rondo vs. their point guards" as one of our biggest advantages, adding, "They're not gonna be able to handle him." Would Rondo's parents even say this? You gotta love my dad. He's the new Tommy Heinsohn -- pretty soon, he's going to be comparing Leon Powe to Moses Malone.)
13. "If a player tries to score every time he touches the ball, the system will break down. Success depends on everyone, at one time or another, accepting, if not embracing, the role of playmaker."
To the Celtics, because this is their ace in the hole -- basically, any scenario in which Kobe decides his teammates either look scared or might not come through, followed by him going into "Teen Wolf" mode for the rest of the game. When he did this successfully in Games 1 and 5 of the Spurs series, it worked because San Antonio didn't have the right personnel to defend him. Technically, Boston has the right personnel -- Pierce and Posey swapping turns, Perkins and KG roving and protecting the rim -- but this hinges on Rivers playing the right guys (never a sure thing) and Kobe only going into "screw it, I'm destroying everybody" mode once or twice for the series instead of four or five times. It's the most compelling subplot of the series: Now that he's THIS close to a title, how will Kobe react if his teammates choke in a pivotal game? Will we see that same "trust" in the system? Or is he so freaking good that it won't matter?
(Random thought: The Celtics have battled some terrific scorers in high-stakes games in my lifetime, and I was lucky enough to witness some of those battles in person, whether it was Andrew Toney, Dominique Wilkins, Isiah Thomas, young MJ, young Reggie Miller, Allen Iverson or, most recently, young LeBron. But we've never battled anyone quite like Kobe in his prime. I cannot emphasize this strongly enough: I'm abjectly terrified of the guy. I cannot even fathom what it will be like to root against the Lakers -- in-person, in an electric atmosphere, with the history practically suffocating everybody there -- as an assassin like Kobe tries to fend off my beloved Celtics for the title. I keep thinking of that famous Sports Illustrated photo of MJ's final shot in Utah, all those fans watching that shot heading toward the hoop, all of them screaming, all of them knowing what's about to happen. Will that be us? Will there be a photo like that with me and my father in it? Or will the reverse happen -- a happy photo of Allen or Pierce shooting that same shot? By the way, I haven't eaten a full meal in four days. I'm not kidding.)
14. "Granted, every player would like to win a title, but only if it doesn't threaten his more pressing individual needs. In the 1960s and '70s, players asked: 'Where do I fit in? How can I help this team win?' Now they ask: 'How can I get what I want?' Given this selfish mindset, it's remarkable, actually, that teams play with any cohesiveness."
Loved this point. And you thought I was kidding about "The Last Season" being a great sports book.
15. "I still sense a lack of cohesiveness, the oneness every team requires to win a title. There are always signs -- anticipating when a teammate will be beat on defense, trusting someone will be in a designated spot, displaying an unwillingness to lose. So far, I haven't seen any of these, and time is running out. Achieving oneness does not guarantee success, but it greatly increases a team's chances."
Loved this point, too. We are definitely being treated to a 2008 Finals in which both teams achieved their oneness.
(By the way, I think Phil Jackson gets my vote as "Guy I'd Most Want As My Grandfather If I Were a College Student," narrowly edging Jack Nicklaus and Jack Nicholson. Think about it: Jackson is like a walking fortune cookie, he's a great guy, he's a basketball savant, he'd cut you motivational tapes and buy you inspiring books if your grades fell, he'd take you to Pearl Jam concerts during the summers and, if that's not enough, he probably has a great weed connection. Really no downside to being related to the Zen Master.)
16. "We have agreed ... to cover a percentage of [Kobe's] private plane expenses to and from Colorado for court hearings. This will cost thousands of dollars. Kobe was unhappy with the type of plane that was selected; he wanted one with higher status. He should feel fortunate he's not footing the whole bill himself."
Speaking of bills, how 'bout the ticket prices for the Finals???? By all accounts, this might be the single toughest multigame ticket for any modern sporting event and here's why: There might be 18,000 seats in the Staples Center or the Whatever The Hell The Garden Is Called Now, but only about 4,000 of those seats are either courtsides, under the baskets or in the lowest section between the baskets, and of those 4,000, only about 1,500 of them are "worthy" enough for heavy hitters, and of that 1,500, there are only about 50-60 true courtside seats. Now, of those 4,000 seats, more than half of them are chewed up by season-ticket holders, with the rest being controlled by the teams, the NBA and ABC/ESPN. You also have to divide that number by two because everyone wants to bring a friend, a date or whomever. So realistically, you're taking about 800-900 ACCEPTABLE pairs of quality seats available every game, only you have thousands and thousands of people overpaying, trying to overpay or calling in favors for them.
Put it this way: Word on the street is that Jack Nicholson dropped $35,000 per ticket for two courtsides for Game 1. You read that correctly.
17. "This is another example of the basic difference between [Shaq] and Kobe. Ask Shaq to do something and he'll say: 'No, I don't want to do that.' But after a little pouting, he will do it. Ask Kobe and he'll say, 'OK,' and then he will do whatever he wants."
Here's the problem: I keep hearing how Boston can win this series if Pierce goes off -- only he's not that type of scorer anymore. During the regular season, both Pierce and Garnett scored 16-25 a game pretty consistently, rarely dipping higher or lower, and Pierce caught fire just twice in the playoffs (Game 7 vs. Cleveland, Game 6 vs. Detroit). If you're banking on Pierce to average 30-plus in this series, you're going to be wrong. What COULD happen -- and happened in 2002, 2003 and this year -- is Pierce could unleash one of those Monster Games at the optimal time, whether it's a must-win Game 4, a close-out Game 6, Game 7 or whatever. So he's an Aberration Guy in the sense that, at any point, he could suddenly go MJ for a couple of quarters. And you never know when it's happening.
(The complete list of Aberration Guys for Boston: Allen, Pierce, Perkins, Rondo, House, Posey, Big Baby, Powe ... basically, it's the whole team. But that's how they've been winning. Two randoms step up one game, two others the next. I didn't say it made sense.)
18. "A part of Kobe desperately wants to be in the group, to enjoy the camaraderie of his teammates, basketball serving as his only true escape. But there is another part of Kobe which often wins out, a part that wants, perhaps needs, to be isolated from the group. To have it both ways is simply impossible. One can be the leader of the group but one must be inside the circle."
To Kobe, who finally figured out that he needs to stay inside the circle. Give the man credit where credit is due. By the way, aren't these Jackson quotes starting to make you feel like you should be sitting shirtless in an Indian sweat lodge passing around an opium pipe?
19. "Kobe knows how to [play basketball] the right way. So why does he insist on playing the game his way? My theory is that every time a fearless defender, such as Ruben Patterson or Bruce Bowen, vows to shut him down, Kobe needs to prove him wrong, as if his manhood was on the line."
To Posey, the one guy on Boston's roster with the requisite defensive prowess and "I'm not afraid of you" demeanor. When Rivers unleashed him for the fourth quarter in Detroit (Game 6), the Celtics blew the Pistons off the court, which brings up the obvious question: "The Celtics dominated the regular season with their defense, so why have they been so hesitant to play their best defensive lineup -- Perkins, Garnett, Posey, Pierce and Rondo -- in the playoffs?" Sadly, I don't have an answer for you that doesn't involve showing you the Marlboro Lights I bought after Game 6 of the Cleveland series, or the cuts that are still healing on the knuckles of my right hand.
20. "The subject changed to one that could not be avoided, Kobe Bryant. 'You gave the kid a lot of room the last couple of years,' [Shaq] said. 'You stayed off his back and let him try to work things out for himself. I just don't understand why he didn't recognize that. I don't understand why he was unhappy.'"
To something I didn't understand this week: the great Bob Ryan taking exception to my tongue-in-cheek paragraph in this week's "13 Myths" column about the Lakers-Celtics rivalry being a relentless butt-whupping (and not a rivalry) until after the 1985 Finals, leading to history being made: That's right, someone writing a serious rebuttal to an intentionally ridiculous column. I never thought it could happen, but if it DID ever happen, I knew it was going to be a Boston College grad who did it.
(By the way, I disagreed with Bob's serious rebuttal to my intentionally ridiculous column. Both sides need to win for them to have a rivalry; if only one side is winning, then it's a feud and that's all. I covered this in pages 183-186 of my book in the chapter about the Yankees-Red Sox feud -- complete with analysis of Webster's official definition of the word "rivalry" -- a feud that never achieved "rivalry" status until Oct. 21, 2004. From 1959 through 1984, the Celtics and Lakers were feuding and that's it. And if you disagree with that, take it up with Webster.)
21. "Kobe scored 25, but needed 27 field-goal attempts. Instead of driving to the hoop, Kobe settled for difficult shots with Prince in his face. He simply didn't know how to attack the kid."
To Tom Thibodeau, the mastermind of Boston's defense. ... His ideal scenario would be the previous paragraph for five to seven games. Speaking of Thibodeau, he has replaced Clay Buchholz for me as "the Boston sports figure who most desperately needs some facial hair." Shouldn't a defensive mastermind have a shaved head with a handlebar mustache, or at the very least, a bushy fu manchu? He should look like a 1780s blacksmith.
22. "'Are you feeling like you're coming back to the team next season?' Jeanie asked me. 'Well, not if Kobe Bryant is on the team next year,' I told her. 'He's too complex of a person. I don't need this.'"
To the most complex Finals from a strategic standpoint in eight years (since the exquisite Pacers-Lakers series in 2000). Does Kobe chase around Allen or guard Rondo, then jump off Rondo to double everyone else? Do the Celts stick Pierce on Kobe and Allen on Radmanovic, or vice versa? Should Garnett defend Odom when Odom could lure him away from the basket, or should they have Garnett try to defend Gasol by himself? Should the Celts guard Kobe like they did so successfully during the regular season (keeping him from the paint and letting him shoot jumpers), or will they try a new wrinkle since the Spurs failed so miserably with that strategy in the West finals? Will the Lakers be smart enough to pressure Boston's backup guards? Will the Celtics send Rondo at Kobe and let L.A.'s point guards beat them? Will we see a title-altering mid-series adjustment along the lines of K.C. Jones putting D.J. on Magic before Game 4 of the '84 Finals? I could go on all day.
(That reminds me, and this has been bothering me for 24 years: Why the hell wasn't the greatest defensive guard of his generation guarding Magic from Game 1? How was this an adjustment? If I left the front door of my house opened for three straight Fridays and got ripped off each time, and then I locked the house on the fourth Friday, does that count as an adjustment?)
23. "I did hear of one meeting that made quite an impression on players. During a West Coast trip, Jack McMahon, who coached the Cincinnati Royals in the 1960s, called a meeting in his hotel to restore order. The players dreaded it, but according to my former Knicks teammate, Jerry Lucas, they were greeted with two cases of beer, four quarts of whiskey and three hookers. 'Guys, you figure this out,' McMahon said before leaving the room. The Royals figured it out, all right, going on a long winning streak.
My favorite story in the book -- and possibly in NBA history -- goes to my favorite reality of this series: Assuming the Celtics bring the Finals back to Boston for Game 6 and/or 7, that's a whopping advantage. Since they switched to the 2-3-2 format in '85, seven teams clinched at home in Game 6 and another three clinched at home in Game 7. By contrast, four teams clinched on the road in Game 6 and none in Game 7. Wait, it gets better -- four clinched on the road in Game 5 (only one clinched at home), and three more swept on the road (only one swept at home). So since they started the 2-3-2 format, the team with homecourt won 17 of 23 times and went 13-4 in Games 6 and 7 at home. Now that's an edge! The six 2-3-2 champs without homecourt: The '85 Lakers, '93 Bulls, '95 Rockets, '98 Bulls, '04 Pistons and '06 Miami Salvatores.
(As for the Royals story: The NBA ... where hookers happen! That might be my favorite basketball story of all time that doesn't include Marvin Barnes. The thought of NBA players once upon a time flying coach on airplanes, smoking butts at halftime, rooming together, refusing to exercise and being greeted by hookers at team meetings makes me wonder where we went so horribly wrong over these past four decades. I liked things the old way.)
24. "Now I was the one who was angry. I went upstairs to see Mitch in his office. Wasting no time, I went off on a tirade about the need to deal Kobe before the trading deadline in mid-February. 'I won't coach this team next year if he's still here,' I said emphatically. 'He won't listen to anyone. I've had it with this kid.'"
To Chris Wallace, who traded Gasol for many of the same reasons. Oh, wait, he didn't have a reason. My bad. By the way, he's getting a full playoff share from the Lakers, right? It's only fitting.
25. "I knew precisely what I would say: 'Kobe, you're not a positive element with the team anymore. You can't have these kinds of anger situations in front of your teammates because it's destructive to the balance that needs to be maintained.'"
To another positive if you're a Celtics fan: According to this week's Sports Business Journal, ABC/Disney will make $210 kajillion if there's a Game 6 and $430 kajillion if there's a Game 7. Any time you have that much money at stake, well ...
(Translation: Your Game 5 referees in Los Angeles if the Lakers are leading 3-1: Dick Bavetta, Tommy Heinsohn and Mighty Mighty Bosstones lead singer Dicky Barrett!)
26. "[Kobe] was angry about the allowances the Lakers afford Shaq, failing to note the hypocrisy in his accusation. Nobody this year, or any year I've coached, has received more 'allowances' than Kobe Bryant."
To Kendrick Perkins, who received more than a few allowances from Boston fans over the past few years. As recently as last season, his absolute ceiling as a player was best described as, "A backup center who could potentially play on a contender, bang some bodies and clothesline a few people into the basket support." Then KG entered his life and everything changed. Now he blocks shots, bangs the boards, rotates defensively as well as anyone, sinks a few jump hooks and even stomps around with the same goofy, semi-threatening look on his face that Greg has in "Real World Hollywood." I'm thoroughly enjoying the Kendrick Perkins era. And then some.
27. "Kobe finished with eight points, his lowest total ever in a game in which he played at least 40 minutes. The theory being tossed around is that Kobe, stung by criticism for his shot selection in recent games, decided to show the Lakers how stagnant the offense can become when he doesn't asset himself. 'I don't know how we can forgive him,' one anonymous teammate was quoted as saying in today's Times."
To the one thing I won't forgive in these Finals: Any scenario in which Cassell plays more than Eddie House.
28. "Moments later a cell phone went off, a clear violation of team policy. ... The phone that was ringing belonged to Kobe. I couldn't believe it. Worse yet I couldn't believe he answered it and started talking in a hushed voice. We were about to go on the court for our most important game of the year, and Kobe was allowing himself to be distracted by a phone call. I didn't ask who he was talking to and I didn't care. He shouldn't have been talking to anyone."
To the biggest distraction of the Finals: Late start times (9:15 p.m. for the East Coast games!!!!) coupled with the suddenly interminable length of 2008 playoff games (thanks to extended TV timeouts). We might see the first four-hour NBA game that doesn't have an overtime. I'm not kidding. By the way, I love the NBA, it's my favorite professional sport, and I like everyone I've ever met who runs the league ... but how does the NBA plan to create a new generation of fans when the fourth quarters for the greatest series in 15 years will be ending after midnight? Didn't they learn anything from baseball, the dumbest sport on the planet and a sport that now has no fans under the age of 20?
29. "'Will Shaq's presence on this team color your decision to come back or not?'" I asked him.
'Yes, it does,' he said.
'I meant what I said the other night after the [final] game, that the two of you could co-exist and play well together,' I went on.
'There's no doubt about that,' he said. 'I've done that for eight years with him, but I'm tired of being a sidekick.'"
To the most fascinating sidekick of the Finals: Sasha Vujacic, who could become the most reviled opposing villain in the Old Garden/New Garden since Chuck Person. I'm so excited to jeer this guy, yell insults at him, root against him and be utterly and completely annoyed by him that I can barely stand it. I mean, the guy wears one of those short-order cook headbands! And just wait until he starts poking and prodding Ray Allen and putting his face a little too close to Ray's face during inbounds plays -- you might see a crazed Boston fan run on the court to deck him. I'm not even kidding. This guy could not drink in any Boston bar for more than three minutes without having a pool cue broken over his head. Did I mention that I can't wait for the Finals to start?
30. "Today at practice, Kobe went from player to player, shoving the article with the anonymous quote in their faces. I have rarely seen him that incensed. 'Did you say this?' he demanded of each player. ... Nobody said a word, until Karl [Malone] finally broke the silence. 'Obviously, Kobe, no one said it or wants to admit they said it,' Karl said. 'You've just got to let it go now.' Karl and Kobe, who have become buddies, launched into a shouting match that I had to stop."
To Allen, who just needs to let it go. ... And by "it," I mean, those gorgeous 3-pointers that were rippling through the net during the regular season at a 40 percent rate. When Ray-Ray has it going, the 2008 Celtics are just about unstoppable. Of course, he's the same guy who I derisively compared to Wally Szczerbiak two rounds ago. It has been an up-and-down season for the man we once called Jesus.
(Speaking of shouting matches between Karl and Kobe, remember the whole thing that happened after 2004 when the Mailman allegedly hit on Kobe's wife and caused a huge rift between him and Kobe? I always wanted more information on that one. That should be its own show on ESPN Classic -- "The Truth Behind Semi-Seedy Sports Incidents That Weren't Quite Scandals." I'd much rather watch that than the 1993 Eight-Ball Classic.)
31. "'It's not that I'm enamored with Kobe's character,' [Dr. Jerry Buss] said. 'But he is 26 in August. The seven years ahead are the prime years of his career.' Of course, neither of us brought up the possibility of those years being spent in prison. 'Besides,' Dr. Buss added, 'aren't all superstars like that?'
'No,' I told him. 'Not all of them.'"
One of the most riveting exchanges in the book goes to the most riveting dopey subplot of the 2008 Finals: Which celeb will get the loudest cheer on the Jumbotron in L.A. or Boston? Here are the favorites in reverse order:
6. Bill Belichick (Boston)
5. Magic Johnson (L.A.)
4. David Ortiz (Boston)
3. Jack Nicholson (L.A.)
2. Larry Bird (Boston)
1. Chris Wallace (L.A.)
32. "Kobe is missing out by not finding a way to become part of a system that involves giving something larger than himself. He could have been heir apparent to MJ and maybe won as many championships. He may still win a championship or two, but the boyish hero image has been replaced by that of a callous gunslinger."
To Kobe again. ... It's hard to believe how much changed in four years. He has been a model teammate and leader for most of the 2008 season, someone who finally learned how to delegate the first three quarters of games, get his teammates involved, then take things over when it matters. The days of the "callous gunslinger" are over.
(And if you're looking at this from a purely historical standpoint, as I've written for years, any time you have a series with two relatively equal teams, the team with the better player should win. That's held for every Finals since the ABA/NBA merger except for 2004, and it's the single best case you can make for the Lakers right now: They have the best player hitting the peak of his powers on a really good team. Sometimes, that's all you need. This might be one of those times.)
33. "Tex [Winter], who is definitely no Buddhist, has a saying that I've grown to love: 'You are only a success at the moment that you do a successful act.' You can't be a success the next moment because you have already moved onto something else, even if it's accepting an award for the successful moment that just passed. That is why I've always told my players the glorification comes from the journey, not the outcome."
The best lesson of the book goes to the best sports lesson of the past few years: When you're trying to win a title, it's much easier to play the "Nobody believed in us!" card than the "Everyone believed in us, and we vindicated their belief!" card. That's just the way sports work. Guys feel slighted, guys get pissed, guys take things personally, guys band together. That's what I like most about this Celtics team -- it's an intense group that plays much like the '04 Pistons did, only for the first three playoff series, they were in an unfamiliar place because everyone expected them to win. How do you maintain that level of intensity without the drive to prove everyone wrong? Obviously, you don't. It took Boston 20 games to beat a lousy Atlanta team, a one-man Cleveland team and a splintering Detroit team.
Now? The Lakers are minus-180 favorites even without homecourt advantage. Nearly every media member is picking the Lakers and writing Boston off. On paper, the Lakers look like a logical choice. But can't you see the Celtics celebrating in their locker room two weeks from now and playing the "Nobody believed in us!" card? Please say you do, because I'm grasping for straws right now. If the glorification comes from the journey, then all I know is that the journey isn't over, and I'm already exhausted.
The Pick: Celtics in 7
Bill Simmons is a columnist for Page 2 and ESPN The Magazine. For every Simmons column, as well as podcasts, videos, favorite links and more, check out the revamped Sports Guy's World.

2008 NBA FINALS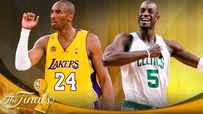 And then there were two -- the Lakers and Celtics. Who will win the NBA Finals? Let the games begin.
Finals schedule | Playoff bracket | Playoff home
Daily Dime
•
Celtics win 17th championship title
•
Did C's lose Regret Game?
•
A little help from Kobe's friends
•
Time for L.A. to go small
•
The Finals Can't Shake Donaghy Mess
•
Unlikely Game 4 comeback gives C's 3-1 lead
•
Rondo's ankle could change L.A.'s game plan
•
Kobe leads Lakers to Game 3 win
•
Lakers need to attack the paint
•
Lakers learn Powe's name in Game 2
•
Time for Gasol to step up
•
Lakers need better defense in Game 2
•
Pierce sparks Celtics in Game 1 victory
•
Expert predictions, clutch stats
•
Pierce loves playing Lakers
•
Celtics to meet L.A. in the Finals
Lakers vs. Celtics
•
Stein: Q&A after six-game "sweep"
•
MacMullan: Pierce's long road to greatness
•
Hollinger: From camp to champs
•
Stein: Boston's big three shine
•
Adande: Questions loom over Lakers' future
•
Hollinger: Celtics commit to defense
•
Scouts Inc.: Game 6 breakdown
•
Hollinger: Farmer steps up in Game 5
•
Sheridan: Late-game letdown for Celtics
•
Stein: Lakers ready to make history?
•
Adande: Greatness eluding Phil and Kobe
•
MacMullan: Doc adheres to dad's lessons
•
Jackson: Time for L.A.'s concession speech?
•
Stein: Game 4 not Kobe's finest hour
•
Adande: KG dominates Gasol again
•
Hollinger: Rivers makes all the right moves
•
Hill: Kobe's Laker legacy on the line
•
Hollinger: Vujacic lends helping hand in Game 3
•
Jackson: Jump shot Jesus has returned
•
Stein: Lakers need to earn sympathy
•
Adande: Lakers feel foul over whistle disparity
•
Jackson: Leading role suits Pierce
•
Adande: Kobe turns away from the pass late
•
Stein: Pierce's knee key to rest of series
•
Finals factor 1: Kobe Bryant
•
Finals factor 2: Celtics Defense
•
Finals factor 3: Paul Pierce
•
Finals factor 4: Home-court advantage
•
Finals factor 5: Battle of the benches
•
Hollinger: Lakers offense vs. Celtics defense
•
Broussard: Turning back the clock

•
Adande: How did Kobe get here?
•
Scouts Inc. breakdown: Lakers vs. Celtics
•
Coaching comparison: Red vs. Phil
•
Smith: Kobe's moving forward
•
Scoop: Fiendin' for a ring
•
Top 10 moments of Lakers-Celtics rivalry
•
ESPN Classic schedule: Relive the rivalry
TrueHoop
•
TrueHoop: Finals reflections
•
TrueHoop: Doc Rivers' redemption
•
TrueHoop: Lakers got Rondo'd
•
Tough night for Allen
•
Game 5 live blogging
•
Laker nation vs. NBA refs
•
Pierce and the evaporating knee story
•
Game 2 live blogging
•
Coaxing Kobe Bryant into hero mode
•
Game 1 live blogging
•
Today's game isn't so different
Simmons
•
Notes from the C's winning night
•
Boston's X factors
•
Game 4 running diary
•
Time for NBA Finals answers
•
The C's and city both look good
•
The Truth comes out in Game 1
•
NBA Finals forecast
•
Chat: NBA Finals preview
•
Simmons: You want a piece of Kobe, Boston?
ESPN The Magazine
•
Sporting Equivalency: NBA Finals meets hip hop
•
Broussard: Reporting from the NBA Finals
Fantasy
•
Join the fun of NBA Finals: Playcaller
Audio
•
Dish: NBA Finals recap
•
Wyc Grossbeck on C's championship
•
Ray Allen on how the Celtics evolved
•
Bob Ryan compares '86 C's to current one
•
Jon Barry credits Tom Thibodeau's team defense
•
Game 4 reactions
•
Rajon Rondo on Pierce, Game 2 plans
•
Bill Walton on Celtics-Lakers history
•
Dr. J on Finals, '80s hoops
ESPN Top Headlines