BOSTON -- For all intent and purpose, the Celtics played a perfect Game 2. They shot 53 percent from the field and made nine of 14 3-pointers. They had 31 assists on 36 field goals. They outrebounded the Lakers and shot a whopping 28 more free throws. They were given an ongoing boost by favorable officiating (that's an understatement) and a lively, joyous crowd that brought back memories of the old Garden and the Bird era. They even submitted an Exclamation Point sequence that stretched through the end of the third quarter to the beginning of the fourth, when their lead swelled into the 20s and everyone started thinking, "Holy crap, these guys might not even come back for a Game 6."
two.
I wish I could explain what happened, but L.A.'s comeback defied explanation. The Celtics relaxed, the Lakers made a couple 3s, the Celtics missed a couple shots, Kobe shifted into 17th gear, the Lakers made a couple more 3s, and somewhere during this stretch, everyone went into "Oh no!" mode and my buddy Hench texted me, "Will this be the worst loss in Boston sports history?" (Yes, actually. And NBA history. And sports history.) Once Kobe willed himself to the line for two freebies with 38 seconds left, the Celtics were suddenly leading 104-102 with 38.7 seconds left, and my frozen father was only missing a coffin and a touch-up makeup job from a mortician.
That's when Paul Pierce (28 points, eight assists) saved us, barreling to the basket with one of his patented old-school, herky-jerky, zig-zag drives, drawing a foul and nailing both free throws with 22 seconds left. The Lakers called timeout and set up a new play called "Let'shandbostonthegame," ignoring Kobe in lieu of an unspeakably atrocious Sasha Vujacic 3-pointer that Pierce blocked with his left hand. Game over. Even when the buzzer sounded and Gino started dancing, the fans filed out of the Whatever The Hell The Garden's Called Now the same way somebody would leave a police station after they had been falsely imprisoned for a few hours -- happy to be out, but racking their brains trying to figure out what just happened.
Fan No. 1: "Dude, I got us tickets for Round 2. Wanna fly to Boston with me?"
Fan No. 2: "Dude, I'm in!"
Fan No. 1: "Let's wear Kobe jerseys, get drunk during the game, argue with people in our section and see if somebody will take a swing at us."
Fan No. 2: "Dude, I said I'm in. You bringing your designer man-purse?"
Fan No. 1: "Absolutely! Are you going to trim your beard so you look like Crockett during the first season of 'Miami Vice'?"
Fan No. 2: "You betcha!"
Look, every fan base has a worst-case scenario stereotype -- for Boston fans, it's someone with a shortened Irish name (Murph, Sully or Fitzy) who looks like a 295-pound Mike O'Malley, only with a shaved head, a comically ridiculous Baaaaa-stan accent, a T-shirt that's two sizes too small and a blood-alcohol level of 0.27 at all times. Few Boston fans are actually like that, just like few Lakers fans resemble the guys sitting next to me Sunday night. I'm just telling you, what would have been the worst collapse in Finals history nearly happened as I sat next to two drunken douche bags in Kobe jerseys, one with a man purse (the exact same color of my mother's Louis Vuitton purse, by the way), the other with a Crockett beard. I feel like you need to know these things.
(Here's an idea before Game 6, should it happen: The Celtics send out a news release that, if they see anyone sitting in a season-ticket seat for Games 6 or 7 wearing a Lakers jersey, a Lakers T-shirt or a Lakers hat, then the person who owns those season tickets will lose them next season. Period. End of story. It's not technically legal, but then again, a franchise should have the right to control who owns their season tickets, right? I like this idea.)
For God's sake, look at that list again. It's like the Ghosts of Boston Sports Past and Present. That's a phenomenon unique to this particular city -- an unusually high level of fraternizing between the Red Sox, Celtics and Patriots that started a few years ago and eventually reached the point that players show up to support the other teams. Basically, the Boston sports scene has turned into a giant college campus.
So how did that happen? After decades of universally impersonal/enigmatic/unfriendly/anonymous/loathsome Boston sports owners who failed to mine a ravenous sports market, things turned when the Krafts bought the Patriots and proved that a local family could own a Boston-area franchise, interact with the community, listen to fans, build a state-of-the-art stadium and legitimately give a hoot about making everyone happy. A few years later, the Henry/Werner/Lucchino group purchased the Red Sox and shrewdly turned a notoriously fan-unfriendly franchise around, renovating (and even re-inventing) Fenway Park and maximizing every potential penny from that franchise. That was quickly followed by the new Celtics ownership (Wyc Grousbeck, Steve Pagliuca and their minority partners) making a concerted effort to get involved with the community, build relationships with sponsors and heavy hitters and everything else.
Now the three relevant Boston franchises seem like mirror images of each other. They're all winning. They're raking in cash and increasing the value of their respective teams to the point that it's almost absurd. They hired intelligent, successful, innovative executives who keep pushing their teams forward. They have owners who are visible and accountable, owners who proved they will spend the requisite amount of money (and then some) to field winning teams. Beyond that, the top executives for all three franchises know one another, lean on each other for advice and hit up each other for favors; it's a working relationship in the best sense, and it's the kind of thing that just didn't happen 10 years ago. Team A and Team B are always pulling for Team C. Anyway, that's how you end up with a legitimate renaissance for Boston sports, as well as 40-50 stars and former stars at Game 2 of the NBA Finals.
Digging a little deeper, the revival of the Celtics, Red Sox and Patriots mirrors something that's happening to Boston as a whole. Quite simply, the city that I left behind in 2002 doesn't exist anymore.
Once upon a time, Boston was a pretty easy place to understand. Things never changed and, more importantly, we liked it that things never changed. Life revolved around the weather cycles (often brutal), the sports teams (often disappointing) and those occasionally fabulous days in April or October when the sun was shining and there wasn't a prettier place to be. We dealt with traffic, snow, construction, parking problems and sports letdowns year after year, and that's just who we were. Everything was symbolized by the Big Dig, a project that promised to rejuvenate the city and put our highways underground, only it fell years behind schedule and bled billions in cost overruns, rendering Boston impotent for a number of years. I graduated from college in '92 and spent the next decade living in the city (mostly in Charlestown) dealing with jackhammers and detours the entire time. After a while, you stopped thinking about it and assumed that's the way the city would always be -- mangled, ugly and messed up. Nobody could conceive of life after the Big Dig. It just seemed incomprehensible.
Well, the project finally ended two years ago. Remember the reality show "The Swan," in which someone gets an extreme makeover and tons of plastic surgery and family members stare at him or her in complete disbelief? That's how I feel every time I come back to Boston. If there was a defining trait for the Causeway area other than the old Garden, it was the Green Line, which ran above ground (you might recall seeing the shot of the train rumbling toward the Garden before every Celtics game) and right over Causeway Street. Scattered around the area were a number of bars, including some classic ones (Harp, Sullivan's Tap, Four's) and a never-ending group of bars in static locations that always seemed to change names every 18 months. On paper, this seems kind of cool. In reality, it meant the tracks hung over the street, blocked every inch of sunlight and dripped smelly water every time it rained or snowed, and on top of that, you had to hear the deafening screech of the train rumbling by every few minutes.
see
Faneuil Hall from a distance. What was once highway ramps, bridges, "T" tracks and construction has been replaced by grass and sidewalks. "Incredible" isn't a strong enough word. In fact, you could walk from Quincy Market to the North End to Causeway Street to the Red Hat to the top of Charles Street and (A) remain in the sun for the entire time and (B) actually enjoy the trip without feeling you might get mugged.
It's just a different city. The Baby Boomer generation keeps drifting from the suburbs into Back Bay, the South End, the North End or Beacon Hill, leading to a peculiar situation in which real estate prices keep climbing in a market in which prices are swooning everywhere else. And thanks to relaxed tax laws, Hollywood has descended on downtown in droves; instead of nonstop construction, you're more prone to see trailers, lights and policemen blocking off a brownstone or a building. On Friday night, I went to pick up my friend Willy at his place on Commonwealth Avenue; across the street, something was happening but I couldn't figure out what.
"That's where they're filming the new Bruce Willis movie," Willy said matter-of-factly.
Oh.
Living here from day to day, it's probably tougher to realize how much Boston has changed -- how many nice restaurants, clubs and bars are scattered throughout the city, how much easier it is to get around, how much happier and efficient and sleeker things seem -- but it's something I couldn't stop wrapping my head around for six days, from the moment I arrived at Logan Airport (no longer a travesty of a dump, by the way) and found myself in one of those secret handshake tunnels that cab drivers use now to get from Logan into the city. Crazy. The whole thing is crazy.
The dramatic shift in fortunes is symbolized by one piece of turf in Beacon Hill, right next to the Storrow Drive West ramp, about a block from the top of Charles Street, formerly the home of Buzzy's Roast Beef. For the uninitiated, Buzzy's was the 24-hour place you went after a night of drinking for some unhealthy food; if you were lucky, you might run into a couple of girls there and strike up a conversation, only there was nowhere to go because the bars closed at 2 a.m., and besides, both parties were covered in cheese and barbecue sauce, so nothing would have happened, anyway. It was located right next to the Charles Street jail and Mass General Hospital, in a stretch of Beacon Hill that always seemed to have stabbings and muggings. As the old adage went, it was OK to stumble out of the Beacon Hill Pub and walk straight to Buzzy's, as long as you never took a right.
Of course, I would have said the same thing about anotherLakers-Celtics Finals. Leading by two games, needing only two more victories to clinch a 17th banner, the Celtics took the same things that worked for them in Game 1 (energy, rebounding, home court, some timely 3s) and pushed it to another level. For three quarters, the team peaked as the Lakers seemed frazzled by lopsided officiating and each other. During the first quarter, there was one sequence when Kobe threw a bullet pass through Gasol's hands for a turnover, then shot Gasol one of his patented Michael Corleone, "You disappointed me, don't be surprised if I have you killed later" glares, only Gasol fired right back and told Kobe that he should have thrown a bounce pass, followed by Kobe staring at Gasol intently and trying to make Gasol's head actually explode on the court.
Yeah, maybe it was a minor moment, and maybe these things happen during a basketball game. But it symbolized what happened with the Lakers in these first two games; they looked rattled, they couldn't get calls, they couldn't protect the rim, they couldn't keep Boston off the boards, they shot way too many jumpers and 3-pointers, and on defense they seemed one step behind except for the fourth quarter in both games. For Game 2, they had a valid excuse … an unspeakable 38-10 free-throw disparity that I won't even attempt to defend. At one point, my dad pointed to referee Bob Delaney, who was practically wearing a Celtics jersey and joked, "I like that guy. I want him for every game!"
If you're a Lakers fan, take solace in the fact you'll get every call at the Staples Center if the crowd shows up; not only do these things have a way of coming around, but if Bennett Salvatore doesn't officiate Game 3, it will be the biggest sports upset of this century. Still, the Lakers shouldn't be pardoned for never driving to the basket and failing to play with enough intensity on the defensive end. Yeah, the calls were one-sided, but you can't expect to get calls when you're reaching in from behind, trying to strip guys after they beat you and trying to block shots after your guy already grabbed an offensive rebound and he's standing between you and the basket. For the first seven quarters of the series, honestly, I can't think of a single thing the Lakers did well.
Hmmmmm, maybe that's how we should have played this whole series.
In particular, Kobe pushed himself to remarkable heights, flying around the court like Lawrence Taylor after an 8-ball, a force of nature covering chunks of the court at once. What an incredible athlete to watch in person. You can't say enough about it. Had Kobe brought that frenzied intensity to the rest of the series, the Lakers would have won at least one of the games. He didn't.
As for the Celtics, they're peaking at the perfect time, submitting some really good stretches in the Detroit series and hitting new heights Sunday. I'm starting to wonder if they simply got rusty after they clinched home court, lost their way a little bit, battled some severe confidence issues in the Atlanta and Cleveland series and ultimately found their way again. These things can happen with an inexperienced team, even a team with this many veterans. When you think about it, none of their key characters could be considered "playoff experienced" except for Pierce (and even that's dubious), and they have a coach who has been learning as he goes along.
For all the grief that Doc Rivers has taken (and yes, I'm one of the grief-givers), he has gotten better throughout the playoffs. Other than the ongoing House/Cassell tragedy (don't get me started), I haven't disagreed with anything Rivers did in the Lakers or Pistons series except for burying Leon Powe against Detroit, which was inexplicable at the time and seems twice as perplexing after what happened Sunday night (21 points, two roof-shaking dunks). I thought Rivers coached the best game of his career in Game 2, calling timeouts at the right times, shortening his rotation, making the right adjustments and even keeping an on-fire Rajon Rondo (16 assists) in the game for the entire second half. I didn't disagree with a single move, except for playing Cassell, who is obviously blackmailing him, so we'll let it slide. As I've written in the past, I'm a big believer in "getting reps" in life, whether it's speaking in public, driving a race car, performing in a porn movie, coaching a basketball team or whatever. Maybe Doc just needed to get some playoff reps in. I keep telling myself this.
Regardless, the Celtics are heading to Los Angeles with a 2-0 lead, a healthy team and a coach who has figured out how to not be a liability. Life is good. I'd feel more confident if Kobe wasn't playing for the other team. Even Sunday night, with the Lakers trailing by 20 and showing less chemistry than John Travolta and Kelly Preston, Kobe remained terrifying and I specifically remember glancing at the Jumbotron every so often and hoping the clock would move faster. As the series continues to unfold, he remains the most intriguing person in it, pressing for the first seven quarters but dominating the eighth. He's not going down without a fight, nor do we expect anything less.
But even Kobe can't stop the sun from shining in Boston today. Everyone is wandering around a rejuvenated city with hoarse voices, talking about the game and trying to figure out what will happen in Game 3. There is nowhere I would rather be. The Celtics are back.
Bill Simmons is a columnist for Page 2 and ESPN The Magazine. For every Simmons column, as well as podcasts, videos, favorite links and more, check out the revamped Sports Guy's World.

2008 NBA FINALS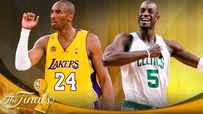 And then there were two -- the Lakers and Celtics. Who will win the NBA Finals? Let the games begin.
Finals schedule | Playoff bracket | Playoff home
Daily Dime
•
Celtics win 17th championship title
•
Did C's lose Regret Game?
•
A little help from Kobe's friends
•
Time for L.A. to go small
•
The Finals Can't Shake Donaghy Mess
•
Unlikely Game 4 comeback gives C's 3-1 lead
•
Rondo's ankle could change L.A.'s game plan
•
Kobe leads Lakers to Game 3 win
•
Lakers need to attack the paint
•
Lakers learn Powe's name in Game 2
•
Time for Gasol to step up
•
Lakers need better defense in Game 2
•
Pierce sparks Celtics in Game 1 victory
•
Expert predictions, clutch stats
•
Pierce loves playing Lakers
•
Celtics to meet L.A. in the Finals
Lakers vs. Celtics
•
Stein: Q&A after six-game "sweep"
•
MacMullan: Pierce's long road to greatness
•
Hollinger: From camp to champs
•
Stein: Boston's big three shine
•
Adande: Questions loom over Lakers' future
•
Hollinger: Celtics commit to defense
•
Scouts Inc.: Game 6 breakdown
•
Hollinger: Farmer steps up in Game 5
•
Sheridan: Late-game letdown for Celtics
•
Stein: Lakers ready to make history?
•
Adande: Greatness eluding Phil and Kobe
•
MacMullan: Doc adheres to dad's lessons
•
Jackson: Time for L.A.'s concession speech?
•
Stein: Game 4 not Kobe's finest hour
•
Adande: KG dominates Gasol again
•
Hollinger: Rivers makes all the right moves
•
Hill: Kobe's Laker legacy on the line
•
Hollinger: Vujacic lends helping hand in Game 3
•
Jackson: Jump shot Jesus has returned
•
Stein: Lakers need to earn sympathy
•
Adande: Lakers feel foul over whistle disparity
•
Jackson: Leading role suits Pierce
•
Adande: Kobe turns away from the pass late
•
Stein: Pierce's knee key to rest of series
•
Finals factor 1: Kobe Bryant
•
Finals factor 2: Celtics Defense
•
Finals factor 3: Paul Pierce
•
Finals factor 4: Home-court advantage
•
Finals factor 5: Battle of the benches
•
Hollinger: Lakers offense vs. Celtics defense
•
Broussard: Turning back the clock

•
Adande: How did Kobe get here?
•
Scouts Inc. breakdown: Lakers vs. Celtics
•
Coaching comparison: Red vs. Phil
•
Smith: Kobe's moving forward
•
Scoop: Fiendin' for a ring
•
Top 10 moments of Lakers-Celtics rivalry
•
ESPN Classic schedule: Relive the rivalry
TrueHoop
•
TrueHoop: Finals reflections
•
TrueHoop: Doc Rivers' redemption
•
TrueHoop: Lakers got Rondo'd
•
Tough night for Allen
•
Game 5 live blogging
•
Laker nation vs. NBA refs
•
Pierce and the evaporating knee story
•
Game 2 live blogging
•
Coaxing Kobe Bryant into hero mode
•
Game 1 live blogging
•
Today's game isn't so different
Simmons
•
Notes from the C's winning night
•
Boston's X factors
•
Game 4 running diary
•
Time for NBA Finals answers
•
The C's and city both look good
•
The Truth comes out in Game 1
•
NBA Finals forecast
•
Chat: NBA Finals preview
•
Simmons: You want a piece of Kobe, Boston?
ESPN The Magazine
•
Sporting Equivalency: NBA Finals meets hip hop
•
Broussard: Reporting from the NBA Finals
Fantasy
•
Join the fun of NBA Finals: Playcaller
Audio
•
Dish: NBA Finals recap
•
Wyc Grossbeck on C's championship
•
Ray Allen on how the Celtics evolved
•
Bob Ryan compares '86 C's to current one
•
Jon Barry credits Tom Thibodeau's team defense
•
Game 4 reactions
•
Rajon Rondo on Pierce, Game 2 plans
•
Bill Walton on Celtics-Lakers history
•
Dr. J on Finals, '80s hoops
ESPN Top Headlines