Burning questions after a particularly goofy Game 3 of the NBA Finals:
Q: Did we learn anything significant from the Lakers' 87-81 victory Tuesday night?
GET THE WIDGET
ESPN Widgets are portable applications that you can place almost anywhere! You can put them on your blog, your iGoogle home page, your Facebook profile, and many of the other most popular sites on the Internet.
Click here to add our new Sports Guy Widget
so you'll be updated every time Bill Simmons writes a new column.
A: Not really. The Lakers took care of business at home in a must-win situation, which was something any quality team would do. Bennett Salvatore and Joey Crawford were about as impartial as Aaron Spelling when "90210" was casting the Donna Martin character in 1990, which was what you'd expect from "reliable" referees. Kobe bitched about every noncall, earned a "T," glared at teammates and added to his reputation as the next MJ ... only if MJ had severe anger-management issues. Which is what MVPs should do. (Oh, wait, that's not what MVPs do -- forget we mentioned that one.) The Celtics played a typical road game for them in the 2008 playoffs -- they shot terribly and got nothing from KG, only they hung around because of rebounding and defense and had a chance to steal the game in the final few minutes. Is that what potential champions do? We will see.
Really, only one thing stood out: David Cook singing the national anthem with "I love being famous, I am getting laid nonstop" vigor. I have to say, the kid is a star. He carried himself like one of the biggest stars in the building (and maybe he was). Still, I couldn't help but think about how much fun it would have been had David Archuleta won "American Idol" and gotten the Game 3 assignment, then sang the anthem and done his sheepish, overwhelmed, "Oh my God, I can't believe you guys liked it, I'm fighting back the tears" routine as KG stared him down and waited for him to get off the court. That would have been fantastic.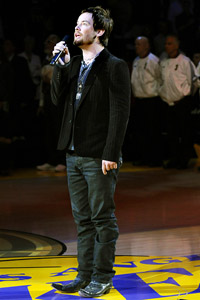 AP Photo/Kevork Djansezian
When you're the "American Idol," life is very, very good.
Q: What was the funniest part of the game?
A: Probably the way the L.A. fans reacted to Paul Pierce, booing him for four quarters, shouting "faker!" at him and even carrying signs like, "Hey, Pierce, this is the Finals. Not the Oscars!" I'm starting to wonder if KneeGate is going to follow him for the rest of his career. Before it does, allow me to make two points in his defense since I have followed him for 10 years:
1. Before the 2000-01 season, Pierce was stabbed 11 times at a Boston nightclub, suffered a collapsed lung and nearly bled to death while staggering to the hospital. Less than two weeks later, he played in Boston's first exhibition game. If the same thing had happened to Vince Carter, he would still be on the injured list seven years later.
2. During the 2002-03 season, Pierce got slammed face-first to the floor by Amare Stoudemire, breaking his two front teeth. Thirty minutes later, he was back playing with a mouthpiece. The following day, he underwent emergency dental surgery for seven hours. The day after that, he played against Portland with a mouthpiece and ended up hitting the game-winner.
In my opinion, he's not only one of the toughest Celtics ever, he's one of the toughest Boston athletes ever. Not counting Tankapalooza 2007 (when the team shelved Pierce with a knee injury for half the season even when he probably could have played), Pierce missed just 21 games in nine seasons and played through a variety of injuries and ailments for mostly horrendous teams. So for anyone to insinuate that he is either (A) weak or (B) someone who would milk an injury, is just insane. On top of that, for the Lakers' fans to have the gall to question any other NBA star's character is three times as insane. In retrospect, Pierce's only mistake was not diffusing the Lakers fans before Game 3 by settling with his right knee out of court and buying it a $4 million diamond ring.
Q: What was the runner-up for funniest part of Game 3?
A: I swear this happened: For the final shot of the first half, Kobe spotted Salvatore on the right side in front of the Lakers' bench, then drove right so he could be as close as possible to the ref if there was any contact. ... Of course, Salvatore obliged with a quick whistle for him. When a referee is affecting basketball decisions specifically by his particular place on the court, you know he has accomplished something special in life.
THE FINALS 411
Bill Simmons was fully immersed in the NBA Finals. Check out his coverage of the series:
•
Game 5: Closing time back in Boston
•
Game 4: Just call it The Comeback Game
•
Game 3: Time for answers
•
Game 2: A city reborn
•
Game 1: Piercing the silence
•
Preview: A rivalry reborn
•
Myths about Lakers-Celts
•
Chat wrap: Talkin' hoops
•
B.S. Report: Adam "Lakers" Carolla

(That reminds me, I have decided to ignore Tim Donaghy's "accusations" about chicanery with NBA officiating for the same reason I argued we should have ignored Matt Walsh during SpyGate -- if someone's a complete scumbag, then anything he says should be taken with the caveat that a complete scumbag is saying it. Besides, we didn't need Donaghy to tell us something horribly unsettling happened with the officiating for Game 6 of the 2002 Kings-Lakers series. We all watched it and I have written about it at least 10 different times -- along with Game 7 of the Sonics-Suns series in '93, LJ's Four-Point Play in '99 and the Hubert Davis Game, it was one of the four fishiest NBA games since I graduated college. Actually, "fishiest" isn't a strong enough word. The credibility of the sport was briefly compromised. Again, I didn't need some scumbag felon to elucidate this for me.)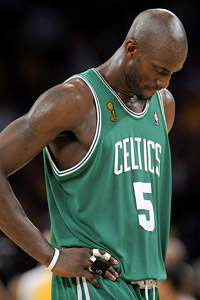 AP Photo/Kevork Djansezian
Maybe it's the lack of sleep. Maybe Kevin Garnett just cares too much. Either way, KG hasn't been the same player in the postseason.
Q: Is Kevin Garnett on pace to pass Elvin Hayes, Wilt Chamberlain and Karl Malone as the biggest choke artist in the history of the NBA Finals?
A: For the sake of objectivity, this question had to be asked. And it's a fair question. After a smoking-hot first half in Game 1, KG has missed 36 of his past 50 shots -- which would be fine except nearly all of them were either wide-open jumpers or low-post moves with inferior defenders (either Pau Gasol, Lamar Odom or Ronny Turiaf) guarding him. What worried me Tuesday night was KG missed a few and subsequently seemed terrified to shoot, to the point the Lakers just started leaving him open and daring him to take his patented 20-footer like he was Quinn Buckner or something. In the second half, Boston helped him by bringing in Eddie House -- FINALLY!!!!!!!!!!!!! (I'd add 500 more exclamation points, but it would screw up the HTML for this column) -- to spread the floor, allowing Garnett to post up 10 feet from the basket, then whirl around, face Gasol and beat him off the dribble. Which isn't exactly difficult. Only it wasn't a sure thing in Game 3.
From a historical standpoint, what's fascinating about Garnett's situation is how much it mirrors two other Hall of Fame power forwards who were maligned for crunch-time performances throughout their careers. In the '78 Finals against Seattle, Hayes scored 133 points in the first six games, but only 19 of those came in the fourth quarter, a statistic that became the key subplot of that Finals. In Game 7 in Seattle, Hayes scored just 12 points and fouled out with eight minutes remaining, only a deep Bullets team prevailed by six with the Big E on the bench. When Malone famously struggled in the '97 and '98 Finals against Jordan and the Bulls, Utah couldn't win either series without the Mailman at his best. As it turned out, the defining moment of his career happened in Game 6 of the '98 Finals, when MJ stripped him of the ball and made the series-winning shot. In Garnett's case, the Celtics are built a little more like the '78 Bullets than the '97 or '98 Jazz because they can win games without getting a big offensive boost from him. And unlike Hayes or Malone, Garnett can contribute mightily just with his defense and rebounding.
On the other hand, didn't we expect a little more from him than that? I covered his crunch-time issues in a column for ESPN The Magazine a few weeks ago, but it's worth mentioning one point again: He gets too worked up for big games to the point that it's almost to his detriment. For instance, it was revealed after the Detroit series that Garnett hadn't slept for four days, a period that started after Game 4 and stretched past Game 6. If that was true, you can only imagine how he's handling the Finals. Like O.J. with Nicole, it's possible that he cares a little too much. And for someone who's supposed to be one of the best 25 or 30 players ever, it's almost incomprehensible that he can't make the Lakers pay for single-covering him with the likes of Gasol. Not to sound like Joe Theismann, but here's a guy with a can't-miss 20-footer, superb footwork on the low post, great passing skills and legitimate athletic advantages over every Laker who will defend him in this series. Is there any reason Garnett shouldn't be averaging 30 a night? I can't think of one ... except for the "Maybe he hasn't slept in a week" thing.
Regardless -- and this happens rarely in sports -- it's turning into one of those plots in which you can see the historical ramifications even as the series is still unfolding: If Garnett doesn't come through under optimal conditions, and the Celtics blow this series because of him, that goes in the first paragraph of his NBA tombstone. If they win the series despite his offensive struggles, that also goes on his NBA tombstone, only it will be buried halfway down (kind of like the '78 Finals with Elvin Hayes). Either way, there isn't a more fascinating character in the 2008 Finals with the exception of Kobe, who might end up killing Lamar Odom with his bare hands if the Lakers lose this series.
Q: What has been the funniest subplot of the Finals so far?
A: Curt Schilling's colorful blog post about sitting next to the Lakers' bench for Game 2. My three favorite things about this one:
1. You have to love the year 2008, when baseball players blog about their experiences at NBA games. I don't know how we got here, but it's fantastic.
2. The Kobe anecdotes are so damning you have to read them to fully grasp the significance. All I can say is I sat close to the court for Games 1 and 2 and can confirm everything -- the glares, the yelling, the extended staring, the poisonous body language and everything else. If this had been pickup hoops, some of Kobe's teammates would have intentionally thrown a game just to get back to the sidelines, then done the "No, I'm running with these four guys" routine when he came over to ask if they wanted "Next" with him.
3. It has been hysterical to watch the city of Los Angeles rush to Kobe's defense by ripping Schilling -- as evidenced by this T.J. Simers column Wednesday -- instead of coming to grips with the fact the last five months of hunky-dory, "Good Ship Lollipop" Lakers stories was Hollywood's biggest B.S. story of the year other than everyone in the Writer's Guild pretending they liked how the strike turned out. Kobe is a wonderful basketball player. We all concede this point. Just don't keep trying to sell us on the fact he's a good teammate. We have a decade's worth of evidence that says otherwise. When the going gets tough, he goes into "me mode" and it's way too late for him to change. Sorry.
Q: What has been the most interesting subplot of the Finals so far?
A: You mean, other than Sam Cassell's being "The Mole?" I'd say the way the Celtics pounded the Lakers inside. An NBA friend e-mailed me that it's a little like the Giants-Pats Super Bowl in that they've used their physical advantages to "ugly" up the game (for lack of a better word), turning it into somewhat of a street fight near the basket and hoping the Lakers would back down. So far, Odom has backed down -- in fact, he did everything short of rolling over like a puppy in Game 3, earning Phil Jackson's disgust more than once -- and Gasol seems afraid to fight for position on the low post because he doesn't want to bang bodies with the likes of Perkins and P.J. Brown. On the flip side, the Lakers realized something in the fourth quarter of Game 2: If their guards pressure Boston's ballhandlers full-court, it throws Boston's offense out of whack and causes a variety of bad things to happen (forced shots, lazy lob passes, plays starting 40 feet from the hoop and everything else).
Look, I hate to rip the Zen Master because I'm still hoping he will agree to become my grandfather after this series is over. But the Lakers seemed woefully unprepared to start this series. For one thing, anyone who watched the Celtics this season knew their ballhandlers were suspect, they're truly awful on fast breaks (watch how many easy ones they botch from game to game, it's absolutely incredible), and that good things happen to opponents who pressure them -- only the Lakers waited seven quarters to play that card even though they have guys such as Sasha Vujacic and Jordan Farmar who are great baseline-to-baseline agitators. On top of that, it took the Lakers until Game 3 to stick Kobe on Rajon Rondo -- the logical move, since they could dare Rondo to shoot 20-footers and use Kobe to swarm everyone else. Cleveland used this strategy in Round 2 and flustered Boston's offense to the degree the Cavs almost stole the series. Don't the Lakers have scouts? I can't believe I'm writing this, but the Celtics have outwitted the Lakers in this series so far.
(One notable exception: Garnett's unconscionable decision to "soft double" Kobe 40 feet from the basket with Boston trailing by two in the final two minutes of Game 3, leading to the Lakers' easily finding a red-hot Vujacic in the corner for a back-breaking 3-pointer. This was like Ruby's shooting Oswald in that I don't know if KG was acting on his own or he had instructions, but either way, somebody ended up getting killed. And in this case, it was the Celtics. Just an AWFUL decision. Can't say enough about it.)
Noel Vasquez/Getty Images
Code red! Jack is fully awake, so you know it's a big game.
Q: How do you tell the difference between a Grizzlies-Lakers game in January and a Celtics-Lakers game in June at the Staples Center?
A: Actually, a run-of-the-mill Grizzlies game is louder than a Finals game because there would be more real Lakers fans at the Grizzlies game. For instance, on the final play of the first half Tuesday night, Kobe was dramatically whittling down the shot clock near midcourt and waiting for the final few seconds to drive toward Salvatore's side. In any other NBA arena during the playoffs, the fans rise and cheer as one during this situation if it's a big enough game. That's just what real basketball fans do. Unfortunately, Tuesday's crowd of power players, millionaires, industry frauds, celebrities and trophy girlfriends were afraid to stand because they thought the change in atmospheric pressure would affect the Botox in their cheeks. Needless to say, they remained seated. Maybe I should have been prepared beforehand for a staggering amount of pseudo-fans and people who just came because they wanted to flex their power muscles, but after the electric Game 2 crowd in Boston, this was especially jarring, like going from a big boxing match to a tennis match or something. Only in the last eight minutes of the fourth quarter did everyone start standing, cheering and resembling a basketball crowd.
Some other subtle ways to tell the difference between January and June: You'll notice an inordinate amount of Lakers flags flying from cars when you're driving to the game. (Well, cars worth less than 30 grand. I am still waiting to see my first Lexus or Bentley with a Lakers flag.) You'll notice more celebrities at the game. (For instance, during the "Hollywood Nights" montage in the third quarter Tuesday, they showed Sly Stallone and Eddie Murphy sitting next to each another. Any time you have two major celebs sitting next to each other, you're probably not at a Lakers-Grizzlies game.) You'll notice Jack Nicholson seems a little more awake. (It's the meds.) And when you're walking around the arena before halftime, you'll notice Hugh Hefner sitting with three of his girlfriends and shouting things like, "Come on, Elgin!" and "Get them together, Magic!" Any time Hugh leaves his house for a basketball game, you know it's the Finals.
(In all seriousness, come on, Lakers fans. It's the Finals! You can stand up and cheer before the eight-minute mark of the fourth quarter. Really, you can. Don't be afraid to break a sweat.)
Q: Can the Celtics steal a game in L.A.?
A: Absolutely, and here's how: They need two of the Garnett-Allen-Pierce group to have big games in the same game. In Game 3, had Garnett or Pierce (a combined 8-for-33) shown up, the Celtics would have been looking at a potential sweep Thursday night. Didn't happen. And hell, it might not happen in Game 4 or Game 5 -- at this point, I don't know what to think anymore.
Still, the Lakers have been exposed in the sense that (A) Boston is big enough to handle Gasol on the low post and (B) something has psyched out Odom to the point he's effectively useless (whether it's KG's defense or the stage itself is unclear). So even if Kobe is springing for 36-40 a game, they're still going to need a sizable free-throw advantage (which they got Tuesday) and at least one shooter to randomly catch fire (which they got in Game 3 from Vujacic) to prevail in these next two games unless Kobe springs for 50-plus.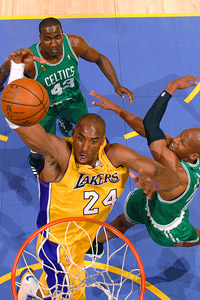 Andrew D. Bernstein/NBAE/Getty Images
Expect this series to reach new heights in Game 4 on Thursday night.
Q: What can we expect from Game 4?
A: A potential ESPN Classic game, that's what. I never thought the Finals would get going until Game 4 for a couple of reasons. First, the late start times on the East Coast mess everyone up -- these guys are creatures of routine, so asking them to sit around all day twiddling their thumbs for a 9 p.m. game, then deal with a swarm of people walking around for the shootarounds, the added pressure of the actual game, the extended TV timeouts of the game and everything else was enough to screw up the quality of play in Games 1 and 2. In Game 3, the Celtics flew cross-country and dealt with a 6 p.m. start, a road crowd and different lighting, as well as the celebs sitting courtside ("Look, it's Jack Nicholson!"), as well as the inevitable free-throw disparity, so maybe a subpar performance was inevitable. But you could see both teams work out the kinks as the game went along, and there was one super-competitive stretch in the third quarter when the quality of play was particularly high.
Now, we have Game 4. Everyone has worked out the kinks. The setting is more familiar; so is the opponent. Every strategy has been tried; every counter to that strategy has been planned. We know who the best nine guys are for each team, and we know when they're going to be playing. (Well, except for the House-Cassell thing, which is going to send my dad to the hospital before everything's said and done.) We know which key guys need to come through, as well as the identities of the Aberration Guys who could potentially swing a close game. Even better, Game 4 is the tipping point for when both teams start rubbing each other the wrong way and things start getting testy and fiesty.
Here's what I'm trying to tell you: Not only has the table has been set for a dramatic, memorable basketball game Thursday night, I think it's going to happen. After three choppy games, these teams are about to bring out the best in each other. Now, if they could only do the same for the Laker fans, we'd really have something.
Bill Simmons is a columnist for Page 2 and ESPN The Magazine. For every Simmons column, as well as podcasts, videos, favorite links and more, check out the revamped Sports Guy's World.

2008 NBA FINALS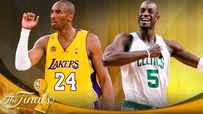 And then there were two -- the Lakers and Celtics. Who will win the NBA Finals? Let the games begin.
Finals schedule | Playoff bracket | Playoff home
Daily Dime
•
Celtics win 17th championship title
•
Did C's lose Regret Game?
•
A little help from Kobe's friends
•
Time for L.A. to go small
•
The Finals Can't Shake Donaghy Mess
•
Unlikely Game 4 comeback gives C's 3-1 lead
•
Rondo's ankle could change L.A.'s game plan
•
Kobe leads Lakers to Game 3 win
•
Lakers need to attack the paint
•
Lakers learn Powe's name in Game 2
•
Time for Gasol to step up
•
Lakers need better defense in Game 2
•
Pierce sparks Celtics in Game 1 victory
•
Expert predictions, clutch stats
•
Pierce loves playing Lakers
•
Celtics to meet L.A. in the Finals
Lakers vs. Celtics
•
Stein: Q&A after six-game "sweep"
•
MacMullan: Pierce's long road to greatness
•
Hollinger: From camp to champs
•
Stein: Boston's big three shine
•
Adande: Questions loom over Lakers' future
•
Hollinger: Celtics commit to defense
•
Scouts Inc.: Game 6 breakdown
•
Hollinger: Farmer steps up in Game 5
•
Sheridan: Late-game letdown for Celtics
•
Stein: Lakers ready to make history?
•
Adande: Greatness eluding Phil and Kobe
•
MacMullan: Doc adheres to dad's lessons
•
Jackson: Time for L.A.'s concession speech?
•
Stein: Game 4 not Kobe's finest hour
•
Adande: KG dominates Gasol again
•
Hollinger: Rivers makes all the right moves
•
Hill: Kobe's Laker legacy on the line
•
Hollinger: Vujacic lends helping hand in Game 3
•
Jackson: Jump shot Jesus has returned
•
Stein: Lakers need to earn sympathy
•
Adande: Lakers feel foul over whistle disparity
•
Jackson: Leading role suits Pierce
•
Adande: Kobe turns away from the pass late
•
Stein: Pierce's knee key to rest of series
•
Finals factor 1: Kobe Bryant
•
Finals factor 2: Celtics Defense
•
Finals factor 3: Paul Pierce
•
Finals factor 4: Home-court advantage
•
Finals factor 5: Battle of the benches
•
Hollinger: Lakers offense vs. Celtics defense
•
Broussard: Turning back the clock

•
Adande: How did Kobe get here?
•
Scouts Inc. breakdown: Lakers vs. Celtics
•
Coaching comparison: Red vs. Phil
•
Smith: Kobe's moving forward
•
Scoop: Fiendin' for a ring
•
Top 10 moments of Lakers-Celtics rivalry
•
ESPN Classic schedule: Relive the rivalry
TrueHoop
•
TrueHoop: Finals reflections
•
TrueHoop: Doc Rivers' redemption
•
TrueHoop: Lakers got Rondo'd
•
Tough night for Allen
•
Game 5 live blogging
•
Laker nation vs. NBA refs
•
Pierce and the evaporating knee story
•
Game 2 live blogging
•
Coaxing Kobe Bryant into hero mode
•
Game 1 live blogging
•
Today's game isn't so different
Simmons
•
Notes from the C's winning night
•
Boston's X factors
•
Game 4 running diary
•
Time for NBA Finals answers
•
The C's and city both look good
•
The Truth comes out in Game 1
•
NBA Finals forecast
•
Chat: NBA Finals preview
•
Simmons: You want a piece of Kobe, Boston?
ESPN The Magazine
•
Sporting Equivalency: NBA Finals meets hip hop
•
Broussard: Reporting from the NBA Finals
Fantasy
•
Join the fun of NBA Finals: Playcaller
Audio
•
Dish: NBA Finals recap
•
Wyc Grossbeck on C's championship
•
Ray Allen on how the Celtics evolved
•
Bob Ryan compares '86 C's to current one
•
Jon Barry credits Tom Thibodeau's team defense
•
Game 4 reactions
•
Rajon Rondo on Pierce, Game 2 plans
•
Bill Walton on Celtics-Lakers history
•
Dr. J on Finals, '80s hoops
ESPN Top Headlines