BOSTON -- Remember in "Halloween" when Laurie thought she "killed" Michael Myers and dropped the knife right next to him, then stood in the doorway with her back turned to him? What an idiot, right? The Celtics did the same thing in Game 5 on Sunday night. With a chance to finish off the Lakers in Los Angeles and clinch their first title in 22 years, the Celtics played a drop-the-knife game. Now we're back in Boston for at least one more game -- possibly two -- and unfortunately for the Celtics, Dr. Loomis isn't sprinting up the stairs with his gun to save them.
GET THE WIDGET
ESPN Widgets are portable applications that you can place almost anywhere! You can put them on your blog, your iGoogle home page, your Facebook profile, and many of the other most popular sites on the Internet.
Click here to add our new Sports Guy Widget
so you'll be updated every time Bill Simmons writes a new column.
The good news for Boston fans: A team that went 48-7 at home (including the playoffs) now has two chances to clinch a 17th banner at home.
The bad news for Boston fans: The Celtics are limping to the finish line. They've played a whopping 107 games this season, not including preseason games or their Italy trip in October. They suffered two significant injuries (Kendrick Perkins and Rajon Rondo); their best player (Paul Pierce) is playing with possible damage in his left knee; their best shooter (Ray Allen) is dealing with a family crisis; and their best big man (Kevin Garnett) played an impossibly bad Game 5 and seems to be either wearing down or shrinking from the moment. When you remember how this series unfolded -- Boston's narrow escape after blowing a 24-point lead in Game 2, followed by its incredible comeback from 24 down in Game 4 -- the line between "leading L.A. 3-2" and "going home for the summer" is narrower than you think.
On the other hand, it's not like the Lakers have been lighting the world on fire. They barely won Game 3 even though the Celtics stunk, they barely held on in Game 5 even though Paul Pierce was the only Celtic who showed up, and it's unclear which of the Lakers has the testicular capacity to come through in a crazed road atmosphere except for Kobe Bryant and Derek Fisher. My dad put it best after Game 5: "I don't trust our guys to put this series away, but I don't trust their guys to take it."
So what does that mean? If there's an X factor for these last two games, it's the Boston home crowd -- it knows how to energize the Celtics and discourage their opponents. If there has been an identifiable trait of this 2007-08 Celtics season, it's how the rejuvenated fans have continually ignited their team. As we witnessed in the first three quarters of Game 2, as well as the last 19 minutes of Game 4, Boston's ability to ratchet things up defensively surpasses any strength on the Lakers' side. What will happen if the crowd is spurring the Celtics to new heights? On paper, it seems the crowd should be able to win one of these next two games, and if you've ever had a chance to be part of a special crowd, you know why. (Note: I wrote about the unique impact of a great basketball crowd during Golden State's upset of Dallas last year.) I can't speak for everyone else attending Tuesday night's game, but I'm ready to stand and scream and yell and pound my hands for three solid hours. A great crowd should never, ever, EVER allow its team to lose a potential championship clincher at home. You're damned right that's a challenge.
I think the fans will be ready -- there is too much history and passion, and it has been too long of a wait since the last time we were in this position. But will the players be ready? Other than Pierce, can we trust a single Celtic to show up for these games? That's a question I can't answer until Wednesday. In the meantime, let's hand out belated awards for Game 5, as well as some other awards for the Finals:
THE JAMES WORTHY AWARD FOR "THE PERFORMANCE IN ONE FINALS SERIES THAT DID THE MOST TO AFFECT HOW WE REMEMBERED SOMEONE'S CAREER"
To Pierce for playing two really good games (Game 1 and Game 2), one stinker (Game 3), one ESPN Classic Special (Game 4) and one jaw-dropper (Game 5). He lifted himself to another level in those last two games, willing himself to the basket time and time again (shades of MJ in the '98 playoffs) and playing some of the greatest defense that has ever been played against Kobe Bryant. He also carried himself with a remarkable level of composure, refusing to get riled up by bad calls or roped into a senseless trash-talking duel with Kobe.
In Game 6 against Detroit, after Bennett Salvatore's horrendous offensive-foul call that erased a potential four-point play for Pierce, what stood out more than anything was the way Pierce handled the whole thing. As recently as three seasons ago, he would have griped about the call, made a few faces, gotten T'ed up and let the whole sequence take him out of his game. In Detroit? He shook his head in disbelief, shook it off and took out his frustrations on the Pistons. I have been watching him for 10 solid years; in my opinion, that specific moment transformed the ceiling of his career from "just another good player" to "someone good enough to be the best player on a title team."
THE FINALS 411
Bill Simmons was fully immersed in the NBA Finals. Check out his coverage of the series:
•
Game 5: Closing time back in Boston
•
Game 4: Just call it The Comeback Game
•
Game 3: Time for answers
•
Game 2: A city reborn
•
Game 1: Piercing the silence
•
Preview: A rivalry reborn
•
Myths about Lakers-Celts
•
Chat wrap: Talkin' hoops
•
B.S. Report: Adam "Lakers" Carolla

Ever look at yourself in one of those circular makeup mirrors that women use, the ones that light up and magnify your face so you can see every crevice, whitehead, scratch and scar? That's what the NBA playoffs do. It's the circular makeup mirror for basketball players, a big enough stage that we can see every crevice, scratch and scar in their games. And for the most part, that's what you see in the playoffs, especially in the Finals -- you see everything that's wrong with each player. Sometimes, this works in reverse and the player rises to the occasion and makes you think, "Wow, I didn't realize he was that good," or "Wow, I've never seen him play like this!" That has been Pierce in the 2008 Finals. At least so far. There isn't a better all-around swingman in the league; he's the heart and soul of this Celtics team. And as my father said after Game 5, "We wasted one of the truly great games ever played by a Celtic."
THE JON STEWART AWARD FOR "BEST MOMENT OF ZEN"
A friend of mine sat courtside with Matt Damon in seats to the left of the Lakers' bench. During the third quarter, with Damon cheering on the Celtics in a green Celtics cap -- great job by him, by the way -- Phil Jackson barked at Damon, according to my friend, "Sit down and shut the f--- up." After getting texted that story, I spent the rest of the game rooting for a Boston comeback win, followed by Damon pulling a Will Hunting and asking Jackson, "Hey, Phil, do you like apples? (PAUSE) Well how 'bout them apples!!!!" Didn't happen.
(Speaking of the Zen Master, for someone who's allegedly the best coach of his generation, how could he not figure out how to stop the high screen with Pierce and KG in Game 5, and why can't he figure out a way to get Kobe going in this series? Throw in the disrespectful way Kobe treats him during games -- Damon's crew was shocked by that running subplot, by the way -- and is anyone else starting to wonder if Jackson coaches the Lakers just because they pay him a ton of money and he's dating the owner's daughter and that's it? I mean, he can't LIKE most of these guys, right? He sure doesn't seem like he's enjoying these games, that's for sure. Do you think he goes home after every Lakers game, pours himself a glass of wine, lights up a Cuban, watches one of the old Bulls games from the '90s and just fights back tears for an hour or so thinking about how much he hates coaching Kobe? You wouldn't rule it out, right?)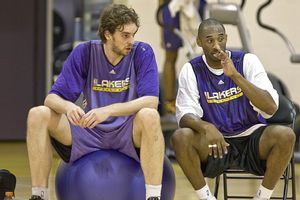 AP Photo/Mark Avery
Pau Gasol better hope he catches anything the Black Mamba throws his way.
THE BROOKS POST-"SHAWSHANK" AWARD FOR "MOST FLUSTERED OUTSIDE HIS ELEMENT"
Before Game 5, my dad hadn't seen the Celtics play anywhere other than Boston in 35 years. Here was his take on the experience: "I can't believe how bad those Lakers fans are. I'm sure they have good fans in L.A., but none of them were at the game. They didn't try to affect the game at all. For big moments, they couldn't seem to decide whether they should sit or stand. Here's a hint: It's the Finals, you should stand. And the stands were so dark that I needed an entire souvenir Coke to stay awake. Maybe that's why their fans are so quiet. That was a really weird experience. I don't think I liked it. How can you live here?"
Speaking of fans, here are three chants that I want to hear at the new Garden on Tuesday night:
1. "Se-ven-teen! Se-ven-teen! Se-ven-teen!"
(I want to hear that for the entire 30 minutes leading up to the game. I don't have to explain what it means.)
2. "Over-rated! Over-rated!"
(That's for every time Kobe shoots a free throw. I just think it would bug him and potentially cause him to jack up 20 jumpers in a row. By the way, that choice narrowly edged out "Pierce is better!" and "No one likes you!"
3. "We can smell it! We can smell it! We can smell it!"
(Only if we're up double digits in the fourth quarter. And only then.)
While we're here, I'd love to see two things on the Jumbotron in Game 6 other than Gino celebrating in the fourth quarter: First, a montage of highlights from the Comeback Game with Journey's "Don't Stop Believin'" blaring and, second, a montage of Kobe bitching out teammates with Bad Company's "Bad Company" blaring. Both would bring the house down.
THE C-WEBB AWARD FOR "MOST EGREGIOUS NO-SHOW IN A PIVOTAL PLAYOFF GAME"
(Note: This also could be called, "The Mailman Award," "The Ewing Award" or "The Big E Award.")
To Garnett for stinking out the joint in Game 5 to the point that the fans in my section mistakenly thought a toilet had overflowed. Forget about the missed free throws down the stretch, his inability to defend Pau Gasol or grab rebounds in traffic in crunch time, or two crucial missed tips in the final few minutes. You know what really stood out? The dumb fouls. With the Celts already short one big man, how could KG get himself into foul trouble with so many cheapies? Absolutely inexcusable. He played so poorly in Game 5 that I'm starting to wonder if he's either injured or completely exhausted from the 107-game season.
One other thing: A strange side effect of being a devoted sports fan is that you can follow your team for eight straight months and reach a point when you honestly feel like you know what's going to happen before it happens. For instance, I knew Pierce would have a monster Game 5. I just knew it. And I also knew KG would miss at least one free throw each time he went to the line in the final few minutes. So did my dad. We even exchanged one of those awkward, "I'm not saying anything to jinx it, but there's no bleeping way these are both going in" looks as he stepped to the line each time. We're at the point with Garnett that he needs to have a monster -- repeat: MONSTER -- Game 6 (and/or Game 7, if it comes to that) to redeem himself historically from everything else that has happened in this series. Other than a well-played Game 1 and a really good stretch of defense and rebounding in the Comeback Game, he has been shockingly subpar.
WORST-CASE SCENARIOS
Here are six ways the Lakers could steal Game 6:
1. If they avoid falling behind in the first five minutes and sending the crowd into "We can smell it!" mode.
2. If Gasol attacks KG on the low post and gets him into foul trouble like he did in Game 5.
3. If one of the Farmar/Fisher/Vujacic group catches fire and makes some 3-pointers.
4. If they pressure House full-court and attack him on the offensive end like they did in Game 5, forcing Boston to play Cassell or an injured Rondo.
5. If they send both guys with Pierce on the KG/Pierce high screen and make KG shoot 20-footers.
6. If Kobe plays like the 2008 MVP.
(The flip side to KG missing those free throws: When Tiger drained that putt on 18 on Sunday to force the 18-hole playoff. We watched the putt at an NBA reception in the Staples Center. As Tiger was lining it up, maybe 150 people went dead silent watching one of those tiny TVs and waiting for something great to happen. When the putt rolled around and fell in, everyone exploded. The thing was, we all
knew
it was going in. Two and a half hours later, the reverse happened with Garnett. I just thought that was interesting.)
THE C-WEBB AWARD FOR "BEST EXAMPLE WHY YOU SHOULDN'T GIVE UP ON AN ENIGMATIC YOUNG STAR WITH A TON OF TALENT"
Before the Nuggets trade Carmelo Anthony this summer -- and it sure seems like we're headed that way -- they better take a long look at the way Pierce performed in these playoffs. Then they should remember how many ups and downs Pierce had over the past few years, how many times Boston fans wondered if he'd ever "get it," how many times he acted like a kook or a head case and how many times they discussed trading him. (During the summer of '05, they had a deal in place with Portland for the No. 3 pick and Nick Van Exel's contract that Pierce squashed after the trade was leaked to the media. The guy Boston would have taken with that pick? Chris Paul. A fascinating "What if?") In my humble opinion, if 'Melo ever matures as a person and a player -- and that seems like a fair bet -- he could have the same all-around impact on a contender that Pierce had on these 2008 Celtics.
Translation: If I was running the Nuggets, I wouldn't trade Melo in a million years. And if I were running the Rockets (T-Mac), Pistons (Chauncey Billups and Jason Maxiell), Nets (Richard Jefferson and the No. 10 and No. 21 picks), Hawks (Joe Johnson), Grizzlies (Mike Miller, the No. 4 pick and a point guard), Mavericks (Josh Howard and Jason Terry) or Wizards (Caron Butler), I would be doing everything possible to discreetly acquire Mr. Anthony for a fair return. But that's just me.
THE SASHA VUJACIC AWARD FOR "BEST SNIFFLING MELTDOWN DURING THE 2008 FINALS THAT DIDN'T INVOLVE SASHA VUJACIC"
To my favorite person on the planet: my daughter, who's just old enough to understand concepts like, "If the team with the green uniforms wins tonight, then they get to celebrate, and that means Daddy doesn't have to fly to Boston again!" You know what that means? Yup, as if barely losing a potential clincher wasn't bad enough, I was treated to a series of "I don't want you to go to Boston again!" meltdowns Sunday night and Monday morning. All she was missing was a Vujacic jersey and one of those short-order cook hair nets. The NBA ... where crushing your kid happens.
THE ROMAN-POLANSKI-IS-A-STATUTORY-RAPIST AWARD FOR "THIS WEEK'S REASON WHY WE SHOULD HATE THE FRENCH"
We were sitting behind the Lakers bench for Game 5, so please believe me on this one: In the fourth quarter, with the Celtics shooting on L.A.'s basket, Ronnie Turiaf was throwing a towel up in the air every time a Celtic was about to release a free throw. Talk about dirty pool. Isn't that a technical? Speaking of Turiaf ...
THE DAMIEN AWARD FOR "BEST OMEN"
Phil from Burlington, Mass., explains: "In the second quarter, did you see how Turiaf fell, got called for a charge and none of his teammates helped him up? They all walked away. That would never happen to the Celts, and that is why they are going to win. That is the best example of the difference between the two teams."
(Well, that and this: No Celtic would ever bitch out a teammate on the court like Bryant bitched out Gasol after the big Spainard failed to catch his 130-mph, no-look pass in the first half of Game 5. How can Lakers fans continue to defend such petulant behavior? You got me. But, hey, he must be a good guy because he can do news conferences while holding both of his kids. I have to admit, I'm a little Kobe'd out. Even politicians handle their public image less transparently -- we're almost to the point that Kobe's PR team is going to stage a fake fire in the Hollywood Hills and have Kobe "randomly" drive by the house, then run in to "save" three kids.)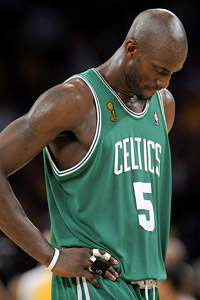 AP Photo/Kevork Djansezian
Was Game 5 an aberration or is the Big Ticket running on empty?
THE GUY-YOU-HATE-PLAYING-CRAPS-WITH AWARD FOR "BEST PERFORMANCE CHEERING ON THE 'DON'T COME' LINE"
To all of my ESPN bosses, as well as everyone working for ABC, who spent the weekend building shrines in their hotel rooms and carrying rabbit's feet around hoping the Lakers would send this series back to Boston for a lucrative Game 6. In fact, ABC will make $340 trillion in ad sales for Game 6. That's a lot of money. So I guess I can't blame them. But it still hurts.
THE TERRY FRANCONA AWARD
During the 2004 baseball playoffs, back when we still weren't sure if Francona was a competent manager or not -- funny in retrospect because I'm convinced now that he's the best manager in Red Sox history -- Francona had that incredible eight-game stretch (four against the Yanks, four against the Cards) where every move worked, and I joked that he was like a guy splitting 10s and hitting on 18s at a blackjack table who somehow kept winning every hand. Well, Doc Rivers broached that territory in Game 5 with some truly ludicrous decisions, from starting Leon Powe (huh?) and never playing him again, to playing four different guys at point guard (including Tony Allen!!!!!!), to running isolation plays for Sam Cassell when he's shooting negative-12 percent in the playoffs, to inexplicably sitting Ray Allen for most of the second quarter, to running the same high screen with KG and Pierce 35 straight times in the fourth quarter ... and amazingly, the Celts were down by two with the ball in the final 50 seconds.
I gotta be honest: For the life of me, I can't figure out if Rivers is doing a decent job at this point. I can tell you that he coached poorly for most of the Atlanta and the Cleveland series, and that the Celtics came within a couple of lucky, turn-the-tables Rajon Rondo 3-pointers from getting blown out by the Cavs in Game 5 and earning a death certificate in the land of LeBron in Game 6, followed by the end of the Doc Rivers era in Boston. I can also tell you, had P.J. Brown not climbed in a time machine in the final six minutes of Game 7 and inexplicably turned into the best player on the court (no really, watch the replay some time), they would have blown that game and that would have been the end of the Doc Rivers era in Boston.
I also can tell you the players are killing themselves for him, although it's a team of character guys, so you could argue they'd be killing themselves for anyone. He has been given a roster and a coaching staff that hides his single biggest weakness as a coach -- a complete inability to coach defense, as witnessed by everyone who watched this team from 2004-07 -- enabling him to concentrate solely on offense, rotations, motivating his team and handling the media (three of which are his strengths). He lost an NBA record number of playoff games (10) and finished the playoffs 3-9 on the road. He changed rotations from game to game and series to series, something that ranks right up there with "don't snort cocaine with your players during timeouts" and "wear underwear and pants" on the list of coaching no-no's in the postseason. It's also impossible to evaluate him fairly when EVERYONE in the media -- the Boston guys, the national guys, even ABC's crew for this series -- genuinely likes the guy and wants him to succeed. (And in many cases, some of those people consider him a friend.) Criticizing Doc Rivers is like criticizing the pope. It really is. I can tell you that from first-hand experience. Unfortunately for me, I'd probably criticize the pope if he played Sam Cassell over Eddie House for three straight playoff rounds, even if it earned me a trip to hell.
Here's what else I can tell you: Rivers got noticeably sharper as the playoffs went along. He outcoached Phil Jackson in the first four games. He helped shepherd two memorable comebacks -- Game 6 in Detroit and Game 4 in Los Angeles -- and has to get credit for that. Regardless of the reason, his players ARE killing themselves for him. And if you think it's easy to coach a team with Eddie House, Sam Cassell and Rajon Rondo playing point guard, you're crazy. So, either he's the luckiest coach on the planet, he has been getting better as the playoffs went along, he's better than I thought, he's worse than I thought or the truth lies somewhere in between. Regardless, anyone who wins a title has to be considered at least "decent" as a coach, right? Um ... right?
(I'm still confused. Thoroughly. Let's move on.)
THE ACE AND GARY AWARD FOR "THE MOST HOMOEROTIC MOMENT OF THE FINALS THAT DIDN'T INCLUDE ONE OF JAMES POSEY'S MAN-HUGS"
At halftime of Game 5, the Lakers brought out an act called Duo Design. What's Duo Design, you ask? Two guys named Jarek and Darek. Not enough info for you? Well, Jarek and Darek are shirtless contortionists with shaved heads who balance off one another and lift each other up in a variety of creepy, slow-motion, temple-pounding poses as the music from the "Rocky IV" training sequence blares in the background. (Note: I can't speak for the residual damage here, because it's not known yet, but there's a chance I will watch "Rocky IV" for the rest of my life thinking about these two bald, shirtless guys rolling around on each other. I really hope that doesn't happen.) As my dad joked while Darek was doing a handstand on Jarek's groin, "Now here's a halftime act that would NEVER fly in Boston."
THE KEITH HERNANDEZ AWARD
To David Stern for sending Dick Bavetta to Game 5. That might have been the first-ever "Eff-You!" officiating assignment. Classic. It's worth mentioning that our Game 6 referees are Joey Crawford, Eddie Rush ... and Mr. Bennett Salvatore. Before the game, I am dousing myself in gasoline and bringing a Zippo just to be properly prepared.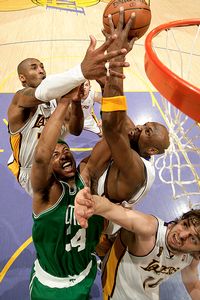 Nathaniel S. Butler/NBAE/Getty Images
There's one thing we've learned so far -- Kobe can't handle The Truth.
THE KRYPTONITE AWARD FOR "MOST SIMPLE WAY TO FOIL SOMEONE WHO IS ALLEGEDLY SUPERMAN"
Boy, Kobe sure seems to have trouble scoring on these Shane Battier/Paul Pierce types, doesn't he? If someone's a little bigger than him, stays between him and the basket and has the reach to contest his jumper, and if that person is flanked by smart defenders who remain aware of what Kobe is doing at all times, it sure seems Kobe has trouble getting the shots he likes. Not to belabor the point because it's a moot discussion at this point, but MJ didn't have a "kryptonite" flaw. He just didn't. Of everyone from the '90s, John Starks probably defended him the best ... and it's not like Starks was shutting him down or anything. He just made MJ work a little harder for the points he was getting anyway. The point is, Jordan did whatever he wanted during a much more physical era, and when he faced great defensive teams -- like the '89 and '90 Pistons or the '93 Knicks -- nobody ever shackled him or knocked him into a scoring funk. Kobe? He looks a little lost offensively against the Celtics. It's true. Same for the 2004 Finals against Tayshaun Prince, another lanky defensive player with a good reach. Just remember to mention this on his NBA tombstone some day.
THE BIZARRO ESPN CLASSIC AWARD
Kevin D. from Portsmouth, N.H., muses: "The actual lineups on the floor early in the second quarter of pivotal Game 5 of the 2008 Finals -- Odom, Vujacic, Ariza, Mihm, Farmar (Lakers); Pierce, Cassell, Posey, Tony Allen, Brown (Celtics). My roommate and I have made several phone calls taking opinions, and now we need the Sports Guy to be the ultimate validation. Was this, collectively, the worst 10 players ever to be on the floor at the same time during a Finals game? Is it even close? Is there even a word to properly describe what went on there?"
(My take: I noticed the same thing, which makes me think, any time you're watching a Finals game and it randomly strikes you how many bad guys are on the floor, you're probably witnessing history. Take away Pierce and Odom, and they could have had a four-on-four game to 11 that would have lasted for three hours.)
THE JOEY FROM "REAL WORLD: HOLLYWOOD" AWARD
This analogy will only make sense to people who watch the show, but remember when Joey (a recovering drug/alcohol addict) was going out with his roommates in the first few episodes, and he tried not to drink with them, but then he always got sucked into that one Long Island iced tea and then all hell would break loose? That's Sam Cassell during the '08 playoffs. If he comes into the game, takes a 20-footer and makes it, it's just like the arc of Joey ordering that first drink: Your first reaction as a Celtics fan is that you're excited that he's drinking. Your second reaction is that you're terrified that he might keep drinking. And your third reaction is that you're going to sleep under your bed later that night just to be safe. I swear, this all makes sense if you watch the "Real World" and follow the Celtics. Let's just move on.
THE JOHN HOLMES AWARD FOR "MOST EXHAUSTED NBA EMPLOYEE IN THE FINALS"
To my friend Sully, gatekeeper for Celtics tickets, who was praying for them to clinch in Game 5 so he didn't have to deal with at least two more 20-hour days and 200,000 celebs, fringe celebs, heavy hitters, local power brokers, owners and minority owners, family members, friends, co-workers, players, acquaintances and NBA employees looking for tickets. In the Pantheon of "Columns I'd Love To Write Some Day," one of those would be a "Day In The Life of Sully" during the NBA Finals. Just know that three people aged at least five years during the Lakers-Celtics Finals: Sully, the guy who does Sully's job for the Lakers, and NBA assistant commissioner Adam Silver. Those were the three gatekeepers during the hottest NBA Finals in 20 years& and believe me, it's not fun to be a gatekeeper.
THE ELIJAH DUKES AWARD FOR "ANGRIEST NBA EMPLOYEE DURING THE FINALS"
To Gregg Popovich, who has to be watching this choppy Finals thinking, "My God, we were better than both of those teams." Remember, Manu Ginobili was one of the best 12-15 players in the NBA this season, as well as the league's premier crunch-time scorer in the regular season ... before a bum ankle rendered him useless on both ends in the Lakers series. Let's say he was healthy. They definitely don't blow an exceedingly winnable Game 4 at home, and I don't see them blowing two huge leads in Games 1 and 5. In my opinion, they would have won two of those three games with a healthy Manu and had a chance to close out the series at home in Game 6. Instead, they went down meekly in five.
(The 10 biggest playoff injuries of the past 25 years, in no particular order: Manu in '08; Isiah in '88; McHale and Walton in '87; D-Wade in '05; Duncan in '00; Malone in '04; Worthy in '83; Pippen in '98; Magic in '91; Doc Rivers in '94. All of those injuries potentially swung the Finals except for Pippen's back injury in '98 -- that was the year when Pippen played at 50 percent and MJ said, "Screw it, we're winning anyway.")
THE "GODFATHER III" AWARD FOR "GREATEST MISSED OPPORTUNITY"
To the dummies working game presentation for Lakers games (by the way, for all the money they're raking in for tickets, it's hard to fathom how the Lakers could have inferior game presentation to the Clippers) for missing one of the easiest layups in the history of the NBA: During Game 5, with die-hard Lakers fan Denzel Washington in the house, how could they NOT show Denzel hitting the first four points on Ray Allen in their classic basketball game at the end of "He Got Game," followed by a shot of a grinning Denzel in the stands and Allen pretending not to be pissed off on the Celtics' bench? Oh, that wouldn't have gotten the crowd fired up?
(Speaking of Denzel, does anyone else think he should have dressed up like Papa Shuttlesworth for Game 5 just to mess with Ray's head? He could have worn a fake afro, the red and black Nike outfit and the electronic tracking bracelet on his right sneaker, then sat between Chasey Lain and Jill Kelly. You can't tell me Allen wouldn't have been a little freaked out.)
THE RAY KINSELLA AWARD FOR "GREATEST MISSED OPPORTUNITY WITH A FATHER"
To me and my dad -- so far in 2008, we spent his 60th birthday weekend watching our beloved Pats blow the 19-0 season in Arizona, and we spent Father's Day watching our beloved Celtics blow a chance to clinch a 17th championship when the game was sitting right there for them on a platter. Some things just aren't meant to be.
Will Tuesday night be the night? I see a crazed crowd and a particularly fired-up Celtics team. I see a Lakers team that might not be tough enough for this particular situation. I also see Kobe Bryant, a gifted offensive player who hasn't really gone off yet in this series. Through five games, it seems like the Celtics have figured him out to some degree. But you never know. OK, I have to go throw up again.
Bill Simmons is a columnist for Page 2 and ESPN The Magazine. For every Simmons column, as well as podcasts, videos, favorite links and more, check out the revamped Sports Guy's World.

2008 NBA FINALS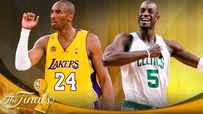 And then there were two -- the Lakers and Celtics. Who will win the NBA Finals? Let the games begin.
Finals schedule | Playoff bracket | Playoff home
Daily Dime
•
Celtics win 17th championship title
•
Did C's lose Regret Game?
•
A little help from Kobe's friends
•
Time for L.A. to go small
•
The Finals Can't Shake Donaghy Mess
•
Unlikely Game 4 comeback gives C's 3-1 lead
•
Rondo's ankle could change L.A.'s game plan
•
Kobe leads Lakers to Game 3 win
•
Lakers need to attack the paint
•
Lakers learn Powe's name in Game 2
•
Time for Gasol to step up
•
Lakers need better defense in Game 2
•
Pierce sparks Celtics in Game 1 victory
•
Expert predictions, clutch stats
•
Pierce loves playing Lakers
•
Celtics to meet L.A. in the Finals
Lakers vs. Celtics
•
Stein: Q&A after six-game "sweep"
•
MacMullan: Pierce's long road to greatness
•
Hollinger: From camp to champs
•
Stein: Boston's big three shine
•
Adande: Questions loom over Lakers' future
•
Hollinger: Celtics commit to defense
•
Scouts Inc.: Game 6 breakdown
•
Hollinger: Farmer steps up in Game 5
•
Sheridan: Late-game letdown for Celtics
•
Stein: Lakers ready to make history?
•
Adande: Greatness eluding Phil and Kobe
•
MacMullan: Doc adheres to dad's lessons
•
Jackson: Time for L.A.'s concession speech?
•
Stein: Game 4 not Kobe's finest hour
•
Adande: KG dominates Gasol again
•
Hollinger: Rivers makes all the right moves
•
Hill: Kobe's Laker legacy on the line
•
Hollinger: Vujacic lends helping hand in Game 3
•
Jackson: Jump shot Jesus has returned
•
Stein: Lakers need to earn sympathy
•
Adande: Lakers feel foul over whistle disparity
•
Jackson: Leading role suits Pierce
•
Adande: Kobe turns away from the pass late
•
Stein: Pierce's knee key to rest of series
•
Finals factor 1: Kobe Bryant
•
Finals factor 2: Celtics Defense
•
Finals factor 3: Paul Pierce
•
Finals factor 4: Home-court advantage
•
Finals factor 5: Battle of the benches
•
Hollinger: Lakers offense vs. Celtics defense
•
Broussard: Turning back the clock

•
Adande: How did Kobe get here?
•
Scouts Inc. breakdown: Lakers vs. Celtics
•
Coaching comparison: Red vs. Phil
•
Smith: Kobe's moving forward
•
Scoop: Fiendin' for a ring
•
Top 10 moments of Lakers-Celtics rivalry
•
ESPN Classic schedule: Relive the rivalry
TrueHoop
•
TrueHoop: Finals reflections
•
TrueHoop: Doc Rivers' redemption
•
TrueHoop: Lakers got Rondo'd
•
Tough night for Allen
•
Game 5 live blogging
•
Laker nation vs. NBA refs
•
Pierce and the evaporating knee story
•
Game 2 live blogging
•
Coaxing Kobe Bryant into hero mode
•
Game 1 live blogging
•
Today's game isn't so different
Simmons
•
Notes from the C's winning night
•
Boston's X factors
•
Game 4 running diary
•
Time for NBA Finals answers
•
The C's and city both look good
•
The Truth comes out in Game 1
•
NBA Finals forecast
•
Chat: NBA Finals preview
•
Simmons: You want a piece of Kobe, Boston?
ESPN The Magazine
•
Sporting Equivalency: NBA Finals meets hip hop
•
Broussard: Reporting from the NBA Finals
Fantasy
•
Join the fun of NBA Finals: Playcaller
Audio
•
Dish: NBA Finals recap
•
Wyc Grossbeck on C's championship
•
Ray Allen on how the Celtics evolved
•
Bob Ryan compares '86 C's to current one
•
Jon Barry credits Tom Thibodeau's team defense
•
Game 4 reactions
•
Rajon Rondo on Pierce, Game 2 plans
•
Bill Walton on Celtics-Lakers history
•
Dr. J on Finals, '80s hoops
ESPN Top Headlines