Hold on to your seats, it's time for Draft Diary XII! We're joined by ESPN's team of Stu Scott, Jeff Van Gundy, Mark Jackson and Jay Bilas, four guys who might not have a ton of length, but they do have a high ceiling with loads of upside. Four highlights from the pre-draft show:
1. Andy Katz breathlessly reports Chicago will definitely take Derrick Rose first. Love when that happens. I can't wait for him to report later that Bill Simmons is going to wake up tomorrow, put on his glasses and make a pot of coffee.
2. Bilas praises Beasley for having "second jumpability." That's a great name for either a rock band or a fantasy team.
3. Dick Vitale's only concern with Beasley going to Miami is the "temptation of South Beach." Lemme tell you something ... if ESPN.com's "The Rookie" ever leads to a full-length documentary about Beasley's first season, I demand that it be called "The Temptation of South Beach." Repeat: I demand it.
4. Bilas calls Rose a "special, special talent," followed by Van Gundy calling Michael Beasley a "special talent" and Mark Jackson calling O.J. Mayo a "special basketball player," and then Bilas agreeing that Beasley is a "special talent." That's why Rose went ahead of Beasley and Mayo -- he's more than a special basketball player and a special talent, he's a special, special talent. Anyway, that was a special sequence.
OK, now we're on the clock...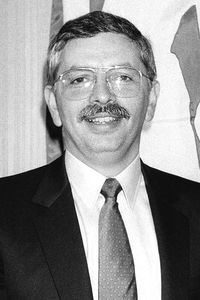 AP Photo/David Pickoff
When you see this photo from 1984, you realize we have spent 25 years with the Commish.
4:31 p.m. PT:
Stu introduces David Stern by reminding us it's our 25th straight draft with the Commish. Couldn't Stern have brought back his '84 mustache for old times sake? By the way, every time I see Stern in public now, I keep expecting him to point to a helicopter hovering above, like Sosa did to impress Tony in "Scarface," followed by the sight of a beaten-up Tim Donaghy being pushed out of the copter in midair.
4:33: Stu successfully uses the word "bevy."
4:37: Chicago takes Rose first, followed by the requisite super-awkward shot of the Bulls' war room applauding like someone just gave a bad best man's speech. Why don't the people in draft war rooms ever know how to properly celebrate a great pick? They're even worse at celebrating than PGA golfers and their caddies.
Meanwhile, Bilas tells us Rose is a "world-class athlete." For God's sake, let's hope so -- he's the first pick of the NBA draft. Does this mean Kosta Koufos is a North American-class athlete?
4:40: Our first glimpse of Stephen A. Smith, who has been given interview duties for the night. Frankly, I'm beside myself with excitement. We just learned that (A) Rose's nickname is "Pooh," and (B) Rose has a "Poohdini" tattoo on his shoulder.
4:41: My buddy House e-mails me to say, "I'm glad I put my Poohdini tattoo on my lower back."
4:42: Dramatic moment of the night: Stern announcing Miami's pick ... and ... it's ... Michael Beasley! Get ready, South Beach, here he comes! Stern greets him on stage with one of his patented, "Look, I might be smiling right now, but lemme tell you something, if I call you into my office at any point over the next 12 years, I will NOT be f------ smiling!" looks. He's the best. Smart pick by Miami. Beasley had the most value there.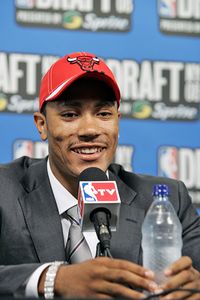 AP Photo/Frank Franklin II
Note: Poohdini tattoo not pictured.
4:43:
Bilas tells us Beasley "knows how to operate in a crowd." You mean, like Suge Knight knows how to operate in a crowd? I need more information. This seems like a good time to mention that ...
A. On the ESPN draft special Wednesday, Bilas compared Beasley to Derrick Coleman and Roy Tarpley in the same breath ... and meant it as a compliment.

B. Kansas State listed Beasley at 6-foot-10 all season, but Beasley measured a paltry 6-foot-7 at the pre-draft camps.
(And you wondered why Miami was desperately trying to shop the No. 2 pick all week. Can you ever feel totally safe with a guy who reminds draft experts of Coleman and Tarpley, fudges his height and openly admits he'd love to play in South Beach, even when he's putting up 24 and 11 every night? I say no.)
4:46: Doris Burke becomes the first announcer to provide color for a second-round NBA playoff game and a WNBA game and draw Mom Interview Duty during the NBA draft within a two-month span. You'll be telling your grandkids about that trifecta. You will.
4:48: Minnesota takes Ovinton J'Anthony Mayo at No. 3 as Bilas tells us Mayo is "NBA-ready." You mean, from a fertility standpoint? Nope, he means "ready to step in and play right away." Got it. Maybe Mayo was the most talented prospect available (note: I argued Mayo's strengths in my back-and-forth with Marissa Cooper's Dad on Tuesday), but poor Mayo and his entourage look like they're consoling each other at a wake right now. Bad sign.
Hey, did I tell you Mayo's nickname is "The Juice." So our No. 2 pick reminds Jay Bilas of Derrick Coleman and Roy Tarpley, our No. 3 pick goes by the same nickname as the most disgraced superstar of the past 40 years, and between them, they went to approximately 78 high schools in four years. I'm setting the over/under of "Beyond the Glory" episodes involving members of the 2008 draft class at 4.5.
4:50: Normally, Mayo is disarmingly winsome and charming in interviews, to the point that part of me wants to legally adopt him. (I wish I had thought of this 10 years ago.) Not right now, not when he's coming to the realization he will be spending the next five years shoveling snow in Minnesota. Even Stephen A. can't get a rise out of him. Is it too early to list O.J. as the top free agent of the summer of 2013?
4:52: In a video-phone interview, Pat Riley explains the Beasley pick by saying, "I don't think there was any question on our part, we love Michael." Well, except for when we brought in Mayo and Bayless at the last second to work them out. Where does Riley rank on the "Most Shameless and Prolific Liars of the Past Century" list? Top 20? Top 50?"
4:54: Andy Katz tells us Seattle is keeping the No. 4 pick. Unfortunately, Seattle isn't keeping its team. Anyway, the Sonics pull a minor shocker by taking Russell Westbrook. Loved his potential, loved him all season ... but even I can't defend that one. "Who would have thought last year at this time that Russell Westbrook would have been the fourth pick in this draft?" Bilas asks. Last year? What about last week? What about five minutes ago? How does Seattle pass on Kevin Love there?
4:58: I mean, you just knew the Sprite commercial where the basketball court turns into a pool was coming, didn't you?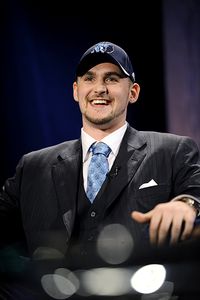 David Dow/NBAE/Getty Images
Kevin Love to Memphis? Yes, it did make too much sense to be true.
5:01
And now, the most exciting words in sports: "Chris Wallace is on the clock!" Anything's possible for Memphis here -- he could take Candace Parker and I wouldn't be surprised. I'm prepared for anything. Hold on, here's Stern ... and Memphis takes ... Kevin Love!
(Searching for an insult ...)
(Gulping ...)
Did Chris Wallace just make a good draft pick? I think he did! The Grizzlies have good point guards and athletes who can run the floor, now they have a great rebounder and outlet passer ... I mean, they have some stuff going. Plus, Bilas loves his "pick and popability." So there's that.
5:04: Say what you want about the Kevin Love pick, but it did lead to some old ABA and NBA highlights of his Dad, as well as our first Dad interview of the night! Before the draft, I put down $200 on the over of "2.5 Dad Interviews." Two more Dads to go. Come on.
5:05: Mark Jackson thinks the Knicks "should take the best available guy." I don't know, that seems pretty risky. Now the crowd is roaring ... Stern is stepping to the podium ... the tension is mounting ... and the pick is ... Danilo Gallinari, aka the Italian Guy ...
5:05: "Boooooooooooooooooooooooooooooooooooooooooooo!!!!!!!!!!!!!!!!"
5:05: "Boooooooooooooooooooooooooooooooooooooooooooo!!!!!!!!!!!!!!!!"
5:05: "Boooooooooooooooooooooooooooooooooooooooooooo!!!!!!!!!!!!!!!!"
LATE-BREAKING NEWS
Right after I handed in this column, Chris Wallace and Kevin McHale hooked up for an eight-player mega deal that was the Atrocious GMs' version of the "Freddy vs. Jason" and "Alien vs. Predator" movies. Basically, Minnesota turned O.J. Mayo into Mike Miller and Kevin Love, Memphis took back bad more bad contracts than Minnesota, and Wallace cemented his reputation as the undisputed worst GM in basketball.
Needless to say, Mayo was probably a lot happier than he was at the 4:50 mark of this diary. Also, congrats to McHale for being the first GM to trade for three white guys in the same deal since Alex Hannum in 1965. And if you're scoring at home, I think McHale was Freddy and Wallace was Jason.
5:05:
As much as I love that pick for New York, with the name "Danilo Gallinari," he sounds like a better bet to win a Formula One race than an NBA title. We're going to have to jump some major "weird-sounding name for a successful NBA player" hurdles here. I'm not saying it can't happen, just saying it's a red flag, that's all.
5:06: The Sports Gal's take: "Why did they boo him? He's really cute!"
5:06: More from the Sports Gal: "He played for Armani Jeans? Armani Jeans has its own team?"
5:07: Just made her leave. Meanwhile, 'Nilo is being interviewed by the one guy who can drown out the sound of booing Knicks fans, Mr. Stephen A. Smith. Come on, Knicks fans, how can you not like the Italian Guy? He sounds exactly like Arnold Schwarzenegger! I keep expecting him to yell at Stephen A., "Look out behind you!" or "Get down!"
5:11: Here come the Clippers at No. 7, ready to ruin yet another promising career. And the lucky loser is ... Eric Gordon! Logical pick. I can't say a bad thing about it. Right spot for him, right team, and I look forward to watching the hope get sucked out of him over these next few years.
5:12: This seems like a good time to mention that (A) Gordon is dressed like one of the waiters at Johnny Rockets, and (B) Stephen A. mistakenly thought he was a point guard before Gordon corrected him. Let's just move on.
5:15: Wendi Nix interviews new Knicks GM Donnie Walsh, one of those guys you find yourself staring at and trying to figure out how many cigarettes he has smoked over the past 40 years. (My guess: 85,450.) He's like a cross between Johnny Sack and Joe Pesci. I mean, of course he was going to take the Italian guy! "He's an unusual package," Walsh tells Nix about Gallinari, right before trying to smoke her right hand.
5:17: A Van Gundy/Jackson debate about the Knicks leads to Van Gundy saying, "I still think Stephon Marbury is a very, very good point guard." Sure, in Haiti.
5:18: Milwaukee takes Joe Alexander with the eighth pick, a good idea because Bilas thinks he's a "freak of an athlete" and has "freakish athleticism." And if that's not enough, he was born in Taiwan and speaks Mandarin. I like what I'm doing as the new Bucks GM -- I stole Richard Jefferson for a broken-down Bobby Simmons and the Chairman, Yi Jianlian, and I drafted a proven college player with freakish athleticism who speaks Mandarin and gives the state of Wisconsin a white guy to rally around. I'm 2-for-2! YES WE CAN!
(By the way, for what the Nets "got" in that trade, they should just buy out Simmons, then use the extra money to erect a 50-foot billboard across the street from LeBron's house that says, "We have loads of cap space in 2010!" with the Nets logo in the corner. Because that could be the only explanation.)
5:23: Just took a quick look through reader e-mails from the past hour and everyone seems to agree: We're all excited for the Gay-Love Era in Memphis.
5:24: Our first stunner of the night: Charlotte reaching for D.J. Augustin at No. 9, followed by a shot of a devastated Brook Lopez in the stands. Hey, any time you have a chance to grab a career backup with the ninth pick, you gotta do it.
(Do you think Charlotte's war room is located on the ninth hole at MJ's golf course? Like, it's basically him on his cell phone and two other guys on Treos trying to rush the pick in before they sneak in nine more holes? The Bobcats might be the worst-run franchise in the league. And that's saying something. If MJ's Bulls career was like Ted Danson's run on "Cheers," then his Wizards comeback was "Becker," and this current Bobcats debacle is definitely "Help Me Help You.")
5:26: Stu explains Augustin is only 5-foot-11, but he has the wingspan of someone who's 6-3½. Well, that changes everything! At the very least, he's wearing the most interesting outfit tonight: a gray suit with a purple shirt and a pink tie. That will be a good look for him when he's Charlotte's 13th man next season.
5:28: New Jersey happily and graciously takes Brook Lopez with the 10th pick. Brook? Not so happy. He's still reeling from the past seven picks.
(Come on, Brook, look at the bright side -- you get to kick Chairman Yi's butt in practice every day for the next five years, and if that's not enough, you can learn how to fake injuries from Vince Carter and become teammates with LeBron James in two years. Things are looking up, buddy.)
5:31: Best sequence of the night: Doris Burke's bizarre interview with Brook's twin brother, Robin, followed by Stephen A. attempting to interact with Brook and his Andre the Giant voice. I know the Lopez Brothers are 19, but couldn't MTV book their next birthday party for a special "My Super Sweet 16" episode? It would definitely take place at an amusement park, there would definitely be comic-book heroes on hand, and there's an outside chance the father of the Lopez brothers would be Wooderson from "Dazed and Confused."
5:34: I don't know how Jerryd Bayless just fell to the Pacers at No. 11, but it happened. Oh, wait, I know -- the Bobcats took a backup point guard at No. 9. That's right. This seems like a good time to mention Bayless is dressed like Mr. Roarke. Smiles, everyone, smiles! Except for O.J. Mayo and Brook Lopez, of course.
5:37: E-mail of the night so far, courtesy of Duke in Pasadena, Calif.: "After hearing that Joe Alexander was born in Taiwan, I'm really upset about the Nets trade. How sweet would it have been to have a native Chinese player on the same team with a "native" Taiwanese player? Who would have played the role of the U.S. on the Bucks? Would Alexander claim independence from Yi, only to have Yi go to team management and tell them that there'll be trouble if Alexander tries to move his locker away? This is a missed opportunity for a real-life sitcom ... and this would have never happened if you were the GM, Simmons." Hey, maybe there's still time. Can we get Alexander on the Nets somehow?
5:41: The Kings take Jason Thompson 12th, which would have been fine if this were the second round. Stern sums the pick up best: "Jason is not here." There's a 75 percent chance that the Maloofs made that pick after downing three bottles of Patron shots at the their VIP table at Rain.
5:46: Portland lucks into Brandon Rush at No. 13. Unbelievable. Perfect role player for the Blazers. They're like the anti-Hornets -- now that they know how to spend Paul Allen's money, they're unstoppable. Within about two more years, they'll be acting like one of those obnoxious Monopoly competitors who has more money and property than everyone else, giggles every time you land on their hotels and says things like, "Here's $200, will you roll the dice for me?" You can't blame them, but at the same time, you want to punch them in the face. That's where we're headed.
5:47: I don't mean to nitpick, but every time Van Gundy talks in the second person, ESPN should be throwing up a "Copyright: Hubie Brown, 1972" graphic.
5:49: Andy Katz tells us the Kings loved Thompson because "he was the best player they worked out." That's always smart -- ignore four years of his college games and concentrate on his two workouts. By the way, does anyone else enjoy the Andy Katz Experience in HD? He has the same delighted twinkle in his eyes that Bill Hader and Seth Rogan had in "Superbad" when they were letting McLovin' drink beers and use one of their guns.
5:50: Anthony Randolph goes at No. 14 to the Warriors, keeping their streak of "athletic, super-raw lefty power forwards who might not pan out for a couple of years" alive. "He's painfully thin," Bilas tells us. Somebody needs to show him a picture of Kate Bosworth.
5:56: Well, folks, we just made history -- Dick Vitale broke his own personal record and talked uninterrupted for 164 seconds straight. Also, my cable box just caught fire.
5:57: Robin Lopez to Phoenix. Logical pick for the Suns. Like it. They needed an energy/rebounding guy, as well as someone with crazy hair who would laugh at Shaq's jokes. We're now down to exactly three-and-a-half guys on the board who will definitely play in an NBA nine-man rotation some day: Roy Hibbert, Darrell Arthur, Chris Douglas-Roberts and maybe Mario Chalmers.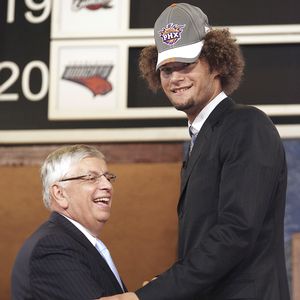 AP Photo/Seth Wenig
Thanks to Robin Lopez for spicing up the middle of the night.
5:59:
There's comedy, there's high comedy, there's transcendent comedy, and then there's Robin Lopez giving an interview with an undersized Suns hat stuffed on top of his Anderson Varejao-esque permfro. In the words of Jim Nantz, what a moment! I never thought anyone would top
Oscar Gamble's 1976 Topps card
, but that came damned close. The Robin Lopez Era is only two minutes long and I'm already loving it. We're headed for great things.
6:02: Marreese Speights goes No. 16 (to Philly) and gets the dreaded "Must improve: Conditioning" graphic. Get that man a treadmill.
6:07: Ladies and gentleman, the luckiest man on the planet, the Basketball Jesus, Mr. Larry Bird! With the No. 11 and 17 picks, he somehow just landed a top-eight guy (Bayless) and a top-12 guy (Hibbert). Crazy.
6:11: Really funny Brook Lopez during-the-draft montage. I am ready to change my name to Lopez at this point. Can we rent them for parties? Also, Washington picked JaVale McGee with No. 18 -- according to Stu, he's the first son of a WNBA player to get picked in the first round of the NBA draft. I wouldn't want to be his ACLs right now.
(Important note: I had 27 better jokes than the one you just read, including one that included the words "turkey baster." Sadly, only the one above could run. Alas.)
6:14: Our first draft-night deal: The Pacers agree to trade Jerryd Bayless and Ike Diogu to the Blazers for Brandon Rush, Josh McRoberts and Jarrett Jack. (Look, I can't blaspheme Larry Legend -- it's just not in me -- so we'll have to rely on this e-mail that came 15 minutes later from Jay in Indy: "A lifelong Pacers fan, I just watched Larry Bird give away a miracle pick at 11 for Brandon Rush and a bag of peanuts. Was there ever a moment in your life when you lost complete and utter hope of your favorite team doing anything with a shred of competence? Is there some place I can go to get help?") Damn the Blazers. Damn them to hell. They are working the rest of the league like a speed bag. Meanwhile, Katz scores an interview with a rattled Rush, who forgot to take off his Blazers hat and has a "Man, this sucks, I was excited to play video games with Greg Oden" look on his face. Weirdest moment of the night that didn't involve a Lopez brother.
6:19: We might get through the night without a single argument among Van Gundy, Jackson and Bilas. These guys make "Tirico and Van Pelt" seem combative and hostile by comparison. Meanwhile, Cleveland selects J.J. Hickson with the 19th pick. Great porn name! It's almost like they're trying to drive LeBron away at this point.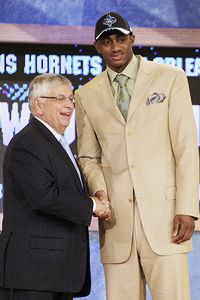 AP Photo/Julie Jacobson
Poor Darrell Arthur had to follow in Rashard Lewis' footsteps.
6:23:
The bad news for Darrell Arthur? Nobody picked him yet. The good news? He won two awards Thursday night: The Rashard Lewis Memorial "Last Guy In The Green Room" Award, as well as the Deron Williams Award, given annually to the rookie who spells his name one way but pronounces it another way.
6:25: Charlotte takes French center Alexis Ajinca, quickly followed by Fran Fraschilla getting yanked away from the men's room to give his thoughts. You're not gonna believe this, but Fran likes Ajinca's 7-foot-8 wingspan. That leads to the new best e-mail of the night, from Jon in Maine: "Since when did Nathan Lane become an expert on international basketball?"
6:29: Katz interviews a somber Bayless, who's still wearing a Pacers hat. We might have broken the record for most somber/rattled/depressed/devastated first-round picks this year. Right after that, New Jersey takes my second-round sleeper, Ryan Anderson. Unfortunately, the Nets took him at No. 21. But still ... I'd like to put $500 down on Brook Lopez and Anderson becoming good friends and possibly seeing a few movies together.
6:38: Orlando nabs underrated gunner Courtney Lee at 22. I like that pick. He might make it, or he might have a storied career in Belgium. Either way, something will happen. Meanwhile, between Robin Lopez, Brook Lopez, Alexis Ajinca and Courtney Lee, it's hard to tell if this is the NBA draft or the roll call for the 2009 S.I. swimsuit issue. Let's waive the six-month waiting period and stick all four of them on the Lindsey Hunter All-Stars right now.
6:39: If I were Stu Scott, my first question to Nets GM Kiki Vandeweghe (on video-phone right now) would either be, "Kiki, how the hell did you get a job again after you drafted Nikoloz Tskitishvili over Amare Stoudemire and paid Kenyon Martin $91 million?" or "When you traded the best player on your team for Chairman Yi and a washed-up Bobby Simmons, were you proactively trying to get your fans to riot?"
6:42: Well, Kosta Koufos was sitting there at No. 23 in his unadulterated, clumsy Caucasian glory and Utah jumped all over him. You'll see Spencer and Heidi turn down a staged photo opportunity before you see the Jazz pass up on a stiff center, especially if he's a white stiff center. That would have been the least surprising sports moment of the week if we didn't have "Dodgers place Scott Proctor (elbow) on DL" Wednesday.
(Note: I'm still reeling from the fact that I didn't know Kosta was American. That might have been enough of a boner to single-handedly swing Mock Draft Showdown II to Chad Ford earlier this week, a tougher loss for me than "Giants 17, Patriots 14." By the way, is Koufos even good enough to be the namesake for the Kosta Koufos All-Stars for American athletes who sound like they're foreign? Should we even dignify his career that way? I say no.)
6:49: True or false: Serge Ibaka is (A) a famous celebrity trainer, (B) an acclaimed indie director, (C) a famous celebrity photographer, (D) a third-world dictator, or (E) the 24th pick of the 2008 NBA draft?
Time! Seattle just took him because he was the best guy from Congo still on its board. That leads to this sequence: Fran Fraschilla telling us he likes this pick "three or four years from now"; Stu Scott telling us Serge has 17 siblings; and Jeff Van Gundy seeing Serge's "Must Improve: Experience" graphic and wondering, "How do you improve experience?"
6:54: Depressing interview with Darrell Arthur, followed by an entertaining interview between Jeff Van Gundy and his brother, Ron Jeremy, then Houston taking "The French Guy With a Heart Problem," or as he's known in other circles, Nicolas Batum. For a boring draft, there's sure a lot happening. I can barely keep up.
6:58: Wendi Nix interviews Mike D'Antoni, who's wearing a bright orange shirt and one of those "Come on, you can't blame me, they offered a crapload of money" looks on his face. This seems like a good time to mention, during the week in New Orleans leading up to Super Bowl XXXVI, my buddy J-Bug hit on her at Pat O'Brien's and she threw his game like a young Dikembe Mutombo. I think she even gave him the finger wag afterward. I've been meaning to put this in a column for six years. There you go.
7:01: San Antonio takes George Hill from IUPUI. Not only do I know nothing about him, I don't even know what the acronym "IUPUI" stands for. On the bright side, I just realized the world champion Boston Celtics are four picks away and Mario Chalmers, Darrell Arthur and Chris Douglas-Roberts are still on the board. Time to call my Dad to see if he's excited.
7:02: Dad's take: "I fell asleep. What pick is it?" Well, then.
GET THE WIDGET
ESPN Widgets are portable applications that you can place almost anywhere! You can put them on your blog, your iGoogle home page, your Facebook profile, and many of the other most popular sites on the Internet.
Click here to add our new Sports Guy Widget
so you'll be updated every time Bill Simmons writes a new column.
7:08:
Darrell Arthur and his kidneys go 27th to the Blazers, drawing a huge cheer from the crowd and a gushing monologue about the kindness of New York fans from Stu. I'll spare you the resulting debate about the rumors of Arthur's kidney problems causing him to slip out of the lottery. Should we really worry about Darrell Arthur's kidneys when we just sent Michael Beasley's liver to South Beach?
7:13: With the 28th pick acquired from Los Angeles, Memphis takes Donte Greene, followed by Bilas saying, "He's got a lot of tools, he just needs to find the key to the toolbox." The Pau Gasol trade just gets better and better, doesn't it?
By the way, I'm torn on DeAndre Jordan for the Celtics at No. 30 -- a lottery talent with no heart at all, but someone who might be redeemed by going to Kevin Garnett College and getting a double major in woofing and chest-pounding. He's like the gift nobody wants to end up with in a $25 Yankee Christmas swap: A potential keeper until you realize you also have to pay for $20 worth of batteries to make the gift work, so you're better off just passing it to someone else. Did that even make sense? I feel like that made sense. I need to wrap this up soon.
7:20: Detroit spruces up its D-League team with D.J. White at No. 29. He could end up being the Mel Daniels of the D-League before everything's said and done. Please, Lord, let the Celtics take Chalmers or Douglas-Roberts to finish off the luckiest year in Celtics history. Please.
7:23: Stu inadvertently mentions Isiah Thomas, followed by the crowd lustily booing. Let's hope that becomes a yearly tradition.
7:30: You know, David Stern makes me mad sometimes. He screwed the Celtics by making them keep Reggie Lewis on their cap for three years when the poor guy was dead; he nearly screwed them over by not annulling the Gasol trade; and now, he didn't even give us the satisfaction of hearing him say, "With the 30th pick of the 2008 NBA draft, the WORLD CHAMPION Boston Celtics take?" Nope, he just said, "Boston Celtics." I'm done with you, Stern. That's the final straw. I'm throwing my support behind Adam Silver in the November election.
Anyway, the world champs took New Mexico scorer J.R. Giddens, one of those guys who bounced around and even draws "difficult to deal with" and "he's had some issues" comments from Bilas. So much for Ubuntu. That led to the following exchange with my confused Dad:
Dad: "When they showed the [Giddens] highlights, he reminded me of Gerald Green."

Me: "That's not a good thing?"

Dad: "No. I also don't like that he's difficult to deal with."

Me: "Well, maybe he'll be good -- I mean, you can't question Danny Ainge, the architect for the 2008 world champion Boston Celtics!"

Dad (suddenly happy): "Yeah, you're right."
Ladies and gentleman, your 2008 world champion Boston Celtics!
(I mean, somebody had to say it tonight. Right?)
Bill Simmons is a columnist for Page 2 and ESPN The Magazine. For every Simmons column, as well as podcasts, videos, favorite links and more, check out the revamped Sports Guy's World.

2008 NBA Draft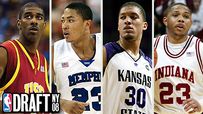 We've got the 2008 draft covered. Who are the top prospects? Check out our analysis, projections, scouting reports and more.
'08 NBA Draft Index
•
Roundup: A rundown of who went where
•
Keeping up with draft day trades
•
Mayo to Memphis, Love to Minnesota
•
Simmons, Ford: Great Draft Debate '08
•
Chad Ford's Mock Draft 7.0: Picks 1-30
|
31-60
•
Chad Ford's Mock Draft 6.1: Picks 1-30
|
31-60
•
Chad Ford's Mock Draft 6.0: Picks 1-30
|
31-60
•
Chad Ford's Mock Draft: Version 5.0
•
Chad Ford's Mock Draft: Version 4.0
•
Chad Ford's Mock Draft: Version 3.0
•
Chad Ford's Mock Draft: Version 2.0
•
Chad Ford's Mock Draft: Version 1.0
•
Draft Machine: Make your picks
•
Who's in, who's out of 2008 draft?
•
Ford's Top 100: Best draft prospects
Chad Ford
•
Draft Watch: How high or low will they go?
•
Draft Notes: Heat trading Beasley pick?
•
Draft Notes: Rose-Beasley rages in Chicago
•
NBA draft strategy: Ranking prospects by tiers
•
Draft Watch: Teams coveting UCLA's Westbrook
•
Draft Watch: Final in/out decisions made
•
Draft Watch: Rush's hot, Arthur's not
•
Draft Watch: International top 15
•
Draft Watch: Alexander's hot, Lawson's not
•
Draft Watch: Miami takes close look at Mayo
•
Draft Watch: Using the measurements
•
Draft Watch: Analyzing combine results
•
Draft Watch: Analyzing official measurements
•
Draft Notes: Who's looking to trade their pick?
•
Draft Notes: Stars come out in Orlando
•
Draft Notes: Beasley, Rose a marked contrast
•
Draft Stock Watch: Forbes taking wing on charts
•
Draft Notes: No. 1 question looms over Paxson
•
Draft Watch: Lawson bouncing back
•
Draft Notes: Rumors, promises and PGs
•
Draft Watch: Orlando hopefuls eye first round
•
Draft Watch: Could Mayo be the No. 2 pick?
•
Draft Watch: Who's No. 1 -- Rose or Beasley?
•
Draft Watch: Mayo's stock is rising again
•
Draft Watch: Judging early entry calls
•
Draft Watch: Nike Hoop Summit buzz
John Hollinger
•
Draft Rater: How will the Euros translate?
•
Draft Rater: Who are the best perimeter players?
•
Draft Rater: Who are the best big men?
•
Draft Rater: Beasley has most pro potential
•
Rating college prospects
More Analysis
•
Katz: Bayless, Gordon survived turmoil
•
Katz: Freshmen could produce record numbers
•
Katz: Draft trade rumors abound
•
Gottlieb: Mayo impresses while others falter
•
Katz: On top 12 picks
•
Katz: Rose's unique passion to win
•
Fraschilla: Who made right choice to return?

•
Katz: Heels win on withdrawal day
•
Katz: Anderson still on fence
Draft Lottery
•
Ford: Beasley-Rose debate rages in Chicago
•
Bulls win lottery; get first pick
•
Ford: Will Bulls take Beasley No. 1?
•
Vote: What should Bulls do?
•
Katz: Lottery projections

•
Fraschilla: Projecting picks 1-14

Podcasts
•
NBA Dish: Paxson on winning lottery
•
Mike & Mike: Paxson on No. 1 pick

•
NBA Dish: Joe Abunassar, NBA trainer
•
NBA Dish: Kevin Love, UCLA
SportsNation
•
NBA Draft polls
Fantasy
•
McKitish: Most freshmen have little impact
•
McKitish: Beasley and Rose as NBA rooks
ESPN Top Headlines