You probably don't care. Wait, you definitely don't care. But there's an ongoing basketball atrocity happening right now in Los Angeles. As long as Mike Dunleavy remains employed with the Clippers, I cannot rest. I have to keep writing about it.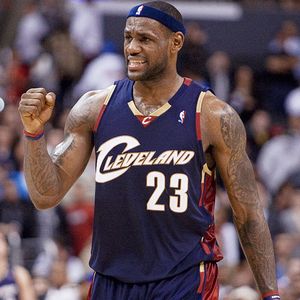 AP Photo/Hector Mata
When LeBron James is in town, you clear the evening.
Tuesday night took the cake. The LeBrons were in town. Only eight current NBA players qualify for "There's No Way I'm Missing Them If They're In Town" purposes: LeBron, Wade, Paul, Duncan, Kobe, Durant, Howard and, strangely, Anthony Randolph (I will explain some other time). It's a once-in-a-generation experience to see LeBron right now if he has it going. I caught him in Boston on Friday and he stunk. But after Wade's 48-12 and surreal game-winning 3-pointer Monday night officially launched the "Wade for MVP" bandwagon, I thought for sure Bron would be kicking some Clippers butt Tuesday night. So I was giddy.
As it turned out, the Clippers had two surprises for him Tuesday: A sold-out crowd (half rooting for LeBron, but still) and a completely healthy lineup for the first time since 1952. The Clips charged out to a 48-34 halftime lead as the Cavs bricked about 50 3-point attempts. Sitting there with my friend Tollin, we had the obligatory "How will the Clips blow this game?" conversation. Notice the insertion of the word "How." That means it was a foregone conclusion. And it was.
That's the beauty of the "Dumbleavy Era" -- you can always count on things to go wrong. The Clips have blown something like 12 leads in the final three minutes this season, including an incredible collapse to the Granger-less Pacers on Saturday night. Sadly, they aren't even tanking for a high draft pick -- the coach desperately wants to vindicate his "The only reason we're losing is because we're banged-up" rhetoric that has no basis in reality whatsoever. The Clippers are losing because they're paying 75 percent of their salary cap to Baron Davis, Zach Randolph, Chris Kaman and Marcus Camby. Would you trust that foursome to play 18 holes of miniature golf without one of them getting hurt? Of course not. Dunleavy brought in every one of those guys; he's the one who built this pathetic team. So it's either the coach's fault or the GM's fault and, unfortunately for Dunleavy, he has both jobs. This is why the season-ticket holders despise him to the point that they entered William Ligue Jr. territory about three weeks ago.
Without further ado, we pick up our retro-diary of Tuesday's debacle heading into the second half. Our announcers: Ralph Lawler and Michael Smith.
Halftime: FSN's Dain Blanton interviews Dunleavy (looking like a dead ringer for Ed Lauter) about L.A.'s inspired first half. "We had 17 deflections," Dunleavy says excitedly. (I would have gone with, "It's the first time I've seen Baron sweat in two months; I was beginning to wonder whether he had sweat glands," but that's just me.) With Kaman returning from a foot injury, Blanton asks whether Dunleavy will be controlling Kaman's minutes. "We have to," Dunleavy says. "We have Chris [for] about 24 minutes." Please, please, please file that one away for later. I beg you.
(Also, something I noticed from being there in the building: LeBron pulled the entire Cavs team together and for 90 solid seconds gave them a Pacino speech from "Any Given Sunday." Nobody else talked. I was impressed. Championships aren't won in June as much as they are against crappy teams in February and March -- if you don't fight through a few off nights and win a few games you had no business winning, you're not winning in June. It's just a fact. File that one away for later, too.)
11:33 remaining, third quarter: Kaman botches an easy pass out of bounds, then clumsily fouls Zydrunas Ilgauskas on the other end, followed by the graphic: "Kaman: 0 points, 4 fouls." Good to have him back.
8:42: Baron scores on a fast-break layup created by Kaman's shoving down Anderson Varejao right in front of referee Haywoode Workman. No call. You see 15-20 horrendous calls or no-calls in NBA games these days. Minimum. It's unclear whether the league cares. Clips 57, Cavs 40.
8:18: Nice pick-and-roll with Bron feeding Ilgauskas for a layup. The Cavs have five plays: High screen with Ilgauskas and LeBron; high screen with Varejao and LeBron; high screen with Joe Smith and LeBron; everyone clears out so LeBron can go one-on-one; post up Ilgauskas on the left block. That's Cleveland's offense. I am not making this up. Which raises the question: What the hell is Mike Brown diagramming for them during timeouts? Is he like the guy from "Memento" or something? Guys, I just thought of something … what if we ran a high screen for LeBron?
7:35: LeBron bricks a 3-pointer that leads to Thornton's fast-break dunk. Clips by 17, timeout Cavs. Let the record show that (A) LeBron is a 32.5 percent career 3-point shooter, (B) he went 0-for-6 in this particular game and (C) he should be fined every time he takes one.
7:09: Mo Williams knocks a loose ball out of bounds … only the confused refs can't figure out who touched it last and call a jump ball. Maybe we should have more refs out there? Six? Eight? Would 10 terrible refs do a better job than three terrible refs? Let's test this in the WNBA and see what happens.
6:54: Speaking of guys who should never shoot a 3, it's Baron Davis! He just bricked one. If he told you that he's a 32.3 percent career 3-point shooter and averaging 29.5 percent this season, then I told you that he takes five per game, would you believe me? You probably wouldn't, right?
6:01: Back-to-back LeBron: Coast to coast for the lay-in, then splits two guys and flies down the middle for a soaring double-pump two-hand dunk (capped off by an "ohhhhhhhhhhhhh!" from the crowd). He's a cross between ABA Dr. J and Young Karl Malone. Obscene. Force of nature. I can't handle it. Clips 60, Cavs 46.
4:35:Randolph (aka Z-Bo) sinks an open 3 that he never should have taken because he's a career 28.9 long-distance shooter. Maybe we should make it like a driver's license -- if you dip under 35 percent through 250 career attempts, you're suspended from shooting 3s for a year?
3:50: Baron posts up Mo Williams and drains an easy fallaway over him. Clips by 19. Now, here's one of the infinite ways Dunleavy drives me crazy: Cleveland has undersize guards and the Clips have the most physical backcourt in the league with Davis and rookie Eric Gordon. I guarantee the Cavs went into this game thinking, "Whoever Mo or Daniel Gibson is guarding, they're gonna try to post them up with BD or Gordon, so we have to help them out." Did the Clips do it? Of course not. In fact, that's the second-to-last time Baron posts up Mo in this game.
2:46: LeBron goes coast to coast for a three-point play. So good. He makes me want to chest-bump myself. By the way, here's my amazing Clippers fact of the day: Did you know the Clipperd pay L.A.'s 710 AM to carry their live radio broadcasts? Imagine if I paid ESPN.com to run my columns? That would be weird, right?
1:31: The teams trade baskets as the announcers talk to former Clip Cuttino Mobley, who gushes about Gordon and calls him the best player in the 2008 draft. Almost on cue, Gordon picks LeBron's pocket DJ-style on a fast break. Now THAT was impressive. I'd pick him for five future All-Star appearances if he played for any other franchise. Seriously.
Start of the fourth quarter: Smith and Lawler recap the first three quarters (Clips 69, Cavs 52) as an oblivious dude texts on his BlackBerry behind them. You can feel the excitement at the Staples Center. Meanwhile, Tollin and I have the following exchange in our seats:
Tollin: "If I gave you Cavs plus-4.5 for the final score right now, would you take it?"

Me (without hesitation): "Of course."
10:56: Camby drains an open jumper. Clips 73, Cavs 54. No signs of life from Cleveland. Remember this moment.
(Quick next-day tangent: Rockets GM Daryl Morey -- the guest on Monday's B.S. Report, as well as someone I recently dubbed "Dork Elvis" after watching him get mobbed by MIT grads this past weekend -- has something called the Morey Rule: If the number of points you are ahead equals the number of minutes left in the game, you have about an 85 percent chance of winning. Leading by 19 with 11 to play? He thinks that's a 99 percent probability. You know, for normal teams. There might have to be a Clipper Exemption to the Morey Rule.)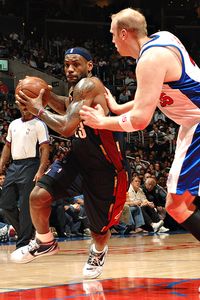 Noah Graham/Getty Images
The Cavs' offense isn't complex, but that doesn't mean anyone can stop LeBron coming down the lane.
10:00: Williams sinks a jumper, Kaman misses a jumper, Gibson scores on a putback. Clips by 15. At this specific moment (and Tollin is a witness), I started saying loudly, "Timeout, timeout, timeout." See, road teams don't make up 19 points all at once. There are three stages to a comeback: getting it to the 10-11 range, getting it to the two-possession range, then making that final push for the lead. The key is to prevent the team from completing that first stage, and if you watch a really good coach (think Gregg Popovich), he will always overreact with a timeout the moment it seems as if things are turning. Dunleavy works the opposite: It takes him three or four more plays to even realize what's happening. This is one of the many reasons he stinks at his job. Hold on, you'll see.
9:30: Another bad Clips possession (forced jumper by Camby), followed by LeBron splitting the middle and getting fouled on a missed dunk. No timeout. Bron sinks both free throws and cuts the lead to 13. Again, NO TIMEOUT. Now the Cavs are looking juvenated for the first time tonight -- they're yelling on defense and rotating like maniacs, so nobody is surprised when Clips backup Mike Taylor careers down the middle and passes to Varejao, then LeBron finds Ilguaskas for an easy layup. Clips by 11. The Cavs have completed Stage 1. Dunleavy cements the moment by finally calling a timeout. He's the best.
9:07: Everyone in my section thinks the Clippers will lose. Everyone. "Cavs plus-2?" Tollin asks me. Absolutely. In a heartbeat.
8:03: LeBron spins into the lane for a pretty jump hook. Clips by 9. He's officially in "There's no way I'm losing this game" mode. (Only five current players have this gear: LeBron, Kobe, Wade, Pierce and Brandon Roy. That's the list.) On the other end, LeBron blocks Thornton's shot and grabs the rebound on Randolph's miss. He's all over the place.
6:43: Cleveland misses three wide-open 3s (Williams, Gibson and Bron), making the Cavs 0-for-17 on the night. Astounding. Fortunately for them, the Clippers are walking it up running their "Everyone dribble aimlessly and take bad 20-footers" offense. Nice.
6:03: Clips follow a Randolph score by falling asleep on defense -- Bron finds Varejao for a layup, giving him a 26-10-9 for the game. And he's just heating up. Z-Bo responds by air-balling a 3 for the second time. This seems like a good time to mention that (A) Z-Bo is guaranteed $50 million through 2011 in a league in which the salary cap is going backward and GMs would rather chop off a limb than pay a non-All-Star that kind of money, and (B) Dunleavy traded Tim Thomas and Mobley for him in December, only the deal was nearly derailed when the Knicks found out Cuttino had a career-ending heart issue, then decided, "You know what? We'll do the trade anyway."
5:01: Mo finally makes a 3. Cavs within 7. Clips run a play tentatively called, "Throw it to Z-Bo, everyone stand still, then he'll throw it to the other team." Bron takes advantage by going coast to coast for a spinning layup. Cavs within 5. We have now completed Stage 2.
3:41: The teams trade free throws, highlighted by a hilarious sequence when Dunleavy sends Fred Jones in, only Jones thinks he's going in for Kaman, but as Kaman starts running off, Dunleavy shakes his head and waves him back in, then the Clips have six guys, so everyone stands around in confusion, only Dunleavy can't remember which guy he wanted to take out. "This guy can't even make a substitution!!!!!" screams Jesse, the tortured Clips fan behind me. Dunleavy ends up pulling Thornton, only his best player tonight. Well done.
3:27: Kaman gets a shot blocked, then Gordon gets called for an offensive foul. The Clips have scored just one field goal in the past 7½ minutes. "Cavs minus-2?" Tollin asks me. Absolutely.
3:04: Cavs clear out for LeBron, who beats Thornton off the dribble (just as he has been doing all night, but God forbid someone else guards him), flies into the lane, draws two more Clips, looks as though he's about to force a bad shot and somehow finds a cutting Joe Smith for a layup without even seeing him. I'll go this far: In NBA history, only Magic Johnson makes that play. You're damn right I just went there. Clips 78, Cavs 75.
2:57: The Clips decide, "Hey, we haven't done squat in eight minutes, maybe we should post up Baron on Mo Williams since that has worked every time tonight!" Baron gets fouled. Of course, he does. (Will we see that play again tonight? Of course not.) He makes both freebies. Clips by 5.
2:31: Beautiful delayed play out of the timeout in which the Cavs made it seem as though Bron gave up the basketball after a "failed" high screen, only they were setting him up for a sneaky back screen for a cutting layup … which, of course, he made over two guys with a ludicrous double pump capped off by another "ohhhhhhhhhhhhhhhhhhh." Clips by 3. Tollin and I have the following exchange:
Me: What did we pay for our tickets this year, like 12 grand?

Him: Yeah.

Me: Any regrets after getting to watch LeBron play like this tonight?

Him: None. None at all. Zero.
1:58: Kaman bricks a turnaround, gets the rebound and immediately throws the ball to Cleveland, raising the fantastic question, "Why the hell is Chris Kaman playing in this game?" He's rusty, he's out of shape, he can't protect the rim, he was only supposed to play 24 minutes (and he's at 29) and, most importantly, MARCUS CAMBY IS SITTING ON THE BENCH!!!!!!!! You know, the one guy who could challenge some of these LeBron drives? My head hurts.
1:50: Gibson for a wide-open 3: Bingo. Tie game. And the comeback is complete.
I can't even describe how bummed out my section was, but let's try: Ever been sitting on the airport runway for a few minutes and have the pilot blindside you with, "Hey folks, some bad news, the weather got worse, we're gonna have to go back to the gate and wait this out for a couple of hours before we take off …" and everyone collectively groans in disbelief and agony? That's what the Clippers fans were like. And let the record show that Pilot Mike Dunleavy was making the announcement.
1:34: Sweet dish from Baron to rusty Kaman, who goes to shoot and gets it blocked by Varejao. Cavs' ball as the Cleveland bench explodes. Quick note on Varejao: He finished with eight points, 10 rebounds, one steal and one block in 36 minutes but was Cleveland's second-best player and made at least eight fantastic energy/defensive/intangible plays in the second half. This is why I don't trust the statistical revolution in basketball yet. Get a tape of the second half and find me a way to measure what Varejao did and I'm happy to jump aboard. We are not there yet.
1:28: Something completely awesome happened here that they missed on the telecast. As the Cavs were bringing up the ball and everyone was screaming for the Undertaker to remove Kaman, he called for Camby, who rose off the bench with one of the single greatest faces of all time: Anger, dismay, confusion, disbelief, hostility, you name it. I have been attending games since I was 5, and I have NEVER seen a more bummed-out player enter an NBA game than Marcus Camby. Ever.
1:23: LeBron drives by Thornton for the 330th time tonight, gets into the paint and draws a foul on Z-Bo. Then he makes both free throws. Cavs by two. Some good news: Marcus Camby finally in for Chris Kaman! Hey, better late than never.
1:23: Twenty-second timeout, Clippers. ("Cavs minus-4?" Tollin asks me. Yes.) Here's the shot coming out of the timeout: Gordon drives to the basket, slips on the floor and travels, then limps off the court shaking his head and holding his lower back. Ladies and gentlemen, your Los Angeles Clippers! It just gets better and better.
0:48: LeBron misses a jumper that would've iced the game, followed by Z-Bo finding Thornton for a 3-pointer with 29 seconds left. Bang! Clippers lead by one! Any time you can put the game in the hands of a guy shooting 25 percent on the season from 3-point land, you have to do it.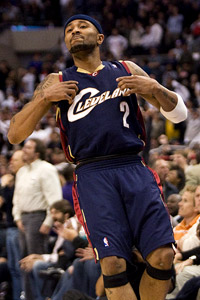 AP Photo/Hector Mata
Mo Williams' 3-pointer sealed a Cavs victory that everyone saw coming.
0:20: Baron calls off Thornton and guards LeBron himself on the final play -- I mean, when the players have to take defensive strategy into their own hands, you know it's a coaching apocalypse -- doing a surprisingly good job and forcing Bron to swing the ball to Smith, who swings it to Gibson (uh-oh), who swings it to a wide-open Williams for 3 … bammo. Cavs 85, Clips 83. Just 6.6 seconds remaining and the Cavs are having a chest-bump orgy at midcourt. You couldn't make this stuff up.
0:06: My section is arguing about which terrible play the Clips will run here to save the game. The possibilities are limitless. Maybe they won't top the play in which Baron Davis had to run a half-court lap in seven seconds just to hoist a fallaway 3 with two guys on him (scroll to No. 10 in this column for details), but there's a CHANCE they might top it, and that's why our hearts are racing. These are the moments when I wouldn't trade my Clips tickets for anything. I'm not even kidding.
Well, Dunleavy just upped the ante -- he just put in ice-cold 3-point specialist Steve Novak, who hasn't played all half. This is a Dunleavy crunch-time staple: How can I get the coldest guy on my bench involved in the biggest play of the game? So far, so good. It's like watching the Bizarro Auerbach in action.
So, Gordon is inbounding the ball from the left hashmark near midcourt. Thornton, Novak and Randolph are stacked at the top of the key. Baron is under the basket. Thornton cuts through to the left corner. One Mississippi. Obviously, he's not getting the ball. Baron starts moving up toward the top of the key, only the Cavs know he's getting the ball -- (two Mississippi) -- so they block his way. Everything is congested. The fans start panicking. Three Mississippi. Baron accelerates past the 3-point line, only LeBron sees him and jumps in the way so he can't get the ball. This is an awesome play. Four Mississippi. Gordon finally passes to Randolph, who takes two dribbles and …
(Oh no.)
Picks up his dribble and …
(Nooooooooooooooooooooooo!)
Launches a 28-foot 3-pointer with a hand in his face. His third air-balled 3 of the night. Actually, it was more than an air ball -- it almost killed the ball boy.
Cavs ball, 1.8 seconds left.
The fans are in disbelief. Randolph's teammates are in disbelief. Dunleavy is making a face that my friend Sal later describes as "A face I have never seen a human being make before." What ensued in the next 20 seconds could best be described like this: Imagine being trapped in one of those big hospital elevators with eight other people. One of them pulls his pants down and just starts going to the bathroom -- not No. 1 but No. 2. At that specific moment, the doors open for the next floor. How fast would everyone else in the elevator flee for the door? Lightning-fast, right? Like, Usain Bolt-level fast, right? That was the entire stadium after Z-Bo's air ball. He basically took a dump on the 3-point line.
And so we fled for the exits. There was nothing left to say other than Mike Dunleavy needs to be fired as coach or as GM. Preferably both. If he had any honor at all, he would resign. He doesn't. Back in February, I wrote, "Normally, in these situations I blame the coach because NBA coaches have a knack for killing a good thing by overthinking, playing too many guys and juggling crunch-time minutes … you know, all the stuff Mike Dunleavy does. But it's not his fault the team gave him a $21 million extension in December, even as the Clips were quitting on him and each other. That set up an unparalleled scenario in which the coach needed to be fired even before his extension kicked in."
By the way? That was February 2007. Twenty-five months ago.
Dunleavy won't get fired because Clippers owner Donald Sterling doesn't care. After all, this season isn't worse than any other dreadful Clips season, right? One problem: The Clippers never stank in an economy this bad. Sterling has a rude awakening ahead. He just doesn't know it yet. In the meantime, these Clippers don't have to tank to get a chance at Blake Griffin or Ricky Rubio in June. They just have to keep letting the Dumbleavy era run its course. As strange as this sounds, the immediate future is in good hands. I'll give the last word to three readers who e-mailed me last night:
Drew in Bryn Mawr, Pa.: "I think Randolph's 3 might have been the single dumbest thing I've ever seen a professional athlete do during a game. And really, 'dumb' is not the way to describe it. It was lazy, and basically a big Eff-You to everyone on that team and in the building. I've heard you talk about how horrible the state of the Clippers are, but I've never actually sat and watched them play. That shot explained to me everything you have been saying and also cements Zach Randolph as my least favorite NBA player. I read everything you do, but never felt motivated to e-mail you. That shot motivated me to get out of bed, walk over to my computer, and write this at 1 a.m."
Matt in Atlanta: "The look on Dunleavy's face after Randolph jacked up that awful 3 at the end of the game was priceless. It sort of looked like the same reaction that Ryan from the 'Real World' had when he found out that Katelynn is a tranny. The thing is, that wasn't even the best part. Sam Mitchell's analysis after was even better, 'I guarantee that wasn't the play they drew up.' No s---. How are these guys NBA coaches?"
Nick in Columbus, Ohio: "The final inbounds play that Dunleavy drew up had three Clippers run around like chickens with their heads cut off, then Zach Randolph throwing up a 32-footer with a hand in his face. Priceless. Can I please get a 'Your 2008-2009 Los Angeles Clippers?'"
Nahhhhhh.
Bill Simmons is a columnist for Page 2 and ESPN The Magazine. For every Simmons column, as well as podcasts, videos, favorite links and more, check out the revamped Sports Guy's World.