This story has been corrected. Read below
Bad times for the No Benjamins Association right now. With two-thirds of the teams losing money, one-fifth of the teams losing staggering amounts of money, the 2010 salary cap traveling backward in time like the Oceanic Six, and season-ticket renewals lagging so dangerously -- and really, "dangerously" is not a strong enough word -- that a handful of franchises have quietly moved toward Circuit City Memorial "EVERYTHING MUST GO!!!!!" status, the summer of '09 looms as the craziest for player movement since the post-lockout free-for-all in 1999.
This season's defining image: In SI.com's recent a "Day In the Life" video that followed Phoenix equipment manager Jay Gaspar, reader Shaun Ziegler noticed that the Suns "were using Purex detergent, which is what I used throughout my college years seeing as how it was about half the price of everything else. I am pretty sure it is about 90 percent water." The NBA ... where Purex happens! This will not end well. But hey, there's good news in the short term. The West playoffs promise to be wackier than Lindsay Lohan. We're probably getting Orlando-Boston and Wade-LeBron in Round 2, Cavs-Celts in the Eastern Conference finals and either LeBron-Kobe or Celts-Lakers II in the Finals. And the 2008-09 MVP race was particularly fantastic despite an obvious winner.
Let's count it down in reverse order from 450 to 1 ...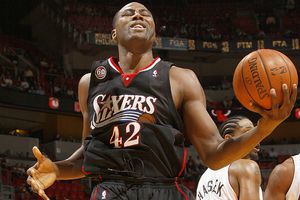 Victor Baldizon/NBAE/Getty Images
Open your eyes, Elton: You managed to destroy three franchises in one season!
450. Elton Brand
Dramatically edged out Gilbert Arenas and Tracy McGrady for the coveted LVP ("Least Valuable Player") Award. Here's what pushed it over the top: Not only did EB destroy Philly's cap through 2035, he left the Clips with enough cap space that they reacted the same way looters react during a riot. They wanted to walk out of the store with something ... or in this case, Marcus Camby, Ricky Davis, Zach Randolph and a 27-inch Sharp LCD. In a floundering economy, should they have guarded that extra cap room and bided their time like The Team That Shall Not Be Named did? OF COURSE!!!! OF COURSE!!!!! When you include Brand's luring of Baron Davis to the Clippers, causing the Warriors to overreact with $66 million for Corey Maggette and Ronny Turiaf, you could argue that Brand murdered one franchise and gravely wounded two others. Sounds like an LVP to me.
446. Jamaal Tinsley
As far as I can tell, the first player with a non-expiring contract who was paid by his team to stay the hell away for an entire NBA season. That should have shown up in every Pacers box score: "Jamaal Tinsley: DNP (Paid to stay the hell away)."
439. Allen Iverson
Congrats to Detroit for covering up Iverson's various "You're not the boss of me! I'm Allen Iverson! I'm the biggest star here!" behind-the-scenes blowups and successfully selling the American public on his fake injury that ended his charade of a season. He's "one year, $10 million in Spain or Italy" waiting to happen. You know what that means? Allen Iverson in a foreign country!!!! I'm giddy.
422. Alexis Ajinca
Keep an eye on this one: Ajinca has a chance to become the first top-20 foreign NBA pick to get cut from his national team within three years. For God's sake, even Fred Weis started for the 2000 French Olympic team.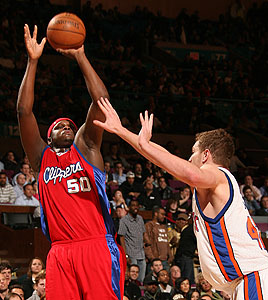 Nathaniel S. Butler/Getty Images
Congratulations, Clippers fans, Zach Randolph made $14.67 million this year ... and will make $16 million next season ... and $17.3 the season after that.
399. Zach Randolph
The recent DUI was a nice touch. You stay classy, Zach Randolph. Not nearly enough was made of Mike Dunleavy willingly taking Randolph's 2011 figure ($17.3 million) off New York's books without getting a future pick from them. This conversation definitely happened last December in Donnie Walsh's office:
Mike D'Antoni: We have to get Randolph off our 2011 books, Donnie.

Walsh: Come on, nobody's taking that contract. You saw the November attendance figures. We're headed for D-Day. The only guy dumb enough to take Randolph is Mike Dunleavy, and even he wouldn't do it.

(A few seconds of silence pass. Walsh and D'Antoni make eye contact. They jump from their chairs.)

Walsh: You call his home number, I'll call his cell!
(Note: I might have used that joke during the Isiah Error. I honestly can't remember. I'm old. Speaking of Isiah...)
346. Stephon Marbury
In mid-December, I attended a Knicks-Lakers game and sat 20 feet away from Marbury, who had bought a courtside seat even though the Knicks had already begged him, "Please, for the love of God, just stay away from us" and done everything but take out an NBA restraining order on him. For four quarters, my friends and I waited for him to wander onto the court like Shooter in the 1954 Indiana sectional finals. Didn't happen. Four months later, he has reinvented himself as ... (gulp) ... a legitimately effective backup point guard for one of the three teams that can win the 2009 title. His teammates like him. His coach likes him. The fans like him. Even ... (gulp) ... my Dad likes him.
(Hold on, I'm going to stare at the previous paragraph for a few minutes in complete confusion.)
The B.S. Report
With the playoffs approaching, Bill, Ric Bucher and Marc Stein are talking NBA.

• Part I: Western Conference


• Part II: Eastern Conference

311. Monta Ellis
If the Warriors were "The Room," their fans were Johnny and Monta was Lisa, the 2009 Warriors team video would be the "You're tearing me apart!" moment on a never-ending loop. Fine, that didn't make sense. I just wanted you to watch "The Room" trailer. Then watch it again. Then watch it a third time. And a fifth. And a 10th.
301. Baron Davis
Is it possible Tim Thomas switched bodies with him like in the plot of that new Zac Efron movie? Baron's eerily consistent apathy and sunk shoulders look familiar. That reminds me...
281. Beno Udrih
The winner of this year's coveted Tim Thomas Award, given annually to the player who comes closest to reaching basketball's VORP potential (in other words, you could sub any replacement-level player for him and that player would put up similar stats). Udrih's '09 season: 31.1 mpg, 11.0 ppg, 4.7 apg, 3.0 rpg, 1.1 spg, 46 percent FG, 82 percent FT, 31 percent 3-point FG. Sure, the free-throw shooting is pretty good. But other than that, it's a VORP-worthy season ... which brings me back to my protests last summer when the Kings overpaid him. Why pay Beno $33 million when you can pay a hungry D-leaguer one-tenth as much to give you roughly the same performance? What a stupid league. I can't stand it.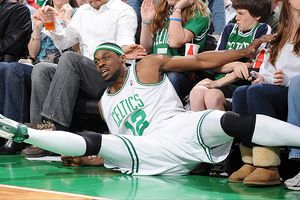 Brian Babineau/NBAE/Getty Images
Believe it or not, Walker wasn't even in the game when this photo was taken.
253. Billy Walker
The most supportive, gregarious, happy-to-be-there 12th man in Celtics history. I nicknamed him "Black Haley" about three months ago. He would chest-bump Paul Pierce after a big 3 even if Pierce was covered in radioactive chemicals and raw sewage. You will love Black Haley's bench performance during the '09 playoffs. Just wait.
232. Anthony Morrow
The MVP of the 2009 B.S. All-Stars for "Guys I Like (In Some Cases, Inexplicably) With Potential To Become Quality Role Players For A Contender And/Or Overpaid By One Dumb GM." Couldn't you see the Spurs signing him to a sneaky deal in the summer of 2010, followed by the news running across the NBA TV ticker and you thinking, "Isn't that the guy who hit 47 percent of his 3s one year?" before forgetting it two seconds later? Then he'll make a game-winner in their fifth game next season and you'll say, "The Spurs! They did it again!"
(The B.S. All-Stars for 2009: Morrow, Marcin Gortat, Courtney Lee, Josh Powell, Nic Batum, Luc Richard Mbah a Moute, Rodney Carney, Will Bynum, Renaldo Balkman, Steve Novak, Daequan Cook and "Comeback B.S. Player" Chris Andersen.)
206. Jordan Farmar/Derek Fisher (tie)
The weak link of the 2009 Laker Playoff Express. Farmar's numbers in March/April: 4.3 ppg, 2.2 apg, 31 percent FG. Fisher's last 10 games: 5.4 ppg, 1.3 apg, 33 percent FG. Throw in their ages (34 for Fisher, 22 for Farmar) and we might have a "one guy's washed up, the other guy isn't ready yet" situation on our hands. You never want your point guard situation to remind people of "15 Minutes" with De Niro and Ed Burns if you're trying to win a title.
204. Jermaine O'Neal
Even Quentin Tarantino hasn't aged this frighteningly. In March, he played 15 games and 466 minutes (31 mpg) and grabbed just 70 rebounds (4.7 per game). If you stood near the basket for 31 minutes a game, wouldn't you accidentally get five rebounds? For the season, he's tied for 50th in rebounds per 48 minutes (10.3), narrowly edging Mike Miller and Gerald Wallace. And he's only 30. Now I'm wondering if this is like a Latin American baseball thing -- remember when the Blazers drafted O'Neal "out of high school" in 1996 when he was "18 years old"? Who signed him -- Jose Rijo? Where's his birth certificate? Get Lester Munson and T.J. Quinn on the phone, I'm onto something!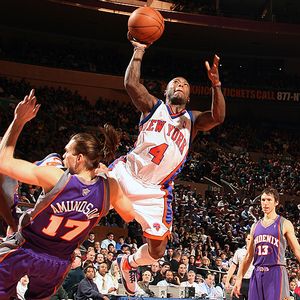 Nathaniel S. Butler/NBAE/Getty Images
Let's be honest: How many teams have won a title with a 5-foot-7 point guard who doesn't pass much?
185. Nate Robinson
I know, I know, he has been fun. But when your 5-foot-7 point guard averages 17.3 points and 4.1 assists, you know what that means? It means you're finishing with 50 losses.
178. Nenad Krstic
Signed with Hijack City midway through the '09 season and showed up looking like Christian Bale at the end of "Rescue Dawn." He'd spent the previous three months in Russia apparently living in bus terminals and eating bugs. I caught a Hijack-Lakers game right after the signing and the Sports Gal asked in all seriousness, "Is that guy homeless?" I kept picturing Sam Presti signing him, then seeing him for the first time and getting the same look on his face that Michael Caine had in "Victory" after the POW stars showed up. You're damned right Nenad Krstic's crazy appearance required two movie references in one paragraph.
(Follow-up note: Presti wins 2009 Exec of the Year for shrewdly building a nice foundation -- Kevin Durant, Jeff Green and Russell Westbrook as his Big Three; Krstic, Nick Collison and Thabo Sefolosha as three legit rotation guys, a top-six draft pick coming, multiple first-rounders in the hopper, cap space galore, a genuinely good coach in Scottie Brooks, and the NBA's single strangest bench guy in Robert Swift. There's just a lot to like. By the way, if they make a "Children of the Corn" remake and DON'T include Swift, I'm going to be furious.)
166. Manu Ginobili
Ways I'd dissuade my stars from participating in the Olympics or World Basketball Championships if I owned an NBA team: $1 million under-the-table bonus for NOT participating; free lease of a brand-new Maybach every year; bribery with help from a secretly recorded sex session with a hooker I hired to seduce them; blowing up the aforementioned Maybach as a final threat not to go; and finally, kidnapping.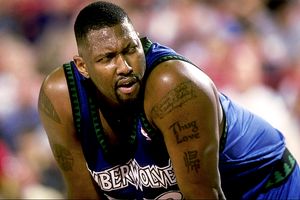 Getty Images
Blazers fans just threw up in their mouths.
159. Greg Oden
A Human Foul Machine the likes of which we haven't seen in nearly two decades. He's averaging 21.6 minutes and 4.0 fouls, which prorates to 8.8 fouls per 48 minutes. (I'm almost positive nine fouls gets you disqualified from any NBA game.) I asked Jeff Bennett's ESPN research crew to find the last player who averaged 20-plus minutes and topped that 8.9 number. The answer? Stanley Roberts with 9.5 in 1992. Wait, it gets worse. Here are Oden's rookie comps compared to Roberts' rookie season in '92:
Oden: 21.3 mpg, 8.7 ppg, 6.9 rpg, 1.1 bpg, 56.3 FG percent, 63.3 FT percent
Roberts: 20.3 mpg, 10.4 ppg, 6.1 rpg, 1.5 bpg, 52.8 FG percent, 51.5 FT percent
(Chilling when you remember that Roberts' nickname was "Fat Stanley." How long do we have to keep pretending Portland didn't massively and totally screw up the 2007 draft? I feel like we're trapped in a bad marriage where we have to pretend everything's good for the sake of the kids. Again, STANLEY ROBERTS!!!!)
152. Rodney Stuckey
The Billups/Iverson salary dump would be more defensible if Stuckey ran Detroit's offense better than Will Bynum does. It's unclear if Stuckey is even a point guard. I might hire Joe Dumars to do PR for my basketball book in October. There's nobody better.
137. Amare Stoudemire
I gotta be honest: I'm excited about his goggles. I've been waiting for an NBA player to revolutionize fashion for either goggles or Schnozaroos (those masks players wear when they're protecting a broken nose), and Amare might be the one. What about diamond goggles or 24-karat goggles? Would that be an injury hazard? Don't let me down, Amare. If you can wear lime-green suits, you can wear diamond goggles.
129. Shawn Marion
If Marion pushing out of Phoenix was like David Caruso leaving "NYPD Blue," Miami was "Kiss of Death" and Toronto was "Jade," the question remains ... does he have a "CSI: Miami" in him? I say no.
(His best hope is for a "Proof of Life"-level comeback. Which reminds me ... with the decade winding to a close, the "Most Underrated Movie of the Decade" title is down to two candidates and only two: "Proof of Life" and "Man On Fire." That's the list. We will accept no other nominations.)
117. Jose Juan Barea
On the surface, he's the 2009 winner of the "Why Are You In The League?" Award. A streaky 6-foot shooting guard who doesn't even shoot 3s that well? What year is this, 1972? When you spend nearly $100 million in salary this season, how does this yield 20 minutes a game for the homeless man's Eddie House?
Well, I have your answer: Whenever Barea catches fire, and it has happened like five times this season, it fires up the rest of the Mavs like nothing you've ever seen. It produces results akin to Steve Kerr's unforgettable barrage of 3-pointers in Game 6 of the 2003 Western finals -- players leaping up and down on the bench, coaches hugging, Jason Kidd smiling like a proud dad, tears streaming down Mark Cuban's face. It basically turns into the ending of a bad Disney sports movie. If Barea catches fire during the playoffs, watch out. So to answer your question that I asked for you, that's why they have him. I'm glad I'm here.
104. Kyle Lowry
Savvy acquisition by Daryl "Stop Calling me Dork Elvis; It's Starting to Catch on Around The Office" Morey. The Rockets are getting a combined 19-7-5 every night from the Lowry/Brooks combo. Not shabby. The lesson, as always: When in doubt, make a deal with Chris Wallace.
100. Charlie Villanueva
It's not that he ruined such a splendid fantasy season by Twittering at halftime of a game and getting thrown into Scott Skiles' doghouse. It's not even that he Twitters, or Tweets, or whatever the hell they call it. It's the fact Charlie risked his coach's ire to keep in contact with 1,600 Twitter subscribers that still gnaws at me. Sixteen hundred fans????? Really, Charlie? Even the Grizzlies have more 2010 season-ticket renewals than that! If I'm an NBA GM this summer, I cannot in good conscience spend money on someone who risked a free-agent windfall to keep in touch with 1,600 complete strangers. That's just weird.
93. Chris Andersen
If the Birdman doesn't win "Comeback Player of the Year" for (a) bouncing back from a drug violation so seedy that they wouldn't even tell us what happened, and (b) giving Denver superior bench play this season (6.5 ppg, 6.2 rpg, 2.4 bpg in 20.5 mpg), then let's dump the award and not have it anymore.
71. Kevin Love
Quietly ninth in rebounding (9.0) and on pace for an Evolutionary Laimbeer career. Hey, here's something crazy: Only five NBA players will average at least 10 rebounds this season, but 38 players shot 40 percent or better on 3-pointers. It's officially a slash-and-kick league, and beyond that, everyone else finally emulated the Spurs and embraced the corner 3 as a tactical weapon. Check out how 3-point shooting has improved since 1994, along with average 3-point shot attempts per game (by team), players who shot 39 percent or better (minimum 100 attempts), and just for the hell of it, the number of players who averaged better than 9.0 rebounds and team averages for rebounds and points per game.
Year
3-pt pct
3-pt att
39%+
9.0 rpg
Team rpg
Team ppg
93-94
33.3
9.9
11
20
43.0
101.5
98-99
33.9
13.1
24
14
41.6
91.6
03-04
34.7
14.9
25
15
42.3
93.4
06-07
35.8
16.9
29
11
41.0
98.7
08-09
36.7
18.1
65
9
41.3
100.0
To recap: Teams launch nearly twice as many 3s and make a higher percentage. There are six times as many "elite" long-range shooters. And because of that and three other reasons -- faster style, more small ball, longer rebounds -- there's a drought of good rebounders because boards are distributed in a more random way. That's what makes the next guy's season so secretly good.
62. Troy Murphy
The winner of the Truck Robinson Award for "Random Great Statistical Season." Would you believe me if I told you Murph averaged a 14-12 with 45 percent 3-point shooting and cracked the top-four in rebounds (second) and 3-point shooting (fourth)? I'd have him ranked higher, but unfortunately, I've seen him on the defensive end.
56. Eddy Curry
Ranks this high only because "You Know You Want To Touch It Dave" became the funniest fantasy team name of the 2009 season. By the way, you'll see Marilyn Chambers make the 2009 Oscars Dead People Montage before you see the Knicks trade Eddy's contract.
51. Raymond Felton
The guy I'd pursue this summer if I ran an NBA team. Ten weeks of trade rumors bounced off him and he never held a grudge. He has lottery pick pedigree (fifth overall in 2005), and if we've learned anything over the years, it's that many blue-chip point guards take awhile to "ferment" (for lack of a better word). He's one of the five or six best people in the league by all accounts. I've never seen a Bobcats game where he didn't play as hard as he could. The arc of his first four years looks exactly like Chauncey Billups, and like Chauncey, his game will open up once he starts making 3s. Just a lot to like. Someone will steal him this summer just like Detroit stole Billups in 2002. You watch.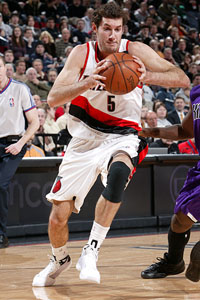 Sam Forencich/NBAE/Getty Images
New rule: Nobody is allowed to touch Rudy.
48. Rudy Fernandez
My single favorite bench player this season. I didn't realize it until Trevor Ariza decked him last month and I made the Neil McCauley "I've Had Enough, Let's Throw Waingro In The Trunk And Kill Him" Face. I am calling a moratorium on all cheap shots against Rudy. The league needs him. He's too much fun.
46. Kevin Garnett
The official diagnosis for KG's knees: Just throw an "itis" at the end of the sentence, "I spent 13 solid years playing 1,100-plus games and 40 minutes a night at an intensity normally reserved for mothers trying to rescue their children who are trapped under a truck." The Celtics are doing the right thing and pretending that he just needs rest and everything's fine and he'll be back for the playoffs and don't worry and nothing to see here ... and if you believe that, I have some Billy Owens rookie cards I want to sell you. This is THE biggest subplot heading into the playoffs. KG is not fine. There is nothing structurally wrong with him. It's wear and tear ... and age and miles. Huge difference.
45. Vince Carter
My buddy Sal and I took our kids to a Clips-Nets game last month. Vince was on fire from the get-go and finished with 42. Sal remarked at one point without a hint of irony, "Wow, Vince is trying tonight." And I thought to myself, "That one moment just summed up Vince's entire career." Wow, Vince is trying tonight.
41. Jason Kidd
The most efficient NBA player, according to Mark Cuban's new adjusted plus-minus statistical formula, or as it's more commonly known, "Guys, go in there, start crunching numbers, and I don't want to see any of you again until you find me a formula that justifies the Kidd-Harris trade." Meanwhile, check out the splits of the NBA's six quickest point guards against Dallas this season: Tony Parker (31.3 ppg, 7.3 apg, 52 percent FG); Paul (33.3 ppg, 12.5 apg, 57 percent FG); Rondo (16.0 ppg, 14.0 apg, 62.5 percent FG); Harris (29.5 ppg, 10.0 apg); D. Williams (24.8 ppg, 11.5 apg); and D. Rose (19.0 ppg, 7.5 apg). Egads. The good news: Kidd and Nash tied for "Most Fun Teammate To Have" honors for something like the 10th straight year.
37. Chris Bosh
From my 2005 Trade Value column: "The runaway winner of the 2005 Shareef Abdur-Rahim Award, given annually to a tantalizing young star on a losing team who everyone assumes will keep getting better and better, when the reality is that he's close to hitting his ceiling already, and his numbers look so good mainly because he was playing 35-40 minutes a game on a bad team. Remember I told you this when Bosh is making $15 million a year on a 22-win Toronto team five years from now, and he's the subject of 370 trade rumors before the 2009 draft." Just call me Nostrasimbo.
34. Boris Diaw
Reborn as an all-around player with Charlotte (since New Year's: 16-6-5, 49 percent FG, 40 percent 3FG), giving us 2009's best example of the Devin Harris/Avery Johnson Corollary: If you have a choice between making a major trade or firing a coach who clearly isn't working out, always fire the coach first. OK? OK.
(Here's how dumb coaches are: Just this season, we witnessed coaches playing Kevin Durant at shooting guard, slowing down Steve Nash, playing slow-it-up with the Sixers, bringing Rip Hamilton off the bench, burying Anthony Randolph on a lottery team, playing Darius Songaila over JaVale McGee on a lottery team, ignoring the stat that's about to impress you when we get to the Nowitzki paragraph, and doing everything that Mike Dunleavy did. There's a reason 85 percent of these guys get canned within three years.)
30. Anderson Varejao

Since there's no statistical way to measure everything he does for the Cavs, let's go to a movie analogy: See the picture to the right? That's Don Dawson on the left. Remember, That Guy from "Dazed and Confused." He's funny in every scene. He's not intrusive. He does all the little things. He has the rare ability to be in three different places at once. He has cool hair. He has a trunk filled with beer and he's carrying roughly a kilo of pot on him at all times. He kills it in the scene where they smash mailboxes. He even pulls off overalls. Basically, he takes nothing off the table and makes everything tangibly better. What does this have to do with Varejao? He is Cleveland's Don Dawson. Did I realize this while watching Starz 5 at 2:30 a.m. last week? Yes. Yes I did.
27. Brook Lopez
Since Feb. 1, he's averaging a 16-9 with 60 percent shooting and 1.8 blocks in just 31 minutes a game, making him the second-best rookie in a particularly good class. Unfortunately, his brother tanked in Phoenix and we now have a Sly/Frank situation looming. Bummer.
21. Kevin Durant
No 20-year-old in NBA history who wasn't named "LeBron" has enjoyed a better year (26-7-3, 42 percent 3FG, 48 percent FG, 87 percent FT). KD is 10 pounds of muscle and two low-post moves away from becoming offensively illegal. I continue to be in love.
20. Ron Artest
My dream scenario for the '09 Finals if Boston can't win: Houston shocking Cleveland in the Finals, followed by rioting at MIT, a tipsy Yao Ming and Artest giving David Stern a full-body celebratory hug. Vegas odds? 20-to-1. We're in play.
19. Derrick Rose
Kudos to our 2009 Rookie of the Year for (a) spearheading an unexpected playoff push that reached dueling "I am rooting against the Sixers so Chicago will leapfrog them and Boston won't have to play the Bulls" and "Orlando better not fall asleep in Round 1 against these guys or they will lose" status about two weeks ago; and (b) figuring out how to juggle shots for Ben Gordon and John Salmons (two of the NBA's biggest "I gotta get mine" guys) and keeping them relatively happy. I wouldn't want to be in charge of ordering lunch for Ben Gordon and John Salmons, much less distributing their shots.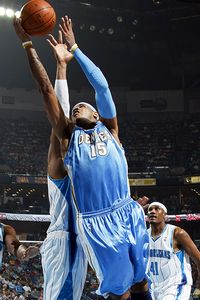 Layne Murdoch/NBAE/Getty Images
Carmelo's points per game (23.0) and shooting percentage (44.7) were both at their lowest marks since the 2004-05 season.
18. Carmelo Anthony
I'm still waiting to see an "I need to dominate every night" fire from him. At this point -- six years in the league, turns 25 in May -- we should be seeing it. Does he have it in him? Is it lurking in there? Even a little? I have no idea.
17. Jesus Shuttlesworth
After another stellar season, I have Ray Allen over Moncrief, Dumars, Westphal, Maravich, Monroe and neck-and-neck with Reggie Miller at this point. You're damn right, I just went there.
16. Jason Terry
The Sixth Man of the Year and a legitimate end-of-the-game assassin. He reminds me of Mo Williams in that he got overpaid, but then everyone made too much of a deal about being overpaid, so actually, somebody could have stolen him for nothing, but nobody did, and now he's properly paid compared to all the other dumb contracts. I swear, that made sense when I started writing it.
15. Joe Johnson
Sure.
14. Yao Ming
The good news? He stayed healthy. The bad news? You're getting a 20-10 and two blocks from him and that's it. He is what he is.
13. Tony Parker
An exceptionally good offensive year (a 22-7 with 50 percent FG) highlighted by icy-in-the-clutch scoring. Five years ago, I would have ended the paragraph there, but now we can look this stuff up! Of the top 12 "clutch" scorers according to 82games.com , Parker had the highest field-goal percentage other than Melo and LeBron. The lowest? That would be ...
12. Dirk Nowitzki
... with a ghastly 39.2 percent. Why not play him at center and embrace their stylistic advantage with Dirk in the slash-and-kick era? Not to keep touting 82games.com, but I logged onto their best plus-minus for five-man units" page to check where Kidd-Terry-Howard-Dirk-Brandon Bass ranked ... and they were first. Can't say I was shocked. But here's what did shock me: They've played only 123 minutes together. I keep telling you: Coaches are dumb.
11. Deron Williams
Another perfectly good season. Not as good as "Interstate Love Song," but definitely up there with "Vasoline."
10. Tim Duncan
Started wearing down (March and April: 15.5 points, 46 percent FG) right after his NBA odometer hit 1,000 games (regular season plus playoffs). If you remember, KG hit 1,000 games in October, injured his knee a few weeks later and never really looked the same. So, yes, I am concerned. Listen to Part 1 of my podcast with Bucher and Stein to hear three guys discuss this topic for way too long.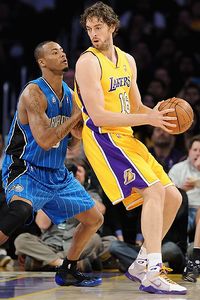 Lisa Blumenfeld/Getty Images
Let's see: 18.9 ppg, 9.6 rpg, 56.7 percent from the field ... umm, yeah, Kobe does have some help.
9. Pau Gasol
This season's most underrated player, as well as the guy who bumped Kobe out of my top three. Andrew Bynum injured his knee on Feb. 1. Gasol's stats in February and March: 21-11-4, 59 percent FG, 1.2 bpg, 39.5 mpg. He also has been a monster in the clutch (63.4 percent FG) and commands a double at all times. He's the ideal big man for the modern game, someone who can play two positions and multiple styles. He's the league's best Second Banana. He's one of the three best centers. He always plays hard. Even his much-maligned defense was OK. If you think the Lakers won 60-plus games solely because of Kobe, I don't know what to tell you.
8. Chauncey Billups
On the one hand, Chauncey's impact on Denver (five more wins, same point differential as 2008) wasn't exactly Jon Stewart taking over "The Daily Show." On the other hand, he helped a hopelessly dysfunctional team (yes, I'm including the coach) find common ground, almost like "Supernanny" turning around one of those crazy families in a 60-minute episode. As Steiny Mo points out, there just isn't a statistic to capture what Chauncey did for that lunatic fringe of a Nuggets team.
7. Brandon Roy
Think of all the under-25 guys we watched over the past two decades get thrust into a "You're a little young for this, but you're our franchise player, so um, how 'bout you be our leader?" and flounder miserably. We are talking about DOZENS of guys, a few of whom had more talent than Roy, but only five rose to the challenge without veteran help: KG, Chris Paul, LeBron, Wade and Roy. That's the complete list. (Unless I forgot someone. Which I'm sure I did.) To Roy's credit, some believe Portland is THE playoff sleeper and it's mainly because he's turned into such a killer closer. Stay tuned.
6. Dwight Howard
I had him fourth on my ballot until last week's performance, when Orlando was fighting for home-court advantage in Round 2 and Howard, in arguably the biggest stretch of his career, submitted the following efforts:
April 7, Houston (L, 83-93): 13-10, outplayed by Yao (20-16).

April 8, Memphis (W, 81-78): 14-13, treads water against Marc Gasol (10-8).

April 10, Knicks (L, 95-105): 16-14 with 6 TOs, outplayed by David Lee (20-16).

April 11, Jersey (L, 93-103): 7-8, outplayed by Brook Lopez (14-11 in 21 minutes).
Does he want it? I can't tell. I really can't. I know the next guy wants it.
5. Paul Pierce
Numbers can't possibly describe Pierce's all-around impact on a banged-up team that had no business winning 60 games. Since the beginning of February, when KG's knees finally went south, Pierce averaged a 23-6-3, defended the opponent's best perimeter scorer every night and carried the Celts emotionally. When Leon Powe went down in mid-March, the Celtics played their next 12 games with Kendrick Perkins, Mikki Moore and Glen Davis as their only big men ... and went 10-2 during a desperation stretch. If Pierce and Howard are equally important to their teams, and Pierce's team won more games, why wouldn't he rank higher on the MVP ballot? What am I missing?
FOUR QUESTIONS
Question No. 1: Ten years from now, who will be the first player from this regular season that pops into my head?
Question No. 2: In a giant pickup game with every NBA player waiting to play, and two fans forced to pick sides with their lives depending on the outcome of the game (I think this is how the annual Rucker League tournament works, by the way), who would be the first player picked based on the way everyone played that season?
Question No. 3: If you replaced each MVP candidate with a decent player at his position for the entire season, what would be the effect on the team's record?
Question No. 4: If you're explaining your MVP pick to someone who has a favorite player in the race -- a player who you didn't pick -- will they at least say something like, "Yeah, I don't like it, but I can see how you arrived at that choice."
(Important note: Now we've entered the "Totally Respectable MVP Candidate" Zone. Please check the sidebar to the right for my four questions that determine my MVP ballot every year.)
4. Kobe Bryant
Another world-class season from someone who officially has to be regarded as (a) the most durable guard ever; and (b) one of the best 15 players ever. He has never been in a better position historically: Blessed with the best team in the West hands down, if he outduels LeBron in the Finals, that will push him ahead of Oscar Robertson and Jerry West as the third greatest guard ever. These are the stakes. Either way, it's a make-or-break spring because Kobe passes 1,200 total games next season and can't possibly remain at this level much longer. I put Wade ahead of him only because Wade could have emulated Kobe's success with the Lakers, but 2009 Kobe couldn't have carried a brutal Miami team to a No. 5 seed. 2006 Kobe could have done it; not 2009 Kobe.
3. Dwyane Wade
My favorite amazing truths about Wade's '09 season: he kept Miami above .500 in the first half of the season despite Michael Beasley's defensive foibles, a rookie point guard (Mario Chalmers) and the immortal Joel Anthony playing 20 minutes a game. ... He coaxed 44 wins from a team that traded its second-best player in February for a relative has-been (see No. 204). ... He leads the NBA in scoring and could finish in the top 15 in three of the other four major categories (assists, steals and blocks), and no, that has never happened before. ... When LeBronamania heated up during the All-Star break, Wade responded with a surreal 34-8-5 and 51 percent FG over the next eight weeks. ... He played his butt off Kobe-style every night. ... Smart teams triple-teamed him in crunch time. ... By sheer osmosis, he redeemed Beasley's career, made him care about defense and turned him into a potential playoff weapon. ... And most importantly, his teammates enjoyed playing with him (something you couldn't have said about the 2006 Lakers with Kobe). I have been writing this MVP column for six years and he's the best No. 3 by far. Nobody comes close. Switch Wade with an average guard (say, Jamal Crawford) and the 2009 Heat win 15 games. We'll give Wade the 2009 Fantasy MVP as a consolation prize.
One more thought: Did you ever notice the disturbing parallels between Wade and Jack Bauer beyond the whole "totally fearless" and "can carry a show by themselves" parts? Follow me here ...
2002: Wade submits a stellar sophomore year at Marquette (after not playing as a freshman) and puts himself on the map; Bauer submits a stellar Season 1 of "24" and puts himself on the map.
2003: Wade carries Marquette to the Final Four; Bauer carries "24" to an excellent Season 2 in which he detonates a nuclear bomb in L.A. (no, not the Kobe incident in Colorado -- an actual nuclear bomb).
2004: Wade leads Miami to the NBA playoffs before losing in Round 2; Bauer fights off a heroin addiction and carries "24" to a solid Season 3 that falls apart down the stretch after he kills Nina Myers.
2005: Wade gets a new running mate (a controversial center named Shaq) and would've won the title if he didn't get injured during the Eastern finals; Jack gets a new running mate (a controversial girlfriend named Audrey) and could have had his best season ever if the "nuclear football" plot hadn't fallen apart right near the end.
2006: Wade enjoys his greatest season (Finals MVP, first title) and so does Bauer in Season 5 (which features David Palmer's assassination, Jack coming out of hiding in the Mojave desert, President Logan's meltdown, a really good nerve gas plot and Jack getting kidnapped by the Chinese). Both Wade and Jack peaked in 2006. And if that's not enough, Gary Payton co-starred with both of them: As GP on Miami and Wayne Palmer on "24."
2007: Wade's Miami team falls apart (44 wins, first-round exit) as Wade's supporting cast crumbles and poor Wade is too banged up from previous seasons to carry them. Jack's TV show falls apart (worst "24" season by far) and his supporting cast crumbles (no Tony Almeida or Michelle Dessler and too much President Wayne Palmer, the Mark Blount of "24") as he's too banged up from previous seasons to carry them.
2008: Wade's season gets cancelled by injuries (he plays only 51 games); Jack's season gets cancelled by the writer's strike. Everyone wonders if we'll ever see vintage Wade or vintage Jack again.
2009: Comeback years all around! Wade submits his best regular season ever; Jack leads "24" to its strongest first 18 episodes ever. Now we're heading for the playoffs and who the hell knows what will happen?
(See? And you thought that was going to be convoluted.)
2. Chris Paul
The first player to lead the league in assists and steals AND finish in the top 10 in scoring. We might as well start there. Only five players led the league in steals and assists since 1974; Paul has done it in consecutive years. If he scores 39 against the Spurs in his final game, he'll become the fourth player to average 23-plus points and 11-plus assists in one season (joining Oscar, Magic and Tiny Archibald). Since the All-Star break, with Tyson Chandler battling injuries and missing 18 games, Paul carried the extra load by averaging a 25-11-6. For the season, he's shooting 50 percent from the field and 87 percent from the line, and his assist-to-turnover ratio is an astonishing 11-to-3. I don't know what's left.
Oh, wait, I know: His supporting cast isn't good. David West is their only other scorer. They have no low-post presence at all. Their best rebounder/shot-blocker (Chandler) struggled all season. They didn't crack the top 12 in FG percentage (currently 14th), 3-point percentage (17th), steals (16th), rebounds (24th), blocks (26th), points scored (26th) or assists (28th), making it only in FT percentage (third), points allowed (fourth) and opposing FG percentage (seventh). Basically, they're a good defensive team that can't rebound, can't shoot very well and can't succeed unless its point guard plays well. And they're going to win 50 games? Huh? Throw in how he kept them together after the demoralizing Chandler trade got vetoed and he's the clear No. 2.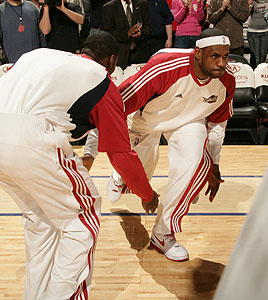 David Liam Kyle/Getty Images
The clincher for LeBron's MVP status? He's proven to be a dynamic teammate as well.
1. LeBron James
And not just because he finally put together that insane package of skills. LeBron submitted the most convincing MVP season since Shaq's 2000 campaign. Four things to consider beyond all the obvious stuff:
1. After benching LeBron and others and losing their regular-season finale, the Cavs finished 66-16. Only nine teams won 66-plus games and the title: the '96 Bulls (72 wins), '97 Bulls (69), '72 Lakers (69), '67 Sixers (68), '86 Celts (67), '92 Bulls (67), '00 Lakers (67), '08 Celtics (66) and '71 Bucks (66). Each of those teams had at least two HALL OF FAMERS. LeBron played with Mo Williams, who made the All-Star Game only as an injury replacement. Same goes for Cleveland's 39-2 home mark; the '86 Celtics went 40-1 at home but did it in a more imposing building (the old Boston Garden) with five Hall of Famers (I'm including DJ, who should be in there). Will you be bouncing your grandkids on your lap and telling them about the time you saw Mo Williams play? What about Zydrunas Ilgauskas?
The Cavs' success this season happened because of the day-to-day competitiveness of a player whose drive can only be described as "Jordanesque." Maybe he's not as ruthless -- and really, nobody will ever be as ruthless as Jordan -- but from a consistency standpoint, LeBron is right there.
2. Defensively, he improved to such a startling degree that he's also my Defensive Player of the Year. Considering that LeBron defended the other team's best scorer every night, played the free-safety role better than anyone since Scottie Pippen, defended four different positions, allowed his team to play small or big, and always seemed to have one momentum-altering block per game ... I mean, what more do you need?
3. Offensively, only four players since 1974 led their teams in total points, rebounds, assists, steals and blocks: Dave Cowens (1978), Scottie Pippen (1995), Kevin Garnett (2003) and LeBron (2009). He also became the first top-three scorer to crack the top 25 in rebounds, assists, steals and blocks as well: 28.4 ppg (second), 7.2 apg (ninth), 7.6 rpg (25th), 1.69 steals (seventh), 1.15 blocks (23rd). Since Feb. 1, he's averaging a 29-8-8 and approaching the 50-40-80 Club in percentages (49 percent FG, 40 percent 3FG, 78 percent FT). Let's just say his statistical chops are in place.
4. And this is my favorite reason ...
Not since Magic Johnson has a superstar doubled as such a galvanizing teammate. If there's an enduring image of the '08-09 season, it's the way LeBron stamped his personality on everyone around him. They orchestrate goofy pregame intros (my favorite: the team snapshot), trade countless chest bumps, giggle on the sidelines, hang out on road trips and support each other in every way. What's telling about LeBron's in-traffic dunks -- and he unleashes them more frequently than anyone since Dominique -- is how he seeks out his bench for feedback, and even better, how they give it to him. It makes the forced camaraderie of the Lakers seem glaring. If you want to watch a team that pulls for each other and follows the lead of its best player, watch Cleveland.
And if you're a Cavs fan trying to talk yourself into LeBron staying after 2010, your best chance is this: Through 24 years, LeBron has proven to be an inordinately devoted guy. When you're with him, you're with him. The upcoming documentary (supposedly superb) about his high school years bangs this point home. So does the fact that he jettisoned his agents and surrounded himself with high school buddies. So does everything that happened this season. He's as good of a teammate as a player. The more I watch him, the more I wonder if such an intensely loyal guy would ever say, "Thanks for the memories, everybody," dump his teammates, dump his hometown and start a fresh life elsewhere. Although he isn't surrounded by the most talented players right now, collectively, it's a team in the truest sense, with a devoted set of appreciative fans, and maybe that's all LeBron James will need in the end.
I thought he was a goner four months ago. I think he's staying now. Regardless, he's our Most Valuable Player for 2009. It won't be the last time.
Thanks to the ESPN Stats & Information group for its help. All stats through Monday.
Bill Simmons is a columnist for Page 2 and ESPN The Magazine. For every Simmons column, as well as podcasts, videos, favorite links and more, check out the revamped Sports Guy's World.

In an April 15 column on ESPN.com, the Cleveland Cavaliers' home record and overall record were incorrectly implied. The Cavaliers finished 39-2 at home and 66-16 overall.