Commentary
Letters of the rich and famous
We have a special wrinkle for the mailbag heading into the NBA Finals: I'm only answering questions from well-known people. Did I make them up? Of course I did. But if they HAD e-mailed me, I'd like to think those questions would go something like this:
Q: I'm still mad. During that Orlando series, I had less help than Tony Montana in the last scene of "Scarface." The bright side is the series didn't end with me getting shot 75 times and falling headfirst into a pool. Can you give me some silver linings to make me feel better? You know, before I do something drastic like killing Sasha and Z to get them off our cap?
-- LeBron J., Cleveland
SG: Sure. I came up with five.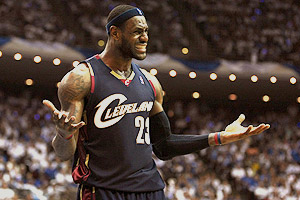 Elsa/Getty ImagesDon't worry, LeBron, take it easy on yourself: It's not your fault.
• You joined Jordan in the 50 Club for post-merger guys who averaged 50-plus combined points, rebounds and assists in the same postseason (minimum: 13 games played). So that's pretty cool. (Putting on my Robin Williams beard.) It's not your fault. It's not your fault. It's not your fault. It's not your fault. It's not your fault.
• Your game-winning 3-pointer in Game 2 briefly ranked among the 12 greatest playoff shots before quickly being rendered semi-irrelevant and jumping into a different group: the Roy McAvoy hall of fame for "meaningless sporting events that became immortal anyway" group, as described in my May 22 mailbag. Just for the hell of it, one man's vote for the 10 greatest playoff shots ever, in no particular order: Jordan's Finals-winner in 1998; Magic's baby sky hook, Game 4, '87 Finals; Big Shot Rob's Game 4 winner versus '02 Sacramento; Big Shot Rob's Game 5-saving 3-pointer versus '05 Pistons; Sam Jones' Game 4 winner in the '69 Finals; Ralph Sampson's series-winner versus '86 Lakers; John Havlicek's Game 5-saving banker in double-OT versus '76 Suns; Derek Fisher's Game 5 winner versus '04 Spurs; Dirk Nowitzki's series-saving 3-point play, Game 7 versus '06 Spurs; Kareem's Game 6-winner versus '74 Celtics. Picks hinged on the urgency of the moment; degree of difficulty; iconicness of the replay; and impact on the player's team winning the Finals, making the Finals or extending the Finals.
(A few more while we're here. Most underrated: Bobby Dandridge's series-winner with three Spurs on him in the '79 Eastern finals. Most overrated: MJ's famous shot to beat the '89 Cavs; ultimately, it meant nothing. Most secretly underrated: MJ's game-winner in Game 1 of the '97 Finals. Most overrated AND underrated: Gar Heard's turnaround to send Game 6 of the '76 Finals into a third overtime. And the one I refuse to acknowledge: Larry Johnson's four-point play against the '99 Pacers, the worst continuation call in NBA history. In fact, you could foul L.J. right now and Jess Kersey would call it a continuation for that 3-pointer from 10 years ago. The worst. Don't be surprised if we find out some day that the NBA was run by Vince McMahon from 1998-2002.)
• Your performance in a do-or-die Game 5 -- after four grueling games in a row, when your coaching staff basically gave up in the second half and said, "Here's the ball, do something" -- was one of the single greatest performances I have ever seen. I caught your final box score in a newspaper and it looked like a lottery result or a sequence of numbers that would terrify Hurley on "Lost": 46 11 24 15 19 3 14 12 3 37. Egads. Just an incredible display of will, and maybe even something that inspired Kobe's equally incredible performance the following night (the second-best game of Kobe's career behind this one, at least in my opinion).
• Your game-tying free throws with 0.5 seconds remaining in Game 4, on the road in Orlando, cracked the short list of the most pressure-filled free throws ever made. Here are my top six in reverse order:
6. Game 2, 1986 first round. Everyone remembers Jordan's 63-point game. Do you remember him getting fouled at the buzzer and sinking two free throws to send it into OT?
5. Game 6, 1988 Finals. Down one with 12 seconds left, a 42-year-old Kareem calmly sinks both free throws to (eventually) extend the series. Bonus points here because he shaved his head that year and looked like an alien.
4. Game 5, 2006 Finals. It has been forgotten because Bennett Salvatore pulled a John Wilkes Booth on the Mavericks with the call that made it happen, but Dwyane Wade did sink game-tying and game-winning free throws with 1.9 left in overtime of a must-win game. Gotta hand it to him.
3. 1987 All-Star Game. Rolando Blackman gets fouled at the buzzer of the best All-Star Game ever played, goes to the line by himself -- with every great player watching, and Isiah even trash-talking him beforehand -- and drains both freebies to send the game into overtime. I know it sounds crazy, but this was frighteningly tense at the time. I swear. No, really. I'm not pulling your leg. I wouldn't do that. CAN YOU JUST BELIEVE ME? Thanks.
2. Game 4, 2009 Eastern finals. Different from the others because it's the only time in NBA history -- at least that I can remember -- when a player drained two do-or-die freebies as the player's entire city braced itself for a miss that never came. That moment was bigger than even LeBron. And he nailed it. Phenomenal.
1. 1972 Olympics, gold-medal game. Poor Doug Collins gets absolutely murdered on a fast-break layup -- seriously, it's like a flagrant 9 -- needs two minutes to untangle his body, then unfathomably drains the (apparent) game-tying and game-winning free throws with two seconds remaining against the Russians during the height of the Cold War. Only one way to top that one: a must-win Finals game in which a star drains the winning free throws with a broken leg or a broken arm or something. That's it.
• When you caused a controversy by storming off the court after Game 6 and refusing to attend your press conference, you did something even better: You brought us back to the days when "rivals" didn't hug each other like Red and Andy after every game, when NBA stars actually took losing personally and treated their peers like enemies instead of friends. I loved it. That was an old-school move. And as reader Brian Naftaly points out, you accomplished something even better: You made your teammates cover you in the postgame press conference, marking the first time all series they did something or helped you in any way. That was genius. Hold your head up high, LeBron James. You could not have done more with the possible exception of coaching the team … and really, that might not have been a bad idea.
(Now, please spend the summer working on a low-post game and come back with at least two moves. If you care about cracking the top six of all time -- and I think you do -- then you should have a reliable jump hook, a drop step and an MJ-like fallaway by November. Period.)
Q: Come on, if I had stormed off after a tough playoff loss like that, you would have killed me, right? Just admit it.
-- K. Bryant, Los Angeles
SG: (Searching for a comeback.)
Q. How long do you think I can keep milking this "Mr. Big Shot" gimmick without anyone pointing out my nasty habit of disappearing in deciding games?
-- C. Billups, Denver
[+] Enlarge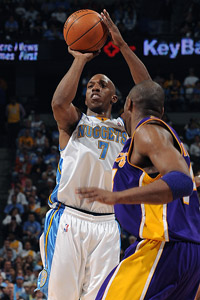 Noah Graham/NBAE/Getty ImagesChauncey's totals against L.A.: 39.7 percent from the field, just 22 points total the final two games.
SG: Chauncey! You're alive! I thought you had died after Game 4 of the Lakers series; what a relief! Anyway, I give you credit for bringing this up. You no-showed in Games 5 and 6 of the 2003 Eastern finals (playing injured, but still); the entire 2004 Eastern finals (Detroit still won); Game 7 of the 2005 NBA Finals; Games 5 and 6 of the 2006 Miami series; and Game 6 of the 2007 Cavs series. You inexplicably disappeared for the first four games of the 2008 Boston series. And I mistakenly thought you had passed away after Game 4 of the 2009 Lakers series. That's an inordinate amount of no-shows, no? I vote that we change your nickname back to "Chauncey."
Q: Wait a second, if you thought Billups had disappeared during the L.A. series, does that mean I'm off the hook for dumping his salary for Iverson?
-- J. Dumars, Detroit
SG: Absolutely not. Billups had/has real basketball value as a veteran point guard and leader, plus an extremely fair contract: $36.3 million through 2011, then partially guaranteed in 2012. If Ray Allen was worth Delonte West and the No. 5 pick two years ago, how could anyone say Billups was worth a fading Iverson's expiring deal and that's it? You're telling me Portland, Houston, Atlanta, Cleveland or Miami couldn't have topped that offer? Don't play the "Chauncey wanted to go home to Denver" card; that's insulting to your fans. And don't play the "We needed to give Rodney Stuckey the car keys" card, because Rodney Stuckey ain't that good. Bad trade. There were smarter ways to clear money for the summers of 2009 and 2010. And if you're so desperate to clear cap space, why extend Rip Hamilton's deal? So confusing. I remain confused.
Q. When is Jack Nicholson gonna die already? The guy is a freak of nature. He's been partying since the late '60s, for god's sake. That's 40 years and counting! I want to be the No. 1 Celebrity Lakers Fan, and I want to be the last guy shown on the JumboTron when they show all the celebs in the crowd. I won't even take any acting jobs from November to June if it comes to that. This is crazy. I've been waiting my turn this entire decade. I even made a basketball movie with Ray Allen. What basketball movie has Jack made? He shot some buckets in "Cuckoo's Nest" with a mute Indian dude? Big deal. By the time I take over, I'm going to be too freaking old. This sucks.
-- Denzel W., Los Angeles
[+] Enlarge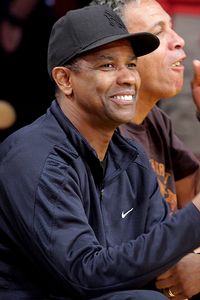 Noel Vasquez/Getty ImagesIt's not easy being No. 2 to Jack.
SG: And then there's this: If Jack holds on for another few years, Denzel might lose a little relevance and get passed by Leo DiCaprio. You know what this reminds me of, actually? Prince Charles getting screwed with the whole Queen Elizabeth/Prince William thing. By the time she goes, it would just make more sense for William to take over. I personally think Jack is indestructible. I was rereading one of the old "SNL" books and it's easy to forget this now, but Jack was one of John Belushi's favorite people to party with in the '70s. John Belushi! He died in 1982! When Jack goes, I think it's going to be like the Secretariat autopsy: They're going to cut him open and find out his heart was three times the size of the average human heart.
Q: Lemme ask you something: How many GMs were responsible for all four Finals teams in a two-year span? No way the Lakers make it twice without Pau Gasol. I made that one possible by accepting 30 cents on the dollar for someone who immediately became one of the best 10-12 guys in basketball. No way Orlando makes it without Rafer Alston. I made that one possible by agreeing to turn Kyle Lowry into a late first-rounder in the worst draft in nine years when you can now buy a late first-rounder for $200 on PayPal. And no way the Celtics win last season unless I screwed things up to the point that they bottomed out midway through the decade and gained enough assets to acquire KG and Ray Allen. That's right baby, 4-for-4! I am the gift that keeps on giving.
-- C. Wallace, Memphis
SG: Yes, you are. At the very least, you've earned a four-year deal to be an ESPN or TNT analyst when you get fired.
Q: Isn't it weird that I control the destiny of the 2009 Lakers? Not Kobe … me? Lamar Odom? Arguably the biggest NBA enigma of this decade, and one of the most uniquely skilled forwards in NBA history? The former franchise guy for the Los Angeles Clippers? The guy who caused Phil Jackson to age to the point that he now looks like an animated character? The guy who prompted a doctor to write an extended blog post explaining how my crazy addiction to candy might explain my erratic play? The guy who blew my 2009 free-agent leverage by telling ESPN The Magazine that I could never NOT live on the beach? How crazy is this? I have to go; there's a Sweet Tarts sale at the 99 Cent Store in Redondo.
-- Lamar O, Manhattan Beach
SG: It's all true. You are the key to the 2009 Lakers. They need double-doubles from you. They need you to post up Rashard Lewis and Hedo Turkoglu and make Orlando pay for its lack of size. They need you to fly out on shooters and contest open 3s. They need you to play with passion for two straight weeks instead of every other game. They need you to show up on the road. I have no idea if you will do any of those things. Neither does anyone else.
Interesting footnote: Five soon-to-be free agents in the 2009 Finals can swing their financial destinies to alarming degrees. If the Magic win and Turkoglu has a few big moments, then they'd have to pay him gobs of money. Same for the Lakers and Odom. Trevor Ariza will earn the full midlevel with a good enough series. Marcin Gortat could get overpaid with a big performance (and might anyway). And Shannon Brown might be the single best fit for the triangle of any random player we've seen since Brian Shaw: He can make 3s, he's super-athletic, he can guard three positions, he can handle the ball, he's a quality teammate and he's tough as hell. Who knew? If he steps up in the Finals like he stepped up in the other three rounds, that puts the Lakers in an impossible position; they have $15 million committed next year to Derek Fisher, Luke Walton and Sasha Vujacic, only Brown is better than all of them. What do you do? And what happens if a team with cap space like the Zombie Sonics goes after him? And did I really just spend four sentences in an NBA Finals preview on Shannon Brown?
Q: Come on, just get it over with.
-- A. Morrison, Los Angeles
SG: Really? This early? I was saving it.
Q: Yeah, just do it. We all know it's coming.
-- J. Redick, Orlando
SG: Fine, fine. You're right. Here we go …
REDICK!!!!! MORRISON!!!!! It's the NBA Finals on ABC!!!!!!
[+] Enlarge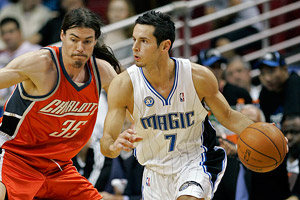 AP Photo/John RaouxOK, let's settle this once and for all -- even if it's during pregame warmups.
Q: Can you please talk about how much of an idiot you were for picking the Cavs to cruise in the 2009 Eastern finals? By the way, you're an idiot.
-- Every Orlando fan
SG: Here's what I love about my job: hundreds of e-mails from Orlando fans telling me I'm a moron for predicting that a minus-800 favorite would win a playoff series easily. Come on. I can't remember a team making a bigger collective jump in the middle of the playoffs than Orlando did from Game 5 of the Boston series (their low point) through Game 6 of the Cleveland series. And it wasn't just that Dwight Howard finally started putting his 350-piece jigsaw puzzle together and played like a superduperstar for the first time in his life. I'd argue Orlando enjoyed one of the most remarkable shooting stretches in NBA history: From Game 7 of the Boston series through Game 4 of the Cleveland series, the Magic drained 55 of 119 3-pointers (47 percent). That's impossible. If you had told me before the series, "Cleveland is going to blow 20-point leads in three of the first five games, Dwight Howard is going to make a mini-Leap, Orlando is going to put on a historic shooting display, and Mike Brown is going to freeze like Rocky during the last few seconds of the Drago-Creed fight," yeah, I would have picked Orlando. But weren't those four pretty sizable reaches?
By the way, how dare a Magic fan give me crap? You root for the Orlando Magic! Were you even a fan three months ago? Back in late November, Nick Friedell wrote on Yahoo!: "I've covered several games in Orlando during the early part of the season, and there are always plenty of good seats to be had. What surprises me more than anything, though, is the general lack of enthusiasm from some of the crowds. For the most part, the crowds I've seen at Magic games are flatter than a pancake. Sure, there are some exciting moments, and, if asked, the fans are usually willing to get out of their seats and cheer. But, if it wasn't for the noise blaring from the speaker system, you would be able to hear Stan Van Gundy barking out orders on almost every possession." The 2009 Orlando Magic: Our crowds are flatter than a pancake. Should Disney World premiere its Orlando Magic Bandwagon Ride during the Finals or just wait until this summer?
Q: Can you please talk me off the ledge?
-- Every Cleveland fan
SG: Sure. You came to the right place. I am an experienced sports loser who had to go through sports rehab twice (getting healed by Super Bowl XXXVI and the 2004 baseball playoffs) before realizing you need a substantial shift in karma before a fan base believes in its "cursed" team or its "cursed" city; then and only then will good things happen. (FYI: This is the theme of my Red Sox book.) But you need some sort of catalyst. For Red Sox fans, it was the Dave Roberts steal. That's when we gave in. There's a grainy, "Blair Witch"-style clip of the steal on YouTube that I love and can't stop watching. It's just perfect. No sound, nothing happening; just a shaky shot from some fan in the bleachers. In the blink of an eye, suddenly Roberts is streaking across the screen and barely beating the throw. The camera starts shaking. Everyone celebrates. The franchise will never be the same; we just don't know it yet. And that's one of the great things about sports: Everything can change in five seconds, three seconds, even one second. You just don't know.
I don't believe in curses or jinxes, but I do believe that a franchise (or even a city of franchises) can pass a point with its fans at which they expect bad things to happen -- always, without fail -- and the players almost get contaminated by that negative energy. Sadly, there's no way to stop it; no pill to take, no exorcism to be had. It has to happen organically. For Red Sox fans, it was the Roberts steal. For Cleveland fans, Cubs fans and Bills fans, it will be something else. But it WILL be something else. It's just the law of averages. There is no infinity button for failing in sports. At some point, things turn. They always do.
Q: I don't even care if we win the title or lose it. My goal is to dress for every Finals game like a cross between the manager of an elite strip joint, a mafia don, a porn producer, Paul Bearer and Richard Lewis. Any other suggestions?
-- S. Van Gundy, Orlando, Fla.
SG: Johnny Cash. You might want to work some Johnny Cash in there.
Q: I keep getting crap about how we blew the Lakers series, how we didn't have any inbounds plays, how I kept waiting to call timeouts, how I didn't come up with a single adjustment, how my substitution patterns were incomprehensible and everything else. Why doesn't anyone realize that this was all part of my master plan … to replace Mike Dunleavy as the coach and GM of the Clippers? How else am I going to impress Donald Sterling and get a $30 million deal to murder his franchise through the mid-tens?
-- G. Karl, Denver
SG: I am shuddering. That would be like the Bizarro "Godfather 2" to Dunleavy's Bizarro "Godfather 1." By the way, we'll know George is serious about wooing Sterling's favor when he changes his name to something Korean.
Q: What should I have done differently?
-- Mike Brown, Cleveland
[+] Enlarge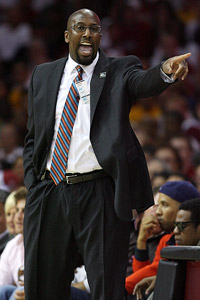 Elsa/Getty Images"No, no, no -- just keep doing the same thing!"
SG: You mean, other than come up with offensive plays or a playbook? I will never understand two things. First, why you didn't mix things up at all : throw a zone at Orlando, try a zone press (which worked really well in the regular season), go super-small when Howard was on the bench and play LeBron at center; something, anything. You just let the Magic do their thing and made no real attempt to throw them off. Perplexing. And second, why did you insist on doubling Howard and leaving their shooters open? One of the reasons I picked you to kill Orlando in my now-infamous chat was because I thought you'd use 24 (and maybe even 30) fouls on Howard, single-team him, make him score 40 points a game to beat you and stay home on their shooters. You did the opposite. I will never in a million years figure out why. It was like watching someone hitting on various female celebrities at a Hollywood party by saying, "Hi, I'm a member of the paparazzi, I have no money, and I have VD" and going down in flames over and over again but feeling like the 23rd time would be the charm. Again, perplexing.
The one recurring theme in this playoffs: coaches' unwillingness to steer the ship away from the iceberg even as the "DANGER! DANGER!" sign was going off. We just covered Mike Brown. Doc Rivers played the same eight guys the exact same way in the exact same style for seven straight Orlando games; never changed a thing, never threw a curveball, never extended his bench, never did anything … and by Game 7, Orlando had the Celtics mastered. Rick Adelman played the Lakers exactly the same pre-Yao and post-Yao. Nate McMillan refused to go small against Houston or turn the tempo up and got smoked. Chicago would have beaten Boston had Vinny Del Negro gone small the whole time instead of out of desperation. And George Karl barely moved during Denver's five-quarter implosion to end the Lakers series; in fact, I think he's still standing there with his hands in his pockets looking like he just caught a whiff of a scorekeeper's fart.
One thing we did learn (something I demand gets added to the rule book this summer): After the Cavs' debacle against the Magic, Israeli reader Amos suggested that "No team under 70 wins should be able to win the MVP Award, the Coach of the Year Award and the Executive of the Year Award. Unless you had THAT phenomenal of a season, then it's either your star, or your coach, or your management that brought you there." Fantastic point. We should have made this change when Steve Nash AND Bryan Colangelo won in 2005.
Q: What should I have done differently?
-- D. Ferry, Cleveland
SG: You mean other than trading Wally Szczerbiak's expiring contract in February when 20 teams were dying to save money and you had a chance to turn a zero into a crunch-time guy? Besides that?
You looked around at the playoff landscape, shrugged your shoulders and said, "Yeah, we're good," even though you didn't have a backup center or a true perimeter player with size other than LeBron. If you turned Wally into Antawn Jamison and Brendan Haywood, that could have worked. If you turned Wally, J.J. Hickson and a future No. 1 into Marcus Camby and an expiring deal, that could have worked. If you turned Wally into Richard Jefferson (whom the Bucks were trying to give away), that would have worked. If you turned Wally and Pavlovic into Shaq and Matt Barnes when Phoenix was desperately trying to shave money, that REALLY would have worked. By doing nothing, you basically said, "We can win with what we have." And you didn't. Note to Cavs fans: If you're looking for a place to direct your anger and dismay, start here. Your front office choked. Not only could Shaq have defended Dwight Howard without help, he could have out-Tweeted him after every game. You were robbed.
Q: Come on … you really think I'm going to handle this Jameer Nelson thing well? I'm irrational. I'm a head case. I'm only happy if I'm playing 35-40 minutes per game. I'm Rafer Alston.
-- R. Alston, Orlando
SG: All great points. My counter would be this: Jameer set the standard for all "Most Supportive Injured Teammate" conduct in the first three rounds. If he can come back, even for 10 minutes a game, that's just an awesome story. Almost as good as Turkoglu closing in on the 100,000 mark for broken HD tuners.
Q: You keep writing that LeBron has no help. What about me? I'm the only real celebrity sitting courtside and rooting for the Orlando Magic in the Finals! It's basically me, "The Fat Guy" Dennis Salvaggio, Minnie Mouse and the fourth lead for "CSI: Miami." They're going to show me between 20 and 200 times per game in Games 3, 4 and 5. I won't be able to pick my nose, eat, drink or really do anything other than sit there and smile like a politician for two and a half hours. Honestly, I was really bummed out about this whole thing until I remembered that I'm approaching $1 billion in career earnings, I'm the greatest golfer since Hogan and I'm married to a smoking-hot former nanny from Sweden. I'm Tiger Woods. I'm Tiger Woods.
-- T. Woods, Florida
SG: One other reason why I don't feel bad for you: You're a sports bigamist. As you explained in your monthly newsletter this week, "I'm really torn about the NBA Finals. I grew up a die-hard Los Angeles Lakers fan, but I have season tickets to Orlando Magic games. Hopefully, it will be a great series." Here's a news flash for you, Tiger: I'm a diehard Celtics fan who happens to be dumb enough to pay for Clippers season tickets. You know who I'd root for in a Celtics-Clippers Finals? The Celtics 10 million trillion katrillion times over!!! It's not a debate. It's not even an inkling of a debate. You're not the dude from "Big Love," Tiger. You don't get to straddle the fence here. Pick a team.
Q: Can you tell me what the record is for hearty fake laughs at Jon Barry's jokes in a seven-game series?
-- E. Johnson, Los Angeles
SG: Fifty-two.
Q: Not a question … I just wanted to thank you for not bringing up the fact that I asked Denver to buy me out so I could sign with a contender, then the Nuggets made the West finals and I ended up on a No. 8 seed that got swept by 16 points a game. I will now stick my head into a preheated oven.
-- A. McDyess, Detroit
SG: You think you feel bad, Dice? Imagine being Marc Stein right now. He probably typed 200,000 words this season wondering where you, Joe Smith and Mikki Moore would end up, and the key addition to a 2009 contender ended up being the throw-in in the Radmanovic-Morrison salary-dump trade. Oooof. That reminds me …
REDICK!!!!! MORRISON!!!!! It's the NBA Finals on ABC!!!!!!
Q: You killed me for the Rashard Lewis contract. You murdered me. You said I overpaid by $60 million. I guess I have one question for you: How do you like me now? Oh, wait, I have another: How 'bout them apples?????????
-- O. Smith, Orlando
[+] Enlarge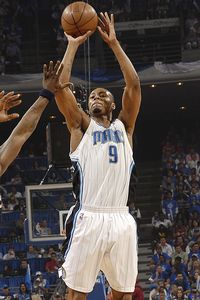 Fernando Medina/NBAE/Getty ImagesThe Magic will be hard to beat if Rashard Lewis shoots 48 percent from 3-point range like he did against Cleveland.
SG: This is the single toughest NBA question of the decade. Can Lewis' indefensible $110 million contract now be considered defensible thanks to the events of the 2009 playoffs?
I can't tell you how much time I spent trying (and failing) to figure out the Magic over these past four weeks. I watched every minute of every one of their past 14 playoff games. They knocked out my favorite team (Boston) in Round 2 and my preseason pick (Cleveland) in Round 3. I kept waiting for both teams to finish Orlando off; if anything, Orlando gained strength as each series went along. (Note: It helped that, starting with Game 6 of the Boston series, Stan Van Gundy went with the unconventional move of playing his best five guys -- Howard, Lewis, Turkoglu, Pietrus and either Lee or Alston -- as much as possible. Oh, wait, that's totally conventional. You WANT to play your best guys as much as possible. Forget I brought this up.) Everything peaked in the two clinchers (Game 7 at Boston, Game 6 versus Cleveland) when the Magic played two devastating games and blew away both teams. Now they're a legitimate threat to win the title. I swear to God. Even I wouldn't bet against them at this point. Mainly because I have nothing left to bet. And also because I'm typing this column with two broken thumbs, a black eye and a broken jaw.
Here's what we know: Accident or not, Orlando's nucleus and mindset are perfect for the current era. The slash-and-kick game is in vogue, 3-pointers are going up … I mean, you WANT a team that plays like this, and you're better off playing smallball than any other style. Orlando has the perfect "power forward" for the modern game, namely Lewis, a matchup nightmare on one end and someone with enough size to bother most low-post players on the other end. In the '80s, this couldn't have worked; he would have had to guard McHale or Parish on Boston, Barkley or Moses on Philly, Sampson or Hakeem on Houston and so on. In the '90s and early '00s, once expansion diluted talent, it could have worked if anyone thought of it. Then the '06 Suns and '07 Warriors proved you could contend by going small.
The big difference between the '09 Magic and everyone else before them: They can play smallball without getting destroyed on the boards thanks to Howard. In their 19 playoff games so far, they finished with more rebounds only six times; in the Boston series, they were outrebounded in six of the seven games. But the Magic were never outrebounded by more than eight boards; only three times were they even outrebounded by seven or eight. That's why the Magic don't have off nights. Teddy KGB would say they had alligator blood: They hang around and hang around and hang around and you can never just wipe out their chips. They're like the NBA's first "Moneyball" team in this respect. Over 48 minutes, the percentages and numbers will usually work in their favor.
Sleepless in Seattle

My longtime editor and Seattle native Kevin Jackson has been so appalled by the blossoming of Rashard Lewis that he demanded a one-paragraph sidebar on behalf of every Sonics fan. Here it is:
It has been painful for me to even look at Rashard Lewis during the '09 playoffs. Not only is Rashard finally playing like the versatile swingman every Seattle fan envisioned when we mercifully plucked him out of the green room as a tearful teenager in 1998 (and not the unemotional second coming of Derrick McKey), he has turned into a walking symbol of Seattle's lack of a basketball existence. The decision to send Rashard to Orlando was the beginning of the deplorable fire sale that allowed Bennett and Co. to move the team in the first place. (Ray Allen played the same role for us in the '08 Finals, but we were at least happy to see Ray finally win a title.) With Rashard, it's a case of a guy finally doing for one team what he could never do for our team with the added wrinkle that our team no longer exists. And this without even mentioning Rashard's no-show in Seattle's spirited 2005 playoff run, including that mysterious sprained toe. I will now have Bill light me on fire.
For instance, the Lakers got killed by Denver in Game 4 for a variety of aesthetic reasons (lack of energy, fired-up Nuggets team, the Lakers already won the game they needed, etc.) and one easy-to-understand reason: Denver crushed them on the boards by 20. You get killed on the boards in a playoff game, you're going to lose. Period. With Orlando, that variable has been removed. And if they're making 3s, look out. In playoff games in which they were minus-2 in rebounds or better, made at least nine 3s and shot 40-plus percent from three, they were 6-0 and won by an average of 13.5 points. In a typical series, they will play two games like that (and win both), which means they only need to win two of the other five … and because of that alligator blood, the odds are with them.
Does this make sense? Not really. It makes my head hurt and defies everything we ever thought we had learned about playoff basketball: The team with the best guy usually wins a series; defense wins championships; you live and die by the 3 (and always, you die); and playoff experience matters more than anything else. Not anymore. Throw that crap out the window. The Magic are OK defensively; they don't have the best guy; they're living by 3s; and they don't have much playoff experience. Again, my head hurts.
So how do you beat them? For all the matchup problems they create, you can't make them pay on the other end UNLESS you have a center to handle Howard and a big forward who can torch Lewis on one end and defend him on the other. The 2008 Celtics would have killed this team. Repeat: killed them. But that team is gone. And looking at this season and beyond, with that Celtics team getting older and KG a question mark, where is the up-and-coming contender that's going to make Magic fans say, "Crap, we can't beat those guys?" That team doesn't exist, at least not in the East. Which means the Alligator Blood Magic can keep contending unless Turkoglu signs somewhere else and they can't replace him.
The question remains: Did Otis Smith plan on this? When he overpaid Lewis, was he thinking, "I need to find a shooter to spread the floor for Dwight?" Was he thinking, "I am going to revolutionize basketball and I need Lewis to help me do it?" Or was he just like a drunk guy at an auction throwing out some insane dollars to make sure he won? I am leaning toward the third scenario, and here's why: Smith basically gave away Trevor Ariza for Brian Cook and Mo Evans last year. Does Cook make any sense for this '09 Magic team? Of course not. Does Ariza? Of course. That's what makes me think Smith stumbled into it. Revolutionary basketball geniuses don't throw cap space away or give up building blocks for no reason.
Q: Do you know if there are any job openings at ESPN? Or anywhere?
-- The creators of the LeBron/Kobe campaigns for VitaminWater and Nike
SG: (Cringing.)
Q: Can you tell your readers that Magic-Lakers is actually a terrific Finals for us? We have the No. 2 TV market (L.A.); the most popular, polarizing and fascinating superstar since Wilt (Kobe); and a potential superstar whom we can hype to another level (Dwight Howard). And it should be a high-scoring and unpredictable Finals. How is this bad? Everyone needs to shut up. By the way, if you write about our officials again, I am going to have Stu Jackson blow up your car. With you in it.
-- D. Stern, Manhattan
SG: Noted.
Q: Let's say I pull this off and we win a title. Does that push me past Oscar and Jerry and make me the third-greatest guard ever?
-- K. Bryant, Los Angeles
[+] Enlarge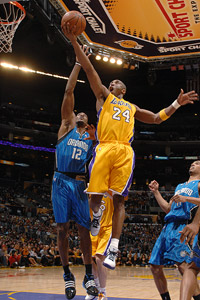 Noah Graham/NBAE/Getty ImagesHoward must play like he did against the Cavs (25.8 ppg); Kobe must play better than his past two NBA Finals.
SG: Yes. Absolutely. No question. Just know that your title window is closing because of your odometer -- more than 1,100 games in 13 seasons and 203 games (not including the 2009 Finals) over the last 19 months alone -- and a group of contenders that will be better next season with Garnett and Ginobili back, Portland and Chicago possibly making a leap, and Cleveland undoubtedly getting LeBron more help. You will never have a better chance at another ring than you do this month. And if you get it, your place in history is secure.
Let's say you don't get it. Let's say Orlando continues to ride the "Nobody believed in us!!!!" wave and topples your Lakers for its first title. Let's say the matchup troubles from the regular season (both Orlando wins) translate to the postseason just like they did in the Cleveland-Orlando series. That would mean the following things:
A. You never won a title when you were the best guy on your own team. An indisputable fact.
B. You lost not one, not two, but THREE Finals in which you were the best player on a favored team heading into the series: 2004 (versus Detroit), 2008 (versus Boston) and 2009 (versus Orlando). You played poorly by your standards in 2004 (23-4-3, 38 percent FG, 17 percent 3-point FG) and 2009 (26-5-5, 40.5 percent FG, 32 percent 3-point FG, 4.7 TOs); in deciding games those years, your team lost by 13 points and 39 points. If history repeats itself in 2009, you won't be able to recover historically. You'll be the guy who needed to ride Shaq's coattails to win a title, and that's that.
Honestly, this is one of the reasons I love basketball so much. Kevin Garnett's career was altered by the 2008 Finals in a good way. Karl Malone's career was altered in the 1997 and 1998 Finals in a bad way. Walt Frazier's career was altered in the 1970 Finals in a good way. Clyde Drexler's career was altered by the 1992 Finals in a bad way. You can come up with 25 superstars like that. A "fork in the road" moment, if you will. For Kobe, we're here. Officially.
Q: So who are you picking??? Come on! Make a pick! Who are you taking?
-- D. Howard, Orlando
SG: You tell me, Dwight. How bad do you want this?
Q: I want it. I really, really want it. I don't want to be the big happy guy everyone knows from the Slam Dunk Contest and the Superman gimmick. I don't want to be the guy everyone knows for his Mr. Universe physique, the shaky free-throw shooting and the sarcastic "I can't believe you just called that" smile. I don't want to be the guy Kendrick Perkins defended without help in Round 2. I don't want to be the guy you called "the worst great player ever" a few weeks ago. I want to become the NBA's next big superstar. I want to be the next Shaq. I want to be the guy who commands a double-team at all times. I want to be the guy who slaps up a 26-16 in the Finals, protects the rim and can't be stopped. I can be that guy. Bynum and Gasol aren't tough enough to handle me. I can be that guy. Let me be that guy.
-- D. Howard, Orlando
SG: Hmmmmmmmm. I just don't think you're ready yet. Your team has just enough "happy to be there" potential that it makes me nervous. And how can you guys keep shooting 3s like that? I'm going with the Lakers in six. Kobe is due. He is. You have plenty of time.
Q: You realize you're betting against God AND the "Nobody Believed In Us" Factor, right?
-- D. Howard, Orlando
SG: Crap.
Bill Simmons is a columnist for Page 2 and ESPN The Magazine. For every Simmons column, as well as podcasts, videos, favorite links and more, check out the revamped Sports Guy's World.

The Sports Guy
Bill Simmons (
@BillSimmons
) is the editor-in-chief of Grantland and the author of the
New York Times
no. 1 best-seller
The Book of Basketball
. For every Simmons column and podcast,
log on to Grantland
. To send him an e-mail, click
here
.
NBA Playoffs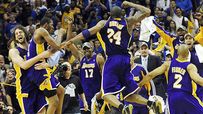 TODAY'S BEST
MORE ON THE PLAYOFFS