Commentary
Take a retro look at Game 2
At halftime of Game 2 of the 2009 NBA Finals on Sunday night, I wrote the following Tweet: "Look out 2007 Finals -- your 'most unwatchable NBA Finals ever' title is officially in jeopardy!"
Little did I know things would pick up in a memorable fourth quarter and overtime. Did we reach ESPN Classic status? Sounds like the perfect time to scour the tape and write a retro-diary. But before we begin, I just want you to know one thing: Kobe Bryant really wants it. He's like a coach out there. He hasn't smiled in two weeks. He has that killer look. He is all business. He really, really, really wants it.
(Sorry, I am contractually obligated to mention that every three minutes during this column as part of Disney's deal with the NBA. Wait, that's not part of the deal? My colleagues are just saying these things of their own volition? Wow. This is awkward. Um ... so ... hey, how 'bout this Finals!)
Let's join the broadcast of Game 2 with Orlando leading the Lakers 65-63 entering the fourth at the House That Jack Built.
12:00: Things we learned from Phil Jackson's interview with Doris Burke between the third and fourth quarters: (1) It's harder to double Dwight Howard if his teammates are making 3-pointers; (2) the key to a good offense is moving the ball; and (3) he thinks the WNBA should change its marketing campaign from "Expect Great" to "Expect Insolvency." OK, I made the last one up.
11:41: Rashard Lewis is playing so out of his mind right now (8-for-13 FGs, 18 points in the second quarter) that the Lakers just triple-teamed him, leading to an easy Jameer Nelson drive and a foul on Greg Oden (wearing an Andrew Bynum costume in the Finals). By the way, was there anything more predictable than Stan Van Gundy playing Jameer too much in Games 1 and 2 and Rafer Alston immediately falling apart like the girl in "Drag Me To Hell"?
11:41: Nelson bricks both freebies, followed by a great "What the eff was that?" face from Hedo Turkoglu. Hedo might have the best "What the eff was that?" face in sports right now. And really, that's the only time you will ever see the words "best" and "face" in the same sentence as "Hedo."
11:30: Swooping drive from Lamar Odom for a layup, followed by his failing to connect with Bynum on an alley-oop on the next play because of the little-known secret that Bynum has only an 8-inch vertical leap. That reminds me: If you ever want to fluster a Lakers fan, make fun of Bynum's $64 million extension signed in November and ask them if they wish they had a mulligan on that one. You will hear more stammering than you heard for two hours in "Sling Blade."
10:11: Pretty pick-and-roll with Martin Gortat and Hedo -- both Bynum and Luke Walton went with Hedo, Gortat rolled, Hedo swung it to Lewis, Lewis quick-passed to Gortat for the hoop. Good basketball. I'm fired up. By the way, can we talk about Lewis' completely awesome extended goatee? I think it has grown three inches since the playoffs started; now it's entering the Pantheon of Cool Extended Goatees along with these two legends, both of whom were captured at their Extended Goatee heights by Topps cameras: Julius Erving and Pete Maravich.
9:49: Six straight points for Lamar Odom. I'm not sure if the Lakers are the best team of 2008-09, but when Odom shows up, they are. If that makes sense. Now we just need to figure out the right candy-related nickname for him. I vote for Gummy Bear. Let's try it out for the rest of the diary just for the hell of it.
9:23: Kobe draws a touch foul on Mickael Pietrus, gets the call and makes that creepy, super-intense underbite face that nobody ever remembers seeing until about three weeks ago. We don't know where it came from; we don't know how many different faces he practiced in the mirror before settling on this one; we don't know if he pays royalties to Bruce Springsteen. We just know that he really wants this. He really, really wants this.
9:23: As Kobe makes the free throws, Mike Breen tells us Kobe wants this really badly, he's like a coach out there, and he has been deadly serious lately. Got it. I keep forgetting.
8:59: With the Lakers up three, Kobe dribbles to the free-throw line, draws two guys, bails from a jumper at the last second because it might get blocked and passes to Shannon Brown in the corner, only Brown had already started running to the basket for the rebound, leading to the ball bouncing out of bounds ... and of course, Kobe lays into Brown as we head into a TV timeout. "Don't point the finger, Kobe," Jeff Van Gundy says. "That one's on you, buddy."
(But Jeff, Kobe really, really wants this! And he's like a coach out there! YOU DON'T UNDERSTAND!!!!! By the way, I'm going with "SVG" for Stan and "JVG" for Jeff from this point forward. Please make that note in your scorecards.)
8:59: OK, is anyone else secretly excited for "The Superstars" just to see if Robert Horry's clutch powers can be replicated on reality TV? (Waiting.) Nobody? Nobody's excited about this? It's just me?
8:48: Fifth foul on Bynum, followed by JVG saying, "I'm not sure that's a good thing for Orlando." Sixty-four million, everybody! (Could I be a more bitter Celtics fan who can't stop thinking about how a healthy Celtics team should have gone back to back? No. I couldn't. It has ruined my summer. I am "Mel Gibson's wife after finding out that Mel knocked up his new Russian girlfriend"-level bitter.)
8:11: J.J. Redick (0-for-5 in the first half) just passed up two open 3s before dishing to Lewis for a jumper. Lakers by one. I'm convinced SVG is only playing Redick in fourth quarters to make Adam Morrison feel worse. That's the only explanation.
6:47: Turkoglu makes an ugly runner. Lakers by one. I should mention Orlando is playing without a point guard and Hedo is handling the ball (and getting hounded upcourt). Do you think SVG is doing as many crazy things as possible to see if he can provoke JVG into criticizing him on the air? I feel like he is.
6:28: Kobe steps out of bounds on a high screen followed by JVG calling it "the best turnover I've ever seen." I give up. By the way, every pick by Pau Gasol and Dwight Howard tonight is sponsored by Mayflower Movers.
6:13: Lewis nails a 3, Orlando up by two, timeout, L.A.. That's 27 for Lewis! "The NBA ... where finding new and improved ways to make Seattle fans hate themselves happens."
6:13: From the East Coast to the West Coast ... This is Ourrrrrrrr country. Did Chevy sign a seven-year deal with Mellencamp to annoy America or something? That thing is longer than Erick Dampier's deal.
6:13: I thoroughly enjoy the "Build a better community" charity spots with Balthazar Getty. Any time you can get a former child actor who openly battled drugs and just recently had a much-publicized affair with Sienna Miller even though he has a wife and four kids to ask me to help him "build a better community," I'm there!
5:20: Kobe turnover, Orlando turnover, Kobe airball, defensive breakdown, Fisher layup, then Gummy Bear clearly fouling Lewis (Odom's fifth) and going through the "I didn't foul him!" charade even as we're watching slow-mo replays that prove, yes, you fouled him. Here's my question: Are NBA players in denial when they commit fouls, or did they make a secret pact to complain after every foul and anyone who doesn't will be made an outcast by the other players? I know the refs are bad, but holy crap -- when's the last non-Brian Scalabrine time you saw someone commit a foul in an NBA game and then admit that he did it?
5:05: "It's amazing how many times NBA players complain and are dead-wrong," JVG says. I was just saying that! Lewis makes both. Orlando by two.
4:47: Lewis misses a dagger 3-pointer followed by a super-dubious loose ball foul on Howard that even JVG openly questions. I'm writing all of these down from now on. Our Super-Dubious Foul Crunch-Time Scoreboard: Orlando 1, L.A. 0.
4:31: Beautiful fallaway over Howard by Gasol, or as Mark Jackson calls him "Ga-Sale." You know Gasol is great when even a professional Laker hater like myself admits that, yes, Pau Gasol is great.
4:13: Bailout call for Howard on an ugly low-post move, followed by one of my favorite faces: The Pau Gasol Frozen "No Me Lo Creo El Official" Face ... which is actually the same face Keanu Reeves makes in "Speed" when he's coming out of the coffee shop and sees the bus blow up. Our SDFCT Scoreboard: Orlando 1, L.A. 1.
4:13: Howard makes both. Orlando by two. More importantly, we just had a great replay of Jack Nicholson going bonkers about that last call. Jack hasn't been that upset since Wendy Torrance locked him in the Overlook Hotel's meat refrigerator.
3:34: Missed Fisher 3-pointer, awful Howard pass (stolen by L.A.), total bailout call for Kobe after he had no place to go and threw up an off-balance jumper that Howard stuffed (foul on Pietrus even though he never touched Kobe). Egregious. I feel sick. Our SDFCT Scoreboard: Orlando 2, L.A. 1. Kobe makes one of two. Bailout calls for NBA superstars are equivalent with fathers' getting the biggest chicken leg at dinner. They really are.
3:16: You know, I would have been fine with the offensive push-off foul on Hedo that just happened if Trevor Ariza hadn't been clubbing him all the way up and down the court. You can't "let 'em play" and then call touch fouls and slight push offs. You just can't. Our SDFCT Scoreboard: Orlando 3, L.A. 1.
3:08: Pietrus fouls out for an alleged touch foul on Kobe's jumper that was so awful, they decided against showing a replay. Classic. Hey, good news: I got Subway to sponsor our SDFCT Scoreboard! Orlando 3, L.A. 1.
(Add this to Kobe's résumé: Regardless of the nature of those last two calls, he completely and totally psyched out Pietrus, a guy who was red-hot coming off the Boston and Cleveland series. Pietrus in Game 2: 23 minutes, one field goal, six fouls, 19 deer-in-the-headlight looks. Kobe absolutely gets credit for that.)
2:42: Gasol strips Howard on a one-on-one post play (great D) followed by a timeout. I like what the Lakers are doing here defensively: They're delay-doubling Howard, quick-doubling him, single-teaming him ... basically, he never knows what to expect and can't get into a rhythm. If Mike Brown hadn't been in a coma for the Eastern Conference finals, Cleveland might have tried this strategy.
2:42: I wish I could buy stock in things like, "A 'Wipeout' contestant will sue the producers of the show for $100 million after getting seriously injured."
2:40: Hedo gets whistled for innocently standing next to Kobe after Kobe falls down unprovoked while catching an entry pass, then writhes around on the floor like a soccer player to sell the call. (He really wants this. He's all business. He hasn't smiled in two weeks.) Let's go to our Subway Fresh Take Super-Dubious Foul Crunch-Time Scoreboard: Orlando 4, L.A. 1. Also, my right eye is bleeding. Lakers by three.
2:20: I was going to make a big deal about SVG's asking Turkoglu to guard Bryant, bring the ball upcourt, run the offense and take big shots because he wants to keep playing a rattled J.J. Redick in crunch time ... but Redick just nailed a corner 3 for his first points tonight. Tie game. Give me Morrison's reaction on the Lakers' bench! Give it to me! (Waiting.) DAMN IT!!!!!
1:53: Kobe misses a runner, Lewis grabs the rebound and gets bumped from behind by Odom so hard that he takes three steps. No call. It's official, Orlando: You're getting calls only if the officials have no other choice. Our SFTSDFCT Scoreboard: Orlando 5, L.A. 1.
1:10: Incredible banker in traffic by Lewis (31 points), followed by an equally pretty banker by Kobe. Tie game. You know things are heating up because the Lakers fans are standing. They don't stand unless it's the last two minutes of a big playoff game, or the Staples Center is on fire.
0:47: Ariza is now being allowed to slash a dribbling Turkoglu with both hands like he's Bobby Clarke taking out Russians in the 1972 Summit Series. Inexplicable. That doesn't stop Hedo from making his patented "How can you guys forget that this is what I do in the last minute?" stepback 3-pointer ... no, foot on the line! Magic by two, timeout L.A., high fives by the Orlando bench. We should mention that Ty Lue (inactive) is dressed like an eighth-grade prep schooler on photo day. Fantastic. We need more shots of him.
0:33: Lakers nail the "2-for-1" situation with a Gasol layup off a deflected Fisher pass -- poor Orlando didn't get a single lucky bounce down the stretch -- a situation Cleveland somehow botched twice in the East finals. Cleveland fans, if you do anything this summer, please explain to Mike Brown the wisdom of the "2-for-1." Just do it for me. I beg you.
0:09: After Ariza clubbed Hedo at midcourt (no call), Courtney Lee gets nailed by Gummy Bear on a desperation drive near the end of the shot clock (no call). I'm counting those as two for our SFTSDFCT Scoreboard (Orlando 7, L.A. 1) even if the refs have apparently entered "We Have Put The Whistles Away" mode.
(Note: I always thought that could have been a fun dating euphemism. As in, "Did I tell you about last night? I brought her back to my place and the refs put their whistles away.")
0:01: Fascinating last play -- Orlando defends Kobe with its slowest defender (Turkoglu), gambling that his length will bother Kobe's jumpshot, and if Kobe drives, Hedo's teammates will jump in to help and Kobe will shoot, anyway. So what happens? Kobe beats Hedo off the dribble, Redick, Lewis and Howard all collapse on Kobe, Kobe ignores Odom (wide-open, left corner), Ariza (wide-open, top of key) and Fisher (wide-open, right corner) and shoots with two seconds left, anyway ... and Hedo blocks him from behind. Sorry, that's just a terrible offensive play. I would hope even the Lakers fans would admit that.
Important note: Kobe's reputation as a "killer" at the end of games remains overblown. The site www.82games.com just posted a study of game-winning shots from the last five-plus seasons (regular seasons and playoffs since the 2003-04 season) that revealed Kobe was shooting 14-for-56 (25 percent) with one assist and five turnovers, and made 12 of 15 free throws. So let's say that was 70 possessions total, including Sunday night. ... He only had one assist in nearly six years??? That's why Orlando quadruple-teamed him in that spot. Kobe is a phenomenal streak shooter, and he has a real talent for catching fire with a lead and closing games out ... but you can stop him in one-shot situations simply because he's his own worst enemy. He wants to be a hero, he's shooting it, and that's that.
0:00.6: Funniest moment of the game: Kobe storms back to the bench, whacks the chair in disgust and sits down as Phil Jackson (already sitting) looks at him with a bemused, "Should I point out to him that MJ absolutely would have passed there?" smile on his face. Classic.
My biggest issue with this Lakers team: Normally when teams get over the hump and win the title, everyone pitches in and there's a selflessness that manifests itself as the playoffs go along. For instance, Jordan's Bulls never totally came together until Jackson screamed at MJ to start finding a wide-open John Paxson in Game 5 of the 1991 Finals; from that point on, MJ dropped the Hero Complex and started trusting his teammates. What's weird is that Kobe isn't 100 percent there yet, but the Lakers are going to win the title, anyway. It has never happened in NBA Finals history before. At least as far as I can tell.
0:00: Three thoughts on Courtney Lee's now-infamous missed layup ...
1. Definitely an iconic Finals moment, although it's not on the level of Frank Selvy's title-winning miss ('62), Nick Anderson's four missed free throws ('95) or Rasheed Wallace's leaving Big Shot Rob open in a crucial Game 5 ('05). We will remember Lee's miss for swinging the Finals and the "What if?" potential. But anyone who says that was an easy layup has obviously never played basketball. Ever.
Do me a favor: Go to a playground with a buddy, bring a 7-foot guy with you, stand at midcourt, then sprint toward the basket, have a buddy throw a lob pass that you'll catch as you're passing under the backboard, then have the 7-foot guy jump at you and grab the rim for good measure. Try this 100 times and see how many you make. Put it this way: If Lee made that shot, it's one of the great plays in the history of the Finals. So you can't give him a crap. You just can't. That would have been an AMAZING (that's right, I went all caps) pass/shot and ranked right up there with Ralph Sampson's series-winner in the '86 Western finals on the "I can't believe they drew that up and then pulled it off" scale.
2. Orlando ran such a sneaky back screen that Kobe fouled Lee twice -- once as he started making his cut (a bump), then a second time when he grabbed Lee's arm as Lee ran by Howard's screen to unsuccessfully slow him down (no call) -- but you can't call those fouls in that spot. I'm fine with that. I'm also fine with the no-call on Gasol grabbing the rim because Lee's layup wouldn't have gone in, regardless. Still, if we're going to have instant replay, then moments like that should be reviewed -- whether we give coaches two challenges per game, hire a courtside umpire to step in to right injustices, or whatever. Let someone look at this and say, "Yes, Gasol touched the rim, but the shot wasn't going in." Isn't the point of instant replay to correct missed calls? What if the shot had a chance to go in and didn't partially because of the vibrating rim? What then? We aren't protected for this scenario, and it's stupid.
5:00 remaining (OT): Howard gets stripped down low to start OT and officially has a "Crap, that move worked when Ben Wallace and that giant ugly Lithuanian dude were guarding me" look on his face. Not a strong Finals for Superman.
3:56: Ariza fouls Hedo two different times and finally just knocks him down. Lakers' ball. SFTSDFCT Scoreboard: Orlando 8, L.A. 1.) That's followed by a pretty drive-and-dish by Fisher to Gasol (two free throws) as JVG makes a great point: Fisher is driving to pass, but Howard keeps thinking Fisher is driving to shoot. For all of Howard's prodigious skills, I wouldn't put "high basketball IQ" up there. At least not yet.
3:19: Turkoglu fights off another bum rush by Ariza and feeds Howard for a three-point play and a gravelly "It's good!" call from Mike Breen. These are Orlando's first free throw in more than six solid minutes of game action. No, really. Orlando 91, L.A. 90.
2:42: Orlando gets a nice defensive stop, gets the right offensive look (a double-team on Lewis setting up a wide-open Redick at the top of the key) ... and Redick bricks the 3. Will we ever figure out why Redick (a DNP for five of the six Cleveland games) played 27 minutes in Game 2 and Courtney Lee (a key factor in the Cleveland series) played 12? Probably not.
2:17: Monster pull-up J in traffic by Kobe over Turkoglu. Really nice. I remember watching this live and thinking, "Five point swing, no way the Magic recover." And they didn't.
1:53: Redick botches an easy high screen with Howard by throwing the pass to Fisher, who careens down the court completely out of control and throws himself into Turkoglu for a call. (SFTSDFCT Scoreboard: Orlando 9, L.A. 1.) The NBA ... where rewarding players for out-of-control drives that have no chance of scoring happens. "Smart play from the veteran [Fisher]," Breen tells us. The sad thing is, he's right.
1:14: Hedo's patented pull-up hits every part of the rim before falling out. The Magic can't buy a break. And here's where Kobe kills you: Up three, crowd going crazy, 90 seconds to go ... really, there's nobody better in the league in this spot. He barrels down the line, draws Howard over and feeds Gasol for a pretty three-point play. Well done. Now THAT is trusting your teammates. Best play of the game. Even if Kobe and Gasol botched their 790th straight celebration afterward.
1:14: Before I forget: Rafer Alston played 51 minutes in the first two Finals games, shot 3-for-17 and missed all eight 3s. Will we ever figure out why SVG messed with the chemistry of an eight-man Orlando unit that was CLEARLY peaking after the Cleveland series? I don't care if Jameer Nelson is better ... you can't risk it. Give him Anthony Johnson's 10 minutes a game, and that's it. Rafer Alston is more fragile than the token model on "Survivor" every season. You can't yank his playing time around. How did SVG not know this?
1:10: Just for comedy's sake, Ariza finally gets called for a non-shooting foul on Turkoglu. I enjoyed that.
0:28: Redick's layup cuts it to four, followed by Hedo stripping Kobe on a drive. Last chance for the Magic ... and Lewis juuuuuuuuuuuuuust misses a 3, followed by a push-off call on Howard and SVG sarcastically smiling like Paul Bearer after an Undertaker tombstone. That was fun. Gasol hits both free throws. L.A. by six.
0:26: Lewis makes a crazy 3-pointer. L.A. by three. Lewis' line: 34 points, 11 rebounds and seven assists. The entire city of Seattle will now try to light itself on fire ... and fail, because it's raining.
0:22: L.A. inbounds to Fisher, who takes ... one, two, three, four, five ... FIVE steps before passing to Odom (who gets fouled). Five steps! Five! And that will wrap up our SFTSDFCT Scoreboard with Orlando beating L.A.: 10 dubious calls to one. Great. Please, for the love of God, someone put that Fisher travel online. You'll especially like the part when referee Tom Washington is standing 5 feet away and ignores it.
0:22: Gummy Bear drains both freebies to ice the game. Fitting since he was L.A.'s most efficient player in Game 2: 18 points, nine rebounds, one field-goal miss and some inspired defense. He's the MVP tonight.
The final score: 101-96.
My final take: If you're a Magic fan, that game will haunt you for a long, long time. It's the distant cousin to the Nick Anderson game -- you could have won, you should have won, you didn't win. Just don't blame Courtney Lee. Blame that missed Redick 3. Blame the refs. Blame your coach for screwing up something that was clearly working. Blame Dwight Howard for refusing to go into "I am the best young center in basketball AND I AM TAKING OVER THIS GAME!!!!" mode for two solid Finals games. Blame a few unlucky bounces. But, please, don't blame Courtney Lee.
One last thought: Congrats to the 2007 Finals for retaining the title as "The Worst Finals of the Shot-Clock Era."
Bill Simmons is a columnist for Page 2 and ESPN The Magazine. For every Simmons column, as well as podcasts, videos, favorite links and more, check out the revamped Sports Guy's World.

NBA Playoffs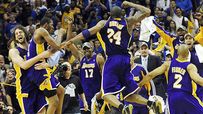 TODAY'S BEST
MORE ON THE PLAYOFFS