Commentary
Let's celebrate 'The Summer of Mailbag'
I'm declaring this "The Summer of Mailbag." I think I have about eight in me. Maybe nine. Maybe 10. Maybe 20. Maybe one. Who knows? You can't predict these things. As always, these are actual e-mails from actual readers.
Q: (Sent July 10.) Do you realize there were kids born since June 26 who think Bill Simmons is ONLY a podcaster?
-- Burney, Japan
Sports Guy: Not anymore!
Q: Michael Jackson was declared dead about an hour ago. I was walking through the streets of Somerville. Within five minutes of the announcement that he was dead, I had three texts, two phone calls and one car with two typical Somerville townies in a 1990 Grand Am had pulled up, rolled down the window, screamed "Dude! Dude! Michael Jackson is dead!" and sped off. As I was describing that surreal moment to my friend on the phone, four people were sitting on their porch (on the second floor and across the street) and overheard my conversation. One of them, a woman in her 40s immediately yelled, "Hey did you say Michael Jackson died?" She then immediately ran inside. I just checked Facebook and even though I don't have that many friends, the first page of my Facebook feed is entirely devoted to Michael. My question to you, Sports Guy, is this: What other people who haven't produced anything culturally relevant in 10 years could produce this effect?
-- Mike A., Somerville, Mass.
SG: Nobody. Just Michael. I can't get over how these past two weeks improbably rejuvenated his career. I always thought the guy would die and everyone would say, "What a shame that such a terrific artist turned into such a freak show." Instead, almost everyone said, "So what if he became a freak show. I forgot what a great musician he was!" He had been spending the past few months planning a massive comeback, when dying was the best possible comeback. And if you think about it, it's the only way he could have come back, because he had torched his career in so many ways.
Death isn't necessarily a bad career move for artists, as Kurt Cobain, Elvis Presley, Heath Ledger, Jim Morrison, River Phoenix and Jeff Buckley all proved over the years. But for Jackson, it was the ultimate career move. For the first time in four presidential terms, the world celebrated his music again. Young people said, "Wow, he was really good!" Everyone else said, "Wow, I forgot how good he was!" And the vast majority of Americans gave him a two-decade mulligan on every weird (and potentially criminal) thing he had done. I almost wonder whether, had he known what would happen, he would have done it sooner. Which leads me to our next e-mail. …
Q: If Michael Jackson's memorial had ended with him jumping out of the casket and performing "Thriller," would that have been the best moment in television history? I think so.
-- Rick, New York
SG: Yes! One hundred times over, yes! I will go one step further: Once I found out his body would be at the ceremony, part of me was sitting there for two hours thinking, "He's gonna jump out of the casket. He's gonna jump out of the casket." Can you name another celebrity in our lifetimes who would provoke this reaction? We are talking about a scenario in which A DEAD GUY WOULD HAVE JUMPED OUT OF A CASKET AND STARTED SINGING, and I wouldn't have been totally surprised by this. Hell, I was a little disappointed when the ceremony ended. Crap. I guess he's really dead.
(Ladies and gentlemen, the Michael Jackson era! We will never see anything quite like it again. And maybe that's for the best.)
[+] Enlarge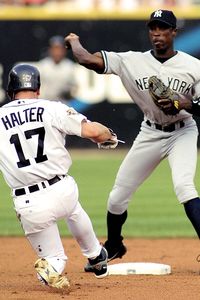 AP Photo/Duane BurlesonOops, this is Shane Halter, not a picture of girls in halter tops.
Q: Dear Mr. Simmons,
I'm writing to notify you that Saturday, April 25, 2009, was "Halter Top Day" in Boston! I thought you should know what you're missing!
From Halter Top Day Participant 2009!
-- Kerry, Boston
SG: I know, I know, that e-mail is nearly three months old. It has been that long since the last mega-mailbag. (FYI: That's why I have to run a few leftover NBA and NHL questions in this one. They had been sitting in the mailbag fridge like a carton of milk that expired 10 days ago.) But I have to post this one for the following reason: I enjoyed Kerry proudly proclaiming that she was a participant in Halter Top Day '09 as if she had run the Boston Marathon or something. Now I'm thinking this has marketing potential. At the end of Halter Top Day, shouldn't all the participants get free halter tops with corporate sponsor logos on them? Then we could have conversations in 2015 like this:
Girl No. 1: "I see you did Halter Top Day in Boston. I did mine in Chicago!"
Girl No. 2: "Really! I always wanted to do Chicago!"
Q: Let's imagine for a second that you go to hell and are going to be forced to watch every game a sports team ever played and will play for the rest of eternity. Except, your memory will be wiped so you don't know the results (to maximize the agony) and you will become a die-hard fan of that team with no memory of other fan association (to ensure you don't get free Red Sox tickets forever). Which team in each of the four major sports will Satan be bestowing on you?
-- Marty, Flint, Mich.
SG: Cubs, Bills, Clippers, Maple Leafs. I didn't have to think for even six seconds about it. In fact, I think this is part of hell -- you have to adopt these four teams and watch their games as you listen to a looped recording of Bill Russell's laugh mixed in with Yoko Ono music and no-longer-timely sideline reports from Tony Siragusa. Welcome to hell.
Q: Why didn't ABC show more of the Lakers postgame celebration? I wanted to see if Pau Gasol would flop when someone sprayed him with champagne.
-- Kenny, Boulder, Colo.
SG: Come on, stop trying to make me sound like Mr. Sour Grapes a full three weeks after the NBA Finals. That's not fair.
Q: During the NBA Finals, what would you have paid to see one of Kobe's teammates approach him during a timeout after he missed a free throw, then go over with him how he should have shot it and how he should have had a better follow-through?
-- Josh A., Statesboro, Ga.
SG: I mean it. Just stop. Let the Lakers' fans enjoy their title.
Q: I hope you've caught "Dexter" on Showtime, because now that I think about it, Kobe IS Dexter. Cold-blooded killer. Appears to look "normal" to outsiders. Calculated and methodical. Signature moves. Cultivates a specific public image. Thoughts?
-- Joey Gonzales, L.A.
SG: This just isn't fair. I hate seeing a fairly won Lakers championship get treated like this. It's absolutely uncalled for. OK, one more.
[+] Enlarge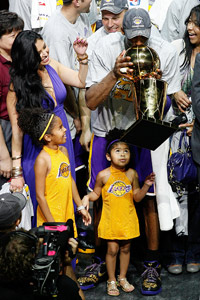 Chris Graythen/Getty ImagesIf wives are going to be allowed in the locker room, at least make them wear champagne goggles.
Q: How suffocating was Kobe's wife during L.A.'s locker room celebration? Didn't you half-expect to see her with champagne goggles on? There's a certain distance wives need to provide when a man wins a championship, no?
-- Bill Ryan, Cherry Hill, N.J.
SG: Look, that's one of many reasons the NBA title celebration is the single worst in sports. We don't want to watch "The Family Man" with Nic Cage. We want to see guys letting loose! Here's how I would fix it:
1. We need a better trophy -- the Larry O'Brien trophy is just as clunky and ineffective as O'Brien was as commissioner. Maybe that's why they named it after him. It's horrendous. It looks like they cryogenically froze Verne Troyer and covered him in gold. What's wrong with just ripping off the Stanley Cup, only making the bottom a half-basketball? Lord Stanley's Cup is genius. You can kiss it, you can drink from it, you can hoist it over your head … there's just no downside. If you're telling me that it fits in better with hockey because NHL players drink beer and NBA players smoke pot, then fine, let's make a Stanley Cup that looks like a bong. We can call it the Stanley Bong. But let's do something.
2. Keep the families off the court. They don't let family members on the field/floor/ice in any other sport -- not even in golf, and golf isn't even a real sport. We're not here to watch you film a Hallmark commercial. We're here to watch NBA players celebrate a title and pour champagne on each other. Actually …
3. Let the team run into the locker room right after it wins. Why not? Think how many problems we would solve: no more families, no PC celebration, more organic celebrations and, best of all, the chance of someone pouring champagne on David Stern or Doris Burke comes back into play. I'm convinced Stern changed this not so the league wouldn't look like it was advocating drinking -- and really, how stupid is that? -- but because it takes Stern an hour to get his hair exactly how he likes it and he doesn't want to mess it up.
4. Since Stern will squash Idea No. 3, what if we had the winning team cut down the nets? This is my friend Dave Dameshek's idea, and I'm on board. Works in college, should work in the pros.
5. Joey Buss should accept the trophy every year, no matter who wins. That reminds me …
Q: "This one means a lot. The fans stuck with us, through thick and thin. This is the 15th ... one that we have as a family. We have two more to go to meet Boston Celtics! And, I just want to reiterate THAT NONE OF THIS WOULD HAVE BEEN POSSIBLE WITHOUT THE FF -- LOS ANGELES LAKERS FANS HERE TONIGHT AND BACK IN LOS ANGELES!!! IT'S TIME TO BRING THIS TROPHY BACK TO LOS ANGELES AND HANG UP ANOTHER BANNER!!!!!!"
-- Eric and Ben, New York
SG: It took not one but two people to transcribe Joey's acceptance speech!
Q: How 'bout Stan Van Gundy being unable to withstand the late charge from Joey Buss for the worst Finals performance of '09? What an upset!
-- Dan S., Boston
SG: That's why they play the games, Dan. That's why they play the games.
Q: Who would you have drafted with Minnesota's two top-six picks? What would you have done? I don't like the fact that we have seven point guards either, but we had to take Rubio even if he stays in Spain.
-- J.T., Minnesota
SG: I would have drafted Ricky Rubio at No. 5 and Stephen Curry at No. 6. Then I would have sent Rubio 10 hours of Curry tapes and told him, "Look, we're pairing you with an undersized guard with 28-foot range who could get off a 3-pointer if he were trapped in a phone booth. He's electric. You will love him. You also get to play with Al Jefferson, who's one of the best low-post players alive when healthy. And you get to play with Kevin Love, a top-10 rebounder who shoots 3s and throws outlets like Wes Unseld. It's going to be a really, really, really fun team right away. We might get killed by scoring 2-guards with size, but so be it. We'll figure that part out later. In the meantime, we want to give you the car keys and make you a star. This is your team starting today. If you want us to sign Spanish dudes as our 11th and 12th men so you have people to hang out with, we'll do that, too. We just want to make you happy. Come play with us."
Here's what I wouldn't have done: taken a second point guard (Jonny Flynn) at No. 6, then vowed to play them together. That pick was transparent -- Flynn clearly was a "here's our backup plan if we don't sign Rubio" selection. Rubio saw right through it. Now he's probably going back to Spain, and by the time he joins the NBA, David Kahn will be gone. Here's to four years of a hot-poop sundae, Wolves fans! Enjoy. Would you like whipped cream on that? How 'bout a cherry?
Q: Your challenge is to produce a 30-second video for YouTube that will generate 500,000 views in its first two weeks. What's your plan?
-- Steve, Corning, N.Y.
SG: Convince Ron Artest to write and sing a completely insane rap tribute for the late Michael Jackson called "Michael Michael." Can't miss.
(What? It already happened? Crap!!! )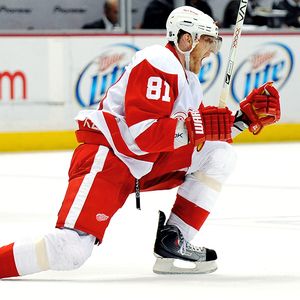 Harry How/Getty ImagesCongratulations, Blackhawks fans, with Marian Hossa now on the team, you are guaranteed to lose the 2010 Stanley Cup finals.
Q: Now that the Stanley Cup finals are over, can you think of other examples in which someone publicly "Pulled a Hossa" and left a great situation for something seemingly better, only to have it all come crashing down?
-- Chris R., East Lyme, Conn.
SG: That's interesting because it's a slightly different phenomenon from the "What Were You Thinking?" SNL sketch-type scenario in which Shelley Long, David Caruso, Radar from "M.A.S.H." or whoever else left a guaranteed paycheck and we knew it was stupid at the time. The best Marian Hossa comparison hasn't even played out yet: Jay Leno's passing up an easy chance to destroy everyone as ABC's 11:30 p.m. guy so he could remain with NBC and roll the dice with that hopeless 10 p.m. time slot. With Hossa, the logical move was to stay put in Pittsburgh (in Leno's case, at 11:30, only with ABC). With Hossa, he was taking a serious injury risk in signing a one-year deal (or in Leno's case, failing and killing his 11:30 marketability). With Hossa, the upside was a Stanley Cup (or in Leno's case, hitting a home run at 10).
The only difference: Hossa lost the Cup to his old team, whereas we won't know the Leno results until this fall. I don't think Letterman in his 1984-85 prime could have pulled off five hours a week and come up with a show that (A) peaked in the final 15 minutes and (B) had to fight for guests with another West Coast show on the same network coming on 90 minutes later. Leno's old "team" ("The Tonight Show") will be one of the reasons his new show fails (because Leno's show and "The Tonight Show" both are based in the L.A. area and will fight for guests), and if it doesn't work out, we'll talk about how dumb he was for not just remaining at 11:30 and for overthinking the whole thing. Kind of like Hossa.
Q: After watching No. 1 seeds roll to an all-time 100-0 record vs. 16 seeds in March Madness, I posed the following question to my buddies: Would you bet your life on a No. 1 seed against a 16 for a million dollars? Meaning if the No. 1 seed wins, you win a million bucks. If the 16 seed wins, I shoot you immediately at the final buzzer. I think I would do it, but couldn't watch. I would start to cry once a Robert Morris takes the 2-0 lead.
-- Aaron, Hoboken, N.J.
SG: That's an awesome idea for a show: "Bet Your Life … No, Really!" The contestant would bet against things like, "Will a No. 16 seed get to Round 2?" or "Will Roger Federer lose this Round 1 match at Wimbledon?" for a million bucks, and then we'd tape him watching the game and splice it into a 30-minute show. I'm adding it to my master plan for when they give me ESPN8. By the way, here's another good bet: Can Simmons make it through an entire mailbag without referencing "Karate Kid"?
Q: Don't we, as a society, need to make more fun of Peter Cetera?
-- Eric L., Grand Rapids, Mich.
SG: You're right. He was really the John Tesh of the '80s, just a reservoir of unintentional comedy. I mean, have you watched the "Glory of Love" video lately? Even the Logo channel would refuse to air it -- they'd say, "No, we can't, that's too gay." I'm convinced that one song caused Daniel-San and Miyagi to finally consummate their relationship. They just couldn't help themselves.
(Ding ding ding! And another "Bet Your Life … No, Really!" contestant has won a million dollars!!!!)
Q: If you're an NBA GM, is Chris Wallace your Amazon Gold Box Deal? Pretty much any time of the day, you can go find something 25 percent cheaper than retail, and then every so often it's like … WHAT!? A new Weber grill for $100!!? I need to get this!
-- Dan Groff, Lancaster, Pa.
[+] Enlarge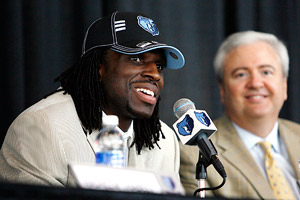 Joe Murphy/NBAE/Getty ImagesYes, it's Grizzlies GM Chris Wallace with a blank, confused look as he tries to remember DeMarre Carroll's name.
SG: In fairness to Wallace, I thought he did a nice job of resisting dumb offers that wanted him to give away that No. 2 pick; instead, he just screwed up the pick and took the wrong guy. I think that's progress -- he's only screwing up his own team instead of affecting the manifest destiny of the entire league. I am proud of him. But if you were giving him a nickname, wouldn't it be "The Money Launderer"? Has any GM been a peripheral third or fourth party that facilitated cap-unfriendly trades more times than Chris Wallace? I always picture other GMs calling him and asking, "Hey Chris, would you like to help out three teams you're competing against for no real reason at all? (Listening.) You'd love to help? That's fantastic! Thank you!"
Q: I liked the idea a few mailbags back from the reader who named his Fantasy team "Bill Simmons" so the league could read funny remarks and disses "posted by Bill Simmons." I am 37 and recently got my fourth golden puppy. I like human names for dogs (Allen, Walter, etc.) that give them a human element when I discuss them or talk to them. Well, you guessed it, our newest family member is Bill Simmons! The humorous benefits are fantastic. I get texts from my wife such as "Bill Simmons won't stop humping people when they come over" and "Bill Simmons keeps dragging trash around." But my favorite was today … "Bill Simmons took a huge turd in the living room, proceeded to eat half and roll around in the other half!" Good work, man. I will provide you updates on your progress as the years go by.
-- Dave, Atlanta
SG: Why, thank you! A word of advice on how to deal with a dog named Bill Simmons: First, you need to walk him around 8:15 a.m. right after he has coffee. Second, if you're going to pick a newspaper for him to pee on, use the New York Post. Third, give him a steady series of Lakers flags that he can chew up into 10,000 pieces. Fourth, keep the TV on at night, because that's how he falls asleep. And fifth, don't get angry at him for humping people when they come over. That's just his way. It's like shaking hands for him.
Q: When Patrick Ewing is polishing his résumé for potential head coaching jobs, what do you think are the highlights of his Power Point presentation? Do you think he just totally deletes the part that says "Offensive tutor to Dwight Howard?" Good thing he can always point to his track record of success as a player. I don't think I've seen a candidate this unqualified since Gary Coleman ran for governor of California.
-- Steve, Weymouth, Mass.
SG: You forgot three other doozies: "Head of the players' union, 1998-99" (when we had a damaging 32-game lockout and half the players nearly went broke); "Sidekick, 'The Ahmad Rashad Show,' 2007" ( the single most inexplicable sports TV experiment not counting "Joe Buck Live"); and "Witness, The Gold Club Trial" (in which he gave the following testimony: "The girls danced, started fondling me, I got aroused, they performed oral sex, I hung around a little bit and talked to them, then I left"). Here's some advice for former NBA stars who decide in their 40s or 50s that they want to be head coaches because they can't come up with a Plan B: If we watched you play for 12-20 years, and at no point did a teammate, coach, fan or media member ever say to themself, "I could see that guy coaching some day," it's probably not happening.
That raises another question: Which current over-30 stars make the most sense as future coaches? I'm talking about names I would throw out and you would say immediately, "Oh, yeah, that makes sense, I could totally see that guy coaching!" Here's my list: Grant Hill, Bruce Bowen, Shane Battier, Brian Cardinal (couldn't you see him totally bald and 75 pounds heavier yelling at two Grizzlies while holding a clipboard?), Jason Kidd, Brian Scalabrine, Steve Nash, Ray Allen, Jameer Nelson, Matt Bonner, P.J. Brown and my No. 1 "I can totally see it!" choice, Derek Fisher.
(As for the least likely … I'd have to go with Eddy Curry. I know Ron Artest is furious right now, but Eddy has to be the pick. He's the total package: never went to college, overweight, battled various personal problems, no work ethic, moody as hell, selfish as a player, terrible with the media and someone who learned at the hands of Isiah Thomas. You can't come up with a better anti-home run pick. You just can't.)
Q: What were the odds that Andy Roddick got better after marrying Brooklyn Decker? This is uncharted territory.
-- evanucsb (via Twitter)
SG: The odds were 5,000-to-1. By the way, isn't it bizarre that there's a reliever named "Balfour" and a supermodel named "Brooklyn" right now? What's next -- a punter named "Shank"?
Q: Loved your idea for "no way in hell" movie scenes. (How about Tom Cruise flying off the train and onto the helicopter in "Mission Impossible"?) But, how about the same for celebrity interviews? For example, I just heard an interview with Kiefer Sutherland when he actually said the words, "I'm 5-foot-10," at which point I nearly crashed my car. These comments need to be archived, and quick.
-- Liz, Ferndale, Mich.
[+] Enlarge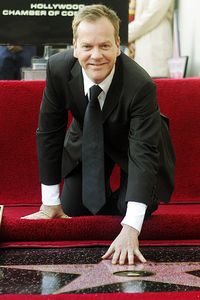 AP Photo/Reed SaxonIf Kiefer Sutherland wants to feel taller, he should just hang out more with Tom Cruise.
SG: I'll go one further: Somebody needs to create the definitive Web site that answers every question you ever had about celebrity heights. (Note: It could be called "Celebrinches" or "The Celeb Ruler" or even "Tom Cruise's Lifts." I don't care.) You could have every celebrity height (what they claim and what they are). You could have celebrity height rankings that would work like Amazon or IMDB. Come on, wouldn't you want to know if Michael Clarke Duncan was one of the five tallest celebrities right now? You could have dueling sections for the greatest height disparities with celebrity couples, with a picture of Will Smith and Jada Pinkett Smith leading the male/female side and a picture of Sly Stallone and Brigitte Nielsen leading the female/male side. You could have the Chuck Klosterman-Patented "This Guy Is Much Taller Than You Thought" section. Endless possibilities. Come on, think of how much dumb crap is on the Internet and think of how many times you have looked up something dumb like, "How tall is Beck?" We can't have all the answers in one spot?
One more note: I am obsessed with celebrity heights. I got hooked when I was younger while reading one of William Goldman's books; he mentioned that this was an obsession of his and how he even waded into a pool to stand next to Stallone once … and yes, Stallone is 5-foot-7. I remember thinking at the time, "Whaaaaaaaat?" He wrestled Hulk Hogan in "Rocky III"! How is that possible? He's 13 inches shorter than Hulk? Then I found out Hulk is really 6-4 and both of them were exaggerating their heights. And that's when Goldman's obsession transferred to me. I can't watch "The Shield" because I flew on an airplane with Michael Chiklis once and he's no taller than 5-6. I'm supposed to buy him as a bad-ass renegade cop? What's he going to do, beat the crap out of someone's shins? Same for when I saw Tony Almeida from "24" during an NBA All-Star Weekend; he couldn't have been taller than 5-5. No wonder they cast him with Kiefer! Take it from someone who worked on a late-night talk show for 18 months: Celebrities are staggeringly, improbably short. It's bizarre. I always wanted to play in Garry Shandling's weekend pickup game just so I could play center once in my life.
(And by the way, I am 6-foot-1½. See? You didn't know that! I'm taller than you thought, aren't I? Admit it. ADMIT YOU CARE!)
Q: Is there any in-arena entertainment as effective as the Kiss Cam? Honestly, what's the longest you think you could be entertained by the Kiss Cam? -- Andy C., Bronx, N.Y.
SG: Hours and hours. You can't look away. Instead of NBC running Leno for five nights a week, Jeff Zucker should have just bought the NBA's archived Kiss Cam footage from the past nine seasons and run it as a nightly show. Maybe you could have viewers vote on the three best Kiss Cam moments each show. And judges. Anything would be a better idea than a 10 p.m. Leno show, right?
Q: Have you ever heard such a discrepancy between the media and the fans as the one right after John Madden's retirement? All my friends are happy he's gone and have been making fun of him; every media person is acting as if this is the worst thing since the Beatles broke up. Peter King wrote that Madden is the only person he could think of that is an icon on three levels. How about Vaclav Havel? How about Arnold Schwarzenegger? How about Bill Bradley?
-- Matt, New York
SG: Or you could go the other way: an anti-icon on three levels. (That's right, I'm looking at you, James Dolan.) Anyway, I was in the "glad to see Madden go" camp -- unless it was a compelling game, he went on auto-pilot and started doing his schtick. But when somebody folds up shop like that, really, it comes down to one question:
Am I …
(A) Glad that guy passed through my life.
(B) Ambivalent.
(C) Not glad that guy passed through my life.
And as part of that answer, you have to to rank your enthusiasm for that answer from one to 10. So if you're over the moon that Madden passed through your life, you give him an A-10. If you didn't like him and wished you never knew him but didn't feel that strongly about it, maybe you'd give him a C-3. For me, Madden was an A-8, and only because I don't give out A-9s and A-10s unless it was someone life-altering. You forget how groundbreaking he was; you forget how charismatic he was (even hosting "Saturday Night Live" once); and you forget how much he added to those classic Giants-Bears, Niners-Cowboys and Giants-Cowboys games back in the day. Personally, I don't think he ever totally recovered from leaving Fox and Pat Summerall and the NFC. He never seemed totally invested after that. Which was fine, but for the past three years, he was blocking someone better than him (Cris Collinsworth). Time to go. At least he realized it.
Q: When Dontrelle Willis got sent to the minors [actually, he was placed on the injured list] with an anxiety disorder, I couldn't help thinking about how this injury would be described by Al Michaels. Is Dontrelle Willis out with a soul? Out with a mind? Please help me on this!
-- Chen, Tel Aviv
SG: Out with a neuron?
Q: I started a new job today and I found a copy of your recent column in the men's bathroom stall. I think this job is a keeper!
-- Derek L., Houston
SG: In the future, when you send me e-mails like this, can you specify where the job is? If it's some law firm with fancy names, I'll be fired up. If it's Bob's Porn House or the International House of Pancakes … actually, I'll be even more fired up. Just give me more info. Thank you.
[+] Enlarge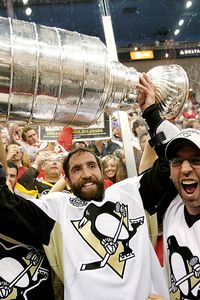 Bruce Bennett/Getty ImagesMaxime Talbot showed how to grow a proper playoff beard. But what if a woman makes the NHL someday?
Q: Do you think there is a female equivalent to the playoff beard and, if so, what is it? I may love sports, but I'm still a chick and letting any body hair grow for the duration of the playoffs is just not happening. I heard some female Red Wings fans put on a red bracelet for every win and a white bracelet for every loss and don't take them off until the playoffs are over, but there's GOT to be something better. Please help!
-- Shannon, Greenwich, Conn.
SG: You can't ask me for a female equivalent and then set ground rules. Come on. Anyway, I thought of the following possibilities: not washing your hair for two months (too gross), growing out your leg hair (not enough of a payoff) and growing out your armpit hair (I like this one, but you don't want it to lead to a moment like Nena in the "99 Luftballons" video in which you lift up your arms and everyone who's attracted to you is instantly disgusted, then attracted, then attracted and disgusted at the same time, and then they spend the next 25-plus years reconciling their feelings about it and ultimately deciding that, yes, the armpit hair was kind of sexy in a gross way … um, not that I just described myself or anything.) But here's your answer …
Playoff nails = the playoff beard.
No manicures or pedicures for the entire NHL playoffs. No nail or toe polish. No finger/toe nail trimming. You just let it fly for the playoffs -- let the ingrown nails and protruding cuticle skin fall where they may. And it's something guys wouldn't notice (or care about), but for many women, it would be a HUGE deal and an enormous sacrifice. I should also mention that this idea got the Sports Gal's stamp of approval.
Q: Do you, Kimmel, Carolla and Cousin Sal have a name for yourselves? If not, I suggest the Crap Pack.
-- Jason, Philadelphia
SG: (Searching for a comeback …)
Q: I still can't get over the fact that Sidney Crosby has been living with Mario Lemieux since he was first drafted. Can you imagine any other sport in which the No. 1 pick would go and live with his team's owner?
-- Darren Low, Toronto
SG: Couldn't agree more, and I have been thinking about it ever since it was mentioned during the finals and I said, "Wait a second, he's STILL living there?" I always thought hockey differentiated itself from other sports with the Canadian connection, playoff beards, fighting, the Cup, coming back into a game 10 minutes after taking 50 stitches in the face from a slapshot and everything else of that ilk. But you're right -- Crosby/Lemieux should be the first thing mentioned in any "Why are hockey players different than all other types of athletes?" conversation. If Matthew Stafford moved in with the Detroit Lions' owner, we'd think it was the weirdest thing that ever happened and make him a running joke every time he threw an interception: Look out, Matthew, you're gonna get grounded! Uh-oh, they're gonna take cable out of your room! That kind of stuff.
In hockey? You could tell me any story about an NHL player, and I'd believe it. You could tell me Crosby and Geno Malkin share a condo, a bedroom and a bunk bed … I'd believe it. You could tell me the Maple Leafs soak their hands in deer urine before games because it makes their knuckles stronger … I'd believe it. You could tell me Chris Chelios is still playing at age 46 … I'd believe it. (What? He is?) You could tell me all NHL teams travel by bus and not plane … I'd believe it. Hockey players are a different breed. That's why we love them.
You know how I started the Tyson Zone for athletes who pass the point of craziness and eventually you'll believe any story about them? I'd argue that there's also an NHL Zone -- you could pick any NHL-related story, real or made up, and tell another sports fan that story, and they'd have no choice but to believe it. Why? Because of moments like, "Yeah, the captain of the Stanley Cup champs still lives at his owner's house even though he's 21."
[+] Enlarge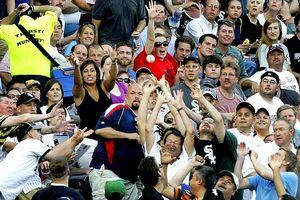 AP Photo/Charles Rex ArbogastThe Sports Guy is definitely not bitter that he's never caught a foul ball. Nope. Not even close.
Q: I caught a foul ball off the bat of Jacoby Ellsbury today. As my hands were raised in victory, I thought about your ongoing quest to catch one of your own. I then laughed. To be fair, I am 15, and I've been to upward of five baseball games in my life. I guess I was just due.
-- Eric Powers, Princeton, N.J.
SG: Hold on, I need to dig out my file for "My top 500 reasons I hate Princeton" and add this e-mail … just give me a second here …
Q: As a Vikings fan, I liken the Favre fiasco to a South American kidnapping. Until I get proof of life (Favre at Vikings training camp holding that day's newspaper), I'm just going to ignore the contradicting stories that come out. While I wait, I'm Favring (flip-flopping daily) on whether I want this to happen or not. If Jeter were suddenly cut by Hank Steinbrenner, and was rumored to want to play for Boston as payback, would you be on board?
-- Scott K., Fairborn, Ohio
SG: Of course! I'd absolutely want us to add a washed-up shortstop with no range. We could platoon him with Nick Green. I can honestly say, now that Roger Clemens' baseball career has ended in complete and total disgrace, I'd welcome any athlete on any of my teams who would make them better. If I could talk myself into Stephon Marbury, anything's possible. So I am a bad person to ask on this front. When Johnny Damon split for the Yankees, that proved to me that these guys are just laundry and it's stupid to say, "I could never root for Player X."
Anyway, I like your "proof of life" idea, and it's a solid concept for the sports media to try out for one calendar year, since we have morphed into a culture that now analyzes things before they happen or as they're happening instead of after they definitely happened. What if we tried out an embargo policy for all sports "news" for one year? Everything gets a 72-hour window; after that, we can't mention it again until it happens. Like the Brett Favre/Vikings thing: Once it became a possibility, we would have had 72 hours from that point forward to break it down. After that? Embargoed until we get proof of life (in this case, a Favre news conference in Minnesota).
You think I'm kidding, but chew on it for a second. How much easier would it be to follow sports with that proof-of-life embargo in effect? Think of all the Favre stories you avoided and ignored over these past six months. Think of all that wasted energy. Think of all the dumb conversations you had to endure on sports radio or a talking head show. It all could have been wiped away. Same for this Ricky Rubio/Minnesota saga. We get it. He might not come to the States; he might come. He might get traded; he might stay. We get it. Let us know when he makes a decision and he's holding up that newspaper. Until then, I don't care.
Q: So, tonight I heard that MTV star C.T. was at Tia's, a bar in Boston. Regardless, when I heard this fact I realized that in my intoxicated state I would probably have gone up to him and said something that would likely have gotten me punched in the face. I'm a girl, and I still think he would have beaten the crap out of me. Still, I kind of want to make out with him.
-- Lizzie, Brookline, Mass.
SG: That was the first installment of a new running segment in the mailbag, "And You Wonder Why We Think Women Are Crazy." I have high hopes for this one.
Q: I was getting on a plane to Vegas recently for a guys' weekend when I noticed some schmuck in first class who looked like a perfect cross between Pat O'Brien and Danny Bonnaducci [sic]. I was fascinated the whole flight and couldn't wait to tell my friends when we met up. We ultimately named him Bon O'Briduchi and for 72 hours of liver-killing shananigans, he was the invisible fifth guy in our group. We even tried to find similar real guys on the Strip and would make jokes like "Sure, that guy looks like he enjoys drinking, fighting and getting crazy with hookers, but he's no Bon O'Briduchi." In fact, my friend actually bought a round of five beers instead of four and justified it by saying, "Bon just went to take a leak, he'll be back in a minute." We ultimately decided that Bon now resides with such legendary fictional alcoholics/sex addicts such as Norm Peterson, Glenn Quagmire and Joey Buddafucco [sic].
-- Dave, Denver
SG: I loved everything about that e-mail. Even told my editors, "Don't clean up the grammar, don't fix the spelling, just let it run free like a dove in the woods." Bon O'Briduchi would have wanted it that way. Do you think Bon would have enjoyed having a few drinks with Brian Logan from my Lambeau Field Trip column?
Q: I have the perfect solution to Blake Griffin's problem. He needs to trade places with his brother a la the face transplant procedure from "Face/Off." I know there are noticeable size differences between Blake and Taylor but really, between the fashion senses of Dumbleavy and Donald Sterling, do you really think they'll notice?
-- Dwyane, Lexington, N.Y.
SG: This could work. The Clippers and their fans would just assume Blake Griffin was a bust, and the Suns could make up some bogus explanation like, "Our crack training staff has done it again -- they figured out 'Taylor' had a compressed vertebrae fracture that inhibited his athleticism and did extensive physical therapy with him, and now he's as good as his brother was!" I swear, I would buy both of these scenarios. Also, imagine if Mark Cuban traded for Taylor, then offered Donald Sterling $75 million to switch Griffins without anyone ever knowing. Don't you think Sterling would do it? I feel like he would. And since Cuban spent $250 million (and counting) on Shawn Bradley, Raef LaFrentz, DeSagana Diop, Erick Dampier and Marcin Gortat these past 10 years, I'm pretty confident he'd pony up $75 million for a Griffin switch.
Q: Your podcast with Carolla about "Fast and the Furious" was taken by my friends and I as a challenge. A Poland Spring bottle's worth of Shell gasoline, four matchbooks worth of fail and 30 minutes of chain smoking later, the perfect storm happened. It caught fire just as an NYPD car drove by. I was able to use my ID (let's just say my job is to prosecute idiots like myself) to get out of any real trouble. Conclusion: No matter how gently you throw/flick/drop a match, it WILL go out instantly as it leaves your fingers, and at least once every 20 cigarettes you can light a puddle of gasoline on fire.
-- Anonymous, Brookyln
SG: And they said my readers were worthless. Hah! My next "try to recreate this movie scene and see if it could happen" task for you: the final fight scene in "Bloodsport." If you were blinded by an illegal substance, could you then proceed to beat the hell out of someone like Chong Li? I want UFC fighters to keep trying this until somebody pulls it off. First, blind yourself with a burning substance. Second, start throwing sweeping 360 kicks in the general direction of where you think your opponent might be because, again, you're blind. Can you still win the match? I say no. Call me a cynic.
Please don't think I'm against "Bloodsport," the defining Jean-Claude Van Damme movie for me and an action flick that holds up surprisingly well. I just had a little trouble with the blinding part. Just a little. Five minutes later, you forget about it when Van Damme goes to see Ogre from "Revenge of the Nerds" in the hospital and returns his Harley Davidson bandanna. Ogre takes the bandanna but holds onto Van Damme's hand. They have this exchange:
Ogre (intense, eyes crossing even more than usual): "Any time, any place, anywhere. You need me, I'm there."

(Cut to Van Damme's girlfriend, an '80s chick with a pseudo-mullet who was never seen again -- I mean, NEVER, not even as the fourth lead in a Shannon Tweed Cinemax movie -- trying not to choke up.)

Van Damme (fighting off tears): "I love you, my friend."
Here's my question: Has there ever been a better moment in a worse movie? Even with Versus running "Bloodsport" on a 24-hour loop right now, I still can't get over it, even on the 17th viewing. In fact, I always have to stick around and keep flicking back until they show it. Where did that moment come from? What prompted Van Damme and Ogre to morph into Robert DeNiro and Al Pacino from "Heat"? Was everyone on the set completely floored? Did the stunned director let a few extra seconds pass before going, "Um, cut! Cut! We got it! Wow! I mean, Wow! Wow! Fellas, I'm blown away!"
Q: I have no idea why, but I have a massive S&M crush on you. With other men, including my boyfriend, I'm pretty normal, but something about you makes me want to tie you up and have fun with you. It's weird. This is not a drunk e-mail, or a high one, or anything like that. Can I get a "Yup, these are my readers?"
-- Jennifer, Atlanta
SG: I need a safe word. Besides, we're not quite there yet.
Q: Hey Bill, I saw your man Ray Allen at a bar in Hartford on Saturday night. After getting over the shock of seeing him, my boyfriend turned to me, very serious, and said, "OK, go have sex with Ray Allen and tell me how it is." Would you make that offer to the Sports Gal for any sports figure? If you did would she be offended? Because I wasn't, and I think maybe I should have been.
-- Jen S., Newington, Conn.
SG: Yup, these are my readers.
Bill Simmons is a columnist for Page 2 and ESPN The Magazine. For every Simmons column, as well as podcasts, videos, favorite links and more, check out the revamped Sports Guy's World.

The Sports Guy
Bill Simmons (
@BillSimmons
) is the editor-in-chief of Grantland and the author of the
New York Times
no. 1 best-seller
The Book of Basketball
. For every Simmons column and podcast,
log on to Grantland
. To send him an e-mail, click
here
.