Commentary
NBA always keeps you on your toes
An ode to the NBA signing period and the best movie of the decade, "Almost Famous"
If you missed Part 1, I decided "Almost Famous" was my favorite movie of the decade and handed out 25 quotes/exchanges as awards for my NBA summer scorecard. Here is Part 2.
26. See, I grew up with these guys. They can't play all that I can play. I'm past them as musicians, but the more popular we get, the bigger their houses get, the more responsibilities, the pressure, you know, it gets harder for me to walk out on them.
To LeBron James … no explanation needed. Now, if someone can explain to me what's in it for LeBron to play for a 2010-11 Knicks team that won't have a 2010 lottery pick (remember, Utah has it), doesn't have a potential All-Star or low-post stud on its roster, and doesn't have the cap space we thought, I'd love to know.
27. It's all happening! It's all happening!
[+] Enlarge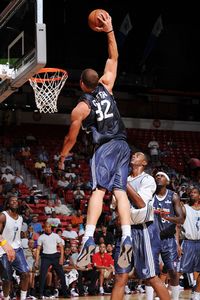 Garrett W. Ellwood/NBAE/Getty ImagesC'mon, LeBron, wouldn't you love to throws some lobs to Blake Griffin?
To the Clippers, who have qualified for "It's all happening!" status a few times over the past few decades, only this time, it might stick. If you didn't notice, they turned Zach Randolph into Blake Griffin and three quality bench guys (including Mark Madsen, the first towel-waving chemistry guy they've had since … since … since … I mean, have they ever had a towel-waving chemistry guy?). Now they have a killer under-22 foundation (Griffin and Eric Gordon, headed for a leap in Year 2), a fun team for this season (especially if Baron Davis and Marcus Camby are healthy) and a super-intriguing cap situation next summer (they're under $35 million). This remains the best combination basketball/big city situation for LeBron James. It's true.
(Another "Famous" line that could have worked for the Clips: "Some day, you'll be cool." One of my favorite moments of the movie, by the way -- young William's sister (played by the fetching Zooey Deschanel) leaving her albums under his bed, then telling him to burn candles and listen to The Who's "Tommy" so he could see his future. Which he did. And he did. Reason No. 451 why I'm furious that I didn't have an older sister. By the way, I rank William's sister right behind Tim Lincecum's sister in "Dazed and Confused" as the second-greatest older sister in movie history. Are there even any other candidates? Back to the Clippers …)
28. We're buffoons! Rock 'n' roll can save the world? The chicks are great? I sound like a d---!
To Mike Dunleavy, the biggest reason, other than 33-plus years of bad luck, why Clippers fans shouldn't be doing backflips right now (even though they should). I don't think people truly understand how unsuccessful Dunleavy has been as a head coach. In the history of the NBA, only six people have coached more than 300 games consecutively for the same franchise and won less than 40 percent of those games. Incredibly, Dunleavy is the only person who accomplished this "feat" for two franchises. Here's the complete list:
• Bill Fitch, 99-229 (.302) -- L.A. Clippers, 1994-1998
• Mike Dunleavy, 107-221 (.326) -- Milwaukee Bucks, 1992-1996
• Matt Guokas, 111-217 (.338) -- Orlando Magic, 1989-1993
• Jack McKinney, 125-203 (.381) -- Indiana Pacers, 1980-84
• Wes Unseld, 202-345 (.369) -- Washington Bullets, 1987-94
• Mike Woodson, 153-257 (.373) -- Atlanta Hawks, 2004-present
• Mike Dunleavy, 194-298 (.394) -- L.A. Clippers, 2003-present.
You'll see someone break Wilt's 100 before you see another coach appear on that list twice. I really believe that. Mike Dunleavy, you made history. Congratulations. If you're not gone by Valentine's Day, I am organizing "Throw Bags Of Your Own Urine" Night. Of course, the Clips need more than just Dunleavy's departure to get LeBron. Allow me to help.
29. You're funny. If you were only taller and English and rich and a guitar player and older …
I'd … I'd be somebody else.
Yeah. Good point.
I'm about to spring a gigantic idea on you. Your life is about to be altered in some small way. Here we go …
There are three ways to change a franchise's identity. The first? Move. The second? Change your name and uniforms. The third? Change owners. Now, it makes no sense for the Clippers to move. (Note: They have maybe the cushiest arrangement in the NBA -- a favorable Staples Center lease and the ability to charge L.A. prices for bad teams.) It does make sense for them to change their name and uniforms and make a Patriots-like separation from their hideous past. (Note: My friend Dameshek has been pushing for them to change their name to something like the "Hollywood Knights," "Hollywood Hills," "Hollywood Quakes" or "Hollywood Stars." I love this idea. It goes to show you how dumb the Clippers are that they haven't done this. They'd print money from selling new uniforms out here.) But for people to take them seriously both locally and nationally, Donald Sterling needs to sell the team. And according to everyone, he doesn't want to sell the team.
VOTE: BEST MOVIE DRAMA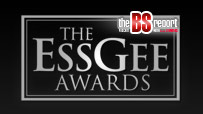 What do you think is the best movie drama of the past decade? Vote here, as part of Bill Simmons' EssGee Awards.
So here's my big idea: Let's say you're ridiculously wealthy and you like sports. You know that Sterling paid $12 million for the Clips. According to Forbes, the Clippers are worth about $300 million right now (half of what the Lakers and Knicks are worth), which means he's already playing with house money from that 1981 purchase. That's why you offer him nearly double what his franchise is worth. That's right, $600 million. You don't just offer to overpay; you offer to ridiculously and ludicrously overpay. Because that's the only way you would ever get Sterling to bite.
Of course, it's not really that ludicrous. You take over the team in the 2009-10 season, and the fans are pumped. You announce plans to blow up the organization and make everything first class across the board. You reach out to fans and promise there's a new sheriff in town and you're going to save the Clips much as Mark Cuban saved the Mavericks 10 years ago. You announce plans to change the team's name and uniforms. You fire Dunleavy and everyone in the front office, then spend big money on a quality coach and quality GM. You make it very, very, VERY clear that you will do anything you possibly can to acquire LeBron and make him your franchise player. And you know what else? You have enough money left over to sign one more marquee guy as well. Now you have LeBron, Gordon, Baron, Griffin, Kaman and Secondary Marquee Free Agent X as your top six for at least the next three years. Now you can charge Lakers prices instead of Clippers prices, and if that's not enough, you suddenly have the hottest team in sports.
Did that "ridiculous" $600 million offer pay off? I think it did. You suddenly own one of the three most lucrative teams in professional basketball and might even win a title or five. I'm going to say this was money well spent. And by the way? If I'm LeBron James, the Hollywood Stars are looking pretty damned good next summer. I'm just sayin'. Anyway, that's my big idea. If only I were a billionaire.
30. Does anyone remember laughter?!?!?
To Robert Swift for finally ending up on the Celtics (their summer league team, but still). This damn near killed me. Danny Ainge has been trying to acquire him for four solid years. (On the day of the 2005 draft, he offered Seattle an extra No. 1 pick to switch spots, settling for Al Jefferson when the Sonics said no. It's true.) When Swift blew out his knee, added 350 tattoos and turned into a mutant Malachai from "Children of the Corn," did that stop Danny? Noooooooooo! If you don't think Swift will be Boston's 15th man this season, you're fooling yourself. Swift and Brian Scalabrine on the same bench? Two redheads on the same NBA team in the 21st century? And in Boston? This was destiny.
31. It's not what you put into it. It's what you leave out. Listen to Marvin Gaye, a song like "What's Happening, Brother," there's a single "woo!" at the end of the second verse … that's what you remember. It's the little things, the silly things, it's only one of them and it makes the song. It's what you leave out. That's rock 'n' roll. It's what you leave out.
[+] Enlarge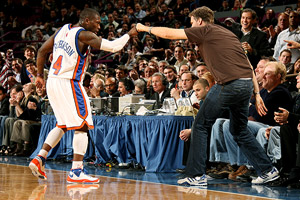 \Nathaniel S. Butler/NBAE/Getty ImagesHas anybody signed Nate Robinson? Was Will Ferrell in "Almost Famous"?
To Nate Robinson, a $45 million guy 10 years ago … and now he's relatively worthless in an era when teams value chemistry and care about more than just points per game. On paper, Nate would have been perfect for the Zombie Sonics -- change-of-pace scorer off the bench, bad matchup for teams, gets the fans excited -- and they wouldn't even sniff him. That's basketball. It's what you leave out.
(No worries, Nate. Chris Wallace is still one of the 30 GMs. Just be patient.)
32. I work just as hard or harder than anybody on that stage. You know what I do? I connect. I get people off! I look for the guy who isn't getting off, and I make him get off. Actually, that you can print!
To the Warriors of Golden State. In a two-year stretch marred by incompetence, indifference and poor public relations, they somehow ended up with a nucleus of Andris Biedrins, Anthony "The Breakout" Randolph, Monta Ellis, Stephen Curry, Brandon Wright, Stephen Jackson and Corey Maggette that looks orgasmically exciting on paper … well, until you remember there isn't a distributor in the mix. Will it be interesting? Yes. Will it be fun? No question. Could we see a fight between two teammates at midcourt over who gets to shoot? Sure. Will Randolph sob on the bench at least 12 times? Absolutely. But at least it will be interesting, dammit.
(As for the above quote, we can't gloss over Jason Lee's performance as lead singer Jeff Bebe, just the right mix of jealousy, overconfidence, sarcasm, stringy hair and mellowed-out, super-cool, '70s onstage enthusiasm, as this deleted concert scene proves. Not an easy role. Lee pulled off three distinctly different characters over the years -- Bebe, Earl Hickey and Banky from "Chasing Amy" -- and remains severely underrated. Which reminds me, the leading candidate to take over for David West as the "mentioned so constantly as underrated that he's now overrated" guy for 2010 are Danny Granger, Rajon Rondo and LaMarcus Aldridge in that order. Stay tuned.)
33. I never said I was a golden god … or did I?
To David Kahn. Ooof. The last time we saw a start this shaky, Sully Sullenberger was involved.
34. I have to go home.
You are home.
[+] Enlarge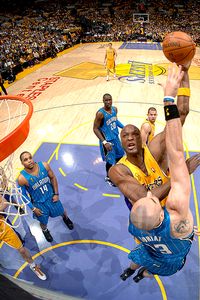 Andrew D. Bernstein/NBAE/Getty Images Give Lamar $38 million and a year's supply of candy and call it a deal.
To David Lee and Lamar Odom, both of whom might get Orlando Hudson-ed this summer because everyone ran out of money by mid-July. Hard to figure how this plays out, and it's really hard to figure why the Lakers won't splurge on Odom, a key cog on last season's team and its most popular teammate. (Wouldn't four years, $38 million do it?) Also, why wouldn't the Zombie Sonics jump on Lee, one of the best rebounders in the league? Why not offer him $48 million for five years, then stagger it so Year 2 is worth the most just to screw the Knicks next summer? That's not a no-brainer? Plus, Lee's downgrade in social life from Manhattan to The City That Can't Be Named would be mesmerizing to follow. He'd have to open a small nightclub and import 100 scantily clad women with no self-esteem just to feel at home.
35. Sorry, I can't concentrate. (Long pause.) Rock stars have kidnapped my son.
To the remaining sleepers of this free-agency summer -- Ray Felton (a potential Billups-like late bloomer), Linas Kleiza (physical shooter), Marvin Williams (decent glue guy), Ramon Sessions (born to be a fantasy stat guy on a bad team) and Glen Davis (proven playoff banger) -- all of whom were kidnapped by the NBA's changing economy once everyone ran out of money. Sorry, fellas. Please don't tell me that you bought a Maybach in mid-June and told the dealer, "Don't worry, I got this covered, I'm gonna sign for a ton of money next month!"
(By the way, Frances McDormand's performance as William's mother should have won the Oscar for best supporting actress -- period, end of story, case closed. She was brilliant. Unfortunately, she was nominated along with Kate Hudson, who nailed Penny Lane and was never even remotely as good in anything again, raising the question, "Was that just a great part and 20 actresses would have been good in it, or did she have one great performance in her and that's that?" I am leaning toward the "20 other actresses" answer, especially after seeing the past eight years of her movies. Anyway, Hudson and McDormand split the vote. How do we know this? Because another actress swooped in and stole the award for a movie that was so low-profile I forgot it even happened until I looked it up. The actress? Take a guess. Take another. Take another. There's no way you will remember. None. Answer coming in exactly three paragraphs.
36. Do you know how to keep from getting charged for the ice below the floorboards at Chicago Stadium? Do you know how to do a headlining tour? Do you know how to get a record not just pressed, but played? I didn't invent the rainy day, man. I just own the best umbrella.
To the Spurs. Just when we thought we could write them off, they trade a box of doughnuts for Richard Jefferson, steal DeJuan Blair and entice Antonio McDyess to leave Detroit for less money than Rasheed Wallace got. Throw in Roger Mason and George Hill, and that's the best eight-man nucleus of the Duncan era. And you know they're laughing about it, too. I am convinced Gregg Popovich and R.C. Buford go out for margaritas for three hours every Tuesday and laugh about how dumb the other front offices are. You can't tell me differently.
(And the winner of the best supporting actress in 2000 was … Marcia Gay Harden for "Pollock." Swear to God. My third book might have to be "The Top 100 Greatest Oscar Travesties Ever." That has to rank in the top 10.)
37. I've made a decision, I'm gonna live in Morocco for one year. I need a new crowd. Do you wanna come?
Yes! Yeah.
Are you sure?
Ask me again.
Do you wanna come?
Yes! Yes.
[+] Enlarge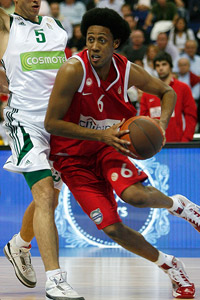 Robert Valai/Getty ImagesHow's the souvlaki treating you, Josh?
To poor Josh Childress. Greece is his Morocco … only he's going back for Year 2 and it's suddenly not cool anymore. More importantly, I have an excuse to discuss the "Do you wanna come?" scene. Along with the "Tiny Dancer" singing scene, these are the two scenes anyone will bring up if they're playing the "Almost Famous is too much of a sappy chick flick to be considered the best movie of the decade" card. I am a borderline sap -- really, it's a case-by-case basis, but if it's a good movie, I can get reeled in by sappy moments -- so here's how I will defend the above scene in three parts:
1. It's a moment. Chris Connelly and I discussed this in a 2008 podcast but it's worth mentioning again -- my favorite thing about Cameron Crowe's best movies is he'll nail two or three subtle moments that were carefully set up and executed like a flea-flicker. Best example: When Jerry Maguire picks up Dorothy for their first date and her son hugs him, and they cut to Dorothy's face and it's doing about 20 different things. That's a moment. Again, Crowe is really, really good at this. So I'd argue the "Do you wanna come?" scene, though sappy, is definitely a moment. You remember it. It stands out.
2. In the director's commentary, Crowe reveals the second part isn't in the script. Kate Hudson (playing Penny Lane) asks Patrick Fugit (playing William) whether he wants to come with her, but he messes up the response and says to Kate (not Penny), "Ask me again." So she cracks up, and she does, and then he answers, "Yes! Yes." Crowe just kept the cameras rolling and made that entire exchange the scene. I just think this is cool.
3. Imagine being Fugit in this movie. You're 16. You've never been in a movie before. You're probably head over heels in love with Hudson. (Crowe even jokes about this in the director's cut.) You're excited for every scene you get to do with her. You're doing this scene, and you screw up the line -- not because you screwed up but because Hudson has reduced you to a horny pubescent puddle for this entire filming. So you salvage it and now it lives on forever in the movie. As far as I'm concerned, this is the defining "horny teenager trying to be cool around a smoking-hot girl in her 20s who's flirting with him just a little" moment ever captured in a movie. Put it this way: at age 16, with Hudson standing there in her hasn't-dated-100-Hollywood-celebs-yet prime, we ALL would have messed up that line.
Anyway, that's why I like that scene. It's the defining "16, super-horny and super-duper-awkward around women" movie moment. It brings me back to those days. I will always defend it. "Tiny Dancer"? Not quite as defensible. I would have gone with "Levon." But what can you do? Back to the NBA.
38. You wanna buy a gate?!?!? (Crash.) You just bought a gate!!!
To Toronto's Bryan Colangelo, who spent money more recklessly than Michael Bay. A $53 million extension for Andrea Bargnani? Sure! Another $53 million for Hedo Turkoglu? Why not? How 'bout $20 million for a third guard (Jarrett Jack) just because he's college buddies with Chris Bosh and might sway Bosh to stick around next summer? Absolutely! As always, there's nothing more dangerous than an NBA GM in desperation mode. Smart moves for 2010 -- dumb moves for 2012, 2013 and 2014 … and, of course, he'll be gone by then. Sorry, Raptor Truthers. You deserve better.
39. I once hit a man in Dearborn, Michigan. A hit and run. I hit him and kept going. I don't know if he's alive or dead, but I'm sorry. Not a day goes by when I don't see his face.
[+] Enlarge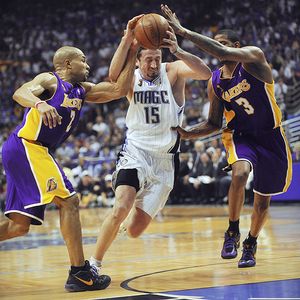 Emmanuel Dunand/AFP/Getty ImagesTurkoglu is a good player now but could be headed for a rapid decline.
To Turkoglu, who's going to feel this way every time he thinks about the good people of Portland. Look at the bright side, Blazers fans -- you dodged a bullet. He peaked statistically two years ago. He's allegedly 30 but could be closer to 32 or 33 for all we know. (Do you trust Turkish birth certificates? And isn't it weird that he played four years of pro ball in Turkey in the 1990s?) His biggest value is his ability to create shots in crunch time … and you already have Brandon Roy. And he never has been one of those take-care-of-my-body guys; remember the locker room shot of him plowing through a burger right before Game 7 of the Boston series? I like Hedo, but not three years from now and not for that money (five years, $53 million). Of course …
40. I just can't picture you with Leslie.
I'm the "you" they get when they can't get you.
To the Blazers again -- they picked up Andre Miller at a steep discount even if many people (myself included) feel as though that's the wrong fit for him. He needs the ball in his hands to thrive; so does Brandon Roy. Doesn't feel right. But, hey, if it doesn't work out, they can always flip him or package him with other parts in a bigger deal.
(Note: That exchange comes from a pivotal scene at the end between Jeff and Russell that, of course, was left on the cutting room floor because Hollywood forced Crowe to keep this movie at two hours. Normally I'm a big fan of the two-hour rule for movies, but I'm OK with bumping it to 150 minutes for the right exception, and clearly, this WAS the right exception. "Knocked Up" or "Superbad" did not need to be longer than two hours. "Almost Famous" did.)
41. Ladies and gentlemen, the evening is over. We hope you all enjoyed yourselves and we'll see you all again in 1974. Good evening!
Or in the case of the Dallas Mavericks, 2004. Because that's the only way a crunch-time five of Nowitzki, Shawn Marion, Josh Howard, Jason Kidd and Jason Terry is competing for an NBA title -- if we threw everyone into a time machine and headed back to 2004. If you're a Mavs fan, you have to be worried about a decade of poor drafting, lavish spending and questionable talent evaluations, as well as a front office that nearly fell apart five years ago. (As detailed in the eye-opening transcripts from the Cuban/Nelson lawsuit, in which it was revealed that current GM Donnie Nelson had to be talked out of taking Pavel Podkolzin FIFTH in the 2004 draft after his father learned that he didn't have final say for the pick and begged him, "Well, if that's the case, then as your father I'm asking you, don't draft Pavel Podkolzin." I don't even have a follow-up joke here.)
42. They don't just put someone with one little hit on the cover of Rolling Stone f---ing magazine!
[+] Enlarge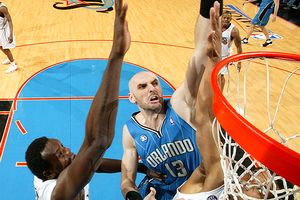 Jesse D. Garrabrant/NBAE via Getty ImagesCongrats, Orlando, you're now paying $33 million to a guy who plays 10 minutes a game.
To Marcin Gortat, who parlayed one "little hit" (a solid playoff performance) into a $33 million deal that, if you're a Dallas fan, you should be happy isn't clogging up your cap right now. I liked Gortat heading into the summer as a great value risk in the "four years, $17.6 million" range. Nothing higher. Dallas offered him nearly double, which made sense because this is the same team that inked Raef LaFrentz, Shawn Bradley, DeSagana Diop and Erick Dampier to more than $225 million in "Why the hell did we do that?" deals. Then Orlando shocked everyone by matching … you know, because any time you can pay $7 million a year for someone who plays 10 minutes a game, you have to do it.
So what now? Poor Gortat is being stalked by the ghosts of Jon Koncak, Jim McIlvaine, Jerome James, DeSagana Diop, Luc Longley, Todd MacCulloch and every other free-agent center who was overpaid in the $30-33 million range and immediately turned into a stiff. Dallas had to go to Plan B: throwing away $4.5 million on a goofball like Drew Gooden. As for Orlando …
43. That groupie? She was a band-aid. All she did was love your band. And you all used her, all of you. You used her and threw her away … you guys are always talking about the fans, the fans, the fans. She was your BIGGEST fan and you threw her away. And if you can't see that, that's your biggest problem.
So Orlando makes the Finals with an unconventional lineup and a style that confounded just about everybody. The Magic flip three backups for Vince Carter, seemingly solving their hole at shooting guard that Kobe exploited so brutally. (I had them as the favorites in the East after that trade.) What possessed them to spend $50 million on Gortat and Brandon Bass over just bringing back Turkoglu and making another run at the title? Now they're just a conventional NBA team with conventional guys in conventional positions … um, that's not how you made the Finals, fellas. This would be like "Lost" saying, "We have the hottest show on TV -- what if we sent the entire cast back to 1977?" OK, bad example.
44. Sounds and bong and it sounds like lots of fun. Won't you get on my back for a piggyback ride? Get on my back for a piggyback riiiiiiiiiiiiiiiiiiide.
The song Stillwater sang backstage before every concert goes to new Celtic Rasheed Wallace, who's hoping for a piggyback ride to a second ring. Look, it's hard to criticize your team for spending $20 million to upgrade a position that Mikki Moore and Brian Scalabrine manned last season. But Sheed will be 35 years old and is coming off a brutal contract year. He coasted on his reputation these past two seasons and helped two coaches get fired. Last season, he looked disinterested, took bad shots at the wrong times and never posted up. (In the words of William Miller, "I was there. I WAS THERE.") Considering the Celtics had trouble with everyone who went small against them last season, weren't they better off targeting a third swing guy who could make 3s and defend hot scorers (and please don't tell me Marquis Daniels is the answer) over frontcourt insurance? Also, what makes anyone think Kendrick Perkins -- a young warrior who really came on last season, but an emotional guy for better or worse -- won't be affected with Rasheed breathing down his neck for playing time?
The most confusing part of this NBA summer: most fans and media members failing to realize Sheed and Ron Artest earned their contracts on reputation alone. Artest can only defend physical small forwards and slipped noticeably as an offensive player (among qualifiers, he ranked last in 2-point shooting percentage and third-to-last in 2-point jump shots). Sheed hasn't been effective in the playoffs since 2006 and submitted an epic stink bomb in the 2009 Cleveland sweep (6.5 PPG, 6.3 RPG and 36.7 percent FG). Aren't these facts relevant? For all we know, the Lakers and Celtics BOTH made themselves worse.
45. Just make us look cool.
I will quote you warmly and accurately.
Well, that's what I'm worried about.
[+] Enlarge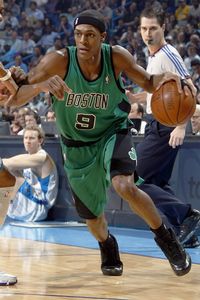 Layne Murdoch/NBAE/Getty ImagesGet used to it, Boston fans: Your team is now the most hated in the NBA.
To the Celtics, the consensus choice to represent the East in the 2010 Finals even though we don't know about KG's knees; how much Ray Allen has left; whether Rasheed will be good; how they're going to defend quick perimeter guys or handle anyone who might go small; how much Paul Pierce has left as a franchise scorer; and most of all, how an enigma like Rajon Rondo will respond to Danny Ainge's inexplicably shopping him around AND publicly flaming him for the second half of June. Yes, I am concerned. Another concern: Did the Celtics just assemble the most hated NBA team of this decade? Everyone outside of Boston turned on Rondo and KG last season. Throw in Wallace's antics and Perkins' physical style, as well as the natural distaste for any Boston success, and the Celtics suddenly look like the league's premier bullying/chest-bumping/ref-badgering villains. So much for the days of ubuntu. Will they embrace this new identity? How will this play out?
(Follow-up: Thankfully, it looks as though Stephon Marbury won't be back after his career-ending 24/7 webcast last weekend. And by "back," I mean, "allowed back in the United States." I think we have to deport him.)
46. F--- it … I'm … I'm gay!!!
The craziest moment of the most pivotal scene in the movie -- Ed the Drummer coming out of the closet right as everyone is confessing things because they think Stillwater's plane is about to crash, only it never does -- goes to the craziest subplot of the offseason: NBA players using Twitter to break news about themselves, and even stranger, reporters posting their scoops on Twitter even before their employers had a chance to print them. I've said it before, I'll say it again: Facebook is a social network. Twitter is a media/marketing vehicle disguised as a social network. Big difference. And if you don't think it's changing the way information is dispersed, for good and bad, you're insane.
A "good" example: Kevin Love spilling the beans that Kevin McHale wasn't returning as Timberwolves coach. A watershed moment for sports journalism, in my opinion. We skipped the middleman and went right from the team to the fans for a breaking story. Won't be the last time.
A "bad" example: Finding out from T.J. Ford's Twitter feed July 14 that he was "Up early.. Takin a dump then wash my hands brush my grill & off to be the best PG.. Doubt me if u want. Hard work pays off." You know what, T.J.? I will continue to have my doubts. No offense.
(Random note on the plane scene: In the theatrical release, Ed the Drummer and Larry the Bassist have five combined lines and three come on the plane. Larry's best line comes later, when Jeff is melting out about the Stillwater T-shirts and Larry tries to defuse it by saying, "I'm just hungry, man, let's just go out and find some barbecue or something" … a line that I was dying to give to Eddy Curry somehow but couldn't pull it off. Anyway, that's one of my favorite Hollywood tricks: marginalize everyone in the band but the lead singer and lead guitarist to keep the movie moving. A trick that doesn't work bad for basketball, either.)
47. Please don't give him any more acid. Thank you.
To Joe Dumars. In the span of 14 months, he hired the wrong coach (Michael Curry), overpaid the wrong bench guys (Kwame Brown and Amir Johnson), traded the wrong star too early (Billups, who would have netted more than just an expiring cap figure near the deadline), extended the wrong star too early (Rip Hamilton), overrated the wrong young guy (Rodney Stuckey, who might not even be a point guard), threw away the wrong season (2008-09, when the East was more wide open than we thought), then made it up to Pistons fans by saying, "I just spent $94 million on two guys who will never make an All-Star team!" Shouldn't you be worried when your top five guys (Ben Gordon, Charlie Villanueva, Hamilton, Stuckey and Prince) are all perimeter guys who don't rebound, play inside or make other guys better?
48. I am a golden god!!!!!
To Stephon Marbury. I think he screamed this during his career-ending live webcast last week. Did you ever think the answer to the "Craziest NBA Player of the 2000s" question would be anyone other than Ron Artest?
(Yet another reason I love "Almost Famous," and this is crucial for the rewatchability argument: Only the rare cable movies have stretches when you will be flicking channels, stumble across the movie, know that Scene X or Scene Y is coming up in a few minutes, and you'll dump anything else you're doing to wait for that scene even if you already own the movie on DVD. Great example: the plane crash in "Cast Away." I don't know why, but I always have to watch it. Same with Andy breaking out of Shawshank. Same with the first pool party in "Anchorman." You get the idea. Anyway, "Famous" has two of those "I have to park the remote until this scene comes up" moments -- the last 10-12 minutes of the movie, and the "golden god" sequence in Topeka. My house could be on fire and I'm sticking with the entire Topeka sequence through the first minute of "Tiny Dancer." Then I get mad that they didn't use "Levon" and turn it. [Pause.] You're right, this column needs to end soon.)
49. You're real. Your room is real. Your friends are real. Real, man, real. You know? Real, you know. You're more important than all the silly machinery. The silly machinery. And you know it! In 11 years it's going to be 1984, man. Think about THAT!
Wanna see me feed a mouse to my snake?
Yes.
LAST-MINUTE BONUS QUOTE!
"I can't really talk right now, I'm in a room full of people. (Pause.) Actually, I'm alone."
To New Orleans and Charlotte for their deceiving Tyson Chandler-Emeka Okafor swap. New Orleans got a better player but was just as interested in saving $2.2 million in 2010 tax money. And Charlotte is selling its franchise, so the Cats shed Okafor's 2012/2013 dollars to make the team more appealing to prospective buyers. Sadly, those two reasons drove the trade. Don't let anyone else tell you differently. I continue to think ESPN should hire an economist for our ABC/ESPN studio shows this season.
The funniest moment of the movie goes to the funniest moment of the summer: Quentin Richardson getting traded three times in four weeks, from the Knicks to the Grizzlies to the Clippers to the Timberwolves. Look at the guys swapped for Q in those three trades. Darko Milicic (the premier draft bust of the decade); Zach Randolph (the premier bad contract of the decade); Bassy Telfair (the premier "high schooler who should have gone to college" guy of the decade); Mark Madsen (the premier towel-waving white guy of this decade); and Craig Smith (all right, he's not interesting, but still, four out of five "premier" decade guys!). And look at the four teams: Clippers, Grizzlies, T-Wolves and Knicks … probably the four worst teams of the decade.
Now, throw in Q kicking off the Sarver Is Secretly Cheap era in Phoenix (to carve out extra money to sign him, the Suns stupidly gave away the seventh pick in the '04 draft and passed on Luol Deng and Andre Iguodala), his extended tenure on Isiah's Knicks (one of the most disgraceful teams in sports history, and also, indirectly tying him to the Anucha Browne Sanders and Eddy Curry lawsuits), his cameo in the Nuggets-Knicks brawl (the second-biggest fight of the decade), and the fact that he played on the Clippers a few years before Elgin Baylor sued Donald Sterling for racial discrimination. Also, throw in that he was dealt straight up for Darko (on the floor for the Artest Melee) and Randolph (the star of the infamous Jail Blazers and someone who once sucker-punched registered sex offender Ruben Patterson). And throw in the Clippers renouncing Q's rights in the summer of 2004 so they could make a free-agent run at Kobe right after Bryant's sexual assault trial was settled out of court (and not getting him).
Basically, you can tie Quentin Richardson to every single horrible thing that happened in the NBA this decade with 10 or fewer words. Call it two degrees of Quentin Richardson.
50. I forgive you.
I didn't apologize.
The final exchange with William's sister and mother goes to Larry Brown and Allen Iverson. Come on, fellas. One more time. The Answer needs a team; the Bobcats need a scoring guard. It's destiny. Come on. Do it for me. Actually …
BONUS QUOTE: This is the circus. Everybody's trying not to go home. Nobody's saying goodbye. (Pause.) Quit looking at me like that.
To Iverson. The general consensus: His career as an effective player is over. How did we reach that conclusion? I have no idea. He averaged nearly 27 a game two seasons ago in Denver. Soon after opening night, Denver traded him to declining Detroit, where he was forced to play in a new system for a bad coach, and GM Joe Dumars soon made it clear Detroit traded for Iverson's expiring contract (and not for Iverson himself). When the situation inevitably self-combusted and the Pistons asked Iverson to come off the bench, he "coincidentally" came down with a back injury, and that was that. Meanwhile, Billups turned Denver around, enabling people to stupidly make the connection that Billups was wonderful and Iverson was the anti-Christ. Now everyone is afraid to sign him.
My first question: If we're writing off Iverson for the previous paragraph, why aren't we writing off Rasheed -- just as enigmatic, just as much of a volcano, just as much of a coach killer over the years -- when Sheed played worse than Iverson did last season?
My second question: Since when was it a good idea to bet against Iverson? Name another NBA player who overcame more obstacles over the years. For ESPN's "30 For 30" documentary series that premieres this fall, one of the first films is called "The Trial of Allen Iverson" (directed by Steve James of "Hoop Dreams" fame). I have only seen a rough cut. It has a chance to become one of the most important sports documentaries ever. Why? Because you will never think of Iverson the same way again. You will like him. You will feel bad for him. You will connect with him. You will admire him in a way you never imagined. After witnessing what he endured legally and racially -- how unfair it was, how un-American it was -- and marveling at the dignity he showed as he put his life back together afterward, I promise, you will never bet against this guy.
A few weeks ago, Iverson gave a speech in Virginia to promote his scholarship program. It was one of the best three minutes of the sports year. You probably didn't hear about it because the sports media and the blogosphere is more interested in talking about Brett Favre, Michael Vick, civil suits, how ESPN is the devil and everything else. Occasionally, some relevant stuff slips through the cracks. Such as this clip, for instance. Please watch it, then tell me why everyone is so willing to count out one of the best 30 basketball players of all time, as well as one of the greatest pure athletes in the history of sports, at the tender age of 34 when he has something to prove. We have not heard the last from him. Just wait.
BONUS EXCHANGE
So, Russell … what do you love about music?
To begin with? (Smiles.) Everything.
One of the great endings of any movie -- Russell turning his chair around, smiling and finally giving young William the interview he always wanted, followed by the sounds of Led Zeppelin's "Tangerine," one final "Everyone's happy again" montage and the last shot of Doris the Bus driving off into the sunset -- goes to the NBA's offseason. Say what you want about the NBA, but the league always keeps you on your toes. This is a good thing.
Bill Simmons is a columnist for Page 2. For every Simmons column, as well as podcasts, videos, favorite links and more, check out the revamped Sports Guy's World.

The Sports Guy
Bill Simmons (
@BillSimmons
) is the editor-in-chief of Grantland and the author of the
New York Times
no. 1 best-seller
The Book of Basketball
. For every Simmons column and podcast,
log on to Grantland
. To send him an e-mail, click
here
.